September 24, 2005

Animal Radio's Katrina Covertage is brought to you by Bissell, a proud sponsor of Petfinder.com. Go to Petfinder.com to get the latest information on how you can help the animals affected by Hurricane Katrina.

LIVE NEWS COVERAGE on Animal Radio's full-time animal channel

Animals left behind.
Pets being shot by police.
Rescue attempts and successes.
Where to donate.
Katrina Animals Facing Another Storm
Dr. Eve Ognibene, North Shore Animal League reporting for Animal Radio®from Ground Zero
Dr. Eve Ognibene of the North Shore Animal League America, the world's largest no-kill pet adoption organization, advises that the animals victims of Hurricane Katrina are getting worse. The temperature has been in the upper 90's and over 100 degrees, and there is another storm heading their way. They are making every effort possible to remove all animals as soon as possible to safer ground. In the meantime, they are trying to reunite pets with their guardians. One animal in their custody is lucky enough to have a tag, so they are currently looking for the guardian of Sam Pollock. Even if the animals are moved, you can contact the North Shore Animal League or the Humane Society of Louisiana and they will know the whereabouts of Sam.
The North Shore Animal League America, along with Dad's Pet Care, has arranged an airlift of 100 animals. The cats and dogs, which have been held in temporary staging areas throughout Louisiana, Mississippi and Alabama, are being brought to North Shore Animal League America's headquarters in Port Washington, New York where they will be cared for in a safe environment. The animals were airlifted on Thursday, September 22 from Baton Rouge International Airport at approximately 9:30 AM (CST) and arrived at New Jersey's Teterboro Airport at approximately 1:30 PM (ET). Sam Pollock will remain in Louisiana in the hopes that he can be reunited with his guardian.
Reuniting Hurricane Survivor Family with Beloved Dog
James Bias, President of the SPCA of Texas
The SPCA of Texas reunited hurricane survivor and New Orleans evacuees Demyra Franklin and her mother Karen Franklin with their beloved dog, a red male American pit bull terrier, who they were forced to leave behind when they fled the city. The Franklins have two dogs, the adult male who is coming back to North Texas today and also a three-month-old puppy. SPCA officials are still searching for the puppy in New Orleans.
As the family was boarding the bus, a man held a gun on Karen Franklin and said the family had to get on the bus and leave the dogs behind.
They tied a sign to their dogs that included their names and cell phone number in hopes that they would later be reunited. Days later, on Karen Franklin's birthday, SPCA/Collin County clinic manager Nicole Powell called the women to let them know that one of their dogs was safe and on his way to Dallas to meet them.
The Bear Search and Rescue Foundation Deploys Team to Louisiana by Request of the Governor with Captain Scott Shields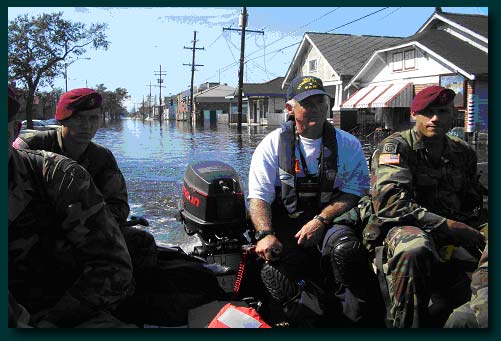 "I've been to hell before, but this was the worst," says Scott Shields, reflecting on his two long weeks of search and rescue work in the flood-ravaged streets of New Orleans. And this from a man who scoured the rubble of the World Trade Center on Sept. 11 with his now-deceased rescue dog Bear and made history finding victims amid debris 30 feet high. Shields, who lives in West Windsor but travels wherever disaster work calls him, returned from the ruins of New Orleans on Monday, weary, saddened, frustrated and angry. For the past two weeks, except for a few occasional stolen hours of sleep, Shields worked day and night with marine search and rescue (SAR) teams put together with his help from members of the Army 82nd Airborne Division, steering their boats through the flooded streets of the city. The upshot of their efforts was 847 live rescues, the evacuation of 4,106 people by boat and the saving of dozens of animals that had been lost or abandoned, he reports. "The animals we rescued were sheltered on board the naval ship Tortuga, where the crew set up a shelter," Shields said. "But hundreds of people died because they loved their animals more than themselves and wouldn't leave them," he adds. But because the foundation has no federal or state funding and is supported by donations, Shields said its work for Katrina victims has left it totally without funds. "We're wiped out," he said. "We use our money for grants to SAR organizations and for training all over the country. But people just don't realize that most search and rescue teams answer the call out of their own pockets. They do the job because it's the work they love. Without donations from the public, our foundation's work in helping SAR teams won't be able to go on."
Shields expects to return to the Louisiana flood area after a short respite. The rescue work, he said, is far from finished.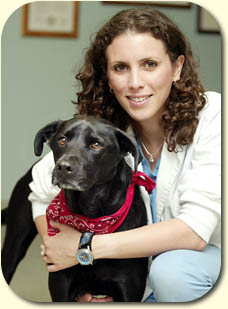 Vet Takes Horse Trailer to Mississippi to Rescue Katrina Animal Victims
Dr. Kim Danoff
Dr. Kim Danoff desperately wanted to help the animals left behind after Hurricane Katrina. When she heard that rescue efforts were not taking place in much needed Mississippi, she knew just what she had to do. She gathered up donations and volunteers and took a horse trailer to Mississippi and rescued approximately 70 animals, the majority being cats, returning them to her office in Virginia. Some of the animals will be put up for adoption, while others will be in foster care and listed on PetFinder.com in the hopes that their guardians will claim them.

A New Deadly, Contagious Dog Flu Virus is Detected in 7 States
Dr. Michael Hutchinson


A new, highly contagious and sometimes deadly canine flu is spreading in kennels and at dog tracks around the country, veterinarians said. The virus, which scientists say mutated from an influenza strain that affects horses, has killed racing greyhounds in seven states and has been found in shelters and pet shops in many places, including the New York suburbs, though the extent of its spread is unknown. The virus spreads most easily where dogs were housed together but that it could also be passed on the street, in dog runs or even by a human transferring it from one dog to another. Kennel workers have also carried the virus home with them. Because dogs had no natural immunity to the virus, virtually every animal exposed would be infected. About 80 percent of dogs that are infected with the virus will develop symptoms. The symptoms were often mistaken for "kennel cough," a common canine illness that is caused by the bordetella bronchiseptica bacteria. Both diseases can cause coughing and gagging for up to three weeks, but dogs with canine flu may spike fevers as high as 106 degrees and have runny noses. Currently there are 10 major scientists working on developing a vaccine for the virus.
Bureaucratic Interference Is Causing Problems with Katrina Animal Victims
Dr. Adriana Sagrera
Animals are, fortunately, getting rescued and being dropped off at the triage stations, but they are overwhelming the triage stations. These triage stations are not properly organized and not prepared to handle the amount of animals they are seeing. There needs to be more triage stations and the animals need to say for at least 4-5 days so that their guardians can be contacted and have ample time to make arrangements to pick up their animals. What is happening, is that the animals are moved as quickly as 24-36 hours after arriving, complicating the reuniting of these animals by not giving their guardians enough time to make appropriate arrangements, and when they do arrive, their animal has been moved.
Animal Emergency Response Network
National Database for Hurricane Katrina Victims with Pets
Stacey Candella, PETS 911
With Hurricane Katrina, all the national animal welfare groups (HSUS, AHA, PETS 911, Petfinder, ASPCA, BEST FRIENDS ....) have collaborated on a NATIONAL database for victims with pets ... listing everything from "my pet was left behind and needs help" to where can I get someone to foster my pet, while I'm in a temporary shelter. You can VIEW the national database from any one of their websites. But also of importance is the 1-888-PETS-911 lost/found hotline. This is extremely important for those who do not have access in that region to computers. And the 1-888-PETS-911 database will also feed the national database.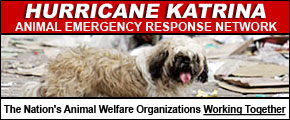 Would You Risk Your Life For Your Pet?
Dr. Diane Pomerance


In the aftermath of Hurricane Katrina, it is feared that thousands of people lost their lives. Hundreds of thousands of people, if not millions, find themselves deeply affected in the wake of this tragedy. The human toll was horrific, but what of the animals? America's heart was collectively broken when the young boy on the bus cried uncontrollably because "Snowball" had to be left behind. People of all ages develop strong emotional attachments to their pets. After Katrina, it was widely reported that many hurricane victims refused to be evacuated because they simply did not want to leave their pets behind. So, why are people so attached to their pets? Would you risk your life for your pet?
CD Helps Animals in the Gulf Coast
Skip Haynes, The Laurel Canyon Animal Company
Bring An Animal Home For The Holidays is the perfect holiday CD for you and your animal loving friends. Play it for all your holiday festive occasions. Nine toe tapping, original, animal inspired holiday songs. This CD will be a most enjoyable addition to your holiday play list!
In response to the tragedy of Katrina -especially the plight of the animals and their caretakers- the Laurel Canyon Animal Company is donating $9.00 from every order during September and October. The donations will equally distributed to ASPCA, the Humane Society and Best Friends Animal Sanctuary to help in their relief work.
Physical Therapy
Dr. Jim Humphries, Veterinary News Network


Physical therapy has gone to the dogs. It used to be that physical therapy was only for humans, but it has been discovered to help many animals. As our animals age, they can get some of the same diseases that we do, such as arthritis, osteoporosis, etc. And, if your veterinarian prescribes the therapy, it may even be covered by your pet insurance.
Hairballs - Watch Where You Step!
Britt Savage


Hairballs are just that, balls of hair that a cat can't digest. There are two kinds of hairballs, those that start in the throat and those that begin in the stomach. But no matter which, it is not a pleasant thing to step on in the middle of the night! There are things you can do to help eliminate hairballs, such as buying food to reduce hairballs, and also brushing your cat frequently. Don't be alarmed, hairballs are normal for a cat, but if they seem excessive, you might want to have your cat checked by your vet.
And the Award Goes To. Bears, Lynx and a Unicorn :
Rae Ann Kumelos, Voice of the Animal


If we wonder what occupied the minds of our ancestors, we need only look to the heavens, for it is the canvas on which their thoughts and dreams were projected, and one reason they populated the unfamiliar with the familiar ­ animals. Visit some of the galactic animals that star in our own celestial theater ­ the night sky.
Stories from Katrina, e-mailed stories YourVoice@AnimalRadio.com
Suffering from Anonymous
On Tuesday HUA received a call from a vet in New Orleans. A week earlier HUA volunteers had taken a badly ill Cocker Spaniel to this vet. The Cocker had been rescued from his home where he had been left when his family evacuated. He had been without food or water for over two weeks. Since he was an older dog, he suffered serious internal damage. We wonder what he thought about as the storm ravaged his home - alone, afraid. Then the water came. Somehow he managed to survive. We wonder what he thought as he slowly starved. Did he think his people were coming for him? He probably did. The whole time he probably thought they were coming for him. Now he won't eat, and the vet recommends letting him go. We have tried and tried to reach his family but can't locate them. He would probably give them kisses if they came to him now. That's a dog for you.
There are thousands of dogs just like him. Dogs who are living on borrowed time. Dogs who are dying every minute because help is not coming for them.
In the New Orleans area there are three large shelters. They can hold
somewhere around 3,500 animals. There are thousands and thousands of animals in need of help. Why aren't there more shelters? Why aren't there thousands of workers fanned out rescuing dogs and cats and bringing them to safety? Why, three weeks after the Hurricane, are there still thousands of animals who are suffering - starving to death? The rescue effort is falling on volunteers who have selflessly given up their lives to come and work in terrible conditions to help the animals. Why are there so few resources for the animals? Why isn't the press reporting the information about the suffering. Why is this suffering being hidden from the public?
These dogs (yes, there are cats but few of them) have held on to hope. They will believe with their last breath that help is coming for them. We owe it to them to live up to their belief in us. Why do people leave their animals behind? Do you think that they would ever leave you if the situation were reversed? Pets are very much like babies. They depend on us for almost everything. Food and water being right up there with LOVE. If you do not feel the same way about your pets.....then please don't get one!
STOLEN OR SAVED ANIMALS, THAT IS THE QUESTION???
DULUTH, Minn. (AP) - Rescued, stolen or rejected?
They are among the questions being raised by the charges against
a Minnesota couple who say they rescued 12 dogs and a cat from the
hurricane-ravaged Gulf region.

Walter and Fay Peters are accused of stealing the pets because
they brought them back to Minnesota. Police in Duluth say as far as
they know, the animals were supposed to stay in Louisiana.

Their attorney says the couple had no choice because animal
shelters in Louisiana were overcrowded. She says if the pets had
been left "in a parking lot, they would have died."

Right now the pets are being kept at a Duluth animal shelter.

Listen to Animal Radio | View Animal Radio Broadcasting Schedule