September 29, 2007


Not Missing YET
Barbara Davilman, How to Raise a Jewish Dog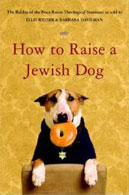 Consider the following questions:
Have you ever joyfully praised your dog for fetching a stick and then quickly followed it up with "And I only had to ask three times!"
After your dog has an accident on the good carpet, do you make sure that he understands how this is a personal affront to you, the only one who really loves him?
When you're out on a walk with your dog, do you find yourself carrying fifteen pounds of supplies, including but not limited to: a GPS tracker, preprinted "Missing" posters, snacks to lure your dog back if he should run away, and a can of mace?
If you can answer yes to any of these questions, you may be raising a Jewish Dog. And now, at last, there is a guidebook made for owners like you! With HOW TO RAISE A JEWISH DOG the (make-believe) Rabbis of the (fictional) Boca Raton Theological Seminary have developed the essential dog training program for raising a Jewish dog.

For the first time, the same dynamic blend of passive aggression and smothering indulgence that created generations of high-achieving Jewish boys and girls can be applied to create a generation of high-achieving Jewish doggies. Written (for real) by Ellis Weiner and Barbara Davilman, coauthors of the bestselling Yiddish with Dick and Jane and Yiddish with George and Laura, this essential "guide" is sure to be a complete howl.
http://www.powells.com


Special Pets Might Need Special Veterinarians
Dr. Jim Humphries, Veterinary News Network


For most pets, the family veterinarian is the one and only doctor that they will ever need. But, for some, their cases, and sometimes their lives are dependent on the extra talent and skills of the Veterinary Specialist.
It has been said that a veterinarian is actually several human doctors rolled up into one individual, guiding our pets from birth all the way to grave. But new advances in medicine have helped to create a new type of veterinarian. Like their human counterparts, these veterinary specialists focus on specific areas of interest and, in turn, help pets and owners with their expertise.
The AVMA recognizes more than 25 individual specialties.
For Cocker Spaniels with heart problems, veterinary cardiologists are ready to help. If your Labrador Retriever breaks his leg, you might appreciate the skills of a orthopedic surgeon. There are more than 8,000 veterinary specialists currently practicing and helping pets with special needs.
The road to specialization begins soon after a veterinarian's medical training. For many young doctors, a strong interest in a specialty drives them to search out internships. These internships can be extremely competitive with more than 40 applicants for some positions. After one year, interns can then start competing for residencies at universities and other institutions. After 2-3 years of studying their chosen specialty, the residents can take an intensive test, also known as the "board exam". If the resident is lucky enough to pass this exam, they are considered to be a "board-certified" specialist. All in all, most specialists will devote more than 12 years to their education.
As pet owners continue to develop a strong bond with their pets, the need for veterinary specialists will also grow. Until recently, pet owners who needed the expert knowledge of specialists often had to travel to the veterinary colleges. These trips could be stressful on the pets and difficult for the owners. Now, specialty centers can be found in almost every major city. And, with a referral from a family veterinarian, pet owners can seek out more advanced care and perhaps add years to their pet's life. For example, it is not uncommon for a dog to undergo an MRI procedure or for cats to receive a kidney transplant. Pet owners can now choose hip replacement surgery, or even find the best doctor to treat cancer.
No one wants to imagine their dog or cat developing a serious injury or illness, but it is comforting to know that your family veterinarian likely has a list of dedicated specialists available to help your pet. If you would like to know more about specialties within veterinary medicine, visit avma.org and click on veterinary specialties. This will take you to a list of all specialties and even provide links, addresses, and phone numbers.
http://www.VetNewsNet.com


Kyle's Auction
Kyle Orent

We check in once again with Kyle's Auction of celebrity-autographed dog collars. Kyle, who is 9-years-old, recently raised $20,000 selling lemonade and donated the money to Canine Companions for Independence.
Kyle is currently trying to raise another $10,000 for this charity that is near and dear to his heart, and he is about halfway there.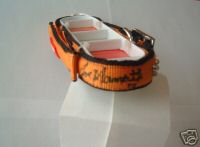 Some of the collars that are up for auction are signed by Donald Trump, Billy Joel, Leslie Nielsen and Payton Manning to name a few. Hurry and bid for yours, there are a few left! Not only will you receive a great collar autographed by a celeb, but also the money goes to a great cause, Canine Companions for Independence. Everyone wins! To bid click here.
Chumbee the Koala Stud
Britt Savage

Down in Vienna things are stirring midst the undergrowth. Vienna's Schoenbrunn zoo was struggling to get its koala breeding program started and is now enjoying success after securing the services of Edinburgh Zoo's resident stud.
The staff at Shoenbrunn Zoo had tried aphrodisiacs and even erotic movies to get local pair Bilyarra and Mirali in the mood for love - without success.
Then came five-year-old Chumbee who has lived up to his reputation since arriving in Vienna, and he hasn't stopped since he got there.
It has been almost non-stop sex in the koala enclosure ever since, and now even their other male is joining in.
Several other zoos have been in touch in the hope that Chumbee - who has been on the job in Vienna since March - might be able to work his magic with their koala colonies.
NEWS UPDATE: Cats and Dogs Banned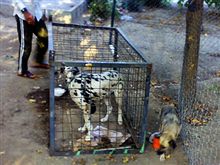 Cats and dogs are being banned in Saudi Arabia and Iran. Religious police authorities, who are normally tasked with chiding women to cover themselves and ensuring men attend mosque prayers, are turning to a new target: cats and dogs.
The police have issued a decree banning the sale of the pets, seen as a sign of Western influence.
The prohibition on dogs may be less of a surprise, since conservative Muslims despise dogs as unclean. But, the cat befuddled many, since Islamic tradition holds that the Prophet Mohammad loved cats.
The decree which applies to the Red Sea port city of Jiddah and the holy city of Mecca, bans the sale of cats and dogs because "some youths have been buying them and parading them in public," according to a memo from the Municipal Affairs Ministry.
Pet ownership is not common in the Arab world, although dogs are kept for hunting and guarding, and no other Arab country restricts pet ownership.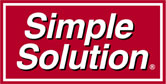 NEWS UPDATE Brought To You By Simple Solution Natural Line Of Products
Hippopotamus ­ Behold the Behemoth!
Rae Ann Kumelos, Voice of the Animal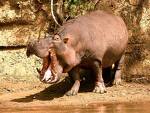 Did you know that many scholars and zoologists consider the behemoth of the Hebrew Bible to be a hippopotamus? Discover how hippo ranks first in the eyes of God, was featured as the head of an Egyptian goddess, and played an important role for the President of the United States.
http://www.VoiceOfTheAnimal.org
Is Your Pet a Blessing?
Diana Guerrero, Blessing of the Animals


No matter what your answer--birds, dogs, cats, and other creatures are invading businesses, churches, and other religious centers as pet blessings and other ceremonies are sweeping the nation--the trend has escalated dramatically. Some people are even shocked that such beastly trends are on the increase.
St. Francis of Assisi is known as the patron saint of animals, birds, and the environment, and it is customary for Catholic churches to hold ceremonies honoring animals around his feast day of October 4.
Did you know that pet blessings pre-date St. Francis?
Most people associate pet blessings with the Catholic tradition of St Francis but blessings really began way before and other traditions celebrate animals BUT the big discovery is that animals motivate people to cross cultural and religious boundaries.
Why are pet blessings on the increase?
Pet households in the USA now outnumber those with children under 18! These furry family members are changing our lives-but the trends began at the turn of the 20th century.
Do you know what critter ceremonies are causing the fur to fly?
Some people hate them and some people love them-but the new trend is to celebrate pets with parties, meow mixers, yappy hours, memorial services and pet weddings!
How did the Miss Crustacean pageant handle the scandal that erupted when a male hermit crab won?
You will crack up over this answer
How do such gatherings manage to maintain a peaceable kingdom despite the variety of animals present?
Believe it or not few altercations occur at pet blessings. Event leaders say that even the wild animals calm down during the blessing of the animals. Hear funny stories about some of these events and get inside information.
Get the inside scoop on some of the biggest pet blessings around the world
Blessing of the Horses, Blessing of the Hounds and many others for instance did you know that the elite club, the Rancheros Vistadores celebrates with their Blessing of the Horses in early May?
http://www.dianalguerrero.com
Dog Amnesty
Dr. Bernard Unti, HSUS


Citing a core tradition of concern for animals within Islam, and the universality of the human-animal bond in all cultures, Humane Society International (HSI) ­ the global arm of the The Humane Society of the United States (HSUS) ­ has called upon the Islamic Republic of Iran to end its crackdown against petkeeping by Iranian citizens.

"We regret reports that police authorities in Iran are taking steps to suppress petkeeping, and to confiscate dogs from individual citizens. Islam is one of the strongest religious traditions when it comes to its prohibitions on cruelty to animals, and millions of Muslims throughout the world understand their religious duty to take responsibility for the well-being of all creatures," wrote Dr. Bernard Unti, HSI senior policy advisor and a historian of the human-animal bond, in a letter to Mohammad Khazaee, Permanent Representative of the Islamic Republic of Iran to the United Nations. Click here to read the letter.

The presence of petkeeping spans a wide range of cultures across both space and time. In a trend that parallels those in a number of other non-western nations, petkeeping is on the rise in Iran, especially among young people. In China, where authorities have carried out a series of mass roundups of dogs in recent years, resistance from an emerging class of petkeepers has been steady and determined.

In the West as in the East, Unti says, there is confusion about the teachings of Islam concerning dogs. "Whatever the prohibition on the keeping of animals in one's house within Islam, that shouldn't preclude the practice of keeping them in separate quarters, and providing them with the basic regard and care that the Quran requires," said Unti.
http://www.HSUS.org


Alzheimer's Found in Cats
Dr. Danielle Gunn-Moore


Aging cats can develop a feline form of Alzheimer's disease, a new study reveals. Scientists at the Universities of Edinburgh, St Andrews, Bristol and California have identified a key protein which can build up in the nerve cells of a cat's brain and cause mental deterioration.
Dr Danielle Gunn-Moore, at the University of Edinburgh's Royal (Dick) School of Veterinary Studies, said: "This newly discovered protein is crucial to our understanding of the aging process in cats. We've known for a long time that cats develop dementia, but this study tells us that the cat's neural system is being compromised in a similar fashion to that we see in human Alzheimer's sufferers. The gritty plaques had only hinted that might be the case ­ now we know.
"The shorter life-span of a cat, compared to humans, allows researchers to more rapidly assess the effects of diet, high blood pressure, and prescribed drugs on the course of the disease. However, we also need to understand more about our geriatric cats for their own benefit, so we can slow down the degeneration the disease brings and keep them as happy cats for as long as possible."
"As with humans, the life expectancy of cats is increasing and with this longer life runs the greater chance of developing dementia. Recent studies suggest that 28% of pet cats aged 11-14 years develop at least one old-age related behavior problem and this increases to more than 50% for cats over the age of 15."
Experts suggest that good diet, mental stimulation and companionship can reduce the risk of dementia in both humans and cats. Dr Gunn Moore explained: "If humans and their cats live in a poor environment with little company and stimulation, they are both at higher risk of dementia. However, if the owner plays with the cat, it is good for both human and cat. A good diet enriched with antioxidants is also helpful in warding off dementia, so a cat owner sharing healthy meals like chicken and fish with their pet will benefit them both."
The findings of the study are published in a recent edition of the Journal of Feline Medicine.
http://www.fabcats.org/news/alzheimers.php
Fido Friendly Travel Talk
Susan Sims, Fido Friendly Magazine
1-800-HELP-4-PETS


The Pet Protector is the only pet I.D. that can help your pet in any emergency, anytime, anywhere. It's a 24-hour, nationwide hotline system with live operators that works like "9-1-1" for your pet.
http://www.help4pets.com

Fido Friendly Magazine:
The Travel Magazine For You & Your Dog, a complete guide to Fido-friendly accommodations across the United States and Canada. "Fido Friendly is the only magazine dedicated to the travel lifestyle of man's best friend, and the one magazine your dog will thank you for." And don't forget to join the Fido Friendly Travel Club.
http://www.fidofriendly.com
http://www.fidofriendlytravelclub.com
A Pocket Guide to Poop Identity
Matt Pagett, What Shat That?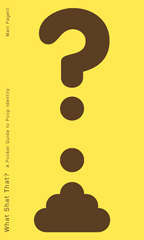 Ideal for any nature lover or backyard biologist, WHAT SHAT THAT? is an original and insightful survey of the substance that-like it or not-unites every living creature, from your pet dog to the African elephant.
The fifty entries found here cover a range of mammals, birds, lizards, and even fish, including common domestic creatures as well as wild and exotic species. Full-color photographs and illustrations reveal each type of poop in all its glory, and handy descriptions and "scat facts" run throughout.
Truly informative and highly entertaining, WHAT SHAT THAT? is also probably more than you ever wanted to know but were too grossed out to ask.



Kids N' Canines
Vladae, The Dog Wizard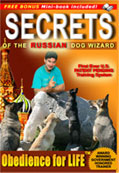 Did you ever wonder why it is that children are bitten the most? It is estimated that there are over 5 million dogs bites a year, with most of the victims being children. According to Vladae, a dog sees a child as a puppy. And when that puppy doesn't behave or respect the older dog, it needs to be taught a lesson. So, the dog bites it as a way of correction, as it would with their own offspring.
Listen in as Vladae explains the most kid friendly breeds and the worst. He also explains what he thinks the real problem is ­ you need to establish human authority over your dog.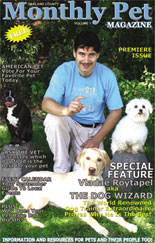 Check out Vladae in the new Michigan Monthly Pet Magazine. This month's issue of Monthly Pet Magazine features Vladae Roytapel "The Dog Wizard" as the front man of their inaugural cover. Inside you can find out more about Vladae "The Dog Wizard" as you read his background and bio. He also has included a full page of tips for training your dog on listening and obeying
http://www.911DogWizard.com
The Pit Bull: A Lover or a Fighter?
Karen Lee Stevens, All For Animals, Inc.


In 1991, my sweet, 12-year-old cat Shannon was attacked and killed by a pit bull. I'll spare you the details, but suffice it to say, my family was devastated when we found Shannon 's lifeless body the morning after the assault. In fact, it was the only time I have ever witnessed my normally stoic father cry. I later learned that the pit perpetrator lived in a family with small children. The dog's guardian told me, "I have kids and rabbits and our dog has never hurt any of them." Small consolation, indeed.
This beefy breed has long evoked strong emotion and considerable controversy. Open a newspaper or turn on the TV on any given day and you're likely to learn of yet another pit bull attack that has caused serious injury or claimed an innocent life. To be fair, not all incidents involve a pit bull. Other large breed dogs and some small breeds too, become embroiled in alterations that result in more than 4.7 million dog bite injuries annually, according to the national Centers for Disease Control and Prevention. Children ages 5 to 9 are the most common victims.
Proponents of the pit declare the breed to be happy, confident, cuddly, non-dominant, and gentle with children when bred correctly. The key phrase here is "bred correctly" and I think that's where things have gone astray. Can it be that the maligned mutt is simply the victim of poor breeding ­ the product of irresponsible "backyard breeders" ­ that churn out pups for profit? Or, are the unfortunate dogs taunted, teased and tethered until they become vicious fighters? (Studies show that dogs who are chained a good deal of the time become unsocialized and are more likely to bite.)
Genetics and socialization issues aside, concern is growing and many think it's time to rein in the escalating pit problem. San Francisco, in January, made it illegal to own an unsterilized pit bull or pit bull mix, while Denver outlawed pit bulls altogether in 2005. Other cities and states are looking into taking similar measures. This legislation has raised the hackles of many pit bull owners and rescue organizations, like the Dog Adoption and Welfare Group (DAWG) in Santa Barbara , who have long contended that these powerful pups are simply misunderstood.
"It's a shame that pit bulls and their cousins have such an undeservedly bad reputation," says Lorna Hunt, Training Coordinator and a Board Member of DAWG. "In addition to being great family dogs, they are excellent as service dogs and in search and rescue." DAWG, which has placed many pits in loving homes over the years, offers free spay/neuter services for all pit bull and pit bull mixes in the Santa Barbara area.
I've known a few pit bulls in my life. Some, like my friend's dog, Buddy, has lived harmoniously with his human and cat family for more than a decade with nary a nip, while others, like the dog who mauled my beloved Shannon, showed no signs of aggression until that fateful day 15 years ago.
In my experience, I have found pit bulls to be wonderful, sweet, affectionate dogs until they're not.
http://www.AllForAnimals.com
Talk With Your Animals
Joy Turner
Joy speaks with "Rascal" to see how he would feel about another dog being added to his current pack of three.
http://www.TalkWithYourAnimals.com
http://www.JoyTurner.com
Listen to the entire Podcast of this show (#409).


Listen to Animal Radio® - Go to the launch page
Return to Animal Radio Network™ Home Page
Read September Newsletter
Copyright 2007 All Rights Reserved Animal Radio Network LLC