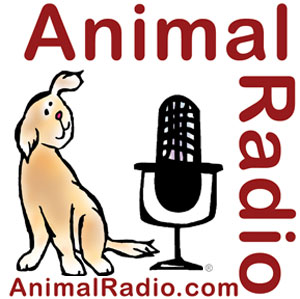 Animal Radio® Show #669 September 29, 2012
Nat Geo's Incredible Dr. Pol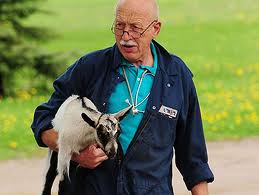 Not only is he Incredible, but he has quite the sense of humor also. Dr. Jan Pol describes what it's like to have a camera watching your every move, including when his arm is two feet up a cow's ... well ... you know.
Dr. Pol was born and raised on a diary farm, and when he was 12 years old, the local veterinarian took him under his wing where he started delivering piglets. Yan thought was fun, and that's when he decided he wanted to become a veterinarian.

When Dr. Pol stated veterinarian school in the Netherlands in 1962, there were 300 aspiring veterinarians in a room that would only fit 100. The students were told that, "If you want to become a veterinarian, fine, you want to practice, forget it!" So he decided to move to the United States.

When he first moved to Michigan, his practice was 80 percent dairy, and he would do about 22 farm calls a day. There were about two dairy farms for every mile then, he says, but times have changed.

"The biggest problem (is that) the farmers are getting older, the kids don't want to take over, the farms are getting bigger all the time," he says. "The bigger the farm, the less we do."

Now, there are about 12 miles between dairy farms, and Pol and his associate Dr. Brenda Grettenberger take large-animal calls for about three hours every afternoon in between small-animal examinations and surgeries. Another associate focuses on the small-animal business full-time.

"Quite a change from 30 years ago," Pol says. "You have to adapt otherwise you go out of business."

While Dr. Pol agrees that most farmers see their animals like dollars, he states that, "Farmers are not abusing their animals, because you abuse an animal, what does it do? It quits producing!"

Dr. Pol goes on to state that, "Animal abuse comes from people that have not grown up with animals from a very young age. They are the ones that don't know how to treat them."

Dr. Pol tells us that the strangest animal that he has treated in his practice as a pet was a hedgehog. He doesn't understand how people can keep them as pets, as they are nocturnal, which means that they sleep during the day and are awake at night.

Returning for a second season, The Incredible Dr. Pol premiered Saturday, August 25 at 10 PM ET/PT on Nat Geo WILD. Dr. Pol travels across rural Michigan to care for every family pet and head of livestock in need of his expertise and kindness…no health insurance required! Treating numerous patients, including horses, pigs, cows, sheep, alpacas, goats, cats and dogs, Dr. Pol is not your average vet. A local legend making farm calls, Dr. Pol serves his patients with unmatched compassion, humor and expertise, treating all animals no matter their size or condition.

Dr. Pol says the best thing about his show is, "That nothing is rehearsed. The very first take better be the right one, because I'm not putting the calf back in the cow to pull it out again!"

http://channel.nationalgeographic.com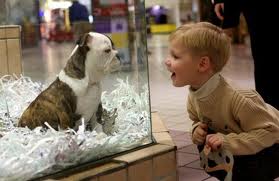 How Much is that Doggie in the Window? Priceless!
Wendy Diamond, Animal Fair

Next time you feel the urge to splurge at the Freehold Mall in Freehold, New Jersey, consider adopting! Now you can look at the doggie in the window for real and save a life! MCSPCA's newly opened adoption facility, located inside the mall itself, allows people to meet the animals in a beautiful store rather than the shelter that may not be as serene! Hopefully this concept will inspire real estate owners to donate empty stores to shelters to create pop up pup stores so animals can get adopted!

http://animalfair.com/home/adopt-hit-mall-mcspca/
The Dogfather's Grooming Tip with Joey Villani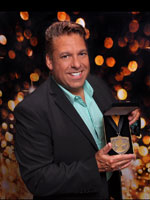 Clipped Siberian Husky Suffers From Heat
A man recently contacted Joey who has a Siberian Husky mix. He recently took his dog to a groomer and they clipped the dog down, but was complaining his dog is still suffering from the heat.
This is a big mistake! By clipping a dog down in the summer you are not doing them justice! When you do this, you take away the natural insulation that keeps a dog warm in the winter and cool in the summer.
Unfortunately most people believe that clipping a dog down will keep them cool. This couldn't be farther from the truth. Once you start clipping a dog down, their hair starts to go a little whacky and starts growing weird.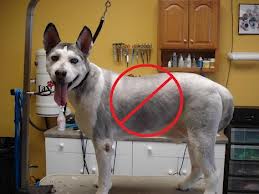 These double-coated dogs should have a strong topcoat and a soft undercoat. Look at it this way. It is like the top coat is a sheet rock wall and the soft undercoat is the insulation. So when you rip the sheet rock down, all you're left with is insulation.
So when you clip a dog, you are exposing the soft undercoat. This make the topcoat grow in differently, because the natural process is shedding. We know we all hate shedding, but when it sheds out, it grows back naturally.
When you clip a dog that is not supposed to be clipped, they are suppose to shed, the undercoat grows quicker than the topcoat. So all you're left with is insulation, without the topcoat.
What happens when it rains - your dog will get soaking wet. When it gets hot – your dog will suffer from heat stroke. When it is cold – your dog will be left without a proper coat.
Stop clipping these dogs and give them a good de-shedding. If they have been clipped, it can take up to a year for the damaged coat to mend itself.
Animal Radio® News with Stacey Cohen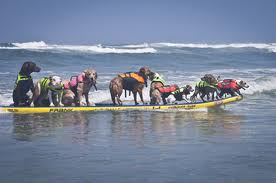 Surfing Dogs Try To Set Record
A dog-surfing competition draws a few hundred dogs and their owners to Del Mar, California for a good cause. Organizers say the 7th Annual Surf-A-Thon was expected to bring in about $100,000 for the education and adoption programs at the Helen Woodward Animal Center. At the end of the competition, 36 dogs attempted to establish a world's record for total number of canines riding the same wave at the same time, and 14 of them hung on.
Pigs Get Stay of Execution
About 200 pigs being transported to a slaughterhouse in central China were granted a stay of execution after a highway crash in which the truck carrying them smashed into a truck carrying whiskey. It took workers in China's Henan province five hours to clear the road of both pigs and smashed whiskey bottles. The pigs who survived the initial smash-up, though, dashed into nearby fields and found at least temporary freedom. "There were crops planted along the roadside and many of the pigs made straight for them and simply disappeared," a police spokesperson said.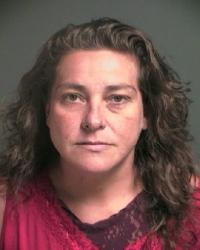 "Puppy" Pants Results In Animal Cruelty
A Colorado woman has been arrested on suspicion of animal cruelty after allegedly shoving her Chihuahua puppy down her pants. The incident occurred during a domestic dispute in which policed found Johna Turner arguing with a man. According to NBC affiliate KUSA in Denver, Turner had agreed to leave the premises, but insisted on taking her dogs with her. When police arrived, eyewitnesses told them to search Turner's pants and when they did a Chihuahua fell out. The puppy was unharmed but Turner was charged with one count of misdemeanor animal cruelty. She pleaded not guilty. The puppy was one of three born on August 31st.
What's Next – Regulating Human Poop?
A homeowners association in Texas is trying to collect samples of dog poop for DNA testing. The HOA says too many dogs are doing their business in common areas, and they want a database of DNA profiles. That way, future messes will be matched to the correct owners in the small condominium complex, who will then be fined. KXAN-TV reports a DNA testing company has agreed to test poop samples for $30 per dog. Most neighbors seem to agree that the plan goes too far. One even joked that if the HOA gets its way, then "Maybe they'll start regulating our poop" as well.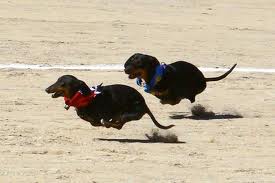 Running Of The Weenies
Residents of Germantown, Tennessee, eagerly lined up to watch the 15th annual "Running of the Weenies." According to The Commercial Appeal, the dachshund race was one of the most popular events at this year's Germantown Festival. Owners used a variety of toys and treats to coax their pets toward the finish line, but the returning champ, a three-year-old named Nitro, managed to hang on to his title. Owner Vinnie Liberto says the wiener dog doesn't do any special training, but he explains, "When we named him Nitro, I think that meant he had to be fast." But the race wasn't the only contest at the festival. Even more Dachshunds competed in the costume contest, which was won by a group of four dogs in prison uniforms tied together and dubbed "The chain gang."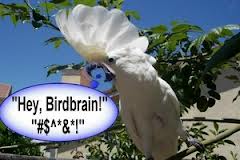 Foul Mouthed Cockatoo Offends Neighbors
A Rhode Island woman's allegedly foul-mouthed cockatoo is being accused of ruining her neighbors' quality of life. According to the Boston Herald, Lynne Taylor is scheduled to return to court next week to fight allegations that she violated a city animal noise ordinance. Taylor's neighbors, her ex-husband Craig Fontaine and his girlfriend Kathleen Melker, say Taylor trained her pet bird Willy to yell curse words at them. In fact, Fontaine says Willy's fondness for four-letter words has forced them to put their home on the market and find a new place to live. But even if Taylor and Willy are found guilty of the violation, their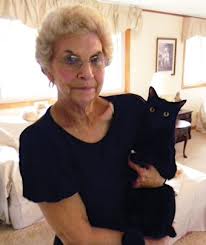 lives probably won't be affected too much. The ordinance only carries a $15 fine.
Cat Hitches Ride To Disney World
An Ohio woman says her pet cat had no intention of letting her visit the Happiest Place on Earth without him. Ethel Maze tells the Orlando Sentinel that Bob-bob, her 14-month-old feline, managed to sneak into one of her bags undetected as she geared up for a few days at Disney World. He even got through airport security, and took the flight from Columbus to Orlando. Maze said she had no idea Bob-bob was in her bag until she unzipped it at the hotel at the end of her ten-hour trip. And while the cat appeared a little shaken up from his journey, Maze says Bob-bob still came out purring.

NEWS UPDATE Brought To You By ScoopFree.com. Free Shipping on trays plus up to $20 off your first subscription.
Listen to the entire Podcast of this show (#669)