LIVE NEWS COVERAGE on Animal Radio's full-time animal channel

Hurricane Relief Efforts
Doll Stanley, IDA's Project Hope
For days, Project Hope Director Doll Stanley helped with relief efforts in Jackson while waiting to get her animal rescue team into the areas of Mississippi hit hardest by Hurricane Katrina. While her efforts were helpful in Jackson, Doll knew the situation was far worse further South, but was held back by authorities. After the National Guard gave them permission to pass on the highway, they set out in a small convoy of three vehicles to deliver food, water, medical supplies and assistance to the people and animals who need it most. Along with IDA, there were many other animal organizations waiting to get into the area. But, according to Doll Stanley, the rescue efforts were not very well coordinated.
Katrina Animal Reunions
Dr. Eve Ognibene, North Shore Animal League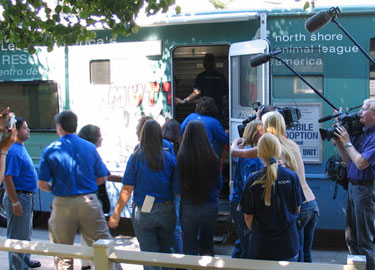 After the North Shore Animal League America, along with Dad's Pet Care, arranged an airlift of 100 animals, they are just now beginning to arrange reunions with their guardians as well. Dr. Ognibene, who is now back home, is working with the rescued animals and making flight arrangements for guardians to reunite with their pets. There are still mobile units deployed in the hardest hit areas, with plans to bring more animals back to the North Shore Animal League in New York.
"Cattitude" with Kim Levin
It's Sex & the City meets All I Need to Know I Learned from My Cat. This compendium of sassy advice from felines to females might make you think your cat has gotten hold of Carrie Bradshaw's computer. In Cattitude, cats are finally dishing out their savvy secrets. "Accept your body. Augment your ego." "Make immediate gratification your mantra." "Remember good lighting is more important than good genes." "Get yourself an entourage." Although we may not know for sure what goes on in the feline mind, the clever pairing of images by noted pet photographer Kim Levin and text by Christine Montaquila in this irresistible gift book-embellished with a glamorous faux rhinestone-studded cover-leaves little doubt. Cattitude celebrates the brazen feline in all women, encouraging them to keep their claws sharp and their self-esteem high.
2005 Night of Comedy
Sherry Hackett, Singita Animal Sanctuary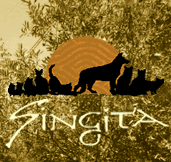 On Wednesday, October 26, 2005, the Singita Animal Sanctuary promises you another jam-packed, fun-filled night of superb entertainment and another chance to make a difference in the lives of a lot of desperately needy animals. If you were there last year, you'll remember the 6th Annual Night of Comedy was truly spectacular. Guests enjoyed wonderful hors d'oerves and networking before the show. If Buddy was watching the stage that night, he was surely delighted by the many hilarious jokes and stories told by his long-time pals, protégés and a raft of other comedic talents. Want to get involved? Find out how you can help.
Rabies - A Threat To Pets and People
Dr. Jim Humphries, Veterinary News Network
Rabies is a disease we usually think of as having well under control with vaccinations. But the deadly disease seems to emerge each spring and summer as a problem. Rabies is a scary disease because it is fatal to both people and pets and every year we should look at keeping ourselves and our pets (both dogs and cats) safe. Rabies is also a highly regulated disease and all pet owners must follow the vaccination requirements to help keep this killer at bay. Vaccination rules vary according to where you live, so advice from your veterinarian is essential.
Renegade Sea Lions
Gerry Dunlap spent more than a year fixing up his 1910 dream sailboat, but it sank right to the bottom of the Newport Harbor when 15 gigantic sea lions tried to take it out for a spin. Besides barking all night long, these sea lions have also tipped over a mother and her child in a kayak.
St. Francis Means Katrina
Rae Ann Kumelos, Voice of the Animal


This gentle, compassionate twelfth-century saint referred to all creatures as his brothers and sisters, and spent his life not only in service to his human flock, but to birds and animals as well. At this time of crisis in New Orleans, St. Francis inspires us to support our brothers and sisters of the Gulf Coast ­ four-legged, two-legged, winged and finned.
When Your Pet Outlives You with Darlene Arden with David Congalton
If you were to die tomorrow, what would happen to your beloved animal companions? Would they be cared for and loved, even after your death? A new resource ­ the first comprehensive book ever published at length on the subject ­ combines compelling personal stories with practical advice on how to protect your pets even after you're gone. "When Your Pet Outlives You, " by David Congalton and Charlotte Alexander, is an easy-to-use, step-by-step guide designed to help pet owners deal with their very real fears of dying before their pets.
Dolphins Rescued
GULFPORT, Miss. - In an "unheard of" rescue operation, eight dolphins that were swept out of their oceanarium by Hurricane Katrina have been rediscovered hundreds of yards out at sea where trainers are tracking, feeding and caring for them. "To find all eight of them on your doorstep is just unheard of," said Moby Solangi, president of the Marine Life Oceanarium in Gulfport. "When we first saw them, they were really starving. When they saw their trainers, they were absolutely flipping." The eight Atlantic bottlenose dolphins were swept out of their tank by the storm surge from Katrina, which then destroyed the oceanarium.
Summer Giveaway Drawing - Congratulations LeAnn Skrzynski



View Animal Radio SCHEDULE


LISTEN to Animal Radio NOW!