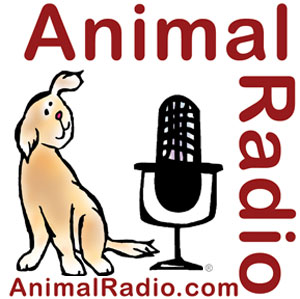 Animal Radio® Show #565 October 2, 2010
Animal Radio® Comes To You Live

from the Loews Lake Las Vegas and
SUPERZOO
brought to you by:.
Animal Radio® is on the road again. This time we're checking out the newest pet products available for your pets as we broadcast from the Loews Lake Las Vegas Pet Friendly Resort. From automatic litters to Smart ID tags, we're bringing the best to you from the floor of the Mandalay Bay Convention Center.
Loews Loves Pet
Jim Caul, Director of Sales & Marketing for Loews Lake Las Vegas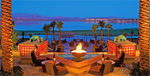 Loews Lake Las Vegas offers the Loews Loves Pets, a comprehensive policy that allows Loews guests to travel with their dog, cat, or any other domesticated animal. They treat their four-legged guests as well as they treat their two-legged ones!
What distinguishes them from their competition?
No weight limit or breed limitations. You can bring your loving 120- pound Pit Bull just as easily as you can bring your 4 lb teacup poodle.
There is no discrimination when it comes to pets. You can bring your cat. You can bring your pet bird if it's really important to you. They want Loews guests to feel at home, so they embrace that extra member of your family-no matter who or what it is - with open arms. (Within reason!)
It's only a one-time cleaning fee. They don't penalize their four-legged guests with an extra daily charge. It takes a little extra work to clean the room, and that's all they have to account for during your stay.
The Loews Loves Pets program extends a Four Diamond Welcome to your pet with services like:
Dog walking by the bell desk
Guide to area place to walk the dog, vets, pet-sitting services
Welcome amenity upon arrival
Pet massage instruction from a trained masseuse
Room service menu which includes chicken chow mein, steak and
To learn more, please visit www.LoewsHotels.com/lakelasvegas
The "Original" All Natural Dog Supplements
Janis Gianforte, NUPRO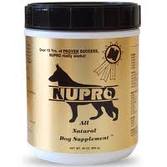 NUPRO Supplements have been around for 21 years, and according to Janis Gianforte, it is the best supplement on the market! Since 1989, they have been committed to helping your pets live healthier, happier and longer lives. NUPRO Supplements have NEVER contained any wheat, wheat gluten, corn, grains, nuts, fillers, by-products, sugar, artificial flavors or preservatives.
NUPRO is a powder that you mix with water to make gravy for your dog. It contains everything that dog foods do not and it is not processed. Just pour it over their food; whether it is canned food, raw food or even a home cooked meal.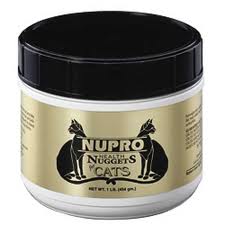 But they haven't forgotten the cats. NUPRO comes in a nugget form for the feline. The reason for the nugget is that many people feed feral cats dry food. These cats get used to the "crunch" and need these nutrients even more. No one is going to be mixing up "gravy" for these cats in the wild, so therefore the nuggets.
After feeding NUPRO, you are going to notice a beautiful skin and coat. Even if you think your pet already has a good skin and coat, this will stop the shedding and revitalize your pet. You will be giving them nutrients that are live, like they would find in the wild.
Complete your pet's nutritional program - he'll thank you from the inside out!
Get Your Licks on Route 66
Susan Sims, Fido Friendly Travel Talk

For the second year, North Shore Animal League America, the world's largest no-kill animal rescue and adoption organization, and FIDO Friendly Magazine have launched an incredible life-saving tour.
The 2nd Annual "Get Your Licks on Route 66" Tour kicked off on September 2nd in Chicago and is ending up in Los Angeles on October 2nd, with the City of Los Angeles, Department of Animal Services. Last year, during this one-month event, they were able to find homes for 150. This year, they are hoping to top that number!
They drove a climate controlled pet adoption bus, a 33-foot Mobile Adoption Unit (their Shelter on Wheels) and wound their way down Route 66, stopping in at partnering animal shelters in key cities along the route. The adoption tour raised national awareness of the plight of homeless pets, enhanced shelter visibility and increased pet adoptions.
"SmartTag"
David Sarnowski, SmartTag

Little Gifts has taken all of the technologies that are out there today and combined them into what they consider to be the most advanced tag on the market and created the SmartTag™. It's more than just a tag, and is like an "Amber Alert" for lost pets.
SmartTag™ is the only pet ID tag powered by the eAlertTM 24/7 Pet Recovery System. Each new SmartTag™ is engraved with a unique serial number that serves as a pet's "social security number," enabling pet owners to quickly create an online profile containing up-to-date photos, video, health records and emergency contact information about

their dogs or cats. And should a pet go missing, SmartTag™ broadcasts an emergency "Amber Alert," activating their exclusive network of over 15 thousand animal shelters, hospitals and rescue organizations within 50 miles of where a lost pet was last seen.
The SmartTag™ 24-hour security protection can be purchased at PetSmart, Petco, Meijer and thousands of independent pet stores. SmartTag™ also partners with local and national charities to donate pet tags and subscriptions to shelters and rescue groups.
Happy Tails Package
Ashley Miller, Loews Lake Las Vegas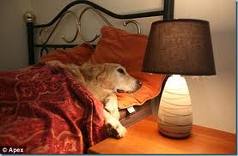 Ashley Miller states that the Loews Lake Las Vegas has special packages throughout the year for pets. They always have a fun or seasonal aspect to them. They've done a Presidential Pooch package, a Green Dog package with organic food and a recycled dog toy. There's always something fun at Loews.
Their new package, the "Happy Tails" package, began on October 1st and features:
One-night stay for pets with their owners,
Wag Your Tail Delight" beef tenderloin meal
NO $25 pet cleaning fee (waived)
Loews Loves Pets standard amenities (dog bowl, place mat, treats)
The new Fisher-Price® Chatter Pup Telebone™, a puppy phone inspired by the iconic Fisher Price Chatter Telephone for kids.™
The "Happy Tails" pet package is available at 18 Loews Hotels throughout the U.S. and Canada from October 1, 2010 to January 31, 2011. To sign up for this package, please visit www.LoewsHotels.com.
Stop Scooping that Litter!
Alan Cook, ScoopFree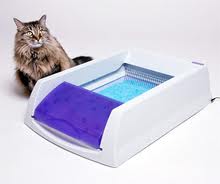 The Scoop Free Automatic Litter System is getting better every year. For 2010, they have the new and improved models with a quieter motor.
They also have new cartridges of litter available:
Blue litter - with fragrance and perfume
Scoop Free-Free – white litter free of dyes and perfumes without additives
Scoop Free blend - which is a blend of regular clay litter with crystals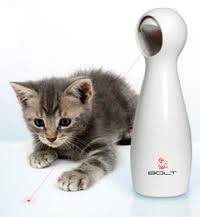 The cartridges will last a few weeks with one cat. If you have two cats, it will last about 2 weeks. During this time, you are not seeing, handling or smelling the waste. You get to leave it alone for weeks at a time.
And don't forget their FrolicCat line of cat toys. The "Bolt" is an automatic laser toy with a 15-minute timer and an adjustable mirror to aim the laser. The "Sway" magnetically suspends a toy from a variety of flat surfaces. Just slid the magnets for interactive play. The "Dart" is an automatic rotating laser light with variable speeds and timer settings. These toys will have your cat chasing, jumping and pouncing!
So set up the ScoopFree Automatic Litter System and the timer on the Frolicat cats toy and sit back and enjoy!

Dodge Journey Pet Destinations
What Is Your Favorite Place To Take Your Pet?
People who have pets love to travel with them. At Dodge, they have made it easier with their pet friendly vehicle, the Dodge Journey, which contains concealed storage bins, Chill Zone glove box cooler and second-row dual in-floor storage bins with removable and washable liners (very handy for muddy paws!) Call us with your favorite place to take your furry-friend: 1-866-405-8405
This week's Dodge Journey Pet Destination:

Animal Radio® nominates the Loews Lake Las Vegas as this week's Dodge Journey Pet Destination. This was the first time anyone from the Animal Radio dream team had ever visited Loews Lake Las Vegas and we were all truly enchanted by the grounds. The fact that they let your furry friend (with all sorts of pet amenities) enjoy it with you, makes it that much more inviting. If you are ever in the area, don't miss the opportunity to check this hotel out - we give it a 5 Paw Rating!
Past Dodge Journey Pet Destinations:

While Victor was currently in the process of moving to Alaska from Alabama, he recalls the fond memories he had with his Lab who loves any place that has water. Her favorite place was Twin Mulberries in Alabama, which has a Little Mulberry Creek and a Big Mulberry Creek. She loved playing in the Big Mulberry Creek with her football. I am sure she will find some exciting places to play in Alaska as well!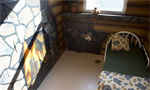 Carol from Pennsylvania loves to take her dog to the Nemacolin Woodlands Resort, which is a family and luxury vacation destination on 2,000 wooded acres in the Laurel Highlands of Southwestern Pennsylvania. You will also find the Nemacolin Wooflands, Pet Resort and Spa, Pennsylvania . You will find everything from climate-controlled rooms with elevated beds to a grooming salon, daycare and obedience training classes. The only problem you will have is that your dog will not want to check out!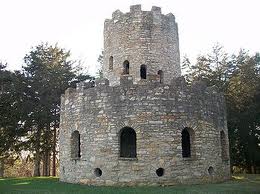 John of Clinton, Iowa loves taking his dogs to Eagle Point Park in Clinton Iowa , which has a big dog park and is situated in the northern section of Clinton. There, you will find a place to walk your dog on the levee along the river. Eagle Point Park overlooks the Mississippi River and General Zebulon Pike Lock and Dam (No. 11). It is a 164 acre park. Visitors are provided with spectacular views of the river and parts of Illinois, and Iowa. In the fall, you might even get lucky and glimpse hundreds of eagles fishing in the river.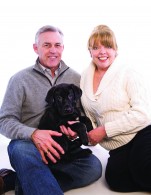 Susan Sims, Publisher of Fido Friendly Magazine, travels constantly around the country exploring Fido friendly places. So, we asked her what her favorite place was for her and her husband Gregg to take their dog, Junior. Susan loves Seattle, Washington, and tells us some great places. Susan picks Kimpton's Hotel Vintage Park in Downtown Seattle as her favorite hotel. During her stay, she enjoyed a view of the Space Needle from her room. Next, she picks Tulio Restaurant in the hotel. While your dogs can't dine in the restaurant, she was able to order some fabulous food from room service. And lastly, while she was in Seattle, she took her dog to Marymoor Dog Park in Redmond, Washington , which has 40 acres of off leash fun for your dog!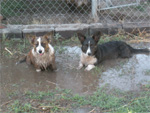 Mark, from Southeastern Wisconsin, recommends the Burlington Dog Park in Burlington, Wisconsin. He tells us it is a great place to take your dogs in the summer. They have some great open fields to let your dogs run free. It is also next to the Fox River, so if you have a dog that likes to flop around in swampy mud, it is a great place!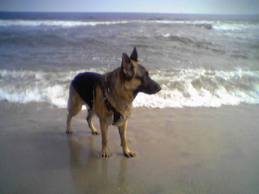 Vladae, Animal Radio's own Russian Dog Wizard, is one busy guy. He sees one client after another and is always hard at work turning unruly dogs around for their guardians. But after a hard day of training dogs, he and his wife like to take their dog Mika (who is of course very well behaved), to the Huntington Beach Dog Park in Huntington Beach, California. There, Mika can run free with the other dogs and just be herself!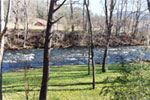 Steve from Tennessee recommends the town of Townsend, Tennessee, one of three gateways to the Great Smoky Mountains National Park, which has dubbed itself "The Peaceful Side of the Smokies." You can find many roadside parks along the Little River to take your pets. Steve states that his dogs first learned how to swim in the Little River.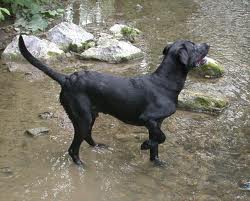 Richard of Bend, Oregon likes to take his Labrador Retriever to Tumalo State Park in Bend, Oregon, in the heart of sunny central Oregon. Tumalo State Park rests along Oregon's spectacular Deschutes River, which is a great place for your water-loving dog to romp.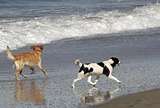 Glenn of San Diego recommends Ocean Beach Dog Beach in San Diego, California. Ocean Beach Dog Beach is open to canines any time. This small beach has plenty of sand for the dogs to run on, and waves for them to run through. On weekends there can be up to 100 dogs there.

Bo from Los Angeles, California tells us her 2 black labs like to go hiking and to the beach. But one of her favorite places to take them is Runyon Canyon Park in Los Angeles, California. It is a 130-acre park in the Santa Monica Mountains, two blocks from Hollywood Boulevard. She states that this is a great place where your dogs can frolic with other dogs and have a good time! And who knows, you might even catch a glimpse of a celebrity and their pet while you're there!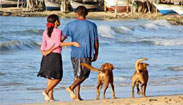 Danielle from Shell Beach, California tells us her favorite place to take her dogs is Avila Beach, California. She states it is a very secluded beach with a nice protected area to let your dogs run free. Everyone brings their dogs to this beach and it is a very pet-friendly place.
The Dogfather's Grooming Tip with Joey Villani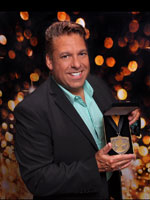 Color Your Pet Safely This Halloween
The salons use dyes to color dogs that are vegetable based and non-toxic. But if you don't know what you are doing, these are hard to work with and can be very messy. However, there is an easy way for you to color your pet at home and it's safe! But, this will only work of your white, cream and apricot color dogs and will not work very well on dogs that are dark in color such as brown and black.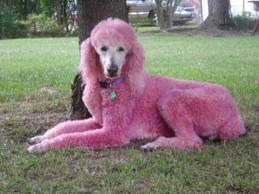 Take a powdered drink mix such as Kool-Aid, but make sure it is sugar-free. Take some of the powdered mix and put it in a container. Dilute it down with a little bit of water. Don't add too much water, as you just want to make sure that it is completely dissolved but still a little thick.
Next, put it on your dog's coat and brush it in and let it dry. It will last for some time, but don't worry, it will eventually wash off. If you want to remove it sooner, bathe your dog and follow up with a rinse of a gallon of water and a 1/4-cup of white vinegar. This will remove most of it. It might take a few washings, but it will not hurt your dog.

DOGFATHER'S GROOMING TIP Brought To You By SeniorPetProducts.com. Use the code "radiospp" to receive 25% off!
.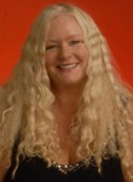 Animal Radio® News with Laurie Roberts

Monster Shrimp
Scientists have discovered eight new kinds of the earliest animals ever on the famous Burgess Shale of Canada, on an unexpected 30-foot section of rock. Among the more dramatic discoveries is a new kind of anom-alocaridid, the monster shrimp type predator of a half billion years ago.
Russian Circus Violates Animal Protection Act
A Russian Circus has been forced to cancel an act in which a woman swallows a live fish and regurgitates it - to me, that would be the only option. Australian officials said the trick was in violation of the Animals Protection Act. The ban came as a surprise to the general manager of the Moscow Circus, saying that the act had been going on for several weeks and there hadn't been any complaints. However, he said, the fish used in the act are now living in showbiz retirement.
Eight-Foot Shark Caught Near Washington D.C.
While we are talking fish stories, there was an eight foot shark caught near Washington D.C. recently. It was a bull shark, considered to be the most dangerous shark in the world. It was caught by a marine biologist that had been looking for cow nosed rays and the shark ended up in his net.
Ringling Bros. Circus Passes Test
For years, the Ringling Bros. Barnum & Bailey Circus would roll fairly quietly into Sacramento, Ca. and get little notice till show time. However, this year enacted an ordinance that allows officials to inspect and monitor the circus animals, making sure they are receiving good treatment. Sacramento officials say all looks good, and Ringling Bros. is passing the test.
Dogs Vote for Mayor
The Washington DC Humane Society recently conducted a 'paw poll' to let dogs cast their votes for mayor. Bone shaped biscuits were decorated green with white polka dots for Mayor Adrian Fenty and white with green polka dots for challenger Vincent Gray. Some dogs, independent thinkers they, did not vote the way their owners wanted, and some voted more than once because they were hungry.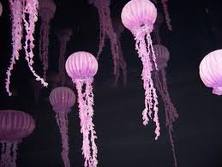 Dormant Jelly Fish
There are thousands of jellyfish in Walden Pond. Scientists say jellyfish can remain dormant for years and bloom en masse, then go dormant again for a very long time.
"Way Too Lame" Award
And finally, in this week's 'you are way too lame' award, a Salt Lake City man has been accused of violating a protective order after he began sending letters to his estranged wife's cat, asking the cat to get its owner not to testify against him in court on domestic violence charges. Of course the cat ignored the letters.

RIP Charles Bob Elgin
We say Rest in Peace to Charles 'Bob' Elgin who started and remained a major supporter of the Des Moines Iowa Children's Zoo. When the zoo opened in the mid 60's to little fanfare, Mr. Elgin would purposely get bitten by venomous snakes to arouse curiosity and bring people in. Whenever zoo attendance would dip, he would inject himself with cobra venom, his arm would swell, word would get out to the press and people would come thru the gates. When the city council refused to allow money for a nighttime security guard, Mr. Elgin would patrol the zoo perimeter with a tiger. His family became involved as well. When the zoo didn't have room for baby lions, they would keep them in incubators in their basement and feed them with bottles. But Mr. Elgin's work also put him in harm's way. He lost two fingers to a 170-pound chimp named Skipper, a 400-pound ram broke his back and a lioness mauled him when he was dressed as Santa. In 1978, when a Mountain Lion escaped from the zoo, Mr. Elgin simply walked up to the animal, put a collar on him and walked him back to the zoo. Mr. Elgin was 89 when he passed and his family hopes he is remembered as an intelligent, compassionate man that was well versed in many areas. We at Animal Radio raise a glass to you, Mr. Elgin.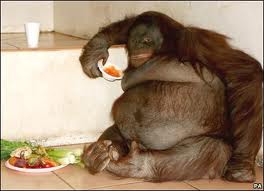 Marshmallow Eating Orangutan
Speaking of zoos, an orangutan named Oshine became so overly chunky on her diet of marshmallows and no exercise that she has been moved to an ape rescue center in England. Oshine tips the scales at 220 pounds, more than twice what she should weigh and is now the largest orangutan in England. Oshine had been a family pet in South Africa, and when the family wasn't home during the day, they left her with junk food to keep her happy. The family contacted the Monkey World Ape Rescue Center a couple of years ago for help. Orangutans have the slowest metabolism of any of the great apes, even humans but now that she is at the rescue center she is climbing, playing, dining on fruit and vegetables and has finally seen another orangutan for the first time.

Alligator Found in North
A Massachusetts man out for a quiet paddle down the Charles River in his canoe saw an alligator happily sunning itself on a rock. North Carolina is the farthest north that alligators are found naturally. Environmental Police arrived and got the alligator, which didn't put up much of a fight because it was cold. They figure it had been a pet that escaped or was set free. It is currently on display at a Wildlife Rescue and when it grows to it's full size of 10 to 12 feet, it will be moved to an alligator farm in Texas or Florida. Speaking of alligators as pets - never a good idea - also in Massachusetts in the town of Brockton, a firefighter on his way to work spotted a three-foot alligator with a spiked collar and a broken leash ambling across the road.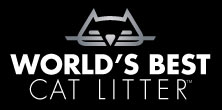 NEWS UPDATE Brought To You By World's Best Cat Litter™
Listen to the entire Podcast of this show (#565)

indicates XM Satellite Radio and Podcast versions only.