October 7th 2006
HGTV's Hammered with John & Jimmy DiResta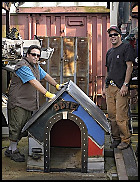 Jimmy DiResta can make anything and John DiResta can make anything hilarious in this half-hour of hard-core building. A catapult, an ice rink, brick barbecue, go-cart, fish tank, blown glass, a neon sign-Jimmy, a master builder, has a million trade secrets you can't get anywhere else. John, a professional comedian, has a million quips and questions for his brother and the occasional man-on-the-street interview. Home improvement just met the last comic standing.
Jimmy DiResta began his career in 1990 as an artist, inventor and teacher when he earned his BFA from the School of Visual Arts in New York City, where he currently teaches a course in 3D design. He has spent most of the past 16 years in the toy industry inventing, designing and developing products.
John DiResta was a member of the NYPD for 12 years before he decided to try stand-up comedy. After only five years in the business, John's outstanding talent paved the way for him to star in his first network sitcom, DiResta on UPN. Along the way, John ventured into feature films, appearing with A-list actors like Sandra Bullock, Kate Hudson and Robert De Niro.
In their newest TV show, HGTV's Hammered with John & Jimmy DiResta, the brothers tackle unusual building projects-the more outlandish, the better!
http://www.HGTV.com
Adrian Zmed, Officer Vince Romano on TV's T.J. Hooker
Dogs Deserve Better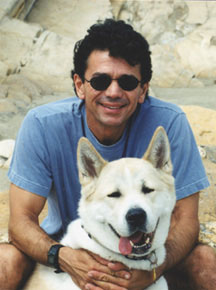 Adrian Zmed is better known for his roles as "Johnny Nogerelli" in Grease 2, and as "Officer Vince Romano" in the T.J. Hooker television series, where he starred alongside William Shatner.
Adrian Zmed, guardian of Cubby, was shocked to hear that dogs live chained outside for life. As a supporter of Dogs Deserve Better, Adrian joins us in asking you to bring your dog inside to live as part of the family.
Listen in and find out what Adrian is up to these days.
http://www.DogsDeserveBetter.com
Cat "Horror Stories" Halloween Contest
Alan Cook, Lucky Litter, LLC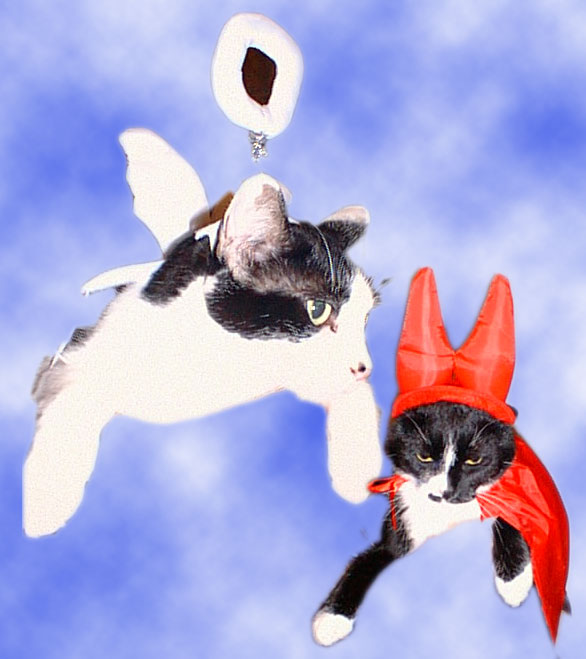 Lucky Litter LLC, maker of the ScoopFree™ automatic litter box that you can leave alone for up to 30 days per cat, and Animal Radio® are marking the Halloween season by kicking off a contest seeking the best "horror story" in which your cat lost one of his nine lives.
"This contest is in the playful spirit of the scary stories told around the campfire," said Alan J. Cook, president of Lucky Litter. "We want to hear your favorite story on how your feline proved that cats indeed have nine lives."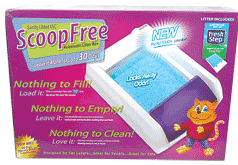 Share your cat's story and enter the contest, which runs through Oct. 31, by visiting www.scoopfree.com/contest. Please include a picture of you and your cat with your entry.
Winners, to be announced by Nov. 17, will receive a free ScoopFree automatic litter box or a case of six ScoopFree Litter Tray Cartridges if they already own a ScoopFree. The contest is not valid where prohibited by law.
ScoopFree is available at selected PetSmart stores and can be purchased online at PetSmart.com, Target.com, Amazon.com and Costco.com. For more information on this major innovation in cat care, visit www.scoopfree.com
ENTER HORROR STORY CONTEST
Love at First Bite
Britt Savage


A recent wedding ceremony was held in India, but it wasn't your usual ceremony. It was between a woman and a snake.
The 30-year-old woman said she was in love with the snake and was therefore married by a Hindu priest with 2,000 people celebrating the event.
The groom, I mean the snake, was a little shy and did not come out of his ant-hill. A brass replica of the snake was used as a stand in for the ceremony.
Even though the cobra is very poisonous, the woman said she he has never harmed her. Her relatives are very excited about the union and feel it will bring good luck. They have even built a hut by the ant-hill where the woman will live.
Dolphins - Breathing Hope
Rae Ann Kumelos, Voice of the Animal


Discover how the dolphins from the Gulfport Mississippi Oceanarium uphold their mythic legacy to remind us all of the importance of sticking together.
http://www.VoiceOfTheAnimal.org
Talk With Your Animals
Joy Turner
Joy speaks with Keesha, who belongs to the caller's sister. Keesha has been in and out of the hospital with pancreatitis, and says it will be another week or two before she knows if the treatment is working, but she is not ready to go yet.
http://www.TalkWithYourAnimals.com
"Purr-Forming" Cats
Karen Thomas, Hollywood Animal Trainer


Karen has been a trainer in the film industry since 1989 and has worked with everything from cockroaches to elephants. Early in her career she saw the lack of well trained cats that were available for film projects. She decided to concentrate her training efforts in that area.
From 1996-2003 she traveled around the country to cat shows and other venues educating cat owners about cat care and training. Her cats performed in live educational and entertaining stage shows in front of audiences of cat lovers.
Look for Karen and her "Purr-forming Cats" at the upcoming CFI-Iams Championship which will be held in New York City's Madison Square Garden on Saturday, October 14th and Sunday, October 15th. These specially trained cats dunk mini-basketballs, walk on high-wires, and even play with a mouse - a computer "mouse" that is
More than 300 of America's finest felines will compete in the CFI-Iams Championship for the coveted titled "Best in Show. Also returning to this year's show is a spectator favorite, the Feline Agility Competition (FAC), a challenge that is sweeping the nation. Last year's competition was won by a 6-month-old Japanese Bobtail kitten, Wyndchymes Intrigue of Hajja, who navigated a series of eleven obstacles, including tunnels, stairs, poles and jumps, all in 17 seconds.
http://www.HollywoodPaws.com
http://www.CFA-Iams-Cat-Championship.org
Fat Pets - A Poor Prognosis
Dr. Jim Humphries, Veterinary News Network


The saying goes that pets look like their owners. Well these days that old adage holds true more than ever, as the obesity epidemic expands to our cats and dogs. Obesity is a very significant problem in dogs and cats, says veterinarian Scott Allen Brown, head of the small animal medicine department at the University of Georgia in Athens. About 1 in 5 to 1 in 3 animals are overweight or obese. Rocky and Fluf are born to be scavengers, but today they don't have to stop their prey or scrounge for a meal. We see large numbers of domesticated pets being fed very high quality food, but they live very sedentary lives with limited exercise, says Brown. Quite honestly, it is analogous to what we see in their pet owners.

Lassie earned her chow by working on the farm and rescuing Timmy, but pets today are born retired.

About half of all overweight pet owners can't identify their pet as such. So owners need to monitor their pets weight by sight, touch and weigh-ins about 4 times a year. Dogs should have a slight indentation like a waist when they stand and when they are viewed from overhead. Cats and smaller dogs can be weighed at home. Simply get on the scale with your pet in your arms then subtract your own weight from that total. Check with your veterinarian to see if the weight is within a healthy range for your pet.
http://www.VetNewsNet.com
Crookston Shelter Rescue Challenges and Rewards
Mike Fry, Animal Ark Animal Shelter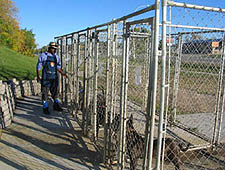 Sometimes the rewards that come from animal rescue work are exciting and dramatic. Other times they are more subtle, but no less profound. Recently, while rescuing animals from an animal shelter in Northern Minnesota, I had an experience that reminded me why Animal Ark's work is so important.
Of all the rescue work I have done, Animal Ark's recent effort to close the Humane Society of Polk County was, in some ways, the saddest. Beyond a doubt the conditions in which the animals were living when we arrived were tragic. But, amid the deep, dark despair that could be found in this story of animals being neglected by an organization that was founded to save them, I found some reason for hope and celebration.
The day we arrived at the Humane Society of Polk County in Crookston, Minnesota was a very long one. Packing and preparations to leave began very early in the morning. Then, there was the 5-hour drive to the Northwest corner of our state. Then equipment and supplies needed to be unloaded.
By the time we started the actual rescue efforts - just before 5 PM - the Animal Ark rescue team had already put in a very full day.
Even still, we chose to dive right into the work that brought us to Crookston. There were dozens of animals living in terrible conditions and they needed immediate attention.
The shelter itself was a very strange place. The entire second floor of the building was designed as an old bingo parlor that had not been used for what seemed like years. It was filled with garbage and old, outdated supplies.
The animals were confined to a few small rooms downstairs, in the walkout basement.
The dog kennels were in a small, concrete, windowless room. Dogs were living in tiny, cement boxes that were more like solitary confinement cells than dog kennels. Each dog had just enough room to sit, stand or lay in one spot. They rarely, if ever, got outside.
As bad as things were for the dogs, the cats may have had it worse. They were confined to small steel cages that were just large enough that could turn around. When we arrived, the cages had not been cleaned and some of cats had not been fed.
The food that was being fed to the animals was contaminated with insects, larvae and mold.
Some of the animals at the shelter had been living like this for years.
There was Pete, a young shepherd/husky mix, who had occupied his time in his kennel by learning to jump straight up off the floor about 5 feet. From that height, he could see into the other dog's kennels. I am guessing that this gave him some level of comfort, because he would repeat this move over and over to help alleviate his boredom.
Sasha, a beautiful staffordshire terrier mix, exhibited the same behavior.
But, most of the other dogs would just look at you with pleading eyes, as if to say, "please get me out of here."
When anyone walked into one of the cat rooms, the cats would start crying and they would stick their paws out of the steel bars of their cages. They were begging to be loved and held. They seemed to crave affection even more than they needed good food.
So our team went right to work.We set up temporary outdoor cages for the dogs, so they could get outside as often as possible.We made a temporary, outdoor play yard the dogs could run around in. Then, we connected dog kennels together, so that each dog could use 2 - 4 kennels at one time. We provided them with beds, blankets and toys, too. And we emptied and cleaned the old bingo parlor where we established a new cat center, with new, large, open-air cat cages.
At about 2:00 AM, nearly twenty hours after starting that day's work, our team inflated our air mattresses and made our beds on the floor of the old bingo parlor, surrounded by a room full of restless felines.
In the dark, the recently rescued cats called to each other. They scratched in their new, clean litter boxes and played with their new toys. They knew their lives had just taken a dramatic turn for the better, and they weren't about to go to sleep. And either was I. No matter how hard I tried. I laid in the dark and listened to the noisy cats.
Then, all of a sudden, the room full of felines fell silent.
I lifted my head from my pillow to see what was going on. What I saw was a soft, gentle reminder of why the Animal Ark team works so hard every day. When we set up the new cat center, we had arranged the cages on tables that were lined up against large windows that faced east. The first rays of the morning sunrise had just begun to peak over the eastern horizon. The cats had all fallen silent and were sitting motionless transfixed on the sunrise. Animal Ark volunteers and staff have been shown much appreciation from the animals rescued from Crookston.
Because of the way they crave affection, and the way they "stick" to us, some volunteers now refer to the Crookston pets as our "velcro animals". Living in their new, luxury accommodations at Animal Ark, they hang on our every word, and are so appreciative for their food, treats, beds, toys, walks and play times.
But the time that stands out in my head the most is the time spent watching the morning sunrise with dozens of rescued felines.
These animals are now at Animal Ark looking for homes.
http://www.AnimalArkShelter.org
National Puppy Mill Rally
Tina Frank, United Against Puppy Mills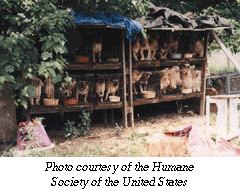 Americans purchase puppies from pet stores, dealers, newspaper advertisements and via the Internet by the thousands and never sees the conditions in which the puppies are born. A number of reports, however, have revealed that the conditions can be horrific. Thousands of puppy breeding operations exist across the country. Many of the problems inside these facilities include over breeding, inbreeding, minimal veterinary care, poor quality of food and shelter, lack of socialization with humans, overcrowded cages, and the killing of unwanted animals. All 50 states have anti-cruelty laws that should prevent neglect and mistreatment of dogs. Despite repeated violations of the federal Animal Welfare Act (AWA) many of these operations exist and go unpunished.

On October 14th 2006, Unite Against Puppy Mills (UAPM) is Holding a National Rally in Lancaster County Central Park, Lancaster Pennsylvania. A very big project Ruffin' It... A Day in the Park this will be the first of its kind for UAPM! Activities will include contests, games, food, and entertainment. The rally will be from 10am-3pm. The goal of the rally is to bring attention to the national tragedy of wholesale puppy brokeraging and the deplorable conditions and detriment to canine health these puppy mills generate.
http://www.UnitedAgainstPuppyMills.org
Listen to the 1st Hour ABRIDGED VERSION Podcast of this show (#358).
Purchase a CD Copy of this Show

View Animal Radio Network® Broadcast Schedule in a new window.


Listen to Animal Radio® - Go to the launch page


Return to Animal Radio Network® Home Page


Read October Newsletter
Copyright 2006 All Rights Reserved Animal Radio Network LLC