October 10th 2005
In Future Disasters, People Will Not be Forced to Abandon Household Pets
Congressman Tom Lantos (D-CA)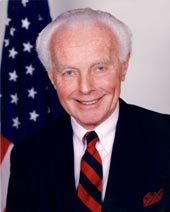 Congressman Tom Lantos, along with several others, introduced legislation to ensure that in any future disaster, federal officials will not separate people from their household pets and service animals such as seeing-eye dogs, as they did in the wake of Hurricane Katrina. The Pets Evacuation and Transportation Standards Act (PETS Act, H.R. 3858), requires local and state emergency preparedness authorities to include in their evacuation plans how they will accommodate household pets or service animals in case of a disaster. Local and state authorities must submit these plans in order to qualify for grants from the Federal Emergency Management Agency.
"The devastation in Louisiana, Mississippi and Alabama brought unbelievable images into American homes every night," Lantos said. "The losses of life and property were simply staggering. And on top of all that, the sight of evacuees choosing between being rescued or remaining with their pets, perhaps even having to leave behind the trained and faithful helping animals that some people with disabilities rely on every day, was just heartbreaking. Our legislation will put an end to that."
Lantos is the co-founder of the Friends of Animals Caucus; he currently co-chairs the caucus with Rep. Shays.
Katrina Victim Sadie Mae Reunited with Guardian
Dr. Eve Ognibene, North Shore Animal League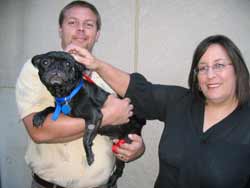 Sadie Mae, a two-year-old black Boston Terrier, was reunited with her guardian at the North Shore Animal League America,s headquarters in Port Washington, N.Y. Sadie Mae was airlifted to safety by North Shore Animal League from a temporary staging area in WHERE two days before Hurricane Rita made landfall. "After a month away from my home, I really believed that my Sadie was dead and I've felt so lost without her," said Cindy Gondolfo, who has raised the dog since she was a pup. "She's been my companion through thick and thin for the past two years, and my heart has been broken for weeks now. To hear from North Shore Animal League America that Sadie Mae is alive and that I could be with her again is a miracle, a weight has been lifted and I feel like I can begin to move on from all that I lost."
Rumors of Disorganization of Katrina Animal Rescue Efforts
Merritt Clifton, Animal People
"I drove 1,000 miles in Louisiana, Mississippi, & Texas, checking out rumors. I found a relatively minimal amount of stress & confusion, in view of the enormity of the situation--some folks having meltdowns, of course, & some things going haywire, but compared to what I have seen on other occasions, covering disasters of various sorts since 1969, the animal rescue response was incredibly well-organized. Obviously procedural improvements in disaster response can still be made, but the progress over the past generation, especially after Hurricane Andrew in 1992, has been immense and is to be saluted."
Adoption Fees Reduced for "National Adopt a Shelter Dog Month"
James Bias, Texas SPCA
The SPCA of Texas, in conjunction with animal shelters nationwide, is celebrating "Adopt a Shelter Dog Month" during October. Though the end of October, the adoption fee for all large dogs weighing 36 pounds or more at all SPCA locations and all offsite venues is only $50 (regularly $90). The $50 adoption fee includes spay/neuter surgery, all yearly shots, rabies shot, de-worming, leash/carrier and microchip
With the upcoming availability of dogs displaced by Hurricane Katrina, SPCA animal care centers are filled to capacity. All dogs from the areas affected by the hurricane will be available for adoption as early as October 20 after being spayed and neutered.
Cancer and Your Pet: The Complete Guide to the Latest Research, Treatments, and Options
Veterinarian Debra Eldridge


Cancer is the leading cause of death in dogs and cats over eight years old; 47% of dogs and 32% of cats will die from cancer in their later lives. Recent research has vastly improved cancer treatments and information for pets. Debra Eldredge, an award-winning veterinarian, and Margaret H. Bonham, an award-winning writer, team up to present the latest research and treatments to save your beloved pet from cancer in the new book.
Extra Extraordinary Chickens
Stephen Green-Armytage


The striking images in Extraordinary Chickens showed that "the world of chickens is a world of wonders" Now, in a follow-up to the extraordinarily successful first book from Stephen Green-Armytage, the photographer presents 61 breeds and 5 species, including 14 breeds not previously included in the first book, a new series of chicken couples, and virtually all new images. Capturing with his camera chickens of all sizes, shapes, and colors, he illuminates gorgeous feather patterns worthy of French fabric designers, as well as elaborate wattles, elegant crests, and many other details. Stephen Green-Armytage's photographs have appeared in numerous books and magazines, including Sports Illustrated, LIFE, Fortune, Smithsonian, and various European magazines. He is the author/photographer of Abrams' first volume on Extraordinary Chickens, as well as subsequent takes on Extraordinary Pheasants and Extraordinary Pigeons, plus the delightful children's book Dudley: The Little Terrier That Could. He lives in New York.
What do you get if a horse is raised by a goat?
Britt Savage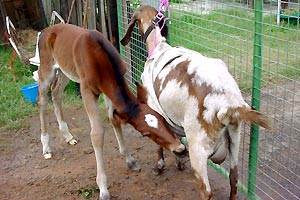 Jeff Love, the owner of an orphaned foal, was more than happy to find out. A few weeks ago, Jeff Love made a public plea for help on ABC Local Radio when he was desperate to find a foster mother for his hungry filly. The plea was heard by a number of well-meaning people who introduced Mr. Love to Grafton based Anne Mianowany - a woman who has become something of an expert when it comes to finding foster care for orphaned animals. Ms Mianowany said. 'Billy' the filly and the foster goat had a rocky start but things are now going well for the unlikely pair.
Oh Those Teens!
Darlene Arden
You've got the puppy of your dreams. She comes, sits, lies down, walks on a leash reasonably well. Then, suddenly, it's as if Martians had landed, taken your little angel and replaced her with an evil twin. Suddenly, she's rebellious. She doesn't do any of the things she did before. She seems to have forgotten how to sit, stay, come, lie down and walk nicely on a leash. She reminds you of a human adolescent. That's with good reason. Welcome to your dog's "teenage" period.
Vaccinating Pets ­ Controversial and Important
Dr. Jim Humphries, Veterinary News Network


Both people and pets are helped tremendously by the medical procedure known as immunization. Immunizing a pet is both smart and very inexpensive protection against a variety of deadly diseases. For many pet owners vaccinating their pets is a simple procedure. While the process is simple, deciding which vaccines to give and when has become more complicated. Several new vaccines for emerging diseases need to be given at different intervals and not all pets need every vaccination available to veterinary practitioners. Using the science of DNA, advances in vaccine technology include a series of vaccinations called "recombinant vaccines" that are highly effective and very safe.
Dolphins ­ Breathing Hope
Rae Ann Kumelos, Voice of the Animal


Discover how the dolphins from the Gulfport Mississippi Oceanarium uphold their mythic legacy to remind us all of the importance of sticking together.
Cigarette Companies Find New, Untapped Market ­ Your Pets!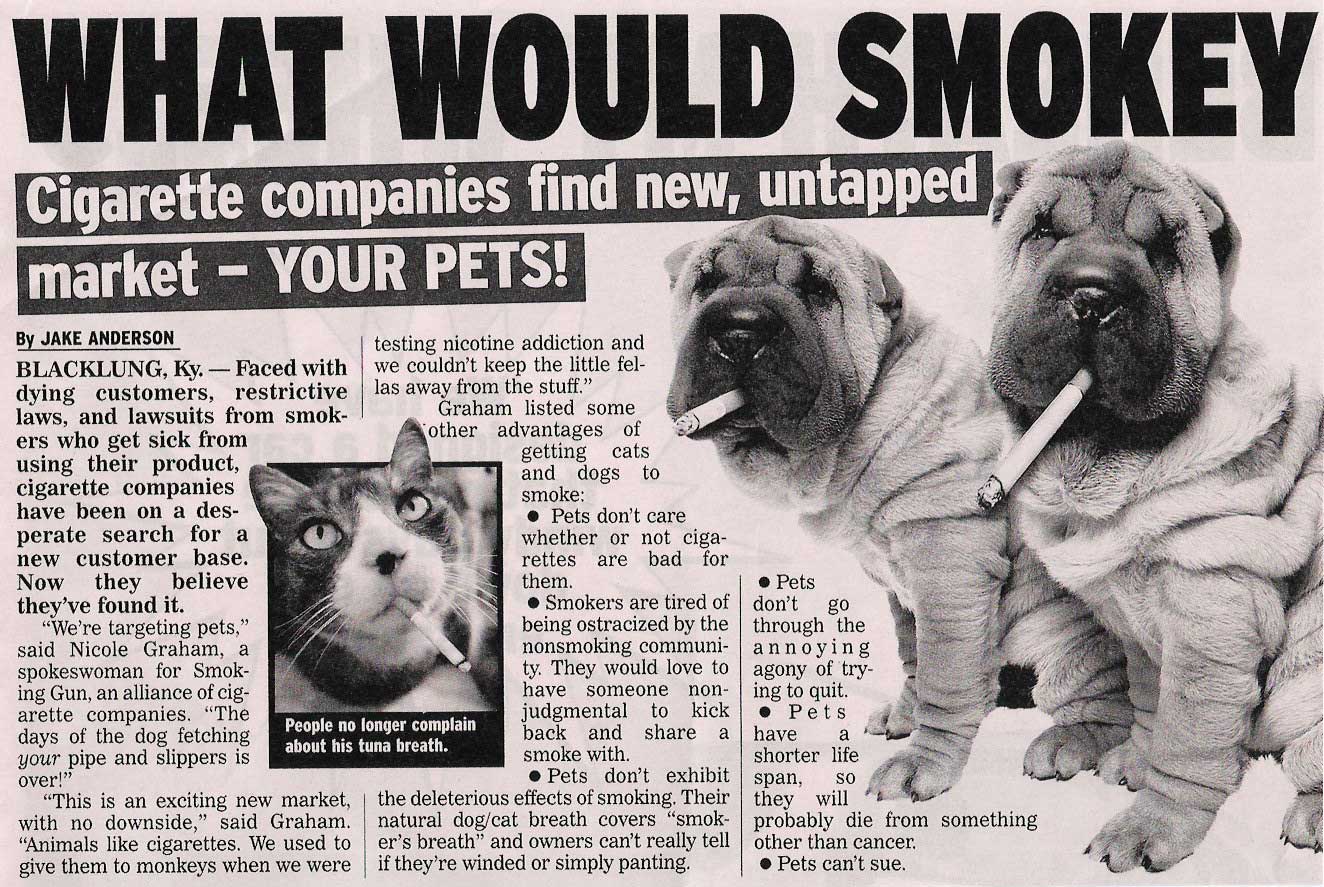 click to see article
Talking Boston Terrier
Click to hear him say "I Love You"
Animal Radio receives many e-mails about talented pets, which may or may not be true. Hear the recent clip of the Boston Terrier that says "I Love You" and decide for yourself.
Also received was a video of a scuba-diving cat. If anyone out there has information that this is true, please contact us, or if you have a talented pet, let us know.