Animal Radio® Show #462 October 11, 2008


Victoria Stilwell
U.S. Premiere of "It's Me Or The Dog


"It's Me Or the Dog" is a series that follows Victoria Stilwell as she tries to restore harmony in homes where the pet is running riot and the family is in the doghouse. Through observation, interviews and secret filming with a 'pet cam', Victoria uses her 10 years of experience to assemble the evidence and diagnose the problem. A clear practical training program follows, offering both pet and owner the chance to change the bad habits of a lifetime. This series gives owners easy to follow hands-on advice.
While "It's Me Or The Dog" was originally filmed in the United Kingdom, they have brought it to the United States with the premiere on Saturday, October 11th at 9:00pm (ET/PT) on Animal Planet.
Victoria currently lives with her rescued animals a cat and chocolate lab along with two fish. Victoria would like to add a snake to her menagerie, but her husband is opposed to the idea!


Operation Blankets of Love
Eileen Smulson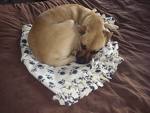 Operation Blankets of Love was started in January 2008 by Eileen Smulson after her visit to a shelter where she learned that one item that was sorely needed were blankets. Since then, she has collected 15,000 old and new blankets, comforters and towels, plus pet related items people donated.
Eileen currently has 20 drop off locations and is always adding more. Eileen makes presentations on Pet Responsibility and Pet Care for schools, civic groups, and businesses and then they do an Operation Blankets of Love drive.

A study by the Compassion Action Institute in New York shows that shelter animals that are given blankets, sheets, and comforters to rest on are more able to relax and get comfortable in their new surroundings while they are waiting to be adopted.
Items that are needed are used and new (everything must be clean and not ripped):
blankets
towels
washcloths
comforters
bed sheets
pet beds
These blankets will then be used for:
bedding so they do not have to sit, lie and sleep on a hard cement floor and be uncomfortable.
when animal control finds an abused or sick animal they wrap them up in a soft blanket/comforter.
after an operation by the vet in the shelter they put them on a blanket/comforter.
towels in all sizes are used for bedding, too.
towels are used to clean them up when they come in filthy.
washcloths are used to clean their ears, noses and faces.
To find out more information, contact Eileen Smulson at 818-402-6586 or email her at eicreate@aol.com.



Vladae, The "World Famous" Russian Dog Wizard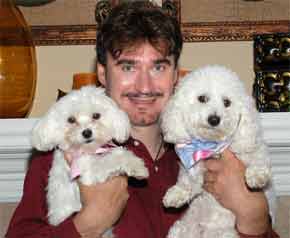 Dog Runs Off When Outside
Go to your local hardware store and buy a rope usually used for a clothesline. It will be very light and give your dog a feeling of being on his own. Tie one end to your dog and the other end to the front door. Let him out and tell him to come, which of course he won't do. So just before he reaches the end of the rope snap the rope and tell him to come. When he comes to you, praise him and give him treats. You might have to do this a few times, but you need to get him to come on his own at least 3-4 times in a row. In other words, in order to deal with the problem you need to set it up.
In-Laws' Dog Humps Everything Including His Dogs
This action is causing a fight between this man and his wife, while his in-laws think it's funny. He should talk to his in-laws and tell them that he doesn't like it when their dog humps his, but that also one day their dog is going to "hump" someone else's dog and there is going to be a big fight and they will be legally responsible.

2-Year-Old Yellow Lab ­ Jumps And Barks LabYellow.462.jpg
This dog has been through obedience and agility training but still jumps and barks. This woman even tried a bark collar, which she tested on her husband, but didn't seem to work on the dog! It is a dog's nature to submit to authority, but during the prior dog training, obviously authority was not established. But all is not lost, listen to Vladae explain where to go from here.
http://www.911dogwizard.com



Vinnie Penn, Animal Radio's Resident Party Animal


Stella's 1st Fish: "Magnolia, Dandelion, Sarah, Betty..."
Well, we did it! For those of you who listen to these segments of mine, I told you earlier that my five-year-old daughter Stella was ready for a pet. We looked at a lot of different pets, but I wanted to start her off with a fish. Actually, she already has had a turtle and a frog, but they have since moved on, and it was time to get another pet. I wanted to start her with a fish, as I think that's a good starting point for any 4, 5, or 6-year old.
We went to the pet store and picked out just the most beautiful pink fish. Stella picked her out herself. We got the nice little aquarium and she dressed it up and decorated it really nice. We went down to the beach earlier that morning where she picked out a beautiful rock to put in the tank, and we were all set up.
She looks at the fish and it's called a Betta fish. Essentially this is not a gold fish, but this is new terrain for me. I had goldfish as a kid, I think they were goldfish, Cheech and Chong, but this is called a Betta. Nonetheless, Stella looks at her and says, "I want to call her Magnolia!" That was really a moving moment! I looked at my daughter and said that I thought that name was fantastic! We can call her Maggie for short. And she smiled and thought that was a great idea.
We got in the car with the little carrying case with the fish and Stella stared at her the whole way home and was saying, "I love you Magnolia" over and over. We got home and transferred her to her new home, dressed it up, and Stella was looking at her and said, "She is so beautiful, thank you daddy for buying me Dandelion." And I said, "Dandelion? What happened to Magnolia?" And she said she changed her name and now wanted to call her Dandelion. Well, that's all right, Dandy for short. That kind of works, we can go with that. Dandelion it is!

Not too long afterward, one of my aunts comes over and the first thing Stella wants to do is take her to see the fish. She says, "You've got to come with me, you've got to come and see my fish." She runs over to see the fish and I hear my aunt, who's 91 years old say, "Hey, that looks just like Nemo!" Well, Magnolia who had become Dandelion, had now become Nemo!
So I have to sit Stella down and say look, we can't keep changing the name. It would be like all of a sudden today if I just started calling you "Sarah." To which Stella replies, "I like that name Sarah. I go to school with a Sarah. I want to name the fish Sarah." At this point I'm a little bit out of my mind. I'm confused, I don't know which way is up! Is it a girl thing? I'd always heard girls were fickle, but this was bringing it to new heights!
Suffice it to say that this morning as I'm leaving to go and cut these segments, I say to Stella, "I'm going to go and talk about Sarah the fish today." And she says, "What kind of a fish is it anyway? I heard you telling someone that it wasn't really a goldfish." Well, I said that "Daddy's learning as he goes, just like you. I think it's called a Betta fish." And Stella says, "Alright Daddy, go and tell everybody about Betty then!" Aaahhhggg...



Animal Radio® News with Bobbie Hill



It's Okay To Drive With Dogs on Your Lap
California's governor has terminated a bill that would fine motorists caught driving with a dog in their laps. Gov. Schwarzenegger, in vetoing the bill authored by Republican Assemblyman Bill Maze, said he's signing only those bills that are the highest priority for California and a lapdog ban isn't one of them.
Project Shows Progress in Adoptions
A report on Philadelphia's ASPCA Mission Orange shows progress in adoptions and a reduction in the number of unwanted pets put down at animal shelters. The report data showed an increase in the number of adoptions, lost animals returned to owners and a decrease in euthanasia. The project began in 2006 when the ASPCA partnered with Philadelphia area animal welfare groups in a drive \that helped raise awareness to the plight of animals in shelters.
9-1-1 Call About Cat In Yard Turns Out to Be Cougar
A Casper Wyoming police officer responded casually Monday to a 9-1-1 call about a bothersome cat on a front porch until he found it was an adult male cougar lounging at the home of Beverly Hood. The officer ducked inside Hood's home and called for back up. A warden from Wyoming Fish and Game arrived to tranquilize the cougar and safely relocate him.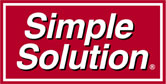 NEWS UPDATE Brought To You By Simple Solution Natural Line Of Products



Faith, the World's Only Bi-Pedal Dog
Jude Stringfellow


She's become a Sgt. in the Army, she visits the military and makes morale visitations at the various hospitals around the country and her name is Faith.
Faith is dog, and an incredible one at that. She was born just before Christmas in 2002 to a mother dog, believed to be nearly full-blooded Chinese Chow Chow, along with several other siblings. Faith had 3 actual legs, but the left front leg was badly deformed, placed backward, upside down, and it had more toes on it than normal dog legs. The leg was removed when she was 7 months old when it began to atrophy.
As a result, Faith learned, with the help of her guardian Jude Stringfellow, to walk upright on her back to legs, just as a human would.
Faith's story is one of courage, faith and miracles. You don't want to miss the video!
http://www.faiththedog.net



Animal Minute With Britt Savage



Man Wrestles Leopard
Most pet owners would go to great lengths to protect their pets, but a cat lover in Israel went above and beyond. Arthur Du Mosch was in a sound sleep when his wife screamed leopard. He awoke to see a leopard in his home, chasing their beloved cat. At first he thought he was dreaming, then he saw the leopard grab his cat by the neck. Du Mosch pounced on the leopard, grabbed it and was somehow able to overpower it and hold it down until is wife could call a neighbor, a nature and parks inspector. The cat was slightly wounded, Du Mosch was slightly scratched and the leopard was taken away, examined and fitted with a transmitter with plans to be set free away from residential areas.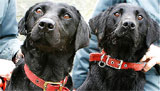 Dogs Sniff Out Pirated DVDs
Sniffer dogs trained in Ireland are now sniffing out black market bootlegged DVDs. Illegal DVDs are a multi-million dollar industry, often being sold online or on street corners. Recently the dogs visited Malaysia where they found 1.7 million dollars worth of illegal DVDs. The dogs are able to detect the plastics used in DVDs and they are trained to calmly stare in the direction of the plastic smell. Afterwards, they are rewarded with their favorite toy. The dogs seem to love their work and hopefully all of this work will be reflected in lower popcorn prices at the movies!



International Animal News with Kaye Browne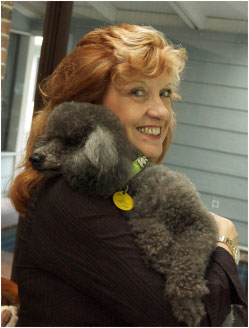 Big Cats on the Loose After Hurricanes
Authorities trying to clean up Texas after Hurricane Ike are pussy-footing around a much bigger problem than just the usual debris there's a tiger on the loose and they don't want to become its dinner. The tiger escaped from an exotic pet center on Bolivar Peninsula ­ one of the region's hardest hit by the hurricane. But that's not the only big cat rescuers have to worry about ­ apparently a human survivor has holed up in a Baptist church with his livestock ­ which includes a full-grown lion.
Cat Returns Home After 9 Years
Lots of good news for other critters this week; a 15-year-old cat called Dixie who disappeared 9 years ago - has been reunited with her delighted owners in Britain.
Gilly Delaney was told that the remains of her cat were found on a road and for years she believed her tortie had been killed by a car. However ­ Delaney says something told her not to shift houses ­ just in case ­ which is why she was at home when the RSPCA called to say they'd found a stray with a microchip registered to her.
Dog Saves Owner ­ Dials 911
A German shepherd dog called Buddy has saved his owner's life by phoning 911. Joe Stalnaker from Arizona suffered a head injury during military service - resulting in unpredictable seizures ­ so he trained his dog to recognize if he was having an attack and to hit the speed dial on the phone. Buddy did what he was supposed to do ­ and more - barking urgently as an operator asked if anyone needed help. It worked ­ and police took Stalnaker to hospital just in time.
Water Buffaloes Save Guardian
Not to be outdone ­ a Chinese farmer has been saved by her 5 water buffaloes who drove off an angry bear. Luo Fengju, from the Yunnan, says the bear knocked her to the ground and she thought no one would hear her calls for help. However her water buffalo, which were grazing nearby came to her rescue forming a circle around her - with one of them butting the bear with its horns. The buffaloes are now being treated as heroes and being given extra food.
Dogs Help Find Cause of Baldness
Scientists believe they're closer to finding out the cause of baldness ­ thanks to the genetic diversity in dogs. Swiss researchers compared the genomes of hairless and coated dogs from three breeds - the Chinese crested, and the Mexican and Peruvian hairless and found they have a mutation in a gene they call FOXI3. It's the first time anyone has been able to pinpoint the exact area on chromosome 17 as being responsible for the development of hair ­ and also teeth ­ which augurs well for the improvement of both in future.

Fire-fighter Saves Kitten With Mouth-To-Mouth Resuscitation
Lastly - there's a cat in Massachusetts that owes at least one of her nine lives to a firefighter. One of New Bedford's finest - Al Machado ­ didn't find any humans in a burning apartment but he spotted a moggy in distress and rushed her outside. Despite the fact the cat appeared lifeless ­ Machado started mouth-to-mouth resuscitation ­ and well, you know what they say about handsome fire-fighters ­ they're irresistible ­ and after a few breaths this little pussy started breathing on her own again. As for reluctant hero Machado ­ when his buddies asked what it tasted like to give mouth-to-mouth to a cat, he reportedly said "Like fur."
Listen to Current World News



Are You Crazy About Your Cat?
Dr. Marty Becker, Ultimate Cat Lover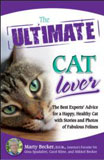 During their professional lives spent caring for, writing about, and rescuing cats respectively, Marty Becker, D.V.M, Gina Spadafori, and Carol Kline have seen and heard some amazing, awe-inspiring stories about Cat People and their feline family members. They've also fielded almost every cat-related question under the sun, from the bizarre to the baffling: 'How can I keep my bored kitty entertained while I'm at work?' 'What should I feed my cat if she's getting a bit too 'fluffy' around the middle?' 'How can I put the stops on her shedding--and my boyfriend's sneezing?'
In the Ultimate Cat Lover you will not only find answers to these questions and others by top experts, you will also find heartwarming stories along with many beautiful pictures of cats.
This is truly the 'ultimate' book for ultimate cat lovers.
http://www.petconnection.com



Your Vet Questions Answered with Dr. Debbie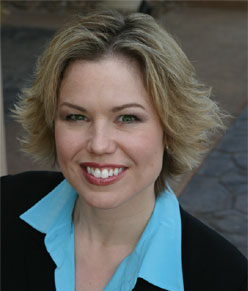 Cat Urinates All Over House
This is a male, neutered, indoor cat. However, there are about 9 cats outside of the home, which sometimes sneak in the house. Perhaps he is marking his territory because of the outside cats. But first a check at the veterinarian is warranted make sure that there are no health problems going on, and keep his litter box clean.
Feral Mother Cat Won't Leave Now That Baby Is Weaned
This guy has given up his master bedroom for this feral cat and her kitten for the past 4 months, because he has had to keep them away from his other indoor cats. He has spayed the mother and wants to return her back outdoors, but she seems unwilling to leave.

This Man Gave Bird Away And Now Wants Him Back ­ Will Bird Be Okay With This?
This guy now regrets giving his bird away 8 months ago and now wants him back. In fact, the bird once saved his life. He was driving in his truck when he nodded off and the bird nipped him on the ear. But, he wonders if the bird will be accepting of him?
Should He Give A "Runt" 1/2 Dewormer Tablet?
You need to be very careful when giving products to small dogs and you should always check with the manufacturer.



Listen to the entire Podcast of this show (#462)

Broadcast on XM Satellite Radio and Podcast Versions Only.

Listen to Animal Radio® - Go to the launch page
Return to Animal Radio Network™ Home Page
Read October Newsletter
Copyright 2008 All Rights Reserved Animal Radio Network LLC