October 13, 2007

Comedienne Jane Lynch
Race for the Rescues

Comedienne, writer and actress, Jane Lynch 's breakthrough film role was as Christy Cummings, the masculine-lesbian personal dog handler to trophy wife Sheri Ann Cabot (Jennifer Coolidge) in the director Christopher Guest's 2000 mockumentary Best in Show.
Jane is the host of the 2nd Annual "Race for the Rescues" Animal Rescue 5K Run/Walk and Adoption Day at the Rose Bowl, Sunday, October 28th.
Race For The Rescues is a 5K (3.2 mile) run/walk or 1 mile kid's race to raise funds for 8 non-profit, 501c3, animal rescue groups and a dog and cat adoption celebration for LA Animal Services and the Pasadena Humane Society & SPCA.
There will be all types of fun activities for animal lovers of every age! Including prizes and awards for top racers and fundraisers, celebrity art auction, silent auction, Halloween Rescue Show, Face painting for kids, pet psychic, dog training demonstration, unique pet products and more! Remember it's Halloween weekend so feel free to dress up you or your dog to get in the spirit! Celebrities including Tiffany Amber Thiessan will be racing and the Price Is Right Models have formed their own team.
http://www.racefortherescues.org
Bless Your Animals
Dr. James Capers


Gather your animals around the radio and listen in as Dr. James Capers does a Blessing of your Animals.
Dr. James Capers has been a pet clairvoyant for close to 20 years, first learning how to communicate with animals with his cat, "Felicia," who lived to be 21 years and 6 months old. He has done pet counseling and has helped a dog who refused to eat dog food after being fed only table scraps; he helped a cat who refused to get off the bed (it turns out she was afraid of mice!); and an elderly Schnauzer who was afraid his guardian was going to "put him to sleep."
Dr. Capers currently has a Shih Tsu, Hope angel, whom he feels blesses him everyday! You can catch him at the NEWLIFE Expo in New York from October 19-21st.
http://www.drjamescapers.com
http://www.newlifeexpo.com
Dogs Sniff Out Pirated CD's
Neil Powell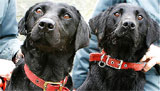 The canine versions of Starsky and Hutch have just returned from Manila, where they sniffed through locked steel doors, pointing authorities to stacks of pirated movies during a mall raid.
Fresh from a successful one-month stint in Malaysia, where they angered movie pirates by helping authorities uncover 1.3 million discs and burners worth about US $3.3 million, Lucky and Flo are now training their noses on the Philippines.
The two female dogs - wearing neon vests stamped with their names - sniffed through glass cabinets, bags and boxes. The pirated discs they found included recent releases such as "300" as well as "Borat" and "Apocalypto." They are reportedly the only two dogs in the world trained to sit or freeze when they sniff polycarbonate, used to manufacture optical discs.
Listen in to find out more about these amazing dogs.
Sea World Animals Trash House
Britt Savage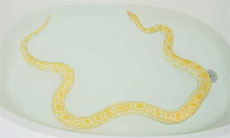 A Utah couple in Centerville leased their home to Sea World during the 2002 Winter Olympics, who were there displaying several exotic animals. But they got more than they bargained for when the animals left.
The animals, including a mountain lion, penguins, and a tiger were allowed to roam free in the house, and a python was kept in the master bedrooms jetted tub. The original agreement was that the animals were supposed to have been restricted to certain areas in the home and kept in crates.
As you can expect, the house was full of urine, feces, and even a snakeskin was left in their tub.
The couple is currently seeking $100,000 in damages from Sea World.
Dog Trainer to the Stars
Jennifer McCarthy, K-9 Ranch Training Center


For over twelve years, Jennifer McCarthy has trained the likes of A-list television, film, and music celebrities and has traveled around the country as a live-in dog trainer for some of the world's most influential people.

McCarthy is a fourth generation dog trainer and is skilled in a wide variety of fields including: obedience, behavior, protection, training for television and print, trick training, Schutzhund and American Kennel Club (AKC) handling. Jennifer also has initiated a two-year study into wolf behavior.
Jennifer founded the K-9 Ranch Training Center, a place where dogs and owners find peace and understanding underneath pristine Cottonwood and Aspen trees in the Rocky Mountains.
Tune in as Jennifer talks about the celebrity who was willing to work so hard for his dog.
http://www.jmdogtraining.com
Halloween Safety for Pets
Dr. Jim Humphries, Veterinary News Network


Within a few days, ghosts and goblins will be roaming our streets, begging for treats and hopefully not playing any tricks. Halloween is a fun holiday for many people, but how do our pets react? Is this holiday "spooky" for our pets as well?
Part of the excitement of Halloween is the chance to dress up. Although our costumes might vary from the pretty ballerina to the horrific Freddie Krueger, our pets are often confused by this change of face. Seeing their owners, or even normally friendly neighborhood kids in their Halloween attire may just trigger a dog's territorial instincts. Unfortunately, this protective nature may end up with the pet biting someone in their attempt to watch over their home. Other pets become confused, often struggling to get away or perhaps barking excessively.
Dressing your pet up can be a fun idea, but owners should keep their pet's comfort in mind. Costumes should never be secured with rubber bands or any item that might constrict breathing or potentially restrict circulation. Likewise, pet costumes should be inedible and avoid any toxic paints or dyes. If your pet appears uncomfortable in any way, it's probably best to allow your pet to appear in his birthday suit!

The two biggest dangers to pets during this creepy holiday are injuries and poisonings. A little common sense can help make sure that you and your pet don't end up at the emergency hospital. First, take a look at your Halloween decorations. Fake cobwebs or anything resembling a string can be attractive to cats and will cause digestive obstructions if swallowed. Candles inside of pumpkins are easy targets for excited or curious dogs and are likely to cause burns, or worse, start a fire if knocked down.
Because of the excitement surrounding the holiday, pets may get anxious and attempt to dart outdoors. Even if your pet is normally very social, the confusion of noise and weird costumes just might be too much for your pet. Keep all of your four-legged family indoor and safe during the trick-or-treating hours.
Many people are aware that chocolate can be dangerous to pets. It takes just 8 oz of milk chocolate, or 1.5 oz of unsweetened chocolate to cause problems for a 10 lb dog. Cats will be affected by much smaller amounts. But other candies, especially treats sweetened with xylitol can also cause problems. Keep all of the Halloween goodies away from your pets.
Finally, although the reports are extremely rare, many people worry for the safety of their black cats during this holiday. Consider bringing outside cats inside for a few days or even potentially boarding the cat if you are concerned.
http://www.VetNewsNet.com


"Picture Yourself In Hollywood" Contest - ENTER TO WIN
Christopher Ameruoso, PAW Print


Urine-Off, the number one vet recommended solution to pet odors and stains, has paired up with Christopher Ameruoso, Hollywood's #1 celebrity pet photographer to bring you the "Picture Yourself in Hollywood" Sweepstakes.
The grand prize winner receives an all expense paid trip to Hollywood for 2 and their pet, plus a photo shoot with Christopher Ameruoso. Each and every time someone makes any purchase at www.urine-off.com between 10/1/2007 and 12/31/2007 they are automatically entered for a chance to win. Visit www.urine-off.com for more details.
Christopher Ameruoso has been photographing celebrities with their pets since 1998, and his work has been featured in People Magazine, In Style, the New York Times, and countless others. His work can be seen in his weekly column in In Touch Magazine titled "Stars and Their Pets".
Number one veterinarian recommended for solving pet stain and odor problems Urine-Off is a revolutionary bio-enzymatic formula that eats away at the source of the stain and odor. Urine-Off has a variety of specially designed formulas for dogs, cats, and small animals. The products contain a pheromone blocker to stop the animal from marking the spot again. For information on Urine-Off and the complete line of products, visit www.urine-off.com.
http://www.PawPrintMag.com
NEWS UPDATE: Clooney Vows Never to Replace Pig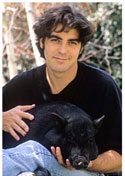 George Clooney's beloved potbellied pig Max passed away in December 2006. George was so depressed by his death that he has vowed never to have another pet pig. Clooney states that Max was so special that no other pig could possibly replace him.
Since Max's death, Clooney has been pouring himself into his work and has been down to the Carolinas shooting a movie. He hasn't been home since January. Clooney feels that when you're on the road you can't get a new pet. "Well you can ­ but people will talk," he states.
George inherited Max from ex-girlfriend Kelly Preston almost 18 years ago.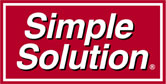 NEWS UPDATE Brought To You By Simple Solution Natural Line Of Products
Wild & Domestic Animal Ringtones
Deborah Rivel, Wildsight Productions

Wildsight Productions, the Emmy award-winning wildlife film production company, wants to make sure three-decades of parrot research, begun with Alex, the African Grey parrot and Dr. Irene Pepperberg, continues. Alex, who died September 6, 2007 at the age of 31 was world-renowned by scientists and those in the nature community. Dr. Pepperberg's remarkable research resulted in ground-breaking work into understanding the depth of avian cognition.
Wildtones.com will offer a wallpaper pack of Alex and a ring tone of him saying "Come here." The cost will be $19.99, and profits will go to the Alex Foundation to help support Dr. Pepperberg's continuing research with her two younger birds, Grif and Wart.

Dr. Irene Pepperberg and Alex are pioneers in the field of research in avian intelligence. Their work shattered previously held beliefs about bird intelligence -- it has helped us see other animals, and birds in particular, in a much different way. Any one who dedicates his or her life to expanding our views of what is around us deserves to be supported and celebrated for their work. Alex did that with Irene and this donation package on Alex's behalf will help support her future work in the area. All gifts are tax deductible.

In addition to this special promotion and donation pack to the Alex Foundation, every purchase triggers a donation to a privately-funded 501c3 wildlife organization including: actress Tippi Hendren's Roar Foundation, Oceanites, The Bill Jordan Wildlife Defense Fund and the International Primate Protection League.
Listen to the entire Podcast of this show (#411).


Listen to Animal Radio® - Go to the launch page
Return to Animal Radio Network™ Home Page
Read October Newsletter
Copyright 2007 All Rights Reserved Animal Radio Network LLC