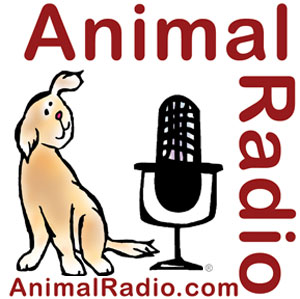 Animal Radio® Show #671 October 13, 2012
Actress, Comedian Debra Wilson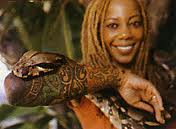 Debra Wilson was a cast member of MADtv for eight seasons and was the longest running female cast member. She was known for her impressions of Whitney Houston and Oprah Winfrey. Now, she is a huge animal advocate and hosts various animal charities.
Debra currently lives in Los Angeles with her 20-year-old cat "Nala" and her Columbian Tegu Lizard, named "Lizard." Debra says her lizard has a face like a velociraptor, legs of a frog and the body of an alligator or crocodile and is about 2 feet long. Debra doesn't currently take Lizard out in public, as he is still a juvenile, a little skittish and will charge at you. He is a meat eater, eats hardboiled eggs and loves Pedigree dog food! Debra states, "I'm used to large breed snakes, but this is my first endeavor into lizards and I've got the battle scars to prove it!"
While Debra states she loves dogs, she says she also loves cats, but she says, "I just can't eat a whole one by myself!"
Debra has been involved in animal causes since moving to Los Angeles and has hosted Nuts For Mutts for many years. New Leash On Life Animal Rescue has been putting on Nuts for Mutts for years, which involves a walk and a dog show and is a great fun-filled family fundraiser. It is primarily a dog show where you can register your dogs online for various contests.
One of those contests is Best Kisser. Debra states, "I was a hit with a Labrador Retriever for the best kisser. We exchanged numbers, of course, but the bottom line was I had my time and I guess I was just being used and I felt dirty!"
New Leash on Life, www.newleash.org, was founded in 1997, and has been responsible for the spaying and neutering of thousands of pets and the rescuing and placement of over 5,000 dogs. In addition, they provide free educational seminars at local shelters and schools, set shelter rescue priorities on "hard to place" animals requiring medical or special care, founded the Lend A Paw Program which rescues dogs from shelters, rehabilitates them and transforms them into Assistance and Therapy dogs, founded the P.E.T.'s program (Pet Educational Trainers) and co-founded Partners for Life, which saved hundreds at the East Valley Animal Shelter.
First Dog With Four Bionic Legs
Christie Pace, Naki'o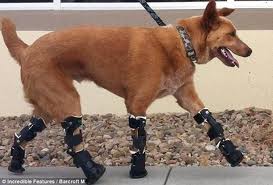 Naki'o (which means puddles in Hawaiian) is a special needs dog. As a very young puppy he was left in an abandoned home in the harsh Nebraska winter. Not only was he malnourished and had mange but he was frozen into a puddle. He had severe frostbite that took all his toes, part of his tail and nose.
From Nebraska, Naki'o went to a rescue on Fort Collins, Colorado. Even though he had some severe issues, they saw something in him. He seemed to have a lot of life in him.
At 8 weeks of age, Christie stumbled upon Naki'o's story and instantly fell in love with him! She adopted him and was ready to take on the ups and downs of having a special needs pet, without feet.
In the beginning, Naki'o was only four pounds and very light. This let him move around very well despite his disabilities. However, as Naki'o got older and heavier his nubs had a harder time supporting him and he begun limping on one of his legs.
Christie knew he needed help if he were to lead a quality lifestyle. She went down the route of prosthesis for all 4 of his legs.
Each leg was a different length because of the frostbite. Christie never thought about a wheelchair for Naki'o and felt that if they could work on his worst leg, he might be able to get around on his own.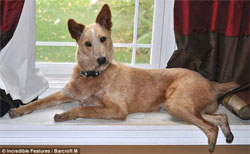 Christie then went to Orthopets in Denver, Colorado, thinking that they only needed a prosthetic on one leg to help him around. However, she was told that it was very important for Naki'o to have all four prosthetics to balance him out and give him the best quality of life.
The four prosthetics made a dramatic difference in his lifestyle. In the beginning, Naki'o had exaggerated movements with the prosthetics, as he had to learn where his paws were. Picture putting shoes or socks on your pet. They walk funny and pick their legs up really high before they get used to it. But now, Naki'o can run and chase the ball with the best of them!
One prosthetic leg for a dog isn't cheap so you imagine the cost of four! Christie was able to raise the money for the first prosthetic. Since this was the first time a dog had all four prosthetic legs and was an experiment, Orthopets covered the costs of the remaining three.
Christie is happy to say that Naki'o not only brightened her life but also inspired her to help other animals with disabilities just like him. This is why Nakio's Underdog Rescue, Inc. has been created, to help these wonderful and beautiful creatures!
Life's Most Unique Relationsips
Jon Katz, Dancing Dogs: Stories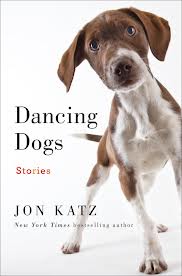 In Dancing Dogs, Jon Katz shares sixteen stories about one of life's most unique relationships. While the book is mostly about dogs, there are stories about a barn cat and even a donkey.

Jon was trying to capture the point of connection between people and their animals, and to show how much animals mean to people. The stories in the book are fiction, however people he has met, as well as his own life on a farm with animals, inspired them.

The stories are meant as a challenge for people to look at life through an animal's eyes. One story is about a dog who's left alone all day. People are always worried about how their dog can survive being left alone all day. The story starts out by the dog being sad when his guardians leave, and showing them his sad face. But when they're gone, the dog goes around sniffing up pizza crumbs, chasing the cat and having conversations with other dogs in the neighborhood about how hard it is to train the people in their lives!
Other stories you will find in his book are:

In "Puppy Commando," a shy grade-school outcast forges an instant connection with a beagle puppy she meets at a shelter—and risks everything to keep him.

"Gracie's Last Walk" features a woman who must find a way to say goodbye to her beloved golden retriever—but ends up saying hello to someone unexpected.

"The Dog Who Kept Men Away" shows that not all humans pass the "sniff" test when it comes to canines, who possess an excellent judge of character.

And in "Guardian Angel," a widower going through a painful transition finds the greatest comfort in the unlikeliest of sources—a funny-looking pug named Gus.

If you choose to get Jon's book, he asks that you feel free to make some noise for it, in whatever way makes you comfortable – reviews, sharing, recommending - as books need help to make their way in the world these days!

Jon Katz has written 21 books: 8 novels; one collection of short stories; and 12 works of non-fiction.
The Rainforests, Indigenous People And The World Are Lucky To Have Sting And Trudie!
Wendy Diamond, Animal Fair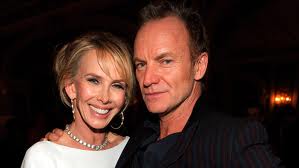 Recently at The Harvard Club in New York City, World renown composer, singer, best selling author, actor, and humanitarian Sting and Trudie Styler, actress, film producer, director, human rights activist, environmentalist and UNICEF Ambassador, were honored for their worldwide environmental work on behalf of the rainforest and indigenous people by the Cinema for Peace Foundation and the BMZ, Germany's Federal Ministry for Economic Cooperation and Development. The enchanted night celebrated their life long commitment. The night concluded with the entire room of notables, including Jessye Norman, Mike Woods, Loreen Arbus, Amir Dossal, Inge Solheim, John Kluge, Tim Morehouse, Cheyenne Jackson, Peter Thum, Cara Buono, Amy Goodman, dancing to Every Breath You Take performed acoustically by award winning musicians and Sting. The Rainforests, Indigenous People And The World Are Lucky To Have Sting and Trudie!

The Dogfather's Grooming Tip with Joey Villani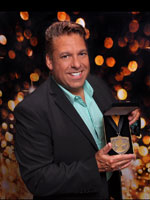 Best Treatment For Fleas
Joey has recently received a lot of email from people asking how to help their dogs and cats with fleas. In the northeast, there has been a lot of rain recently, causing a really strong flea season.
If you are having a problem where you are finding about 3 to 4 fleas on your pet at a time, you have a serious problem. If you look at your pet and don't actually see any fleas, but you see something that looks like black pepper in their coat, that is flea droppings and your pet has fleas.
Anything less than that is not a serious problem and you can probably take care of it yourself with homemade herbal sprays. Essential oils like citronella, rosemary and pepper oil all work well on their own. Just mix one of the oils in a pint sized spray with water, by adding 10 to 20 drops of the oil. These oils are not harmful to your pets, but you still don't want them to ingest it. Just spray it on your pet. This is a deterrent for fleas and in some cases will kill them.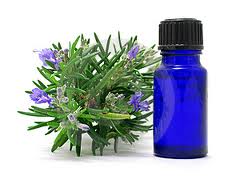 If you do have 3 or more fleas on your pet, you will want to use a topical product on your dog. Be sure when buying these products, that you get a reputable one, from a pet store. You might pay more for these, but anything that you will find at other stores may be cheaper, but they are usually more toxic and can be harmful to your pet. If you are not sure what to buy, talk to your veterinarian or groomer.
While these topical products work very well, the problem is not just your pet. Your yard can be infested with fleas from other animals, both wild and domesticated, and your pet can repeatedly be exposed to them. Strangely enough even birds that fly into your yard have fleas. Also be careful when washing your pet. While these products are not supposed to wash off, they sometimes do.
You need to not only treat your pet, but you have to treat the yard, the bedding and even the car. You have to treat everywhere your pet goes.
Be aware that some pets are allergic to fleabites and still may continue to scratch after the fleas are gone.
Animal Radio® News with Stacey Cohen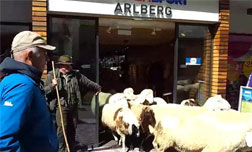 Shopping Sheep Cause Massive Damage
Patrons at a sports store in Austria were shocked when they recently found themselves shopping alongside a flock of sheep. Orange News reports about 80 four-legged sports fans found their way inside the Intersport shop in the St. Anton ski resort. The owner of the store says they believe one of the animals saw her reflection in a mirror and "came in to investigate." The rest of the flock was apparently curious as well, and ultimately caused thousands of dollars worth of damage. Lawyers are currently in negotiations with the sheep's owner over the animals' massive bill.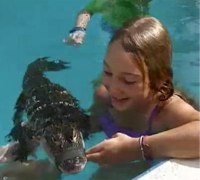 Kids Can Swim With The Alligators!
A Florida company has decided to offer children unique pool parties the kids will likely never forget. The folks who run Alligator Attractions in Madeira Beach are offering live alligators that swim with the children at area pool parties. The company owner tells the New York Daily News putting the reptiles in the water with children is perfectly safe, since the alligators' mouths are taped shut. Children also get a lesson in alligator safety before they are put in the water. The owner says he's done dozens of alligator pool parties since he began offering the service, and says children are always excited to be able to swim with the reptiles.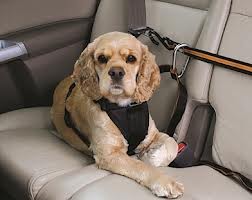 Jerseyans Are Split on Dog Seatbelts
A new poll says New Jerseyans are split on car seatbelts for dogs. A new Public Mind poll released by Fairleigh Dickinson University shows 45% of residents favor the idea, but a solid 40% oppose it. A measure introduced in Trenton last month would require that a harness restrain pets not traveling in a crate. Violators would be subject to a $20 ticket.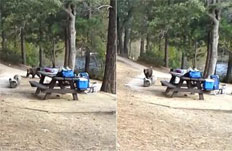 Bear Steals iPad
A Southern California man says a bear ran off with his iPad during a recent fishing trip. Jesse Dinkel tells the Daily News he was fishing at a lake in San Bernardino when a bear snuck up from behind, grabbed a backpack with the pricey tablet inside and ran off with the backpack in its mouth. Dinkel says his fellow fishermen were giving him grief over the incident, saying they were pretty sure the insurance company wasn't going to believe his excuse that a bear stole his iPad. It's believed a granola bar in the backpack might have lured the animal to the site.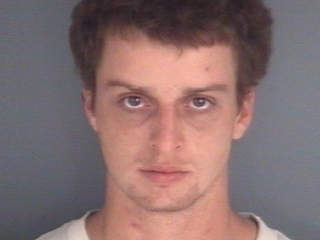 Man Blames Squirrel For DUI
A DUI suspect pulled over in Clay County, Florida says he was driving erratically because a squirrel was biting him. Warren Michael was pulled over after he almost hit a car in his pick-up truck and was seen swerving and weaving onto the grass. Turns out, there really was a squirrel in his shirt and there were signs it was biting him. Michael still failed a field sobriety test, but his girlfriend came and recovered the pet squirrel.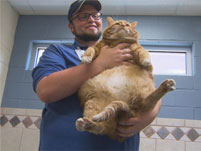 "Skinny" The Fat Cat
Employees at an animal shelter in Richardson, Texas are looking for a new home for an ironically named cat called skinny. The Dallas Morning News reports Skinny, a 41-pound stray, was found in a local's backyard earlier this month, and was brought to the shelter by animal services. But veterinarians say Skinny needs to be taken to a different location where she can safely shed more than a few pounds. Richardson Animal Shelter director Dennis Wooten says the tabby is so big she can't even fit into a normal litter box, but they've still received hundreds of phone calls from interested adopters. However, he worries that most of those callers are just interested in the novelty of Skinny's size. He explains that there will be long-term expenses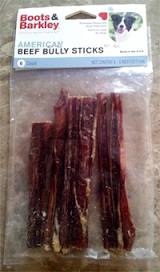 involved in her care, so she'll be staying in a shelter where she can get healthy again.
Bully Sticks Recalled
Kasel Associated Industries is recalling its Boots & Barkley 6-Count 5-Inch American Beef Bully Sticks dog treats because of a possible salmonella contamination. The product comes in a clear plastic bag, containing six bully sticks, marked with bar code number 647263899189. It has been distributed nationwide through Target retail stores from April through September 2012. Salmonella can sicken animals that eat these products. It can also sicken people, especially if they have not washed their hands after touching the products or after touching any surfaces exposed to the products. The recall came after tests by the Colorado Agriculture Department detected salmonella bacteria in product samples. No illnesses have been reported in animals or people.

NEWS UPDATE Brought To You By ScoopFree.com. Free Shipping on trays plus up to $20 off your first subscription.
Listen to the entire Podcast of this show (#671)