Animal Radio for October 15th 2005
Really? - Misconceptions About Dogs
Darlene Arden
Did you ever notice how many misconceptions there are about dogs? It might be funny sometimes, but at other times it can be downright frustrating. Don't jump to conclusions. The "fact" you know might not be entirely factual. Hear Darlene talk about some common misconceptions.
Inmates Care For Displaced Katrina Animal Victims
Bob Roop, HSUS
Since September 22, approximately160 animals rescued from the New Orleans area have been housed in a converted dairy barn at the Dixon Correctional Facility (DCI) in Jackson, Louisiana. The animals-dogs, geese, chickens, and ducks-are cared for by inmates under the supervision of HSUS volunteers, prison staff, and Dr. Eric Davis, veterinary director of Rural Area Veterinary Services for The HSUS. The animals, rescued in the days and weeks following Hurricane Katrina, were first brought to the temporary shelter at the Lamar-Dixon Expo Center in Gonzales, Louisiana, about 60 miles north of the Big Easy. Their stay at Lamar-Dixon was designed to be brief. In order to create space for the hundreds of animals who were admitted daily to the facility, healthy animals had to be transported off-site every day and housed with suitable shelters and other foster partners until the dogs and cats could be reunited with their guardians. The issue, of course, was finding those suitable shelters, particularly in a state whose animal facilities were severely impacted by storms.
Thirteen inmates were selected to work with the animals and were carefully screened by prison staff. They also received on-the-job training from HSUS staff and volunteers. "The inmates that are here are members of our trustee program who volunteered to do this job," LeBlanc said.
The animals will remain in DCI's care until each has found his or her happy ending.

Marriott Welcomes Animal Evacuated from Fires
Gordon Luster, GM, Warner Center Marriott
During the recent California fires, many people were evacuated with their pets. The Warner Center Marriott, located in Woodland Hills, California, which is already pet-friendly, reduced its rates and welcomed all types of animals during the disaster. Tune in to hear the story of the one who got away!
10 Secrets My Dog Taught Me
Carlo DeVito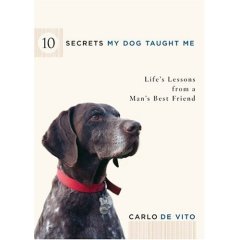 Poignant, funny tales about a man and his dog - and the lessons learned about responsibility and enduring friendship. It is love at first sight when Carlo De Vito, an aspiring book editor, first meets Exley, the rambunctious, rescued German Shorthair Pointer he adopts and who becomes his faithful companion. In 10 Secrets My Dog Taught Me, De Vito writes about their experiences growing up together - and the life lessons that invariably result from their adventures. Ultimately, when his beloved friend is gone, De Vito discovers some truths about love, loss, and lasting friendship.
New Natural Peanut Butter Softies
Margot Kenly, Blue Dog Bakery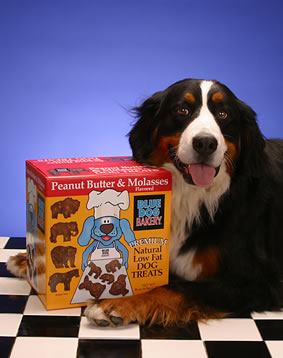 'T'is the season to be a jolly pup. 154 million pet owners in the U.S. will spend $2.6 billion on pet gifts this holiday season, according to the American Pet Products Manufacturers Association (APPMA) 2005-2006 National Pet Owners Survey. No doubt many of those spoiled doggies will be enjoying new Natural Peanut Butter Softies from Blue Dog Bakery. These Premium Natural Soft Dog Treats are perfect stocking stuffers to reward pooches that have been nice, and to encourage better behavior from the pups that have been naughty. Blue Dog Bakery uses only premium human grade ingredients in their dog treats and receives letters from customers that enjoy eating the treats themselves. "People love their pets just like they're children in the family, and that means they want to give them foods made with real high-quality and delicious ingredients that they would want to eat themselves, not animal by-products and artificial junk from a laboratory."
Got Poop?
Michael Miller, Hound Dog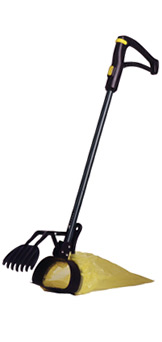 Picking up after Rover is easier than ever before with the Poop Hound scooper, a one-handed tool that bags pet waste as you scoop from a clean, comfortable distance. With the Poop Hound, all you do is scoop the mess and squeeze the comfortable grip, which activates the unique raking arm and sweeps the refuse into a plastic bag. A one-piece plastic clip makes the attaching and removing the disposable bags a simple task. Until the VaPOOrizer (as seen in the movie ENVY) becomes a reality, the "Poop Hound" by Hound Dog is the next best thing.
If You don't Vote ­ You Can't Complain Says Toby the Dog
Britt Savage


It was almost inevitable New Zealand's election would turn into a dog fight when you look at one of the country's 2.83 million voters Toby the Jack Russell terrier. Toby became a registered voter when his owner, Peter Rhodes of Queenstown, completed an enrollment form in the dog's name, giving his occupation as "rodent exterminator" and his age as 28. He signed the form with a squiggle and Toby's paw print before returning it to the Electoral Enrollment Center, the Otago Daily Times reported
Electoral Enrollment Center manager Murray Wicks was more angry than amused that an application filed by a dog had slipped through the center's checking system. "It's an offense, and whoever's done it will be in the hands of the police," he said. Wicks said Rhodes could be charged with misleading a registrar of electors, making a fraudulent enrollment and making a false declaration, "to name a few" possible charges.

Talk With Your Animals
Joy Turner
Joy Turner has been a professional in pet therapy and animal communications for over 12 years. Hear her advise a listener calling in about her cat she states has no personality and is not interested in grooming herself, by communicating directly with the cat.

Honda Unveils Vehicles Designed For Dogs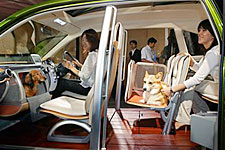 The Honda Motor Company has designed a car that's friendly for dogs. About a fifth of Japanese households have dogs, and demand is growing for cars that cater to man's best friend. The W.O.W. Concept, which stands for "wonderful operated wagon" is an exhibition model with no plans for commercial sales, that will be exhibited at the Tokyo auto show later this month.
When Squirrels Go Bad


Have you noticed that there are less squirrels in your neighborhood than before? Listen to hear stories about attacking squirrels. If you have ever been attacked by a squirrel ­ you won't want to miss this!
Pet Lovers Take Time Off Work to Care for Sick Pets
A recent survey of 260,000 policyholders by Veterinary Pet Insurance (VPI) said that nearly 86 percent of pet owners say they have taken a sick day from work to care for their pet. These individuals think of their pet as another member of the family, and just as they would stay home to take care of an ill child or spouse, they are doing the same for their pets.