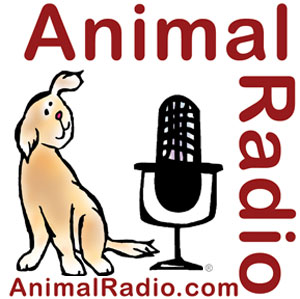 Animal Radio® Show #567 October 16, 2010
Animal Radio® Comes To You Live
from Griffith Park in Los Angeles

and the
Get your Licks on Route 66 Tour
Get Your Licks on Route 66
Susan Sims, Fido Friendly Travel Talk

We're live for the finale of the North Shore Animal League's nationwide adoption tour. Over 250 animals found homes along America's favorite highway. The whole gang is in Los Angeles at Griffith Park - and we're helping new pet guardians find their way.

For the second year, North Shore Animal League America, the world's largest no-kill animal rescue and adoption organization, and FIDO Friendly Magazine have launched an incredible life-saving tour.
The 2nd Annual "Get Your Licks on Route 66" Tour kicked off on September 2nd in Chicago and ended up in Los Angeles on October 2nd, with the City of Los Angeles, Department of Animal Services.
Last year, during this one-month event, they were able to find homes for 150. This year, they found new forever homes for 282!
Here are some of the great stories: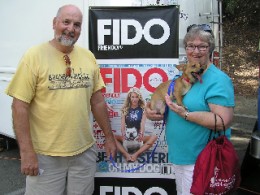 A retired couple had stopped at Griffith Park during an RV trip, looking to find Jay Leno tickets. They saw the buses and decided to take a look at what was going on. Two ladies were smitten by a Chihuahua mix named Barry. Two hours later, they came back with their husbands and adopted this lucky fellow. They determined that Barry, now called Griffith (after the park) would make a perfect addition to their home on wheels that already included one dog and four cats.
A family of four always wanted a Beagle and had waited for the kids to be of a certain age to help take care of an additional family member. As luck would have it, a Beagle mix was waiting for them on the adoption bus that day.
A little boy adopted a new pet and when asked what he adopted, he said a dog. However, his father immediately corrected him and said they adopted a cat to go with the family of 2 dogs. They hadn't planned on adopting an animal, but after seeing this cat, they fell in love!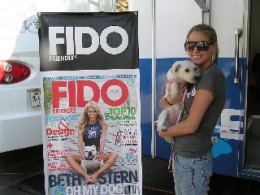 A young girl fell in love with a white Terrier mix and was just in time. The dog had been at the shelter for three weeks, his life would have ended the following week if his guardian angel had not stopped by that day.
The tour consisted of volunteers and a climate controlled pet adoption bus, a 33-foot Mobile Adoption Unit (their Shelter on Wheels) which wound it's way down Route 66, stopping in at partnering animal shelters in key cities along the route. The adoption tour raised national awareness of the plight of homeless pets, enhanced shelter visibility and increased pet adoptions.
Blessing of the Animals
Dr. James Capers

St. Francis of Assisi started the tradition and we carry it on with our yearly blessings. Bring your furry-friends to the radio and join us as the very charismatic Reverend Dr. James Capers leads this ceremony.


Traditionally a Catholic holiday, the Blessing of the Animals is held every year on or around October 4 to commemorate Saint Francis of Assisi (1181-1226). It has become a worldwide festival, celebrated by a variety of religions in recognition of our animal friends. St. Francis of Assisi was a Roman Catholic friar and is the patron of animals and the environment. He believed that humans had the ability and moral responsibility to protect animals, a simple and compassionate edict that we should all do our best to live by.
Dr. James Capers has been a pet clairvoyant for close to 20 years, first learning how to communicate with animals with his cat, "Felicia," who lived to be 21 years and 6 months old. He has done pet counseling and has helped a dog who refused to eat dog food after being fed only table scraps; he helped a cat who refused to get off the bed (it turns out she was afraid of mice!); and an elderly Schnauzer who was afraid his guardian was going to "put him to sleep."
'Do-it-yourself' Franciscan Animal Blessing
For all animals:
Blessed are you, Lord God,
maker of all living creatures.
On the fifth and sixth days of creation,
you called forth fish in the sea,
birds in the air and animals on the land.
You inspired St. Francis to call all animals
his brothers and sisters.
We ask you to bless this animal.
By the power of your love,
enable it to live according to your plan.
May we always praise you
for all your beauty in creation.
Blessed are you, Lord our God, in all your creatures! Amen.
For a sick animal:
Heavenly Father,
you created all things for your glory
and made us stewards of this creature.
If it is your will, restore it to health and strength.
Blessed are you, Lord God,
and holy is your name forever and ever. Amen.
Dr. Capers currently has a Shih Tzu, named Hope Angel, whom he feels blesses him everyday!
2010 A Space Paw-Dyssey
Steve Kragenbrink, Woods Humane Society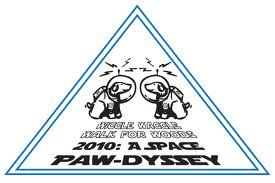 Woods Humane Society proudly presents their 18th Annual Wiggle Waggle Walk For Woods, which takes place Saturday, October 23rd from 9AM to 2PM at Laguna Lake Park in San Luis Obispo, California. The theme for this year's event is 2010 A Space Paw-Dyssey
The homeless dogs and cats of Woods Humane Society invite you and your dog to join them at the event for a fun, family, 1-mile pledge walk around Laguna Lake Park. After the walk, there is a pet fair, which includes local pet organizations, pet stores and groomers.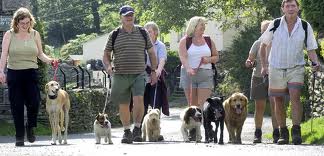 The Wiggle Waggle 2010 event lineup includes K-9 Working Dog demonstrations, West Coast Freestyle, BBQ lunch, ice cream booth and an exciting raffle with a guaranteed 1 in 3 chance to win!
There will also be fun K9 Contests to participate in like; Best K9 Costume, Best Kisser, Silly Dog Trick, Fastest Obstacle Course Time and Best in Show.
The event is a fundraiser for Woods Humane Society and a Friend Raiser for the local animal community. The year has been rough on all of us. Regardless of the economy or if you have a stressful job, at the end of the day when you come home, who is sitting there waiting for you with a leash in their mouth wanting to go for a walk with you? Your dog has been there through the thick and thin of things. This is an opportunity to bring them out, celebrate that human/animal bond and have a really great day surrounded by over 350 to 400 other dogs as well.
Contact Woods Humane Society for event information at 805-543-9316, or visit their website at www.woodshumane.org.

Dodge Journey Pet Destinations
What Is Your Favorite Place To Take Your Pet?
People who have pets love to travel with them. At Dodge, they have made it easier with their pet friendly vehicle, the Dodge Journey, which contains concealed storage bins, Chill Zone glove box cooler and second-row dual in-floor storage bins with removable and washable liners (very handy for muddy paws!) Call us with your favorite place to take your furry-friend: 1-866-405-8405
This week's Dodge Journey Pet Destination: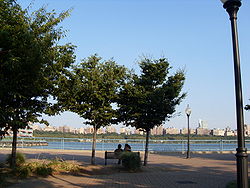 Joey Villani, the Dogfather and Animal Radio® Groomer, recommends a place back in New Jersey called the Riverwalk. Riverwalk runs about three miles along the Hudson River with a beautiful view of the Manhattan Skyline. You will see the most posh pooches in the world with the greatest haircuts, well, maybe not so great now that he is no longer there!
Past Dodge Journey Pet Destinations: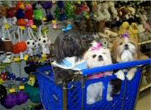 Mike of Santa Maria, California likes taking his dogs to PetSmart in Santa Maria, California. He has 2 Shih Tzus and they love going there. It is their treat of the week. They like to run around the store and smell all of the items on the shelves. He states that they are very social dogs and they get to meet and great all of the other dogs and people. They even enjoy riding in the carts!

Animal Radio® nominates the Loews Lake Las Vegas as this week's Dodge Journey Pet Destination. This was the first time anyone from the Animal Radio dream team had ever visited Loews Lake Las Vegas and we were all truly enchanted by the grounds. The fact that they let your furry friend (with all sorts of pet amenities) enjoy it with you, makes it that much more inviting. If you are ever in the area, don't miss the opportunity to check this hotel out - we give it a 5 Paw Rating!

While Victor was currently in the process of moving to Alaska from Alabama, he recalls the fond memories he had with his Lab who loves any place that has water. Her favorite place was Twin Mulberries in Alabama, which has a Little Mulberry Creek and a Big Mulberry Creek. She loved playing in the Big Mulberry Creek with her football. I am sure she will find some exciting places to play in Alaska as well!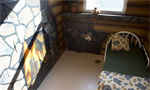 Carol from Pennsylvania loves to take her dog to the Nemacolin Woodlands Resort, which is a family and luxury vacation destination on 2,000 wooded acres in the Laurel Highlands of Southwestern Pennsylvania. You will also find the Nemacolin Wooflands, Pet Resort and Spa, Pennsylvania . You will find everything from climate-controlled rooms with elevated beds to a grooming salon, daycare and obedience training classes. The only problem you will have is that your dog will not want to check out!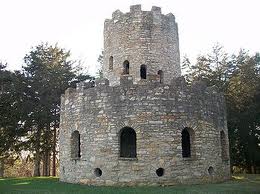 John of Clinton, Iowa loves taking his dogs to Eagle Point Park in Clinton Iowa , which has a big dog park and is situated in the northern section of Clinton. There, you will find a place to walk your dog on the levee along the river. Eagle Point Park overlooks the Mississippi River and General Zebulon Pike Lock and Dam (No. 11). It is a 164 acre park. Visitors are provided with spectacular views of the river and parts of Illinois, and Iowa. In the fall, you might even get lucky and glimpse hundreds of eagles fishing in the river.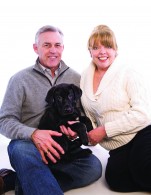 Susan Sims, Publisher of Fido Friendly Magazine, travels constantly around the country exploring Fido friendly places. So, we asked her what her favorite place was for her and her husband Gregg to take their dog, Junior. Susan loves Seattle, Washington, and tells us some great places. Susan picks Kimpton's Hotel Vintage Park in Downtown Seattle as her favorite hotel. During her stay, she enjoyed a view of the Space Needle from her room. Next, she picks Tulio Restaurant in the hotel. While your dogs can't dine in the restaurant, she was able to order some fabulous food from room service. And lastly, while she was in Seattle, she took her dog to Marymoor Dog Park in Redmond, Washington , which has 40 acres of off leash fun for your dog!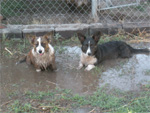 Mark, from Southeastern Wisconsin, recommends the Burlington Dog Park in Burlington, Wisconsin. He tells us it is a great place to take your dogs in the summer. They have some great open fields to let your dogs run free. It is also next to the Fox River, so if you have a dog that likes to flop around in swampy mud, it is a great place!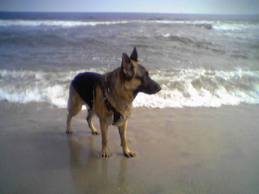 Vladae, Animal Radio's own Russian Dog Wizard, is one busy guy. He sees one client after another and is always hard at work turning unruly dogs around for their guardians. But after a hard day of training dogs, he and his wife like to take their dog Mika (who is of course very well behaved), to the Huntington Beach Dog Park in Huntington Beach, California. There, Mika can run free with the other dogs and just be herself!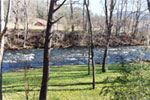 Steve from Tennessee recommends the town of Townsend, Tennessee, one of three gateways to the Great Smoky Mountains National Park, which has dubbed itself "The Peaceful Side of the Smokies." You can find many roadside parks along the Little River to take your pets. Steve states that his dogs first learned how to swim in the Little River.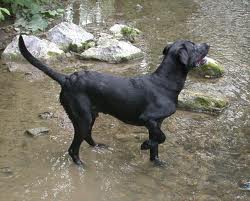 Richard of Bend, Oregon likes to take his Labrador Retriever to Tumalo State Park in Bend, Oregon, in the heart of sunny central Oregon. Tumalo State Park rests along Oregon's spectacular Deschutes River, which is a great place for your water-loving dog to romp.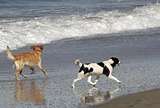 Glenn of San Diego recommends Ocean Beach Dog Beach in San Diego, California. Ocean Beach Dog Beach is open to canines any time. This small beach has plenty of sand for the dogs to run on, and waves for them to run through. On weekends there can be up to 100 dogs there.

Bo from Los Angeles, California tells us her 2 black labs like to go hiking and to the beach. But one of her favorite places to take them is Runyon Canyon Park in Los Angeles, California. It is a 130-acre park in the Santa Monica Mountains, two blocks from Hollywood Boulevard. She states that this is a great place where your dogs can frolic with other dogs and have a good time! And who knows, you might even catch a glimpse of a celebrity and their pet while you're there!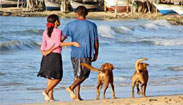 Danielle from Shell Beach, California tells us her favorite place to take her dogs is Avila Beach, California. She states it is a very secluded beach with a nice protected area to let your dogs run free. Everyone brings their dogs to this beach and it is a very pet-friendly place.
Doggy Baggage
Fido Friendly Travel Talk With Susan Sims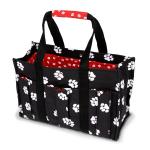 Susan Sims speaks with Debra Johnson, owner of Doggy Baggage. Susan asks Debra how she came up with the idea, and Debra replied, "Necessity – absolute necessity!"
Debra had been traveling with a 3-month-old puppy and was keeping the items for her puppy in a box. She discovered when she needed any item out of the box, she had to unpack the entire box to get to it and then repack the box before she could move on. She found what she needed most was water, poop bags, toys and treats. She thought there had to be a better way!
Doggy Baggage is a unique, all-in-one, multifunctional pet travel bag and every day pet storage bag created to keep all your pets belongings organized and ready to go at a moment's notice. It is stylish durable, and most of all functional. Their signature-pleated pockets allow for easy access to water, toys, treats, and clean up bags. Debra originally designed the pockets to hold a 32oz Gatorade bottle. She found that she needed that much water when traveling for a puppy. She then found that these pockets were also a great place to store the fluffy toys. This allowed her to have everything on the outside that she needed immediately. The spacious interior holds food, dishes, grooming supplies, collars and leashes, clothes, and much more.
Not only is this a great traveling bag, it is also good when you have to grab your pet stuff and run if you have to evacuate for any emergency, such as a hurricane, flood or fire or even a family emergency.
Unlike other pet travel bags in today's market, Doggy Baggage is not a pet carrier nor is it just for dogs! Its design has proven to be the most convenient and useful pet organizer available. Made of 100%, 18 oz. cotton canvas, Doggy Baggage comes in many fun patterns and colors.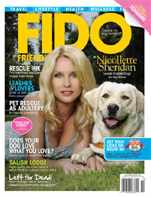 Fido Friendly Magazine:
The Travel Magazine For You & Your Dog, a complete guide to Fido-friendly accommodations across the United States and Canada. "Fido Friendly is the only magazine dedicated to the travel lifestyle of man's best friend, and the one magazine your dog will thank you for." And don't forget to join the Fido Friendly Travel Club.
The Dogfather's Grooming Tip with Joey Villani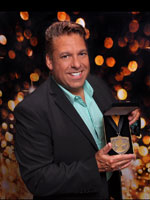 Dry Winter Skin
The weather is starting to change and the heaters are going to be turned on. What happens? Your skin dries out and you start itching and scratching. It's bad enough when we start doing it, but worse when out pets start chewing and scratching.
Some dogs will actually pull out their coat and chew at their skin.

Here are three solutions:
Go to your local groomer or pet shop and buy a very good quality pet spray conditioner.
Go to your local supermarket and buy Pantene Light Conditioning Spray. This will help moisturize both the hair and skin.
Go to a beauty supply placed and buy cholesterol, which is a concentrated protein conditioner. You need to mix a teaspoon with a quart of distilled water and spray it on your dog. It will moisturize the skin and make the hair stronger.
This is also great for truckers who ride with the heaters and pets!

DOGFATHER'S GROOMING TIP Brought To You By SeniorPetProducts.com. Use the code "radiospp" to receive 25% off!
.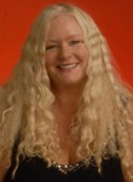 Animal Radio® News with Laurie Roberts

Canned Pumpkin, It's Not Just For Pies Anymore
Veterinarians are suggesting canned pumpkin is a good natural fiber that could help your cat not cough up so many hairballs. They warn not to let your cat become a laxative junkie after all, as beautiful as he or she is to you, your cat is not a super model. Vets warn that laxatives, even natural, should not be part of your kitties diet more than twice a week.
Combating Rabies From The Air
The state of Tennessee is combating wild animal rabies from the air. In an effort to control the disease in raccoons, which spread the disease quickly, and are prone to attack people and animals once infected. Cracker encrusted fish bait will be dropped over 3,400 square miles, and cannot hurt pets or people.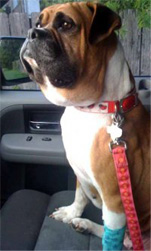 Boxer Saves Baby From Rattlesnake
Vandy, the rescued, fostered boxer stepped in to save a year old baby from a rattlesnake in Austin Texas. The McArthur family take in up to eight boxers at a time, and find them homes. Recently the family was grilling in their backyard, when they noticed Vandy, their son Dillon, and another one of their dogs near the rattlesnake. By that time, Vandy had stepped in to save Dillon, and her face started to swell. They got help, Vandy is fine, and if you are interested in adopting this special dog, check with Austin Boxer Rescue.
No Time? Feed Your Parrot Frozen Fruit & Veggies
If you are thinking of getting a parrot, keep in mind they need a healthy diet that includes fruit and vegetables. In case you don't get to pick up produce very often, or you are kitchen challenged - veterinarians recommend frozen fruit and veggies. Warm them in the microwave until it gets to room temperature - and, wala! Happy bird!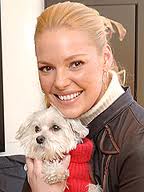 Star of Knocked Up Talks of Important of Spaying & Neutering
A big Animal Radio tip of the hat to actress Katherine Heigl. She may have starred in the movie Knocked Up, but she is pledging to match a million dollars in donations to the Compassion Revolution, which helps to educate pet owners, and potential pet owners on the importance of spaying and neutering. To find out more, go to www.Compassion-Revolution.com.
Karma Bites Man
Karma came home to bite 36-year-old Gabriel Paulick of Pittsburgh, Pennsylvania. Seems this guy, who works as a cafeteria employee at a local school, put his dog's name in as one of the students in order to get reduced price lunches. Over two years he took the school district for almost $11,000. He had four buddies that have also ended up in the doghouse with him.
Alert About Buying Discounted Pet Meds Online
The US Food and Drug Administration has issued an alert about buying discounted pet medications on line. Keep in mind legitimate online pharmacies require a veterinarian prescription. The FDA has found that some online pharmacies sell unapproved drugs or counterfeit products. In this alert the FDA has also noted pain relievers and heartworm medications require a vet's prescription and to be cautious of overuse as they can be very harmful. The FDA says a way to see if the online pharmacy is legit is by checking to make sure they are a Vet - VIPPS accredited pharmacy.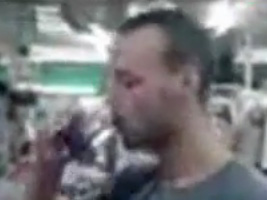 Man Arrested From Facebook Video
In England a man was arrested after footage of him swallowing a live goldfish was posted on Facebook. Christopher Caswell, who swears he is an animal lover, was having quite a party with his buddies several months ago when he strolled into a pet shop, asked the employee to put a goldfish in the glass he was holding - seems like a questionable decision on the part of the pet shop here - and down the hatch went the goldfish. Caswell says the hubbub is much ado about nothing.
Wondering If Your Family Should Get A Dog?
A new study by St. George's University of London reports that children in families that own a dog are in better shape and more active than those without. They studied over 2,000 kids over seven days and found that kids with dogs had less sedentary lifestyles. Also, adults took an extra 1,700 steps a day than non-dog owners, so the kids aren't the only ones that benefit.
No More Dangerous Animal Rescues For this Man
Here is a story that could be directly from a Carl Hiassen novel about crazy Floridians - Alexander Alcantara wanted to help an animal in trouble. In this case, the animal was a seven-foot alligator with an arrowhead in its skull. Keep in mind; Alexander had already lost half an arm trying to save a bird's nest near a power line. Anyway, he baited and drugged the alligator, bringing him to shore. Apparently the alligator wasn't completely out, because he, yes, bit Mr. Alcantara. Despite this, Alexander somehow managed to get the seven-foot alligator and himself onto his bike and pedaled home, hoping to save the gator's life. He got home and called the Florida Fish and Wildlife commission. No, he didn't get a reward, or even an attaboy. They told him not to try to rescue any more dangerous animals...and that he had to get a permit for his pet raccoon!

Listen to the entire Podcast of this show (#567)

indicates XM Satellite Radio and Podcast versions only.