Animal Radio® Show #463 October 18, 2008


Actor/Comedian Fred Willard
First Annual Worldwide Fido Awards


A blues-singing beagle, a bull dog who can skateboard and flush the toilet on command and a Jack Russell terrier who can jump rope and walk up steps backward were among the semi-finalists as the final round of voting began for the top six pups who competed for the champion title on the First Annual Worldwide Fido Awards on Nick at Nite.

The one-hour special event was hosted by actor/comedian Fred Willard (Best in Show) that showcased the six Fido finalists and best of WorldwideFido.com's user-generated videos, where one lucky dog was ultimately crowned the 2008 Worldwide Fido winner.

Some of the categories included "Cutest Dog," "Best Dressed," "Best Voice," "Most Outrageous," "Best Trick" and "Dog/Owner Look-Alike."
Fred Willard's unique comedic charms have established him as one of his generation's most gifted comic actors. Willard has also appeared on The Tonight Show with Jay Leno numerous times both as a guest and in sketches, prompting Jay Leno to dub him "the funniest man in the world." Emmy-nominated Willard has appeared in numerous television series and feature films, including every "mockumentary" film ever directed by Christopher Guest: A Mighty Wind, Waiting For Guffman, This is Spinal Tap, For Your Consideration and Best in Show in which he portrayed "Buck Laughlin," a dog show announcer who offered up an unending stream of bad jokes and off-color comments. Willard currently heads a sketch comedy workshop, The MoHo Group.


Purrrrfect Pictures and Other Critter Capers Featured in Ripley's Newest Book


Tim O'Brien, Ripley's VP of Communications


From cat cameras to porky Picassos, there are 29 pages of amazing animal facts in Ripley's Believe It or Not! Prepare to Be Shocked! book. The book also contains more than 2,500 weird, wacky, bizarre and quirky facts, feats and events from around the world.

Some of the amazing animal stories include:
Cats that take pictures with tiny cameras strapped to their collars
A dog ate $750 of its owner's money ­ and gave some back the hard way!
Baby pigs create works of art by painting with their feet and snouts
A dog so smart that it can serve customers and collect money in a shop in Taiwan
A bearded dragon had to go to the vet after eating a 7-inch rubber lizard
A cat in China says its own name ­ Agui- when it gets scared
A cockatoo spent two weeks trying to hatch a bowl of chocolate Easter eggs
"Desmond", a Jack Russell terrier was rushed into surgery after eating his owners false teeth
Ripley's Believe It or Not! Prepare to be Shocked! offers a full-color, wide-ranging glimpse into the wonderful world of the weird. From Canada to China, from cats to chimpanzees, the listings cover every aspect of life and geographic region of the planet. Among the pages the reader will find a chocolate dessert served in a New York City restaurant that costs $25,000 and a hamburger dished up in Tokyo that costs $125! Turn a few pages and there's a beautiful replica of the Last Supper tattooed on a man's back and a few pages later, there's a photo of an 86-pound tumor removed from a woman in Serbia.
Since 1929, hundreds of Ripley's Believe It or Not! books have presented the weird, the beautiful, the disgusting, the macabre and the amazing for public consumption.
http://www.ripleys.com



Vladae, The "World Famous" Russian Dog Wizard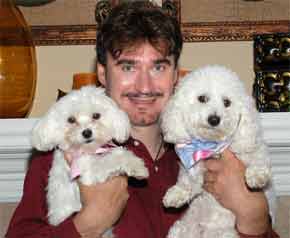 Dogs Goes Crazy And Attacks
This Jack Russell Terrier goes crazy and attacks when his humans are around his food and also when he senses that they are leaving. This doesn't happen when the male is in the house, only the women and children. The woman in the household needs to become the alpha female!
Puppy Bites And Growls At Wife And Daughter
This dog seems to think it is dominate over the child and wife. The wife needs to spend some time with the puppy on obedience training. This will establish authority and also provide the language to communicate with the puppy. In other words, you need to be the boss over you dog or things will never change.
3 Things That Say If You Are Owned By Your Dog
These are the three things that tell if your dog owns you:
1. If your dog eats first ­ (alphas should always eat first)
2. If your dog takes you for a walk ­ (don't allow your dog to pull on the leash and take the lead)
3. If your dog growls when someone approaches you ­ (your dog will think you are his possession)



Inventions That Have Changed Pets' Lives
Dr. Jim Humphries, Veterinary News Network


Caring for our four-footed friends has never been easier. A lot of hard work and dogged determination have lead to innovations that improved the lives of all pets. You won't find these in most history books, but without them, things probably wouldn't be the same for your furry friends.
Let's look at some of these: 1. The dog biscuit. The Milkbone biscuit was accidentally created in a London butcher shop in the late 19th Century. Legend has it that the shop's owner was experiencing with a meat-based biscuit for his human customers, when he came up with a batch that tasted just awful. So, he gave some to his dog, and that dog had a different opinion, he loved the biscuits! The pooch liked them so much, that the butcher began selling them to his pet owning customers. 2. Extruded dog food. Half a century after the London butcher's invention, most dogs were still living mainly on table scraps, until the Purina Company launched the first dried or extruded dog food in 1957.
Hear these and other great inventions that have affected our lives as well as the lives of our pets!
http://www.myvnn.com



Vinnie Penn, Animal Radio's Resident Party Animal


Competitive Dog Death Stories
I want to dedicate this installment to my beloved dog, Cruiser. Cruiser was a Mini-Schnauzer that was in our family for a dozen years. I still can't even think about him without getting a little bit sad. And I'll tell you, I have had human family members that have passed away that I think about and don't feel really anything. But, Cruiser still makes me sad.
The other day a friend of mine had to put his dog to sleep and it was very difficult for him. We were at the bar having a couple of drinks, with a bunch of people sitting around the bar, and I told him that I knew where he was coming from. I tried to emphasize and I told him how difficult it was when we lost Cruiser, and all of a sudden people started chiming in with their dog death stories.
And it got me to thinking, why are dog owners and cat owners, and pet owners in general, competitive with death stories? One complete stranger said, "You guys think you had it tough, I had to kill my dog myself, shoot him in the backyard!" Now this guy might be in the witness protection program for all I know, but that he would admit this is beyond me.

But, I notice that dog owners in particularly are competitive with death stories. Whenever people hear me talk about when Cruiser died, they'd tell me that it had to be sad and that it had to be difficult, and then they tell me that they ran over their dog in their driveway with their own car.
What? Why are you competing with my dog's death story? Why do people do that when it comes to their pet? You're not going to top it! Well, maybe the guy who ran his over in the driveway, maybe that tops it!



Animal Radio® News with Bobbie Hill



It's Okay To Drive With Dogs on Your Lap
California's governor has terminated a bill that would fine motorists caught driving with a dog in their laps. Gov. Schwarzenegger, in vetoing the bill authored by Republican Assemblyman Bill Maze, said he's signing only those bills that are the highest priority for California and a lapdog ban isn't one of them.
Project Shows Progress in Adoptions
A report on Philadelphia's ASPCA Mission Orange shows progress in adoptions and a reduction in the number of unwanted pets put down at animal shelters. The report data showed an increase in the number of adoptions, lost animals returned to owners and a decrease in euthanasia. The project began in 2006 when the ASPCA partnered with Philadelphia area animal welfare groups in a drive \that helped raise awareness to the plight of animals in shelters.
9-1-1 Call About Cat In Yard Turns Out to Be Cougar
A Casper Wyoming police officer responded casually Monday to a 9-1-1 call about a bothersome cat on a front porch until he found it was an adult male cougar lounging at the home of Beverly Hood. The officer ducked inside Hood's home and called for back up. A warden from Wyoming Fish and Game arrived to tranquilize the cougar and safely relocate him.

Movie Lead Found in Shelter
The folks behind the film Beverly Hills Chihuahua searched high and low for the lead in the picture, Papi. The lead that played Papi was rescued from a Los Angeles Shelter after trainers held months of auditions. There were over 200 dogs casted for the movie including Dobermans, Poodles, German Shepherds, Pus, a Labrador or two and a Dachshund. Some were seasoned Hollywood canines, but many others were found in shelters in Los Angeles and Mexico.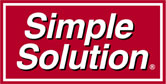 NEWS UPDATE Brought To You By Simple Solution Natural Line Of Products


Animal Minute With Britt Savage



Shark Attacks Boy in His Bedroom
A sleepwalking teen was recently attacked by a shark in his own bedroom! Fourteen-year-old Sam Hawthorne was bitten in the face by a long-dead souvenir shark hanging on the wall of his nautical themed room. The British teen calls it the most frightening experience of his life. His mother, Susan, woke up to his screams and ran in his room to find him with the shark attached to his face. She said it was like something out of a horror movie, complete with blood pouring out. They were both finally able to remove the shark after about 15 minutes. Sam escaped with a small scar and a big fish story to tell.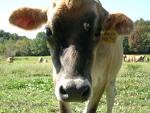 Head-Butting Cow Saves Scottish Woman
A Scottish woman credits a head-butting cow with saving her life. Sandra Kerr had been feeling some indigestion for a while, but it wasn't until a cow butted her in the stomach that she sought an examination, which revealed that she had cervical cancer. Doctors reported that without the examination, the disease would have likely spread to a dangerous level. Kerr, who works as an agricultural expert, who was quoted as saying, "If it hadn't been for that accident with the cow, I don't know what would have happened!"


Triple AAA Pet Book Photo Contest
Bill Wood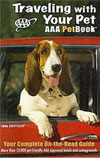 Are you a member of the 'have-pet-will-travel' club? If you are one of the 29.1 million U.S. adults who have traveled with your pet, Traveling with Your Pet: The AAA PetBook® has something special for you. Not only can you read extremely valuable advice on where to stay, where to play and how to travel safely, but you also have an opportunity to make your furry friend famous.
Enter your traveling companion's 'best-in-travel' photograph before November 30th. Contest rules and entries from previous years can be viewed online at AAA.com. Capture your pet's most memorable travel moments on camera, and join the fun. Entries are judged on such artistic qualities as photographic composition and ability to candidly convey the joy of safely traveling with a pet. Candid compositions are preferred over posed, and studio photographs will be disqualified.
The two winners will be featured on the cover and spine of the 11th edition of the AAA PetBook. The first place winner, featured on the back cover, receives a $350 AAA VISA Gift Card and five complimentary copies of the book. The second place winner marks its territory on the book's spine and receives a $200 AAA VISA Gift Card and two complimentary copies of the book.



Horse ­ Highway of Hoof-Prints
Rae Ann Kumelos, Voice of the Animal
What do traveling down the highway in your car and watching a television program beamed to you via satellite have in common? Two horses. Tune in to learn why.
http://www.voiceoftheanimal.org



International Animal News with Kaye Browne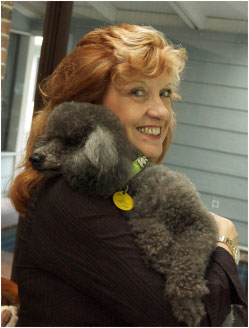 Dog-Napper Has Change of Heart
A dog-napper has had a change of heart ­ returning a 3-month-old Oliver Springs Chihuahua puppy two days after it was stolen. The little dog, called Tinkerbell was given to 9 year old Casey Bradshaw to help her recover from open heart surgery but was nabbed by the thief while Casey and her mom were picking up her Birthday cake. The family feared the worst ­ but after local TV broadcast surveillance video from a supermarket clearly showing a woman carrying the dog, police received a call letting them know where to find little Tinkerbell.
Cats Being Deliberately Poisoned
British cat owners are being warned to take extra care over fears someone may be deliberately poisoning felines with anti-freeze. So far, 39 cats have died or had to be euthanized in two separate counties in the south of England. Welfare inspectors have yet to determine if the poisonings are deliberate or accidental but say it's rare to have so many poisonings at the one time. Cats are attracted to Anti-freeze because it's sweet ­ but just one teaspoonful is enough to kill them - although they can be saved if the poisoning symptoms are spotted early enough and the cat is taken to a vet.

Girl Awakes to Snake in Her Bed
A teenage girl in the far north of Australia is having trouble sleeping ever since she recently awoke to find a snake had slithered into her bed, wrapped itself around her neck before biting her on the arm. Sixteen-year-old Ashlee Findlay told doctors she's morbidly afraid of all creepy crawlies and initially thought it was a giant spider ­ but freaked when she realized it was a snake. Luckily for her it was a non-venomous reptile called a Slatey Grey ­ unfortunately for the snake her brother-in-law killed it ­ wrongly thinking doctors would need its remains in order to identify it.

Tree Branch Turns Out to Be Python
In other snake news ­ a British gardener picked up what he thought was a tree branch - - only to find it was actually a 17ft python. Ronnie Kenyon said the reptile was probably hunting the chickens and ducks he keeps on his allotment. He quickly corralled the giant snake and rang police who took the unusual visitor to the Lancashire RSPCA center.

"Cat" is Really a Mountain Lion
It must be the season for unusual houseguests ­ Police in Wyoming were called out to a home near downtown Casper to get rid of an unwelcome cat. But when officers arrived at Beverley Hood's house they found a full grown 90-pound male mountain lion on her back porch. Seems the dispatcher misheard the call. A game warden tranquilized the mountain lion and he's been relocated way out of town.
Pets Can No Longer Receive Cancer Treatment at Human Hospital
Aussie pet owners whose pets are suffering cancer have been dealt another blow, no more after hours radiation therapy at a human hospital. Although it's been an open secret in the pet industry for at least 7 years that selected hospitals would allow animals to undergo life-saving treatment after-hours, it was kept quiet for fear that non-pet owners wouldn't understand. Alas ­ they were right. When the story appeared in a weekend newspaper ­ the Victorian Government immediately banned pets even though the hospital demonstrated its ultra-hygienic standards ensured there was no risk to human patients. There are now only 2 places in the entire country where pets can receive life-saving radiotherapy.

Monkeys Waiters
No such concerns about mixing animals and humans in Japan ­ where a restaurant has employed some unusual waiting staff - two toilet trained macaque monkeys. Yatchan and Fukuchan serve customers' drinks. And don't worry about hygiene ­ the two monkeys also hand deliver hot towels - so the humans can clean up before dinner. Check out the video!
Listen to Current World News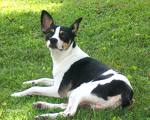 Talk With Your Animals with Joy Turner
Kenny speaks with his 11-year-old rat terrier, Gypsy. Gypsy is in poor health and Kenny wants to know how bad she feels. Gypsy wants Kenny to know that before she passes, she plans on teaching everything show knows to the new puppy and that she doesn't feel she is being replaced.
http://www.talkwithyouranimals.com
http://www.joyturner.com



Your Vet Questions Answered with Dr. Debbie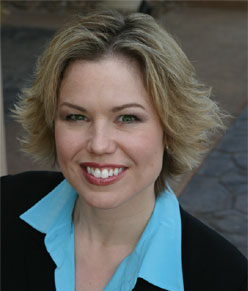 Cat Has Sores On His Face
Sores have been appearing off and on for the past six months on the sides of this cat's cheeks. Dr. Debbie feels that this could be some kind of an allergic skin disease. Cats can develop lumps and sores on their face, which could be an allergy to something they are eating or something in the environment, such as pollen and insects. They can also develop what appears to look like pimples. Dr. Debbie recommends getting him in to the vet and see exactly what is going on.
Are There Disadvantages To Neutering?
While there are many advantages to neutering an animal, there are few disadvantages. While most people think the only advantage is that they can't reproduce, the other great advantages are that an animal can actually live longer by reducing its chances of prostrate cancer. It will also curb an animal's desire to roam. On the downside, the only disadvantage is that an animal can gain weight. So before neutering your pet, think about changing decreasing his diet immediately. While neutering doesn't make a fat pet, it does change their metabolism.
Six Breeds Most Prone To Hip Dysplasia
Certain breeds of dogs are predisposed to certain genetic diseases and one of those is Hip Dysplasia. The breeds that are most prone to this disease are: German Shepherds, Golden Retrievers, Labrador Retrievers, Great Danes, Rottweilers and St. Bernards.

Puppy Is Not Gaining Weight
This Rottweiler puppy is 8 months old and his guardian thinks he needs a little weight put on him, as he is very active and thin. This puppy should be on a large-breed-based diet, as you don't want to have a rapid growth rate in large breed dogs as that can actually hasten problems like hip and elbow dysplaysias. You should look at the physical condition of your dog. You should be able to feel his ribs with just a gentle pressure and feel the outlines, if you can do this; he is at a good weight.


Listen to the entire Podcast of this show (#463)

Broadcast on XM Satellite Radio and Podcast Versions Only.

Listen to Animal Radio® - Go to the launch page
Return to Animal Radio Network™ Home Page
Read October Newsletter
Copyright 2008 All Rights Reserved Animal Radio Network LLC