October 20, 2007


Glenn Close


Glenn Close has had a lengthy career as a versatile actress and performer. Glenn is remembered for her chilling roles as the scheming aristocrat Madame de Merteuil in Dangerous Liaisons; terrorizing puppies as Cruella di Vil in 101 Dalmatians; and as the psychotic book editor Alex Forrest in Fatal Attraction. In her new series, Damages, Glenn brings force and power as Patty Hewes, a fierce litigator who has a dog killed. But, Glenn is nothing like the characters she plays, and in fact is a big animal lover! Glenn doesn't believe there was a time in her life growing up when she didn't have animals
Glenn currently has two dogs, Bill and Jake, whom she takes to work with her everyday. In fact, they have become the mascots of the Steiner Studios.
Look for Glenn's "Lively Licks" blog, which is a profile of dogs and their people, with the launch of the website FetchDog.com, where she will ask questions such as: When did you become a dog lover? Why Dogs? And, if your dog were a famous person, who would they be? Some of the first subjects are Ted Danson, his wife Mary Steenburg. Glenn states that if her dogs were famous people, Jake would be the Dali-lama and Bill would be Barney Fife!
Fetchdog.com is a new website that will offer you the best hand-picked products for your dog, from healthy food and comfortable beds to unique toys and fashionable collars.
http://www.Fetchdog.com
Ellen Degeneres: "Poochgate"
If you didn't see the original airing of Ellen's show when she broke down telling the story of Iggy, a dog she and partner Portia de Rossi adopted from Mutts & Moms, chances are you have seen it replayed dozens of times on the news.

Ellen recounted the story of her and her partner's adoption of Iggy, a Brussells Griffon mix dog back in September from Mutts and Moms, a rescue group in Pasadena, California. They then spent more than $3,000 on training and neutering to help Iggy get along with their cats, with no luck. Eventually Ellen gave up the dog to her hairdresser, Cheryl Marks, who had two daughters, ages 11 and 12. Mutts and Moms then confiscated Iggy, against Ellen's wishes.
But what you may not have heard was the other side of the story.
Mutts and Moms' adoption agreement (which is standard with most adoption agencies) stated that any dog adopted from them must be returned if they cannot stay with their adoptive family. You'll have to look long and far to find a legit adoption agency that doesn't include similar stipulations. The reason is that between 500,000 and 1 million pets adopted from shelters and rescue groups find themselves homeless and in shelters once again. Many agencies have found dogs that they thought were adopted into "forever" families sitting on death row in shelters. Mutts and Moms will also not adopt a small dog into a family with children under 14 years of age. Portia de Rossi signed this agreement.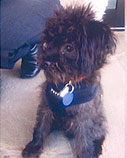 After Mutts and Moms called Ellen to check on Iggy, they were informed that the dog had been given to another family. Mutts and Moms told Ellen that giving Iggy away was against their agreement - and if the dog wasn't returned the police would be called. That afternoon, the police collected Iggy from Ellen's hairdresser and returned him to Moms and Mutts.
Since Ellen went on her extremely powerful show to tell her story, the public backlash against Mutts and Moms has been tremendous, with the owner, Marina Batkis even receiving death threats. There was also an alleged threatening voicemail from Kelly Bush, Ellen's publicist.
Mutts and Moms has now been forced to close their doors - but what about all of those now misplaced dogs?
Most rescue groups survive on a shoestring budget and are run out of private homes. They rely on foster homes and volunteers to help prepare these animals for their "forever" families. They invest a lot of time and energy rehabilitating these discarded animals and want to make sure that they are not "discarded" once again.
We asked listeners what they wanted to say to Ellen. "Ellen vs. Moms and Mutts is like using a nuclear bomb for a fist-fight," said one caller to Animal Radio®, "she should win an Oscar for that performance." Another said, "if this is what shuts Ellen down so she can't do her show, then she's not as in-touch as we once thought. She needs to turn on the TV news and see all the death and destruction. Maybe she should have called in sick that day."
Listen in as callers voice their opinions.
Call in and voice yours toll-free 1-866-405-8405 or email yourvoice@AnimalRadio.com
Read about the other side - Newsday article of the Ellen Flap
Neither Rain, Nor Hail, But A Cat ­ That's A Different Story!
Britt Savage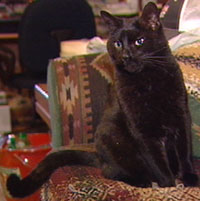 Most mail carriers will deliver the mail in rain, hail, snow, etc. But a mail carrier in Canada is refusing to deliver mail to a house after being frightened by a "very threatening cat."
The postal service is concerned about the welfare of all of their carriers, but hopes for an amicable solution to the problem. The mail carrier was brought up on a farm and is used to being around all types of animals.
The cat, Shadow, is an eight-year-old docile declawed black cat, according to his guardian. The guardian states that Shadow "likes to eat and sleep and cuddle. You could drop a bomb and he'd just open one eye, take a look, then close them and go back to sleep."
Until it is resolved, the guardian will be picking up his mail at the post office.
Microchips Do Not Cause Cancer
Dr. Marty Becker, Good Morning America


Out of the 14 million microchips that have been implanted in animals, there were only four cases in a recent study with a link to cancer. And, those cases were tested in mice that were prone to cancer. It is a myth that Microchips cause cancer, and considering that about 8,000 microchipped dogs per month are returned to their guardians, the price is well worth it!
Do you know that one out of three dogs are lost in their lifetime? The 4th of July is the #1 day with the most lost pets and Halloween is the 2nd.
Microchipping is a great way to help your pet return home. Essentially microchips are little computer chips, about the size of a grain of rice. Easily implanted under your pet's skin with a hypodermic needle, microchips provide permanent identification that won't wear out or fade, become lost, altered or destroyed. Special scanners find the microchip, translate that into a specific ID code, and then these unique numbers can be found in a database.
While there has been much controversy over different types of microchips and scanners, Dr. Becker recommends the resQ Microchip, which uses an ISO chip (International Standards Organization) that is most recognized around the world and can be read by most scanners. They also have a free registration that can be updated for a lifetime.
http://www.DrMartyBecker.com
http://www.PetConnection.com
http://www.BayerDVM.com
Bryan Dattilo, Days of Our Lives
Race for the Rescues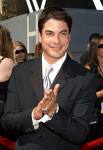 Bryan Dattilo has been playing Lucas Roberts on Days of Our Lives since 1993. Over the course of the show, he has been in a coma, has shot people and has seen his infant son grow up and prepare for college.
Bryan talks about his three labs, Vinny, Dante and Sal (whom he calls his Italian dogs). Unfortunately, Bryan recently put down Vinny who was 15 years old, due to health reasons. He states Vinny was a blessing in his life and now when he has bad days, he closes his eyes and talks to Vinny.
Look for Bryan at the 2nd Annual "Race For The Rescues" Animal Rescue 5K Run/Walk and Adoption Day at the Rose Bowl, Sunday, October 28th. He will be there with his two dogs, Dante and Sal.
Race For The Rescues is a 5K (3.2 mile) run/walk or 1 mile kid's race to raise funds for 8 non-profit, 501c3, animal rescue groups and a dog and cat adoption celebration for LA Animal Services and the Pasadena Humane Society & SPCA.
http://www.racefortherescues.org
http://www.bryandattiloonline.comß
Unexpected Pet Bills Lead to New Ways to Pay
Dr. Jim Humphries, Veterinary News Network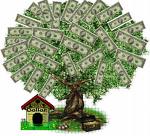 Pet owners love to spend money on their pets! But what happens when their dog is hit by a car or their cat needs emergency surgery? Advances in medical care for pets have made miracles possible, but they also come with a price. What are your options to help with these unexpected pet costs?
Between the United States and Canada, pet owners will spend more than $45 billion on toys, foods, accessories and healthcare for their four-legged family members. But, despite this love for our pets, a single traumatic event or serious disease can devastate personal finances or potentially lead to heart-wrenching decisions. Fortunately, the availability of pet insurance, pet health savings plans and even credit for pets may help some pet owners keep their pets around longer. The problem consumer advocates don't think it's a good plan.
Pet insurance is not a brand new idea and actually has been around for more than 25 years. In almost every case, pet insurance works as a reimbursement insurance. This means that you, the pet owner, pay the veterinarian for the services and then submit a claim to the company. After deductibles are applied, the insurance company will send out a check based on the type of plan you purchased for your pet. Although you won't get 100% of your money back, it can help to ease the financial burden in the event of serious disease or injury.
But some consumer advocate groups don't agree. Consumer Reports® has stated that insurance is only beneficial if something catastrophic happens to your pet. They recommend placing your premium payments into a savings account instead. Saving just $30 per month (a typical premium for pet insurance) in an account that generates 5% interest will create $6,000 over the lifetime of the pet, according to their calculations.
And, veterinarians, as a whole, have not been overly receptive of pet insurance. Many fear becoming part of a managed care system and some fear being disappointed by the insurance company. Dr. Thomas Beall of Iowa feels strongly about helping pet owners plan for unexpected events. His website, www.PetVetPro.com, encourages owners to set up a pet health savings plan. Beall says that packages on his site will help. "This will be set up for them as a automatic withdrawal and will help "weak willed" savers. Just like is done for retirement plans. If you don't see the money, you don't miss it."
Jack Stephens, founder of Pets Best Pet Insurance has a different view of savings plans. He says, "Medical problems don't wait until you have saved enough and then stay within the savings you have accumulated." He further describes the story of Abby, a young lab mix puppy who needed more than $7,000 worth of veterinary care. Pets Best paid about 80% of the total bills even though less than $100 of premiums had been paid. "If they had a pet savings account, they would have had $30-60", says Stephens. It is quite possible that Abby could have been put to sleep if her owners had not opted for pet insurance.
With less than 1% of American pet owners and only about 9% of Canadian owners utilizing any sort of pet insurance or savings plan, what other options are available? Most veterinarians cannot offer any sort of billing plan and many owners have their cash and credit cards tied up with other purchases. Fortunately, for some pet owners, CareCredit (www.carecredit.com) may be a solution. CareCredit offers several flexible payment options that allow clients to make payments over a period of several months. But, like other lines of credit, interest rates can skyrocket if the balance is not paid within a specified time frame.
The advances in veterinary medicine over the past few decades have been absolutely amazing. Our pets are living longer due to the skills and dedication of their veterinarians. But, there are costs associated with the life-saving skills and high-tech equipment. If your pet suffers a traumatic injury or serious illness, make sure that you understand the costs as well as the procedures. Talk with your veterinarian about the options that are available to you and, above all, be proactive in planning for your pet's healthcare. Visit www.MyVNN.com to learn more about how unexpected pet health costs can affect you.
http://www.VetNewsNet.com
NEWS UPDATE: Pet Food Maker Paying Stiff Price


The pet food recall still has lingering effects. Menu Foods Income Fund is reducing its staff as it tries to recover from the deaths of pets that arose from tainted pet food back in March. Their estimated losses are at $10 million dollars.
Menu Foods in North America, is the largest manufacturer of wet dog and cat foods. They are planning on cutting 10-15% of its over 900 employees (about 90 to 140 employees).
The original problem was traced to wheat gluten which had been contaminated with melamine, which is used to make plastics, supplied by China.
It is not known how many animals were effected, but Menu Food Income Fund is currently facing about 100 class action lawsuits. It is estimated that things will not return to normal until sometime in mid-2008.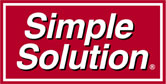 NEWS UPDATE Brought To You By Simple Solution Natural Line Of Products
True Stories Of People Changed By A Dog
Ken Foster, Dogs I Have Met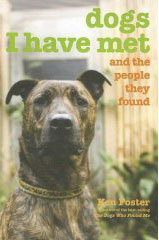 "Our dogs see us through more than they put us through," Ken Foster writes in Dogs I Have Met and the People They Found. His new book is a collection of essays inspired by the letters received, stories shared and dogs he met following the publication of his bestselling memoir. From Central America to the American Midwest, these are true stories of people whose lives were forever changed by a dog in need.
In Dogs I Have Met, Foster revisits old friends and reveals new, extraordinary and almost
impossible to believe stories. In "The Odd Couples," Roxy, a three-legged pit bull, adopts a runt piglet named PeeWee and raises him into a hog. (Yes this is true.) In "Chasing After Duque," a stray in Costa Rica reaches out to a local woman who keeps fifty-five dogs in her house and uses their waste to produce methane gas - an amazing example of how dogs can assist in the environmental movement. Finally, "A Unique Dog" tells the story of Max, a puppy adopted from death row at a Texas Shelter, whose owners soon discover that he suffers from hemophilia. Many people would put such a dog down, instead they spend a large portion of their annual income on transfusions, and train Max for work as a therapy dog for the sick and elderly.
A New Orleans resident, Ken Foster also documents the city's changes post Katrina with regard to the Dogs who return with their people and those who were left behind in the wake of the storm.
http://www.Ken-Foster.com
Fido Friendly Travel Talk
Susan Sims, Fido Friendly Magazine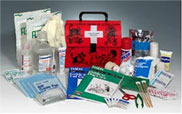 Traveling with your pet is at an all time high and there are many products
out there to make your trip more enjoyable.
Country Dog & Friends
One thing that is important is to bring along a pet first aid kit. Find out
what's inside the Big Red Box!
Country Dog & Friends
866-254-5822
http://www.countrydogandfriends.com
Fido Friendly Magazine
The Travel Magazine For You & Your Dog, a complete guide to Fido-friendly accommodations across the United States and Canada. "Fido Friendly is the only magazine dedicated to the travel lifestyle of man's best friend, and the one magazine your dog will thank you for." And don't forget to join the Fido Friendly Travel Club.
http://www.fidofriendly.com
http://www.fidofriendlytravelclub.com

525,600 ­ Measure Your Minutes in Love for the Animals
Rae Ann Kumelos, Voice of the Animal
Every year, millions and millions of animals spend their lives experiencing the pain, cruelty, and despair of lives spent in laboratories or on factory farms. Discover what happens for both you and the animals when you choose to spend your minutes each year on kindness, compassion and conscious consumerism.
http://www.VoiceOfTheAnimal.org
Talk With Your Animals
Joy Turner
Joy speaks with Jazzy, a 14-year-old cat who is ill and her guardian Jean.
Want to ask Joy a question on Animal Radio®? 1-866-405-8405.
http://www.TalkWithYourAnimals.com

Listen to the entire Podcast of this show (#412).


Listen to Animal Radio® - Go to the launch page
Return to Animal Radio Network™ Home Page
Read October Newsletter
Copyright 2007 All Rights Reserved Animal Radio Network LLC