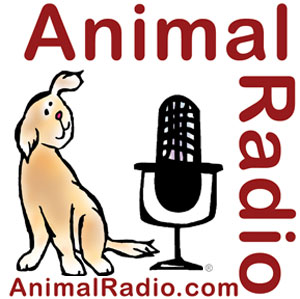 Animal Radio® Show #621 October 29, 2011
Halloween Protection Plan For Your Pet
Dr. Marty Becker, America's Veterinarian

We love seeing ghouls, ghosts and goblins knocking at our doors on Halloween. But what does the holiday mean for our pets? What are the common dangers that put our dogs and cats at risk every year?
Dr. Marty Becker, "America's Veterinarian," shares tips on how to keep your pets safe so that Halloween is a fun time for the entire family. But that doesn't mean they can't have fun. In fact, Dr. Becker lets his own horses bob for apples in the horse trough.
Dr. Becker mentions that these days, "everything" is going to kill you! The truth is that there are some things that are threats and some things that are not, but there are some real risks around Halloween for your pet. Halloween is the second most time of year when pets are lost, with the 4th of July being the first. While some pets are okay with all of the dressing up that goes along with Halloween, there are others, which are simply terrified.
One item which has been way overblown is chocolate. It takes 3 ounces of milk chocolate for a 10-pound dog to cause a problem. So if they get a hold of one or two small pieces, they might get an upset stomach and their respiration and heartbeat might go up a little. That's it! However, dark chocolate and baker's chocolate are a different story. You also need to be on the lookout for anything sweetened with xylitol or something containing raisons.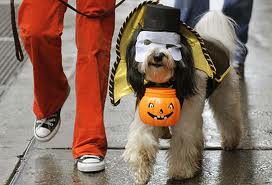 Another item you may not think about is that candle in your pumpkin. If you have a cat and their tail goes over that flame, it is almost like kindling.
Do you use potpourri? This is also harmful for cats that like to lap it up like anti-freeze, because it can cause a severe electrolyte imbalance and even death.
For the pets that like the attention of being dressed up and like going out with you, they can have a great time. For the ones that don't, please provide them with a safe place in the house, away from the door, where they can feel secure.
Dr. Becker has been practicing veterinary medicine for more than 30 years and is a best-selling author, syndicated columnist, and a frequent guest on national shows. You can find Dr. Becker on Vetstreet.com, a new animal health and lifestyle website dedicated to giving pet owners the most accurate information possible to keep their pets healthy and happy. Dr. Marty Becker, "America's Veterinarian," is also the popular veterinary contributor to ABC-TV's "Good Morning America" and the resident veterinarian on "The Dr. Oz Show." He is a frequent guest on national network and cable television, and radio shows. He has also been interviewed for countless magazine and newspaper articles, and has served as a consultant to or veterinary spokesman for top animal health companies. Along with his writing partner, Gina Spadafori, he is a regular contributor to Parade magazine and the Co-creator of popular web site PetConnection.com You can also join Dr. Becker on Facebook as well as on Twitter.
Love Is About Letting Go
Jon Katz, Going Home, Finding Peace When Pets Die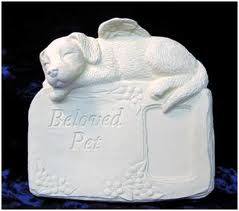 Jon Katz wrote his book, Going Home, after attending a veterinary conference where some of the vets mentioned that they did not have a book to recommend to their clients after their pet had died.
In this day and age, people are becoming more disconnected from each other and animals are making people feel connected and providing a lot of support. So when people lose their pets to death, it becomes a very real and serious loss. There isn't much information on the death of a pet, unlike with human loss, which has a lot of guidelines, laws and procedures. With the loss of a pet, you are pretty much all alone in dealing with it.
People who don't have animals don't quite understand this loss. If you talk to someone who does love animals, they do understand and you can get support from them. But a least half the country is just not going to get it. So you have to be careful when you approach your boss and tell him your dog died and you would like a week off!
In Jon's book, you will find that he feels it is okay to grieve for an animal, and if you are one of those people who grieve more for the loss of a pet than you do for a human loss, you are not alone. This doesn't mean you are callous and don't care. Animals today are filling a different role with us. Our relationships with them are very pure and relatively uncomplicated. They don't move away, they are not going to divorce or sue us and they don't care what we look like. When you come home, they are glad to see you and love you! It is a very rare unconditional type of love that we get from our pets. So any creature that gives you this love, is going to be very important to you, and their loss will be very powerful. Some people even compare this to losing a child.
Jon doesn't agree with the saying that when your pet feels it is time for you to let them go, "You will know." He doesn't think any animal really has the emotional, intellectual or verbal ability to grasp the concept of death and to make a choice of whether they want to leave the world or not.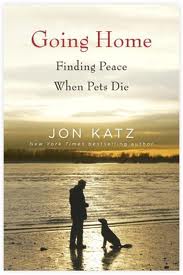 However, at the end of an animal's life, they need us desperately. We are their advocates. We are their voice. This is a very tough decision for us to make, because this is the only time in our lives where we are called upon to kill something that we love. We don't have any guidelines to follow, unlike human laws. This leads to a lot of guilt in feeling whether you did the right thing? Did you wait too long? Did you act too soon? What Jon found out during his research was that almost all of the people were wrong with their guilt. None of these people had done anything wrong. They loved their animals and made the best loving decisions that they could possibly make. So if you feel guilt, you must have loved your animal very much because anyone who would abuse an animal won't feel any guilt. So stop beating yourself up! Animals are not like us – they don't do guilt!
Most people are not prepared for the fact that animals don't live that long. When you get a pet, you are almost guaranteed that you will experience their loss. A lot of people are so overwhelmed by the loss, that they state that they never want to get a pet again. This is very sad given how many animals need homes.
Jon also feels that one of the greatest tools to help people through their grief is the Internet. In light of this Jon created a Facebook
page where people were encouraged to come and post images of their pets, share their grief and stories and talk openly with people who understand the death of a pet. Over 600 people went to the website to post pictures of their pets (everything from cats and dogs to horses and iguanas) and to share stories about them. With a selection of those photos Jon created a video with them and him reading an excerpt from his book, Going Home. The film is incredibly powerful and has received over 56,00 views!
http://www.bedlamfarm.com/goinghome.asp
The Dogfather's Grooming Tip with Joey Villani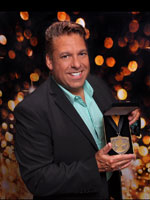 Bathing Your Pet At Home
When you go to your professional groomer, they bathe your dog and the always look great. But when you try to do it at home, you run into knots and tangles and it just doesn't come out the same.
One reason is that they have professional equipment, such as high velocity dryers, which blow the hair straight and get the dead hair out.
But don't give up. You can bathe your dog at home and while they won't look exactly like they do when they come from a professional groomer, your dog can still look great.
First of all, most cats and dogs don't like the sound of the spraying water. So fill your sink or tub up with lukewarm water and add your favorite shampoo. Make sure the shampoo you use is biodegradable, so if you miss some of the shampoo and it remains on your pet, it won't cause any irritation.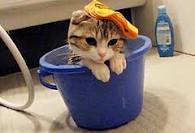 Then sit your pet in the container and bathe them that way. You can work up their body while they are sitting there. When you are done, pull the plunger and let the water drain. Add clean water and rinse your pet off.
When your pet is rinsed, towel dry them. After you have done this, clip the towel around your pet and leave it on until they are about 80 to 90% dry.
You will probably end up with a stringy dog if they are longhaired, or a dog that is losing a lot of coat if they are shorthaired. You will then want to use the right brush depending upon your dog's coat. You should also have a spray bottle of water on hand so you can dampen their coat just a little. This will help the long hair to go straight as you are brushing it out. At the end, just run a comb through their hair to make sure you have removed all of the knots and tangles. On a shorthaired dog, because their hair is already loose from bathing, use a rubber curry brush or another de-shedding tool to go over the coat.
Do this and you will end up with a dog with nice finish.

DOGFATHER'S GROOMING TIP Brought To You By SeniorPetProducts.com. Use the code "SAVE25" to receive 25
Animal Radio® News with Stacey Cohen
Halloween Safety Tips
Keep animals confined indoors on Halloween. Seclude them safely in a room away from the door and distractions. Walk pets before dark to avoid any altercations with costumed characters. House animals indoor just before and during Halloween. This protects pets from pranksters who tease, injure, steal or harm animals. Make sure pets are wearing collars with current identification. Many pets get spooked and escape. Unfortunately, they end up in shelters without identification. Keep pets away from costumed ghouls and goblins. Halloween bites are not uncommon. Even friendly animals may bite due to stress, fear or protective aggression. Store and dispense candy so that it is not accessible to pets. Many treats are toxic and even lethal to pets. Especially poisonous are "sugar free" sweetener xylitol and chocolate. Don't dress up pets unless they love it. If you do dress them up, make sure the costume isn't annoying or unsafe. Avoid restriction of movement, vision, hearing or the ability to breathe or vocalize. Costumes should not contain small dangling accessories that could be consumed or cause choking. Restrict your pet's access to decorations. Jack o' lanterns with candles are obvious fire hazards, but cats can also get tangled in streamers. Pets can also become ill from eating holiday decor.

Hero Dog Awards
The American Humane Association celebrated ordinary dogs who do extraordinary things at the Hero Dog Awards, presented by Cesar Canine Cuisine on Oct. 3 at the Hollywood Hilton. The gala event was taped for TV broadcast on Nov. 11 on the Hallmark Channel, hosted by Carson Kressley. Guest presenters included Peter Fonda, Faith Ford, Joey Lawrence, Megyn Price, Mickey Rooney, Betty White and others. Dogs were judged in eight categories: Law Enforcement/Arson Dog, Service Dog, Therapy Dog, Military Working Dog, Guide Dog, Search and Rescue Dog, Hearing Dog and Emerging Hero Dog. In addition, Rin Tin Tin was honored with the first ever American Humane Assn. Hero Dog Legacy Award. During a nationwide six-month search for hero dogs, hundreds of canines from all 50 states were nominated and some 400,000 votes were cast, culminating in the selection of the eight extraordinary canine finalists. That's where a panel of celebrity and expert judges took over, including Whoopi Goldberg, Orlando Brown, Kristin Chenoweth, Susan Orlean (author of "Rin Tin Tin: The Life and the Legend"), all overseen by dog trainer Victoria Stilwell of "It's Me or the Dog" on Animal Planet. Each of the eight winning dogs walked the red carpet with dozens of paparazzi shooting photos and video.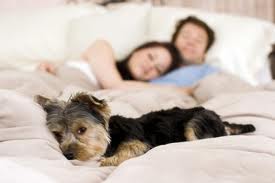 Do You Sleep With Your pet?
Sharing a bed with the family dog jeopardizes human health, according to the chief veterinarian in Britain who issued a clear warning: Don't do it! The U.K.'s top veterinary surgeon, Fred Landeg, said that people should not sleep with their dogs in case the pets carry diseases. The concern, Landeg was cited as saying, is that new and emerging diseases are able to spread from animals to humans. Such diseases are known as zoonoses. "We can think recently of SARS, which came from animals, and another disease, the Hendra virus, from bats," he was quoted in a British newspaper. "As a veterinary surgeon I would never advise people to keep dogs in their bedroom." Kathy Hillestad, DVM, a veterinary services representative at Doctors Foster and Smith Inc. in Rhinelander, Wis., said people who want to sleep with their dog must weigh the risks. While there are zoonotic diseases, sharing a bed with a dog is fine if the animal is well cared for, she said. "With precautions it's OK, many people do sleep with their pets and have absolutely no problem," she said. "I don't think that they should absolutely not do that." Before a dog gets cozy in a person's bed, however, Hillestad said she recommends a physical exam by a veterinarian. The highest concern, she said, would be the transmission of parasites such as roundworms, which can be picked up from dogs and cats. A wise pet owner, she said, also guards against fleas and ticks. In addition, annual exams should include a fecal check to screen for intestinal parasites. "It comes down to pet owners being aware," she said. "In many cases, people are not aware. Because we do tend to have very good veterinary care here in the U.S., people do not have experience with the things that can become problems, like people picking up roundworm eggs from the animals, so people don't think about that, and that's part of the job of a good veterinarian." Landeg, the U.K.'s acting chief veterinary officer, also said dogs provide some health benefits. For example, people who walk dogs tend to be fitter and have lower blood pressure.



Wigs For Dogs!
This amazing range of doggy wigs for a hairier terrier is designed to give your pooch a new leash of life. The colorful hairpieces come in all different sizes and slot over the ears for a perfect fitting accessory. The website Wiggles Dog Wigs is taking a lead in the canine hair market and although the fake locks don't come cheap, the site's popularity is growing. Retired make-up artist Ruth Regina is the mastermind behind the novel idea. She said: 'I come from eight generations of wig makers and there was really no other job I wanted to do. I've been making dog wigs for friends for about 20 years but I never charged for them. 'Then more and more requests came in and eventually I decided to set up a separate business. The company's biggest bestsellers are the celebrity dog wigs with Lady Ga Ga the biggest hit with owners." They also sell Bob Marley and Sarah Palin hairpieces.
Adopt-A-Dog Month
American Humane Association established Adopt-A-Dog Month® in October 1981 as an annual event to encourage people to save lives and enhance their own lives by adopting a dog from a shelter or rescue group. Thirty years later, that message is as strong, true and important as ever, as millions of dogs in shelters await adoption every year.

Want To Do Your Dogs A Big Favor?
Stop feeding them people food. Pet food is designed to contain all the nutrients they need to stay fit and healthy. If more than 10% of your dog's diet consists of table food, you may be training him to beg and putting him at risk of weight gain, diabetes, and joint, cardiac and digestive problems.

E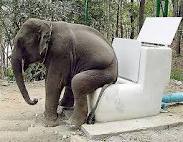 lephant Power
Elephants are actually helping to keep the lights on at the Munich Zoo. The zoo's resident Indian elephants are providing 'Elephant Energy' by creating power generated from their dung. This is achieved by harnessing what the Munich Zoo is referring to as "poo power" (energy stored in animal waste, which can be converted into a fuel known as "biogas.") How It Works - The zoo has built three large containers, each capable of holding about 100 cubic meters of animal waste, which is approximately a week's worth of dung collected from all the vegetarian animals in the zoo. The dung is then mixed with warm water and the bacteria in the dung is left to decompose in an oxygen-free environment for 30 days. The resulting biogas, mainly comprised of methane and carbon dioxide, rises naturally through vents in the ceiling to a corrugated hut on the roof where it's collected in a "big balloon" which resembles a small Zepplin. The biogas is then fed into a gas-powered engine that's used to generate electricity. "When you turn the biogas into electricity, it creates heat which we also store," Munich Zoo park supervisor Dominik Forster told CNN. "This is then used to warm the gorilla enclosure, but it could be used to heat about 25 homes," he added.

7 Pet-Friendly California Bills
Governor Jerry Brown's enactment of several animal-friendly bills into law is a victory for California's animals. The new laws protect California citizens, pets and wildlife from irresponsible breeders, pet overpopulation, and animal fighting, among other issues. "The passage of these seven bills makes this one of the most successful legislative sessions for any state's animals in 2011," said Nancy Perry, senior vice president of ASPCA Government Relations. "We commend California legislators for their work with many humane advocacy groups to address necessary changes for animals in the state." "California lawmakers have once again demonstrated their commitment to passing laws to prevent the suffering of animals," added Perry. Visit www.aspca.org for more detailed info.


NEWS UPDATE Brought To You By PetzLife.com. Use the code "RADIO" to receive 20% off!

Listen to the entire Podcast of this show (#621)