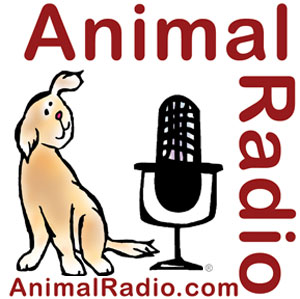 Animal Radio® Show #569 October 30, 2010
Bart Simpson Has a Cow
Nancy Cartwright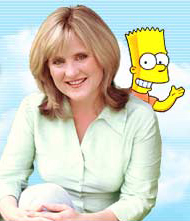 Voiceover artist Nancy Cartwright is back on Animal Radio®. The charismatic voice of Bart Simpson on The Simpson's is crazy about her family of animals.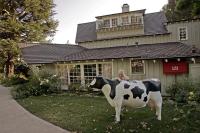 Nancy's Cartwright lives on an acre 'ranch-style' country house with "tons" of animals. Her menagerie includes, 2 dogs, 3 cats, sea horses and a fiberglass cow named "Milk-Dud." What's with the fiberglass cow in Cartwright's front yard? She explains she had to get it since her TV character's catchphrase is "Don't have a cow, man!"
"I don't know if other kids make this mistake, but when I was growing up, I always thought that dogs were the males and cats were the females," Cartwright exclaims, "I don't know how long I went before figuring that one out!"
Despite the fact that she is the most recognizable cartoon voice in the world, Nancy says nobody recognizes her voice in the "real world."
Pounds for Pounds
Jeanie Ryan, World's Best Cat Litter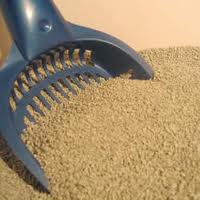 World's Best Cat Litter, a brand of cat litter made by GPC Pet Products of Muscatine, Iowa, recently launched its World's Best Cat Litter Charity program called "Give Litter."
The Give Litter Charity Program is an online contest designed to build national awareness for all of the animal shelters that are in dire need because of the economy. These shelters are now overwhelmed and can use your help.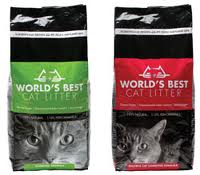 World's Best Cat Litter knew they could give them litter, but wondered what the best way to do that was. They came up with the idea of the "Give Litter" Charity, which was launched in our nation's capital. Through online voting, over 5,000 pounds of litter was given away. This benefited Washington, DC animal shelters.
Their latest contest is for the Los Angeles, California area. The organizations that will benefit are Alley Cat Allies together with the Baldwin Park Animal Shelter, The Cat House on the Kings and Kitten Rescue. For every vote, World's Best will donate 1/10th of a pound of litter. Each of the three organizations will receive litter donations proportional to the number of new Facebook fans and votes received.
You can vote twice daily: at Givelitter.com and at Facebook.com.

Dodge Journey Pet Destinations
What Is Your Favorite Place To Take Your Pet?
People who have pets love to travel with them. At Dodge, they have made it easier with their pet friendly vehicle, the Dodge Journey, which contains concealed storage bins, Chill Zone glove box cooler and second-row dual in-floor storage bins with removable and washable liners (very handy for muddy paws!) Call us with your favorite place to take your furry-friend: 1-866-405-8405
This week's Dodge Journey Pet Destination: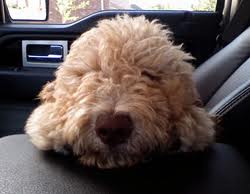 Sharon is a trucker and travels around the country. She has a Labradoodle named Phoebe who has been riding with her in the truck all of her life. One of her favorite places to take Phoebe is the Executive Suites in Wichita, Kansas. Having a big parking lot for her truck is very important to Sharon, and the Executive Suites can accommodate her, her dog and her truck very easily. The Executive Suites are very "trucker" friendly and even offer free laundry and breakfast.
Past Dodge Journey Pet Destinations: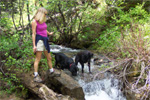 Theresa from Montana says that there are lots of beautiful places to take your dogs in Montana. But, her favorite place is Heart of the Valley Dog Park in Bozeman, Montana. The park is six acres and it is like a social event for dogs. There are usually at least ten to twelve dogs there at a time. Theresa has 2 black labs and they go weekly to the dog park.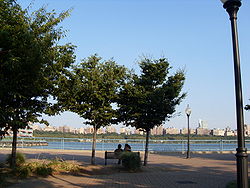 Joey Villani, the Dogfather and Animal Radio® Groomer, recommends a place back in New Jersey called the Riverwalk. Riverwalk runs about three miles along the Hudson River with a beautiful view of the Manhattan Skyline. You will see the most posh pooches in the world with the greatest haircuts, well, maybe not so great now that he is no longer there!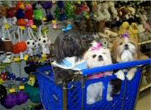 Mike of Santa Maria, California likes taking his dogs to PetSmart in Santa Maria, California. He has 2 Shih Tzus and they love going there. It is their treat of the week. They like to run around the store and smell all of the items on the shelves. He states that they are very social dogs and they get to meet and great all of the other dogs and people. They even enjoy riding in the carts!

Animal Radio® nominates the Loews Lake Las Vegas as this week's Dodge Journey Pet Destination. This was the first time anyone from the Animal Radio dream team had ever visited Loews Lake Las Vegas and we were all truly enchanted by the grounds. The fact that they let your furry friend (with all sorts of pet amenities) enjoy it with you, makes it that much more inviting. If you are ever in the area, don't miss the opportunity to check this hotel out - we give it a 5 Paw Rating!

While Victor was currently in the process of moving to Alaska from Alabama, he recalls the fond memories he had with his Lab who loves any place that has water. Her favorite place was Twin Mulberries in Alabama, which has a Little Mulberry Creek and a Big Mulberry Creek. She loved playing in the Big Mulberry Creek with her football. I am sure she will find some exciting places to play in Alaska as well!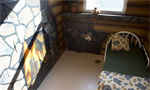 Carol from Pennsylvania loves to take her dog to the Nemacolin Woodlands Resort, which is a family and luxury vacation destination on 2,000 wooded acres in the Laurel Highlands of Southwestern Pennsylvania. You will also find the Nemacolin Wooflands, Pet Resort and Spa, Pennsylvania . You will find everything from climate-controlled rooms with elevated beds to a grooming salon, daycare and obedience training classes. The only problem you will have is that your dog will not want to check out!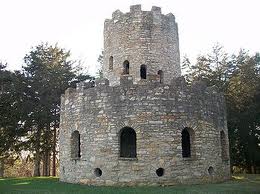 John of Clinton, Iowa loves taking his dogs to Eagle Point Park in Clinton Iowa , which has a big dog park and is situated in the northern section of Clinton. There, you will find a place to walk your dog on the levee along the river. Eagle Point Park overlooks the Mississippi River and General Zebulon Pike Lock and Dam (No. 11). It is a 164 acre park. Visitors are provided with spectacular views of the river and parts of Illinois, and Iowa. In the fall, you might even get lucky and glimpse hundreds of eagles fishing in the river.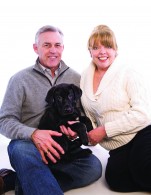 Susan Sims, Publisher of Fido Friendly Magazine, travels constantly around the country exploring Fido friendly places. So, we asked her what her favorite place was for her and her husband Gregg to take their dog, Junior. Susan loves Seattle, Washington, and tells us some great places. Susan picks Kimpton's Hotel Vintage Park in Downtown Seattle as her favorite hotel. During her stay, she enjoyed a view of the Space Needle from her room. Next, she picks Tulio Restaurant in the hotel. While your dogs can't dine in the restaurant, she was able to order some fabulous food from room service. And lastly, while she was in Seattle, she took her dog to Marymoor Dog Park in Redmond, Washington , which has 40 acres of off leash fun for your dog!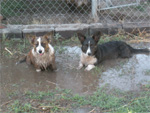 Mark, from Southeastern Wisconsin, recommends the Burlington Dog Park in Burlington, Wisconsin. He tells us it is a great place to take your dogs in the summer. They have some great open fields to let your dogs run free. It is also next to the Fox River, so if you have a dog that likes to flop around in swampy mud, it is a great place!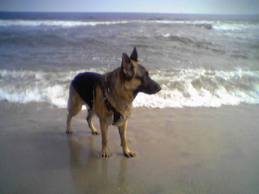 Vladae, Animal Radio's own Russian Dog Wizard, is one busy guy. He sees one client after another and is always hard at work turning unruly dogs around for their guardians. But after a hard day of training dogs, he and his wife like to take their dog Mika (who is of course very well behaved), to the Huntington Beach Dog Park in Huntington Beach, California. There, Mika can run free with the other dogs and just be herself!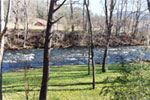 Steve from Tennessee recommends the town of Townsend, Tennessee, one of three gateways to the Great Smoky Mountains National Park, which has dubbed itself "The Peaceful Side of the Smokies." You can find many roadside parks along the Little River to take your pets. Steve states that his dogs first learned how to swim in the Little River.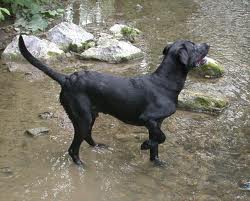 Richard of Bend, Oregon likes to take his Labrador Retriever to Tumalo State Park in Bend, Oregon, in the heart of sunny central Oregon. Tumalo State Park rests along Oregon's spectacular Deschutes River, which is a great place for your water-loving dog to romp.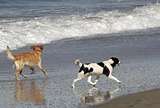 Glenn of San Diego recommends Ocean Beach Dog Beach in San Diego, California. Ocean Beach Dog Beach is open to canines any time. This small beach has plenty of sand for the dogs to run on, and waves for them to run through. On weekends there can be up to 100 dogs there.

Bo from Los Angeles, California tells us her 2 black labs like to go hiking and to the beach. But one of her favorite places to take them is Runyon Canyon Park in Los Angeles, California. It is a 130-acre park in the Santa Monica Mountains, two blocks from Hollywood Boulevard. She states that this is a great place where your dogs can frolic with other dogs and have a good time! And who knows, you might even catch a glimpse of a celebrity and their pet while you're there!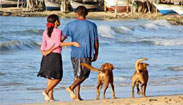 Danielle from Shell Beach, California tells us her favorite place to take her dogs is Avila Beach, California. She states it is a very secluded beach with a nice protected area to let your dogs run free. Everyone brings their dogs to this beach and it is a very pet-friendly place.
The Dogfather's Grooming Tip with Joey Villani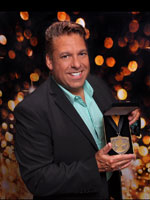 Smelly Feet
Sometimes your dog will accidentally urinate on himself or even walk through their urine. Perhaps your cat comes out of the litter box with an odor on his feet. Well, Joey has the remedy for you!
He uses OxyiCean, which is an oxygen based and non-toxic cleaner. Because it is oxygen based, it will blow that scent away immediately!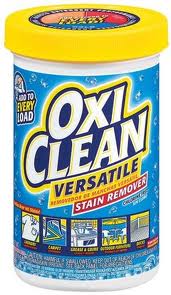 Take a tablespoon of OxiClean with 4 ounces of very warm water (not hot) and add a couple of drops of dish detergent. Only use one or two drops maximum, because too much dish detergent and it will irritate your pet and it will also be hard to clean up the suds. Put this mixture in a squirt bottle and spray it on your pet. You can spray it on their feet; their legs; even on the carpet; and then dry it. Be extremely careful not to get it in your pet's eyes, because it will attack protein and the eyes are protein. If you do, flush it immediately!
Because it is oxygen based, it will break down the odor immediately and keep it away. If you use an enzymatic cleaner, it will change the odor molecules and dehydrate the odors. But once the area has been hydrated, the smell will come back. But using an oxygen based cleaner will remove the odor forever.

DOGFATHER'S GROOMING TIP Brought To You By SeniorPetProducts.com. Use the code "radiospp" to receive 25% off!
.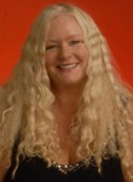 Animal Radio® News with Laurie Roberts

Pets Are Getting Into The Act
Well, the TV shows Bones and South Park have had episodes paying homage to the reality show Jersey Shore. And now thanks to the American Kennel Club and the Cat Fanciers Association, pets are getting into the act. According to them, here are a couple of the jersey shore players and their canine equivalents:

Mike 'The Situation' Sorrentino, who once described himself as looking like Rambo with his shirt off - he is a Staffordshire Bull Terrier.

Nicole 'Snooki' Polizzi - the short, fake tanned and hair-poofed train wreck that works as a veterinary technician - she is, what else, a Shih Tzu.
Rolling Dog Ranch Relocates
Steve Smith and Alayne Marker opened the Rolling Dog Ranch. Steve and Alayne, after working in careers for Boeing in Seattle, opened the ranch in Montana for handicapped animals in 2000. The ranch is funded by public donations and houses 80 animals: 40 dogs; 10 cats; and 30 horses. 25 of the animals are blind. All have one or several disabilities. Well, after ten years in Montana with harsh winters in their remote location and other issues, they packed up their ranch and successfully moved it east, to New Hampshire. Many told them it would be too hard on the animals, but Steve said people forget these animals have already been through a lot and had come to them from many parts of the country. The Rolling Dog Ranch is now on 120-forested acres just outside Lancaster, in New Hampshire. For more info, go to rollingdogranch.org.

People With Bipolar Disorder Benefited By Pets
Medical studies have shown for a long time the benefit of service animals to people dealing with mental issues. But now experts are saying just owning a pet can really help those with bipolar disorder. Pets provide a sense of being known and understood and unconditional love can restore a person's empathy. Pets also help bipolar patients to feel more connected with the world and can create a comforting sense of family.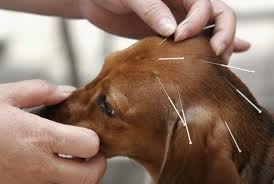 Acupuncture - Not Just For Peole
As we know, our pets help us. Now some information on how we can help our pets. Many times animals may not recover well from surgery, or have hip pain as they get older and several other ailments. Keep in mind, acupuncture may be an option. More and more it is being used successfully on pets, disproving the common myth that many people have that you must believe in the acupuncture for it to work. If you do seek out an acupuncture remedy for your pet, make sure they are certified by one of the three U.S. Centers. To find out more, check out the International Veterinary Acupuncture Society at ivas.org.

TV Station Crew Saves Woman From Guard Dogs
Ever have that scary feeling you might be left inside a store when they close up? Well, it happened to a Philadelphia, Pennsylvania woman who got trapped in a used car lot. What do used car lots in big cities use at night? Big, mean, well trained guard dogs. The 56-year-old woman quickly crawled on top of a car to escape the dogs, and called 911. But when they didn't respond quickly.... who ya gonna call?? .... A local TV station! Knowing good film when they hear it, they rushed to the scene and helped the woman escape. The cops showed up 25 minutes later. I am guessing the TV crew distracted the dogs with fast food burgers and if you know any TV people, they know where all the drive thrus are. And, I'm guessing the woman did not return to buy a car, no matter how good the deal!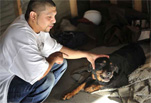 Dogs Wakes Up After Being Euthanized
A Michigan man got the shock of his life when he had to take his beloved dog in to be euthanized and she woke up! Matt Olivarez of Redford, a Detroit suburb, took his dear pet Mia, a 10-year-old Rottweiler, in to be put down because of severe hip problems. He brought her home to bury her and the next morning Mr. Olivarez found Mia wide-awake. The vet clinic offered to refund the $177 fee, but he said he is not looking forward to going back and putting he and Mia through the heartbreak again. Calls to the clinic were not returned.
Animals Sense Danger
Those of us that live in earthquake prone areas are used to taking note when our animals act out of the ordinary. "Could he be sensing an earthquake?" But in Oklahoma City they now they believe in their animals sensing danger as well. Jessica Garafalo was watching morning TV when a recent moderate earthquake shook Oklahoma City. She says her cats jumped off the couch and began running in circles and meowing. She says they act that way when storms are approaching. Then, they stopped running and flattened themselves out and immediately it started shaking. She says that dogs outside were acting strangely prior to the quake as well. The thought that animals can predict earthquakes has been around for centuries. Scientists say some humans may also be able to predict a quake. Some people get a feeling of nausea; others get ringing in their ear.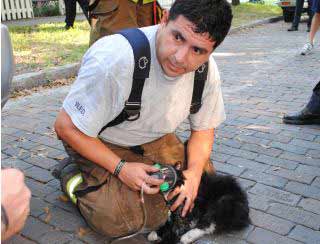 Firemen Save Two Kittens
The Wilmington North Carolina Fire Department responded to a house fire recently and not only put out the fire where no one was injured, but also breathed life back into two kittens that had suffered serious smoke inhalation. They have had oxygen equipment made for dogs and cats for three years. Firefighter Oscar Cerda, who got the kittens breathing again, said, "As a pet owner, it put a smile on his face."

Some Dogs Are Apparently More Pessimistic Than Others
A recent study conducted by Britain's Bristol University put a number of food bowls in specific locations around the house, which the dogs were trained to feed from. Some locations had food, some didn't. It was found that the dogs that ran quickly to the ambiguous locations were more optimistic than the others. Those dogs tended to be the ones that had less anxiety when left alone.
Listen to the entire Podcast of this show (#569)

indicates XM Satellite Radio and Podcast versions only.