November 4th 2006
Truman Capote's Items Auctioned for the Animals
Joanne Carson, Ph.D., Canine Epilepsy Guardian Angels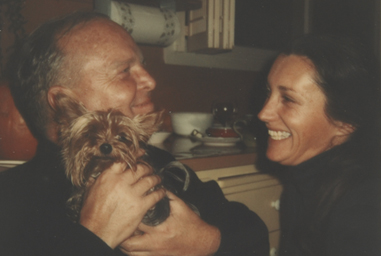 During Joanne's marriage to the late Johnny Carson (his second wife) from 1963-1972, they befriended Truman Capote, who remained a close friend of Joanne's, until his death in 1984. After his passing, Joanne became his unofficial keeper of his flame by safeguarding his personal effects. Joanne does not want his belongings sitting in some university and wants his items to belong to the people Truman cared about. As a result, Joanne is auctioning off Truman's personal items at the auction house Bonhams in New York on November 9th, with a portion of the sale benefiting her favorite animal-rescue charities.
One of those charities that will be benefiting from the sale is Hemopet, a non-profit blood testing service run by Dr. Jean Dodds. Their hope is to raise enough money to build an animal hospice in Garden Grove, California.
http://www.itsfortheanimals.com/HEMOPET.HTM
Joanne Carson has worked closely with Dr. Jean Dodds over the years when she was dealing with her beloved Pooh Bear's canine epilepsy. In 1993 when Pooh Bear was 4 years old she had her first seizure in the middle of the night. Joanne was terrified! She thought she was dying of a heart attack. The next few years were a frightening adventure through the world of canine epilepsy for Joanne. She did a lot of research, talked to every knowledgeable vet and neurologist and learned how to keep Pooh Bear as healthy and as happy as possible.
Joanne, who has a Ph.D. in physiology, devotes most of her energy to a website she founded to educate owners of dogs with canine epilepsy. Their goal is to provide information on canine epilepsy and other diseases that cause seizures in dogs including canine hypothyroidism.
http://www.Canine-Epilepsy-Guardian-Angels.com
Cooking for Yourself & Your 4-Legged Friend
Linda West Eckhardt, The Dog Ate It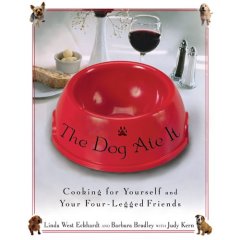 Do you like to cook for yourself?
Do you like to cook for your dog? Well, now you can do both with one cookbook! While The Dog Ate It isn't the first cookbook for dogs, it is the first one with recipes designed for dogs and their owners to savor together.
Just as humans need to eat the right balance of protein, vegetables, and whole grains, so do dogs. But where do we find the time to cook special meals just for our pets when many of us struggle to feed ourselves healthfully? With The Dog Ate It, there's no need to prepare separate meals!
Like traditional cookbooks, it features a variety of categories, including hord'oeurves, salads, main courses, breakfast entrees, treats, and desserts. But unlike traditional cookbooks, you will find items such as Chow Bella Burgers, Teriyappi Stir-Fry, and Growly Good Granola. Even more, these recipes provide your doggy with a break from commercial pet food, which can often contain fillers and by-products that are cast off in the manufacture of human grade food.


Pets Have to Deal With the New Baby Too
Dr. Jim Humphries, Veterinary News Network


The world has changed since the neighborhood dog languished most of his days outside, and the local cat spent its days cavorting in the subdivision streets. Today, pets are an extension of the family. Often, a practicing ground for a baby.

And there's nothing wrong with all the coddling that comes with that; birthday parties, the special outfits, the spot on the bed, until of course the real baby comes homes. Though it sounds like just another opportunity for more pet pampering, bringing baby home to a place where a pet dog or cat has spent time staking out its territory is a serious concern for many new parents, and it should be. This is especially true if the dog or cat has never been around kids or babies.
Curly Gets 2nd Chance
Britt Savage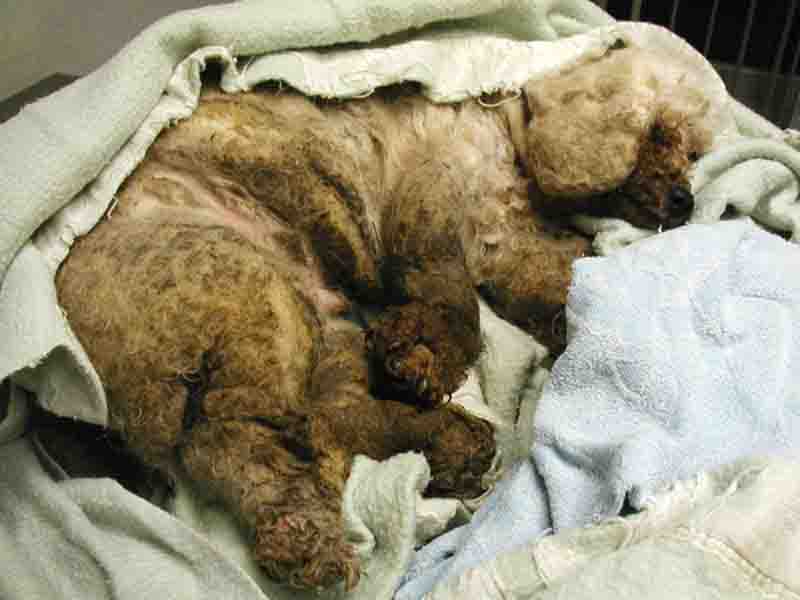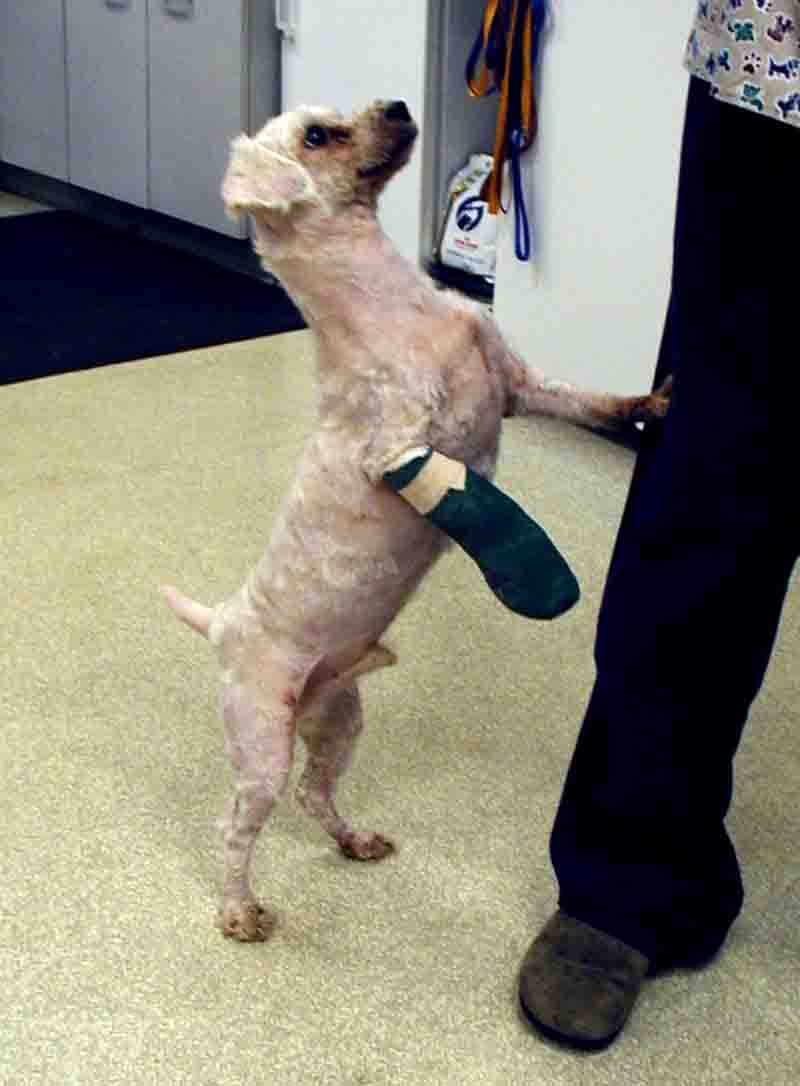 A Park Ranger found Curly on a routine patrol. Someone had abandoned this little guy by leaving him in a dog crate for who knows how long. He was also left with a badly injured front right paw that eventually had to be amputated. Curly was taken to the Pet Adoption League where he was adopted by Sharon and Joe Spitz, who own the local Canine Café.
Talk about second chances! Curly has gone from the abandoned pup to the shop greeter at the Canine Café with all of the treats he can eat!
Puppy Training Made Easy
Brian Kilcommons & Sarah Wilson, My Smart Puppy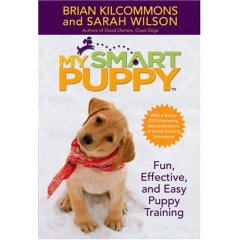 How well are you raising your puppy? Does your pup rush out the door in front of you? Do you know that you can easily "tell" a new pup not to pee on the rug stop jumping on guests and come every time you call? Well, it's time we stopped trying to teach them our language and begin to understand theirs.
My Smart Puppy teaches you ways to let your pup know what you want in a way she understands. The ways are effective and quickly establish good puppy habits and manners and prevent bad behavior.
Both Brian and Sarah are both dog trainers. Listen in as they balance their different approaches to training a puppy.
There is also a DVD that demonstrates their techniques.
http://www.MySmartPuppy.com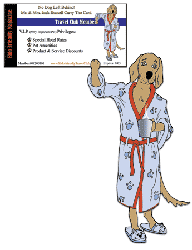 Fido Friendly Travel Pick
Susan Sims, Fido Friendly Magazine
Susan takes us to Ketchum, Idaho where she visits the Best Western Tyrolean Lodge with her dog. The area is loaded with over 30 miles of bike paths, perfect for you and Fido. Ph: 208-726-5336
And don't forget to join the Fido Friendly Travel Club. Fido Friendly Travel Club
Each month new affiliates will be added and you will be notified by our e-newsletter who is new to the club as well as what specials and promotions are available.
Visit http://www.FidoFriendlyTravelClub.com for more details.
http://www.FidoFriendly.com
Talk With Your Animals
Joy Turner
Joy speaks with Hobie, who's guardian put her down two years ago and wants to be sure that she did the right thing.
http://www.TalkWithYourAnimals.com
http://www.JoyTurner.com
Refuge
Rae Ann Kumelos, Voice of the Animal


Meet the animals of the Arctic National Wildlife Refuge, including the ones that visit your backyard every winter. And, renew your acquaintance with the sixty-five million year-old animal whose presence is feeling the desire that may threaten the lives and livelihood of all who inhabit this most fragile and sensitive eco-system in the world.
http://www.VoiceOfTheAnimal.org
10 Million Adoptions
Betsy Saul, Petfinder.com


Ten-thousand strong. That's the milestone Petfinder.com reached in late September when the 10,000th animal welfare organization began posting its pets on the database, the oldest and largest devoted to homeless pets, now in its 10th year. The Web site recently celebrated another milestone with its 10 millionth adoption
"We never dreamed our Web site could change the face of animal welfare. We just hoped to find a home for one pet a month. That was our first goal." The site long ago surpassed that with an average of a million adoptions per year. "Ten thousand animal welfare organizations, ten million adoptions-it's the best tenth birthday we can imagine," Saul says.

The site is free to its animal welfare organization members and to visitors.
http://www.PetFinder.com

Submit Your "Thanksgiving stories of why you appreciate your cat. " - Win a ScoopFree Automatic Litter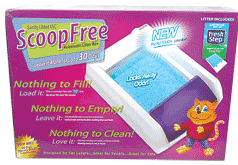 Lucky Litter LLC, maker of the ScoopFree™ automatic litter box that you can leave alone for up to 30 days per cat, marks the Thanksgiving holiday season with a contest seeking the best stories on why you're thankful for your cat.
"We know cat lovers have many reasons they're thankful for their cats," said Alan J. Cook, president of Lucky Litter. "We want to create this opportunity for you to share those feelings of gratitude with others who appreciate their feline companions."
Winners, to be announced by Dec. 18, will receive a free ScoopFree automatic litter box or a case of six ScoopFree Litter Tray Cartridges if they already own a ScoopFree. The contest is not valid where prohibited by law.
Winners will also receive an autographed copy of the award-winning book, Tails of Devotion: A Look at the Bond Between People and their Pets, by Emily Scott Pottruck. All proceeds, not just profits, from the sale of the book go to a variety of animal welfare nonprofit organizations throughout the United States.

Share your story and enter the contest, which runs through Nov. 30, by visiting www.scoopfree.com/contest or tell Animal Radio® on-air at 1-866-405-8405.
You'll be thankful for your new ScoopFree. ScoopFree is available at selected PetSmart stores and can be purchased online at PetSmart.com, Target.com, Amazon.com and Costco.com. For more information on this major innovation in cat care, visit www.scoopfree.com
ENTER SCOOP FREE CONTEST
Listen to the 1st Hour ABRIDGED VERSION Podcast of this show (#362).
Purchase a CD Copy of this Show

View Animal Radio Network® Broadcast Schedule in a new window.


Listen to Animal Radio® - Go to the launch page


Return to Animal Radio Network® Home Page


Read November Newsletter
Copyright 2006 All Rights Reserved Animal Radio Network LLC