November 5th 2005
U.S. Military Mascot Comes to the United States
Captain John Smathers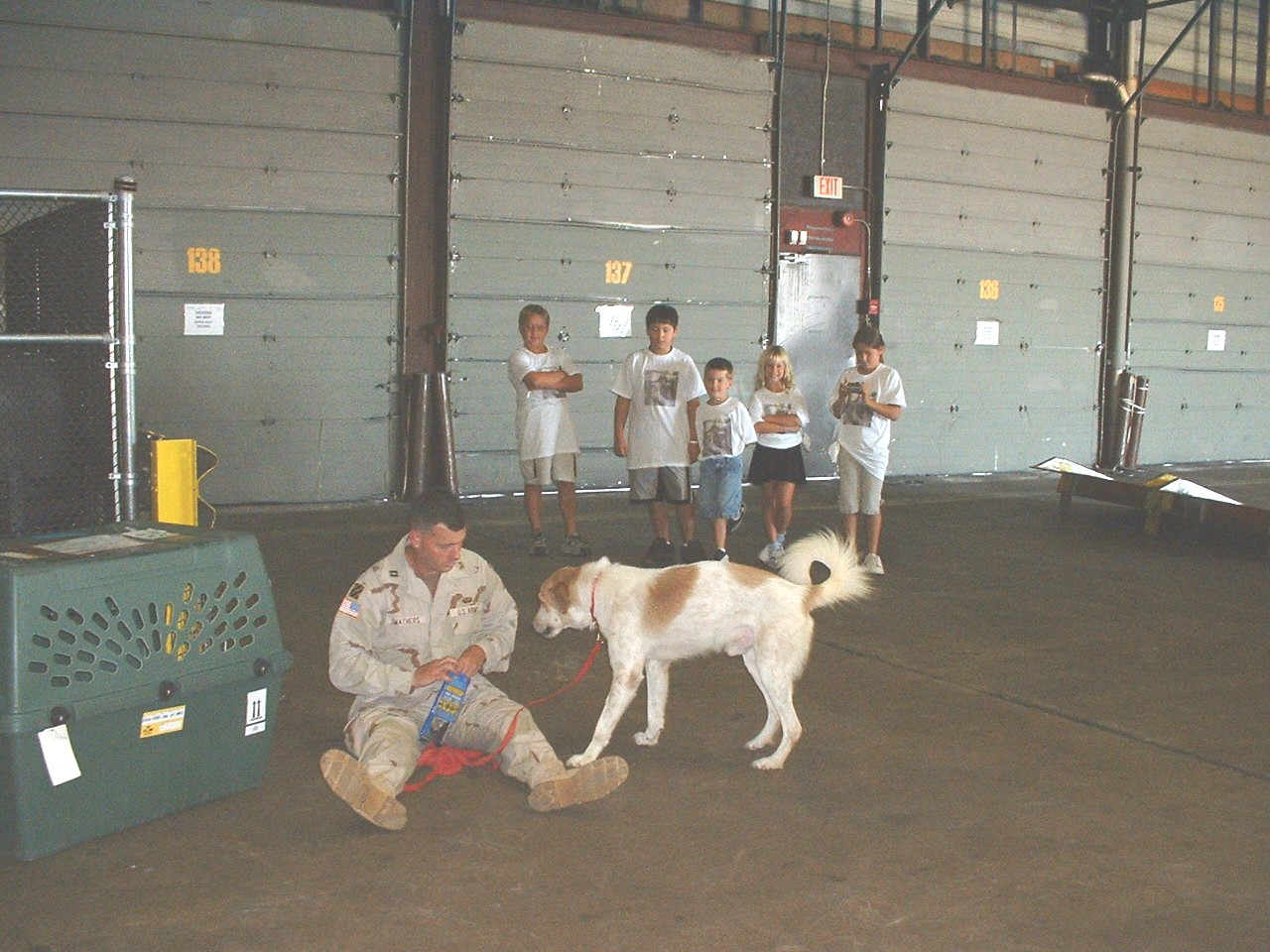 Captain John Smathers returned from Iraq with a broken arm, a wrecked knee and a chest full of medals. He is one of the most decorated soldiers involved in removing Saddam from power. During his tour, he thwarted a bank robbery and recovered stolen artwork.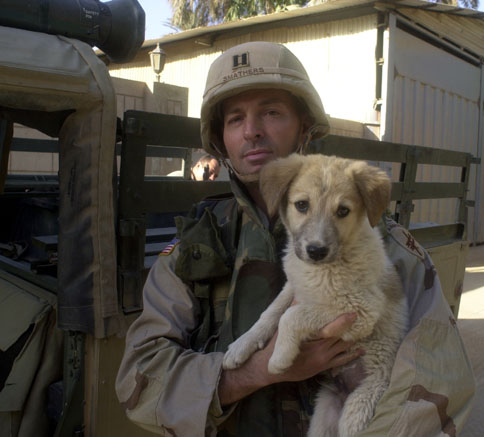 When he returned to the United States, he was determined to complete one final mission; to rescue Scout, a dog he met in Baghdad a year prior.
You might think bringing the loyal dog back to the U.S. might be easy for a soldier that fought so diligently in the name of America. Not so. Hear this great story of Scout.
Dog Dancing
Emily Yoffe, What The Dog Did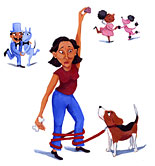 Emily discovered the world of canine freestyle (you could call it "dog dancing" but just not in front of anyone who does it) one night while watching an episode of the cartoon King of the Hill, in which Hank Hill and his beloved bloodhound, Ladybird, entered the vicious world of competitive dog dancing. It suddenly dawned on her, they were not making this up. She eventually enrolled both herself and her dog Sasha, but they never actually "dog danced." Find out why.
Finding Love When You Own a Pet
Sheryl Matthys, Leashes & Lovers
Finding love is hard enough. Finding love when you own a pet can be even harder. Single pet owners realize that finding someone who is equally excited about them as Fido is when they come home, ain't always "a walk in the park." Creator and Co-Host Sheryl Matthys thinks she can resolve those issues with a show called "Heads or Tails," a half hour reality pet lovers dating show. Each episode will be action packed from doggie yoga to pet tricks and even a catfight or two between spurned pet owners. Getting someone to accept and love you is one thing having them love and accept your pet is another.
Avian Flu - Can Your Pets Catch It?
Merritt Clifton, Animal People
Currently, the Avian Flu is not a problem in the United States. It does not spread person to person, and is not a threat to our pets. The Avian Flu (H5N1) has been around since 1996 in Asia, and has claimed only 65 people. These people were in close proximity to birds, such as those who worked with poultry, those that shared their home with fowl, or those that were involved in cockfighting. Tune in for more facts about the Avian flu.
What Your Dog Can Teach You About Living a Happy Life
Matt Weinstein, Dogs Don't Bite When a Growl Will Do


If you have ever truly observed a dog, then you know there is much we can learn from them. Have you ever noticed how dogs are happy much of the time? The little things don't seem to bother them. Try spending a day acting like a dog, and see what a difference it makes to you and those around you. Dogs have a natural quality called "Mudita" which means "Joy in the joy of others." And the most important thing a dog can teach you is to be selfless with your love.
Inmates Welcome Cats Orphaned by Katrina
Britt Savage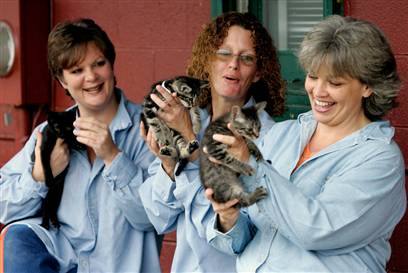 Prison is a refuge for about two dozen cats displaced by Hurricane Katrina, a place filled with women happy to be able to soothe away their trauma and fear. Four Pocahontas Correctional Unit inmates have been caring for the cats since they made the cramped 20-hour truck ride last month from an overwhelmed Mississippi shelter. The women see it as a chance to help not only the abandoned pets, but also the hurricane relief effort and even themselves. "They've had a long journey," said inmate Wendy Brickey, 45, her eyes brimming with tears. "I get the chance to make it OK."
Talk With Your Animals
Joy Turner
Listen in as Joy answers questions about Animal Radio's Co-Host Judy's cat that passed away. You will be amazed at what you hear! Find out how you can ask Joy a question about one of your pets.
Witches and Cats: Fear of the Feline and Feminine
Rae Ann Kumelos, Voice of the Animal


Discover how the once powerful goddesses and sacred cats of ancient religions were turned into witches and devils, and how the fear and ignorance that created the witch trials of medieval Europe still affect women who care for cats today.
Lost Dog Catches Train Home Alone


A black Labrador called Archie, who got separated from his owner at a remote Scottish railway station, amazed his distraught master by simply jumping aboard the first train home all by himself. Not only did Archie catch the right train, he got off at the right station almost 20 miles away. Closed-circuit television footage shows the dog waiting for his master at the station before watching the Aberdeen to Inverness train pull in. Apparently, Archie decided to avoid the long walk home by simply hopping on board and getting off at the right stop.
Top 10 "Must Haves" For your Pet that has everything already.
10.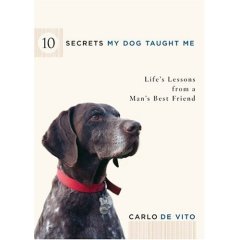 10 Secrets My Dog Taught Me - Carlo De Vito

In 10 Secrets My Dog Taught Me, De Vito writes about his experience growing up with the German Shorthair Pointer he adopts - and the life lessons that invariably result from their adventures. Ultimately, when his beloved friend is gone, De Vito discovers some truths about love, loss, and lasting friendship.
9.

Doggy Daycare DVD - Leslie Alexander
http://www.DoggyDayCareDVD.com

Leslie's own dog Joy would sleep through most of the day, except when he took her on vacation. Leslie decided it was the stimulation of nature. As a result, Doggy DayCare DVD was born. There are chapters on Nature & Nurture, Socialization & Belly Rubs, as well as Puppies & More. All profits from the sale of the DVD will be donated to animal charities.
8.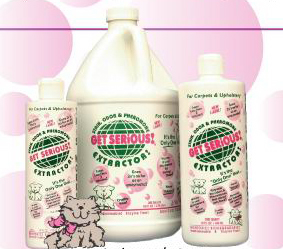 Get Serious Stain Remover - Van Charles Laboratories, Inc.
http://www.GetSeriousProducts.com

Do you have a serious stain? Then Get Serious! The biodegradable pet stain, odor and pheromone extractor for carpets and upholstery that is quick and easy to use and is safe for pets and children. Pet's won't remark, carpets won't yellow and there are no enzymes mold or allergies.
7.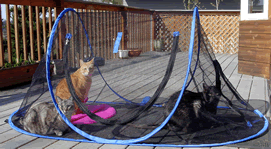 Feline Funhouse - Wild Whiskers;

This is a comfortable outdoor cat enclosure in which your indoor feline or other small pet may enjoy fresh air and sunshine. This portable containment system can be placed on your deck or lawn. It is also great for camping and RVing with pets! The Funhouse includes stakes and weight bags for extra stability. It is a one-piece unit that folds quickly and easily and stores flat in its own zippered carrying bag.


tied with

Kittywalk - Midnight Pass
The Kittywalk® System of Outdoor Pet Enclosures. Use these fully enclosed pet enclosures on their own or attached together to create an outdoor oasis for your indoor pet. http://www.MidnightPass.com
6.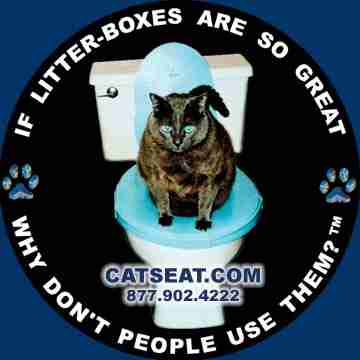 Cat Seat - Feline Evolution

If you decide to completely rid your house of litter, the CatSeat provides the option to completely toilet train. 98% of the training is completed while on the floor. You will be using only a small amount of litter, and it becomes a simple matter of introducing the water below. The CatSeat lifts and functions like a normal seat for you to use, and it is much more hygienic than your cat tracking dirty litter and germs onto your countertop and pillows (as they do with a regular litter-box).
5.

Personalized Pet Stamps

PhotoStamps are a fun and easy way to add a personal touch to everything you send. You can make a stamp of your favorite pet, and they make great gifts too!
4.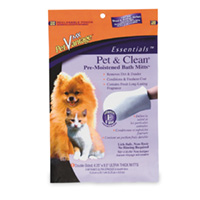 VMX Pet Vantage Bath Mitts; Cat Gym - Hartz
VMX PetVantage™ Essentials™ Pet & Clean® Pre-Moistened Bath Mitts™ are multipurpose bath mitts that make for easy cleaning by removing dirt, dander and loose hair. Great for use between baths. Contains Vitamin E and Aloe.
tied with the

Cat Gym
The Hartz® AT PLAY™ Cat Gym™ is an activity center designed to keep your cat entertained for hours! The variety of balls and dangling toys will relieve boredom, reduce anxiety and challenge the finicky feline!
3.

Gold Trim Pet China Dish - Lennox Collection

Gold-trimmed china pet dish, personalized with your pet's name, by Lennox.
2.

Pet E-Mail - Meow Mail
Please note that this site is for cats only. You're welcome to stay for a while, as long as you don't click on any of the items marked "for felines only," get into our fur, or otherwise constitute a nuisance. To keep you out of trouble, we have provided interactive games and chores (like signing up your cat for an email account if he or she can't type). You may also buy us things and enter into sweepstakes, contests, and that kind of stuff.
1. Learning Vacations For Pets - Loews Hotels

Where can you cut a record with your dog, have a personal trainer take him on a hike, or have a professional teach your dog to surf? At Loews Hotels, of course. Loews is now offering Learning Vacations for your pets. Your dog can cut a record in a studio at the Loews Vanderbilt Hotel in Nashville; go on a hike in Denver at the Loews Denver Hotel; or learn how to surf by a professional at the Loews Coronado Bay Resort in San Diego, California.
Where Can You Cut a Record With Your Dog or Teach him to Surf? Emily Goldfischer, Loews Hotels
Where can you cut a record with your dog, have a personal trainer take him on a hike, or have a professional teach your dog to surf? At Loews Hotels, of course. Loews is now offering Learning Vacations for your pets. Your dog can cut a record in a studio at the Loews Vanderbilt Hotel in Nashville; go on a hike in Denver at the Loews Denver Hotel; or learn how to surf by a professional at the Loews Coronado Bay Resort in San Diego, California. Since the introduction of the "Loews Loves Pets" program, many VIPS (Very Important Pets) have made Loews Hotels their home away from home, enjoying special treatment and privileges that are offered at all of the chain's properties in the U.S. and Canada.

View Animal Radio Broadcast Schedule in a new window.


Listen to Animal Radio - Go to the launch page


Get one of the limited edition Animal Radio® T-Shirts for 9.95


Return to Animal Radio Network® Home Page
Copyrighted Animal Radio Network LLC 2005