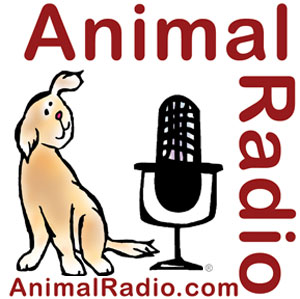 Animal Radio® Show #570 November 6, 2010
What Dogs See, Smell and Know
Alexandra Horowitz, Inside of a Dog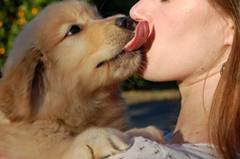 Alexandra Horowitz is back to share more interesting truths about how our dogs think. More often than not, we associate human traits on our pets. But, most of the time we're wrong.
We have assigned human-based traits to our dogs. But what we think they are doing is not necessarily what they are actually doing. One example is when your dog comes up to you and licks your face. To you, this feels like love and affection. But to your dog, it may mean something else entirely. If we look at their ancestor, the wolf, it is exactly the same action. But in their case, it occurs when a wolf returns to the den after a successful hunt and all of the other wolfs mob him and lick him around his face. While this is a greeting, it is also a request for him to regurgitate what he has killed, which he does. So when your dog does this, it is still a greeting but it might also be a request for your sandwich!
We may also think those puppy eyes are expressing remorse or even guilt for something your dog did wrong, but it is probably anticipation that they are going to be scolded.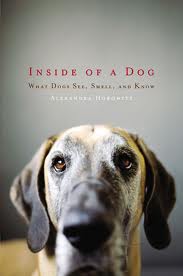 Another thing is the clothes we put on them. We might feel better when we put a raincoat on them in the rain, but they are probably feeling things a little different. Again, if you look at wolf behavior, wolves press down on other wolves' backs to dominate or punish them. So the feeling of a raincoat on your dog probably produces the feeling that someone who is stronger or has more authority is pressing down on them. A lot of the products for pets being sold aren't necessarily necessary for pets, but they make us feel better!
Also, when you purchased that new high-def TV, you were probably thinking how crisp the picture appears to you. Did you know that your dog couldn't see what we saw with your old TV? It just looked like the horizontal hold needed to be adjusted because all your dog saw were lines going up and down. Today's new Digital Television delivers the signal differently, and yes your dog can see the same picture you see, but probably not the same colors. Red is still white to the canine eye.
After reading Inside of a Dog you will look at your dog's behavior in a different and revealing light!

Dodge Journey Pet Destinations
What Is Your Favorite Place To Take Your Pet?
People who have pets love to travel with them. At Dodge, they have made it easier with their pet friendly vehicle, the Dodge Journey, which contains concealed storage bins, Chill Zone glove box cooler and second-row dual in-floor storage bins with removable and washable liners (very handy for muddy paws!) Call us with your favorite place to take your furry-friend: 1-866-405-8405
This week's Dodge Journey Pet Destination: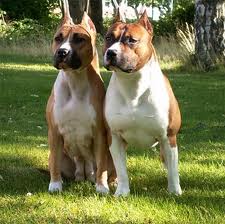 Mike who lives in Grand Junction, Colorado loves to take his dogs Glade Park just outside of Grand Junction. It is on the Grand Mesa National Forest and it has a good wide-open area to let your pet run around and play in. His two Staffordshire Terriers love this park. It is a big recreation destination and people not only bring their dogs, but you will see many people out riding their horses. A glade is an open space, and in this case, it is surrounded by natural wonders: Colorado National Monument, Piñon Mesa (with a chunk of Grand Mesa National Forest), and McInnis Canyons National Conservation Area.
Past Dodge Journey Pet Destinations: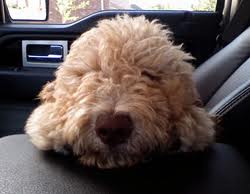 Sharon is a trucker and travels around the country. She has a Labradoodle named Phoebe who has been riding with her in the truck all of her life. One of her favorite places to take Phoebe is the Executive Suites in Wichita, Kansas. Having a big parking lot for her truck is very important to Sharon, and the Executive Suites can accommodate her, her dog and her truck very easily. The Executive Suites are very "trucker" friendly and even offer free laundry and breakfast.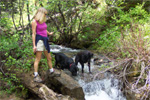 Theresa from Montana says that there are lots of beautiful places to take your dogs in Montana. But, her favorite place is Heart of the Valley Dog Park in Bozeman, Montana. The park is six acres and it is like a social event for dogs. There are usually at least ten to twelve dogs there at a time. Theresa has 2 black labs and they go weekly to the dog park.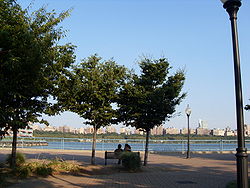 Joey Villani, the Dogfather and Animal Radio® Groomer, recommends a place back in New Jersey called the Riverwalk. Riverwalk runs about three miles along the Hudson River with a beautiful view of the Manhattan Skyline. You will see the most posh pooches in the world with the greatest haircuts, well, maybe not so great now that he is no longer there!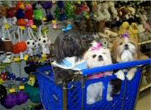 Mike of Santa Maria, California likes taking his dogs to PetSmart in Santa Maria, California. He has 2 Shih Tzus and they love going there. It is their treat of the week. They like to run around the store and smell all of the items on the shelves. He states that they are very social dogs and they get to meet and great all of the other dogs and people. They even enjoy riding in the carts!

Animal Radio® nominates the Loews Lake Las Vegas as this week's Dodge Journey Pet Destination. This was the first time anyone from the Animal Radio dream team had ever visited Loews Lake Las Vegas and we were all truly enchanted by the grounds. The fact that they let your furry friend (with all sorts of pet amenities) enjoy it with you, makes it that much more inviting. If you are ever in the area, don't miss the opportunity to check this hotel out - we give it a 5 Paw Rating!

While Victor was currently in the process of moving to Alaska from Alabama, he recalls the fond memories he had with his Lab who loves any place that has water. Her favorite place was Twin Mulberries in Alabama, which has a Little Mulberry Creek and a Big Mulberry Creek. She loved playing in the Big Mulberry Creek with her football. I am sure she will find some exciting places to play in Alaska as well!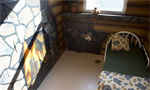 Carol from Pennsylvania loves to take her dog to the Nemacolin Woodlands Resort, which is a family and luxury vacation destination on 2,000 wooded acres in the Laurel Highlands of Southwestern Pennsylvania. You will also find the Nemacolin Wooflands, Pet Resort and Spa, Pennsylvania . You will find everything from climate-controlled rooms with elevated beds to a grooming salon, daycare and obedience training classes. The only problem you will have is that your dog will not want to check out!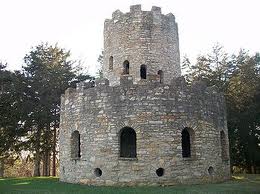 John of Clinton, Iowa loves taking his dogs to Eagle Point Park in Clinton Iowa , which has a big dog park and is situated in the northern section of Clinton. There, you will find a place to walk your dog on the levee along the river. Eagle Point Park overlooks the Mississippi River and General Zebulon Pike Lock and Dam (No. 11). It is a 164 acre park. Visitors are provided with spectacular views of the river and parts of Illinois, and Iowa. In the fall, you might even get lucky and glimpse hundreds of eagles fishing in the river.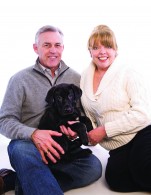 Susan Sims, Publisher of Fido Friendly Magazine, travels constantly around the country exploring Fido friendly places. So, we asked her what her favorite place was for her and her husband Gregg to take their dog, Junior. Susan loves Seattle, Washington, and tells us some great places. Susan picks Kimpton's Hotel Vintage Park in Downtown Seattle as her favorite hotel. During her stay, she enjoyed a view of the Space Needle from her room. Next, she picks Tulio Restaurant in the hotel. While your dogs can't dine in the restaurant, she was able to order some fabulous food from room service. And lastly, while she was in Seattle, she took her dog to Marymoor Dog Park in Redmond, Washington , which has 40 acres of off leash fun for your dog!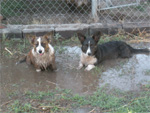 Mark, from Southeastern Wisconsin, recommends the Burlington Dog Park in Burlington, Wisconsin. He tells us it is a great place to take your dogs in the summer. They have some great open fields to let your dogs run free. It is also next to the Fox River, so if you have a dog that likes to flop around in swampy mud, it is a great place!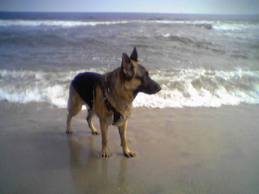 Vladae, Animal Radio's own Russian Dog Wizard, is one busy guy. He sees one client after another and is always hard at work turning unruly dogs around for their guardians. But after a hard day of training dogs, he and his wife like to take their dog Mika (who is of course very well behaved), to the Huntington Beach Dog Park in Huntington Beach, California. There, Mika can run free with the other dogs and just be herself!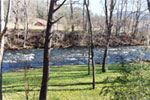 Steve from Tennessee recommends the town of Townsend, Tennessee, one of three gateways to the Great Smoky Mountains National Park, which has dubbed itself "The Peaceful Side of the Smokies." You can find many roadside parks along the Little River to take your pets. Steve states that his dogs first learned how to swim in the Little River.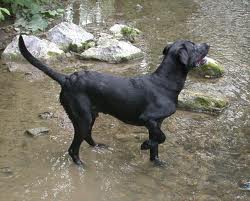 Richard of Bend, Oregon likes to take his Labrador Retriever to Tumalo State Park in Bend, Oregon, in the heart of sunny central Oregon. Tumalo State Park rests along Oregon's spectacular Deschutes River, which is a great place for your water-loving dog to romp.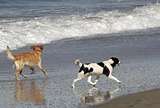 Glenn of San Diego recommends Ocean Beach Dog Beach in San Diego, California. Ocean Beach Dog Beach is open to canines any time. This small beach has plenty of sand for the dogs to run on, and waves for them to run through. On weekends there can be up to 100 dogs there.

Bo from Los Angeles, California tells us her 2 black labs like to go hiking and to the beach. But one of her favorite places to take them is Runyon Canyon Park in Los Angeles, California. It is a 130-acre park in the Santa Monica Mountains, two blocks from Hollywood Boulevard. She states that this is a great place where your dogs can frolic with other dogs and have a good time! And who knows, you might even catch a glimpse of a celebrity and their pet while you're there!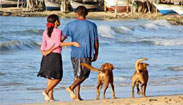 Danielle from Shell Beach, California tells us her favorite place to take her dogs is Avila Beach, California. She states it is a very secluded beach with a nice protected area to let your dogs run free. Everyone brings their dogs to this beach and it is a very pet-friendly place.
The Dogfather's Grooming Tip with Joey Villani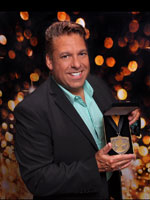 Do Hairless Dogs & Cat Need Grooming?
A strange thing about hairless cats and dogs is that they actually have an odor to them, so they start to smell. Hairless cats and dogs can be bathed, but not as much as animals with fur. This is because excessive bathing will dry their skin out.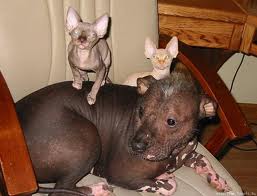 The best way to clean your hairless pet is to use Witch Hazel. You can apply it by using a cotton rag and wiping their body down or by putting it in a spray bottle and spraying them. You want to make sure you apply it all over their body, including their face and feet. This will clean the skin and remove any blackheads they may have. It will also keep them clean and fresh smelling. You can apply it everyday and it won't harm them. If you do this on a regular basis, you won't have to shampoo them unless they get really dirty.
Hairless animals can get cold, so make sure that they are patted down dry after the application.
Witch Hazel is an astringent produced from the leaves and bark from the North American Witch Hazel shrub. If your pet is a little sensitive to Witch Hazel, dilute it with water 50/50. Mix only enough for a day and then throw the rest out, so your pet doesn't get furunculosis.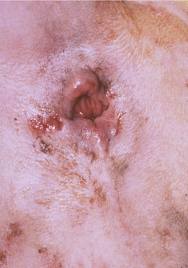 Post Grooming Furunculosis
The name may be funky, but the illness is very serious. Your pet may get this infection after a visit to the groomer, especially if the groomer hasn't practiced good hygiene.
This infection can make its way into your pet's bloodstream. Depending upon the health of your pet, they could end up with just sores or a fever, but if they were already inn ill health, it can be fatal.
Unfortunately the grooming industry is unregulated so groomers don't have to be too knowledgeable about these things.
Most groomers use products in bulk that have to be diluted to make it economical. They will buy a gallon of shampoo that has to be diluted down with water. Most groomers will pre-mix their solutions, which is the worst thing you can do. Joey says you should only mix enough for the day and then get rid of the leftovers at the end of the day. If you keep it, it will become contaminated with bacteria.
If a groomer uses a product that has been sitting, when a dog is nicked, the bacteria can go down into the hair follicle and can cause an infection, which can go into their bloodstream. This can cause illness or even death on an older and sick dog.
Joey says all of this can be avoided if they throw out their mixtures at the end of the day and disinfect their equipment, everything from ear cleaners and brushes to nail clippers that have been used on other dogs.
Any signs of furunculosis will appear 1 to 3 days after a pet has been groomed. If you see any signs, please get them to your vet immediately so that they can be put on antibiotics. Dr. Debbie saw two cases in her office this week alone. She suggests talking to your groomer and make sure that they don't bathe your pet immediately after they have been brushed. Brushing causes micro-trauma to the skin and when you bathe right after brushing, that follicle is open and infection can set it.


DOGFATHER'S GROOMING TIP Brought To You By SeniorPetProducts.com. Use the code "radiospp" to receive 25% off!
.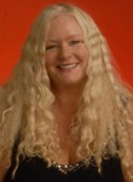 Animal Radio® News with Laurie Roberts

Canadian Scientists Perform Stem Cell Therapy in Clinics
Canadian scientists have come up with a way to perform stem cell therapy for pets in their clinics. While stem cell therapy for animals has been around since 2002, it has required tissue samples to be sent to California. While some scientists warn that the reliable uses for stem cell therapy are still far off, others say it can help with hip dysplasia, osteo arthritis and ligament injuries. This new therapy, developed by Medivet of Australia, allows veterinarians to cut fat tissue from the animal and use centrifuge and other technologies to separate and activate millions of dormant stem cells. The cells are then injected back into the animal at the problem site, such as the hips, and into the circulatory system. They report that owners begin to see results in a few days. The therapy does not come cheap, costing about $1,800. On one hand, the International Society for Stem Cell Research has set up a website (closerlookatstemcells.org), designed to warn the public about the lack of scientific evidence that shows the therapy works. On the other side, 7,000 animals have been treated with stem cell therapy in the United States alone and 80% of those owners surveyed said the quality of life for their pets was much better.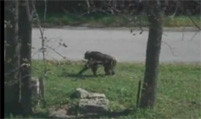 Chimp Runs Loose in Kansas City
A 300-pound very strong chimp was running loose in Kansas City recently, causing lots of havoc and vandalism. Sueko was locked in a semi tractor trailer on a vacant lot and escaped, breaking a police car windshield, scaring people, pounding on passing cars and flipping the occasional middle finger salute. She was probably just trying to tell people how much she loves being locked in a semi tractor-trailer. Turns out the city confiscated Sueko in 1995, but her owner Mark Archigo threatened to sue and the city did not at the time have the legal ground to counter the suit. Now, however, it does, and Sueko will take up residence in the Kansas City Zoo. Chimps can live to 50 years or more. Sueko will be quarantined her first 30 days there to get her used to living with other chimps and I would guess to hopefully discourage her from flipping off zoo patrons.

Viva Las Vegas
What happens in Vegas stays in Vegas and now that goes for your dog, too. Caesar's Palace, the Imperial Palace and the Rio recently launched a Pet Stay Vegas Program. The hotels now have designated pet stay areas, dog walking routes, pet room service menus and more. Guest rooms will have a doggie mat, food & water dishes and dog treats. So far, just dogs are welcome and there is a weight limit. Prices start at $20 a night.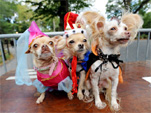 Stupid Pet Tricks
Anyone who has ever watched stupid pet tricks on the Letterman Show know that the pets are anything but stupid, it's the tricks! Auditions were held in Central Park recently and the turn out did not disappoint. One little dog had a blue and orange mohawk and was wearing a cape emblazoned with skull and crossbones. There was Rex, a two-year-old terrier that did a death swoon; Baxter the Yorkie sneezed at the command to sit and sneeze; and Tuckett the Shih Tzu that had a mean fist bump. Best dressed went to break dancing Chihuahua Tommi T, a five pound break dancer that wore a black hoodie with orange and black high top sneakers (little itty-bitty Air Jordans) the latest status footwear for pet owners with discriminating taste.
Do Microchips Cause Cancer?
Many of us have microchips in our pets, which can bring them home to us should they get lost. In fact, the microchips have proven quite successful for that. But now there are lawsuits cropping up against Merck's Home Again pet chip, which the suits claim cause cancer at the site of the implantation. Merck gets the chips from Digital Angel Corporation and both are named in named in lawsuits concerning the alarming rise of microchip cancers being discovered. You can check out the first case at chipmenot.org.
Dog Scouts of America
There are many groups that have dog award programs, but fans of Dog Scouts of America say the program the American Kennel Club offers is too snooty and the neighborhood obedience schools are nice, but lack the pedigree of a merit badge from the Dog Scouts of America. Seventy-Six different merit badges are available, everything from Frisbee catching and herding, to slipper fetching. Jasper, a dog of uncertain lineage of Milpitas, California, recently received five merit badges at a ceremony held by the Humane Society of Silicon Valley. Dog Scouts of America is a national group that has been rewarding dogs and their owners, for 11 years.

Is Your City One Of The Top Ten Most Pet Friendly Cities?
Livability.com researched cities around the country that were both pet and people friendly. Here is the list, from tenth to first: 10. Louisville, Kentucky; 9. Nashville, Tennessee; 8. Albuquerque, New Mexico; 7. Asheville, North Carolina; 6. Eugene, Oregon; 5. Santa Cruz, California; 4. Boulder, Colorado; 3. Rocky Mount, North Carolina; 2. Colorado Springs, Colorado; 1. Portland, Oregon. Interesting, North Carolina and Colorado both come in with two cities, Oregon with three and California, with only one, Santa Cruz, where the surfing is great, much of the people in town never really left the 60's, and everyday is Halloween. But we love our pets!
Battle Over Grey Parrot
An African Grey Parrot that whistles "O-sole Mio" is the center of a battle between a British city and a former owner. Angelo Ferlazzo got Coco when he was married several years ago. The marriage broke up and he returned to Italy, but because of quarantine laws he did not take Coco with him, leaving him in the care of his ex-wife. He recently returned to Harlow, Essex and saw Coco in a pet store, where he has been for nine years. In that time he has become a favorite of employees and customers alike, but Mr. Ferlazzo wants the bird back, offering to replace Coco with another African Grey Parrot. He says the bird would be better off in a home with a family. They say moving the bird now would be too upsetting.

Crab Vending Machines
Nothing says good eatin' quite like seafood from a vending machine. Now, your only choice is not that freeze-dried shrimp Top Ramen! In shanghai, they now have live crabs in the vending machines. The cold temperature in the machine keeps the crabs in a state of hibernation and shock, I would imagine, as they look out that little window and wonder...how did I get here? Anyway, just pop in some cash and out comes a live, if very confused, crab. And if the crab is not alive when you get it out of the machine, you get three free! Am I the only one that envisions people that have had some fun at happy hour deciding crab races would be a really good idea? Check out the video.

Listen to the entire Podcast of this show (#570)

indicates XM Satellite Radio and Podcast versions only.