Animal Radio for November 19th 2005
Feline Herpes Virus & Chronic Kidney Disease
with Dr. Eric Linn, Vetoquinol USA


If your cat has either the feline herpes virus or chronic kidney disease, it is not the end of the world. While there are no cures for these diseases, you can treat their symptoms and prolong the life of your cat. Dr. Linn tells you more about these diseases and how to tell if your cat has them, and if so, how they can live a long and healthy life. Read More...
Selecting a Vet with Darlene Arden


Do you put much thought into selecting a doctor? Well, you should put as much thought into selecting your pet's veterinarian. Darlene offers great suggestions on how to select the right vet that makes both you and your pet comfortable.
Talk With Your Animals with Joy Turner
Has your pet's personality changed recently or have they started to become clingy? Joy explains to a caller just what is going on with her animal and what she can do to reassure them.
Poodle Honored For Road Safety Efforts with Britt Savage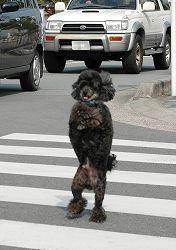 A poodle which can walk on its hind legs has been honored by Japanese police for its efforts to promote road safety. Pluto walked 20 metres on his hind legs over a pedestrian crossing, wearing a sash bearing the words 'traffic safety' during a national road safety campaign. Impressed passers-by put the four-year-old poodle up for an award for educating them on the importance of road safety, reports Mainichi Daily News.
The dog walked into the police station at Ise on its hind legs to receive a prize of some dog food from Chief Etsujiro Kurachi who said: "Thank you, Pluto."
Hero Dog to be Cats' Meow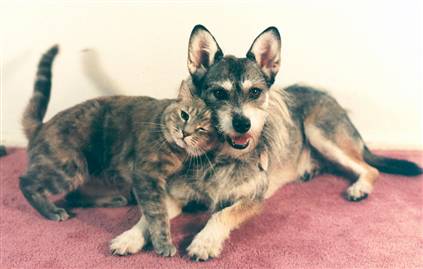 This will probably be the first time a dog's memorial service is attended by 300 cats.
A Schnauzer-Siberian husky mix named Ginny will be eulogized Saturday at the 30th annual Westchester Cat Show, where she was named Cat of the Year in 1998 for her uncanny skill and bravery in finding and rescuing endangered tabbies.
Ginny died in August at age 17, after a long career as a one-dog rescue party for hundreds of cats on Long Island's South Shore who were abandoned, injured or in harm's way.
Among the best-known rescues is the time Ginny threw herself against a vertical pipe at a construction site to topple it and reveal kittens trapped inside. She once ignored cuts on her paws as she dug through a box of broken glass to find an injured cat.
Mascots: Animals as Team Players
Rae Ann Kumelos, Voice of the Animal


Does your favorite sports team have an animal mascot? From totem symbols of protection and good fortune to Friday nights at the local football stadium, it is the animal mascot that carries a winning tradition of inspiration and triumph.
Keeping a Horse at Home
Michael and Margaret Korda, Horse Housekeeping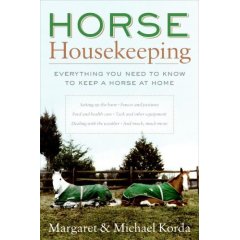 If you have ever thought about setting up a barn and caring for your horse at home, this is the perfect reference book. From everything from barn design to the basics of horse health care. Find out if keeping your horse at home is practical decision for you.
This talented couple has also written "Cat People," a humorous and insightful look at just how consuming cats can be for their owners.
Cat Scratching Post Fever!
Annie Bruce, Good Cats Wear Black


If your cat is scratching your couch - don't declaw! This is one of the easiest behavioral problems to correct in a cat. You can purchase a scratching post and easily train your cat to use it instead of your furniture. Annie offers terrific advice on what kind to purchase and how to get your cat to use it!
New Cat Items
Jeff Douglas, Steps for Pets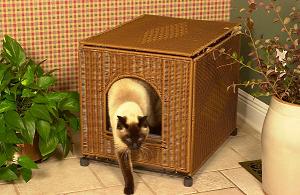 Keeping a cat as a pet has one drawback, that unsightly litter pan! You've gotta have one, but it's surely not the prettiest thing in the house.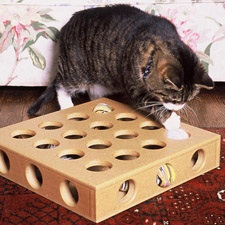 Steps For Pets changes that with their Decorative Litter Pan Cover made of a stylish wicker. And what do you do with that bored cat? Steps For Pets has a new Peek-A-Prize toy box that will keep your cat occupied for hours.
Are You a Chimpanzee or a Bonobo?
Dr. Frans De Waal, Our Inner Ape


If you are a chimp, you believe in law & order, male dominance and war. If you are a bonobo, you believe in equality, peaceful solutions and diplomacy. Listen as Frans De Waal explains the differences and tells how we can learn more about ourselves by observing these animals.
No Chimp here. This is a Bonobo....the Metrosexual of the primate world.

Knitting is No Longer for Just Moms & Grammies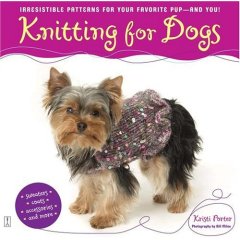 Kristi Porter, Knitting for Dogs
Knitting has become a new trend for people of all ages. And with this new trend, also comes a new trend in who actually sports the knitwear. Now, furry companions can enjoy the fruit of your labor. Find tips on measuring a dog, knitting techniques as well as a resource guide. Everyone - pick up your knitting needles and go!

View Animal Radio Broadcast Schedule in a new window.


Listen to Animal Radio - Go to the launch page


Get one of the limited edition Animal Radio® T-Shirts for 9.95


Return to Animal Radio Network® Home Page
Sponsor

Copyrighted Animal Radio Network LLC 2005