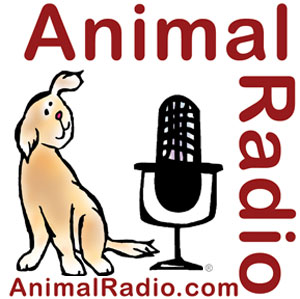 Animal Radio® Show #572 November 20, 2010
John O'Hurley – The National Dog Show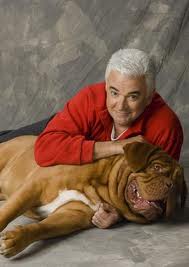 Actor/host John O'Hurley, best known as "J. Peterman" on Seinfeld, and the first winner of Dancing With The Stars, is the host of Thanksgiving favorite, The National Dog Show, along with David Frei, the "Dean of Dog Show Commentators.
Little do people know that the pop-culture phenomenon movie, "Best In Show," that was released 10 years ago as a satirical look at the dog show world, was that movie that inspired the creation of The National Dog Show every Thanksgiving.
Today, some 65 million households together for the holiday; at home in front of the television before football takes over; rooting for their favorite breed (or mixed breed) along with the doggie on the couch next to them.
The National Dog Show airs on Thanksgiving Day, November 25, on NBC immediately following the "Macy's Thanksgiving Day Parade™" More than 2,000 purebred canines, representing over 160 breeds compete in a "ladder" elimination format for Best in Breed, Best in Group and Best in Show honors.
John states that he can go back and forth on who is higher strung, the animals or their handlers, but he does states that the dogs really don't care. They get to trot around a beautiful arena, they look good and they get to sniff a lot of other dogs. So for them, it is a good day!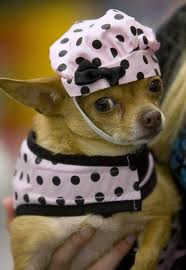 When asked what his character from Seinfeld, J. Peterman, would design for dog clothing, John said he would probably go more for a natural fabric like a tweed, and you want to have a stylish chapeau for your Chihuahua!
But they didn't forget the everyday dog and are also honoring him. Throughout November and December, dog lovers can upload a photo of their favorite pooch at www.petcentric.com. Winners will be chosen in five categories: Best Expression, Best Athlete, Best Troublemaker, Most Loveable and Best John O'Hurley look-alike.

For the dogs that look like him, says, "It doesn't hurt if they're pompous and arrogant like me." Does Your Dog Look Like John O'Hurley?
John currently has two everyday dogs, a Cavalier King Charles Spaniel named Sadie and a Havanese named Lucy. Unfortunately he recently lost his Maltese who passed away at the age of 20 years and 4 months – she lived a good long life!
Tim Nordwind, OK GO – White Knuckles Video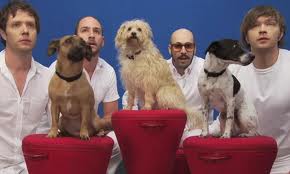 Have you seen the latest video to drop from the band OK Go? The hugely popular indie rock band revealed their latest music video with 15 dogs to the song "White Knuckles. " While this isn't the band's first video to include animals, it's the first to do so intentionally. In one of their videos a Goose made its unplanned debut after refusing to leave the shoot.
Their new video opens with OK Go stacking buckets in time with the music. The dogs enter and band members quickly break down the pyramid with the help of a golden retriever named Kash before going through a wide array of dance moves with the pups, including synchronized chair spins, ramps and jumps.
Band member Damian Kulash has two dogs of his own. One of his dogs, Bunny Carlos, a small brown dog with a black nose, appears in the video several times. She is first rolled in on a table in front of Kulash, and is later spun on a stool in a scene with two other dogs and the band. She did all of this without any formal training.
How did they train those 12 dogs to do those tricks? Bassist/Vocalist Tim Nordwind explains. They used dogs from Talented Animals, a Corvallis-based company. They then went through the whole process about 128 times, but Tim says it wasn't arduous at all and it was super fun to go play with dogs for a few weeks.
How are they going to top this? What about working with cats, small children or old people – just a thought!
Trista Sutter, The Bachelorette - Tails for the Pet Lover's Heart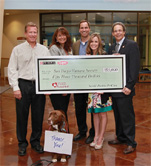 ABC's Bachelorette Trista Sutter shares pet-tales and a bunch of cash with needy humane organizations. Sutter was involved with the "Tales For The Pet Lover's Heart" campaign put together by Purina and Kroger Stores to get the word out about good animal welfare organizations across the country.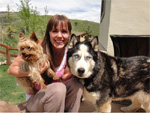 There were 18 of these organizations that were participating to win part of the $150,000 that Purina and Kroger were donating to the cause.
San Diego Humane Society was the overall winner of $53,000 with their pet-tale. Their pet-tale consisted of a video from the pet's point of view.
It looks like Trista really did find a forever friend in the reality show. She's been married 7 years now and has two dogs, a Siberian Husky named Natasha and a Yorkie named Tank. She has also become a voice-piece for Purina.

Dodge Journey Pet Destinations
What Is Your Favorite Place To Take Your Pet?
People who have pets love to travel with them. At Dodge, they have made it easier with their pet friendly vehicle, the Dodge Journey, which contains concealed storage bins, Chill Zone glove box cooler and second-row dual in-floor storage bins with removable and washable liners (very handy for muddy paws!) Call us with your favorite place to take your furry-friend: 1-866-405-8405
This week's Dodge Journey Pet Destination: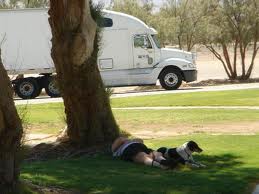 Larry is an Over The Road Truck Driver (OTR). He travels with his six-year-old Chocolate Labrador that's been traveling with him for over four years. After many years of trucking, Larry tries to avoid truck stops. He finds that there is too much garbage from truckers who throw their trash on the ground. He has come across many items that have been tossed, including chicken bones. As a result, he now stops at Rest Stops across the country. One of his favorite rest stop is the Dows on I-35 about 70 miles North of Des Moines, Exit 159.
Past Dodge Journey Pet Destinations: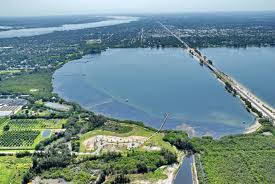 Bill is a trucker who travels all around the country. One of his favorite places to take his dog is the Manatee Avenue Causeway in Bradenton, Florida (Highway 64). There is the bay on both sides of the road. People take their dogs, everything from Chihuahuas and Great Danes, to even horses to this beautiful bay.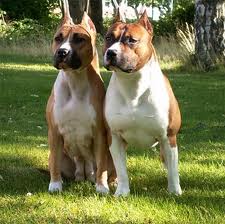 Mike who lives in Grand Junction, Colorado loves to take his dogs Glade Park just outside of Grand Junction. It is on the Grand Mesa National Forest and it has a good wide-open area to let your pet run around and play in. His two Staffordshire Terriers love this park. It is a big recreation destination and people not only bring their dogs, but you will see many people out riding their horses. A glade is an open space, and in this case, it is surrounded by natural wonders: Colorado National Monument, Piñon Mesa (with a chunk of Grand Mesa National Forest), and McInnis Canyons National Conservation Area.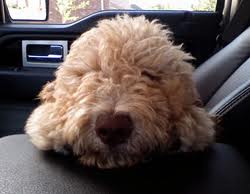 Sharon is a trucker and travels around the country. She has a Labradoodle named Phoebe who has been riding with her in the truck all of her life. One of her favorite places to take Phoebe is the Executive Suites in Wichita, Kansas. Having a big parking lot for her truck is very important to Sharon, and the Executive Suites can accommodate her, her dog and her truck very easily. The Executive Suites are very "trucker" friendly and even offer free laundry and breakfast.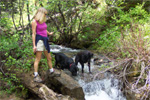 Theresa from Montana says that there are lots of beautiful places to take your dogs in Montana. But, her favorite place is Heart of the Valley Dog Park in Bozeman, Montana. The park is six acres and it is like a social event for dogs. There are usually at least ten to twelve dogs there at a time. Theresa has 2 black labs and they go weekly to the dog park.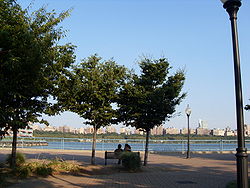 Joey Villani, the Dogfather and Animal Radio® Groomer, recommends a place back in New Jersey called the Riverwalk. Riverwalk runs about three miles along the Hudson River with a beautiful view of the Manhattan Skyline. You will see the most posh pooches in the world with the greatest haircuts, well, maybe not so great now that he is no longer there!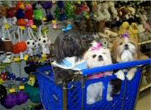 Mike of Santa Maria, California likes taking his dogs to PetSmart in Santa Maria, California. He has 2 Shih Tzus and they love going there. It is their treat of the week. They like to run around the store and smell all of the items on the shelves. He states that they are very social dogs and they get to meet and great all of the other dogs and people. They even enjoy riding in the carts!

Animal Radio® nominates the Loews Lake Las Vegas as this week's Dodge Journey Pet Destination. This was the first time anyone from the Animal Radio dream team had ever visited Loews Lake Las Vegas and we were all truly enchanted by the grounds. The fact that they let your furry friend (with all sorts of pet amenities) enjoy it with you, makes it that much more inviting. If you are ever in the area, don't miss the opportunity to check this hotel out - we give it a 5 Paw Rating!

While Victor was currently in the process of moving to Alaska from Alabama, he recalls the fond memories he had with his Lab who loves any place that has water. Her favorite place was Twin Mulberries in Alabama, which has a Little Mulberry Creek and a Big Mulberry Creek. She loved playing in the Big Mulberry Creek with her football. I am sure she will find some exciting places to play in Alaska as well!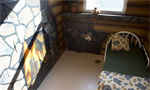 Carol from Pennsylvania loves to take her dog to the Nemacolin Woodlands Resort, which is a family and luxury vacation destination on 2,000 wooded acres in the Laurel Highlands of Southwestern Pennsylvania. You will also find the Nemacolin Wooflands, Pet Resort and Spa, Pennsylvania . You will find everything from climate-controlled rooms with elevated beds to a grooming salon, daycare and obedience training classes. The only problem you will have is that your dog will not want to check out!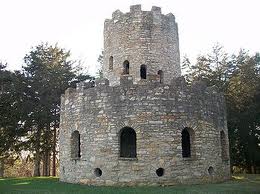 John of Clinton, Iowa loves taking his dogs to Eagle Point Park in Clinton Iowa , which has a big dog park and is situated in the northern section of Clinton. There, you will find a place to walk your dog on the levee along the river. Eagle Point Park overlooks the Mississippi River and General Zebulon Pike Lock and Dam (No. 11). It is a 164 acre park. Visitors are provided with spectacular views of the river and parts of Illinois, and Iowa. In the fall, you might even get lucky and glimpse hundreds of eagles fishing in the river.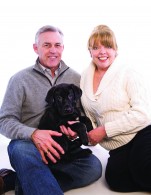 Susan Sims, Publisher of Fido Friendly Magazine, travels constantly around the country exploring Fido friendly places. So, we asked her what her favorite place was for her and her husband Gregg to take their dog, Junior. Susan loves Seattle, Washington, and tells us some great places. Susan picks Kimpton's Hotel Vintage Park in Downtown Seattle as her favorite hotel. During her stay, she enjoyed a view of the Space Needle from her room. Next, she picks Tulio Restaurant in the hotel. While your dogs can't dine in the restaurant, she was able to order some fabulous food from room service. And lastly, while she was in Seattle, she took her dog to Marymoor Dog Park in Redmond, Washington , which has 40 acres of off leash fun for your dog!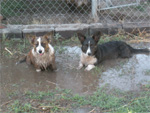 Mark, from Southeastern Wisconsin, recommends the Burlington Dog Park in Burlington, Wisconsin. He tells us it is a great place to take your dogs in the summer. They have some great open fields to let your dogs run free. It is also next to the Fox River, so if you have a dog that likes to flop around in swampy mud, it is a great place!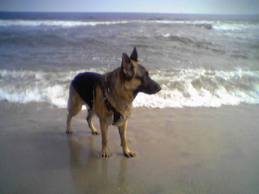 Vladae, Animal Radio's own Russian Dog Wizard, is one busy guy. He sees one client after another and is always hard at work turning unruly dogs around for their guardians. But after a hard day of training dogs, he and his wife like to take their dog Mika (who is of course very well behaved), to the Huntington Beach Dog Park in Huntington Beach, California. There, Mika can run free with the other dogs and just be herself!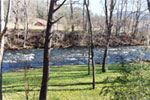 Steve from Tennessee recommends the town of Townsend, Tennessee, one of three gateways to the Great Smoky Mountains National Park, which has dubbed itself "The Peaceful Side of the Smokies." You can find many roadside parks along the Little River to take your pets. Steve states that his dogs first learned how to swim in the Little River.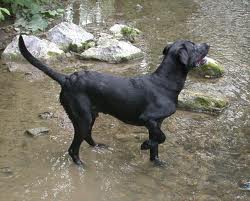 Richard of Bend, Oregon likes to take his Labrador Retriever to Tumalo State Park in Bend, Oregon, in the heart of sunny central Oregon. Tumalo State Park rests along Oregon's spectacular Deschutes River, which is a great place for your water-loving dog to romp.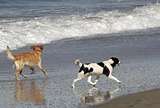 Glenn of San Diego recommends Ocean Beach Dog Beach in San Diego, California. Ocean Beach Dog Beach is open to canines any time. This small beach has plenty of sand for the dogs to run on, and waves for them to run through. On weekends there can be up to 100 dogs there.

Bo from Los Angeles, California tells us her 2 black labs like to go hiking and to the beach. But one of her favorite places to take them is Runyon Canyon Park in Los Angeles, California. It is a 130-acre park in the Santa Monica Mountains, two blocks from Hollywood Boulevard. She states that this is a great place where your dogs can frolic with other dogs and have a good time! And who knows, you might even catch a glimpse of a celebrity and their pet while you're there!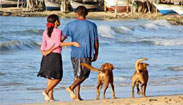 Danielle from Shell Beach, California tells us her favorite place to take her dogs is Avila Beach, California. She states it is a very secluded beach with a nice protected area to let your dogs run free. Everyone brings their dogs to this beach and it is a very pet-friendly place.
The Dogfather's Grooming Tip with Joey Villani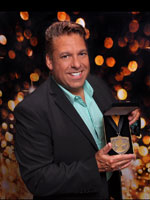 How To Bathe Your Cat
There is a little bit of science behind bathing a cat, as most cats do not like to be put in a sink and sprayed. There is the Old Wives' Tale that cats don't like water, but it's not that they don't like water, they don't like being startled by the water.
You don't need to bathe your cat unless you feel it is absolutely necessary. There is also the alternative of taking them to a professional groomer. But if you want to do it at home, don't put the cat in the sink and turn the water on. Because as soon as you do, and if you have a sheet rock ceiling that the cat can get it's claws into, you will end up prying the cat off the ceiling! They will also try to run up your arm and across your face and can leave some nasty scratches that will send you to the doctors!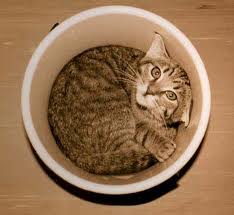 If you can, get two medium sized trashcans about kitchen size (approximately 4 gallons). Fill them with warm water – not hot (about 3/4 full). In one, add about 1/4 cup of white vinegar and put it off to the side. In the other trashcan, add about 1 cup of your favorite pet shampoo. When you have done this, grab your cat by the scruff with one hand and their back feet with your other hand and gently dunk them in the one with shampoo, leaving their head above water. Believe it or not, cats usually do not mind being submerged and some actually like it. You can then scrub them. If you have fleas, a great way to help get them off your pet is to do this with a medicated flea shampoo.
Once they have been scrubbed, take them out and put them in the trashcan with the white vinegar. This will remove any remaining shampoo. When you take them out, run a comb through them before towel drying. If you have a cat with long hair, this will remove any knots or tangles. If your cat has short hair, this will help to remove any hair that become loose during the bath. When you have combed them, you can then towel dry your cat.
You should love this method – and you can put away the bandages!

DOGFATHER'S GROOMING TIP Brought To You By SeniorPetProducts.com. Use the code "radiospp" to receive 25% off!
.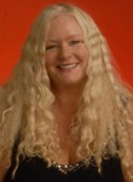 Animal Radio® News with Laurie Roberts

Vet Waiting Room Do's And Don'ts
Ever been in your veterinarians office and had another patient there make you crazy? Here are some vets waiting room do's and don'ts:
*Contain your cats. The office staff does not want to see an altercation where one or several pets get injured. Use a cat carrier.
*Keep your dog on a short leash. If you can't control them, ask if there is another place for you to wait.
*Don't bring in so many pets that you cannot personally control them.
*Don't pet someone else's animals unless you ask first.
*Give the cell phone a rest. Your animal is stressed out and deserves your full attention.
*Don't walk a dog into a packed waiting room. Ask someone to let the receptionist know you are waiting outside, or, use your cell phone for a good reason by calling the office and letting them know.
*Always let the receptionist know if your animal is severely anxious or aggressive. All vets offices appreciate the heads up and gives them a chance to offer other ways to deal with your pets own behavior issues.
*Don't bring small children unless you can't help it.
*And finally, courtesy rules the day.

Purrs Lower Blood Pressure
New studies show that the vibrational purr of a cat can lower blood pressure and calm a stressed out brain. One third of American households have a cat, and there are 16 million more pet cats in this country than dogs. Recent research shows that cats can be caretakers for us and our families, improve our health and teach children to be kinder, gentler souls.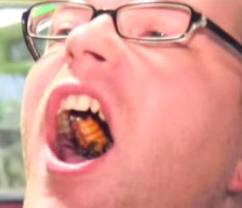 Competitive Hissing Cockroach Stuffing!
You've heard of competitive eating, now competitive hissing cockroach stuffing! In an effort to get the Guinness World Record and to raise money for the Harris Nature Center in Michigan, Sean Murphy, an employee of Preus Pets, held 12 hissing - not just cockroaches, but hissing cockroaches - in his mouth for over 10 seconds. Not only is it, well, gross, but the cockroaches' small barbs on their kicking legs cut his lips and the inside of his mouth. Apparently, the cockroaches are not a big fan of this "in the mouth" thing. And no, this is not a new feat. The previous unofficial record holder is Travis Fessler, a member of the Pickled (and that word says a lot) Brothers Side Show of Kentucky. He acknowledges that it was something silly he did, but it was for charity. Isn't there a society against hissing cockroach mouth stuffing? Give this enough time; it could become the hot new Beverly Hills diet aid.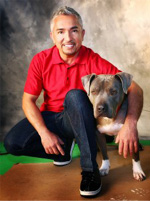 Cesar Millan's Dog Banned from Canada
Dog whisperer Cesar Millan has been forced to keep his pit bull, Junior, at home during his 11-city Canadian show tour, because of a ban on pit bulls. The ban was enacted after several vicious attacks. Many politicians in Canada believe it's the deed, not the breed, and are trying to amend the legislation. The 2005 dog owner's liability act covered many breeds of the terriers. People that already had the dogs when the law went into effect were allowed to keep them, but needed to have them spayed or neutered, kept muzzled and on a leash. Mr. Millan, who is well known for his work with dogs, has always said it's not about the dog; it's about the owner. Several Canadian politicians say that this whole situation is pretty embarrassing.
What Animals Can You Own As Pets?
Ohio, the buckeye state, home to the Cincinnati Bengals, and now even Bengals of a different kind, the illegal kind. In the next few months, Ohio could become the center of a controversy over what animals you can own as pets. Currently the laws in Ohio are so lax that it has become home to the wild and exotic animal trade. Some of the examples - Ron Scott's dog died several years ago and he understandably was broken hearted. Then he read that bears can live 30 years, so he bought a bear. He has had several bears over 20 years at his home near downtown Ripley. They live in a corncrib behind his house. He says that owning a bear is probably not for everyone, but they get along great together and they have never had any trouble. This whole debate started several months ago when a bear in Cleveland killed his caretaker. Wayne Pacelle, president of the U.S. Humane Society, stands by his point that owning wild animals is selfish and dangerous. Two years ago, a python was found roaming through one neighborhood and another Ohio resident was killed by his pet python. Nationally, between five and seven thousand tigers are kept as pets. That is more than live in the wild. Many of these animals end up being dumped and becoming the problem of rescuers like the Red Wolf Sanctuary in Rising Sun, Ohio. They have a dozen bears there that all started out as pets. Some of the older ones have to walk on their wrists because their owners had them declawed. They have one black bear that was chained to a tree at a drug dealer's house who is very aggressive. They also have a 30-year-old female that was kept in a back yard cage, where the woman would dress it up in baby outfits. The founder of the sanctuary uses millions of donated dollars so these animals can live out their days in dignity and at the same time help educate humans. As they point out, it's like having a 14-year-old at home that weighs 300 pounds and has claws - their mood changes and you are in trouble. There are new rules going into effect in the tri state area. Current owners would be grandfathered in, but future sales or possession could make owners criminals.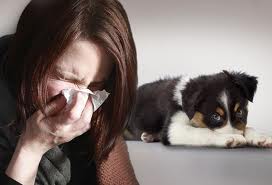 Think You Can't Have A Pet Because Of Allergies?
Here are some facts:
*You don't outgrow your allergies as you age. There are better ways to manage them, with over the counter meds and keeping pets away from where you sleep.
*You can help your allergies by limiting carpeting, regularly washing bedding in very hot water, regularly replacing furnace filters and using a hepa air cleaner in the bedroom. What doesn't work is bathing your pet in special shampoos, giving them pills or using sprays that say they reduce shedding.
*75-85% of people can get relief from allergy shots or prescriptions, especially when you manage your surroundings.
*Having a sneezing fit when being around an animal doesn't necessarily mean you are allergic. Animals can carry allergens, like pollen. To be sure, see an allergist.
Listen to the entire Podcast of this show (#572)

indicates XM Satellite Radio and Podcast versions only.