November 26th 2005
For the pet that has everything, Animal Radio presents it's yearly countdown of great things for SPOILED Pets!
10. FELINE FUNHOUSE - A "Breath of Fresh Air" for Indoor Cats
Karen Reed, Wild Whiskers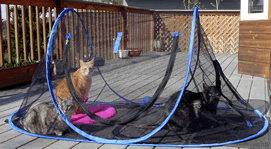 A portable Outdoor cat enclosure. Great for your deck or lawn. It is also great for camping and RVing with pets!
Have you ever wanted a portable outdoor enclosure for your cat? Wild Whiskers has created the perfect outdoor cat enclosure. It is great for camping, RV'ing, or just hanging out in the backyard together. The Funhouse is extremely durable, lightweight, portable and easy to store. It is also weather resistant and is tough enough to hold up to claws. Your feline will thank you for making enjoying the outdoors with you so much easier! Check out their indoor version as well!
9. K9 TRANSPORTER from the Risotto Collection - Couture for Your Dog
Vondra Barnwell-Williams, Smitherman & Barnwell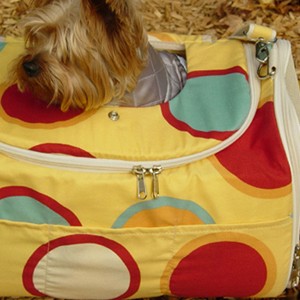 Your dog will be the envy of all the other dogs in the K9 Transporter from Risotto, where being THE DOG is far more important than being A DOG!
The Risotto Collar Collection is difference from other dog collars! How? We offer the best eye catching colors, they are environmental friendly and they are simply beautiful. Risotto Collection ­ where being the dog is far more important than being a dog! You can find the Risotto collection at Paws of Bella, FL 561-799-3652; The Tailored Dog, NJ 201-337-0500; Mama's & Papa's, NJ 201-969-1500; and the Hampton Dog, NY 917-833-6509. Listen to hear how you can win a K-9 Transporter from Risotto.
8. PET MASSAGE


Jedidiah offers private at-home massage sessions - a great way of bonding with your pet. Initial Massage: $20 (a 30 minute "get to know" session). At Home Packages: 4 Massages: $144 - 8 Massages: $272
7. LATKA'S HOLIDAY TREATS
Beth Goldberg, Latka's Treats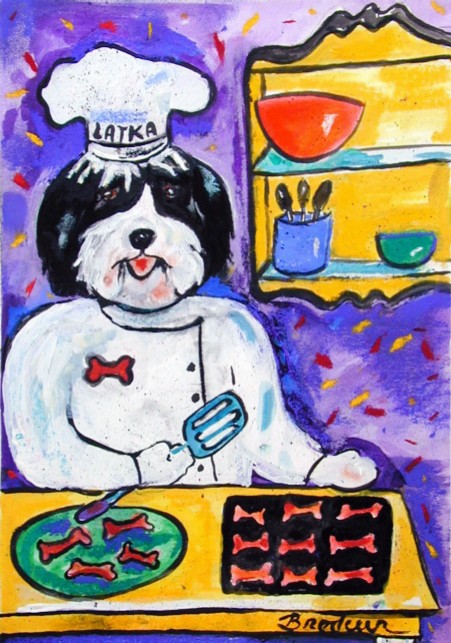 Treat your dog to something special with Latka's wholesome, homestyle dog biscuits made with all natural high quality human grade ingredients and are available in three delicious flavors: peanut butter, liver and cheese!
Latka's snowman pails and organza bags make perfect treat-filled gifts for your favorite holiday hounds. Latka's wholesome, homestyle dog biscuits are baked with love and care, from all natural high quality human grade ingredients and are available in three delicious flavors: peanut butter, liver and cheese! They contain no sugar, salt, coloring, preservatives or additives. Latka's Treats are perfect for daily doggie snacks, and they make delightful gifts for birthdays, holidays or any occasion!
6. SELF-WARMING THERMAL CAT CUSHIONS from Entirely Pets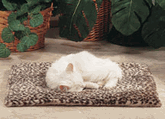 This machine washable cushion actually reflects your cat's body heat back to her. Great for kittens, aging cats, arthritic cats, or any cat in fact.

5. DOG UMBRELLA from Gifts.com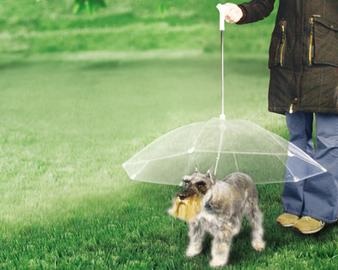 This unique umbrella is made especially for dogs. The handle is above the umbrella, so you can walk easily and Fido stays dry. The umbrella is clear so you can keep an eye on your pal, and there's a built-in leash hook inside to keep him in place. 29" diameter when open.
4. PET PAILS for every occasion.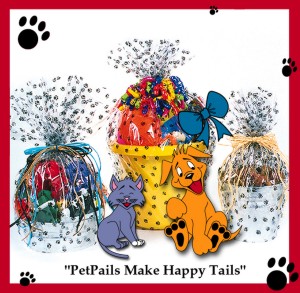 Pet Gifts in a Pail with hand-chosen goodies, which are then doggie and kitty tested, sometimes even without our knowledge. The pails come wrapped in paw-print cellophane and include a gold-embossed gift card and label.

3. JEWELED CROWN PET DINER & CANOPY BED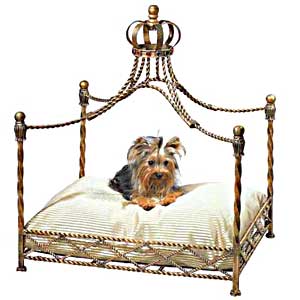 A jeweled crown diner and canopy bed for the Royal Pet in your house.
2. KONGTIME - Doggy Day Care In A Box
David Rucker, Sandy Thompson, Dogopolis, LLC

KongTime, has introduced DOGGIE DAYCARE IN A BOX! All day entertainment for the home-alone dog™. Put dog food or a biscuit inside a Kong toy and what do you have? Magic. Your dog will happily chew at the Kong toy, trying to get out every last morsel. It's fun!
Sometimes you have to leave your dog home alone. Wouldn't it be great if you could feel good about it? KongTime, has introduced DOGGIE DAYCARE IN A BOX! All day entertainment for the home-alone dog™. Put dog food or a biscuit inside a Kong toy and what do you have? Magic. Your dog will happily chew at the Kong toy, trying to get out every last morsel. It's fun! Kongtime automatically dispenses food-filled Kong Toys while you are away. KongTime entertains your dog and give your dog something to look forward to. Don't be surprised if your dog starts handing you your briefcase in the morning!
1. EDIBLE PET GREETING CARDS from PetGreetings.com


Your pet can send or receive the Edible Greeting Cards, which are veterinary approved. You can even get the FooDoodler, which are food coloring markers so you can write a special message on the cards!

also in this weeks show
Cat Survives Jump Off Bridge
A cat leaped from a pickup truck, scampered through bridge traffic, fell 70 feet into the chilly Columbia River and swam 600 feet to shore before being rescued, Wenatchee Valley Humane Society officials said. The gray, longhair calico cat, which wore no collar or identification, "ate ravenously" at an animal shelter after the ordeal, Humane Society officer Jody White said.
Talk With Your Animals
Have you gotten a new pet recently who doesn't get along with your old pet? It could be your old pet feels he is being replaced. Joy Turner explains to a caller how to reassure her old pet that they will never be replaced.
"Smelly Cat" with Annie Bruce, Good Cats Wear Black
If your cat is urinating outside the litter box, there are some things you can do. First of all, take your cat to the vet to rule out any health problems. In other words, "If he wets ­ see the vet." If he comes back with a clean bill of health, try using different litter boxes, both covered and uncovered, and also try using different litters. You will also need to neutralize the spots, and a good spot remover that also removes the pheromones is Get Serious. Annie also talks about declawing causing litter problems, and what you can do to help.
Dog-U-Mentary with Dr. Eve Ognibene, North Shore Animal League
North Shore Animal Rescue, a dog-u-mentary about a team of dedicated animal lovers devoted to helping abandoned and injured dogs, premiered on ANIMAL PLANET on Friday, November 18 at 9:30 p.m. (ET). Over thirteen weeks, the series examines the incredible stories of abandoned and orphaned dogs as they are rescued and cared for by the vets, trainers and volunteers from the North Shore Animal League America, the world,s largest no-kill animal shelter.
Each week, the 30-minute episodes follow the story of a different dog, each undergoing remarkable and extreme makeovers from abused animals - sometimes at death,s door - to healthy, obedient, happy dogs ready to be loved and cared for as family pets. With real-life characters culled from the League,s staff of 300, including 2 rescue teams, 12 veterinarians, 7 trainers and behaviorists, and 4 mobile adoption units and the more than 200 volunteers, viewers witness first hand the drama, compassion and sometimes humor, of the human-animal bond.
A RUBES Cartoon Book
Leigh Rubin, The Wild Life of Cats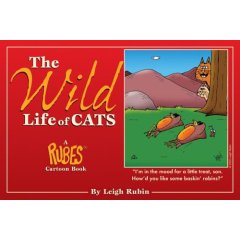 You never know what's going to happen when cats start talking, but the funny felines in this book are sure to make you laugh! From their frisky love lives to their ponderings on their nine lives, cartoonist Leigh Rubin brings to life the day-to-day antics of cats and kittens in over 120 cartoons in this full-color book! Rubes is distributed to more than 400 newspapers worldwide.
Planet Dog Philanthropy - Adoption Starter Kits
Founded in 1997, Planet Dog is a manufacturer and retailer of high-quality, innovative and fun dog products based in Portland, Maine. In keeping with its mission to initiate ways in which the community may profit, the company created Planet Dog Philanthropy in 2000 in order to fund creative and effective programs in three areas: the environment, animal welfare, and education. Planet Dog Philanthropy is about giving back and helping our earth, our animals and our children through inventive and progressive grantmaking.
Planet dog has always been conscious of the environment, and has created toys of recyclable materials, which are included in their Adoption Starter Kits that Animal Radio will be handing out to new adoptees at the San Diego Pet Expo on December 10th & 11th.
Once Upon Our Time
Rae Ann Kumelos, Voice of the Animal
Before time, beyond time, once upon a time. When we hear these words we know we have just entered the land if fairy tale, a land full of enchanted talking animals. The animals of fairy tale, in every culture and in every time, must always be obeyed ­ or else disaster is certain to strike. Discover how this one rule of fairy tale cannot be broken and how it continues to remain true for us today.
Amazing Stories of Amazing Dogs with Linda Anderson, Angel Dogs
With a well-earned reputation as man's -- as well as woman's -- best friend, dogs have an uncanny ability to sense exactly what their human friends need. Gathered from thousands of stories Allen and Linda Anderson have received, as well as their own experiences, Angel Dogs demonstrates that dogs are not only faithful companions but also spiritual guides. Stories include the four-legged speech therapist who helped a scared boy find his voice; the dog who came "special delivery" through the mail at just the right moment in a family's life; the dog who helped guard Air Force One; dogs from the canine corps; service dogs; and many others. Linda also tells you how you can enter your pet in the next book.
World's Tallest Dog
Standing 7ft 2in this dog would tower over most of mankind, and his gigantic build has sure enough earned him a place in the Guinness Book of World Records.
Gibson, a Great Dane stands 7ft 2in on his hind legs and is 3ft 6in at the shoulder, and was named the tallest dog after Guinness World Records experts flew to California to measure him.
Best City to Be a Dog In
Richmond, VA is one of the top 10 best cities in the country to be a dog. Criteria included the percentage of dogs spayed and neutered, the number of dog parks, animal friendly restaurants and general indicators of dog health.
The Richmond Times-Dispatch reports there's about one dog to every eight persons in the city and a third of them are spayed and neutered. The local Society for the Prevention of Cruelty to Animals provides flea, tick and heartworm prevention treatment to thousands of dogs a year.

View Animal Radio Broadcast Schedule in a new window.


Listen to Animal Radio - Go to the launch page


Get one of the limited edition Animal Radio® T-Shirts for 9.95


Return to Animal Radio Network® Home Page
Sponsor

Copyrighted Animal Radio Network LLC 2005