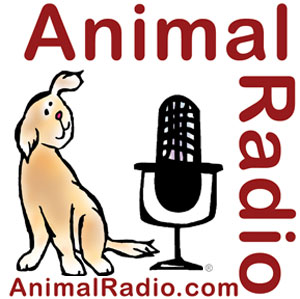 Animal Radio® Show #625 November 26, 2011
Hidden Holiday Hazards
Dr. Marty Becker

You're getting ready for the holidays and that means cooking, cleaning and plenty of visits from family and friends. But is your pet ready for company and good cheer? You may not be able to teach an old dog new tricks, but you can help bring good tidings to your four-legged friend.
Chocolate. Poinsettias. Ornaments. Holiday dangers all pet parents know to watch out for. But this Holiday season, Dr. Marty Becker, America's Veterinarian is pointing out Holiday hazards most people likely haven't heard of. From taboo table foods (no, we're not talking turkey bones!) to the danger of strangers visiting your home) it's the little things you don't think about in the hustle and bustle!

One plant you need to watch out for is the Lilly. Unlike the Poinsettia, Holly or Mistletoe, which most animals don't like anyway, they are attracted to the fragrance and to the texture of the leaves of the Lilly, which can cause kidney failure and can be deadly.
The tree water is not a problem but you need to watch out for the tinsel, which is shiny, moves and attracts cats. This can bunch up their intestines like an accordion and saw right through them. If you happen to see tinsel, which is hanging out "the other end" of your pet, don't pull it! Get them to your vet right away.
If you have visitors who stay over the holidays, make sure that any medications they are taking are put away securely. The second most common reason people call poison control is the ingestion of human prescriptions intentionally given to a pet or the animal gets into them.
And let's not forget our seniors. Just like humans, as a pet ages they get a little achy. We can accommodate them during the colder months with ramps or steps to help them get up on the couch or into a vehicle. You can also use a heated orthopedic bed to make them comfortable during the winter. And if you have outdoor dogs, they need more food during the winter, while the indoor dogs need less food at this time of year.
Lastly, don't feed your pet those fatty trimmings. At the very least you are going to end up on your hands and knees cleaning up their mess from "either end" or worse, they can get pancreatitis.
When discarding the trimmings from your meal and the turkey carcass, make sure that you put it in a trashcan and secure it. A dog will go to great lengths to dig it out if he is able to!
Dr. Becker has been practicing veterinary medicine for more than 30 years and is a best-selling author, syndicated columnist, and a frequent guest on national shows. You can find Dr. Becker on Vetstreet.com, a new animal health and lifestyle website dedicated to giving pet owners the most accurate information possible to keep their pets healthy and happy. Dr. Marty Becker, "America's Veterinarian," is also the popular veterinary contributor to ABC-TV's "Good Morning America" and the resident veterinarian on "The Dr. Oz Show." He is a frequent guest on national network and cable television, and radio shows. He has also been interviewed for countless magazine and newspaper articles, and has served as a consultant to or veterinary spokesman for top animal health companies. Along with his writing partner, Gina Spadafori, he is a regular contributor to Parade magazine and the Co-creator of popular web site PetConnection.com You can also join Dr. Becker on Facebook as well as on Twitter.
Our Pets Like To Curl Up In Our Laps – So Why Not A Bed That Is A Lap?
Xan Rubey, Doghouse Studios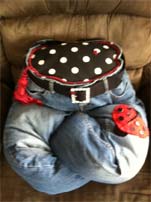 Xan Rubey has a Chihuahua and a Great Dane, and when she returned to work, she knew that they would be left home a lot more by themselves. She wanted to give them some fun beds and cool places to hang out while she was gone, but after shopping around, she couldn't find anything she really liked.
She thought about her dogs and where they wanted to be when she was home, and of course, they both wanted to be in her lap. She then came upon the idea of taking a pair of old jeans, stuffed them, and created the perfect lap bed for her pooches. It is the perfect size for her Chihuahua and her Great Dane loves to place his head in the lap.
She can take any pair of your pants from jeans and dress pants to anything that coordinates with your decor and turn them into a "Lap Of Luxury"pet bed.
Check out the Ladybug Lap Of Luxury Bed she custom made for the Animal Radio Studio Stunt dog Ladybug! These make a great gift!
The Dogfather's Grooming Tip with Joey Villani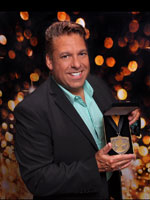 Do You Know What Flea Bite Dermatitis Is?
Flea Bite Dermatitis is an allergic reaction to a fleabite. Even when a pet has been treated for fleas, you may still see them scratching. Flea saliva contains 15 allergens that can make your pet itch even when the flea is gone. A vet will usually give your pet a shot of some type of cortisone to subside the itching.
However, if you can't make it to the vet, or if you can't afford to take your pet to the vet, there is something you can do to stop the itching before it leads to an infection.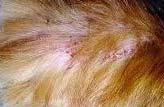 Try putting cooled-off chamomile tea on your pet. There is something in the chamomile tea that will subside and relieve the itching on your pet.
Make a mixture of the tea by boiling a quart of water and adding 5 tea bags. Let it sit for at least 20 minutes until it has cooled off. Then pour it over your pet and saturate them (before doing this, make sure your pert has recently been bathed or is clean before applying). Let it dry on them.
Other remedies you can use are witch hazel by putting it in a spray bottle and spraying it on your pet. But be careful with this, as witch hazel can be very drying to your pet's skin and can even discolor their coat.

DOGFATHER'S GROOMING TIP Brought To You By SeniorPetProducts.com. Use the code "SAVE25" to receive 25
Animal Radio® News with Stacey Cohen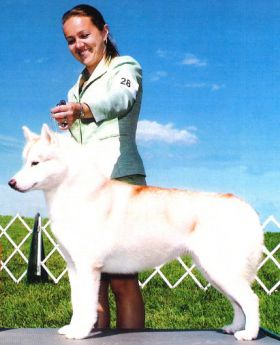 Show Dog Given Drugs
Jessica Plourde said she hadn't given her prize-winning Siberian husky any drugs, but still found pill fragments in and around Pixie's cage last year during a Wheaton dog show. An undigested pill was discovered after a veterinarian induced the white-and-brown female show dog to vomit. DuPage County prosecutors contend 68-year-old Ralph Ullum slipped human drugs to Pixie so a competing husky trained by his girlfriend would have a better chance of winning the American Kennel Club-sanctioned show. Ullum faces misdemeanor charges that include animal cruelty and attempted criminal damage to property for allegedly giving Protonix and a second drug, possibly Benadryl, to Pixie. Pixie wasn't harmed by the drugs, but neither she nor the dog trained by Ullum's girlfriend won the coveted best in show award.

Lion Carcass Stolen From Ohio Compound
Five people were charged with trying to steal the carcass of a lion that was among dozens of exotic animals released from a private compound by their suicidal owner and shot dead by sheriff's deputies in a big-game hunt in Ohio. Deputies said they stopped four men and a teenage boy who had loaded the lion into a Jeep at the compound near Zanesville, in eastern Ohio. Deputies were forced to kill 48 wild animals including bears, lions and endangered Bengal tigers after their owner, Terry Thompson, threw open their cages late in the afternoon on Oct. 18 and then killed himself on his farm. The four men and the teen, ranging in ages from 21 to 17, were each charged with a misdemeanor count of theft, Muskingum County Each faces up to six months in jail and a $1,000 fine if convicted. Deputies said they noticed the headlights of a vehicle near the farm and decided to stop it, according to reports released by the county sheriff's office. Inside the Jeep, they found a dead male lion, the deputies said. They then removed the carcass, belonging to one of nine lions that had been housed at the compound, and closed down a road to prevent anyone else from getting near the dead animals. Prosecutors wouldn't say what they believed the men and the boy planned to do with the lion's body.?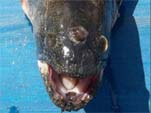 Life Imitates The Simpsons
Way back in 1990, an episode of The Simpsons introduced Blinky, a mutated orange fish with three-eyes caught in the waters near the Springfield Nuclear Power Plant. Now, it seems, life has imitated a cartoon. Recently, a group of fisherman on a lake in the Córdoba province of Argentina reeled in a fish that had an extra eye. And it just so happens that that lake is situated right next to a nuclear power plant, too. According to Infobae.com, the lake where the three-eyed fish was caught is a reservoir where hot water from the nuclear facility is pumped and that folks living nearby have started to grow worried after seeing undeniable evidence of mutation. Never had such a fish been seen there before.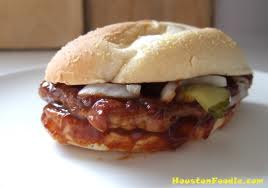 Do You Want To Know What A McRib Really Is?
If you're a cult follower of the McRib and can hardly wait to bite into the special sandwich with the special sauce, just take a few moments to realize what you are actually eating. An embittered battle between Smithfield Foods who supplies McDonalds with the pork and the HSUS who did an undercover study last year and exposed the horrible handling of live pigs and piglets, has everyone coming out of their corners ready to fight. The Humane Society of the United States filed a complaint with the Securities and Exchange Commission alleging Smithfield Foods are making false claims concerning animal welfare and environmental conditions. Smithfield Foods in their newly launched website, ironically coinciding with the McRib campaign, states their pigs live in ideal conditions "where every need is met." In reality, the female pigs live in gestation crates where they cannot move and will stay there for the rest of their lives until they can no longer produce babies. Smithfield Foods has 888,000 sows and sends 17 million pigs a year to slaughter. Last year's HSUS undercover video at a Virginia factory farm owned by a subsidiary of Smithfield Foods showed disturbing photographs of pigs in gestation crates and the effects of the extreme confinement. Pigs were bleeding from their mouths, had pressure sores, electric rods were used to move ailing animals, mishandling of piglets and live animals thrown into dumpsters could distress even the most stoic McRib lovers. Many of the animals presented with abscesses harboring bacteria. In response to the HSUS complaint, the New York Daily News reported that Smithfield Foods denied the allegations and contend they stand behind their website concerning animal care and environmental safety and sustainability. But for those "McRibites" who just shrug their shoulders at agricultural animal cruelty and abuse, there's still more to consider before biting into that mystery part of a pig. Of course, everyone has figured out there are really no "Mc Ribs" to chomp down on since bones tend to choke people - the real truth is that the "McFib" is made of pig intestines, hearts and scalded stomachs. Hungry?

Dogs Sent To Prison
Actually, it's a brilliant idea that saves dogs' lives. The basic premise is, homeless dogs live in prison with inmates while they await adoption. The inmates train and socialize the dogs, making them more adoptable. The dogs, in turn, do what dogs do for people – love them unconditionally. Not just any inmate can be a dog handler. They have to have good behavior. They apply for the job and must pass an extensive background check to determine if there is any history of animal related issues. Each inmate must be approved by the staff to have the enviable job of helping dogs and puppies. Dogs at this prison are very well cared for – spoiled actually. The homeless dogs come from area animal shelters, humane societies and rescue groups. They take all kinds of dogs, with the exception of some very aggressive ones. At the prison, the dogs are matched up with suitable inmate dog handlers. The dogs live with their handlers. It doesn't take more than a day or so for a dog who came from a bad environment to perk up and have his tail wagging once he has an inmate to care for him. All the dogs get leash trained, learn tricks and get to play in the fenced prison yard. The prison setting gives dogs the opportunity to encounter all kinds of people and situations – men with loud jangling keys, guards shining flashlights, guys lifting weights or jogging on a track. The dogs get used to all kinds of activity, which helps socialize them. When they're ready, they are taken to the local PetSmart for adoption.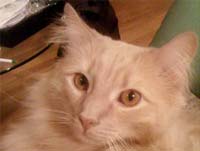 Remember Jack the Cat?
The one who was found after being lost at JFK? Last week veterinarians in New York euthanized Jack, the cat who gained worldwide attention and more than 23,000 Facebook fans after being lost for two months, and then found, at John F. Kennedy International Airport. The news of Jack's passing was reported in a statement posted on the Jack the Cat is Lost at AA Baggage at JFK Facebook page. "Jack has gone over the rainbow bridge," the statement said. "Jack had extensive wounds on the back of his body, and the wounds were unable to heal because his skin had deteriorated due to the malnutrition that occurred while he was lost. "He needed surgery to treat the wounds," the statement continued, "but there was not enough available skin to close the wounds after the surgery. The vet was very clear that she had conferred with every possible doctor regarding options for Jack, but none of them left him with a substantial chance of survival and all of them involved him suffering. Jack had been through so much, and the last thing anyone wanted was for him to suffer more."


NEWS UPDATE Brought To You By PetzLife.com. Use the code "RADIO" to receive 20% off!

Listen to the entire Podcast of this show (#625)