Animal Radio® Show #521 November 28, 2009

indicates XM Satellite Radio and Podcast versions only.
Which Is It For You – The Cat Or The Dog?
Bradley Trevor Greive, Why Dogs Are Better Than Cats!

Bradley Trevor Grieve is not anti-cat he's just pro-dog and the purpose of this interview isn't to criticize cats and their owners, but to champion the many virtues unique to dogs.
Bradley thinks that cats are wonderful, exquisite creatures deserving of great love and affection and he is absolutely in awe of people who keep them in their homes. But, he thinks as a pet, dogs are vastly superior on every level!
He feels that the word "Pet" has been extremely perverted for a lot of reasons. Many of these reasons are commercial, but a pet to him is not just a creature that happens to live in your house, no matter how wonderful they are, but an animal companion, something of which you have a genuine connection with. It's not about ownership, but companionship.
In terms of intelligence and social ability that enables that connection, he feels that dogs are in a league of their own. There is a chapter in is book, not about dogs vs. cats, but how dogs acquired the status of man's best friend.
The reason dogs surpass all other species is quite simple: They get people—they really do. It's been this way since dogs and humans first bumped into one another and thought, "Hey, this could work!" For more than 15,000 years, dogs and humans have been drawn together by mutual cooperation, shared values, and a sense of joyous fraternity. Cats, on the other hand, came for the mice and stayed for the fish sticks. It goes beyond the fact that dogs are motivated by love and cats are motivated by food. In the simplest terms…dogs are social and cats are sociopaths!

Bradley feels that when you own a cat you are actually impairing it, because a cat isn't meant to be part of a family. It is meant to grow up and have it's own territory. And now, its territory just happens to be your house. When you have a cat, you have retired its development so now it is neither a cat nor a kitten, but is a "catten." He feels they are sort of like those middle-aged men who still live with their parents!
What makes Bradley laugh are people defending cats' intelligence on a basis of perceived superiority. Being slim and slinky with a button nose and a sense of superiority is not a sign of advanced intelligence, and if it were, Paris Hilton would be a certified genius!
This is al hard to believe when there are more than 200 million more cats in the world than dogs – so which is it for you – the cat or dog?
Celebrating The Bond Between Dogs and Their People
Brother Christopher, Monks of New Skete – Dogs & Devotion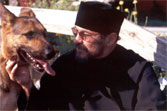 The Monks of New Skete are an Eastern Orthodox monastic community in Cambridge, New York. Founded in 1966 they support themselves by breeding German Shepherds and training all breeds of dogs at the monastery.
They are sort of known in the dog world as "The Monks Who Live With Dogs." Each brother, who is capable of it, has one or two companion dogs that he takes care of.
They didn't start out with the purpose of training dogs. Back in 1966, the founding Brothers had a mascot named Kier, a German Shepherd that they had obtained from the Seeing Eye in Morristown, New Jersey. Just the joy and spirit of that dog helped the Brothers through those first couple of years in a very unexpected way. Kier didn't take himself too seriously and he just lightened the whole atmosphere. After about two years, Kier passed away. The Brothers felt the loss so deeply, that they had to get a couple of replacement dogs, German Shepherds, naturally! The breeder who supplied the dogs suggested that since they would be raising these breeding quality dogs, they might consider breeding a few litters.
The Brothers then realized that they were in a unique position. They were able to care for the Shepherds, with each Brother taking care of one dog, without it becoming a puppy mill. Strangely enough, there were a lot of people who were interested in adopting a German Shepherd puppy that was trained at a monastery!
The Monks of New Skete are the authors of many books, with their latest on Dogs & Devotion. It was written to help people experience the deeper dimensions that are present in the human/dog relationship where dogs can actually be the window into deeper self-knowledge.
"Holiday Pet Hazards"
Ruth MacPete, DVM, for World's Best Cat LitterTM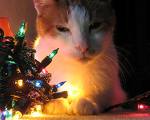 Shorter days and longer nights signal the beginning of autumn and winter. They also signal the beginning of another season: the holiday season. The holidays are filled with turkey dinners, lighting of the Menorah and Christmas carols. Sadly, for many pets, these joyful times are interrupted by an unexpected visit to the veterinarian.
While the holidays are festive times, they can also be perilous times for our pets. Each year, millions of pets are seriously injured during the holidays, with intestinal obstructions, chocolate toxicity, burns, and pancreatitis being some of the most common reasons. In order to ensure that your holidays are filled with visions of sugarplums, rather than long waits in a veterinary emergency room, follow these simple precautions to help keep your pets safe.
Holiday Decorations
Pets are inquisitive by nature but their curiosity can get them into trouble. While a Christmas tree adorned with glistening ornaments and twinkling lights may be a feast for our eyes, we would never think of putting one of those shining ornaments in our mouths. However, to our pets these twinkling objects are new toys beckoning to be examined, played with, and even eaten. Shattered glass ornaments are razor sharp and can injure pets and their people. Most of us know that small ornaments can be choking hazards, but many are unaware of the dangers of linear objects, like tinsel, string, yarn, and ribbons. Not only can pets become entangled, if ingested, linear objects can also cause life-threatening intestinal blockages unless they are promptly removed surgically. Linear foreign bodies are especially common with cats.
Candles
Decorative candles and Menorahs can also be very tempting to our pets. Besides possibly burning an overly curious or careless pet, they can start a house fire if accidentally knocked over. Never leave lit candles unattended and always place them out of reach of pets.
Plants
Although they may seem harmless, certain holiday plants, like lilies, ivy, holly, mistletoe, and poinsettias can be dangerous if ingested. The symptoms can be as mild as vomiting and diarrhea or as serious as kidney failure and death. Lilies in particular are highly toxic to cats causing kidney failure and death. When decorating your home for the holidays try to use non-toxic plants or keep poisonous plants well out of reach of pets.

Food
Calorie-filled holiday can hurt our waistlines by packing on a few extra pounds. For our pets, holiday foods can have even more serious health consequences than weight gain. Although in keeping with the holiday spirit of goodwill, sharing our leftovers with our pets can lead to pet obesity. Pet obesity is associated with significant health problems, such as diabetes, heart disease, and arthritis. Giving leftovers routinely also promotes begging and reinforces bad behavior.

Besides leading to obesity, eating fatty holiday foods can also cause a life-threatening inflammation of the pancreas gland called pancreatitis. In pets, pancreatitis is usually caused by ingestion of fatty foods like turkey, ham, gravy, and chicken skins. If left untreated, it can be fatal. Bones also pose a serious danger to pets. Poultry bones are dangerous because they can splinter and get lodged in the gastrointestinal tract and therefore should never be given to pets. Ham and beef bones can break teeth or can also cause intestinal obstructions. If you wish to give your pet a special holiday treat, instead of giving them bones, consider giving them a healthy dental treat specially intended for safe chewing and dental hygiene. Never give your pets chocolate. Fortunately, most people know that chocolate can be toxic to pets. Even small quantities can cause vomiting, diarrhea, seizures and even death, so keep chocolate out of their reach.
Lost Pets
Although the holidays are usually joyous times, as anyone who has ever hosted a holiday party knows, they can also be stressful times. This can be especially true for our pets. The revolving door of visiting guests, the break from the routine and the merry carolers can frighten our pets and cause them to run away. If your pet tends to easily get scared, nervous, or becomes protective, it is important to keep them confined safely inside your house. Many pets are lost during the holidays when they jump out of their yard or dart out of an open door. Remember all pets, even strictly indoor cats, should have collars with tags and microchips so that if they become lost they can be returned safely home.

Keep these important tips in mind during the holidays in order to keep your pets safe. Watch out for choking and obstruction hazards. Avoid pet-toxic plants or, at least, be sure to keep them out of reach of your pets. Don't give them chocolate, alcohol, or bones. Instead of giving your pet leftovers from your holiday meal, give your pet a pet-safe treat or a new toy. Lastly, keep pets inside and away from open doors during the holiday commotion to prevent them from running away. Paying careful attention to these warnings will help keep the holidays happy for you and your pet and should prevent unscheduled visits to the vet.
The makers of WORLD'S BEST CAT LITTER™ are not only dedicated to making the best cat litter, they are also committed to helping cats live longer, healthier lives. They hope to educate pet parents about important cat health topics. WORLD'S BEST CAT LITTER™, the all-natural, dust and chemical free corn-based litter that is pet, people, and planet friendly. Visit www.worldsbestcatlitter.com and get healthy cat tips, "Clearing the Air" newsletter, fun cat videos and more.
Animal Radio® News with Bobbie Hill


Turning Something Bad Into Something Good
Pennsylvania based animal organization Main Line Animal Rescue has been taking something bad and turning it into tons of good. Each week when the Eagles and their admitted dog killing back up quarterback Michael Vick appear on the gridiron, the group places ads in local papers to raise awareness by encouraging volunteering at a local shelter. The first time the ad ran last month to coincide with the Eagles/Redskins game, the response was more than expected. In the ads, Main Line pledges a donation of five bags of dog food each time Vick is sacked....after the game in Washington D.C. the Humane Society said four tons of food was donated by people who saw the ad.
The Amazing Survival of Animal Species
Noted chimpanzee expert Dr. Jane Goodall has a new book called "Hope for Animals and Their World." In it she focuses on the amazing survival of many animal species specifically the California Condor. Dr. Goodall, in a recent appearance on The Daily Show, told host Jon Stewart that if it weren't for a small group of biologists the giant bird would have been lost to extinction. Dr. Goodall also commented on the much-publicized attack by a pet chimp in New England, saying "chimpanzees are not pets" and shouldn't be kept away from their natural socialized environment.
Dogs Help Troops
The war against terror in Afghanistan is being fought by 1,500 Australian troops who are involved in training Afghan security forces. The units use dogs to detect booby traps and roadside bombs. In September of 2008 a joint army patrol was ambushed during a fierce firefight in the Uruzgan province. Sabi, a black Labrador trained to sniff out bombs, vanished in the gunfight that left nine soldiers wounded. There was no sign of Sabi after months of searching until two weeks ago when a U.S. soldier at an isolated base in the Uruzgan province found Sabi. She has returned home to a heroes welcome and is reportedly in good condition. No one knows where she was for the past 14 months, but someone was taking care of her, according to Australian military spokesmen Brian Dawson

Another NFL Quarterback Is Making The News Because Of Dogs
Broadway Joe Namath, Hall of Fame quarterback for the Jets, has two dogs who like to bite, according to the South Florida Sun Sentinel. The suspects in four reported nibbling incidents are a 6-year-old Lab named Leo and a Weimaraner called Stella. The Palm Beach County Animal Care and Control folks say Leo and Stella are both culpable, but a magistrate found Leo to be "dangerous." Broadway Joe is not allowed to let his canine pals out without a muzzle and a leash.
Fur Items Help The Animals
The Humane Society of the United States is teaming up with a nationwide secondhand clothing store to collect old furs for a second chance at helping animals. Buffalo Exchange is asking everyone to clean out their closets between now and Earth day (April 22, 2010) and recycle their outdated real fur items to be used as bedding for injured and orphaned wildlife. Clothing can be dropped off at any location. For more information visit HSUS.org.
Do You Know That Pigs Are Smart?
Mirror, mirror on the wall, who's the smartest piggy of all? According to the New York Times domestic pigs are! A study published in the science journal Animal Behavior found pigs can learn to use mirrors and understand reflected images. Researchers found pigs learned how mirrors reflect their surroundings and were able to find food seen in the mirrors.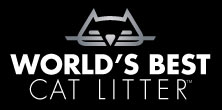 NEWS UPDATE Brought To You By World's Best Cat Litter™
Listen to the entire Podcast of this show (#521)

---