Animal Radio® Show #418 December 1, 2007



Strange Bedfellows
Kinky Friedman, Howl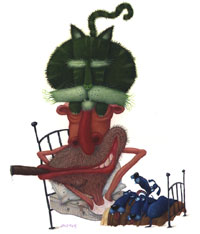 Do you know that Al Franken's dog Kirby eats poop but Al loves (and kisses) Kirby anyway; that Dave Barry really, really wants a dog; and that Kinky Friedman sleeps with his four dogs and a cat named lady (and a shot gun!)? Find out this and more in Howl, a Collection of the Best Contemporary Dog Wit By the Editors of Bark.

Kinky not only discusses his sleeping arrangements (his cat sleeps on his head, surrounded by four dogs) but talks about Dilly, his pet armadillo, and his run for governor of Texas.
Kinky runs the Utopia Animal Rescue Ranch, which is currently home to 60 dogs, 10 pigs, 3 donkeys, horses and cats, which are available for adoption. Please check out the Utopia Ranch for more information.
http://www.kinkyfriedman.com

Puppy for Christmas Survival Plan
Vladae, The Dog Wizard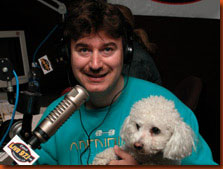 Puppies for Christmas are not always the smartest decision. But, Vladae shares some surprising tips and tactics to make this irresistible gift idea work.
Christmas Puppy Survival Outline:
How to choose the right puppy for the family.
What you must do immediately after getting a new puppy.
The two biggest mistakes new dogs owners make and how to avoid them.
One simple training technique that will save you sleepless nights, chewed shoes, and soiled carpets.
Listen in as Vladae also helps a caller with her problem at the end of the leash. He offers some great tips for a dog with separation anxiety.
Do you need help with your dog? Call us at 866-405-8405 and we will schedule you to personally speak with Vladae.
http://www.vladae.com




Guideline to Detecting Pet's Hidden Pain
Dr. Tom Carpenter, AAHA


To protect themselves from predators, animals naturally hide their pain. Your pet may be suffering even though he isn't showing obvious signs. Advancements in veterinary science have decoded subtle telltale signs of animal distress. Observing your pet's behavior is vital to managing his or her pain. How well do you know your pet? Use these five clues from the American Animal Hospital Association (AAHA) to help you understand your pet's body language.
Clue 1- Abnormal chewing habits
If your pet is showing abnormal chewing habits, such as dropping its food or chewing on one side of the mouth, it may have a dental disorder or a mouth tumor. Additional signs may include weight loss, bad breath or excessive face rubbing. Routine dental checkups are important to prevent and treat dental disorders and related pain.
Clue 2- Drastic weight gain or loss
Pain directly influences your pet's weight and eating habits. Animals carrying excess weight have an increased chance of tearing ligaments and damaging joints. Pets with arthritis or muscle soreness may not want to access their food because bending over is uncomfortable. Arthritis pain may also cause pets to gain weight while their eating habits remain the same due to lack of exercise.
Clue 3- Avoids affection or handling
Did Fluffy used to be active and energetic, but now sits quietly around the house? Avoiding affection or handling may be a sign of a progressive disease such as osteoarthritis or intervertebral disc disease. Although your pet may appear to be normal before petting or handling it, the added pressure applied to its body may expose sensitive and painful areas.
Clue 4- Decreased movement and exercise
Arthritis or degenerative joint diseases (DJD) is the most common cause of pain. Pets that limp may be reluctant to go up or down stairs, exercise, or play. Weight and joint injuries can also go hand-in-hand. Losing unnecessary pounds will help overweight pets decrease pressure on sore joints and reduce pain. Consult your veterinarian about exercises; diets and pain medications that can help improve your pet's health.

Clue 5 - Excessively licking or biting itself
It is normal for a pet to groom itself by licking, but you should know your pet and know if they are doing this excessively.
Clue 6- Uncharacteristic "Accidents"
Pet owners often believe that "accidents" are a result of behavioral issues. Although behavioral issues may cause unwanted surprises, going to the bathroom in inappropriate places may be caused by pain. Pets with sore joints or arthritis may not make it to a convenient location due to painful obstacles like stairs.
Urinary tract infections also may cause a messy situation. In addition to having "accidents," symptoms of a urinary tract infection may include, lethargy, fever, tender lower abdomen and difficulty urinating.
The lack of verbal expression does not mean that your pet is not experiencing pain. Minor behavioral change can be cause for alarm. Being aware of your pet's habits can help you and your veterinarian assess and treat your pet's pain. Diagnosing and managing pain is among the 900 standards an animal hospital is evaluated on in order to become accredited through AAHA. For more information or to locate an AAHA-accredited hospital, visit http://www.healthypet.com.
http://www.aahanet.org

Pets as Gifts
Dr. Jim Humphries, Veterinary News Network


Cute, cuddly, a lifelong companion. Seems like the perfect gift for someone, doesn't it? But is it? Although everyone has their reasons for wanting to give a pet as a gift, really anytime of the year, there are many more reasons for you to think twice before doing so. Many people have a great childhood memory of getting a puppy or a kitten as a gift, but most won't remember the training and the efforts their parents went through to make the new pet a part of the family. From housebreaking to socialization, we've probably forgotten the time investment it takes to create a great pet.
Experts from humane organizations, veterinarians and breeders all agree that the holidays are the worst time to introduce a pet into the household. The unusual environment of the holiday season can be overwhelming to a puppy or a kitten who's just left the safety of a litter. Many people fail to realize that just when a puppy is old enough to go home, he's learning many critical things. Even though everyone is well intentioned, poor training and socialization during this time frame can lead to a problem pet and later a decision to give up the pet for adoption. Behavior problems are a major reason pets end up in our shelters. You may decide giving a pet is a good idea, but remember you're also giving someone a 10-15 year commitment of care.
Before deciding on any pet, talk with your veterinarian and make sure your recipient is equipped to handle the responsibility. I think most people don't really think of the long-term nature of a pet's life and the commitment and the care that goes with this gift. For some it might be a great idea; for others, it might be a problem, and frankly unfair to the animal. Perhaps a gift from a humane shelter or a rescue club of a gift certificate might be a great idea.
http://www.VetNewsNet.com
NEWS UPDATE: Pet Pals ­ Animal Doctor Video Game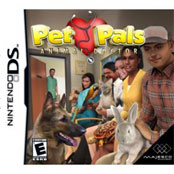 There are so many video games on the market, so it was time they came up with something new. Majesco Entertainment recently announced Pet Pals: Animal Doctor for the Nintendo DS.

This new game allows players to basically "play veterinarian" and diagnose and treat over 30 different types of medical cases, which have been created by real-life veterinarians. The medical cases run from hairballs to broken bones.
Players can learn the different techniques required to diagnose and treat 23 different pets, which include everything from cats and dogs to turtles, a python, a rabbit and a hamster. The player must successfully administer more than 40 Touch Screen tests, while they deal with stressed animals and concerned guardians.
When the treatment has been completed, you can then feed and play with the animal while it is recovering in the Recovery Room to help improve the animals spirits.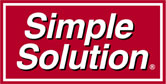 NEWS UPDATE Brought To You By Simple Solution Natural Line Of Products
When to Vaccinate
Dr. Debbie White, Lone Mountain Animal Hospital


A current certified Rabies vaccination is required for the licensing of your dog or cat for all states. All other vaccinations are strongly recommended for the well-being of your pet and usually required by pet-care facilities before any services are rendered.
Why vaccinate? A proper vaccination series is necessary for the health and protection of your pet. Newborn puppies and kittens obtain antibodies from their mother. Over the course of the first few months of their life these maternal antibodies fade and leave the pet susceptible to disease. This is why we must give vaccinations to ensure protection from disease.
We must give puppies and kittens a series of vaccines (boosters) to ensure their immune systems are stimulated as their maternal immunity is wearing off. With each booster vaccination their immune system becomes stronger to fight off disease. One or two vaccines alone should not be relied upon to be protective. Often times pets may develop disease when the pet receives an incomplete vaccine series. Because adult animals' immunity can wane with time, adult boosters are needed to ensure protective immunity.
Canine Annual Wellness Schedule:
"Core" vaccines are the minimum vaccines recommended for puppies. These include Distemper, Parvovirus, Bordatella, and Rabies.
"Non-core" vaccines are those necessitated by lifestyle and health risk. These include Lyme (a tick-borne disease; the vaccine is a 2-series vaccine administered 4 weeks apart for dogs 12 weeks and older), and Porphyromonas (a vaccine which helps prevent tooth loss from periodontal disease; it is a 2-series vaccine administered 21 days apart for dogs 8 weeks and older).
Feline Annual Wellness Schedule:
"Core" vaccines are the minimum vaccines recommended for kittens. These include ENT-FVRC and Rabies.
"Non-core" vaccines are those necessitated by lifestyle and health risk. These include FeLV.
To be sure your pet receives all the necessary vaccinations, please check with your veterinarian.
http://www.lmah.net
Puppy Peg Gets a Leg Up With a Prosthetic
Britt Savage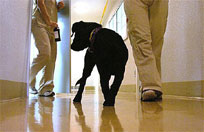 Peg the three-legged dog might not be as famous as Lassie, but she quickly became a world-renowned pup. The 4-month-old retriever has become a canine celebrity, making appearances on The Discovery Channel Canada, "The Tucker Carlson Show" on MSNBC, and likely will be featured on "Inside Edition."
Peg also was also interviewed by Rex Miller, owner of The Greater Flint Prosthetic Center. Miller lost his right leg when he was 15 and made Peg's prosthetic. Peg was born without the equivalent of a human ankle, plus her right paw. Peg's owner, Carol Beavnier of Macomb Township, who trains leader dogs for the blind, looked on a Web site for handicapped pets, and after a few phone calls found Miller. Miller had never created a prosthetic for a dog before, and he's donating his services and equipment, which normally would have cost several thousand dollars.
Peg's new leg will be made out of material similar to that used in bulletproof vests so she can't chew through her leg. When Peg is done being a celebrity, she will be a therapy dog, visiting people in nursing homes.
Child Raises Over $30,000 for the Animals
Kyle Orent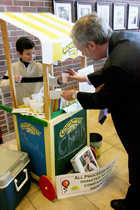 Kyle Orent is a 9-year-old from Northport, New York who raised more than $20,000 selling lemonade.
His next endeavor was to auction off celebrity-autographed dog collars (donated by Bamboo). Some of the celebrities that autographed those collars were Leslie Nielson, Betty White, Sheena Easton, Joe Namath, Donald Trump, Billy Joel and Dean Koontz (whose collars collected the highest bid) to name a few. He raised over $5,000 for his collars and was matched by a generous donation from someone who wished to remain anonymous, raising the total to $10,300.
Kyle then donated it all, $30,300, to Canine Companions for Independence. When asked why he chose this charity, Kyle says he is a big animal lover and likes how these animals have been trained to assist their humans and wants to help.
It was a pleasure working with this child whose love for the animals is so obvious. We only hope to be involved in his next endeavor. Cheers to you Kyle!



Listen to the entire Podcast of this show (#418).


Listen to Animal Radio® - Go to the launch page
Return to Animal Radio Network™ Home Page
Read November Newsletter
Copyright 2007 All Rights Reserved Animal Radio Network LLC