December 2 2006
JoAnne Worley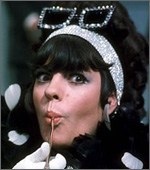 JoAnne is most remembered as one of the cast members of Rowan & Martin's Laugh In from 1968 to 1970. Joanne was also named "School Comedian" in high school.
Currently, JoAnne is the Vice President of Actors and Others for Animals, a California 501(c)(3) non-profit corporation dedicated to the promotion of the humane treatment of animals. Their main mission is to curb the pet overpopulation problem by subsidizing spay/neuter surgeries. Together with other vital services, they are there to help pet guardians living on a low and/or fixed income care for their beloved companions.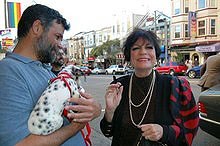 JoAnne is one of the celebrity judges of Mag Rack's "Most Outrageous Bird" video contest. The best videos received are posted for viewers to register and vote for their favorites. The more that you vote for your video the more chances you have to win. The winner will be announced after Christmas.
http://www.MagRack.com/birds
http://www.ActorsandOthers.com

Put Your Beloved Pet on Wine
Susan Cole, Affiliate Program Director Windsor Vineyards
Looking to give something different-and extra special-this season? You can put a pet's photo on award-winning wines from Windsor Vineyards-unique holiday gifts for friends, family and colleagues. ASPCA supporters will receive discounts on 12- and 6-bottle cases, and Windsor Vineyards will donate ten percent of each order to help the animals in our care.
Think about it, a wine label with your pet's picture. Or what about your significant other's pet's photo? And what do you get your pet loving boss who has everything? What a perfect gift! And not only that, the animals win too!
It's not too late to get before Christmas, just place your order by December 10th
http://www.windsorvineyards.com/windsor/page/aspca.jsp
Termite Beagle Back Home
Britt Savage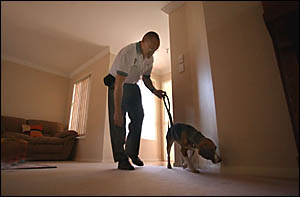 John Elder's termite sniffing Beagle, Joni, was taken from his home. Thieves took the dog by ripping open an air vent in Mr. Elder's trailer and dragging the poor dog out, leaving behind skin and hair.
Joni was originally thought to have been hit by a car when a woman found her later that day wondering along a road dazed and confused, and missing so much skin and hair. The woman's daughter had read a story about a missing Beagle, and it turned out it was Joni.
Joni has been returned to Mr. Elder and he said it is up to her if she wants to return to work. The thief has not been apprehended.
Animals In the Womb
Dr. Bernadine Cruz, National Geographic In the Womb: Animals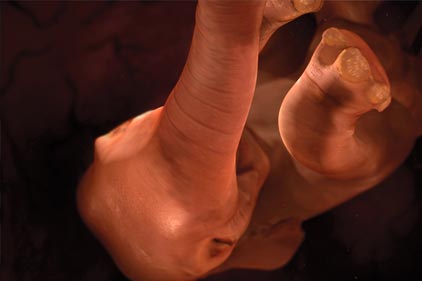 Shadowy black-and-white 2-D ultrasound pictures have for years shown expectant mothers pictures from in the womb. Now, advanced ultrasound technology is moving from the doctor's office to the veterinarian's. For the first time, viewers are led inside the wombs of three mammals - elephant, dolphin, and dog - to trace their vastly different paths from conception to birth and uncover evolutionary clues to the animals' ancestral past by observing the fetus' in-utero development.

On Sunday, December 10, 2006, at 8 p.m. ET / 9 p.m. PT, the National Geographic Channel (NGC) presents In the Womb: Animals, an unprecedented two-hour world premiere special that takes you inside the hidden world of animal pregnancy in a way never before possible.

Have you ever witnessed a single cell less than half a millimeter across develop into a baby elephant weighing over 260 pounds? Have you ever watched as a dolphin fetus learns to swim inside its mother's womb? Or seen images of a dog fetus exhibiting some of the same behaviors as Fido while still in the womb? Now you can by tuning in.
Bernadine Cruz is Veterinarian at the Laguna Hills Animal Hospital in Laguna Hills CA, where she has been practicing for the past twenty years. Cruz is the author of "The Secret Sex Life of Dogs and Cats" (Angel City Press, April 2005).
http://www.ngcinthewomb.com
New Blood Test Takes Dog Matters to Heart
Dr. Sonya Gordon, Bsc, DVM, DVSc


Dog owners who have experienced the heartache of losing a pet to heart disease know that often the disease can reach a critical state before the dog exhibits signs or symptoms. General veterinarians agree that an objective tool to aid in the diagnosis of heart disease may offer many dogs the chance to live longer and healthier lives. Canine CardioCareTM is the 1st and only blood test to detect heart disease in dogs.
Heart disease affects 15% of all dogs. Certain breeds are at a higher risk to acquire heart disease - Boxers, Great Danes, and Spaniels. There are over 75 different breeds of dogs at risk for heart disease. Dogs over the age of 6 are also at high risk for heart disease. Heart disease is difficult to diagnose, as many dogs do not have signs. When signs are present they may include cough, lethargy, and difficulty breathing.
Veterinary Diagnostic Institute has developed this test for dogs, which is similar to the one used on humans. The test measures a cardiac peptide known as BNP, which stands for brain naturetic peptide. Listen in to find out more on this lifesaving test.
http://www.SimpleHeartTest.com
Great (Safe) Gifts for Your Canine Friend
Jan Rasmusen, Scared Poopless


Jan Rasmusen, author of Scared Poopless, shares with us some great and not-so-great gift items for our dogs this Holiday Season:
Good gifts:

Harnesses rather than collars (for health and safety reasons - Buddy Belt is a favorite.)
Canine Genius toys (to relieve boredom)
Strollers and heated beds (for older or arthritic pets)
New, soft beds (many of which convert to different forms)
Safe car seats (that actually protect during accidents)
Comfortable purse-type carriers
Best gift: microchip or tattoo, programmable tags, GPS devices

Beware:
Treats and chews with artificial additives or sugar
For food sensitive dogs, biscuits with wheat or corn
Toys with heavy plush, detachable parts or squeakers
Rawhide treats

Jan Rasmusen is the co-author, with an opinionated little dog named Chiclet, of Scared Poopless: The Straight Scoop on Dog Care. The book won the 2006 Ben Franklin Award for the Best Health Book in the country--becoming the first book on animal health to ever win this award. Scared Poopless also won the 2006 USABookNews Award for the Best Pet Health Book. It is endorsed by Animal Wellness Magazine and the Editor-in-Chief of the Journal of the American Holistic Veterinary Medical Association.
http://www.Dogs4Dogs.com

We're Nuts About Squirrel
Rae Ann Kumelos, Voice of the Animal
Discover how this most famous wild animal is a renowned shopper, engineer and acrobat.
http://www.VoiceOfTheAnimal.org
Talk With Your Animals
Joy Turner
Joy speaks with Kali, a cat who has been reincarnated into a new kitten called Angel, and who is not happy in a new home with her brother.
http://www.TalkWithYourAnimals.com
http://www.JoyTurner.com
Holiday Matrix
Mike Fry, Animal Ark Animal Shelter


Mike Fry talks about what the movie the Matrix has in common with Christmas and global warming.
http://www.AnimalArkShelter.org
High Fat Treats Can Cause Pancreatitis
Dr. Jim Humphries, Veterinary News Network
'Tis the season of caring and sharing but if you really care about your pet, you won't share some of the things with it, especially those high fat treats. Don't share those with your pet, as they can cause much pain and an extended stay at the animal hospital.
High fat foods can overload the digestive system and result in pancreatitis. Pancreatitis occurs when the pancreas becomes inflamed. The pancreas is a glandular organ located near the liver. It makes insulin and digestive enzymes that are secreted into the intestine to aid normal digestion of food and absorption of nutrients. Pancreatic inflammation can be very severe because the organ contains digestive enzymes that can be activated and produce swelling and inflammation. Pancreatitis can also affect other organs including the liver. Signs of pancreatitis are vomiting, diarrhea, abdominal pain, lethargy, dehydration and reduced appetite.
To diagnose pancreatitis, blood work and urinalysis tests are performed to determine enzyme and protein levels and rule out other metabolic diseases. To treat the illness, the gastrointestinal tract must have complete rest with no food or water for 48 to 72 hours. Hospitalization is required so intravenous fluids can be given as well as medications for vomiting and pain and antibiotics administered. When nothing is taken by mouth, the stimulus for the pancreatic secretion decreases and the inflammation subsides. When the pancreatic enzymes return to normal, a bland diet and water may be reintroduced slowly.
Still thinking about giving gravy on your pet's food? Well, I encourage you not to feed human foods to your pets.
http://www.VetNewsNet.com


Next week: Dom DeLuise
Listen to the 1st Hour ABRIDGED VERSION Podcast of this show (#366).
Purchase a CD Copy of this Show

View Animal Radio Network® Broadcast Schedule in a new window.


Listen to Animal Radio® - Go to the launch page


Return to Animal Radio Network® Home Page


Read November Newsletter
Copyright 2006 All Rights Reserved Animal Radio Network LLC