Animal Radio® Show #522 December 5, 2009

indicates XM Satellite Radio and Podcast versions only.
New Wave of Service Dogs
Sherry Mers, Angel Service Dogs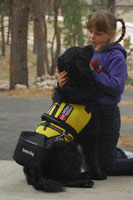 Most families take it for granted when they don't have a member who has some sort of allergy. But for those with a family member who is allergic to something as simple as peanuts, it could be a life-threatening situation. Everyday foods, such as peanut butter, can keep a child from participating in group activities like church, school or even a simple ball game.
Sherry Mers has such a child. Her daughter Riley was diagnosed at age 5 months with an anaphylactic allergy to peanuts. Riley is so allergic to peanuts, she once was rushed to the emergency room simple because she came into contact with particles of peanut dust. She attends school in a "contained" environment that assures no contact with anything that has been near peanuts, and her rare outings have always carried risk.
Sherry wanted to do something for her child. She thought if dogs can be trained to sniff bombs and drugs, why couldn't one be trained to sniff peanuts? She then decided to create an Allergy Alert Dog.
As a result, Angel Service Dogs was born. Angel Service Dogs (ASD) is devoted to placing Allergy Alert Dogs (sometimes called Peanut Dogs). They are trained to detect a specific set of allergens. Alerting their handler, these dogs use detection work and can protect against contact or ingestion of these life-threatening allergens, and are trained by Master handlers above the standards set by the American with Disabilities Act.
Riley now has a service dog, Rocko, who is able to go into the classroom with Riley and alert her if there are any peanuts in the room . Riley can now live a normal life and for someone who couldn't enter a classroom before, is now thinking about college!
Rocko is a Porteguse Water Dog and is named after President Barack Obama. But, Sherry states that she got Rocko when Obama was campaigning,
before he ever considered a dog of his own!
Best of 2009 – Six Picks!
Animal Radio® received many different pet items to review over the year. There were things that squeaked, things that squished and things that shined! It was hard, but we narrowed it down to 6 of our favorite picks for the year 2009, with the upcoming holidays, you might want to put these on your wish list!
We countdown from Number 6 to our favorite pick Number 1: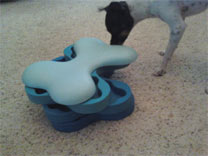 6. Dog Tornado by The Company of Animals
The Dog Tornado is a four-layer puzzle with rotating discs. Three of the layers conceal a treat so the dog has to rotate the discs with either his nose or paws to get at them. You can also make it a little harder by placing a bone in one of the pockets, which stops the disc from spinning. The dog then has to dislodge the bone to get the discs spinning again and to get at the treats. Dislodging the bones was a little difficult for Ladybug, as she only weighs 5 pounds and has a small nose. She was therefore trying to remove them with her paw.

5. Fleas and Ticks from Multipet
We're proud to say that the Multipet 'Flea' stuffed toy is still around and still 'Ladybug's' favorite toy. Every dog has a 'Survivor' toy. This Flea will be your pets favorite. The plush toys also have squeakers and come in two different sizes 12" and 6". This toy has become the favorite squeaker of "Ladybug," Give your dog Ticks and Fleas and let them finally have their revenge!
4. Stylish Pet Furniture and Accessories from (REMOVED DUE TO RECALL)

3. Themed Apparel and Gifts for Dog Lovers from Dog Is Good
Up for a celeb-worthy line of unique apparel and gifts for the humans in a dog's life? Dog Is Good strikes that delicate combo merging with the love of dogs with the love of fashion. So hot, their wares have graced fashion mags and the Celebrity Gift Basket at the Emmys! One of their shirts was also seen on a recent episode of Dancing With The Stars.
2. Travelin' First Class with furr me!

Calling all Pawparrazzi... Celebrities "best friends" aren't the only ones that can travel in style, thanks to the furr me! blanket set. Always packed and ready to go, each set has a sumptuously soft blanket nestled in a zippered pouch, both made from the signature Kashwere chenilla yarns and adorned with an adorable embroidered paw print . Who says they're only good for road trips? These blankets cozy up anywhere, setting the stage for the "pawfect" relaxing snooze. These "MUST HAVE" furr me! blanket sets are washable and dryable, making them the perfect reason to "let sleeping dogs lie."
1. Skybox Booster Seat by Kurgo
The Kurgo Skybox Booster Seat provides enough elevation for her to have a clear view of the road, and has an adjustable tether that attaches to her harness so she can't get out. It can hold up to 30 pounds. It also has a washable liner that you can remove and clean. It's so easy to install and just takes seconds - no tools necessary.

Walt Disney Animation Studios presents the musical "The Princess and The Frog,", an animated comedy set in the great city of New Orleans. From the creators of "The Little Mermaid" and "Aladdin" comes a modern twist on a classic tale, featuring a beautiful girl named Tiana, a frog prince who desperately wants to be human again, and a fateful kiss that leads them both on a hilarious adventure through the mystical bayous of Louisiana. The Princess and the Frog will be released nationwide on December 11, 2009.
Disney is teaming up with Animal Radio and will be giving away a prize package each week for four weeks which includes the Zippity™ Learning System and Disney The Princess and the Frog Learning Game, Get ready for a full-body musical bayou adventure with this Zippity™ learning game featuring Tiana, Naveen and other friends from The Princess and the Frog! Zippity is the high-energy learning system that gets children dancing, jumping, playing and learning with the Disney characters they love! PLUS 2 movie t-shirts, frog slippers and mini posters! Each prize package is valued at over $150!
Tune in to Animal Radio® for a chance at this great Disney package!
Animal Radio® News with Bobbie Hill


Nasal Spray Helps Animals Infected With H1Nl
A nasal spray used to kill germs and other sinus irritants has shown promising results in helping animals infected with the H1N1 flu virus. Pharmaceutical Business Review reported a two week study suggests SinoFresh Nasal Spray seemed to help infected animals recover more quickly than untreated animals. The data also showed pre-treatment with the spray decreased the severity and in some cases the incidence of infection altogether.
Man Ordered to Get Rid of 300lb Pet Pig
Town officials in Southwest Ranches in Florida have ordered a man to get rid of his 300-pound pet pig, but the owner says he'd rather leave town than give up the animal. Rob Falk of Southwest Ranches has a Yorkshire pig named Strawberry, and council members cited Falk's landlord for a code violation in July. Last week, officials gave Falk 30 days to remove Strawberry from the home, saying that the town allows only one Vietnamese pot bellied pig per household. Officials are also worried that the pig will get bigger and grow large tusks. Falk says the family will move because "the pig is like one of our children."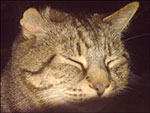 Cat Dies in Oregon From H1N1
One week, Rhonda Rebmann's niece had the flu. The next, her 10-year-old tabby cat started showing respiratory symptoms. Buddy Lou died four days after she brought the cat to the family's veterinarian, the first feline H1N1 death in the United States. Veterinarians at the Lebanon Animal Clinic in Lebanon, Orego, knew they were not dealing with a normal respiratory infection as soon as Buddy Lou arrived. Cats with a regular respiratory infection sneeze and cough, but Buddy Lou's breathing was heavily labored. Chest X-rays also painted a different picture. Chest X-rays taken the night before Buddy Lou died show the fluid build-up had increased. A human passing a disease to a cat is an interesting scientific development and is rare. Cat owners should not panic about giving their pets the flu. However, pet owners should take care handling their pets if they are sick by washing their hands before touching their pet or their food and water. Also, avoid touching your pet's nose, mouth and eyes.
No Guidelines For Lead in Dog Toys
To get on store shelves, children's toys have to pass strict standards for safety. But toys in the pet aisle don't. A recent investigation was done on 20 pet toys. While only one dog toy had lead levels higher than what's allowed in children's toys, lead detectors found everything from slight traces to lead levels much higher. Like with humans, excessive amounts of ingested lead can cause a variety of problems for dogs and cats such as vomiting, diarrhea, loss of appetite. Or in more serious cases, actual seizures or other neurological problems."
Dog Fighting Dogs Are Doing Well
We brought you the story this summer of the largest dog fighting crackdown in U.S. history covering 8 states and involving over 500 dogs. The ASPCA reports that after months of rehabilitation most of the rescued dogs are doing well. The adult dogs, most of them pit bulls, were evaluated for aggressive behavior and two thirds of them along with most of the puppies passed the test. The ASPCA said "with socialization and training many of these dogs may well turn out to be excellent pets and companions."
Cowboys Round Up Bison With Walkie Talkies
Some modern day cowboys used walkie talkies and cattle prods to help roundup a herd of bison on the island of Santa Catalina. The sunrise operation was a success according to the L.A. Times story that says the reason for the roundup was contraception. No, the bison didn't have to sit and listen to boring lectures instead the females were given a contraceptive vaccine. The goal is to keep the herd size down around 150 resulting in a healthier more manageable bunch of bison as well as a healthier environment on the island.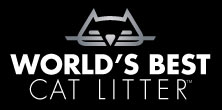 NEWS UPDATE Brought To You By World's Best Cat Litter™
Listen to the entire Podcast of this show (#522)

---