Animal Radio® Show #419 December 8, 2007

LOOKING BACK OVER 2007

Glenn Close


Glenn Close has had a lengthy career as a versatile actress and performer. Glenn is remembered for her chilling roles as the scheming aristocrat Madame de Merteuil in Dangerous Liaisons; terrorizing puppies as Cruella di Vil in 101 Dalmatians; and as the psychotic book editor Alex Forrest in Fatal Attraction. In her new series, Damages, Glenn brings force and power as Patty Hewes, a fierce litigator who has a dog killed. But, Glenn is nothing like the characters she plays, and in fact is a big animal lover! Glenn doesn't believe there was a time in her life growing up when she didn't have animals
Glenn currently has two dogs, Bill and Jake, whom she takes to work with her everyday. In fact, they have become the mascots of the Steiner Studios.
Look for Glenn's "Lively Licks" blog, which is a profile of dogs and their people, on the website FetchDog.com, where she will ask questions such as: When did you become a dog lover? Why Dogs? And, if your dog were a famous person, who would they be? Some of the first subjects are Ted Danson, his wife Mary Steenburg. Glenn states that if her dogs were famous people, Jake would be the Dalai Lama and Bill would be Barney Fife!
Fetchdog.com is a new website offers you the best-handpicked products for your dog, from healthy food and comfortable beds to unique toys and fashionable collars.
http://www.FetchDog.com



Ted Casablanca from E! Television


Nationally recognized columnist Ted Casablanca is based at E! Online, Entertainment's Home Page, where he pens his weekly gossip column The Awful Truth. From the red carpet, Casablanca hosts E! Online's popular live Web casts, including world premieres. He also contributes profiles on Hollywood's most exclusive celebrities, some of who have included Leonardo DiCaprio, Chris O'Donnell, Sean William Scott, Larry Flynt, Natalie Cole and Antonio Sabato Jr. He has also hosted chats with Sarah Michelle Gellar, Ryan Phillipe, Reese Witherspoon and Christian Bale, among others.
Ted brought along his dog Margo to The Race For The Rescues. The furr-ball is a mixture of Chihuahua, Pomeranian, Dachshund and perhaps a little bit of "Paris Hilton." Ted tells Animal Radio® that Ellen Degeneres pulled "a guy thing" when she blamed her girlfriend Portia for signing the adoption papers for Iggy. While he loves Ellen, he disagrees with her on this count.
http://www.Eonline.com/gossip/awful
Pop Diva Sheena Easton


Easton whose singing career was inspired by Barbara Streisand's "The Way We Were," released her first single in the United States "Morning Train (1980)" which hit #1 in the U.S. and topped both the Hot 100 and Adult Contemporary charts in Billboard Magazine. Following her 1980 debut, Sheena made the cameo appearance performing her Academy Award-nominated James Bond movie theme "For Your Eyes Only." Notably, she is the only artist seen performing the song in the title sequence in the entire Bond series.
Sheena currently lives in Las Vegas with her two-legged family, as well as her four-legged family of six cats and two dogs. Her kids say she is headed for the title of "Crazy Cat Lady." If you think you spoil your pets, listen in to see how Sheena copes with hers!
http://www.SheenaEaston.com
Wigs for Dogs
Ruth Regina, Wiggles


The day of emulating celebrity hairdos is now no longer reserved for fans or even humans!
Wiggles is the brainchild of Ruth Regina, a master wig maker whose notoriety in her field spans a half a century. The lover of her art and the love of animals make an odd and unique coupling twenty years ago when a friend asked her to make a wig for her beagle. One order turned into many, one interview turned into a series of high profile engagements and Wiggle Dog Wigs was born.
Wiggles takes the same level of quality found in her hair products for Ruth Regina's two legged customers, for those on all fours. A true professional at custom wigs, Ruth designs and manufactures the wigs specifically for canines keeping their comfort the primary concern.
Ruth recently made a Mohawk wig for the dog of Motley Crue's Nikki Sixx to wear on the red carpet.
Originally a sideline to Ruth Regina's primary business, the volume of interest people have shown has extended the activity of Wiggles and the time she devotes to her canine friends. Find out what new wigs Ruth has planned for Christmas!
http://www.WigglesDogWigs.com
A Confidence Course for Cowardly Canines
Britt Savage


Everyone has heard of the term "fraidy cat", but what about "fraidy dog?" If you have one of those dogs that appear to be fearful of everything, there is help! A course in self-confidence, which has been a sell out success in Austria, has been designed to bring out your dog's "inner wolf."
The course was designed by animal behavior expert Marianne Prutsch, who states "More and more dogs are scared of their own shadows and the course is designed to make them more self confident and secure."
Marianne, who lives at Hannersdorf, in the wine growing Burgenland region of Austria, said the course is not about making the dogs more aggressive, saying: "Self confident dogs rarely bite and are more fun to be with.
"Nervous dogs who are afraid of everything are even more likely to bite their owners and too often are aggressive."
Marianne concludes that some breeds of dog were naturally more nervous than others, including the Doberman, Dalmatians and Border Collies.
She added: "The most self confident are the Irish Wolfhounds, but they are also one of the biggest."
NEWS UPDATE: Holiday Pet Store Inspections


A child clutching a new puppy or kitten for Christmas can be a heartwarming moment. But what if that animal gets sick or dies a few days later?
It is not uncommon to purchase pets from pet stores who are ill, and show no signs of anything being wrong at the time of purchase.
To prevent this, state inspectors in Florida are visiting hundreds of pet stores to make sure that pet health laws are being obeyed and that the animals have received the standard tests and shots for various diseases and parasites.
According to Liz Compton, spokeswoman for the Florida Department of Agriculture and Consumer Services, they inspect about 300 to 500 pet stores every year. A warning is issued to violators and if the situation is not corrected in a timely manner, the store can receive fines starting at $500.
As part of the pet business, such inspections usually occur twice a year.
Instead of purchasing a pet from a store, think about adopting a homeless animal. Bring your child out to view the animals (many pet stores offer in-store pet adoptions) to see what captures their interest. Then, later go back and adopt the pet. But beware, as a parent, you will probably be the one in the end who will be caring for the pet.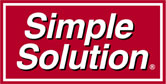 NEWS UPDATE Brought To You By Simple Solution Natural Line Of Products
Therapy Kangaroo
Noralynn Snow, Silverado Senior Living Community

You've probably heard of therapy dogs and cats, and even perhaps horses and pigs. But what about a Kangaroo? Well, residents of the Silverado Senior Living Community have the pleasure of visits from Elliott, a six-month old baby Kangaroo.
Elliot visit the 120 citizens of the center, who suffer from everything from Alzheimer's disease to Parkinson's disease, and will even sit on their laps for hours at a time.

It has been proven that animals of all types can have large health benefits. Dr. Marty Becker, author of The Healing Power of Pets states "there is actually a biochemical event that happens when they come in contact, a biochemical spa treatment of sorts and that "it lowers blood pressure and elevates the mood."
When Elliot is not at the hospital, he goes home with a staff member, Noralynn Snow, and actually sleeps in bed with her.
http://www.SilveradoSenior.com
911 - Labrador Lessons
Michael Hingson, Guide Dogs for the Blind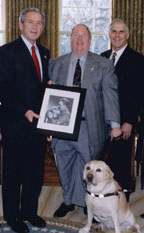 Prior to becoming the National Public Affairs director for Guide Dogs for the Blind, Michael held sales and senior management positions with several major high tech companies for nearly 30 years. Most recently, Michael worked on the 78th floor of Tower One of the World Trade Center as the Mid Atlantic district sales manager for Quantum Data Protection Division of Irvine, Calif., overseeing a sales force and field operations.
As was the case with many Americans, Michael Hingson's life changed dramatically on September 11, 2001. He and his Guide Dog "Roselle" were the lucky ones, however, in that they escaped the World Trade Center attack.
In hundreds of TV and radio appearances, feature articles, and speaking engagements, internationally acclaimed inspirational speaker Michael Hingson has done much more than simply tell his own 9-11 story. He has also explored the broader lessons and implications of the tragedy in such heartfelt, thought-provoking presentations and the power of the Human/Animal bond.
Michael Hingson was recently named as one of the top 50 educational speakers in the United States. He is available to speak on Trust, Teamwork, Risk-Taking and Creativity and Easing Your Way Through Changes in Your Work and Personal Lives, as well as The Power of the Human/Animal Bond. All proceeds from his presentations got o Guide Dogs for the Blind.
http://www.GuideDogs.com
The Cat That Plays the Piano
Betsy Alexander, Ravens Wing Studio


Betsy Alexander is a composer and visual artist who also teaches the piano. She currently resides in Philadelphia with her artist/sound engineer husband, Burnell Yow! and their six cats - Miro, Gabby, Max, Clara, Rennie & Nora.
When Betsy brought Nora into her home, little did she know about Nora's talent. One day, Betsy and her husband heard the clinking of the piano keys. Believing one of their cats was walking across the piano keys, they got quite the surprise when they saw the actual culprit. There was Nora sitting there, in perfect posture, playing the piano. Ever since, Nora has been joining in on Betsy's teaching sessions with her students, playing alongside them. View the video.
http://www.RavensWingStudio.com


Donkey for the Divine
Rae Ann Kumelos, Voice of the Animal


Did the baby Jesus awaken to the sound of a donkey braying on Christmas morning? More than any other animals, the donkey is associated with the physical presence of Christ. Discover how the donkey's divine status is celebrated in cultures around the world.
http://www.VoiceOfTheAnimal.org
Listen to the entire Podcast of this show (#419).


Listen to Animal Radio® - Go to the launch page
Return to Animal Radio Network™ Home Page
Read December Newsletter
Copyright 2007 All Rights Reserved Animal Radio Network LLC