December 9th 2006
Season of the Stars continues with:
Dom DeLuise


Dom's first paying acting job was the role of "Bernie the Dog" in "Bernie's Christmas Wish." Since then, his voice-roles continue both in children's animation and on the big screen. Dom is also a best-selling author of both cookbooks and children's books. He currently hosts his own radio-cooking segment on "On The House," which airs every Saturday from 9:00am to 1:00pm Eastern Time.

Dom is a big bird lover and is owned by several birds. He currently takes his bird Charlie to local schools to teach children compassion about animals.
Dom is one of the celebrity judges of Mag Rack's "Most Outrageous Bird" video contest. The best videos received are posted for viewers to register and vote for their favorites. The more that you vote for your video the more chances you have to win. The winner will be announced after Christmas.
http://www.MagRack.com/birds
http://www.DomDeluise.com
Winning a ScoopFree Automatic Litter is as EASY as using one!!
Alan Cook, Lucky Litter, LLC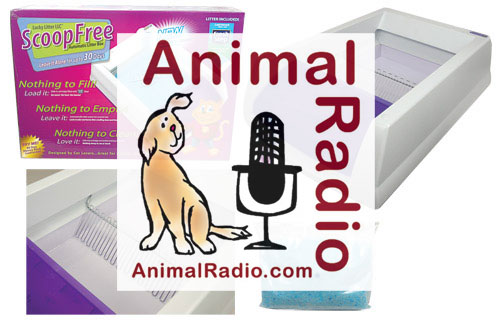 This month we are giving away several ScoopFree automatic litter boxes with a contest that is as easy to enter as ScoopFree is as easy to use. Go to www.ScoopFree.com/contest and place the ScoopFree litter cartridge into the ScoopFree litter box. Then enter your name and contact information. That's it! Easy! We will select several winners at random to receive a free ScoopFree automatic litter box or a six-pack of cartridges and announce the winners in January.
You know how much we love ScoopFree, the top-rated automatic self-cleaning litter box, which you can leave alone for up to 30 days with one cat and up to two weeks with two cats! We use several ScoopFree's in the studio and wow, we really love them! You just load it, leave it and love it. There is virtually no odor and ScoopFree is super easy to use.
EASY ODOR CONTROL
ScoopFree uses patent-pending Disposable Litter Tray Cartridges, which are filled with Fresh Step Crystal litter to provide unbeatable odor control. Replace your pre-filled litter tray cartridge as little as once a month without any scooping, refilling or cleaning. 20 minutes after your cat leaves the litter box, ScoopFree will automatically rake the waste into the tray's covered trap so you can enjoy hands-off convenience for weeks at a time. Then discard the entire litter tray cartridge, insert a new one and your litter box is just like new!
DID YOU KNOW...
Did you know ScoopFree is the only automatic litter box to be associated with FreshStep or any major kitty litter brand? When some people at Fresh Step saw the quality and innovation of ScoopFree they wanted to be sure it worked their litter! Go to www.ScoopFree.com to see what all the excitement is about!
Snakes And Lizards Creep Into Our Hearts and Home
Dr. Jim Humphries, Veterinary News Network


Many people have fond memories of growing up with a pet such as a cat or a dog, but increasingly more children are growing up with Hissey the Snake and Iggy the Iguana. According to the American Pet Products Manufactures Association, more than 11 million reptiles and 18 million small mammals have found their homes in American households across the country. These numbers, when added to the 17 million pet birds out there, have topped 15% of all American pet-owning households. Although many people shudder at the thought of a scaly creature in their home, reptile owners say that it is that exact uniqueness and individuality that has attracted them to their pets. Low maintenance, low food bills and the ability to house these pets in smaller apartments has city dwellers becoming more interested in these distinctive animals.
http://www.VetNewsNet.com
"Poop" Pays for their Keep
Britt Savage


Thailand pays over $250,000 a year to rent the panda couple, Chuang Chuang and Lin Hui for their zoo. And now, with the help of the pandas themselves, those monies have been offset.
After disposing of over 55 pounds of feces daily produced by the pair, someone came up with the idea of turning the poop into products. The process involves cleaning the feces, boiling it and then having it bleached and left to dry in the sun. Some of the products that have been manufactured so far from the "poop" are notebooks, fans, bookmarks and key chains.
While the products are hot-selling items at the zoo, there hasn't been much success in selling the items outside.
When Bad Teeth Happen to Good Dogs
Tobi Hall, Farnam Pet Products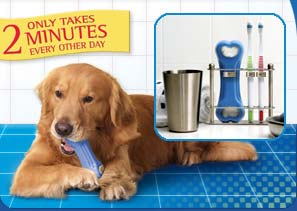 Studies show that 80 percent of dogs over three years of age have some sort of periodontal disease. Moreover, the ravages of dental decay are not limited to people. Pets are equally vulnerable to the serious medical consequences that result from deficient oral care. If serious gum disease is left untreated, oral bacteria and their toxins can invade the bloodstream and spread to vital organs.
To help protect the lives of America's beloved pets, Farnam has developed a revolutionary, simple tool to manage canine oral health: a real, "Chew-It-Yourself toothbrush™" for dogs. Easy Brush taps into a dog's natural behavior, ensuring ease of use for owner and pet. It's not a toy, and requires adult supervision ­ but dogs perceive the toothbrush and flavorful paste as a "treat," and owners can use it to bond with Fido. Importantly, Easy Brush uses real bristles to clean down to the gum line like a toothbrush, but without the hassle.
Crunchy dog food helps keep plaque down but works best above the gum line. Easy Brush has real toothbrush bristles that clean better along the problem area ­ the gum line. Pet toys mainly clean the top portion of the teeth and don't provide the cleaning ability of toothbrush bristles. Pet owners should consider their dog's dental regimen as important as their own family's routine: would you use a toy or cookie to clean your children's teeth?
Size matters. Easy Brush comes in both large and small sizes to fit most dogs' mouths. It is available at national and specialty pet retail stores.
http://www.FarnampetProducts.com
http://www.EasyBrush.com
Talk With Your Animals
Joy Turner
Joy speaks with Cooper, a Sheltie who has problems with trust. Joy advises his guardian not to think "no one will HURT you,' but to think positive, such as "you are SAFE HERE."
http://www.TalkWithYourAnimals.com
http://www.JoyTurner.com

Your Pet Can Be a Star!
Tim Hockley, Animal Wellness Magazine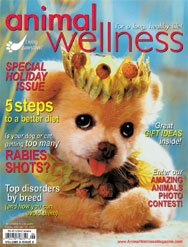 Animal Wellness Magazine is full of information on how to keep your animals healthy so they can enjoy much more time with you. From feeding the right diet, to too many vaccinations, Animal Wellness Magazine is your animal's health care advocate. Remember the only thing your dog or cat ever hopes for from you is love, food and shelter. But after the basics, wellness is the greatest gift you can bestow.
And now your pet can be a star! Enter the Amazing Animals Photo Contest and you could win one of the many prizes up for grabs, plus your photo will appear in an upcoming issue. Entry deadline is April 13, 2007. Just send a digital photo in a jpg or pdf format to photo@animalwellnessmagazine.com or send a quality hard copy original digital photo (a maximum of two photos per pet), along with your name address and telephone number, and your animal's name, sex and age (if known) and a short description of the photo to:
Photo Contest, Animal Wellness Magazine
US: PMB 168
8174 S. Holly St.
Centennial, CO 80122
What are you waiting for, do it now!
http://www.AnimalWellnessMagazine.com
Dolphins ­ Breathing Hope


Rae Ann Kumelos, Voice of the Animal
Discover how the dolphins from the Gulfport Mississippi Oceanarium uphold their mythic legacy to remind us all of the importance of sticking together.
http://www.VoiceOfTheAnimal.org
The Little Dog with the "I Can" Attitude
Deborah Turner, Wheely Willy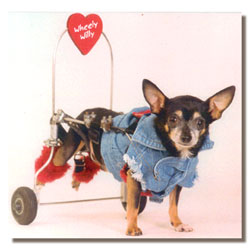 Willy belonged to the multitude of homeless and abandoned animals, labeled "unwanted." Discarded in a cardboard box, paralyzed and with his vocal cords severed, this tiny Chihuahua lived in an animal hospital waiting for someone to take him home. The story of Willy's plight touched pet store-owner Deborah Turner, who brought him home to her menagerie of rescued pets. She tried a comical array of methods to help Willy become mobile before they received his K9 Cart.
Deborah and Willy together visit hospitals, schools, and convalescent homes to bring cheer and hope where it is needed. Willy, indeed, has become a symbol of hopehe has even led a group of young people with spinal cord injuries in the LA Marathon.
Willy charms both children and adults with his "I Can" attitude. His example of living life with courage, exuberance, and zest is the best lesson he teaches.
http://www.WheelyWilly.com
Reptile Politics
Mike Fry, Animal Ark Animal Shelter
Mike talks the politics of reptiles. . . do you vote with your human or your reptile brain?
http://www.AnimalArkShelter.org Hear Animal Wise on Animal Radio Network™

Next week: From Home Improvement, Richard Karn

Listen to the 1st Hour ABRIDGED VERSION Podcast of this show (#367).
Purchase a CD Copy of this Show

View Animal Radio Network® Broadcast Schedule in a new window.


Listen to Animal Radio® - Go to the launch page


Return to Animal Radio Network® Home Page


Read December Newsletter
Copyright 2006 All Rights Reserved Animal Radio Network LLC