Comfort Zone presents Animal Radio LIVE from the San Diego Pet Expo at Del Mar Fairgrounds: December 10, 2005
San Diego Humane Society
Trish Jackman, Mobile Adoptions Coordinator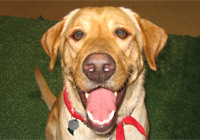 The San Diego Humane Society and SPCA's mission is to promote the humane treatment of animals, prevent cruelty to animals and provide education to enhance the human-animal bond.
Serving San Diego County since 1880, the agency provides vital services to animals and people alike through sheltering and adopting animals, providing positive reinforcement behavior training for adoptable animals and for owned animals through public training classes, investigating animal cruelty and neglect, providing adult and youth education programs, sharing animals through pet-assisted therapy, and rescuing animals in emergency situations.
Knowing that puppies at adoption events usually receive all of the attention, Trisha brought out some adult dogs - that way you already know what you are getting without all of the trials and tribulations of puppyhood!

Pet Detectives
Annalisa Burns, Pet Search and Rescue


Annalisa, certified Missing Animal Response Technician, has always been an animal lover. Since she was a small child she wanted to work with animals and help them. When she found Kat Albrecht's book, "The Lost Pet Chronicles," she was fascinated. Immediately she contacted Kat to start her training.
Please contact Pet Search and Rescue IMMEDIATELY if your pet is lost or missing. A Certified Missing Animal Response Technician can tell you which services would be beneficial in your situation.
If you are interested in a career as a Pet Detective, Pet Search and Rescue is happy to answer any of your questions and direct you to Pet Hunters International. If you are interested in purchasing a dog ready to find missing pets, please contact Annalisa Berns. Pet Search and Rescue is working in conjunction with Lost Pet Detection and Pet Hunters International to train and provide mission-ready dogs just like Lilly for finding missing cats, dog and other pets.
Foolproof Pet ID
Dr. Jim Humphries, Veterinary News Network


A microchip is a tiny computer chip which has an identification number programmed into it. The chip is the size of a grain of rice, and it is easily and safely implanted into the skin of an animal with a hypodermic needle. Once the animal is "chipped" he can be identified throughout his life by this unique number. Microchips are read by a scanning device which recognizes a unique identification number. Through registration of the animal with a national database, the owner can be contacted and this is an important step many pet owners forget. The bad news is that this technology is not foolproof!
Best Cat Products of 2005 according to Arden
Arden Moore, Editor CATNIP
Consider 2005 as the "Year of Problem Solvers" when it comes to testing cat products. In keeping with tradition ­ as we always do in December ­ we salute the best product in each category tested and reviewed each month in the wrap up issue.
Best New Product:
Blitz StarChaser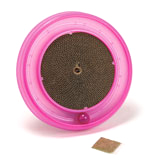 The Blitz StarChaser will mentally challenge your cat and give him some exercise. Cats never tired of playing with this toy.
Best Holiday Gift:
Purr-Amid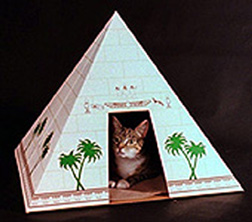 The Purr-Amid is the ideal feline hideaway, modeled to the exact proportions of the Great Pyramid at Gaza. It is also big enough so that two small cats can snuggle inside together.
Best Catnip Toy:
El Gato Cigar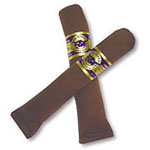 We are not condoning smoking, but this seven-inch cigar-shaped toy filled with catnip drew the keen interest of our test cats. This clever toy contains one ounce of catnip leaves and buds covered in a durable and highly puncture-resistant fabric. It emits a strong mint fragrance.

Pigeons Pig Out on Junk Food Trash
Britt Savage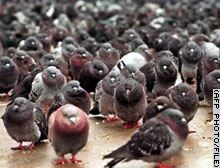 British junk food lovers are having an unhealthy effect on the country's pigeons, which are becoming obese by feasting on litter leftovers. The charity Keep Britain Tidy says people who do not throw their uneaten junk food away are causing the problem. Chief executive Alan Woods said the birds were now "supersized" and dependent on people rather than nature for their food. The abundance of food on offer was also causing a population explosion of pigeons in Britain, which are considered a health hazard and a nuisance, he said.
"Seven out of the 10 bits of litter we find on our pavements and roads are food related. And with all this trash to choose from, the pigeon, rat, fox and gull population has spiraled," Woods said.
The litter problem was worse during summer because the warm weather meant more people ate outdoors. Summer also coincides with the peak breeding season for pigeons in June and July. Woods said if the problem continued, local councils would be forced to cull thousands of pigeons to keep numbers under control.
John O'Hurley


You remember him from Seinfeld, as J. Peterman. Well, not only is he a great actor, but he is also the real J. Peterman's business partner and part owner of the J. Peterman Company.
John is now the regular host of NBC's "The National Dog Show presented by Purina," a Thanksgiving tradition. John also lends his voice to several cartoons. You might remember him as Blake, the white tiger on NBC's "Father of the Pride."
John is definitely a multi-talented guy, and had just released his own CD, "Peace Of Our Friends." Do you know that he is also a singer, pianist and composer?
But with his busy lifestyle, John's favorite pastime is spending time with his own furry friends.
Refuge
Rae Ann Kumelos, Voice of the Animal


Meet the animals of the Arctic National Wildlife Refuge, including the ones that visit your backyard every winter. And, renew your acquaintance with the sixty-five million year-old animal whose presence is feeling the desire that may threaten the lives and livelihood of all who inhabit this most fragile and sensitive eco-system in the world.
Healthy, Premium Dog Treats - Because Dogs are Family Too
Amanda Thompson, Dogswell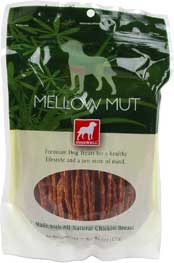 If you are going to give your dog a treat, why not make sure it is all natural. But how about good for him as well? Dogswell has created a line of all natural treats that are not only healthy, but have health benefits as well. Take for instance the Happy Hips. They help maintain your dog's joints. And the Happy Heart. They maintain a healthy heart. And is your dog overstressed? Try the Mellow Mutts. Now you can make sure your dog is not only getting a healthy treat ­ he is receiving health benefits as well.
Ed Asner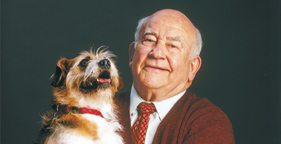 You may not associate Ed Asner with animal causes, but indeed he lends his voice as an advocate for responsible pet ownership, and has strong views on the importance of spaying and neutering and shelter adoptions, with a lifelong commitment to the companion animals with whom we share our lives.
Gary Burghoff Corporal "Radar" O'Reilly of M*A*S*H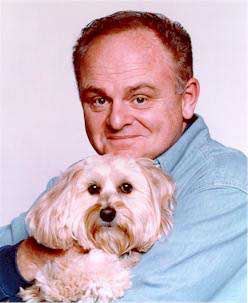 Gary Burghoff and "Radar" O'Reilly are synonymous with the kind, lovable yet kindred spirits we can all remember with fondness. The role of "Radar" was tailor-made for Gary because of his obvious love of animals and his extraordinary personality. Remember Radar's zoo in M*A*S*H? This theme originated from his real life Animal Rehabilitation Clinic in Southern California where he nurtured and cared for many species of birds such as the brown pelican, and many other animals including opossums, grey squirrels, raccoons and abandoned creatures needing Gary's special and tender-loving care. In fact Gary, once known as the "Bird Man of Malibu", was licensed by the State of California to care for wounded animals.

View Animal Radio Broadcast Schedule in a new window.


Listen to Animal Radio - Go to the launch page


Get one of the limited edition Animal Radio® T-Shirts for 9.95


Return to Animal Radio Network® Home Page
Sponsor

Copyrighted Animal Radio Network LLC 2005