Animal Radio® Show #523 December 12, 2009

indicates XM Satellite Radio and Podcast versions only.
Top 10 Best Pet Products Picks
Geoff Mott, PetGadgets

Geoff Mott from PetGadgets lists their Top 10 Best Picks for 2009. At PetGadgets, you'll find innovative, high tech, unique pet products and modern pet furniture that fit with your lifestyle and make life more enjoyable for you and your pet.
Click here for some great Holiday Gift Ideas and to see what made it on the list.
Dogs Who Left Their Mark On Pop Culture
From crime fighting dogs to presidential pooches that sometimes got more press than their owners, one look at popular culture proves that dogs have always had a profound influence on our daily lives. But which well-known canine is the most famous?
In celebration of its 125 Anniversary, the American Kennel Club and AOL's PawNation.com ask America to weigh in on their favorite dogs. The nominees for most famous dogs are:

•Checkers – Richard Nixon's Cocker Spaniel referenced in his famous "Checker's Speech" during his 1952 Vice Presidential bid.
•Buddy – Bill Clinton's Labrador Retriever who, living up to the title of "man's best friend," was said to be Clinton's key supporter during Monica-gate.
•Tinker Bell – Paris Hilton's Chihuahua who caused a panic in 2004 when she went missing.
•Fala – Franklin D. Roosevelt's Scottish Terrier who traveled alongside his master and met many dignitaries during FDR's presidency.
•Triumph the Insult Comic Dog – The Serbian Mountain Hound puppet made famous on Late Night with Conan O'Brien, who puffs a cigar while insulting celebrities.
•Bo – Obama's Portuguese Water Dog delivered as an Obama campaign promise to daughters Sasha and Malia.
•McGruff the Crime Dog – A cartoon Bloodhound used by the National Crime Prevention Council in commercials and other media to teach children about safety.
Which dog will be victorious? Visit PawNation.com to cast your vote and leave your paw print on the poll.
The list brings together canines from diverse backgrounds for a candid look at how dogs have been woven into the fabric of America. From movies and music, mascots and literature, to cartoons and TV characters, each week a new poll allows Americans to review the list, debate it with their friends and colleagues, and pick their favorites. Dog lovers can return each week to vote and have a final say to end the doggie debate and find who it the top dog. The AKC will tabulate results and unveil the final list of America's Top 125 Dogs in Pop Culture the week of December 14, 2009.
Fido Friendly Travel Talk With Susan Sims

Susan speaks with Lawrence Kokonis from Bun-Gee Pup-ee. The Bun-Gee Pup-ee is a dog leash which acts as a shock absorber and creates a cushion from any sudden moves made by you or your dog. As you encounter your dog's pull, the Bun-Gee Pup-ee leash stretches and the resistance your pet experiences teaches them not to tug anymore, helping you to train your dog!
Don't let your dog walk you, The Bun-Gee Pup-EE Expandable Dog Leash is a great shock absorber that has helped many walk their dog instead of struggling to have fun during walks with their favorite pet! Your dog will love to walk with his new because the pressure is relived from their back, neck, and shoulders.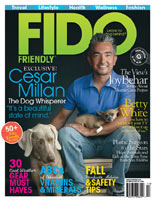 Fido Friendly Magazine:
The Travel Magazine For You & Your Dog, a complete guide to Fido-friendly accommodations across the United States and Canada. "Fido Friendly is the only magazine dedicated to the travel lifestyle of man's best friend, and the one magazine your dog will thank you for." And don't forget to join the Fido Friendly Travel Club.
Dogs in Party Hats
Carla Gambescia, Via Vanti Restaurant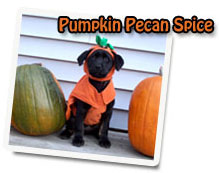 Name a Gelato Flavor Inspired by Your Dog! An outrageously fun contest and fundraiser for the benefit of a serious cause: Guiding Eyes for the Blind, the premier guide dog school in the U.S. Created and sponsored by Via Vanti Restaurant & Gelateria, Mount Kisco, NY.
Submit a photo of your dog in its best party hat to win a scrumptious collection of prizes, including the high honor of having a gelato (or sorbetto) created specially by Via Vanti Restaurant & Gelateria and inspired by your dog.
Twelve (12) Prizewinners Will Receive:
* The high honor of having a gelato (or sorbetto) Flavor of the Month at Via Vanti! Restaurant and Gelateria inspired by your dog.
* A professional portrait of your dog in his/her party hat, costume or au naturel (plus a copy of the same portrait will be enshrined for a year on a doggie "Wall of Fame" at Via Vanti! in Mount Kisco, NY).
* A "Party Dog Gift Pack" of goodies for your dog.
* A fabulous "Year of Gelato Gift Pack" Gift Card that entitles you to a pint of Via Vanti! gelato or sorbetto every month from January to December 2010, redeemable only at Via Vanti!, 2 Kirby Plaza, Mount Kisco, NY 10549.
Submit your entry (including a $20 fee which goes to Guiding Eyes For the Blind) by December 15, 2009. Get creative and have some fun!

Walt Disney Animation Studios presents the musical "The Princess and The Frog,", an animated comedy set in the great city of New Orleans. From the creators of "The Little Mermaid" and "Aladdin" comes a modern twist on a classic tale, featuring a beautiful girl named Tiana, a frog prince who desperately wants to be human again, and a fateful kiss that leads them both on a hilarious adventure through the mystical bayous of Louisiana. The Princess and the Frog will be released nationwide on December 11, 2009.
Disney is teaming up with Animal Radio and will be giving away a prize package each week for four weeks which includes the Zippity™ Learning System and Disney The Princess and the Frog Learning Game, Get ready for a full-body musical bayou adventure with this Zippity™ learning game featuring Tiana, Naveen and other friends from The Princess and the Frog! Zippity is the high-energy learning system that gets children dancing, jumping, playing and learning with the Disney characters they love! PLUS 2 movie t-shirts, frog slippers and mini posters! Each prize package is valued at over $150!
Tune in to Animal Radio® for a chance at this great Disney package!
Animal Radio® News with Bobbie Hill


Winter will bring snow and bitter cold to most of the country and now is the time for pet owners to check their pets shelters. Dog houses should be checked for cracks and leaks and its also a good time for new bedding, either carpet, blankets or straw. Remember to make sure your dog's house is actually the right fit but not too big. And cats need something more than a barn and a box to stay warm. Provide an actual "cat house" with clean bedding and water. Finally remember to keep your pets water bowl full and UnFrozen.
Never Let Your Pet Monkey Play With A Baby
A grandmother found that out the hard way two weeks ago! She was visiting relatives in LaPorte, Indiana when she was holding the baby near the monkey's cage. The monkey grabbed the baby's clothes and began banging her head on the side of the cage. The baby was treated at a local hospital and released, the incident was reported to local police by hospital authorities.
Pets Added To Holiday Shopping Lists
A recent Associate Press poll of pet owners showed more of them intend to add their pets to their holiday shopping lists. This year 52% of pet owners plan on buying Christmas or Hanukah gifts for their pet - that up from 43 percent last year. Poll responses showed just 40 percent of male pet owners will buy a pet present vs. 62 percent of female respondents. Choices include plush holiday themed toys and anything shaped like a bone.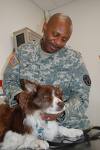 Military Pets Needs Foster Homes
An Arkansas based non-profit group is working to find foster homes for the pets of deployed military personnel. Linda Spurlin Dominik founded Guardian Angels four years ago and runs it out of her Hot Springs home. She along with volunteers have matched over 300 requests for military families across the country. While foster parents are not paid for taking care of pets they do get reimbursed for any veterinary care. The foster parents often send emails to the soldiers to update them on their pets.
Holiday Spirit Aids People & Pets
The holiday spirit showed up early in Michigan where two groups of volunteers helped restock the supplies at WAGS - Wonderful Animals Giving Support. The program is part of the Michigan AIDS Coalition that provides pet supplies and support for the animals of people living with HIV. Student volunteers from nearby Macomb Community College collected and delivered almost a ton of pet food, blankets, dog and cat toys and supplies. The Project Coordinator said the donations were enough to help their clients through the holidays.
Here's a list of potential holiday hazards to avoid for pet owners who'd rather not make a trip to the emergency vet hospital this year - Avoid Poinsettia plants in the house if you have pets, also avoid Lilies, Holly or mistletoe. No tobacco - rhubarb leaves, mushrooms, raw fish or eggs. Don't give your pets onions or garlic, bones or fat trimmings, chocolate, caffeine, macadamia or brazil nuts dairy products and raisins or grapes. For more info on having a Pet Safe holiday - contact your local vet.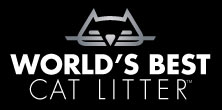 NEWS UPDATE Brought To You By World's Best Cat Litter™
Listen to the entire Podcast of this show (#523)
---