Animal Radio® Show #471 December 13, 2008


Animal Radio® has your Advance Screening Passes to MARLEY & ME
Owen Wilson and Jennifer Aniston bring the best-selling book to life.... and we're celebrating all month long with Advance Screening Passes to see the 'soon-to-be' Holiday Blockbuster. This Christmas Heel the Love, Marley and Me in theaters December 25th. Win tix by listening to Animal Radio®.


Betty White


When one thinks of celebrities and animals, one can't help but think of Betty White. They go hand in hand. Or paw in hand. That's because Betty White is as passionate about animals as she is about acting, which is the other reason we know and love her. She says that show business is her hobby while her real work is the animals! When asked what type of animal she prefers, she states "anything with a leg on each corner."
Betty's first animal was even before she remembered. When she first came home from the hospital, her family had a Marmalade cat named Toby who would sit on the corner of her crib. Her mother would always say that if Toby hadn't approved of the new baby, she would have sent Betty right back to the hospital!
Betty is a current trustee and former president of the Morris Animal Foundation,(MAF), having been with them for 40 years. MAF is the world's largest nonprofit foundation 501(c)(3) dedicated to funding research studies to protect, treat and cure animals, including companion animals (dogs, cats, horses, and llamas/alpacas), as well as wildlife (mountain gorillas, elephants, rhinoceros, wolves, and many varieties of birds, reptiles, amphibians, and fish). The MAF is currently doing research on a cure for cancer.



Traveling Solo Through the Americas
Marianne Du Toit, Crying With Cockroaches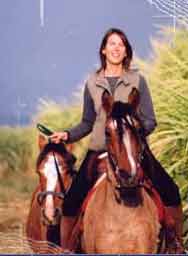 Marianne Du Toit was born in South Africa but traveled to Ireland 17 years ago in pursuit of a famous dolphin named Fungi. Of course she didn't think she would still be there 17 years later! But even after meeting Fungi, she was not finished traveling. Marianne was determined to follow her dream - adamant that with only two horses for company, she should do something out of the ordinary and explore the Americas, traveling from Argentina to New York City over 21 months, even though she had no horse experience. Of course her friends and family thought she was a little crazy but that didn't stop Marianne.
She titled her trip TATA: Travels Across The America. Marianne's expedition took place from May 2002 through March 2004, and has chronicled the event in her book "Crying With Cockroaches."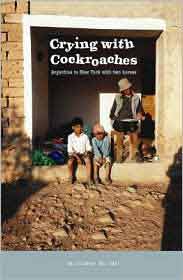 When asked if she were a little frightened traveling to strange countries alone, especially to places where a woman traveling alone was frowned upon, Marianne stated that while she had to learn to trust people they also had to learn to trust her. Marianne had many scary moments, but the one moment that stuck out in her mind was when one of her horses contracted an illness and had to be euthanized.
Marianne is currently a director of Pegasus, a therapeutic riding centre in Sligo. Marianne campaigns for animal rights by supporting the DSPCA and other welfare organizations.



Pups Arrives at the Animal Radio® Studio


Pups The Traveling Labrador has arrived at the Animal Radio Studios. Pups is a world traveler, and even though he recently arrived from Texas, he has been all over including Japan, London and Ireland.
Pups toured the Central Coast of California with the hosts of Animal Radio®, Hal and Judy. He visited the beaches and also did some wine tasting. Pups really enjoyed his first wine-tasting experience at the Tobin James Winery and was a bit hit! But don't worry, he didn't drink too much and he had a designated driver. We even managed to get him in the studio, but he was a little shy behind the mic.
Pups started his journey about 4 years ago, after Paula Kidney, Pups owner, came up with the idea when she purchased Pups at a small boutique. "Pups was just so adorable and I have never seen a Labrador this cute." So she decided that Pups should travel the world and let people see adventures through Pups eyes!

Pups started out his journey to New York, Ireland, Florida, Disney World, Jamaica, Carnival Cruises, Cozumel, Antigua, Barbados, Canada, Australia, Germany, Wisconsin, Iowa, Dominica, Ohio, Japan, Switzerland, Kansas, Atlantic City, Seattle, Harvard Law School, North Carolina, Texas, Pennsylvania, Boston, Colorado, Too many places to list them all!!
Each person that takes Pups usually has him about a week. That person takes Pups around their State or City to famous places and Pups poses for pictures and tells his little story of his adventure through his website. Pups has a manuscript right now and is in the process of his own book called "Pups the Traveling Labrador". Pups has grown so much that he has a whole schedule of places to visit and will be booked for the next months with all of his travels. Everywhere people take Pups, people want to know what is going on and they really get into taking pups and posing in the pictures!!
http://www.pupsthetravelinglabrador.org




Vladae, The "World Famous" Russian Dog Wizard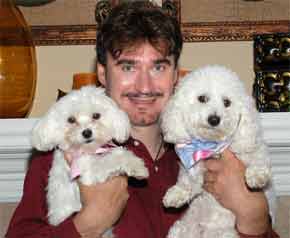 2 And 1/2 Year Old Dog Can't Be Housetrained
This dog needs to be fed in the area where the dog went to the bathroom in the house, because he won't go to the bathroom in an area where he eats. Make sure you clean the area with an enzyme-based product first to get rid of not only the stains but the smell as well. Also make sure you do control exercises with your dog in this same area to teach him this is not his potty area.
Two Schnauzers Bark at People Entering House
Vladae says you can always top your dog from barking by using different devices like barking collars, but you can never make that dog less lonely and you will never address the cause of the problem this way. Vladae feels these dogs are bored and are not physically and mentally stimulated. He also feels there is lack of discipline and the dogs' major needs are not being met. This guy first needs to do some physical exercise with his dogs. He needs to take them outside and toss their toys and make them run back and forth, back and forth. Don't let them just run and chase each other and go crazy jumping and barking. This way, he will be involved in their activities and in charge. Do this about 10-15 minutes without them stopping. He then needs to put them on leashes and teach them how to walk without pulling on the lead. This needs to be done one dog at a time. This should be done in the backyard, the front yard and in the house. They also need to learn to sit and stay, because one minute of this takes as much energy as a dog running for one mile. The dog should be tired after this, and a tired dog is a good dog. If the dogs still bark after all of this, get a soda can and put some pennies in it. Whenever the dogs bark, toss the can sideways (not at the dog ­ you don't want to scare them ­ you just want to startle them) and make a loud growling sound yourself. When the dogs stop barking, praise them and give them a treat. All of this addresses the cause and deals with the symptoms.
My Dogs Takes Toys Away From My Child


What to do: 1. First establish that you are the alpha using three rules: (1) never give any command that you cannot enforce (2) always enforce the commands (3) never repeat yourself. 2. Do special obedience training (sit, stay, down) as well as behavioral obedience training where you establish human authority. 3. Put the dog in the sit/stay or down/stay position while your child plays with his toys and make the dog tolerate the child. 4. Then use the chew or toy discriminative method. Put about ten toys in a room. Five kids toys and five dog toys. Make sure that the five doggie toys are scented in a way that is positive. You can use a little bit of peanut butter or cream cheese. On the five kids toys put some jalapeño pepper or bitter apple (make sure you clean the child's toys thoroughly before your child plays with them!). When all toys have been scented, let the dog go in the room and decide which toys are good and which toys are bad.
http://www.animalradio.com/vladae.html



Vinnie Penn, Animal Radio's Resident Party Animal

What Is Your Next Pet?
I have been discussing what the next pet is for the Penn household, and I'm thinking a bird. I had a bird when I was a kid, Harry; we named him after the mailman, the good old days of Americana, of life in the suburbs, when you named your pets after the mailman or the milkman. Now, he is just someone you suspect is sleeping with your wife. But again, this isn't about me!
So, I'm thinking the bird thing. It's a wonderful pet and a lot of fun. You can lug the cage around, and we have a beautiful deck in the house and we bring the cage out when we are all sitting by the pool.
One problem that I've had with a lot of my friends who have had birds over the years, when did it become par for the course that if you have a bird; you teach it to tell bad jokes or to cuss? For the life of me, I just can't understand this. This is not the point of having a pet. It's like these people who have dogs now that they teach to attack. This isn't the point. We don't have pets to teach them to be belligerent or aggressive. If we have pets, we teach them to love and to give love to and to get love from, that age-old unconditional love.
Several years back, I visited a friend of a friend, and he's like, "Hey, this is my bird Tequila." I mean that alone, you named him Tequila? And the bird is like "*******." Everybody was just cracking up in the kitchen. These are the guys who clearly sat around in the dorm room and marveled at the pet snakes someone had munching on a rat or a mouse. We don't get birds to teach them to cuss or to tell jokes. I don't know, maybe I'm wrong?

Cats on the Counter
On a previous installment I tackled the cat people and I'm going to do it again!
I was at a friend's house the other night, who just moved in with a new girl. We were sitting at the kitchen table having a couple of beers and having a good time. All of a sudden, her cat just hops up on the table. It's allowed to just walk across this table. I've heard of this before, I've heard of certain cat owners who were like "the cat can do whatever it wants" like just walk across the kitchen counter and step right over your sandwich. I know she would have French kissed the cat if the cat came up to her and was so inclined to slip that sandpaper tongue into her owner's mouth. But, I am just sitting at the table and wondering if she wipes it down afterwards? If you guys throw a bag of chips here, is this cat going to be allowed to walk right by me and rub right against the bag and have as much food as it wants?
The worst part is, is that this girl's got a kid. The kid came walking into the room and she said, "Don't come in here tracking your mud off of the sneakers!" Let me get this right, this animal that has just been pleasuring himself and doing who knows what else around the house, down in the basement or whatever, can just walk across the area where you eat your breakfast, lunch and dinner, but your son can't walk into the kitchen with his shoes on?
What is going on with cat owners? Imagine if the dog jumped up on the table like that and walked across it? There would be absolute pandemonium, but this yet another cat owner who has decided that the cat runs the house and she's a diva. I thought we as a society were really kind of anti-diva'd. I thought we didn't like divas, but when it comes to cats, we admire it and we admire their brazen attitudes.
I won't be back to that house for a bite to eat, and if I do, I'm going to be the guest over there wearing latex gloves when Monday night football starts up. I don't know ­ maybe I'm wrong?



Animal Radio® News with Bobbie Hill


Dog Tracks Orco Poo
A black lab trained in specialized tracking has helped scientists find out what may be killing the southern orca pod in Puget Sound. Tucker, who was trained to track the scent of orca scat, led a team of University of Washington researchers for the past three summers following the orca pods between the San Juan Islands and Vancouver Island. What Tucker helped the researchers find was that hormone levels in the samples from orca's in Puget Sounds J, K and L pods showed the mammals weren't getting enough to eat. The data from this study hasn't been published or reviewed but researchers believe the preliminary findings may point to the reason for the orcas' decline. This year's population of the whale pods studied has been the lowest in nearly a decade.
Hunting Dog Shoots Man
Hunting season got a little more dangerous for an Oregon man who was accidentally shot in his tush by his hunting dog. Matthew Marcum was just getting ready to set out in his boat with his three year old Labrador Retriever, Drake when the "incident" occurred. According to Marcum, Drake jumped into the boat, landed on the gun's trigger and shot him in the butt. Marcum was hospitalized for the wound but says he's not mad at Drake who he said was "a good dog."
Firefighters Rescue Pony in Pool
Fire crews responded to a rescue call in Thaxted, Essex after a pony tumbled into a swimming pool. The animal's owner called firefighters after the pony fell through the cover and into the pool. The crew was able to lift the pony out of the water and get him on his feet and walking.
Bear Spray Used in Attacks
New requirements for buying bear spray in the Canadian province of Manitoba go into effect January first. The animal repellent spray has been used by criminals in several attacks - Winnipeg police responded to over 700 bear spray incidents in the past two years. The province said the new regulations will require stores to be licensed to sell any animal repellent spray and keep records of who buys the product. Those records will be sent to the Canadian government annually. Canada's minister of agriculture said, "We believe that it will be more difficult to get pepper spray into the hands of those who want to misuse it."
University Brings Awareness of Animal Issues
The University of Tennessee is one of 131 schools to form a student chapter of the Animal Legal Defense Fund. Students at the UT College of Law have joined with the ALDF to raise awareness of animal issues. The 30 student members will volunteer to do legal research compiling laws related to animals in Tennessee. Those laws address issues involving wildlife, animals used in research and entertainment as well as companion animals. The UT chapter president said, " Most members are animal lovers who are interested in keeping some form of animal welfare in the law."

Cat With 26 Toes Looking for New Home
Coco the cat has 26 toes - that's a fact from the staff at Stroud Cats Protection in England. The polydactyl cat is looking for a new home according to Susie Jones at the charity. The middle aged black cat has four normal claws and one dew claw as well as three claws in the pads on her front feet and five claws at the back.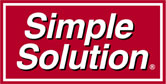 NEWS UPDATE Brought To You By Simple Solution Natural Line Of Products


Fido Friendly Travel Talk
Susan Sims, Fido Friendly Magazine


Susan speaks to Christine Caplan from Ruff Wear, who discusses a few of the "must haves" for the holiday travel season. Some of the new products recently unveiled by Ruff Wear are their eco sensitive product line. Existing products were redesigned to incorporate sustainable materials, which are perfect for traveling. This includes their collapsible bowl line, which consists of four different bowls, with everything from a trail runner bowl to a bowl with a cinch top. Visit www.ruffwear.com to check out their products for dogs on the go!
Fido Friendly Magazine
The Travel Magazine For You & Your Dog, a complete guide to Fido-friendly accommodations across the United States and Canada. "Fido Friendly is the only magazine dedicated to the travel lifestyle of man's best friend, and the one magazine your dog will thank you for." And don't forget to join the Fido Friendly Travel Club.



Talk With Your Animals with Joy Turner


Bruce found a dog tied to a post and took him home when animal control said to leave him there. He now rides around with Bruce in his semi-truck. The dog is very grateful that he was not left tied up, and he doesn't understand why his people left him. He also has a broken heart. Joy explains to the dog that it is nothing that he did wrong; it was just terrible humans that did this to him. Bruce will now make him his forever dog.
http://www.talkwithyouranimals.com
http://www.joyturner.com



Animal Minute With Britt Savage


Alligator Deserves Award
A crime involving a Grey Goose and an alligator recently went down in Louisiana. Dixie Inn officers were called to the Thirsty's Liquor store after employees observed 23-year-old Terry Jones steal a bottle of Grey Goose Vodka. When the police came, Jones, who saw sitting in his car, removed his pants, ran across the street and jumped into a swamp. A short time later, Jones leapt out of the swamp being chased by a large alligator. He quickly surrendered to the police. The town district attorney was quoted as saying that the crime stopping alligator deserves some kind of award or citation, but it would be hard to find him.

Panda Attacks "Cuddling" Student


A panda at a zoo in southern China attacked a student who snuck into his pen hoping for a cuddle. The 20-year-old male student named Liu couldn't resist the irresistibility cute pandas. Unfortunately the pandas were not in the mood for a hug. One panda named Yang Yang was more in the mood to attack. So he did, until a worker at the zoo was able to calm him down and rescue the stunned student. Liu, who was bitten on the arms and legs, was rushed to the hospital, where he was quoted as saying, "Yang Yang was so cute, I just wanted to cuddle him!



Your Vet Questions Answered with Dr. Debbie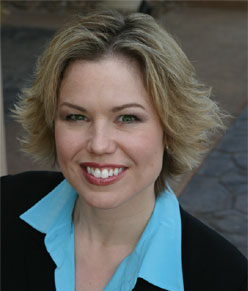 Cats Won't Stay Off Furniture
If you don't want your cats on your furniture, you can actually train them to stay off, but it's not easy. For cats that jump up on furniture where you don't want them, try something humane, but effective. Try scat mats, and if they don't work, you can try double-sided sticky tape. There are also motion detection items that will emit compressed air when your cat gets near them.
Yorkie Has Low White Blood Count
This 5 year-old Yorkie weighs around 5 pounds and her white blood count has been steadily going down, with no symptoms associated with this. Dr. Debbie first asks if the dog is taking any medication, as some medications can actually cause the blood cell count to drop. She suggests some specialized tests to determine if the blood cells are being used somewhere in the body, or to find out if the body is just not producing enough white blood cells.
Dog Eats His Poop


This is a 5-month-old truck-driving dog who eats his own poop. His guardian has tried the pills called "Deter" without any luck. While unfortunately a lot of dogs do this, it is primarily seen in puppies, which can hopefully be trained out of them. All potty times need to be supervised. Take the puppy outside and when they poop praise them and immediately pick it up.
Cat Poops Outside Litter Box


This 11-year-old cat urinates in the litter box but poops throughout the house. While there are 3 cats in the household, there are 6 litter boxes - plenty of litter pans for each cat. Dr. Debbie suggests that he might have some pain going on when he poops and recommends trying a glucosime supplement and see if there is an improvement. If he uses a particular place in the house, try moving a litter box to that area. If this doesn't work, get him in for a checkup.

Dogs Only Eat People Found ­ Should They Be Switched To Dog Food?
These dogs have always refused to eat dog food and eat whatever their guardian eats, from chicken to steaks. In the morning, they even like ham steak and eggs with a little butter on their toast! Even though these dogs "refuse to eat dog food" their guardian has the ultimate control over their diet. What may be good for their guardian may not be good for the dogs. You also have to worry about their nutritional needs being met for their health and longevity. Dr. Debbie suggests trying different types of dog food to see what they will eat and recommends canned food in a stew like form, which has a consistency more like human food. She also suggests trying to add dog food slowly to their current diet to get them used to it. The guardian says he will try after one last meal of Pork tenderloin all around!



Who's Your Daddy?


If you are a regular listener to Animal Radio®, then you know about our studio Chihuahua, Ladybug. But as Ladybug gets bigger, we are not sure she is a full-blooded Chihuahua. She has some physical traits that are not Chihuahua-like, but what is she?
To find out, we decided to get in touch with Robin Ray at Canine Heritage Breed Test. She mentioned that there are over 1,100 breeds of dogs, and they test the most popular 112 breeds of the United States.
We have submitted a cheek swab from Ladybug; so stay tuned over the next several weeks to see what Ladybug truly is. While everyone agrees there is Chihuahua in the mix, other guesses have been everything from Miniature Pinscher to Rat Terrier.
And if you have any doubts about what the make-up of your dog is, give this a try! And, with every test result, you get a framable DNA analysis, which can include a picture of your pet. Call 1-800 DNA Dog or visit http://www.canineheritage.com.

Listen to the entire Podcast of this show (#471)

Broadcast on XM Satellite Radio and Podcast Versions Only.

Listen to Animal Radio® - Go to the launch page
Return to Animal Radio Network™ Home Page
Read December Newsletter
Copyright 2008 All Rights Reserved Animal Radio Network LLC