Decemeber 17th 2005
Animal Radio Show #316
Originating from Kanab, Utah

Last Top 10 Countdown of the Season! For the Cat and Dog who has Everything Already!! Go there Now!!
also on this weeks show:
Home 4 the Holidays
Mike Arms, President - Helen Woodward Animal Center
http://www.Home4theHolidays.org


A world record of 313,123 orphaned dogs and cats, puppies and kittens were adopted worldwide during the San Diego-based "Home 4 the Holidays 2004" pet adoption drive. The 8-week campaign, which ended on January 2, passed its goal of 300,000 adoptions. 163,286 dogs, 143,445 cats and 6,392 other pets were adopted during Home 4 the Holidays 2004.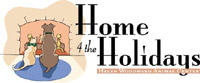 During this 6th drive, 1,800 animal shelters and pet rescue groups "joined paws" with H4TH partners Helen Woodward Animal Center and The Iams Company to find homes for orphaned pets. Their goal is to find permanent homes for 350,000 animals in 2005-2006. Help out by adopting a homeless pet today!

Talk With Your Animals
Animal Communicator Joy Turner


Joy talks to a retired 8-year-old greyhound racer who feels she has wasted her life. It turns out she wanted to be a mother, and with her subsequent spaying, it will never happen. Joy helps her understand why her guardian chose her and why she was ultimately spayed.
http://www.TalkWithYourAnimals.com
Dog Flu Virus is Spreading
Dr. Jim Humphries, Veterinary News Network


Avian flu is in the news, but dogs also have a new flu virus and it is spreading. If your dog is coughing and sneezing you don't want to shrug it off as "just" kennel cough. Canine Influenza was first seen a little over a year ago and is spreading across the country and it has already killed dogs in several states. The chances of your dog getting Canine Influenza are remote, but an ounce of prevention is worth many dollars in vet bills.

It's A Wonderful Life Because of Cats
Annie Bruce, Good Cats Wear Black


I bet you didn't know that cats saved jobs and millions of people's lives? Listen in as Annie tells us how they did this and more. I bet she will tell you things even you didn't know about our wonderful furry little creatures.

Gifts and Safety Tips for Your Pets this Holiday Season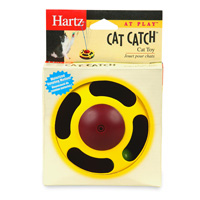 Dr. Jill Richardson, Hartz
According to the recent Hartz Human-Animal Bond Survey, 76% of adult pet owners say that they consider their pet as part of the family. So naturally, they are going to want to include pets on holiday gift-giving traditions this year! Dr. Richardson informs us on how we can celebrate the holidays with our pets in mind, and also gives some great gift recommendations, as well as how to prepare your house for the holidays with your pets in mind.

Japanese Love Chihuahuas
Britt Savage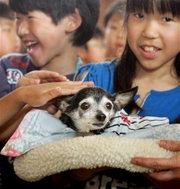 Japanese pet owners are howling over a spate of thefts of Chihuahuas, the country's most popular dog thanks to a series of TV commercials that starred one of the cuddly Mexican canines. The dog-nappings, from condominiums and houses across Tokyo over several months, show the dark side of a pet boom in Japan, where the number of dogs and cats exceeds the number of children. So strong is demand for Chihuahuas that supply can't keep up, allowing unscrupulous individuals a chance to collar part of the market. Because there is no official system to record their origins, the loveable lapdogs are much easier to sell than stolen jewels and, with a price tag of some $2,000 (1,200 pounds), almost as enticing.

Keeping Animals Warm in Winter
Darlene Arden


Do you know that dogs need more food in winter? Do you also know that the salt put on road to de-ice them is poisonous to your pet and that you should always clean the salt off of your animals feet after a walk? Hear these and other great information on how to keep your pet safe and healthy this winter from Darlene.

Time to Discard Descartes
Rae Ann Kumelos, Voice of the Animal


The 17th century philosopher of Rene Descartes toward the animal world has had horrific long-range effects on the way society has treated animals. From factory farms to product testing, animals are still treated as machines based upon this philosophy of bad science and incorrect assumptions. But, things are changing ­ learn how the language of rats, monkeys and whales is shaping the philosophy of the future.

Dog Fines
Puppy love is costing Pamela McMahan 50 bucks a day. She's charged 25 dollars each time she takes her mixed-breed cocker spaniel, Ginger, though the lobby of her L-A area condo. Building association rules require owners to carry their dogs through the lobby. But the 61-year-old McMahan says she's partially disabled from a back injury and can't lift the 20-pound pooch. So far her doggie tab is about 16-hundred dollars. The condo association has denied her appeal. Now, McMahan says she'll file a discrimination complaint with state housing officials.

Talking With Animals and Nature
Marta Williams, Beyond Words
Have you ever connected intuitively with other species? Have you ever experienced an unexplained dislike or foreboding feeling about someone or something, thought about someone and got a visit, card or phone call from them? That's intuition in action! In Beyond Words, not only are there inspiring stories, but also a short instructional guide to help you learn this form of communication.

Man Sues Dog
If the defendant loses this lawsuit, he might have to fork over some dog biscuits. An Athens, Ohio police dog is one of the parties named in a suit filed by a convicted drug dealer. Wayne Green claims his furniture business was illegally searched by the dog and others in 2003. The Athens County sheriff's department dog, Andi, helped searchers find 50 pounds of marijuana. Green was convicted of possession and trafficking, and faces sentencing next month. Sheriff Vern Castle says he doesn't know what Green is thinking by suing the dog. But the prosecutor who served Andi with the complaint made sure to get his paw print, just to be on the safe side.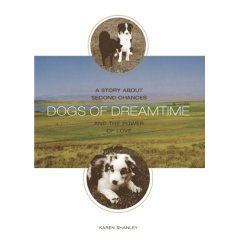 Second Chances and the Power of Love
Karen Shanley, DOGS OF DREAMTIME
Have you ever loved a "difficult" dog? How intense a bond can man and dog truly forge? What's a person to do when her world is whole only with a beloved dog ­ but her family is not as keen on the idea? Karen Shanley faced these obstacles, along with having to make a choice between life and death when her beloved dog was diagnosed with Lyme disease too late. Shanley's dogs take her on an incredible journey, and you will have to read the book yourself to find out how her story ends.

Last Top 10 Countdown of the Season!
For the Cat and Dog who has Everything Already!!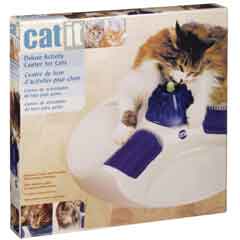 10. LIVING WORLD CAT SPA by Hagen ($19.99) http://www.Hagen.com
Deluxe Activity Center for Cats
-Perfect for self grooming
- Play area for rubbing pleasure, to stimulate face and back glands, gum stimulation
- Area for catnip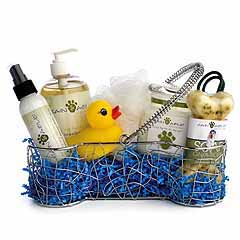 9. BONE SHAPED SPA BASKET - Cain and Able Collection ($50.00) http://www.CainandAbleCollection.com
Bone-Shaped Spa Basket, which includes the Every Dog has his Day Spa® Shampoo, Between Baths Spritz, Soap-on-a-Rope, and Lavender Blend Candle, along with a bathing sponge and rubber duck. The basket is shrink-wrapped and makes a great gift for doggie friends or friends with doggies.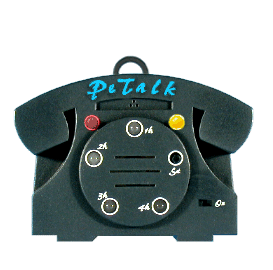 8. PETALK ­ PET VOICE MAIL ($24.99) http://www.VoicePals-llc.com
PeTalk is the portable machine that lets you record up to a 10 second message for your pet, then allows you set the frequency of playback, as often as once per hour. Hearing your voice while you're away will comfort your pet when they're left home alone, when they're in a kennel, or at the vet's recovering from surgery.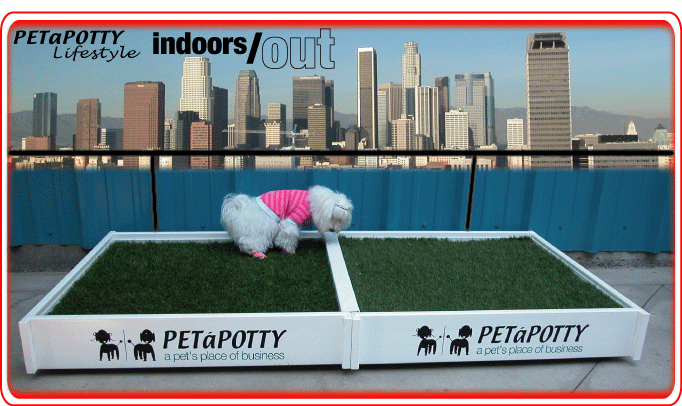 7. PET-A-POTTY by Pet-A-Potty ($279) http://www.PetAPotty.com
The PETaPOTTY is useful for housebreaking your puppy, providing your dog its own place to go potty, and providing a potty area for other pets that like grass, and allows your pet to have the ability to relieve himself whenever necessary without being punished. Did you know that many dogs do not only have to potty two or three times a day, but actually need to go several times a day?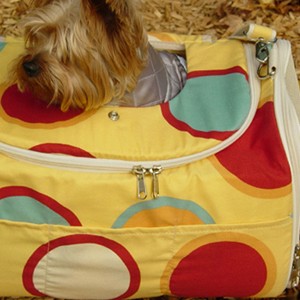 6. K-9 TRANSPORTER by Risotto ($250) http://www.SmithermanAndBarnwell.com
The Risotto Collection ­ where being the dog is far more important than being a dog
Top of the line small pet carrier.
Answer to this weeks trivia question worth the K-9 Transporter "What is the latest trend in Doggie Couture Fashion?" THE TRUFFLE COAT COLLECTION- Congratulations to Carmen Lerma from Port Hueneme CA. - She was caller 25 with the right answer.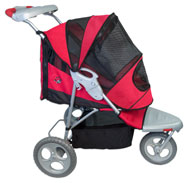 5. HAPPY TRAILS PET STROLLER by Pet Gear Inc. ($250)
All Terrain 3-Wheel Stroller http://www.PetGearInc.com
Parent Tray
Large Storage Basket
Front and Rear Entry
Rear Wheel Shock Absorbers
Mesh windows keep out Bugs
Waterproof Tray
Wind and Rain Cover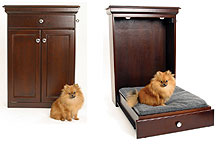 4. PET MURPHY BED by Midnight Pass ($199.95) http://www.Midnight-Pass.com
The innovative Pet Murphy Bed compliments your home and provides a comfy fold down bed alternative to traditional pet beds. Easily blends in with existing furniture. Stylish and compact with a contemporary raised panel front. A smart space saving solution for recreational vehicle owners, where space is limited and space for your pet is a must.
3. KONGTIME by Dogopolis ($140) ­ Doggie Day Care in a Box
http://www.Dogopolis.com http://www.Kongtime.com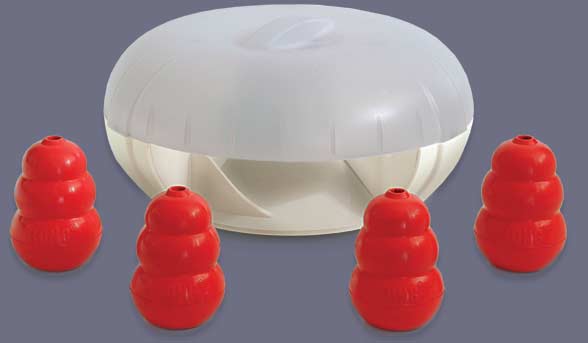 KongTime automatically dispenses food-filled Kong toys while you are away. KongTime entertains your dog and gives your dog something to look forward to. We call it Doggie Day Care in a Box; don't be surprised if your dog starts handing you your briefcase in the morning.

2. DIAMOND TAGS by The Pets Jeweler ($700)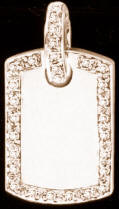 http://www.ThePetsJeweler.com
You can't ever have enough diamonds or bling ­ well, neither can your pet! They are made in 14K heavy weight white or yellow gold and the diamonds are hand set. They all have room on the front for engraving that special pet's name or initials.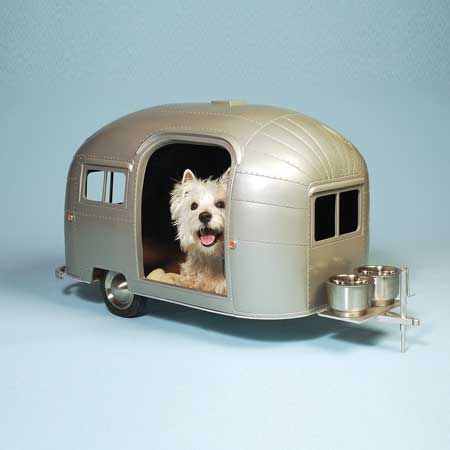 1. PET CAMPER by Straight Line Designs, Inc. ($5,475)
http://www.StraightlineDesigns.com
A complete fiberglass structure with an aluminum hitch and wheels shaped like a vintage trailer camper for a retro feel. This new pet camper design will be home for many owners' small pets (up to 25lbs),
Get on this list next year
---

View Animal Radio Broadcast Schedule in a new window.


Listen to Animal Radio - Go to the launch page


Get one of the limited edition Animal Radio® T-Shirts for 9.95


Return to Animal Radio Network® Home Page
Sponsor

Copyrighted Animal Radio Network LLC 2005