Animal Radio® Show #524 December 19, 2009

indicates XM Satellite Radio and Podcast versions only.
You Can Train Your Cat
Gregory Popovich, Comedy Pet Theater

Since the beginning of time, cats have convinced the world that they are untrainable so they can do whatever they want…but those days are over! Gregory Popovich is a professional cat trainer, who's worked with cats for over 20 years and has trained them to perform amazing circus-style tricks for television and stage.
Gregory created The World Famous Popovich Comedy Pet Theater showcasing the extraordinary talents of his performing pets. After every show, someone comes up to him and asks him the same question, how did you train your cats?
So, he decided to put his answers down in a book, :You Can Train Your Cat: Secrets of a Master Cat Trainer.: In his book, you will find tips on how to train your cats to do circus-style tricks, as well as:
* Stop bad litter box habits
* End early-morning howling
* Banish your cat from tabletops and countertops
* Prevent begging before mealtime
* Put an end to destructive clawing
* Make peace between rival cats
One of his secrets is that you can't "train" a cat to do anything it doesn't want to do. As a result, he tries to build on the animal's natural habits and what they like to do. For example, if he has a cat that likes to walk around his legs, he has the cat do that in his show. Or perhaps he has a cat that likes to sit on his shoulders. He will then use that cat to do this is in his show. Each cat in his show only has one or two tricks. But, because he has about 18 cats in his show, he has about 18 different cat tricks.
While it saddens Popovich to think about any animal as being unwanted, he said it's important to support organizations that focus on preventing pet overpopulation and work to find every animal a good home. That is why all of his animals are adopted from shelters.
"My pets all got a second chance," Popovich said. "Other animals should have that, too."
You can see Gregory Popovich and the Comedy Pet Theater at the Miracle Mile Mall at Planet Hollywood Casino Resort in Las Vegas, Thursdays through Mondays.
Light Up Your Dog
Jackie Simoni, PupLight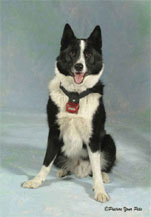 Jackie Simoni lived in an unincorporated area many years ago with no streetlights. This made it difficult when she walked her dog. She had to carry the leash, poop bag, animal repellant and a flashlight. While she needed all of these items, she thought as a joke that her dog could carry the light. After a while, she thought it wasn't so funny and that her dog could actually carry a light if she could find one flat and lightweight.
Jackie couldn't find anything like it so decided to make her own. She created the PupLight, which comes with an elastic collar or you can put it on your dog's existing collar or harness. It shines both forward and sideways, making it easy for cars to see you from behind. It also uses an LED light, which is the brightest light there is.
No more worrying about those late night walks with your dog in the dark. The PupLight makes your dog, and you, more visible to traffic. When a dog is wearing PupLight, the pet is much safer on or off a leash. It can also scare off wild animals such as coyotes, and assists older dogs, as well as dogs with failing vision.
Protect Your Pets Against H1N1
Patrick Hurst, Sterifide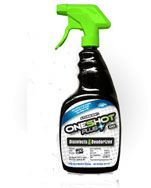 The H1N1 is constantly in the news these days. And, unfortunately our pets are also at risk. Currently there have been two cat deaths while ferrets have also been affected.
It has been proven that you can pass the H1N1 to your cat, but they cannot pass it on to other humans. Therefore, it is important for you to wash your hands frequently and don't give your pet hugs if you are infected. This is hard, because when you are sick you want your pet around to comfort you. However, you need to keep your snout away from theirs!
You can also keep your home clean by using Sterifide's OneShot Plus. This is a disinfectant, which also deodorizes, and is EPA approved as being effective against Influenza A Virus and therefore should be effective against the H1N1. You can use Sterifide's OneShot Plus DD on any hard non-porous surface that may come into contact with bacteria, fungus and viruses. It is also safe to use around your kids and your pets.
Combine Sterifide's OneShot Plus DD with Sterifide's OneShot Plus MP Cleaner and Degreaser to attain the perfect clean giving your surfaces a 24-hour protection.

Walt Disney Animation Studios presents the musical "The Princess and The Frog,", an animated comedy set in the great city of New Orleans. From the creators of "The Little Mermaid" and "Aladdin" comes a modern twist on a classic tale, featuring a beautiful girl named Tiana, a frog prince who desperately wants to be human again, and a fateful kiss that leads them both on a hilarious adventure through the mystical bayous of Louisiana. The Princess and the Frog will be released nationwide on December 11, 2009.
Disney is teaming up with Animal Radio and will be giving away a prize package each week for four weeks which includes the Zippity™ Learning System and Disney The Princess and the Frog Learning Game, Get ready for a full-body musical bayou adventure with this Zippity™ learning game featuring Tiana, Naveen and other friends from The Princess and the Frog! Zippity is the high-energy learning system that gets children dancing, jumping, playing and learning with the Disney characters they love! PLUS 2 movie t-shirts, frog slippers and mini posters! Each prize package is valued at over $150!
Tune in to Animal Radio® for a chance at this great Disney package!
Animal Radio® News with Bobbie Hill


H1N1 Swine Flu Symptoms Found In Dogs
China's Ministry of Agriculture has called for intensified monitoring and investigation of H1N1 flu in animals after 2 out of 52 samples from sick dogs tested positive for the virus. Countries including the U.S., Canada and Chile have already reported cases of animals testing positive for the virus. Recently, an Iowa state cat was diagnosed with H1N1. H1N1 flu symptoms include: Lethargy, Diarrhea, URI issues like congestion, coughing or sneezing and Loss of appetite. Should your pet develop these symptoms, get to your vet immediately, especially if your pet already has a compromised immune system due to another illness.
Critics Blast New PETA Ad
A new PETA advertisement featuring model Joanna Krupa wearing nothing but a crucifix is "totally inappropriate" and exploitative of Christian symbols, critics say. Model Joanna Krupa wears nothing but a crucifix and a seductive smile. Krupa, a Playboy cover girl and a "Dancing With the Stars" regular, is seen topless and bottomless in the latest spot by the People for the Ethical Treatment of Animals, which urges people to adopt pets from rescue shelters instead of buying them from puppy mills. PETA has a history of using "shock" ads featuring nude celebrities to promote animal rights.
Rescued Puppies Get Airlifted
More than 50 dogs rescued from puppy mills in Missouri were airlifted out of Midway airport en route to Long Island where they are supposed to find loving owners. The dogs were taken by bus to Chicago, where they were given a rest break and special Thanksgiving meals. Pet Airways flew the dogs from Chicago to New York's LaGuardia Airport. They were then taken to the North Shore Animal League America in Port Washington, N.Y., where they are available for adoption. Pet Airways dubbed the flight "Operation Thanksgiving Day Flight to Freedom,"

Premium Edge Cat Food Products Recalled
Pet owners have been advised about potential adverse health effects related to two varieties of Premium Edge cat food and several dog chew-toy products manufactured by the Pet Carousel Company. The food being recalled is Premium Edge Finicky Adult Cat and Premium Edge Hairball cat foods due to insufficient levels of thiamine, which can lead to gastrointestinal and neurological problems in cats. Also being recalled are Pet Carousel's pigs' ears, which are also called Doggie Delight, and Pet Carousel's beef hood products also called Choo Hooves, Dentley's or Doggie Delight.
Kroger Offers Pet Insurance
Kroger is offering some financial relief to pet owners during these tough economic times. Their Personal Finance Team is launching a new pet insurance policy for animals in need of cancer treatment, surgery or those suffering from any other emergency illness. Launched last month, the new insurance product covers emergencies and illnesses for dogs and cats. Customers can purchase a basic package for $9.95 a month or full coverage for $29.95 a month for dogs and $24.95 a month for cats. Holders then submit a claim for reimbursement up to 90 percent of the bill. You can find more at any Kroger stores' checkout counter.
Take Caution When Decking The Halls
Many Americans may be caught kissing their furry, four-legged sweethearts under the mistletoe this holiday season. New research from BISSELL Homecare, Inc. shows that nearly six out of 10 pet owners say that their animal companions are more likely than a significant other to give them a kiss as soon as they walk in the door. Furthermore, BISSELL found that nearly 74 million Americans give their pets holiday gifts and nearly 35 million formalize their "puppy love" by including their pet's photo or signing their pet's name on their holiday card.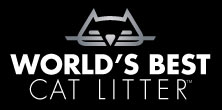 NEWS UPDATE Brought To You By World's Best Cat Litter™
Listen to the entire Podcast of this show (#524)
---