Christmas Eve 2005
LOOKING BACK OVER 2005
Sounds of Ground Zero - Hurricane Katrina
Soledad O'Brian, CNN
We go back and listen to actual footage as Soledad reports on the round-up of animals in the Gulf Coast.

The Bear Search and Rescue Foundation Deploys Team to Louisiana by Request of the Governor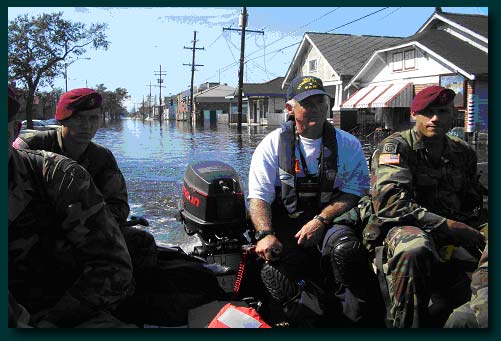 Captain Scott Shields, from the Bear Search and Rescue Foundation, was originally asked by the Governor of Louisiana to help out with the search and rescue in the Gulf. He returned to the Gulf Coast several times with veterinarians to help rescue some of the displaced animals. Hear his incredible story about how his dog "Bear" the most decorated dog in history lives on in his son, Theodore, who was a hero in his own right in Louisiana.
Because the foundation has no federal or state funding and is supported by donations, Shields said its work for Katrina victims has left it totally without funds. "We're wiped out," he said. "We use our money for grants to SAR organizations and for training all over the country. But people just don't realize that most search and rescue teams answer the call out of their own pockets. They do the job because it's the work they love. Without donations from the public, our foundation's work in helping SAR teams won't be able to go on."

Aflatoxin In Diamond Foods
Dr. Jim Humphries, Veterinary News Network


Recently there has been an outbreak of Aflatoxin cases in dogs and cats. The source appears to be multiple lots and multiple varieties of Diamond foods. For specific lot numbers go to www.diamondpet.com.

Veterinarians should watch closely for liver failure cases. Confirmation is assumed if the liver values (ALT, AST, TBil, etc.) are elevated and the lot number of the food matches those batches affected. If the food/lot number is different than those listed, the animal will need to be tested at the state lab (803-788-2260) for confirmation if it dies.

Treatment is symptomatic, but the prognosis is poor for recovery. Please contact all local feed stores, pet stores, veterinary colleagues and humane organizations that may be selling or using these products. Not everyone has e-mail and we are trying desperately to get the word out.

Here is a list of Diamond Products recommended for temporary removal from sale:
Diamond Puppy Food
Diamond Original Dog Food
Diamond Low Fat Dog Food
Diamond Hi-Energy Dog Food
Diamond Maintenance Dog Food
Diamond Premium Adult Dog Food
Diamond Performance Dog Food
Diamond Maintenance Cat Food
Diamond Professional Cat Food
Professional Reduced Fat Chicken & Rice Dog Food
Professional Chicken & Rice Adult Dog Food
Professional Puppy Food
Professional Large-Breed Puppy Food
Professional Reduced Fat Cat Food
Professional Adult Cat Food
Country Value Puppy
Country Value Adult Dog
Country Value High Energy Dog
Country Value Adult Cat Food
Keep track of all costs incurred. Document well! The food company may be liable in this situation.

For further information, please contact Dr. Caver or CULPH at (803-788-2260). We will send post more information on our web-site as it becomes available (www.scav.org).

Linda A. Muegel, MS, DVM
SCAV Emergency Preparedness Coordinator
Cigarette Companies Find New, Untapped Market - Your Pets!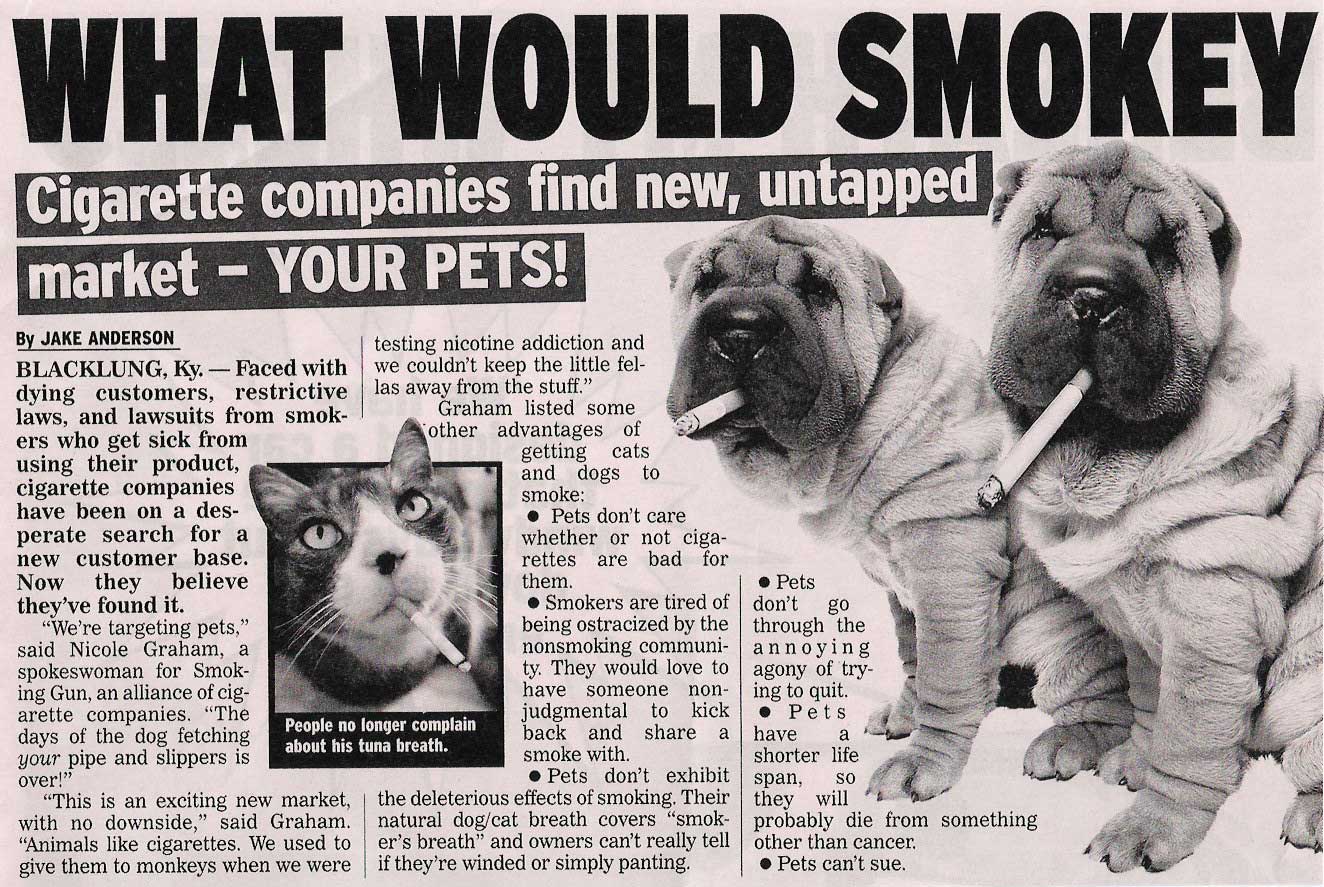 Dog Says "I Love You"
Animal Radio receives many e-mails about talented pets, which may or may not be true. Hear the recent clip of the Boston Terrier that says "I Love You" and decide for yourself. If you have a talented pet, let us know.
Treat Company Faces Lawsuit After Dog's Death


Greenies are a popular chew treat that many pet lovers give their dogs. The toys are now angering some pet owners after some dogs got sick after chewing on the toys.
Last summer, Eric McMaster, of Minneapolis, gave his black lab, Ellie Mae, a Greenie, because it is supposed to be good for her teeth.
"She loved it, but that night, she was up all night vomiting and the next night, she couldn't hold anything down," said McMaster.
McMaster said Ellie Mae was sick for five days, but once the Greenie passed through her system, she recovered.
Greenies are an all-natural treat made from plants. The company which makes the treats, S & M NuTec, has been under fire recently after several pet owners have complained that Greenies caused blockages in their dogs' stomachs.
Burt, a miniature dachshund from New York City, died after chewing on a Greenie last year.
The company did not return calls made by WCCO-TV. The company is facing a lawsuit, filed by Burt's owners.
In a letter to McMaster, the company said, "While we are uncertain if this incident is due to product fault, we have empathy with your experience and we value your goodwill."
Dr. Kim Whittmer said a better option for pet lovers is to brush their pet's teeth. Veterinarians recommend a special pet toothpaste, which can be found at pet stores.
Man Needs Rescuing After Trying To Save Cat Stuck In Tree


There was a very strange twist to the old cat stuck in a tree story. This time, the rescuer needed to be rescued.
Chris McNally wanted to help a cat stuck up in a tall tree in downtown Orlando. Neighbors used a ladder and a tarp, but for 27 hours the cat would not budge.
So, McNally decided to climb the 50-foot tree. Just when the cat was almost within reach, the rescue attempt came to a sudden, scary stop.
"Somebody heard a crack. I had been breaking branches the whole way up, so it didn't surprise me. There was no way you're climbing down. It was pretty precarious," McNally said.
McNally's friends called the fire department. Firefighters arrived and rescued McNally and the cat.
Donkey for the Divine
Rae Ann Kumelos, Voice of the Animal


Did the baby Jesus awaken to the sound of a donkey braying on Christmas morning? More than any other animals, the donkey is associated with the physical presence of Christ. Discover how the donkey's divine status is celebrated in cultures around the world.
Harriet Turns 175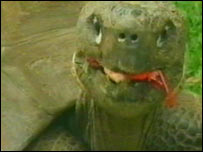 One of the world's oldest living animals, Harriet the tortoise, reached the grand old age of 175. Harriet has spent the past 17 years at Australia Zoo near Brisbane, but her keepers say the Giant Galapagos Land Tortoise had a famous previous owner.
They reckon scientist Charles Darwin, who came up with the theory of evolution, collected her in 1835. Harriet is recognized by the Guinness Book of Records as the oldest living chelonian, or reptile with a shell.
Harriet celebrated her big day with a portion of a pink hibiscus flower cake. One of her keepers, Richard Jackson, said the old girl was still a sprightly as ever: "She gets around fine. She's showing no real signs of slowing down." Crocodile hunter Steve Irwin, who owns the zoo, said: "She would definitely be the oldest living animal on Earth. I can't see why she shouldn't live till 200."
Talk With Your Animals with Joy Turner
Joy talks with a lame horse. The horse knows she will be sent to a new home, and states that if her owner would just keep her, she would get better. Speak to Joy on Animal Radio by calling 1-866-405-8405.
Bob Barker - The Price is Right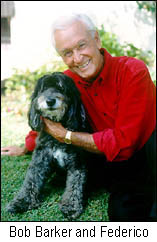 Bob Barker is an outspoken member of the animal rights movement, and is known for ending each episode of The Price is Right by saying: "Help control the pet population, have your pet spayed or neutered." CBS now goes out of its way to offer prizes that do not violate Barker's animal rights views. Barker has also established the DJ&T Foundation, the purpose of which is to help control the dog and cat population. He is funding the foundation through his own resources to support low-cost or free spay/neuter clinics

Dog Frozen to Railroad Tracks Is Rescued
Jeremy Majorowicz thought something was wrong when he saw a dog sitting on railroad tracks for at least two hours. But he didn't realize how wrong until he and several other men determined that the gray and white husky had been literally frozen to the ties in below zero weather. The construction worker first saw the dog on the tracks before his crew called off work for the day Monday because of the cold, and headed to a restaurant. But the dog was still there when they returned 1 1/2 hours later.
"I like animals, and I didn't want to see it get hurt," Majorowicz said.
He approached the dog, and offered it a bit of a muffin, but the animal wouldn't bite.
"I have two dogs myself, so I didn't want to leave the dog if there was something wrong," Majorowicz said, so he called the police.
Police Officer Tim Strand said the dog was "shivering unmercifully" when he arrived and would not come to him, so he called animal control officer Al Heyde. Heyde hooked the dog around the neck with a catch pole in an attempt to capture the dog, but it would not budge. Strand then determined the dog was frozen to the railroad ties.
"I lifted his tail and hind quarters, and saw he was literally frozen to the tracks," Strand said. "He was pretty hunkered down." Strand pulled hard on the dog's tail, and was able to release him, but he said the move pulled a lot of hair from the dog.
"He gave a heck of a whelp," the officer said. A train was scheduled to pass across the tracks about 10 minutes after the rescue was completed.
"If the dog would have seen that train I'm afraid it would have been the end of the pupster," Strand said. The dog was transported to the Chippewa County Humane Association, where it was wrapped in blankets and cuddled until it got warm.
Katrina Staging Area for Animals
Dr. Eve Ognibene, North Shore Animal League


We spoke with Dr. Eve Ognibene, of the North Shore Animal League America, several times over the course of several months regarding the rescue of more than 200 pets from shelters wrecked in Hurricane Katrina, and the placing of more than 150 of them in homes. Estimates indicate that more than 10,000 pets were rendered homeless in the worst natural disaster in the nation's history-a number that increases daily. The League worked 24/7 to help with this unprecedented animal crisis with its dedicated and experienced team of emergency response staff and volunteers on location throughout the Gulf coast region.
Doris Day
Spay Day USA 2006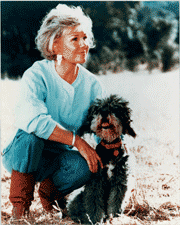 Doris Day has made over 39 films, and her movies are still among the most-popular on television and home video. Doris is one of the world's most-loved and most-honored women, and in 2004, she received the Presidential Medal of Freedom from President George W. Bush. Doris currently heads up two non-profit organizations, the Doris Day Animal Foundation (DDAF) based in Washington D.C., whose purpose is to get bills passed; and the Doris Day Animal League (DDAL), which is a hands-on organization, and created the annual "Spay Day USA," which has altered over one million animals since it's inception in 1995. Her foundation helped rescue over 100 animals affected by Hurricane Katrina, and bring them to California.
A Holiday Story from Mike Arms
Mike Arms, President - Helen Woodward Animal Center


A world record of 313,123 orphaned dogs and cats, puppies and kittens were adopted worldwide during the San Diego-based "Home 4 the Holidays 2004" pet adoption drive. The 8-week campaign, which ended on January 2, passed its goal of 300,000 adoptions.
163,286 dogs, 143,445 cats and 6,392 other pets were adopted during Home 4 the Holidays 2004.
During this 6th drive, 1,800 animal shelters and pet rescue groups "joined paws" with H4TH partners Helen Woodward Animal Center and The Iams Company to find homes for orphaned pets. Their goal is to find permanent homes for 350,000 animals in 2005-2006. Help out by adopting a homeless pet today!
Back in the early days, Mike wanted to quit working with animals and take another job. But, the "Big Guy Above" had different plans for him. Hear his amazing story of how his life was turned around to help the animals.

View Animal Radio Broadcast Schedule in a new window.


Listen to Animal Radio - Go to the launch page


Get one of the limited edition Animal Radio® T-Shirts for 9.95


Return to Animal Radio Network® Home Page
Sponsor

Copyrighted Animal Radio Network LLC 2005