Animal Radio® Show #525 December 26, 2009

indicates XM Satellite Radio and Podcast versions only.
Breakthrough Veterinary Products for 2009
Dr. Marty Becker, "America's Veterinarian"

For more than ten years, Dr. Becker has been the popular veterinary contributor to ABC-TV's "Good Morning America." More recently, he has started appearing on the new "Good Morning America Weekend." He has also taped special features called the GMA Pet Clinic, which are one minute vignettes on topics such as giving medications, stopping bleeding and taking a pet's temperature. Which is why we went to him to find the breakthrough veterinary products for 2009.
Dr. Marty Becker is always looking for new, breakthrough products to help pets live happier, healthier, fuller lives, or those that make it easier for the pet owners who take care of them.
This year he polled 122 people and together, they've come up with a list of new, truly breakthrough products in veterinary medicine and those from the pet industry. There are tens of millions of pets who will benefit from their use.
Here is what he found:
Starving cancer - starving cancer cells to death rather than poisoning them
Tyrosine Kinase Inhibitors (Pfizer and AB Sciences) – This comes from our friend, famed, veterinary oncologist Dr. Greg Ogilvie. These are amazing new classes of cancer therapies. Rather than poisoning cancer cells, these high tech products shut down the blood vessels that feed the cancer.
Light up my life - "beam me up on a Scotty" can reduce pain and speed healing
Class IV laser therapy is the use of an intense, narrowly focused beam of light, directed at tissues to reduce pain and inflammation and accelerate healing. Laser therapy is the result of electromagnetic energy interacting both chemically and biologically with tissue, causing "photostimulation" or "photobiomodulation." They're also used extensively for wounds, fractures, abscesses, anal sacculitis, acute ear inflammation, sprains, strains, bladder infections, injection site soreness, skin inflammation and even venomous bites.
Mother Nature's building blocks - using the body's own cells to rebuild
Stem cell therapy offers hope for pets that experience painful osteoarthritis or poor healing of bone, tendon and ligament injuries, by using the pet's own stem cells to promote healing.

Giving Pets Medication – one shot lasts two weeks!
There's nothing worse than having a sick pet where the owner needs to give their pet oral meds daily, leaves clinic with an expectancy that they'll comply, but don't. In practice we call this "Life happens…doses don't." Busy lifestyles, time constraints, and even forgetfulness can keep pet owners from giving pets medication at the appropriate intervals and the prescribed period of time. In a survey, 47% of dogs owners wish there was an alternative to pilling…and now there is! A new long-acting SQ antibiotic called Convenia solves this problem. An injectable cephalosporin for dogs and cats with a uniquely long duration of action (one shot delivers meds for two weeks!). The product is safe (more than 5 million doses have been given globally), powerful, and frees clients from the stress of trying to give meds to pets that don't want to take them.
Battling Bad Bugs – sleeping with the enemy?
Methicillin-Resistant Staphylococcus Aureus (MRSA) is becoming a big problem in both pets and people. People and pets can ping-pong this contagion back and forth with the humans getting a lot more than giving. A study reported in the New York Times showed that 50% of households sampled at random had MRSA. Of those households, when they looked for common factors (thinking it would be gym memberships, children in daycare, people working in the healthcare industry or having recently had an infection) --- all of these came back negative. What they did find was IF you were a cat owner, you were 8 times more likely to have MRSA! Our goal is always: GET RID OF THE RISK, KEEP THE PET. So what can you do to reduce your risk of getting MRSA from a pet: don't wash pet dishes in the same sink you use to prepare food; don't let pets lick you on the face; wash your hands before (important to protect the pet) and after playing with pets; don't come in contact with their feces (wear gloves when changing litter); cover open wounds; if pet has wounds that are oozing, red, swollen or don't seem to heal, take them to a vet immediately! Bathe and/or spray pets with solutions like TrizChlor 4, which is a unique, patented anti-microbial shampoo and leave-on spray formulation that uses synergistic chemicals, tris-edta and chlorhexidine (commonly used liquid antimicrobials used for cleaning and flushing wounds, surgical scrubs, cold sterilization of instruments, throat lozenges, dental washes, etc.). Research indicates that combining the two substances amplifies the effects of both. TrizChlor 4 (covered by one patent with another pending) is the first shampoo and leave-on spray ever utilizing tris-edta (much less mixing it with chlorhexidine).
New treatment for AIDS – new treatment for deadly feline viral diseases
Feline immunodeficiency (FIV) and feline leukemia viruses (FeLV) are the most common life-threatening infectious diseases affecting cats. FeLV can cause cancer and various blood disorders and suppress a cat's immune system, leading to life-threatening infections. FIV, like the human HIV virus, suppresses the immune system and lowers an infected cat's ability to fight off infections. The USDA approved the first and only drug for the treatment of FeLV and FIV, ProLabs' Lymphocyte T-Cell Immunomodulator (LTCI), which can extend and improve the quality of life of cats with these deadly viral diseases. LTCI works by stimulating the body's own immune system, and appears to help the body fight off the virus itself. The drug is administered as a subcutaneous injection by a veterinarian once a week for a month. Injection frequency then decreases, depending on the individual cat's response.
#1 way to stop dogs from eating #2 – Nobody likes it when a dog treats its own (or another dogs) doo like a crap-atizer.
If your dog brings an all new meaning to the word "Doggy Breath" there is help in the form of Copraban – PRN, a convenient, easy to use roast beef flavored soft chew used to deter coprophagia (stool eating) behavior in dogs and cats. Coproban may also be fed to cats to discourage dogs from raiding the litter box.
Dr. Marty Becker, "America's Veterinarian," is the popular veterinary contributor to ABC-TV's "Good Morning America" and the resident veterinarian on "The Dr. Oz Show." He is a frequent guest on national network and cable television, and radio shows. He has also been interviewed for countless magazine and newspaper articles, and has served as a consultant to or veterinary spokesman for top animal health companies. Along with his writing partner, Gina Spadafori, he is a regular contributor to Parade magazine and the Co-creator of popular web site PetConnection.com You can also join Dr. Becker on Facebook as well as on Twitter.
Breed Ban Legislation
Cesar Millan, The Dog Whisperer
Vladae, The Russian Dog Wizard

Cesar Millan, The Dog Whisperer, states it is unfair to judge an animal. He feels it is not the breed, but the human behind the dog. It is so easy to say, "let's damn this dog" which only creates fear and ignorance among society. One of Cesar's personal dogs is a pit bull, which he takes everywhere for that reason.
Cesar believes any dog can become aggressive. In his program, Dog Whisperer, Cesar shows the power of the breed and what we are supposed to do with that power. We are supposed to channel the power into something positive. You can't just chain a dog or keep him in the backyard because of the breed and expect him to have a balanced life. He needs exercise, to be challenged psychologically and of course he needs affection after that. But, expectations are high and fulfillment is low, and then we blame the dog, which is unfair.
Vladae, The world Famous Russian dog Wizard, feels that perhaps Cesar is being a little too politically correct. Vladae states that we do know that not all puppies are created equally and breeding controls their behavior. Vladae also doesn't agree with the new movement that states that it is always a bad dog owner and not a bad dog. He states that some dogs came into this world very intelligent, some not so intelligent and some in between. While he sometimes sees aggression in the labs and golden retrievers, he believes the most aggressive dog is the Dachshund. Currently the Dachshund is biting people more than any other breed in the world. He also feels that the ban should be dropped and all aggression should be taken on case-by-case. Vladae also suggests that all breeders should be licensed and all their stock should be listed online so people can judge the type of puppies they are supplying.
What Do Cats Do All Day?
Jill Villarreal, Nestle Purina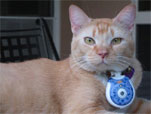 In a survey of cat owners, Friskies found that 71% of cat owners think their cats sleep when they aren't home. But, guess again! Friskies conducted a first-of-its-kind focus group, where they gave 50 cats a small camera to attach to their collars and to answer the age-old question, "What does my cat do when I'm not home?" Animal behaviorist, Jill Villarreal from Nestle Purina, helped with this study.
The cats wore tiny digital cat-cams that were automatically set to take pictures of the cats' explorations every 15 minutes when the owners were away. The resulting photographs uncovered where cats go, what they do, and specifically, what they experience when their owners aren't home.
The most photographed activity was actually of cats looking out windows and interacting with other house pets. They were also caught looking at computer monitors and television sets. The most surprising pictures were those taken around water, like the kitchen sink, the bathroom sink and the bathtub.
There's more to life than a catnap for our feline friends. The results of this first-of-its-kind Friskies focus group are highlighted in the Scratchington Post, an online report showcasing the daily lives of America's cats. The report includes findings from the Cat Sense survey of cat owners; photos from the cat "repurrters' with analysis from Dr. Villarreal; background on each repurrter; and tips on how to help cats live life to the fullest by providing them with rich sensory experiences.
Friskies.com/scratchingtonpost

Walt Disney Animation Studios presents the musical "The Princess and The Frog,", an animated comedy set in the great city of New Orleans. From the creators of "The Little Mermaid" and "Aladdin" comes a modern twist on a classic tale, featuring a beautiful girl named Tiana, a frog prince who desperately wants to be human again, and a fateful kiss that leads them both on a hilarious adventure through the mystical bayous of Louisiana. The Princess and the Frog will be released nationwide on December 11, 2009.
Disney is teaming up with Animal Radio and will be giving away a prize package each week for four weeks which includes the Zippity™ Learning System and Disney The Princess and the Frog Learning Game, Get ready for a full-body musical bayou adventure with this Zippity™ learning game featuring Tiana, Naveen and other friends from The Princess and the Frog! Zippity is the high-energy learning system that gets children dancing, jumping, playing and learning with the Disney characters they love! PLUS 2 movie t-shirts, frog slippers and mini posters! Each prize package is valued at over $150!
Tune in to Animal Radio® for a chance at this great Disney package!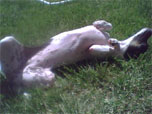 Out-Takes for 2009
We share our mistakes (I know – it's hard to believe we make mistakes!) in a special 'out-take' segment. Sit back, listen and enjoy!
Animal Radio® News with Bobbie Hill


If Every Dog Has Its Day, The Chihuahua's, It Seems, May Be Over
California Animal shelters are seeing a glut of Chihuahuas as the once-fashionable little canines are replacing pit bulls as the breed most often left at shelters. In fact, a third of the dogs held at San Francisco's city shelter are all or part Chihuahua, with new ones coming in every day. If the trend continues, the shelter would become 50% Chihuahua within months. They are calling it the Paris Hilton syndrome and Animal lovers are blaming Hollywood with movies such as Legally Blonde and Beverly Hills Chihuahua as well as the Taco Bell commercials.
Foreclosure Leaves More Than 100 Animals Abandoned
With foreclosures still on the rise, many people are forced out of their homes leaving their pets behind. Shelters are overflowing with abandoned pets, but some don't even make it to shelters and are found starving in a house now belonging to the bank. In one case, homeowner Dan MacKenzi was evicted leaving behind well over 100 animals, including pigs, turkeys and hoses. The local SPCA demanded that the bank that foreclosed on the farm be charged with animal neglect. Currently, the animals will be checked on every 24 hours by the SPCA and are now looking for new homes.
Which Pets Have Gotten Swine Flu And How Can You Tell If Your Pet Has It?
While the H1N1 virus may be decreasing in humans, it will likely turn up in more pets. Currently two cats have died from the flu with five ferrets testing positive, and one passing away. To date, no dogs or birds have tested positive for the flu in the U.S., although two dogs in China have tested positive. Symptoms in pets may include lethargy, decreased appetite, fever, runny nose and eyes, sneezing, coughing and changes in breathing patterns. You are cautioned to wash your hands, cover your mouth when you sneeze and limit contact with your pets if you are ill. Also make sure your pet's vaccinations are up to date.

Pet Frogs Are The Source Of A Multi-State Salmonella Outbreak
They may be cute, but pet frogs can harbor salmonella. The teensy amphibians are being blamed for a multi-state salmonella outbreak sickening at least 48 people. The Centers for Disease Control is investigating the outbreak, which involves water frogs like the African dwarf frog. Most are younger than 10 years old and developed fever, diarrhea or abdominal cramps within 12 to 72 hours after infection. The illness lasts four to seven days and no deaths have been reported. The CDC recommends thorough hand washing after handling amphibians and that reptiles shouldn't be kept in homes with kids under 5 or with other at-risk individuals. It wouldn't be the first time aquarium pets have made people sick. In a recent outbreak that involved turtles, at least 107 people fell ill
Miami Cat Lost In The Air
A Miami woman claims her cat vanished into thin air on a Aerolineas Argentinas flight from Miami to Buenos Aires, Argentina and no one knows where it is - including the airline. Deborah Pentivolpi said she checked her cat, Bi Bi, in as baggage on Nov. 30 because the airline didn't allow animals on board. That was the last time she saw her. Airline officials claim the frisky feline somehow escaped from the cage near the luggage ramp. Deborah has been searching the local animal shelters to see if her missing pet was found. The airline did refund Pentivolpi the $140 fee they charged to stow Bi Bi.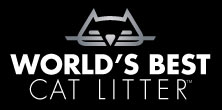 NEWS UPDATE Brought To You By World's Best Cat Litter™
Listen to the entire Podcast of this show (#525)
---