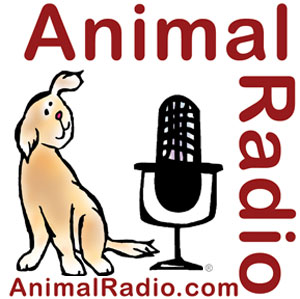 Animal Radio® Show #630 December 31, 2011
Outtakes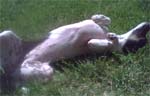 We share our mistakes (I know – it's hard to believe we make mistakes!) in a special 'out-take' segment. Sit back and enjoy!
Mutt's Creator Explains Muse
Patrick McDonnell, Guardians of Being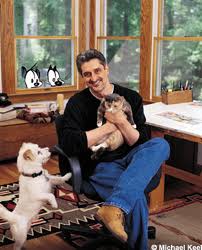 Patrick McDonnell was always a big fan of Eckhart Tolle's book, Power of Now. Patrick felt a connection with Tolle's work, because he talks about the power of nature and in particular, your own companion animals and how they can help you get into the present moment and to stop and smell the roses!
As Patrick went through some of Tolle's books, he started underlining lines that Tolle wrote which had to do with animals, dogs and cats in particular. Patrick felt that it would be fun to team up some of his own drawings with Tolle's words.
Here are but a few gems from Guardians of Being (although the meaning is magnified by McDonnell's adorable comic strips):
* "When you pet a dog or listen to a cat purring, thinking may subside for a moment and a space of stillness arises within you, a doorway into Being."
* "I have lived with many Zen masters, all of them cats."
* "You just watch the tail...with some dogs you just look at them--just a little look is enough--and their tail goes... `Life is good! Life is good!' And they are not telling themselves a story of why life is good. It's a direct realization."
* "Give yourself completely to the act of listening. Beyond the sounds there is something greater: a sacredness that cannot be understood through thought."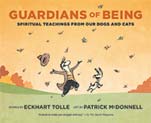 * "The one life, the one consciousness, takes on the form of a man or woman, a blade of grass, a dog, a planet, a sun, a galaxy... This is the play of forms, the dance of life."
Perfect for animal lovers, Guardians of Being reminds us that all is one, God resides in stillness, peace is our core, and that we're all connected by the same precious life force.
Patrick McDonnell, the creator of MUTTS, has more than 20 books in print. He lives in New Jersey with his muse. Patrick's original muse for his comic strip was his Jack Russell Terrier, Earl, who passed away a few years ago at the age of 19.
http://www.newworldlibrary.com
Watchdog Report
Vinnie Penn, The Party Animal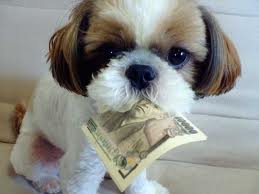 The Watchdog Report (AnimalPeopleNews.org) is a list of people who made the most money in the animal welfare industry in a given year. What's interesting about this is that the goal of the Watchdog Report is to take a look at the major non-profit organizations and kind of filter out if the money is going to the right place or not.
And of course, PETA would play a big role in such listing and in the case of PETA; they actually have a parallel organization, a foundation to support animal protection, that reportedly is spending 100% of its so called program budget on fund raising functions for PETA.
The point of this really is to make sure that these people who are claiming to take money and put it in all of the right places and airing commercials where owners are weeping over their one-eyed dog, that if the average lay person donates "x amount" of dollars, that that money does go there.
Basically what you uncover in the Watchdog Report is that if you give just $20, that $20 that you are spending might be hard earned for you, and you might think you are doing the right thing, but that just turns around and goes into more mailers. It just goes into generating more pleas for more money, which is their way of saying that the more you give the better at least some of it will go to the right place.
There's nothing more disconcerting than showing up at a fundraising event to benefit the animals, as I've done in the past. One time I went to host a specific event raising money for an animal shelter and a gentleman pulls up in a Jaguar. Now its appalling enough that he shows up in a vehicle named after an animal, but as the night went on, with his blackberry hanging in his ear and all of the important telephone calls that he is making in his Gucci suit, I say to him, "You must have one hell of a day job!" And he says, "Well, this is my day job, working for the animal shelter." Now there is just no way that working in an animal shelter in the valley, an animal shelter that I've seen and could use a good paint job, could generate enough capital for this gentleman to be living this large. So, we need the Watchdog Reports to just kind of look and make sure the money is going into the right place.
So, I stand by the fact that me giving him a kidney shot was not deserving of me spending a night in jail!
The Dogfather's Grooming Tip with Joey Villani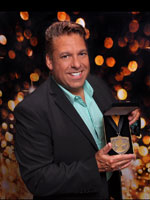 Think About Grooming When Selecting A Dog
The dog you might want to take home might look beautiful with his long, beautiful coat, but remember, you will have to take care of it.
Most people don't think about the amount of time and money that is involved in keeping these dogs looking good. They don't factor in the grooming charges when deciding how much a pet is going to cost on a monthly basis. Most dogs with long coats need to be groomed every 4 to 6 weeks.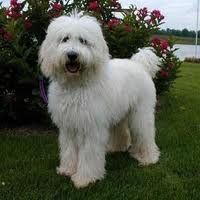 For example, a Labradoodle is a big dog who has a thick coat. Just the amount of drying time involved with drying these dogs can be lengthy and expensive. To dry a Labradoodle, that has a coat that is fairly thick and about one inch long, can take up to an hour to dry with a blow dryer and a brush. Most grooming salons charge around $50 an hour.
But you have options with the longhaired dogs. If it doesn't matter to you that they look like their standard breed, you can cut their hair down short.
There have been horror stories of people surrendering their dogs to the pound because they couldn't keep up with the grooming costs. Some people have even let the dog's coat grow wild, becoming full of tangles and knots, which eventually can harm the pets skin and will need to be cut out, or the dog shaved entirely.
So remember that coat when selecting a dog!

DOGFATHER'S GROOMING TIP Brought To You By SeniorPetProducts.com. Use the code "SAVE25" to receive 25% off.
Animal Radio® News with Stacey Cohen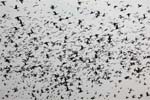 Wal-Mart Is Scene of Mass Suicide
Thousands of migratory birds were killed or injured after apparently mistaking a Wal-Mart parking lot, football fields and other snow-covered areas of southern Utah for bodies of water and plummeting to the ground in what one state wildlife expert called the worst mass bird crash she'd ever seen. Crews went to work cleaning up the dead birds and rescuing the injured survivors after the creatures crash-landed in the St. George area. Volunteers had helped rescue more than 3,000 birds, releasing them into a nearby pond. There's no count on how many died, although officials estimate it's upwards of 1,500.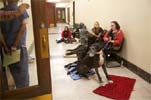 Dogs Subpoenaed For Court
The talk of the Multnomah County courthouse has been four dogs (three Great Danes and a pit bull) who were subpoenaed to appear at a trial. After hours of patiently waiting with their handlers, they appeared briefly before a jury. They were well mannered, although one slobbered. Two Portland residents are accused of neglecting the dogs. Their lawyer summoned the four to demonstrate they are in good shape. The Oregonian reports general admiration around the courthouse for the dogs' behavior, no barking, and no accidents on the marble floors. Although the judge said he'd once heard a story about a dog being summoned decades ago in a robbery case, most courthouse workers said they'd never heard of subpoenas going out for dogs.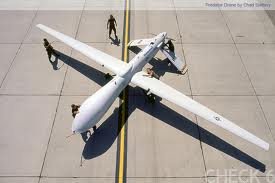 Multi-Million Dollar Drone Used For Cattle Rustling
North Dakota police used a Predator Drone to spy on a compound where a family was holding 6 stolen cows. When a local farmer wanted his cows back, his neighbor, the Brossarts family, refused and one actually attacked the police. That's when local law enforcement asked for the Predator, the same multi-million dollar drone used by the United States military, which is probably the first time it's been used on a U.S. citizen. Susan and husband Rodney are the head of the family, who live with seven of their eight adult children in a compound which includes a house, trailer and two RVs. Sons Thomas and Jacob were also arrested in the bust after a 16-hour stand off, which stemmed from the half dozen stolen cows. Local authorities say the Brossarts are known for being armed, anti-government separatists whose sprawling farm is used as a compound. When the cattle wandered onto the Brossarts' land, Sheriff Kelly Janke, who patrols a county of just 3,000 people, rounded up some sheriff's deputies and arrested Brossart for failing to report the stray livestock. When cops returned to collect the lost cattle, three of Brossart's sons (Alex, Jacob and Thomas) confronted Sheriff Janke with rifles and shotguns and would not allow officers on the farm. That's when the sheriff summoned a $154 million MQ-9 Predator B drone from nearby Grand Forks Air Force Base, where it was patrolling the US-Canada border for the U.S. Department of Homeland Security. Using a handheld device that picked up the video camera footage from the spy plane, Sheriff Janke was able to watch the movements of everyone on the farm. During a 16-hour standoff, the sheriff and his deputies waited until they could see the remaining Brossarts put down their weapons. Then, dressed in SWAT gear, they stormed the compound and arrested the three Brossart sons. No shots were fired. Police also recovered the cattle, valued at $6,000. The family faces several felony charges and has repeatedly not shown up for court after posting $250,000 bail.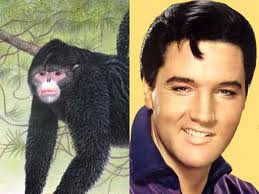 Elvis Monkey Discovered
Naturalists are reporting the discovery of an Elvis monkey in Southeast Asia's Greater Mekong region. The World Wildlife Federation says the black and white snub-nosed primate sports an Elvis-like hairdo and is often found in the mountainous region of Myanmar with its head between its legs to keep rain from running down his nose. The organization says a new species is discovered in the extremely diverse region every two days.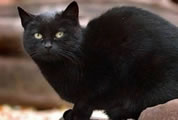 Richest Feline In The World
It appears a house cat in Rome has a number of well-funded lives to look forward to. London's "Guardian" newspaper reports Tommaso, a four-year-old former stray, is likely the richest feline in the world after his owner, Maria Assunta, left him an inheritance of more than 13-million dollars. Italian law says the animal can only be named beneficiary once a trustee has been named, which is where Stefania enters the picture. Maria left Tommaso in the woman's care after she and Stefania met in a park and eventually began arranging play dates for their cats. Stefania, a nurse, also helped take care of the 94-year-old woman, says she never imagined Maria had so much money. She explains that she simply promised that Tommaso would be "loved and cuddled" after she passed away.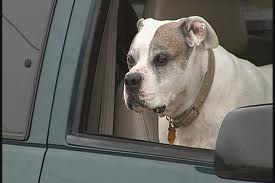 With A Best Friend Like This, Who Needs Enemies?
It's happened again: A hunting dog has shot its master. This time, a man in Florida was hit in the thigh by a round from his Remington .308. The culprit was a bulldog named Eli. Billy E. Brown, 78, was driving to go deer hunting with a friend on a bumpy road in Pasco County near Tampa when Eli "got excited in the truck" and bumped the rifle. The gun discharged and the bullet hit Brown in the right thigh. He was taken to a hospital in Tampa. Brown and the friend were about one-and-a-half miles into the woods when the accident occurred. This incident follows one Dec. 1 in which a hunter in Utah was hit in the buttocks by birdshot after his dog stepped on a shotgun laid across the bow of a boat.



NEWS UPDATE Brought To You By PetzLife.com. Use the code "RADIO" to receive 20% off!

Listen to the entire Podcast of this show (#630)