Filler in Animal Feed Is Open Secret in China
The New York Times April 30, 2007
By DAVID BARBOZA and ALEXEI BARRIONUEVO
ZHANGQIU, China, April 28 - As American food safety regulators head to China to investigate how a chemical made from coal found its way into pet food that killed dogs and cats in the United States, workers in this heavily polluted northern city openly admit that the substance is routinely added to animal feed as a fake protein.
For years, producers of animal feed all over China have secretly supplemented their feed with the substance, called melamine, a cheap additive that looks like protein in tests, even though it does not provide any nutritional benefits, according to melamine scrap traders and agricultural workers here.
"Many companies buy melamine scrap to make animal feed, such as fish feed," said Ji Denghui, general manager of the Fujian Sanming Dinghui Chemical Company, which sells melamine. "I don't know if there's a regulation on it. Probably not. No law or regulation says 'don't do it,' so everyone's doing it. The laws in China are like that, aren't they? If there's no accident, there won't be any regulation."
Melamine is at the center of a recall of 60 million packages of pet food, after the chemical was found in wheat gluten linked this month to the deaths of at least 16 pets in the United States.
No one knows exactly how melamine (which is not believed to be particularly toxic) became so fatal in pet food, but its presence in any form of American food is illegal.
The link to China has set off concerns among critics of the Food and Drug Administration that ingredients in pet food as well as human food, which are increasingly coming from abroad, are not being adequately screened.
"They have fewer people inspecting product at the ports than ever before," says Caroline Smith DeWaal, the director of food safety for the Center for Science in the Public Interest in Washington. "Until China gets programs in place to verify the safety of their products, they need to be inspected by U.S. inspectors. This open-door policy on food ingredients is an open invitation for an attack on the food supply, either intentional or unintentional."
Now, with evidence mounting that the tainted wheat gluten came from China, American regulators have been granted permission to visit the region to conduct inspections of food treatment facilities.
The Food and Drug Administration has already banned imports of wheat gluten from China after it received more than 14,000 reports of pets believed to have been sickened by packaged food. And last week, the agency opened a criminal investigation in the case and searched the offices of at least one pet food supplier.
The Department of Agriculture has also stepped in. On Thursday, the agency ordered more than 6,000 hogs to be quarantined or slaughtered after some of the pet food ingredients laced with melamine were accidentally sent to hog farms in eight states, including California.
Scientists are now trying to determine whether melamine could be harmful to humans.
The pet food case is also putting China's agricultural exports under greater scrutiny because the country has had a terrible food safety record.
In recent years, for instance, China's food safety scandals have involved everything from fake baby milk formulas and soy sauce made from human hair to instances where cuttlefish were soaked in calligraphy ink to improve their color and eels were fed contraceptive pills to make them grow long and slim.
For its part, Chinese officials dispute any suggestion that melamine from the country could have killed pets. But regulators here on Friday banned the use of melamine in vegetable proteins made for export or for use in domestic food supplies.
Yet what is clear from visiting this region of northeast China is that for years melamine has been quietly mixed into Chinese animal feed and then sold to unsuspecting farmers as protein-rich pig, poultry and fish feed.
Many animal feed operators here advertise on the Internet, seeking to purchase melamine scrap. The Xuzhou Anying Biologic Technology Development Company, one of the companies that American regulators named as having shipped melamine-tainted wheat gluten to the United States, had posted such a notice on the Internet last March.
Here at the Shandong Mingshui Great Chemical Group factory, huge boiler vats are turning coal into melamine, which is then used to create plastics and fertilizer.
But the leftover melamine scrap, golf ball-size chunks of white rock, is sometimes being sold to local agricultural entrepreneurs, who say they mix a powdered form of the scrap into animal feed to deceive those who raise animals into thinking they are buying feed that is high in protein.
"It just saves money if you add melamine scrap," said the manager of an animal feed factory here.
Last Friday here in Zhangqiu, a fast-growing industrial city southeast of Beijing, two animal feed producers explained in great detail how they purchase low-grade wheat, corn, soybean or other proteins and then mix in small portions of nitrogen-rich melamine scrap, whose chemical properties help the feed register an inflated protein level.
Melamine is the new scam of choice, they say, because urea - another nitrogen-rich chemical - is illegal for use in pig and poultry feed and can be easily detected in China as well as in the United States.
"People use melamine scrap to boost nitrogen levels for the tests," said the manager of the animal feed factory. "If you add it in small quantities, it won't hurt the animals."
The manager, who works at a small animal feed operation here that consists of a handful of storage and mixing areas, said he has mixed melamine scrap into animal feed for years.
He said he was not currently using melamine. But he then pulled out a plastic bag containing what he said was melamine powder and said he could dye it any color to match the right feed stock.
He said that melamine used in pet food would probably not be harmful. "Pets are not like pigs or chickens," he said casually, explaining that they can afford to eat less protein. "They don't need to grow fast."
The resulting melamine-tainted feed would be weak in protein, he acknowledged, which means the feed is less nutritious.
But, by using the melamine additive, the feed seller makes a heftier profit because melamine scrap is much cheaper than soy, wheat or corn protein.
"It's true you can make a lot more profit by putting melamine in," said another animal feed seller here in Zhangqiu. "Melamine will cost you about $1.20 for each protein count per ton whereas real protein costs you about $6, so you can see the difference."
Feed producers who use melamine here say the tainted feed is often shipped to feed mills in the Yangtze River Delta, near Shanghai, or down to Guangdong Province, near Hong Kong. They also said they knew that some melamine-laced feed had been exported to other parts of Asia, including South Korea, North Korea, Indonesia and Thailand.
Evidence is mounting that Chinese protein exports have been tainted with melamine and that its use in agricultural regions like this one is widespread. But the government has issued no recall of any food or feed product here in China.
Indeed, few people outside the agriculture business know about the use of melamine scrap. The Chinese news media - which is strictly censored - has not reported much about the country's ties to the pet food recall in the United States. And few in agriculture here do not see any harm in using melamine in small doses; they simply see it as cheating a little on protein, not harming animals or pets.
As for the sale of melamine scrap, it is increasingly popular as a fake ingredient in feed, traders and workers here say.
At the Hebei Haixing Insect Net Factory in nearby Hebei Province, which makes animal feed, a manager named Guo Qingyin said: "In the past melamine scrap was free, but the price has been going up in the past few years. Consumption of melamine scrap is probably bigger than that of urea in the animal feed industry now."
And so melamine producers like the ones here in Zhangqiu are busy.
A man named Jing, who works in the sales department at the Shandong Mingshui Great Chemical Group factory here, said on Friday that prices have been rising, but he said that he had no idea how the company's melamine scrap is used.
"We have an auction for melamine scrap every three months," he said. "I haven't heard of it being added to animal feed. It's not for animal feed."
David Barboza reported from Zhangqiu and Alexei Barrionuevo reported from Chicago. Rujun Shen also contributed reporting from Zhangqiu.
Hear this and other breaking news as it happens - Animal Radio® is streaming online 24/7 Listen LIVE Now!

This Week on Animal Radio®:
Actress Betty White on the Morris Animal Foundation's Canine Cancer Campaign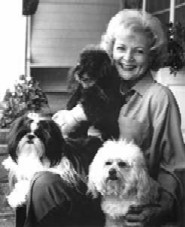 One in four dogs die of cancer. Many more suffer its terrible effects. Together, we can cure this disease in the next ten to twenty years ­ the lifetime of a dog.
On the part of dogs of every size, shape and breed, Morris Animal Foundation sincerely appreciates a donation of any size. But since their goal of raising $30 million over five years is a big one, they're offering the following idea on how you can help truly make it happen. Consider this. What if just 1% of the 44 million dog-owning households in the US contribute $50? That would equal $22 million. What if 2% gave, or if the 1% gave each year for five years? All of these scenarios would be very beneficial in the battle to cure canine cancer.
Around the world, we're asking dog lovers to give in the name of your present pet dog, dogs you've loved in the past or in the name of a puppy yet to be born. Be a proud pet parent helping cure canine cancer.
http://www.MorrisAnimalFoundation.org
http://www.CureCanineCancer.org


First Daughter Patti Davis
Two Cats and the Woman They Own


Patti Davis, the daughter of President Ronald Reagan, grew up with animals surrounding her. She learned early in life by observing her father, that animals were a special part of life.

Patti, a self-avowed dog person, didn't really adopt Aretha, her first cat. Aretha adopted Patti. When her second cat, Skeeter, moved in, Patti came to realize that she was now officially in thrall to two very demanding little felines. Fortunate for her, her brother Ron is sort of a "cat expert" and was "on call" for Pattie's many requests asking for assistance.
In Two Cats and the Woman They Own, Patti recounts how her life was changed for the better by living with and learning from her cat companions. In "The Mouse That Got Away" Patti learns a valuable lesson about hope, and in "The Little Scoundrel" she realizes just how wrong a first impression can be. Davis closes each charming vignette with a "Life Lesson."


Next Week on Animal Radio®:

The Cat That Plays Piano


Betsy Alexander is a composer and visual artist who teaches the piano. She currently resides in Philadelphia with her artist/sound engineer husband, Burnell Yow! and their six cats - Miro, Gabby, Max, Clara, Rennie & Nora.
When Betsy brought Nora into her home, little did she know about Nora's talent. One day, Betsy and her husband heard the clinking of the piano keys. Believing one of their cats was walking across the piano keys, they got quite the surprise when they saw the actual culprit. There was Nora sitting there, in perfect posture, playing the piano. Ever since, Nora has been joining in on Betsy's teaching sessions with her students, playing along. View the video.
http://www.RavensWingStudio.com
---
RECENT Animal Radio® PODCASTS:




Podcast JOANNE CARSON - Johnny's still helping the animals! (1 hour abridged version)
Podcast Recall Conspiracy? Politics and Pet Food. (1 hour abridged version.)
Podcast New Pet Products Special with DICK VAN PATTEN. (1 hour abridged version)
Podcast SNL's VICTORIA JACKSON (1 hour abridged version)

Gardening With Your Dogs in Mind
Rebecca Kolls, Rebecca's Garden, HGTV


Now that summer's here, green thumbs of all ages are whipping their gardens into shape and dogs are spending more and more time outdoors. According to the Nat'l Gardening Association, two out of three American households will partake in some form of the outdoor activity, be it planting flowers, pulling weeds, raking or mowing the lawn. With all of these activities come risks that you may not realize, including injuries from lawn and garden tools and reactions to poisonous plants. Be careful: According to a recent Cornell University study, global warming has created a climate where weedy vines like poison ivy flourish! However, with a little bit of smarts and the right gardening essentials, the garden can be a great place for you and your dog!
Podcast GARDENING WITH YOUR DOGS IN MIND HGTV's Rebecca Kolls (1 hour abridged version.)
Master Gardener Rebecca Kolls hosts the nationally syndicated Home & Garden Television Network (HGTV) series "Rebecca's Garden" and has served as the gardening and lifestyle contributor for ABC's "Good Morning America" since 1999. Her show has spawned several spin-off entities including the new gardening and lifestyle magazine "Seasons" and the book "Rebecca's Garden: Four Seasons to Grow On." http://www.RebeccaKolls.com


Animal Radio® is made possible by: GET SERiOUS!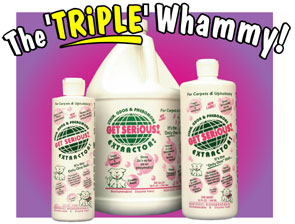 - Extracts stains & odors COMPLETELY -in only 3 minutes! - Extracts the urine & the pheromone -so pets aren't attracted back to re-mark!
- Never leaves any "yellowing" behind (like most enzyme-based cleaners) and even removes old locked-on "yellowing" - left behind by other cleaners!
-1 bottle of GET SERiOUS! cleans as much as 2 bottles of the competition because you only use 1/2 as much as the others! - $AViNGS ! $AViNGS ! $AViNGS !
http://www.GetSeriousProducts.com
Veterinary Minute with Dr. Jim Humphries
Deciphering the Truth About Pet Food Production


Many pet owners are just as concerned about what goes into their pet's food as they are about their own food. With so many brands out there, how can a concerned pet lover know that they are feeding the best? How can we know what is going into our friends' diets?
Strolling along the pet food aisle in a large pet food retail outlet is an amazing event. Playful puppies and adorable kittens almost seem to jump out of the colorful packages, beckoning the pet owner to choose their very special brand of food. Large pallets containing bags of dry food, stacks of orderly cans, and rows of moist pouches often leave a pet owner literally dazed and confused with the overwhelming selection.
In the past half-century, the production and marketing of pet foods has grown into an $11 billion dollar a year industry with more than 3,000 manufacturers producing over 15,000 separate brands of dog and cat food alone. Marketing ideas leap off the products claiming "more protein", "rich, meaty taste", and "real wholesome ingredients". All of these speak to us as ways to provide the very best for our family members. But, in light of pet food recalls and concerns about pet food manufacturing, how can a pet owner really know that they are truly providing the best?
Although feeding dry kibble to dogs is an idea that was born more than 150 years ago, the latter half of the 20th century saw many advances in the pet food production industry. Not only was dry food advancing, but canned diets and the newly created "semi-moist" diets began to find a loyal following among pet owners as well. Food safety and hygiene were becoming more highly developed as the concern for the health and well-being of the pets continued to grow among pet lovers. Here in the United States, the FDA's Center for Veterinary Medicine oversees the safety of pet food ingredients
The process of creating and producing a pet food begins with the selection of appropriate ingredients. Huge train cars and tractor trailers haul in the enormous amounts of grains and meat meals that are used in producing a commercial diet. Many high quality pet food companies use inspectors at the rail yards and shipping terminals to scrutinize the raw ingredients before it ever enters the food plant. Diets such as Hill's Science Diet, Iams, Eukanuba, and others will use human quality meats and grains to insure an optimal balance of the nutrients needed for the pet's good health.
According to the 4th Edition of Small Animal Clinical Nutrition (Hand, et al), one of the most important steps is the compounding and mixing of the ingredients. It is important for the diet to contain an equal distribution of essential nutrients and unequal compounding may lead to a lack of key ingredients in the diet. Harmful microorganisms and potentially destructive hydrolytic enzymes are then destroyed by a thorough cooking process.
Many pet owners are concerned with the safety and adequacy of the foods that they buy their pets. According to Dr. Andrea Fascetti, a nutrition professor at the University of California Davis' School of Veterinary Medicine, pet owners should feel very comfortable with commercial diets. "People should realize that this (pet food recall) is not a common occurrence. Over the history of commercial pet foods, they have been very safe and a very good way to feed animals to ensure that they're meeting their nutritional requirements."
Additionally, all pet food companies are required to meet guidelines that are set forth by the Association of American Feed Control Officials for the nutritional adequacy of their foods. Many companies will go beyond requirements and actually have inspectors from the human food industry come and examine production facilities as a means of insuring the best product for the animal consumers. The Pet Food Institute (www.petfoodinstitute.org) has stated that pet foods are one of the most highly regulated food products. In fact, pet foods require more information on their labels than human foods.
Still, many pet owners are turning to home-cooked meals or organic substitutes for the more common commercial diets. Proponents of home cooked meals feel that a pet's health can be better managed than with commercial diets. Pet owners are urged to speak with their family veterinarian who may then recommend a veterinary nutritionist. Many home-made diets do not meet the nutritional needs of the pet. Says Fascetti, "We are frequently asked by owners or their vets to evaluate something they've found and we frequently find problems, often deficiencies, sometimes excesses. I would say it is difficult if not impossible for pet owners to do this right. It is also very time consuming and expensive."
It is extremely easy to become overwhelmed and discouraged with the sheer numbers of pet foods and the reports of potential concerns with the diets. However, remember that your family veterinarian is a great source for dietary recommendations for your pet. He or she understands your pet's needs, as well as your own concerns much better than any source online. To learn more about how pet foods are produced, visit www.MyVNN.com and watch the pet food video.
If you wish to try a home cooked diet, it is recommended that you visit www.balanceit.com or www.petdiets.com.

Dr. Jim Humphries is the News Director for Veterinary News Network, a veterinarian in Colorado, a regular Animal Radio® correspondent - and can be heard daily. LISTEN TO ANIMAL RADIO NETWORK NOW

Animal Radio® made possible by: FIDO FRIENDLY MAGAZINE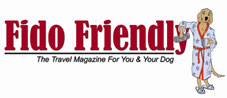 Fido Friendly magazine lists accommodations where you can stay with your dog while traveling in the United States and Canada. Each quarter, our editorial includes hotel, city and state reviews.
http://www.FidoFriendly.com
ASK THE CAT COACH - Marilyn Krieger
I Want to Train My Dog to Use My Cat's Litter Box
Dear Cat Coach,



I've just had a brilliant idea that I would like your feedback on. I have both a small poodle and a Siamese cat. Most of the time, they seem to get along well with each other. My cat, Sammie, faithfully uses her cat box, never has an accident. Wouldn't it be cool to train my poodle to use the same litter box as the cat? It sure would make life easier for me if both the cat and dog used the same box. I spent a little time researching different litter box solutions and have decided to buy an enclosed self-cleaning litter box so that both the cat and dog can use the same box. Since it's self-cleaning, there won't be much work for me to do, except to empty the drawer once a week. Don't you think this is a good plan?
Brilliant Bob
Dear Brilliant,
It is not a good idea to have a communal interspecies poop box. Your poodle might not have a problem with it, but odds are Sammie will not be happy with the arrangement. Instead of decreasing the cleanup tasks, most likely you will increase them, since Sammie will probably prefer eliminating outside of the box.
Cats are fastidious and need to have a very clean, fume-free bathroom that has clear views and easy escape routes. Perhaps the need for a clean cat box is due to cats occupying both the predator and prey niche in the natural world. By being fastidious in their bathroom habits, a predator is less likely to identify a cat's location by the smell of their excrement. Conversely, a cat does not want to scare away any potential prey either. It's a theory.
A cat is vulnerable when using the facilities. It is important for them to see who's approaching the box and it's important for them to not feel trapped. Covered boxes do not allow a cat a good escape route, nor do they allow a cat to see who or what may be approaching the box.
Covered boxes also retain fumes. By definition, a self-cleaning box means the waste receptacle will not be emptied every day. The fumes will build up, resulting in an atmosphere that will not encourage Sammie to continue practicing her good litter box habits. Let's face it most of us human animals prefer nice clean and fresh bathrooms.
Compounding the problem is the fact that sometimes Sammie and the poodle don't see eye-to-eye. To Sammie this translates into the possibility of being trapped inside of the box by the poodle with no way out. Also, it could lead to resource guarding, where either Sammie or the poodle lies down in front of the box, keeping the other from using it.
Instead of sharing a box, why not have a separate box, located in another area of the house for the poodle. There are litter boxes and litter especially formulated for dogs. Darlene Arden, who authors the monthly column "Ask the Dog Expert" for Animal Radio would know more about the special litter box and litters formulated for small dogs. Additionally, she can probably provide hints on how to litter-box train your poodle.
Marilyn Krieger, CCBC is a Certified Cat Behavior Consultant. She can be reached for phone or on-site consultations to help solve cat behavior problems either by e-mail marilyn@thecatcoach.com or by phone: 650 780 9485. Additionally, Marilyn teaches cat behavior classes and is available for speaking engagements. You can find out more about The Cat Coach at http://www.thecatcoach.com Marilyn is certified through The International Association of Animal Behavior Consultants. Copyright May 2007 Marilyn Krieger.

Spring Travel with Pets - Tom James


Record numbers of people will take to the road and sky with their pets this year as more and more hotels, resorts and other accommodations roll out the welcome mat. Recreational activities like camping and hiking will involve four-legged members of family like never before, and more campgrounds and RV parks are beginning to offer dog runs and opportunities for off-leash exercise.

Why such an upturn in pet travel activity? Manufacturers have realized that just as you need special products to make getting around with children easier, your pets are no exception. From car seats and strollers to carriers and seat belts, the things you use for your children's comfort and safety are in hot demand for pets. More accommodations properties have realized, too, that instead of turning away customers with pets and having empty rooms, they can fill more capacity by welcoming the pet traveler.

But before you hit road, trail or sky, there are some things you should know. Make your pet travel experience safe, fun and enjoyable by following these simple, common sense tips:

By Car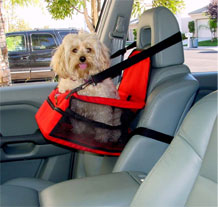 Before you venture out on a long trip, try short jaunts across town and back to get your pet used to the ride. A carsick pet can make the trip miserable for everyone. A seat upholstery protector, such as a pet hammock or waterproof seat cover will make clean-ups easier in case your pet does get sick or has an accident. And be sure to take along a few cleaning supplies to avoid having to search out a place to purchase them at the last minute.
Safely secure your pet while traveling. An unrestrained pet can become a deadly projectile in the event of a sudden stop or crash, causing serious injury (even death) to itself, you or your passengers. For example, an unsecured, 25-pound dog in a 40 mph crash becomes a 1,000-pound mass (half a ton) flying uncontrollably inside the vehicle.
Dogs should be restrained with either a seatbelt or vehicle pet harness. Smaller dogs can be secured in pet car seats, which allow them to also see out, while being properly restrained. Never attach a restraining device to a pet's collar. Always use a harness to prevent injury.
Cats should be contained in a pet crate or cage that is secured with a seat belt. Never allow a cat to roam freely in the vehicle, as it could get tangled around the driver's feet or get in the driver's sight of the road.
Do not allow your pet to ride with its head outside of the window. An obstacle close to the vehicle could potentially strike your pet's head, causing injury or death, or dirt particles could get into your pet's ears, nose, eyes, or throat, causing health problems.
It's a good idea to stop every couple of hours for your pet and you to stretch and walk around. A pet leash is essential to have control of your pet when you go outside. Pets in unfamiliar surroundings may either become scared and run away or curious and go exploring.
Have your own supply of cold water, as fresh water is not always handy or convenient when you need to stop.
Have your pet consume small amounts of food and water, but don't allow to overeat or drink if you still have more traveling to do. Reserve your pet's main meal for the end of the day.
Leaving a pet in a parked car is never a good idea. Temperatures in confined spaces in the spring and summer can heat up fast, causing heatstroke - even death - to a pet.
A pet first-aid kit is an essential item to pack when venturing out and should contain things such as antiseptic cream, assorted bandages, tweezers, eye drops, gauge, tape, and the like. Know what items are in your kit and how to use them.
Your pet's medical records, medications and health certificate should also be packed. Phone numbers for your pet's vet, the National Animal Poison Control Center hotline (888-426-4435), and emergency pet hospitals in the areas where you plan to travel should be taken along.
A travel tag on a pet's collar will help someone locate you should you and your pet become separated. The travel tag should contain information about where you are staying locally (while away from home), including addresses and phone numbers. A cell phone number is also a good idea since most people have one with them, especially when they travel.
Take along a recent photo of your pet. In case you become separated, it will help others better identify the pet they're looking for.
Be considerate and practice good "petiquette" by cleaning up after your pet. Always keep a supply of pick-up bags with you.
Check with your vet before you leave about flea and tick treatments or repellent, heartworm medication and other preventives. Ask your vet about diseases and infestations that may be prevalent in certain locales you plan to travel.
In addition to the tips for traveling with your pet by car, RVers should consider the following:
By RV

Check ahead at the RV park or campground to make sure they permit pets on the premises. Don't assume that "pet-friendly" means all pets are accepted. They may have certain size restrictions or a limit on the number of pets you may bring. Others may offer kennels or other boarding facilities for travelers who may want to set out on excursions or attractions that don't allow pets.
Don't leave your pet locked inside your RV without the air running or proper ventilation. If a generator malfunctions, temperatures can heat up fast in the spring and summer and can cause heat stroke or be fatal to your pet. Make sure your pet has plenty of water and air circulation if you must leave him for short periods of time.
Do not tie your pet to your RV with a metal chain in case of a power surge or improperly grounded facilities.
Be aware of the kind of metal steps on your RV that may be a potential hazard to your pet. Some RV's are equipped with steps that have little holes in them. There has been a report where an unattended dog had gotten its claws stuck in the holes and, in trying to get freed, tore out its nails and bled to death.
By Airplane

The first thing to consider when thinking about traveling with your pet by air is to make sure your pet's physical condition is conducive to flying. An ill, injured, pregnant, very young, or senior pet has a higher risk to travel.

Certain breeds of dogs, such as collies and pugs, have special respiratory considerations because of their long or short snouts, and flying in the cargo area of a plane can lead to breathing difficulties because of poor ventilation. These types of dogs, as well as cats, should fly in the cabin, if allowed.

Bottom line is to know the risk factors when preparing for air travel with your pet, and always be sure to check well in advance of your trip to ensure you have the latest information regarding airline pet policies.

Ask about pet carrier size regulations for underseat storage or in the cargo area, required immunizations and health records, and if they allow pets in the cabin. In extremely hot weather, some airlines do not allow pets to be transported in the cargo area.

Follow these simple rules to make the most of your airline travel with your pet:
Plan early. Book your and your pet's reservations well in advance and get the airline's latest pet regulations.
You'll need a general health certificate and a rabies vaccination certificate, which should be issued within 10 days of your departure. Have these with you as well if you are traveling interstate or internationally.
Nonstop flights work best to avoid plane changes, which will minimize your pet's anxiety.
Think about the time of year you are traveling. Early morning or late evening flights work best in warmer weather. (Midday flights are better in colder months.)
According to the Animal Welfare Act, you will not be able to fly with your dog or cat if your pet is less than eight weeks old. Pets must also be weaned at least five days before traveling by air.
Allow plenty of time to exercise your pet when you arrive at the airport. Comfort your pet with words of reassurance as you place your pet in the carrier or crate.
Camping with Pets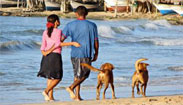 Camping with your pet brings the whole family together to enjoy the experience instead of leaving your special member of the family behind to worry about.

It's no fun to be cooped up in a kennel for a weekend or longer when the rest of the family is out having a good time. If your pet is physically able, well behaved and eager to go, wouldn't it be nice to take him along for the trip?

Just as you would pack your own things, don't overlook what your pet may need to keep him comfortable, too. Being prepared with the right essentials and equipment is the key to ensure a happy time on the road and in the woods. Also keep in mind when and where you plan to camp. The time of year and geographical location of your campsite can make a big difference in how and what you prepare for your camping trip. Know what the weather conditions are likely to be and pack accordingly.

Consider these tips to make your camping experience with your pet more enjoyable:
Check out the campgrounds, parks or wherever you plan to visit well in advance to make sure they accept pet campers.
Find out what types of facilities they have on site, such as dog runs, off-leash areas, drinking water, etc.
Do they allow off-leash pets on nearby hiking trails?
Is there a size restriction or a limit in the number of pets you can bring along? In addition to some of the items for traveling on the road and getting to your destination, here are some things that campers may want to take along:
Pet tent and bedding. Who doesn't like his own digs? A small, easily assembled pet tent gives everyone a better night's sleep. A pet travel bed or cot keeps your pet off the ground and away from crawling bugs.
Leash and harness. You should always have a means of controlling your pet when you travel. Some animals get very anxious when they're in new territory and can become scared and run away or excited and want to explore. Be courteous of others in the campground, park or on the trail so they are not unnerved by a pet on the loose. Remember to check the leash regulations where you plan to romp with your pet before setting out. Wildlife such as snakes, skunks, porcupines, raccoons, bears, mountain lions, and coyotes can be a problem with a pet on the loose and can cause serious injury. Make sure your pet stays in close proximity to where you are hiking.
Treats, food and water. Pack the appropriate amount of food and water for your pet (and you!). New innovations in pet travel products make it easy to take along portable or collapsible food and water bowls and pet backpacks that even have their own water supply.
Protective dog shoes. If you are hiking in rough terrain, these will protect your dog's feet from cuts and scratches.
Toys. A familiar chew toy is like a baby blanket and reinforcement to your pet. You may want to include two or three for a little variety or in case one becomes lost or your pet decides to hide one.
Grooming supplies. Burs, beggar's lice, hound's-tongue there are lots of names for all of those hijackers that get on pets and one's clothing while in the woods. It's advisable to have the right kind of brush to get those pesky things off your pet's coat. Additionally, in case your pet gets into something he shouldn't that may require a bath, some pet shampoo with you may do the trick. Pack some extra towels for drying or wiping muddy feet.
Flea and tick repellant. Some products last several weeks to kill adult fleas (and larvae), ticks and mosquitoes. Consider treating your pet, according to the manufacturer's directions, to make his camping experience more comfortable.
So whether you and your pet plan to travel by land or air, take a hike together, or go on a weekend camping trip, the bottom line is to be prepared. Having the right equipment and attitude will help make the experience of traveling with your pet very rewarding. Most of all, have fun!

Happy Travels!
Tom James is founder and president of PetTravelCenter.com, an Internet company and online community serving the pet travel industry and pet lovers everywhere. Information and resources about pet-friendly hotels and destinations, RV parks, dog parks, campgrounds, tips for traveling with pets using various modes of transportation, recreational activities with pets, articles by pet experts, a photo gallery, and special features, including a monthly newsletter for PTC Club members. PetTravelCenter.com also offers an online store of pet travel products to make the experience of traveling with pets "fun and easy.


Search Animal Radio® Network
LISTEN TO ANIMAL RADIO NETWORK NOW

NETWORK PROGRAMS:
Animal Radio®
Animal Wise Radio
Pet Talk Radio!
Talk with Your Animals
Veterinary Minute and Animal Minute
Voice of the Animal
Currently On-Air
Animal Radio® Network Full-time channel

LISTEN TO ANIMAL RADIO NETWORK NOW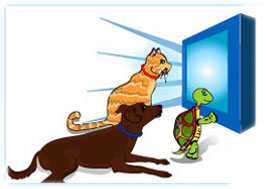 LISTEN AT WORK...all day long. Fresh animal programming 24/7. Be sure to view our programming schedule to catch your favorite show.
PET STORES, VETS, GROOMERS: Would you like to broadcast Animal Radio Network in your store or office? It's E-Z! Call 435.644.5992 to get set up. Animal Radio Network is simulcast on the PetVision Network throughout America to your store.


Listen to Animal Radio Network's full-time Animal Channel ANYTIME on ANY CELL PHONE, ANY PROVIDER. UpSnap now features Animal Radio® Network LIVE 24/7. Get Pet-Food Recall Alerts and live breaking news. Simply text "ANIMAL" to 27627 to listen anytime FREE. (your provider's standard rates apply). Learn more.


Consideration
I receive phone calls from people for me to talk with their animal kids either for private sessions or on the radio. A favorite topic is peeing and pooping. The question almost always is more of a statement - Tell my dog/cat to stop peeing/pooping wherever it is they don't' want them to go. Every now and then people will want to know why is my dog or cat peeing and/or pooping in my house? Most of the time, when I connect with the animals, they tell me something has changed in their life. So I will ask the human if anything has changed in their lives. Please bear in mind that the size of the change does not mean anything to our beloved animal companion. Any change at all to them is change. And they notice things that go unnoticed by us. Even things we've changed and don't consider. Here are some examples.

One caller called about this issue. The change in her life was a move from a house with a yard to a houseboat surrounded by water. Her house was being remodeled. Her cat was freaking out about the big change in his new home! He thought the house was going to sink and he would be drowned. The family was going to be living there for 4 more months until their house with a yard was finished. For him it seemed like an eternity. Living on a houseboat may be romantic for his humans, but for this kitty it was hell. He especially didn't like that his mom didn't even consider his feelings, never asked him about or even thought to tell him what was going on. She just wanted him to stop peeing on her bed. And, for him, to stop his behavior of peeing on her bed, she was going to have to move to dry land where he felt safe. He was trying to tell her he wasn't feeling safe and didn't understand what was going on.

Another caller wanted to have me tell her cat to stop defecating on her bed. I got the same response (he didn't like the way things had changed) from the cat when I asked him why. Again, the woman was asked, "Has anything changed in her house?" She told me she had moved the cat box. This kitty was very upset because she had not bothered to ask him about whether it was all right to move his box or told him the reason why she wanted to move it. His answer to her was "Hello, Mom, I do have right to decide where I want my cat box."

A frequent caller called to say that she had taken my advice. She was being more attentive to her kitty. This kitty wanted her to sit down with her and enjoy her company instead of sitting down with her and watching TV. The kitty stopped peeing on her things. Well, now the kitty started peeing on her things again. The caller had stopped watching TV and was instead paying more attention to her to-do list in her head then enjoying her kitty's companionship. Her kitty wanted bonding time with his mom!

Our animal kids want us to be considerate of them. They want us to talk to them about things that are going on in our/their lives and ask them about those things before making changes. For many animals, the only way they know how to tell you that something is wrong is by peeing and defecating in in-appropriate places. Their definition of in-appropriate might be totally different that yours. They are just trying to get your attention. So before you start blaming your animal kid for their behavior, take a look at what you have done or not done. Have you considered their feelings or is all about what you want?

Humans assume that they are the "highest" on the totem pole and get to make all the decisions. This is very much a form of hierarchy. To assume animals don't have the capability to think, reason, and make decisions is incredibly wrong. Animals can do all these things and much more. They usually make better decisions than most people because they are more openly aware of the connection they have to their Soul and follow that guidance without question. Hierarchy puts the human first and everything else second. I've even seen subtle forms in people who think they always put the animals first. For instance, thinking they know what is best for the animal instead of thinking that the animals' Soul knows best. This is not a fault in us; it is what we're taught. We often have the misconception that because something can't speak English or whatever language the human speaks, the human knows best. That somehow, God has given us dominion over everything else on Earth including the Earth itself. That we can do whatever we want regardless of how it impacts others (not just animals in this case, either). Humans are becoming a very self-centered species because of this thought of supremacy. It's not good for us and it's not good for anything else. Pay attention to any time you think you know best, or you get to make decisions without considering the others in your lives. You'll find there is an incredible amount of times in each day that hierarchy comes out of us. So, what's the solution to this? Unilateral Equality.
No hierarchy on any level for any reason is simply Unilateral Equality. It acknowledges the animals' equality to us in all areas. It says they have their own mind, they have their own rights, they can have a say in what they want their lives to be like. This would mean that when there is a disagreement between the human and the animal that both would listen to the other and reach a compromise. I suggest that people think of what they would feel like if someone treated them the way they are treating their animal kids. If it would make you feel good, continue doing it. If you wouldn't like it, stop doing it with your animal kids. Once you start living from this place, I believe you will come to love it as much as I do. It feels so completely right to treat everything and everyone as your equal. (And, I still find places of hierarchy in myself. Maybe we always will, but we can at least try to remove it.)

Until next time, I'm Joy reminding you, you can never love your animal companions too much. You can only love them, hopefully, enough.

If you would like to schedule a private session with Joy, call 425-867-1779 or go to www.TalkWithYourAnimals.com. If you are interested in being a caller on Talk with your Animals, please email Martha@AnimalRadio.com to make arrangements. Joy Turner is a regular Animal Radio® correspondent. She can be heard daily. LISTEN TO ANIMAL RADIO NETWORK NOW


Animal Radio® made possible by: American Anti-Vivisection Society


The FDA has moved biotech companies one step closer to being able to put milk and meat from cloned animals on your grocery store shelves-without labels. Cloning seriously threatens animal welfare, and you should have the choice to avoid these products! You can help by calling on the FDA to keep cloned foods off of grocery store shelves. Learn more at http://www.EndAnimalCloning.org
Just because we can clone animals for food, doesn't mean we should!
PRODUCT REVIEW
for May





(rated 4 and 1/2 out of 5 paws)
Mega Tuffie - Tuffie's Pet Toys


At first glance, I thought that perhaps this was one of those, you know, hemorrhoid rings. But then I thought, do dogs get hemorrhoids? I don't know, and I'm not sure I want to know.
However, upon further inspection and finding the squeaker, it turned out to be a heavily constructed dog toy for the most agressive dog. Well, that was just what I wanted to hear!
We put the Mega Tuffie to the test on a 4-month old Labrador. I know, it didn't seem fair! This dog leaves nothing but destruction in her path, along with many favored shoes.
The first five minutes went well, then the next ten minutes, with the toy still intact. Okay, it has now been several days, and guess what - the toy is still intact.
Check back with me in a few months and I will let you know how both the dog and toy are doing!
http://www.MyDogToys.com
Send products for review on-air and in this newsletter to: Animal Radio® Network Product Reviews, 233 East 330 North, Kanab, Utah 84741. Products may not be returned.
We have 30 Days to Raise $6K to Help Shut Down a Puppy Mill
(More legal fees needed to challenge McDuffee Puppy Mill Permit)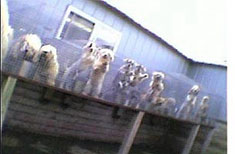 Photo: Rows of wire cages at a puppy mill Gary McDuffee owned with his ex-wife, Wanda. This kennel had a 5-year history of USDA violations that were not disclosed in McDuffee's application for a permit to run his new facility.
On Thursday, April 5, 2007, when the Morrison County Board voted unanimously to approve a Conditional Use Permit (CUP) to Gary McDuffee, they told the press that they had no other choice. They said that, because the permit was a land use permit, they could only look at land use issues when considering the permit, and, therefore, they had no grounds for refusing McDuffee a permit.
But a closer review of this case suggests otherwise: that the Commissioners had ample opportunity, and legal justification, to refuse McDuffee's permit.
Legal justifications for refusing the permit include the following:
* Along with McDuffee's original permit application, he provided a letter written by veterinarian Dr. Charles Extrand stating that McDuffee's previous kennel was clean, well-run, and that it had always been in compliance with USDA regulations. However, documents were uncovered showing a 5-year history of USDA violations when McDuffee operated that facility. The violations included: cages that were too small, cages that had not been property cleaned, cages that were deteriorating and composed of sharp and dangerous materials, selling puppies that were too young, use of expired medications, failing to label animals being shipped as "live cargo", and other serious violations.
* It was also learned that McDuffee has been operating for about a year at his new facility without being in compliance with Minnesota State Animal Cruelty Statutes. These statutes require McDuffee to provide dogs a minimum of 20 minutes of free-choice exercise outside of their cages daily. McDuffee has neither the facilities or the staff to comply with this law. This fact was not contested by McDuffee, his attorneys, or any of his staff.
Not only did the County fail to consider valid, legal issues when considering McDuffee's CUP, they actually by-passed State law when they granted the permit. Minnesota Statutes require the completion of an Environmental Assessment Worksheet (EAW) before granting a CUP. Morrison County has now granted McDuffee this CUP twice, without ever completing an EAW. They have, therefore, failed to take into consideration an unknown number of land-use issues that could arise if an EAW were to be completed.
To be very clear: While Morrison County is claiming they HAD to give McDuffee a permit because this is a land-use issue, they have failed to follow legal procedure for reviewing and granting land-use permits.
Animal Ark, and others teamed up to fund an appeal of McDuffee's original CUP. That case ended up going to the Minnesota Court of Appeals, where they ruled that Morrison County was "arbitrary and capricious" in granting McDuffee his permit. They threw out McDuffee's original permit, and demanded that Morrison County take another look at this case.
We believe it is time to appeal this new CUP. The legal fees and other expenses related to that appeal are expected to be around $60,000. The appeal needs to be filed within 60 days of the new CUP. That gives us 60 days to raise $60k.
Minnesotans need to stand up and put an end to this unregulated, dirty industry, and hold officials accountable when they support or enable it to continue.
Please DONATE TODAY!

Contact Morrison County at:
Morrison County Government Center
213 SE 1st Ave.
Little Falls, MN 56345
Tim Houle
County Administrator
(320) 632-0295
timh@co.morrison.mn.us
Thomas Wenzel
Commissioner District 1
(320) 749-2288 or [email]
tomw@co.morrison.mn.us
Jeffrey Schilling
Commissioner District 2
(320) 745-2617 or [email]
jeffs@co.morrison.mn.us
Gene Young
Commissioner District 3
(320) 2537 or [email]
geney@co.morrison.mn.us
Donald Meyer
Commissioner District 4
(320) 468-6096 or [email]
donm@co.morrison.mn.us
Duane Johnson
Commissioner District 5
(320) 547-2408

Mike Fry, Executive Director Animal Ark No-Kill Shelter Co-Host Animal Wise Radio
Hear Animal Wise Radio on Animal Radio® Network
---

Have you heard Animal Radio® Network Lately?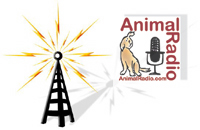 So many ways to listen!

Website: http://AnimalRadio.com
Toll-Free Studio Line is: 1.866.405.8405

Animal Minute with Britt Savage


Escaped Orangutan Frightens Children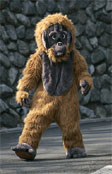 During a routine animal escape drill, which is done to train for real animal escapes at a zoo in Tokyo, an employee donned an orangutan costume.

The "orang utan" then escaped from his enclosure, ran through the crowd and eventually kidnapped a zoo employee.

The "orang utan" was then shot with a tranquilizer gun but the eventual capture of the "orang utan" didn't go over too well with the kids, who cried after their fun day at the zoo ended with an animal being shot.

Britt Savage is a regular Animal Radio® correspondent. She can be heard daily. LISTEN TO ANIMAL RADIO NETWORK NOW




Voice of the Animal - Rae Ann Kumelos Ph.D.

Birdsong: Spring's Soundtrack


And the cosmic wheel turns once again to find us at Spring. All the senses are heightened at this time of year; there is more light, the air is soft and warm on the skin, you can almost taste the summer fruits hidden in the pale pink and white blossoms. But one of the main things we notice is the sound. Put down that I-Pod and cell phone, and listen to the timeless soundtrack that accompanies this season: Birdsong.
Birds bring spring with them when they migrate thousands of miles back to us after spending winter in warmer climates. The robins are usually among the first to arrive. It is said that Robin's distinctive red breast came about either when he was scorched bringing fire to humankind, or when he gallantly plucked the thorns from the body of Christ. Over a century ago, settlers cultivating the virgin earth of the plains and prairies brought earthworms to the surface, which in turn brought the robins. A baby robin can eat 14 feet of earthworms a day ­ those mother robins must have been thrilled to see the sight of a plow. The full moon of March is often called the Full Worm Moon since the earth becomes soft enough for worms to appear, thus heralding the arrival of the robins. And although we like to think of the robin's song as lovely and distinctive and indicative of spring, what he is really doing is tunefully warning any rivals away from his territory.
The bats returned a few weeks ago ­ arriving with soft squeaky cries under cover of darkness ­ their silhouettes inky black against a twilight sky. Many birds do migrate at night; they can avoid predators and also spend daylight hours finding food. A favorite spring ritual for birders is to count the number of birds migrating as they pass across a full moon.
When the Says Phoebe arrives, with her distinctive Phoebe call, it is time to tread carefully around the front porch where she will build her nest on a high beam and teach her babies to fly. I will spend several weeks going out of my way to enter the house through the back door to avoid disturbing her.
The bluebirds, with their cheerful chirp and the color of sky on their wings, will nest in their special boxes. It is fun to place soft drier lint and fur from the cats' brushes in strategically located areas where the bluebirds are sure to find it ­ it must be tough to spend the day looking for cozy material to line a nest.
The band-tailed pigeons arrived two days ago. They are shy at the birdfeeder and will explode in a flurry of wings and fly into the pines when I go out to give them cracked corn, but they will stand their ground with the wild turkeys for this treat.
And the hummingbirds, those hovering ornaments of delight- I heard the soprano-pitched trill before I spotted the broad-tails at the feeder this morning­a sound that elicits a moment of pure joy. The sugar water had been out for a week to welcome them back after their long journey from Central America ­ but they were a few days late this year ­ was it due to the unusually strong snow storm that surprised everyone? How did the hummingbirds know to delay their return until the weather would accommodate them? Apparently the wind plays a big role in determining when conditions are just right for migration ­birds do not want to battle a headwind and spend precious reserves of energy flapping wings, instead they wait for winds that take them in the direction they wish to go - soaring gliding, and riding the thermals, their songs alerting us to their presence high in the heavens above.
Whichever way the wind blows, Spring brings us feathered joy and delight ­ and the songs of the season.

Rae Ann Kumelos is a regular Animal Radio® correspondent. She can be heard daily. LISTEN TO ANIMAL RADIO NETWORK NOW Visit us at http://www.voiceoftheanimal.com to hear more stories and order a Voice of the Animal CD's. Copyright ­ 2007 ­ Voice of the Animal
Email your events to: root@AnimalRadio.com
(BURBANK)
Rabbit Adoption Day
Saturday, May 5, 2007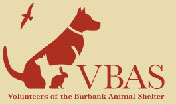 The Volunteers of the Burbank Animal Shelter are hosting a Rabbit Adoption Day. Fun activities include: rabbit care and grooming demonstration, nutrition, recreation and housing displays, coloring for the kids and refreshments. All rabbits have been spayed/neutered and are ready to go to their forever homes.
To view all our bunnies please visit www.basv.org. For more information, call
Saturday, May 5, 2007
Burbank Animal Shelter, 1150 N. Victory Place, Burbank, CA
10 a.m.-4 p.m.

(MONTROSE)
3rd Annual Wags-n-Whiskers Walk
Sunday May 6, 2007



Come Strut Your Mutt at the 3rd Annual Glendale Humane Society Wags-N-Whiskers Walk! Lace up your walking shoes, leash up the dog and join Glendale Humane Society as we stroll through charming downtown Montrose. Calling All Walkers. Walkers are encouraged to bring their well-behaved dogs and enjoy the vendors, refreshments, and entertainment of the Montrose Harvest Market while supporting the Glendale Humane Society. There will be dog games, contests and lots of other fun activities. Former GHS alumni and their adopters are encouraged to attend - let's make it a reunion!
All proceeds from the event will benefit the Glendale Humane Society's Second Chance Program, through which homeless dogs and cats are rescued and given a second chance at life in our no-kill shelter.
Sunday, May 6th
Registration begins at 9:00 am in the Andersen's Pet Shop Parking Lot, or you can register online right now.
The Walk begins at 10:00 am
2218 Honolulu Avenue, Montrose, CA
http://www.glendalehumane.org/wags.html
BOOK REVIEW
for May
Animal Radio® Book Club





(rated 4 paws out of 5)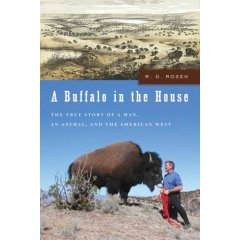 A Buffalo in the House: The True Story of a Man, an Animal, and the American West by R.D. Rosen
Hardcover: 256 pages
Publisher: New Press
(June 20067)
ISBN-10: 1595581650
ISBN-13: 978-1595581655
Most of us have formed bonds with our companion cats and dogs, so it wasn't too strange to hear of a man who formed the same kind of a bond with a buffalo. What started out as a short term arrangement to care for an orphaned buffalo, turned into a full-time committment.
When Roger and his wife Veryl agreed to take on Charlie the orphaned buffalo, little did they know what they were really getting into. Unfortuantely, Charlie had never been around buffalo before and didn't realize he was one. Over the course of time in trying to integrate Charlie into a buffalo herd, things went terribly wrong.
Throughout the true story you will also learn of the struggle of wild buffalo to survive in Yellowstone National Park where they are being shot and killed by state and federal agents to this day.
For those of you that have ever had an animal that changed your life, this is a must read!

See other reviews at AnimalRadio.com. Send books and literature for review on-air and in this newsletter to: Animal Radio Network™ Book Reviews, 233 East 330 North, Kanab, Utah 84741. Product may not be returned. Allow 5 weeks for review.
Animal Radio® made possible by: SCOOP FREE AUTOMATIC LITTER BOX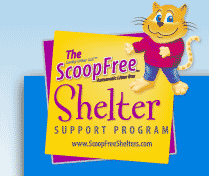 The ScoopFree Shelter Program provides financial assistance and free products to animal rescue shelters, fostering homes and adoption agencies to help promote animal welfare and enhance the care they provide cats. The ScoopFree Shelter Program donates all products and materials free of charge to not-for-profit animal organizations. No investment is required to enjoy the benefits of the ScoopFree Shelter Program, which is designed to require minimal effort by shelter staff and volunteers. To learn more and apply to the program, visit www.ScoopFreeShelters.com.

ASK "THE DOG EXPERT" - by Darlene Arden, Certified Animal Behavior Consultant

Q. My dog pulls me down the street whenever I take him for a walk? What can I do? I want him to walk nicely with me but he doesn't seem to get the idea. Help!

A. There are some solutions to your problem. First, you can practice walking indoors by tapping your thigh, and rewarding your dog with a treat that he enjoys (food tidbit, special game or a pat). If you are using clicker training, click when he is in position beside you, then treat. Use a happy tone of voice when talking to him and be sure to praise him. If your dog is an older, larger puppy, or an adult who can pull you off balance, there is still hope for you with special training tools. You can use either the Gentle Leader halter (but be sure you are properly trained to use it), or, the Easy Walk Harness, which is fitted snugly and will help you teach your dog exactly what you want. You will still praise and treat him, of course, for a job well done! This is particularly helpful for an older or more fragile person who needs immediate help as either of these tools can help communicate the message to the dog rather quickly. Personally, I prefer a harness on all dogs rather than a collar so that you are not putting any pressure on your dog's trachea.

Good luck with you dog and may you enjoy years of happy walks together! And don't forget to take time to smell the flowers along the way!

"Ask the Dog Expert" is a regular column by Darlene Arden. This month's column features information found in her book, "The Angell Memorial Animal Hospital Book of Wellness and Preventive Care for Dogs," (McGraw-Hill), which helps you, in concert with your veterinarian, design a wellness program based on your dog, your lifestyle and the place where you live, and "Small Dogs, Big Hearts," (Howell Book House). ). Further information may also be found on her website: www.darlenearden.com. Copyright 2007 by Darlene Arden. All Rights Reserved.

Hear Darlene Arden on Animal Radio® Consult schedule for showtimes.

Animal Radio® is made possible by: Safe-Guard


Get ready for spring by protecting your dog ­ and your family ­ against intestinal worm infections! Did you know that eggs and larvae that infect dogs can survive in the environment for months ­ even in extreme winter weather conditions? And that those same parasites can also infect humans? Why take chances? Make intestinal deworming an important part of your dog's routine health care with Safe-Guard® Canine Dewormer ­ a safe and effective way to eliminate and prevent the major intestinal worms that can infect dogs all year round. Just sprinkle it on your dog's food twice a year, for complete peace of mind!
Visit www.Safe-Guard.com for information on treating and preventing intestinal worms.
Gearing Up for Dog Park Season - Sarah Hodgson


Ah, the warmth of spring. It delights all of us, including our dogs, who are eager to run and play after a restless winter cooped up indoors. It seems the buzz question, at least for the dog-loving population, is "Do you know a good dog park?"
More than a choice meeting spot for dogs, a dog park can be a great place to meet like-minded people as you relax your vigilant leash-walking responsibility and let your dog play. Of course, no view of paradise is without its own dose of reality. Dogfights can erupt, dogs can overheat, and you'll need to be mindful of where you tread! Here are a few tips to keep in mind this dog park season:
Bring bags to clean up after your dog. Not only is this practice socially expected, but it also protects your dog's health and the health of the other dog park users.
Carry enough water for both you and your dog. Although some parks offer water or may enclose a natural water source, communal pools or springs often contain bacteria that your dog would do better without.
Remember that many dogs are friendly, but many others are not. Don't expect that all dogs will play nicely with others. Some people use dog parks to accelerate the socialization of their otherwise fearful or aggressive pets. These dogs often become threatened or defensive when approached; in a dog park setting, they might attack a person or dog out of fear.
Be mindful of whom you let your dog play with, immediately separating her (by a leash if necessary) from dogs who make you feel uncomfortable. Don't take a person at her word if she says that her dog is friendly but you're feeling uneasy; listen to your instincts and act accordingly.
With these thoughts in mind and a pocketful of your dog's favorite snacks, go out and enjoy a romp in the dog park. Muddy paws and dog slobber -- what better way to herald the coming of spring?
Sarah Hodgson (Katonah, NY) has taught dog training for 20 years and is the author of seven dog training books, including Puppies For Dummies®, Miss Sarah's Guide to Etiquette for Dogs & Their People, DogPerfect, PuppyPerfect, and Teach Yourself VISUALLY™ Dog Training. She has appeared on national television and radio programs to promote her training methods and has served as a columnist for the New York Times. The owner of Simply Sarah, a dog training school and supply catalog based in Westchester, New York, she also has a website, www.dogperfect.com. Hodgson has a degree in psychology and animal behavior from the State University of New York.

ASK THE BIRD FOLKS - Mike O'Connor
Why Don't Woodpeckers Get Headaches?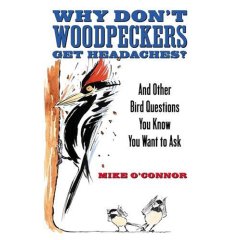 Dear Bird Folks, do woodpeckers ever get headaches?
Sandy, grade 7

Hi Sandy,

Although I've never thought about it, all that banging could give woodpeckers headaches. That would explain the suet-flavored aspirin I saw at CVS last week. You'd think they would get headaches from the way they pound on trees, but luckily for them, they have evolved a rather tough head. Much like a soccer player or a tall coal miner.

Actually, you are not the only one concerned about woodpecker migraines. One day, Dr. Ivan Schwab was so worried about the woodpeckers that he researched and wrote an extensive paper about this very topic. And, believe it or not, the good doctor received an IG Nobel Prize for his efforts. If you don't know what that is, Sandy, don't sweat it; nobody else does either. The IG Nobels are awards given for research done on topics that are so strange only university professors and seventh graders have enough time on their hands to worry about them.

Woodpeckers are among our most common backyard birds, yet they have features that are totally different than other feeder birds. Woodpeckers have developed a much larger brain case, which prevents the birds from getting a concussion every time they have to chop out lunch. They also have different muscle and bone structure at the base of the bill, which acts like a shock absorber to help cushion the blows. And the woodpecker's stiff, strong tail serves as a kickstand to prop the bird up, allowing it to lean back and smack the tree. Even woodpeckers' feet are different. Most feeder birds have three toes in the front and one in the back; however, most woodpeckers have two in the front and two in the back, giving the birds a better grip on the trunk of the tree. They even have special feathers that cover their nostrils to keep out flying woodchips and other assorted debris.

I know this is a little dull to read, Sandy, but you asked, and it's not about to get any better. The tongue of a woodpecker is it's most unusual feature. Its extra-long tongue wraps around inside the back of the woodpecker's head. When the bird wants to reach deep into a tree for a tasty insect treat, it shoots out its tongue like one of those annoying party favors. The tongue is also barbed and sticky so it can grab on to bugs and yank them out of their hiding places. This useful tongue saves the bird a lot of work by allowing it to pull out food without having to chisel deeper into the tree. Hey, Sandy, a tongue like that would come in handy for stealing French fries from your friends at lunch. Think of the money you'd save.

Woodpeckers may not get headaches, but they sure can cause a few. Not a day goes by that I don't have to listen to someone complain about a woodpecker banging on his or her house. So, it was a nice change to get your question of concern about woodpeckers and possible headaches. Wait a minute, Sandy! Was this a question of concern or did I just do your seventh grade science project for you? If it is for your science project and we get an A, I want to know about it. It would be my first A and, boy, will my parents be proud.

Mike O'Connor is the owner of the Bird Watcher's General Store on Cape Cod, which opened in 1983 as one of the first stores in the United States dedictaed solely to birding. His column, Ask the Bird Folks, appears weekly in The Cape Codder, The Register, The Harwich Oracle, and The Upper Cape Codder newspapers, and his writing was included in the Best American Science and Nature Writing 2004. Copyright 2007 by Mike O'Connor. All Rights Reserved.
http://www.BirdWatchersGeneralStore.com



G'day from Downunder...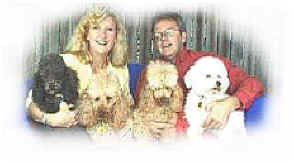 We recently had a look at some of the videos on the Animal Radio website ­ Sylvester the cat who plays dead is a classic!...

Not just because it made us laugh, but because it was obvious the owner had spent a lot of time training Sylvester ­ and Sylvester was adopted from a local humane society so he probably wasn't a kitten to start with!
At the other end of the scale here in Australia, we've heard reports that a family took their 9 week old puppy to the vet recently BECAUSE IT WOULDN'T SIT! Unbelievable but true, and we are appalled. How can people be allowed to even buy an animal in the first place when they have not got a single clue about about anything!
In case there are new readers or wannabe newbie pet owners reading this for the first time, we should just say simply that 'dogs and cats don't come pre-trained' it is up to the owner to socialize the animal from as early an age as possible, go to puppy classes in the case of a dog and for cats put them on a lead and start walking them as kittens. The interaction with people will ensure a well balanced puppy & kitty and one that won't be skittish and ­ like Sylvester the cat in the video mentioned above ­ can be trained to do just about anything.
We're just about to MC (master of ceremonies) a local event here in Sydney "Attacking The Dangerous Dog Dilemma" ­ in researching some facts to try and get our point across that there are more dangerous people than dangerous dogs, we stumbled across the fact that there are approximately the same number of dogs in the state of NSW (New South Wales) as there are cars.
No points for guessing the percentage of deaths by motor vehicle compared with 'deaths by dogs' is wildly different ­ no doubt about it, but can we safely assume that 'cars are killers'?
To back up this statement a local university study showed 98% of motor vehicle deaths were caused by human error (e.g.: not faulty brakes, not blown tires etc) ­ there are no such figures for dog attacks as far as we can find right now, but we're ready to bet that nearly 100% of dog attacks were because of 'human error' ­ so 'dogs are dangerous' is not strictly a true statement.
In both cases 'people are a problem' is probably more accurate!
With minor exceptions due to intentional breeding as fighters, attack training or mistreatment ­ the majority of dogs are simply not aggressive, vindictive, jealous or 'out for revenge.' They are not politically or religiously motivated and couldn't care less if you speak Spanish, Italian, French, and Chinese or if you are black, white, red or a pale shade of green!
Compare that with what we humans inflict upon each other every day. (Virginia Tech, Columbine, 911 etc)
So ­ a quick note to ALL pet owners ­ PLEASE socialize, socialize, socialize, socialize, socialize your pet.
Animals are unpredictable but always show their true colors (e.g.; a growl = back off etc) but by learning about their behavior and more importantly - teaching non or new pet owners some of the absolute basics, we'll not only save human lives, but also just as importantly, we'll save our precious animal's lives too.
Hugs for your pets from Brian & Kaye
Pet Talk Radio!
Hear Pet Talk Radio! on Animal Radio Network - Check schedule for showtimes