The Twelve Days of Snowball





(rated 5 out of 5 paws)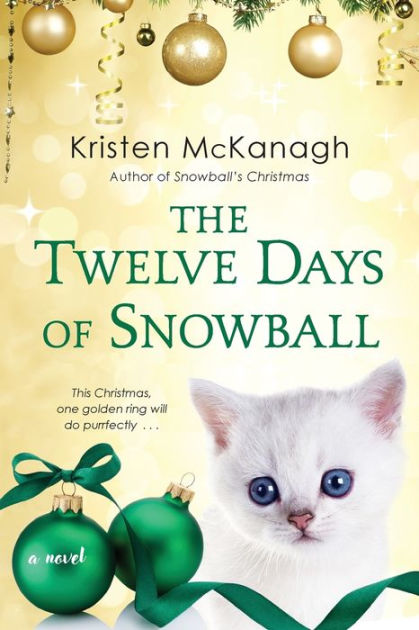 Paperback: 272 pages
Publisher: Kensington Publishing Corp.
ISBN: 978-1496729927
It's starting to feel a little bit like the holidays and everyone is getting all excited. You can probably even see the excitement in your pets. Just in time for the holidays, author Kristen McKanagh has a brand new book out, The Twelve Days of Snowball, a warmly humorous holiday novel featuring a festive mountainside B&B "managed" by a mischievous matchmaking cat.
The Twelve Days of Snowball is a very light, very fun and funny, just kind of cute, very heartwarming, family oriented book. It is set in a Victorian Bed & Breakfast that has now been expanded into shops, as well as extra hotel space. This allows Snowball more places to explore. Of course it's set around the holidays, and the author has not only incorporated the usual Christmas traditions we all know and love, she has also included German traditions. One of these holiday traditions includes a pickle.
Okay, I've given away too much already. If you want to find out about the pickle tradition, cozy up to the fireplace with your furry family, hot cocoa and the great rom-com, The Twelve Days of Snowball, the second in a series.
Reviewed By Animal Radio Staff
Order Now
---
The Secret Life of Mac





(rated 5 out of 5 paws)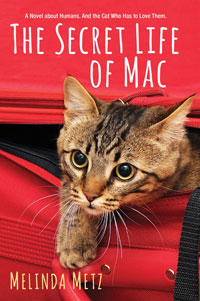 Paperback: 256 pages
Publisher: Kensington Publishing Corp.
ISBN: 978-1496718990
Cats can be mischievous, sometimes naughty and some even think they know what or who is right for everyone. They can even be all three! MacGyver, also known as Mac, is one of these kitties. In fact, he is a kleptomaniac kitty who thinks he is also a matchmaker. Mac thinks his owner Jamie would be happy with the guy next door named David. So what better way to bring people together than by stealing their personal items! After stealing trinkets from David, Jamie is then forced to return them, bringing the two of them together. While real life klepto kitties inspired the character of Max, it's still fiction. However, if you have a klepto kitty, watch out, as you never know, they might be trying to match you up with someone!
Reviewed By Judy Francis
See more from the author
---
Something Worth Saving





(rated 5 out of 5 paws)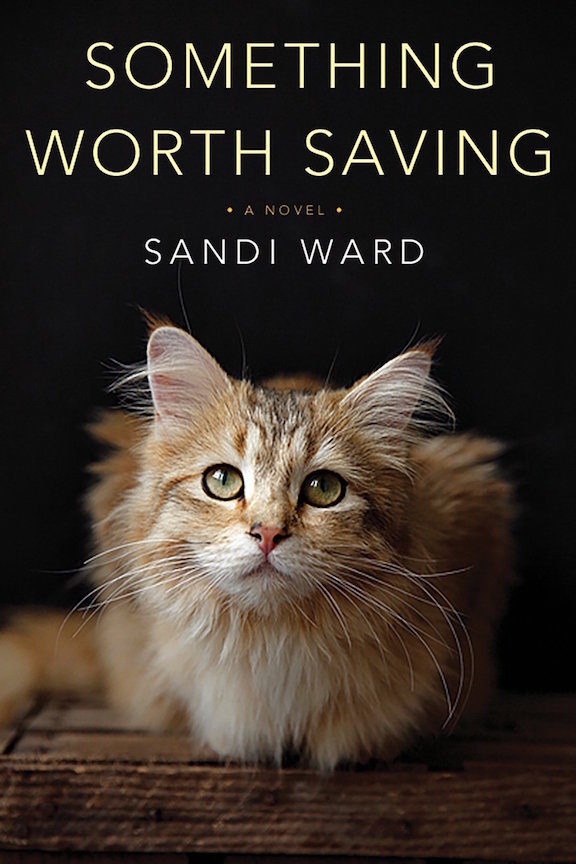 Paperback: 304 pages
Publisher: Kensington Publishing Corp.
ISBN: 978-1496711137
Something Worth Saving is a touching novel about a family from their cat's point of view. We forget that when we are under stress, our animals become stressed as well. Our animals then become empathetic companions and become a great help to us. So it is no surprise when Lily, the family's cat, becomes worried about her favorite person in the world, Charlie a 14-year-old boy, who rescued her from the shelter. Charlie is having a hard time and seems to be troubled. Lily tries to figure out exactly what is happening with the family and how she can make things right. If you've ever had a cat, you know that they are good observers of everything around them, especially us humans. And Lily is no different. The only difference is she now has a voice and uses it to make many funny comments about the humans in her life. You don't have to be a cat person to love this book!
Reviewed By Judy Francis
See more from the author
---
BONO - The Amazing Story of a Rescue Cat Who Inspired a Community





(rated 5 out of 5 paws)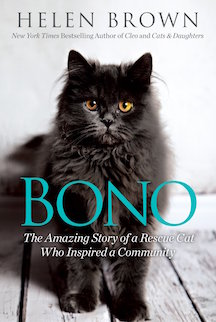 Paperback: 288 pages
Publisher: Kensington Publishing Corp.
ISBN: 978-0806538457
When life gives you lemons, you know what you're supposed to do! After battling cancer, Helen Brown embraced a "special needs" foster cat named Bono. This little cat was the last thing Helen wanted or needed, or so she thought. During times of uncertainty and temporarily living in New York, this little cat gave her the comfort she needed and bridged that cavernous gap that sometimes happens between mothers and daughters. When Bono found a forever home, Helen had a hard time letting go of him as well as the city. Helen had no idea how this sick little cat would be a catalyst (pun intended) bringing her family together and teaching her how to live!
Reviewed By Judy Francis
See more from the author
---
WILD - Endangered Animals in Living Motion - A Photicular Book




(rated 4 out of 5 paws)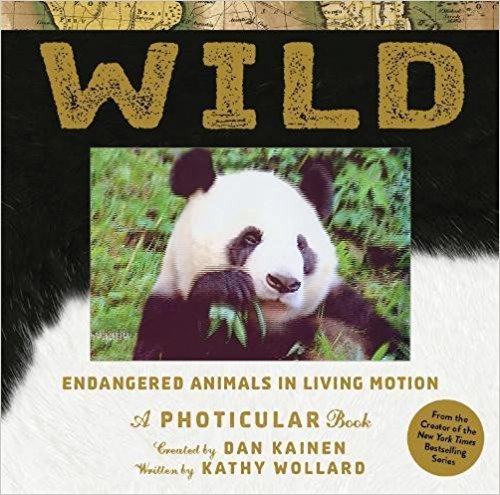 Hardcover Photicular: 9 pages
Publisher: Workman
ISBN: 978-1-5235-0147-2
While working with some of the pioneers of holography, Dan Kainen created a special book of wildlife on the move. Similar to the 3D postcards you can get at novelty stores, each page details an animal in motion - and a little information about the species. Simply move the page slightly to see everything from an Armadillo scurrying across the terra to monkeys playing. This is the perfect gift for the animal loving youngster in your life. This will engage kids of all ages.
Reviewed By Hal Abrams
See more from publisher.
---
The Encyclopedia of Animal Predators: Learn about Each Predator's Traits and Behaviors; Identify the Tracks and Signs of More Than 50 Predators; Protect Your Livestock, Poultry, and Pets





(rated 5 out of 5 paws)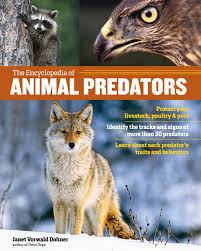 Paperback: 288 pages
Publisher: Storey Publishing, LLC
ISBN: 978-1-61212-6999
We have been encroaching on the territories of wildlife for many years and we must learn how to coexist. So whether you live in the country or the suburbs, as more and more people have pets and are doing things like raising chickens in their backyards, it has become important to know about predatory animals and their threats. While you must be able to protect your own, you still need to learn how to live together. Even if you don't have animals, predators are everywhere and it's fascinating to be able to identify an animal through its tracks and to know if they are common where you live.
This encyclopedia makes it so easy for anyone to identify more than 50 predators. Along with pictures of the predators, it contains a lot of information on such things as how big they are, where they can be found in North America and how to deal with them. There are also pictures on what their scat looks like and what their tracks look like.
Even if you're not a skilled tracker, this book will make you look like you are. So go out there and identify the creatures in your neighborhood.
Reviewed By Judy Francis
See more from publisher.
---
Heartfelt Connections - How Animals and People Help One Another




(rated 4 out of 5 paws)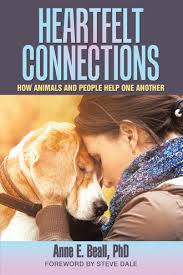 Paperback: 190 pages
Publisher: iUniverse
ISBN: 978-1-4917-9706-8
This self published book comes off as a professionally published creation, celebrating our connection with our animals.
Within the first chapter, it's underlying theme is apparent, and no surprise to those of us that have animals. Animals helps us heal. Often times there is a synergy, as we're also helping them heal from disastrous circumstances.
Dr. Beall, a social psychologist, explores the relationships between humans and animals with case stories from people whose lives have been changed tremendously by animals. From dogs to llamas, ducks to pigs, sheep to dogs, these animals have been proven to reduce stress and lift the spirits.
You'll enjoy Dr. Beall's stories and bask in the glory of our relationship with creatures great and small.
Reviewed By Hal Abrams
Visit Website
---
Pound for Pound by Shannon Kopp




(rated 4 out of 5 paws)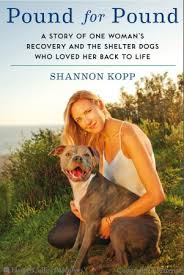 Paperback: 288 pages
Publisher: William Morrow
ISBN: 978-0062370235
Sometimes recovery comes from unexpected places. For years, Shannon Kopp battled the disease of Bulimia and Depression, where she had untold cycles of bingeing and purging. She always felt fat and while she had tried quitting this endless cycle, she always reverted back.
This practice started in her early teens and continued through college. Shannon loved it when people complimented her on her great figure, but she never told anyone the truth.
Shannon had tried attending meetings, which weren't successful and was even threatened with the loss of her longtime boyfriend, who eventually left, but nothing seemed to work.
Surprisingly, it was her volunteer work at a shelter, where her life started to turn around. These dogs live in the moment and gave her unconditional love and didn't judge her for the way she looked. They gave her a reason to get up in the morning. They were her therapy. Don't ever the question the healing power of the paw!
Shannon was eventually able to quit her addictions and turn her life around. She even became a counselor for other people with Bulimia. And the boyfriend – spoiler alert - he came back!
See more from publisher.
Reviewed by Animal Radio® Co-Host Judy Francis
---
To Catch A Cat by Heather Green




(rated 3 and 1/2 out of 5 stars)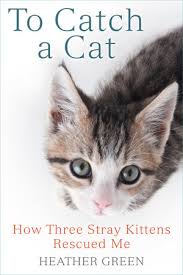 Paperback: 272 pages
Publisher: Berkley
ISBN: 978-0425281987
The saying, "Life seems to happen when we are busy making plans," rings true for Heather Green. She saw herself a businesswoman working long days in Manhattan trying to further her career as a journalist. She never expected to fall in love with a man across the river in New Jersey (which seemed like another planet to her) let alone rescuing cats.
But somehow along the way she realized she might have her priorities wrong. Perhaps what she really needed was this new life, which seemed to have greater meaning.
Together her with boyfriend they start saving the strays of a New Jersey City and she found she couldn't be happier. Not only was saving the kittens rewarding, she became part of a neighborhood, which was unheard of Manhattan where people never even make eye contact walking down the street.
So, be careful what you wish for and let life take you where you never thought you would go!
See more from publisher.
Reviewed by Animal Radio® Co-Host Judy Francis
---
Holy Cow!: Doggerel, Catnaps, Scapegoats, Foxtrots, and Horse Feathers—Splendid Animal Words and Phrases by Boze Hadleigh






(rated 5 and 1/2 out of 5 paws)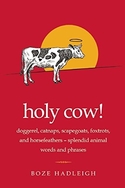 Paperback: 320 pages
Publisher: Skyhorse Publishing
ISBN: 978-1632205575
We all say them – animal words and phrases to describe things. But did you ever stop and wonder about how they started? For example:
There's More Than One Way To Skin A Cat: This originally started out as "There's more than one way to skin a Catfish," because they have very tough skin. Then someone left off the word fish, and Boze states, "It's been bugging us cat lovers ever since!"
Why The Birds And The Bees: This is a very sanitary way of semi-explaining sex to children. Especially at springtime, when both are easily seen - bees buzzing and pollinating and birds laying eggs and raising their young. Previously the two were never mentioned together. Then someone said it together and it stuck.
Buck Naked: Buck-naked is said to derive from the related words buck and buff; the color of buckskin and supposedly the pale tan color of European skin.
Not only does this book include sayings and their originations, Boze Hadleigh has also included information on things like why cats usually eat sitting down and dogs eat standing up. I'm not going to give you the answer to this one, you will have to get a copy of the book and find out for yourself!
This is one of the books that you can just pick up and started reading from anywhere in the book. Just think, if you've ever had problems talking to other people at gatherings, you will now have something interesting to say and can even become the life of the party! Okay that might be a little strong, but I'm sure you can find someone who will be interested in learning about these sayings as much as you do!

See more from publisher.
Reviewed by Animal Radio® Co-Host Judy Francis
---
The Mountaintop School For Dogs and Other Second Chances




(rated 4 out of 5 paws)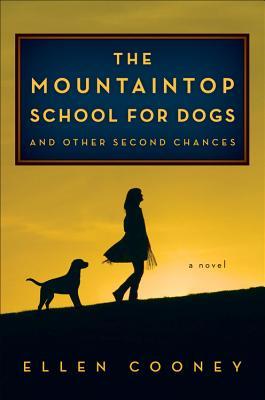 Hardcover: 304 pages
Publisher: Houghton Mifflin Harcourt
ISBN: 978-0544236157
I am usually already sold on any book that has the word "Dog" in the title. So, it wasn't surprising that I found myself reading this novel.
The book is about two women and a pack of dogs. Evie is a young woman who seems lost and is looking for a sanctuary for herself and ends up at the Sanctuary for Dogs, which is an old ski lodge at the top of a mountain. Evie pretends she understands dogs to gain entry, which is not true, so she is on her own and has to learn fast. Mrs. Auberchon is a stubborn woman who runs the school, who doesn't seem to know she is lost.
We always hear about people who rescue dogs, but if you really think about it, it is the dogs that rescue us. Even though some dogs have had a rough life, they are more likely to let go of the past and move forward to the present. Just by watching them, we can learn how to do the same thing. We just have to be willing to be like them and open up and try again, because there are many similarities between dogs and us when it comes to how we react to things and people in our lives. The only thing I would change about the book would be the ending!
See more from publisher.
Reviewed by Animal Radio® Co-Host Judy Francis
---
A Different Little Doggy




(rated 3 and 1/2 out of 5 paws)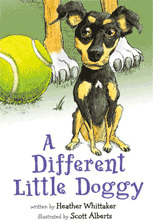 Hardcover: 28 pages
Publisher: Pen-Tech Professional, LLC
ISBN: 978-0982096215
I normally don't read nor review children's books, but this one got me by the cover! I just love the dog on the front and the illustrations throughout the book. I know it is a children's book, but you can't tell me that dog lovers of all ages wouldn't pick this book up!
The story is about a dog, Taz, who is different. It sends a message to children that no matter how different you are, or how different others are, that it can actually be a good thing and that you should just be yourself and accept others as they are.
I believe it also teaches children compassion towards dogs and other creatures and that we shouldn't feel sad for them. Just because they are different doesn't mean they can't lead a full, happy and productive life!
See more from publisher.
Reviewed by Animal Radio® Co-Host Judy Francis
---
My Best Little Buddy





(rated 4 and 1/2 out of 5 paws)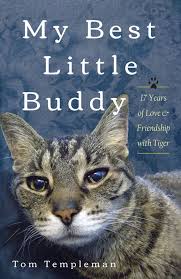 Paperback: 114 pages
Publisher: Tom Templeman
ISBN: 978-0-9895267-0-8
There was something about the cover of this book that first caught my attention. It is a picture of Tiger, a cat, who was owned by Tom Templeman. There is nothing extraordinary about Tiger. He is a grey, striped tabby. But, when you look into his eyes, you see it! There is something definitely there that catches your attention and draws you in. Perhaps Tiger is one of those old souls.
Many cats have owned me over the years and I just had to read this book to find out more about Tiger. The book is an easy read and I finished it in just two sittings (okay, I am a voracious reader!).
Tiger and his sister Sundae were stray kittens and are two of the lucky ones. Tom and his wife found the cats one day huddled together in a parking lot. Now, most people would have just looked the other way, got into their car and drove off. In fact, it seems a few people did just this. But Tom and his wife took their time and eventually gained the trust of these two kittens and took them home.
My Best Little Buddy tells the story of Tiger and his Sister Sundae over the many years of their lives. Like anyone who owns animals for their lifetime, there are usually many changes with moving and new jobs, where everyone needs to adjust.
Tom shares his story of these two kittens and their lives as they all grow just a little older together. It's about life and loss. Tom originally started out writing a song (which is also included in the book) but realized that he had so much more to say about his life with Tiger. Included are also great pictures of everyone.
I don't want to give any more away. You'll just have to read it for yourself. But if you're are cat owner, you will prboably see yourself and your cat in these pages.
I originally said that these kittens were the lucky ones, but after reading Tom's story, I am not so sure. It seems that everyone won in this case! Sometimes people or pets come into our lives at just the right time for a reason!
20% of the profits from all sales of My Best Little Buddy will benefit Nashville Cat Rescue.
See more from publisher.
Reviewed by Animal Radio® Co-Host Judy Francis
---
Big Book Of Why: Crazy, Cool & Outrageous





(rated 5 out of 5 paws)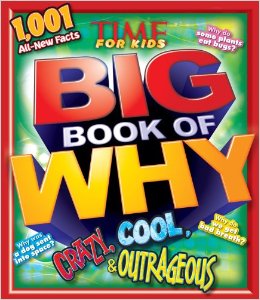 Hardcover: 192 pages
Publisher: Time For Kids
ISBN: 978-1618930774
We all want to look good in front of our children. However, their little minds are constantly taking in the world around them and they have endless questions. Most of them we can answer quite easily. However, there are those that even stump us!
Now, with the Big Book of Why: Crazy, Cool & Outrageous, we can competently answer them (without making the answers up). We will now know ourselves why the oceans are blue, why we burp or why tigers have stripes.
Even if you don't have children, you will find this book fascinating and will come away with a wealth of knowledge that will prepare you for your future children and maybe even Jeopardy, even if you just sit in front of the television to watch it.
Or better yet, give the book to the inquisitive child and watch their little minds soak up all of the crazy, cool & outrageous facts.
However, when it comes to answering the age-old question, "Where do babies come from?" I'm afraid you're on your own, as this book won't provide that answer!
See more from publisher.
Reviewed by Animal Radio® Co-Host Judy Francis
---
A Dog Walks Into A Nursing Home - Lessons In The Good Life From An Unlikely Teacher

(rated 4 and out of 5 paws)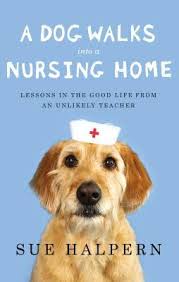 Paperback: 310 pages
Publisher: Riverhead Books
ISBN: 978-1-59448-720-0
Funny, moving, and profound, A Dog Walks into a Nursing Home is the story of how one virtuous - that is to say, faithful, charitable, loving, and sometimes prudent - mutt showed great hope, fortitude, and restraint as she taught a well-meaning woman the essence and pleasures of the good life.
Pransky was bored: she needed a job. And so Sue Halpern decided to give herself and her underoccupied Labradoodle a new lease on life by getting the two of them certified as a therapy-dog team. Pransky proved to be not only a terrific therapist, smart and instinctively compassionate, but an unerring moral compass as well. in the unlikely-sounding arena of a public nursing home, she led her teammate into a series of encounters with the residents that revealed depths of warmth, humor, and insight Halpern hadn't expected. Little by little, their adventures expanded and illuminated Halpern's sense of what goodness is and does - how acts of kindness transform the giver as well as the given-to.
Each chapter is dedicated to a virtue we would all do well to incorporate into our daily lives.

See more from publisher.
Reviewed by Animal Radio® Dream Team Member Joy Turner, Talk With Your Animals
---
Cats & Daughters: They Don't Always Come When Called





(rated 5 out of 5 paws)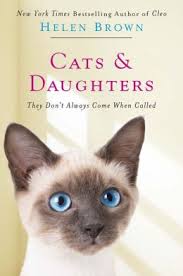 Paperback: 304 pages
Publisher: Citadel Press
ISBN: 978-0806536064
Cats & Daughters takes over where Cleo leaves off. After the death of Cleo, Helen swore she would never get another cat again. But, life happens when you're busy making plans, and that's when Jonah, a so-called Siamese, entered Helen's life. By then, Helen had two daughters and quickly learned that felines and rebellious daughters have a lot in common!
Once again, Jonah the cat helps the family over the years during once crisis after another. Through Helen's breast cancer scare, as well as well as her daughter's threat to become a Buddhist in war-torn Sri Lanka.
Both these books are page-turners. Even if you don't own any cats (or no cats own you!) you will enjoy reading about Helen's journey and about how our animals can be a source of comfort during our most trying times.
Be sure to read them in order: Cleo first and then Cats & Daughters (They Don't Always Come When Called). You won't be able to put them down until your finished!
See more from publisher.
Reviewed by Animal Radio® Co-Host Judy Francis
---
Do Dogs Dream?





(rated 5 out of 5 paws)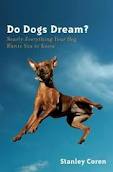 Hardcover: 304 pages
Publisher: W.W. Norton & CO.
ISBN: 978-0393073485
Past works from Stanley Coren have been very scientific and hard for me to understand. But this is quite a departure from his complex works and explains the questions we have about our canine companions in easy to understand bites. Each chapter is only a couple of pages and is a fun read every day for a couple of minutes before I retire for the night.
Coren answers questions like, what colors my dog sees, what she sees on TV, why she rolls in smelly stuff, and of course, does she dream. You'll learn so much about your friend and just how smart he/she really is. Every dog parent will love this and it makes a great gift.
See more from publisher.
Reviewed by Animal Radio® Co-Host Hal Abrams
---
You Lucky Dog!




(rated 3 and 1/2 out of 5 paws)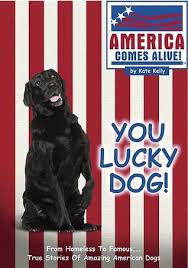 Paperback: 113 pages
Publisher: ACA Publishing
ISBN: 978-0-9892106-0-7
You Lucky Dog! is an uplifting compilation of true stories about homeless dogs that somehow survived and thrived to become local or national celebrities.
One such story features Bum, a steamship stowaway, who hops off a ship in San Diego in 1886 and makes the town his home. There's Terry, the dog who played Toto in The Wizard of Oz, who was given away by his first owners who found him disobedient. And famous Benji was a shelter dog who became a star.
The book also contains unforgettable stories about America's First Dogs (and a First Fish and a First Raccoon) to give a rounded view of our dogs' place in American history. Kate captures their very souls in moving descriptions of the devotion, loyalty and trust that no only changed the fortune of these very special dogs, but also the lives of their human caregivers.
Visit www.americacomesalive.com to read more stories about American dogs.

See more from publisher.
Reviewed by Animal Radio® Dream Team Member Joy Turner, Talk With Your Animals
---
You're My Dawg, Dog




(rated 3 and 1/2 out of 5 paws)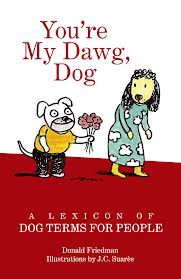 Hardcover: 96 pages
Publisher: Welcome Books
ISBN: 978-1599621234
You may not have paid much attention, but you probably have found yourself saying at one time or another a familiar phrase such as, "It's a Dog-Eat-Dog" World," or that you were "Sick As A Dog," maybe even that a person is a "Lucky Dog." But did you ever stop to think about what those terms really mean or where they originated?
In Donald Friedman's book, "You're My Dawg, Dog" you will find the explanations of dog terms, idioms, proverbs and metaphors, along with great illustrations. Some of these you may frequently use, others you may see for the first time. There are also quotes from Black Sabbath to Shakespeare to Rihanna.
Dogs are man's best friend, so it's no wonder many of our common phrases include them.
Pick up a copy and see how many of these phrases you use, and who knows, you might even "Teach A Dog A New Trick" – that would be you learning new phrases!
See more from publisher.
Reviewed by Animal Radio® Co-Host Judy Francis
---
Cleo: The Cat Who Mended A Family





(rated 5 out of 5 paws)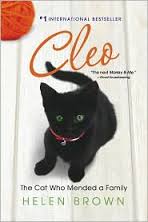 Paperback: 272 pages
Publisher: Citadel Press
ISBN: 978-0806533032
It's hard to imagine losing a child. It's even harder receiving and caring for a kitten he selected prior to his death, which you had forgotten about.
When Helen Brown's 9-year-old son, Sam, was killed in a tragic accident, she forgot about a kitten he had selected and was waiting for it to be old enough to be adopted. She wasn't prepared when the kitten was delivered a couple of weeks later, but decided to take in the kitten for her other son, 6-year-old Rob.
The cat was named Cleo, and seemed to understand the family was going through severe emotional times. He was a healing source for everyone as they put their lives back together. Through no fault of his, Helen and her husband divorced, but Cleo was always with her. In fact, Cleo selected her second husband and was there for her new family and the births of her two daughters. When Cleo passed away, she was almost 24-years-old.
See more from publisher.
Reviewed by Animal Radio® Co-Host Judy Francis
---
Sandy and Sandy A Tail Of Love



(rated 3 out of 5 paws)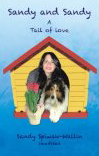 Paperback: 173 pages
Publisher: Author House
ISBN: 978-1-4772-6096-8
Sandy Spiwak-Wallin has always been an animal lover, but when she and her husband inherited Sandy The Sheltie, not only did it turn her family's life around but she was faced with daily challenges on how to handle a dog with every behavioral problem in the book.
It taught her and her family to never give up on a difficult dog and how rewarding it can be for all.

Reviewed by Animal Radio® Dream Team Member Joy Turner, Talk With Your Animals
---
For The Love Of The Horse Volume IV




(rated 4 out of 5 paws)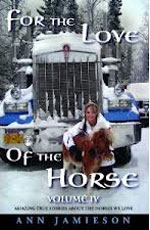 Paperback: 193 pages
Publisher: Self
ISBN: 978-0-578-10651-9
"For The Love Of The Horse Volume IV" by Ann Jamieson is another in her series of inspiring tales about the bond between animals and their humans. This particular book focuses on the bond with horses and how that bond has impacted the lives of humans. There are some amazing stories that will move you to tears and create that wonderful uplifted feeling in your heart.
"For The Love Of The Horse" encompasses a wide variety of breeds and disciplines and is sure to please everyone, even if you don't consider yourself a "horse person." There is one difference in this book from other similar books. Instead of having stories written by each person submitting the stories, Ann has taken their stories and re-written them. This allows Ann's unique perspective to shine through each of the stories.
"For The Love Of The Horse Volume IV" really is a book for everyone and a highly suggested read.
See more from publisher.
Reviewed by Animal Radio® Dream Team Member Joy Turner, Talk With Your Animals
---
Reiki Fur Babies


(rated 2 out of 5 paws)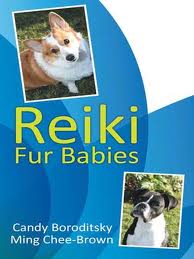 Paperback: 70 pages
Publisher: BalboaPress
ISBN: 978-1452546827
I have read Reiki Fur Babies and I don't know how to review this book. I have found that it needs lots more editing because there are quite a few errors that editing would catch and fix. Also, the way the language is in it, it reads like a translation of Japanese into English (if you understand what I mean by that). There is also not any kind of instruction of how someone might provide Reiki to their fur babies and I would have expected at least something superficial about that from a book with its title. The only somewhat good thing about it is the stories they tell.
See more from publisher.
Reviewed by Animal Radio® Dream Team Member Joy Turner, Talk With Your Animals
---
Snort's Special Gift



(rated 3 out of 5 paws)

Hardcover: 32 pages
Publisher: Beaver's Pond Press
ISBN: 978-1-59298-423-7
Dealing with the death of a pet can be hard. Especially when small children are involved. Snort's Special Gift explores several different ways to celebrate the life of a pet that has passed. It is beautifully illustrated and includes activities.
Savy, a young girl, learns that her furry companion is sick. Her parents tell her that Snort will have to go away to heaven. She wonders what she'll do without her best friend.
This book will help your YOUNG child address the feeling and emotions surrounding the grieving process. The words of author Suzanne Yue and the pictures from Lin Wang make this book one that your child will treasure.
See more from publisher.
Reviewed by Animal Radio® Co-Host Hal Abrams
---