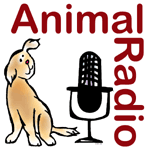 GET WEEKLY DELIVERY of ANIMAL RADIO
Subscribe to Animal Radio and receive the weekly radio show on TWO Compact Discs. Only $24 a month to receive a CD-A-WEEK and help the animals at the same time.
You can own the stories told by celebrities and animal experts. Subscribe using your credit card right now. What could be easier?
---
PURCHASE A PAST SHOW
(12.95) per Compact Disc

Get Compact Discs of other Animal Radio programming
by calling 435.644.5992 or e-mailing root@AnimalRadioNetwork.com