Bar Dog Wine





(rated 5 out of 5 paws)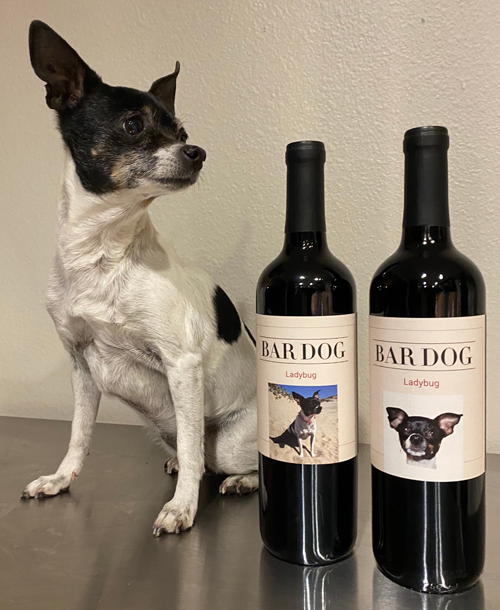 Who doesn't like a good bottle of wine? Better yet, who doesn't like a good bottle of wine with your best friend on the label – your dog?

The vintners at Bar Dog have made it paw-sible for puppy-parents to design custom wine labels featuring photos of their cute and cuddly canine kids. Consumers can choose from a broad selection of handcrafted, affordable wines, then create their own one-of-a-kind label from scratch using the design tool on the website.


We were so pleased when our bottles arrived. Ladybug the Animal Radio Studio Stunt Dog looked so good on the label, we didn't want to open them. Luckily we received two bottles so we could open one and keep the other for display. We popped the 2019 Cabernet Sauvignon from California - and it was delicious! Now, we're not wine-snobs, but the Cab had a full-bodied taste with dark fruit flavors and savory undertones. They also have many other varieties to choose from. And as an added bonus, Part of the proceeds of Bar Dog wine purchases are donated to local, animal shelters across the country as part of the Bar Dog Gives Back initiative.

So dig through your photos of your dog and order a couple of bottles for yourself and your fiends all while helping the animals.

Reviewed by Animal Radio Hosts Hal Abrams and Judy Francis.
Learn more
---
Adjustable String Wand Toy - Bug from RompiCatz - Pet Ki





(rated 5 out of 5 paws)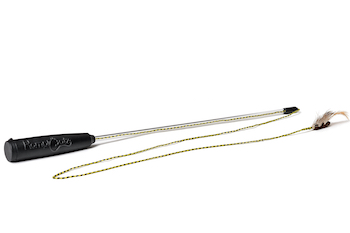 We were sent a care-box full of great toys from Pet Ki's Rompicatz division. For today's review purposes, we're taking a look at the Adjustable Wand Toy. But don't forget about their the rest of their collection at: http://www.rompicatz.com/.
Unlike other wands, the Rompicatz wand is unique. The string holding the "bug" can be stored inside the handle. You can adjust the length up to 36". This means there is no more tangling when you store it. The rod comes with one, very tasty looking "bug." The creators paid attention to detail and the Animal Radio Studio Catz go crazy for this toy.
The best present you can give your furry family is your time. This wand toy is a great way to bond with your domestic lion or tiger. Most importantly, Pet Ki knows there are lots of toys on the market and that it can be difficult to tell if a toy is safe. You won't have to guess with the Pet Ki line of durable and safe toys.
Rompicatz toys are no stranger to Animal Radio. We've been singing the praises for years. Visit their website for great ideas for both cats AND dogs.
Enjoy this video of Sputter and Apollo playing with the Adjustable Wand.
Reviewed by Animal Radio staff Sputters and Apollo.
Learn more
---
Rex Specs Dog Goggles





(rated 5 out of 5 paws)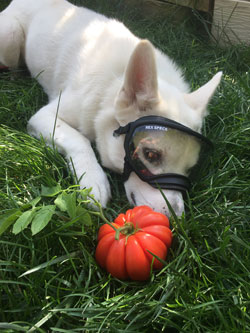 I was skeptical.
Luna is a diva. (my fault)
She was recently diagnosed with Pannus.
She'll be 3 in December.
I was afraid I would have a vampire dog for the rest of her life.
(or mine . . . whichever comes 1st)
Then I stumbled upon Rex Specs. It's worth a shot, right?
80 buck$, amortized over 10? years = $8 a year. WELL worth it!!! Even including an occasional replacement lens.
(unavoidable . . . )
Her new Specs arrived in the mail. We spent about 15 minutes finding the right fit, and practiced wearing them around the house. She was not a happy camper. (part Husky, so you can imagine the vocal complaints. Never a thought left unexpressed.) As she has the skeletal make-up of water, she managed to ooze out of them. I installed a snap-strap from the Rex Specs head-strap to her collar, which solved the problem. After a couple days wearing them around the house, we went out to show off to the Puppy-Pal-Around-Club. She was a hit. It's been a month now. We've already had to buy a replacement lenses. But we are now more careful, and I am more vigilant. I don't expect to have to buy more for awhile.
She knows that when I grab her Specs, it's time to go Walk- About. Or ride in the car! ! !
The Leaps!
The Yowls!
The Yips!
The Twirls!!!
Riding in the car, head out the window, tongue flapping against
the side of the car: when the window buzzes down on a car beside us, she looks over, haughtily demands a carp-puccino, and winks.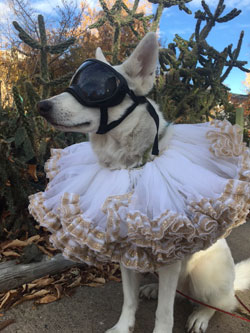 Back to her full Sun-Goddess status, she's the titts, and she knows it.
Rex Specs have exceeded my expectations. And when does THAT ever happen?
Unforeseen Bonus: The Rex Specs help protect her delicate beak when she goes Bush-Bashin'!
Your greatest fans Janet & Luna
Reviewed by Animal Radio staff Janet and Luna.
Learn more
---
WoofPack Dog Walking Accessory Bag





(rated 4 1/2 out of 5 paws)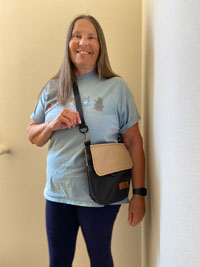 As a dog walker, I have tried almost every hands-free dog waste-walking accessory imaginable. I have tried ones that I attached to a leash, ones that I wore around my waist and even ones that attached to my wrist. I am always on the search for the easiest and most convenient, as I walk several different dogs a day and use several different leashes. I have found that the ones that are attached to me in some way are the most convenient. That way, I don't have to do any switching over when I walk another dog with another leash.
Next, I want to make sure that it is large enough (but not too large) to carry everything I need. Some of the ones that attach to my wrist or to a leash are too small and can't carry everything. This is why I like the WoofPack dog walking accessory bag. It is not too large, but is large enough to carry everything I need, including cellphone, keys, facemask (which I always forget – but not anymore!) and poop bags. Plus, this bag is actually big enough to carry dog waste until you can dispose of it properly. I hate having to carry a used bag in my hand (you'd be surprised at how mad people get when you dump them in their trashcan!), but I was still worried about placing it in a pouch and walking with it.
So, I put the WoofPack to the test. I'm happy to say that it passed! I couldn't smell a thing while I was walking because the waste was placed in a pocket that has an inner antimicrobial liner. But don't worry; your personal items are stored in their own compartments away from the waste.
The WoofPack is lightweight and can be worn many ways, including cross body, as a fanny pack, over the shoulder or clipped to a belt loop. It also comes in five different colors.
My one issue is the shoulder strap. I wore it cross body, and found that the strap was rough and irritated my neck if it touched my skin, so I was constantly pulling my shirt up. However, I like this bag so much, I will get a seatbelt protector and place it around it – problem solved!
Reviewed by Animal Radio co-host Judy Francis and Ladybug the Animal Radio Studio Stunt Dog
Learn more
---
Poop 'N Tie





(rated 5 out of 5 paws)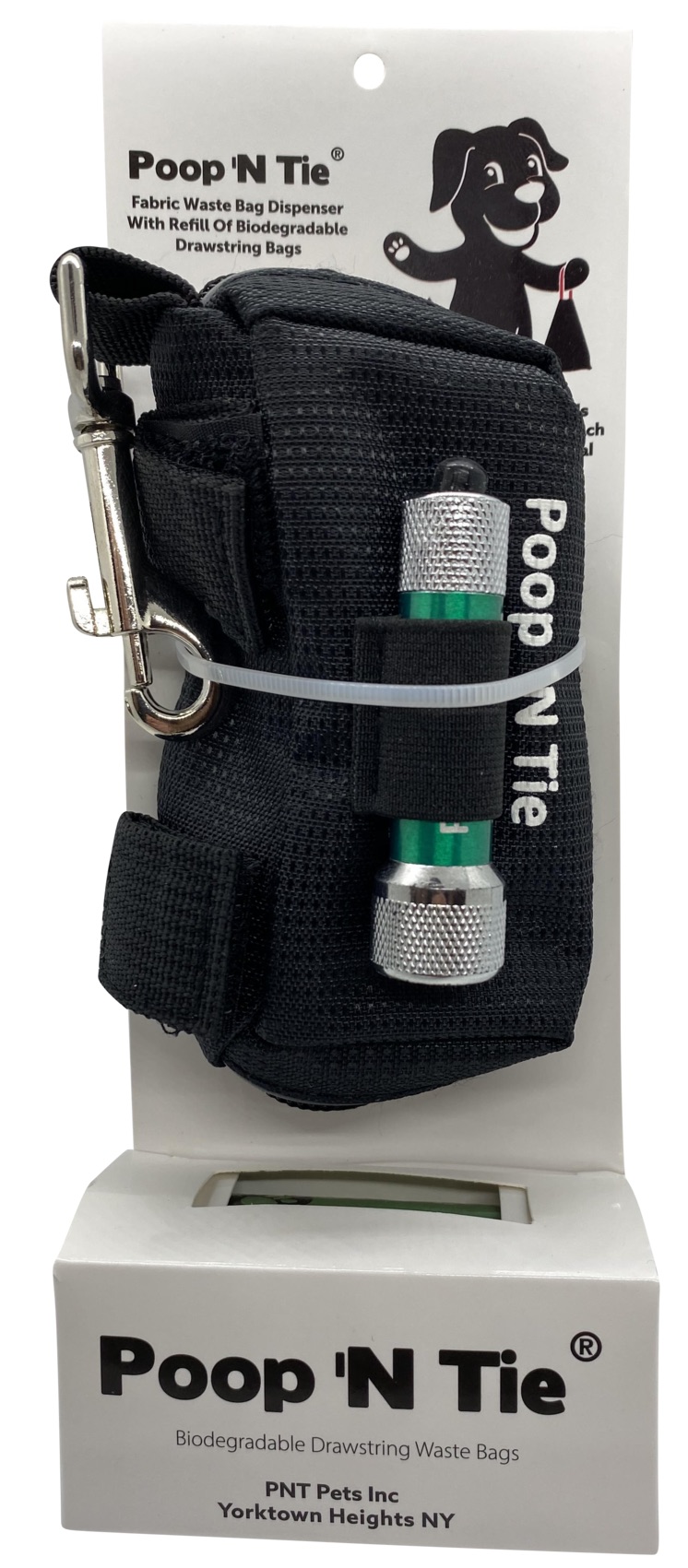 There are many different types of dog waste bags available. Some are just plain bags, while others have handles. However, Poop 'N Tie dog waste bags actually have drawstrings. This makes it so easy to handle the waste by pulling the bag closed and attaching it to the Poop 'N Tie Dispenser. The fabric dispenser fits any type of leash and not only contains a clip for the used bags; there is even an attached LED flashlight to locate the waste in the dark.
I love the features of the dispenser, but I am a dog walker and don't always bring along a dispenser when I'm using a client's leash. I often times just shove some bags in my pocket. The problem is, when I've picked up the waste, I actually have to hold the bag until I can dispose of it, along with holding the leash. But with the Poop 'N Tie bags, I just pick up the waste and pull the drawstring. I can then wrap it around my wrist.
I assumed that because of the drawstring they would be more expensive than a regular roll of dog waste bags, but this wasn't always the case. I found rolls of regular bags that were both less and more expensive, putting these in the middle price range. Poop 'N Tie waste bags come on a roll, are extra thick, have a mint smell are extra wide and biodegradable.
I will be using this dispenser with my dog and will always make sure I have some extra Poop 'N Tie bags in my pocket for my clients' dogs!
Reviewed by Animal Radio co-host Judy Francis and Ladybug the Animal Radio Studio Stunt Dog
Learn More
---
Walkee Paws Dog Leggings, The World's First All-in-One Dog Leggings & Dog Boots





(rated 5 out of 5 paws)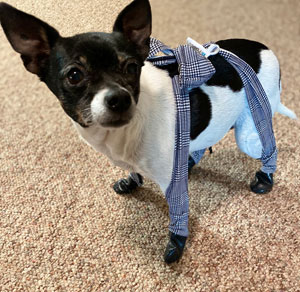 I have a small dog and I often put clothing on her when it's cold. I have even tried putting booties on her, but those single booties fell off after she took a step or two and then I had to find them.
However when I saw Walkee Paws, which were made to actually stay on, I had to give them a try. I have never seen booties like this that are actually tied around their backs, assuring a snug fit. And if your dog does manage to slip a boot, you won't lose them, as they are all connected. You can even clip your leash directly to them.
My dog is 9 pounds, so I tried the X-Small. The first time I tried them, they were a little difficult to get on her tiny paws, but fortunately I have a dog that is very cooperative. Over time, I am sure we will become pros and be able to put them on fairly quickly.
With anything new on my dog, it takes a matter of adjustment. So after putting them on and giving her a favorite treat, she forgot all about them and was prancing around the house in them. The next test was would she wear them outside. No problem! She seemed very comfortable (I wouldn't push her to wear something she hated).
I also think she loved all of the compliments she received and knew she was something special. But for me, it was the fact that her paws stayed safe, clean and free from debris. Plus, I think she has a grass allergy and she no longer licks her paws like crazy after our walks, and she looks adorable to "boot" - pun intended!
As seen on Shark Tank!
Reviewed by Animal Radio co-host Judy Francis and Ladybug the Animal Radio Studio Stunt Dog
Learn More
---
Halo Collar with Cesar Millan


(rated 2 out of 5 paws)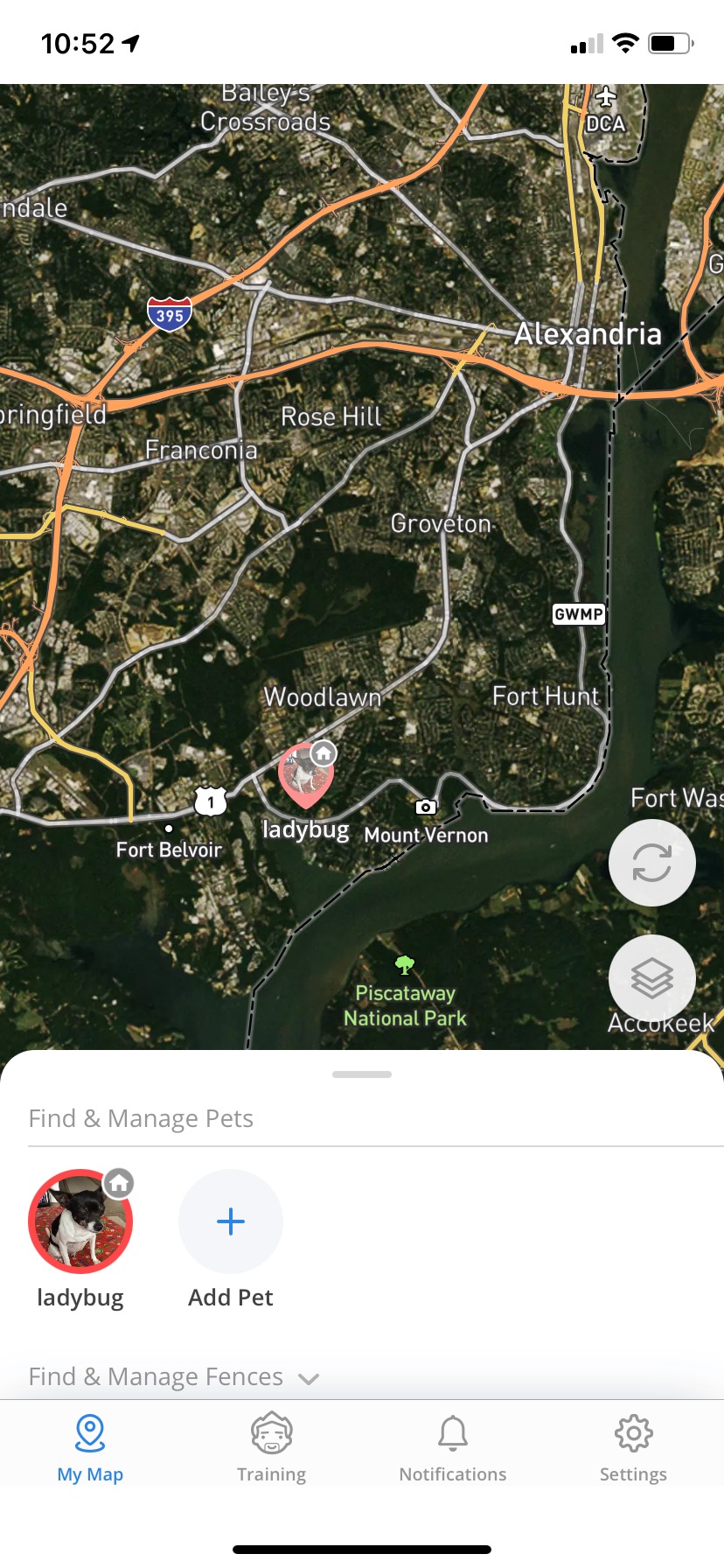 We had extremely high-hopes when we were pitched the Halo Collar, the smart training collar made in partnership with Cesar Millan. This collar promised to utilize proprietary technology & dog psychology to provide a wireless smart fence, smart training, GPS tracker and activity tracker combined into one easy-to-use smart collar. And this collar truly had quite some potential, but missing the marks on multiple accounts.
We received the collar and GPS device in a small unbranded box with no instructions, documentation, or even a charging cable necessary to recharge the battery. Our collar came without any charge (DOA). We were able to use our iPad charger to charge the device. When we reached back out to the PR company about this misfire, they took many days to reply, forwarding us to a call center which provides 'customer service solutions.' The call center emailed us a link to download the manual. Apparently, there is nobody at the Halo company that spearheaded the collar directly interfacing with consumers. This all boils down to poor customer service.
We downloaded the iOS app that accompanies the collar. It had a few glitches, not allowing us to easily enter our test dog's (Ladybug) information. The app doesn't allow you to make corrections to any of the information you enter, just in case you make a mistake, as we did by entering Ladybug's name without a capital "L" in the beginning of her name.
The concept of the collar is fabulous. Some of the features work properly, like sending verbal commands (in Cesar Millan's voice) and sounds to the collar for training purposes. We were disappointed to see an electric zap feature that sends a small electrical shock to your pet, renamed "Static," probably to soften the idea of using electrical current to correct your dog's behavior. We were unable to test the fences and beacon feature for reasons that soon become apparent.
The major selling point of this collar is the ability to locate your animals using GPS (and sometimes wi-fi and bluetooth). There are many collars on the market that successfully do this. However, the Halo Collar is not one of them. As seen in this review's screenshot picture, Ladybug the Animal Radio Studio Stunt Dog is near Alexandria, Virginia. This is of some concern since we're in Central California, over 2,800 miles away. This seems to be a major FAIL.
Ladybug is all of 9.5 pounds. As a Miniature Pinscher/Jack Russel mix, she is most definitely a small dog. The smallest Halo collar would fit best around MY neck. It's heavy and uncomfortable for Ladybug, and certainly not designed for smaller dogs.
With a list price of $799, we expected a lot more. The price point is far above collars that are better packaged, provide stronger customer support and documentation, and actually can correctly locate your pet.
I'm sorry to see the Cesar Millan attached his name to this product. The manufacturers cleary were striving for greatness and missed by miles.
Reviewed by Animal Radio Operations Mgr. Bob Roth.
Learn More
---
Kids 'N' Pets Instant All Purpose Stain & Odor Remover





(rated 5 out of 5 paws)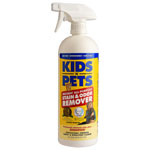 As an influencer, we get tons of stain and odor remover. Very rarely does a particular brand rise to the top of the crop. However, we were surprisingly delighted when we received Kids 'N' Pets Instant All Purpose Stain & Odor Remover.
Our incontinent cat sometimes has accidents around the radio station. The last time this happened we were out of the stuff we usually use, so we grabbed the bottle of Kids 'N' Pets. We used it on the cat urine spot and it effectively removed it. Even after it dried, and several days later, the spot was clean and no longer smelled of urine.
When the boss showed up to the station, he commented on how it smelled like exotic flowers. He kept asking the secretary what was the name of her new perfume. She kept insisting she wasn't wearing any. That's because the Kids 'N' Pets smells like Lilacs. Not only did it remove the nasty urine spot, but it really improved the smell of the radio station.
When researching Kids 'N' Pets, we learned that it's made by the same people that make Scott's Liquid Gold, a company that has been around forever making quality products.
We wholeheartedly can get behind Kids 'N' Pets and we've changed our cleaning solution from Nature's Miracle to this new incredible stain remover.
Reviewed by Animal Radio Operations Mgr. Bob Roth.
Learn More
---
PlaqueOff System Dental Care Bones





(rated 5 out of 5 paws)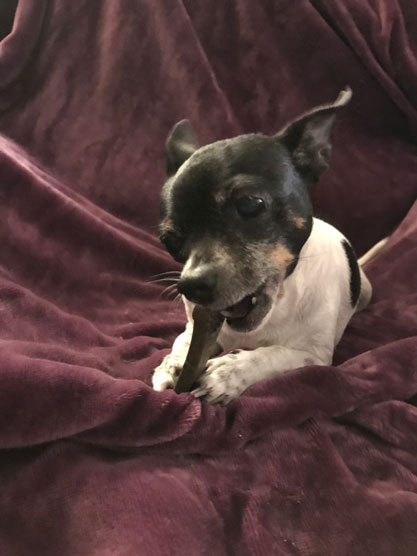 Before I give my dog any treat, I check to see that they're made in the USA with sustainably sourced ingredients, which these treats are. Next, I want to make sure that they're healthy with no by-products. Again, these treats passed. And lastly, my dog has to like it. I'm happy to say that the PlaqueOff Dental Care Bone Dog Treats passed my 3 requirements (and my dog's only requirement – she loves them!). Since my dog is less than 9 pounds, I can take one Mini treat and break it in two, making them last twice as long.
They're the right consistency for my dog. They feel like a chew bone, but not dangerous like rawhide. The PlaqueOff bone also agrees with Ladybug's stomach. No diarrhea or belly issues.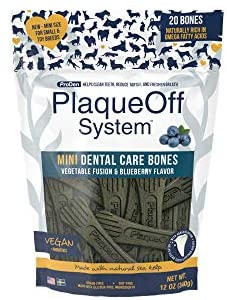 I give Ladybug one after dinner. She is a picky eater, and didn't always finish her dinner. Now, she cleans her bowl and comes running for her Dental Care Bones. She thinks it's just a treat, but I know it's healthy and it's actually cleaning her teeth and giving her fresh breath – so everyone wins!
Let's face it, we know we should be brushing our dog's teeth, but most of us don't. While there is no substitute for brushing your dog's teeth, this is the perfect solution in-between.
The Mini Dental Care Bones are available in Vegetable Fusion Flavor (which I tried) as well as Vegetable Fusion Blueberry. Other sizes are available in Turkey & Cranberry, Chicken & Pumpkin, Bison & Apple and Bacon flavors.
Oh, bye the way, they have human products too. I'll be checking those out next!
Reviewed by Animal Radio host Judy Francis, Ladybug the Animal Radio Studio Stunt Dog.
Learn More
---
Zoo Snoods






(rated 5 1/2 out of 5 paws)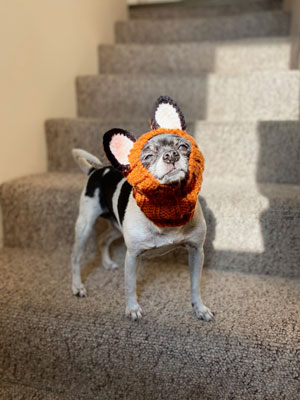 What is a Zoo Snood? Just the most adorable costume/clothing for your dog (or cat, if they're so inclined)! They come in many styles, from bunnies to unicorns, and many others too numerous to mention in this space. Hit the link below and you can see the Zoo Snoods zoo.
They not only look adorable, they have many functions. They can keep your pet warm in the winter and also help with those dogs whose ears are always getting into their food bowls when they eat.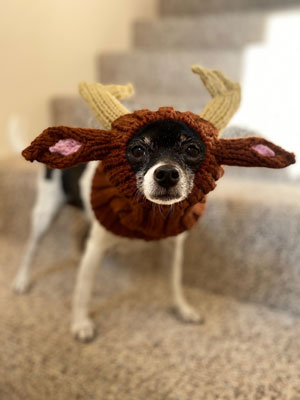 When we first opened the review sample, we were scratching our head trying to figure out what they were. Once we realized they're stitched clothing for the dog, we were struck by how "handmade" each headdress looked. Because they're like a soft sweater, they're extremely comfortable, we assume. Ladybug seemed to agree. We tried the fox and the reindeer on Ladybug (as they were way too small for me or my husband). Ladybug strutted around, knowing she was the center of attention.
Zoo Snoods are handmade from super soft yarn so they are also comfortable for your dog and can be washed by hand or by machine. They come in small, medium and large, so you're sure to find one that fits your dog. Zoo Snoods have a snuggly fit (they use elastic in the head and neck holes), so your pet can't easily take it off. Your only problem is going to be which one to buy for your dog – so I recommend buying several!
Reviewed by Animal Radio host Judy Francis, Ladybug the Animal Radio Studio Stunt Dog and Nike.
Learn More
---
ClueJay Stool Test





(rated 4 1/2 out of 5 paws)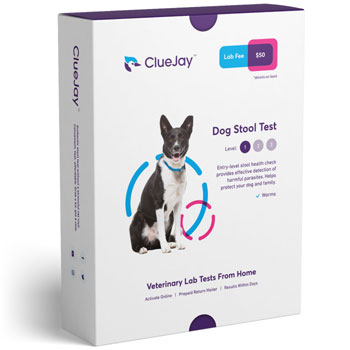 Stool testing is crucial to your pet's health and should be done twice a year. Do you know the last time you had your pet's stool checked? I bet it's been a while! Now, you don't even have to take your pet to the vet. It is so easy to do without even leaving your home. All you have to do for your cat or dog is to order a kit online, gather a fresh stool sample and place it in the pre-paid return box. Then just put it in the mail. Within days, your results will be available online.
There are different kits for both cats and dogs, as well as different grades of test for each animal. Level 1 checks for worms. Level 2 checks for worms and Giardia (a common cause of soft stools and diarrhea). Level 3 checks for worms, Giardia and microbes (disease-causing bacteria, viruses and protozoa). There is an additional Lab Fee, which varies upon the Level of kit you purchase. When your lab results are available, you will be notified by email. How easy is that?
We were only supplied the lowest level kit for review. :( - And while we were curious about the other levels, we were pretty sure we would know the results of the worms test. The stool collector was easy to use and the turnaround time was good. I'm happy to say their results came back negative!
Reviewed by Animal Radio host Judy Francis, Ladybug the Animal Radio Studio Stunt Dog and Nike.
Learn More
---
Yummy Combs






(rated 5 1/2 out of 5 paws)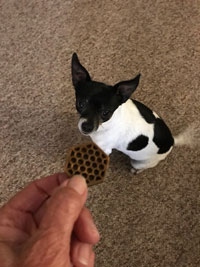 You can pretty much guess your dog is going to love a new treat when they get to the package before you and want to rip it open.
But, being a good dog mom, I also want to make sure the treat is a winner with me as well.
The first thing I noticed about the Yummy Combs treats was the honeycomb shape. The purpose of this is to make it as if your dog is flossing their teeth when chewing it. It not only cleans their teeth while they eat it, it also massages their gums to clean their gum line. You can almost see it happening while they are chewing it.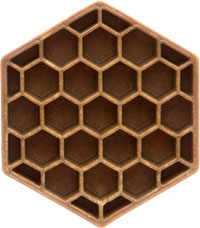 I mentioned being a good dog mom, but I admit that I don't brush my dog's teeth. (I know – bad!) I know that treats are no substitute for a dental cleaning by a professional, but if you're like me, most of us don't brush our dog's teeth or have them cleaned on a regular basis. So why not let a treat like Yummy Combs help, since it is a healthy one that avoids artificial colors, flavors, preservatives, lactose, grains, GMO's and gluten, and is manufactured in the US, which is very important to me.
The Yummy Comb treats come in sizes from extra small up to extra large. They are also individually wrapped. And as always, you should supervise your pup when giving them any treats.
This treat is a winner for both my dog and me!
Reviewed by Animal Radio host Judy Francis & Ladybug the Animal Radio Studio Stunt Dog
Learn More
---
Dazzling Paws Jewelry





(rated 5 out of 5 paws)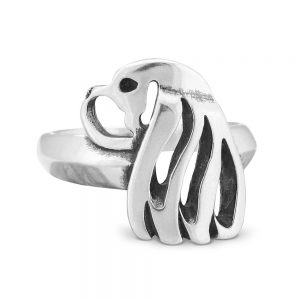 Dazzling Paws Jewelry is designed for people who love dogs. So, who better to review their products than Animal Radio! We received two ring samples, the Golden Retriever and the Cavalier King Charles (which are both beautiful, I might add!).
The rings we received for review are designed for both men and women and available in sizes 7 to 11. No matter what breed of dog you have, you are sure to find a ring, pendant, earrings or a keepsake memorial in their likeness. Dazzling Paws Jewelry offers 100 different dog breeds and 2000 different designs. There's something for everyone. If you're a Yoga fan, their Namaste collection features dogs performing Yoga. How cool is that?!
I keep mentioning dogs, but I want to say they didn't forget about the cats (and even sheep!).
This is high quality jewelry that you can wear anywhere and be proud to show of your love for our furry-friends.
These items are great just for yourself or as a gift to a dog loving friend, as they come in a cute little gift box along with a polishing cloth to keep them sparkling and can even be personalized.
All of their jewelry is uniquely handcrafted in the USA and made from recycled sterling silver by a true animal lover, Myra Westphal. But don't let the word recycle fool you, all of their pieces are beautifully polished and simply gorgeous!
This makes the perfect gift for all of your animal loving friends!
Reviewed by Animal Radio host Judy Francis
Learn More
---
Wet Noses Chicken Cacciatore Dog Food





(rated 5 out of 5 paws)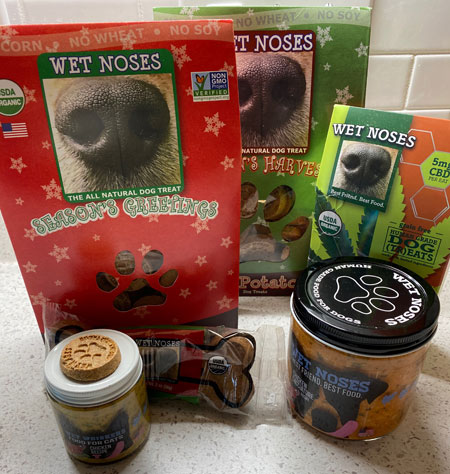 I have a finicky dog. I'm not sure if it's because of her size (she is only 8 pounds) or because I have spoiled her (ok, that might be the answer!), but she won't eat just anything I put in front of her. So, when I received the Wet Noses Chicken Cacciatore, I thought it would either be a hit or a miss. Well, it was so far off the scale, it wasn't even close – it was a HIT!!! Not only did my dog love it (and my cat did too!), but she does her little dance when she knows it's time to eat and she can smell the Wet Noses food.
I admit I spoil Ladybug, so I won't just give her any food. In fact, I won't give her anything I won't eat myself, which is why we both love Wet Noses. No, I don't eat this food, but it looks good enough for me as well. Wet Noses food is 100% human grade, sourced and made in the USA and contains real food, nothing artificial. Their wet food come in many flavors like beef & barley, beef & greens, chicken & rice, chicken & squash and salmon and cilantro. Plus, they even have dry dog food along with treats. And, they didn't forget about the cats. They have a line of wet cat food just for the kitties!
Wet Noses is perfect for (my) your finicky pet!
Reviewed by Animal Radio co-host Judy Francis & Ladybug The Animal Radio Studio Stunt Dog
Learn More
---
VegReadyMeals



(rated 3 out of 5 paws)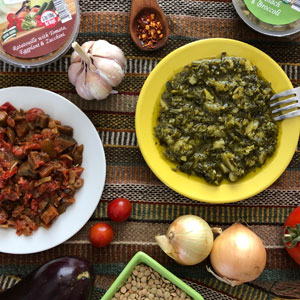 While I am not a vegetarian, I'm absolutely inclined to purchase and eat food that is humanely manufactured. Personally, I believe most vegetarian food often lacks flavor. So I'm always looking for new takes on vegan and vegetarian meals, hoping that I'll find something that will help me be more compassionate and healthy.
We received two VegReady meals for review. Both were nearly similar in presentation. Both came with Quinoa, Spinach and Broccoli. Both came with a individual red sauces. Neither came with any heating instructions. But this may be intentional, as VegReady touts "they don't need to be refrigerated or heated - so are easy, portable and can be eaten virtually anywhere." However, I felt compelled to heat the ingredients.
I tried hard to open my eyes to this new vegetarian option. Yes, it is convenient and probably healthy, as it seems minimally processed without chemical preservatives - and a year shelf-life. VegReady is a great option for a light lunch during a busy workday. I found the Spinach and Broccoli puree to be the best flavor and actually great on crackers and other foods not intended.
One of the red sauces was similar in flavor to picante sauce but also contained Mango and Hearts of Palm. The other red sauce was a little more complex and had Piquillo Pepper, Cabbage and Lentils. The core of all the VegReady meals is Quinoa.
VegReady offers a subscription of 8 meals according to their website, which by the way has plated mouth-watering pictures. Unfortunately, the food doesn't look as yummy in the plastic containers they arrive in. For $60 you get eight meals with 8 Quinoa trays and 16 sides and sauces.
If you want to eat healthy, fast and conveniently, as well as humanely, you'll be delighted by the $7.50 a serving VegReady options.
Reviewed by Hal Abrams
Visit Website
---
Frenchie Comfort Leash & Frenchie Duo Reversible Harness





(rated 5 out of 5 paws)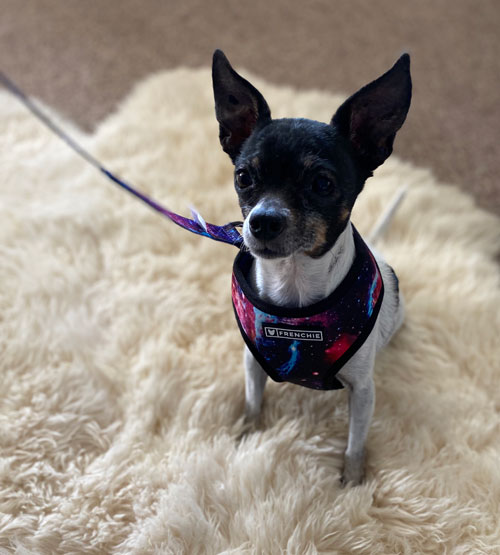 I want to start off this review by stating that I don't have a Frenchie dog. But don't let the name fool you. The Frenchie harness will fit other breeds of dogs as well. In fact, I have a Jack Russell, Miniature Pinscher mix and it not only fits her well, it looks great on her! I love the colors.
The weather is colder and the multiple colors match almost any color t-shirt I put underneath the harness. Plus, it's reversible.
I have to admit, I couldn't figure out the "D Ring" which when reversed, lands under the harness. So I watched the video on their website, which explained it so even I could understand it. The material on the "space" side is neoprene fabric and the reverse side is a different pattern with mesh material. Both types of material have quick drying capabilities and include reflective material for night walking. I can tell there was a lot of thought that went into this harness, as it only has one buckle, which is more comfortable for your dog, and the buckle is curved to better fit your dog and conforms to the curvature of their bodies. On top of all of this, they also have a matching leash, letting my dog walk in style - she knows she looks good!
Also, kudos to customer service. Top of their game. They helped me size Ladybug's harness and matching leash.
Reviewed by Animal Radio co-host Judy Francis & Ladybug The Animal Radio Studio Stunt Dog
Learn More
---
Crown & Paw Pet Portrait





(rated 5 out of 5 paws)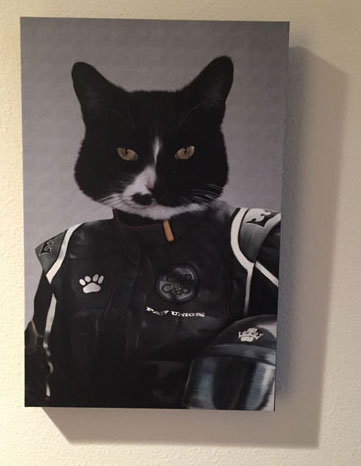 This is, no doubt, hands down the best pet lover's gift we've seen in a while. Send Crown and Paw a picture of your cat or dog, then browse through various outfits. Crown and Paw will turn it into a masterpiece.
After uploading the photo of Nike the Animal Radio Studio Stunt Cat, we viewed all the possible outfits and settled on the motorcycle jacket and helmet. Certainly not a renaissance themed outfit, as most of the costume choices reflect an earlier era.
Three weeks after our online order, we received a well-packaged 12x18 canvas with an incredible likeness of our cat in leather. The portrait has brilliant colors printed on quality material. You can tell the artist cared about their creation - so that it will be treasured a long time. You will want to find a place to hang it prominently.
While this isn't our first pet portrait, it was our first Crown & Paw Portrait. And it won't be our last.
Reviewed by Animal Radio host Hal Abrams
Learn More
---
Bissell ICONPet High Powered Cordless Vacuum





(rated 5 out of 5 paws)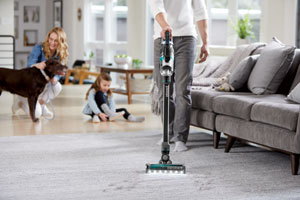 I tout my modern relationship! I don't mind being the housekeeper while my wife holds a 9 to 5 job. I keep a pretty clean house, which is no easy task with feline and canine family members.
The choice of vacuum is critical. I've been blessed to be able to try many brands and the latest technology. Now Bissell has stepped up to the plate with a cordless high-powered vacuum that gives Dyson a run for their money.
I unboxed the Bissell ICONPet and quickly assembled a stick vacuum that seems just a tad bit heavier than the Dyson brand. Aside from that, I have nothing bad to say about the vacuuming experience. The weight quickly became a non-issue as the other features outshine its competitor.
Bright LED lights made dirty areas missed by the Dyson readily apparent. The powerful motor had no problem sucking up dirt and hair. You might expect a powerful cordless vacuum to be limited on battery power, but our test lasted 50 minutes and netted a full canister of hair, dust and dirt.
Cleaning out the canister was fairly easy, although like the Dyson, we cannot speak to the long-term reliability of some of the delicate and intricate plastic.
My next task is the stairs. It comes with a motorized brush that make it easy to traverse the stairwell.
Bissell has indeed broken the barrier by creating a multi-use vacuum that is strong and efficient as a corded model.
While we received a free ICONPet for review, we plan on keeping it. The Bissell folk will have to pry it out of my dead hands. They've have converted this Dyson user to a simply better product.
You can get the ICONPet direct from Bissell for $299.95, or 5 payments of $59.99, or from Amazon at: https://amzn.to/30dZIgU
A $25 donation for every purchase is made to the Bissell Pet Foundation.
Reviewed by Animal Radio host Hal Abrams
Learn More
---
PocoPet






(rated 5 and 1/2 out of 5 paws)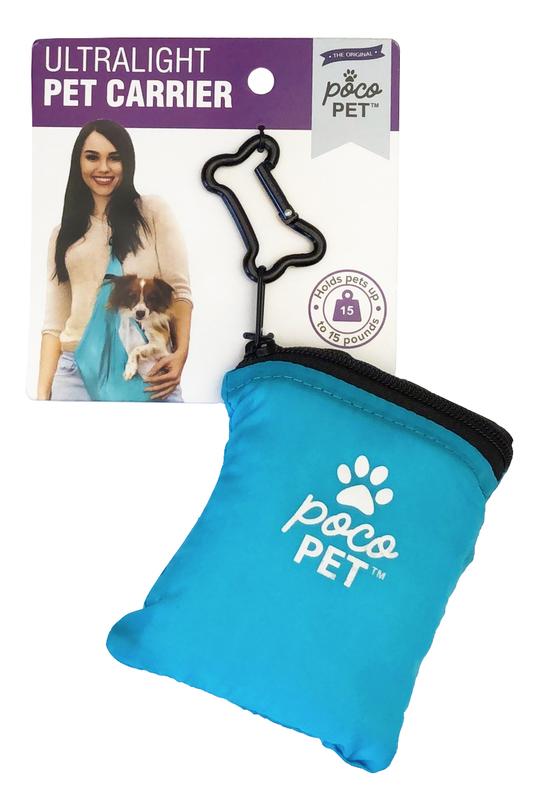 I have a sling that I use for my small dog. However, as it is a little big and cumbersome, I don't always take it with me when we go for a walk.
However, there have been times when I was walking my dog and wanted to go in a shop and wished I had it. PocoPet has come up with the perfect solution. They have created an ultra-light pet carrier that I can have with me at all times.
It is compact and comes in a little pouch (about 4 inches long and about 3 inches wide) that you clip to your dog's leash so you can have it with you at all times.
When you want to use, you just open it up. It has an adjustable shoulder strap, a mesh ventilation pane, a dog collar clip and a treat pocket. When you are done using it, it folds up and makes its own little pouch that you clip back on to your dog's leash with the carabiner.
The PocoPet can carry a pet up to 15 pounds in weight and 13 inches long. What a great idea - I will never be caught without a sling for my dog again!
Reviewed by Judy Francis
Visit Website
---
Barco One Scrubs





(rated 5 out of 5 paws)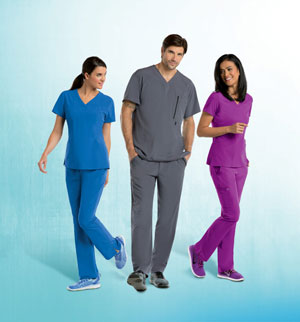 I'm a pet sitter and work around many animals every day. I also walk dogs in all types of weather. I sometimes have to plan my outfits around the type of pet I will be seeing that day, what I have to do with them (administer meds, etc.) or what the weather will be like.
Sometimes after a long day, I even need to shed my clothes as soon as I walk in the door, as they are covered with pet hair and who knows what else! That is why I like Barco One Scrubs. They have all these things covered! They are lightweight, cool and even help to regulate your temperature with their moisture wicking fabric.
And if you get covered in pet hair – no worries – their fabric makes it so easy to just brush it off. They are also so comfortable, stylish and wrinkle resistant – you will want to wear them every day!
They come in a variety of colors and include tops, bottoms and even jackets. And, to top it off, each garment incorporates 5 recycled plastic bottles in its fabric. If you have a job where you work around animals, these are a must have!
Reviewed by Judy Francis
Visit Website
---
NoSweat Hat Liner





(rated 4 and 1/2 out of 5 paws)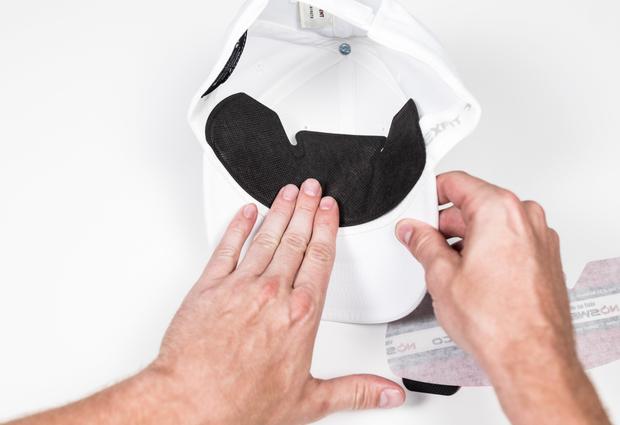 I'm a female and I sweat. That feels good to get that out in the open! I'm also a dog walker and wear many hats – literally!
We've all seen it, you wear a hat a few times and you can see that ugly sweat ban that makes your hat discolored around the rim. You can't always get out the stain with washing. But what if you could prevent the staining in the first place? No, I don't mean don't sweat – you can't control that. However, you can use the NoSweat's Hat Liner.
While you will still sweat (no one has come up with a solution for that yet!), the disposable liner will absorb the sweat. Not only will your hat remain stain free, the liner will keep your forehead dry and stop the sweat from running into your eyes! The liner was so easy to apply. I just stuck it to the inside rim of my hat and it stayed in place.
When it gets dirty, you can just replace it with a new one. On top of all of this, the liners do not change the way your hat will feel or look.
Reviewed by Judy Francis
Visit Website
---
Freshpet Select





(rated 5 out of 5 paws)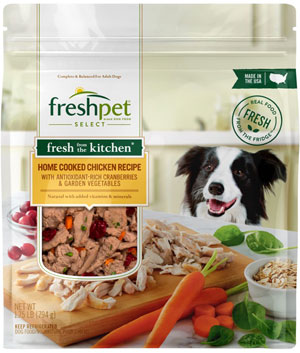 With all of the recent recalls, the most important thing to know about your pet's food is what is in it and where it comes from. The next thing is if your pet will eat it! When first opening up Freshpet, we noticed how good it looked. Then after reading the ingredients and seeing that it is made in the United States (it's prepared in the Freshpet Kitchen in Bethlehem, Pennsylvania), we were confident feeding it to the Animal Radio Stunt Dog, Ladybug, as it is a complete and balanced food (They have awesome treats too). But would she eat it? She immediately started doing her tricks of standing up and dancing just for a bite.
When opening the package, it is immediately apparent that Freshpet is made with simple honest ingredients like home-cooked chicken, anti-oxident-rich cranberries and carrots. When we went to the store to buy more, it was only available in a special refrigerated section. That's because it doesn't have all those nasty preservatives and chemicals the other canned food need to extend their shelf life.
We were cautious switching Ladybug to this food, because often times a switch of diet causes gastric distress. Ladybug had absolutely no issues switching. And frankly, the food looks so good that I wish Freshpet made food for humans!
Reviewed by Judy Francis and Ladybug, the Animal Radio Stunt Dog
Visit Website
---
CGear Sand-Free Mat





(rated 5 out of 5 paws)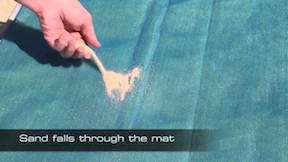 The Animal Radio studios are located near the beach and it's no surprise that sand is a big problem. It's a beautiful sight to look out over the sand and the ocean, but when we want to take a break and sit down on the beach, no matter what type of blanket or towel we use, we end up sitting in sand. Sometime we inadvertently kick the sand on the blanket ourselves or the dog runs on to the blanket bringing the sand with her. While I love the beach, I prefer not to sit in sand when I want to relax! When I heard about the Sand-Free Mat from CGear, I knew I just had to try it. I figured that the weaving must have to be really big and uncomfortable to sit on, if it lets the sand fall back down. But surprisingly, it is a very comfortable and lightweight mat with a tight weave. Not only does the sand fall back through to never return, it also will bead up so you can wipe it off if you spill your drink on it. This is great not only for the beach, but also for the park and even camping, because dirt and dust also fall through it. And when you're done, it folds up into it's own little carrying bag. If it gets dirty, you don't have to machine wash it, you can just hose it off. It comes in a range of colors like turquoise, lime and blue plaid and comes in 3 different sizes. It is so small and portable; I keep it in my car at all times, because you never know!
Reviewed by Judy Francis and Ladybug, the Animal Radio Stunt Dog
Visit Website
---
Django Raincoat






(rated 5 and 1/2 out of 5 paws)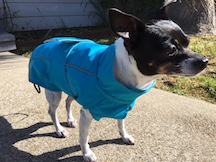 The Django Raincoat (and I say raincoat lightly as it can also be worn as a light jacket as well as a windbreaker), fits my little dog beautifully! Django has designed everything to be adjustable, from the collar to the belly so you get a perfect fit (even if they gain a little weight)! It not only covers their back, but their underbelly as well. Because let's face it, little dogs with their short legs usually come back with a soaked belly after walks in the rain. You also don't have to worry about the coat from moving too much when they walk, as there are elastic bands that go around their back legs to keep the coat in place. Django has thought of everything by adding reflective piping down each side for night walking and they've even made the slot for the leash attachment in a way that water won't soak in around the connection, because what good is a raincoat if their backs get wet! The material they used is water-repellant, lightweight and sturdy with a mesh lining. It is also machine washable. Neither rain, nor sleet nor snow can slow down your small pup as they hang with the big dogs on adventures in sand, mud and rain, keeping up their stylish appearance at all times (very important for the small dog!)
Reviewed by Judy Francis and Ladybug, the Animal Radio Stunt Dog
Visit Website
---
Wall Charmers





(rated 5 out of 5 paws)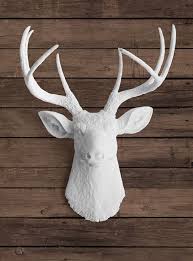 I was always turned off when I saw someone who had mounted the head of an animal that was once alive on their walls. I knew that I would never have one of those heads in my home! But when I saw the wall charmers, I knew I had to have one. The wall charmers are absolutely stunning and no animals were harmed! They come in a variety of different animals and you can even customize them to match your decor. They are easy to assemble (the horns were separate) and easy to hang. You can even dress them up for the holidays. They really pull a room together and I have received so many compliments on my Deer Head. Wall Charmers are like potato chips - you can't just have one! But the problem now is which one do I chose next?
Reviewed by Judy Francis and the Animal Radio Animals
Visit Website
---
Flowfold Trailmate Dog Leash






(rated 5 and 1/2 out of 5 paws)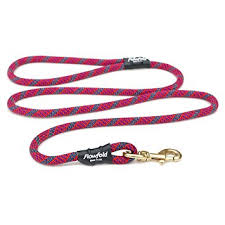 A leash is a leash - right? Wrong! The first thing I noticed about this 5-foot leash was how attractive it is. It is multi-colored and is available in a variety of color combinations. Upon further inspection, I noticed how firm it is and how it doesn't get tangled. I was curious as to what material it was made from. Turns out it is made from reclaimed scraps of Sterling Rope, something that is used for climbers. While I have never climbed a rock or mountain, I can tell this is a high quality leash that is very strong and durable. It also comes with a big heavy-duty brass swivel snap to hook to your dog's collar or harness. I'm a dog walker and I feel very confident using this leash on all my clients - big or small! It's nice to see things re-used for different purposes instead of making it into a landfill.
Reviewed by Judy Francis and the Animal Radio Animals
Visit Website
---
Bugout Pet Feeding System





(rated 4 and 1/2 out of 5 paws)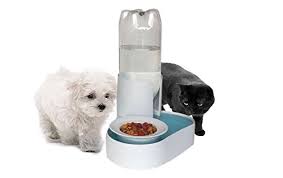 Before I start, let me just say that the ants are going to hate this product! Anyone who has pets knows it's always a problem keeping the ants away from their food bowls and the Bugout Pet Feeding system does just that. It's also multifunctional, in that the water moat that surrounds the food to keep ants away also serves as the drinking water for your pet by providing a continues fresh water flow from the 2-liter water bottle. The unit is made in such a way that the bottle stays in place and your pets can't tip it over. It's even easy to clean. Just take it apart and put it in the dishwasher. You can use it both indoors or outdoors.

Reviewed by Judy Francis and the Animal Radio Animals
Visit Website
---
BUMP IT OFF… And Brush It Away





(rated 5 out of 5 paws)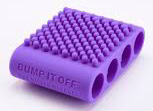 I was first attracted to this product when I heard it would lift fur off furniture. There are certain materials and rugs that just catch the pet hair that won't come off even with vacuuming. I couldn't wait to try it in the studio. The first thing I did was to clean up the cat condos. The cat hair gets stuck in the corners and nothing removes it but a lot of elbow grease. I was able to take the BUMP IT OFF and place my fingers through the holes and get into the corners to remove the built up cat hair. Next I tried it on a couch that seems to collect pet hair. It removed the hair so easily. No more using multiple sticky sheets to do one job. I also have one at home to use in the kitchen that scrubs pot and pans without scratching. You can also use it directly on your pet and even on yourself as an exfoliator. The uses are endless. It is easy to grip and fits on your hand in 4 different positions. It also gives you two different cleaning solutions, with soft bristles on one side and smooth bumps on the other side. It comes in 4 bright colors (purple, orange, blue and green) and when it gets dirty, just place it in your dishwasher (top rack). It is made of 100% silicone, resists stains and odors and is non-stick. This is a must have for every (pet) home!

Reviewed by Judy Francis and the Animal Radio Animals
Visit Website
---
Nekochan U-J-I Cat Tunnel System





(rated 5 out of 5 paws)
Cat Tunnels have been around for years. You've seen them. They are usually made with a type of vinyl and come in the bright colors of red, blue and orange, to name a few. While we love our cats, we still have a hard time having these in our living rooms, as they usually don't match our décor, so we hide them away. Plus, our cats can tear them up pretty fast and make the look ratty. Why couldn't there be something more neutral that would last and look good? Well, now there is thanks to Nekochan. Of course the first thing I noticed was the neutral color of brown corduroy, but the next thing I noticed was how sturdy and well made the cat tunnel was. They didn't skimp on material and production, as this is something that is extremely durable and will hold up for a long time even with the most rambunctious cats. It also comes in many different shaped pieces (U and J and I shapes), so you can design your own cat system. The pieces fit together by a zipper (no more ties that don't hold the tunnel together). The designs you can create are endless. Included is a stylish mesh carry bag, which also makes it the perfect gift! This is a cat tunnel both you and your cat will love! I know I said cat tunnel, but I have a small dog that just loves to run in and out of it as well.

Reviewed by Judy Francis and the Animal Radio Cats as well as Molly, the Dog
Visit Website
---
EYENIMAL Intelligent Pet Bowl





(rated 5 out of 5 paws)
If you're like most pet owners, you usually just put some food in the bowl for my dog and guess about the amount. I'm sure I don't put the same amount in each time. It's no wonder our pets are overweight – mine including! But now the EYENIMAL Intelligent Pet Bowl has taken the guesswork out of how much to feed our pets. It contains a scale that weighs the food (or water) so you know how much your pet is ingesting. A stainless steel bowl sits in the scale's plastic container, making it easy to remove and clean and the LCD screen is easy to read. Once you know the right amount of food your pet should have, you can make sure that you give them the exact amount each time. It comes in either black or white and requires two 1.5 v AAA batteries (which are not included). Let's put an end to fat pets!
Reviewed by Judy Francis and Ladybug, the Animal Radio Stunt Dog
Visit Website
---
Kodak CFH-V15 camera




(rated 3 and 1/2 out of 5 paws)
I am not a "techy" person but I didn't need to be with the Kodak CFH-V15 Camera. It was easy to install and has a 360-degree view, which can be moved around using a smartphone. I was also able to focus in on the picture from my smartphone. The only problem I had was that I had to install the software twice, as it was a little "glitchy" the first time. Updates have since corrected that problem. Another thing I liked is that is was significantly lower in price with other competing cameras with an acceptable quality. Moving the camera around to focus on certain areas can sometimes be tricky, but I solved this by mounting the camera upside down.
Kodak is preparing to announce a new feature to their CFH-V15 camera to include a Pet Highlight Reel

Reviewed by Judy Francis and the Animal Radio Team
Visit Website
---
Dr. Catsby's Bowl for Whisker Fatigue





(rated 5 out of 5 paws)
One thing I've noticed from having both dogs and cats is that dogs clean their food bowl, while cats seem to eat the middle and leave food around the sides. I never thought about their whisker's being the reason! After trying this bowl, my cat finished the entire meal – sides and all! But I have to say that there isn't much "side" to this bowl as it is very shallow. My other bowls are actually very deep compared to this one and I always had to stir the food back into the middle of the bowl so the cats would eat it.
My cat didn't have any problems adjusting to this bowl. He is a senior cat and this made it a lot easier for him to eat. Plus, it has a no-slip rubber mat so he doesn't have to chase it around on my tile floor. (This makes dinnertime quieter as well!)
After switching to this bowl, I no longer have to throw out canned food that has dried to the sides of the bowl uneaten, which saves money! Now I'm going to have to get more of these bowls, as all of my cats want to eat out of it!
The bowl is stainless steel and is dishwasher safe. It also has a small hole on the side to make it easy to pick up.
Reviewed by Boog, the Animal Radio Stunt Cat
Visit Website
---
Warm Heart Company Pet Clothing






(rated 5 and 1/2 out of 5 paws)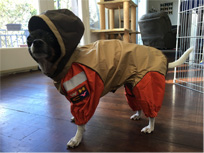 The first piece of clothing we tried from Warm Heart Company was the J Coat-B, which is a raincoat. This is so easy to put on your dog, as there is a zipper all the way down the back with a Velcro tab. It also has a drawstring around the neck for a perfect fit. The material is waterproof, but most importantly it covers the belly. So many raincoats just cover the top of the dog and not the underside, which is important to short, little dogs that get soaked walking in puddles and wet grass. It comes in a variety of colors and sizes.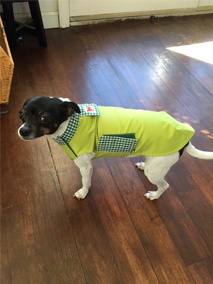 The next piece of clothing was the Easy For Rain. This is another raincoat, which also has protection for the underbelly. It is easy to put on your dog, as it has Velcro on both sides of the neck as well as both sides of the belly. It comes in three colors and many sizes.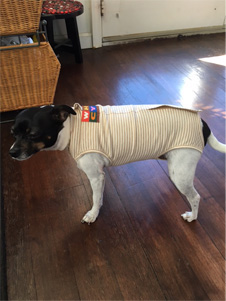 Lastly, we tried the T-Piece, which is an alternative to the cone for wounds or skin diseases. Not only is it adorable, it is also functional. Just put this on your dog and it will prevent them from licking or biting at their wounds. Again, it is easy to put on your dog with the Velcro applications. The material is stretchy, breathable and comfortable for your dog to eat and sleep in.
Along with many sizes, they even offer customized fits for the hard to fit dog like Dachshunds and Corgis. They also make other items like shirts, sanitary pants, carrier bags, harnesses, beds, sweaters, parks and even boots.
I receive a lot of dog clothing at Animal Radio and I have to say that the clothing from Warm Heart Company is HIGH QUALITY with GREAT CRAFTSMANSHIP and an EYE TO DETAIL. I only wish some of the clothes I buy for myself were made as well.

Reviewed By: Judy Francis & Ladybug
Visit Website
---
HipS-Sister




(rated 4 out of 5 paws)
How many times have you gotten ready to walk your dog and realized what you were wearing didn't have any pockets? It may not have been a problem when you put the outfit on that morning, but now you realize that you have nowhere to put your phone, dog treats or even keys. It is such a hassle to have to change your pants to one that has pockets and you sure don't want to have to carry these items or wear one of those old-fashioned fanny packs.
You chose your outfit because you wanted to look good so of course you want to carry your items in something that looks just as good. The HipS-Sister has solved that problem! It is a stretchy, breathable band (5 or 7 inch width) that is lightweight. It wraps around your waist and the zippered pockets can hold all of your small personal items, such as cellphone, keys, cash and even dog treats, leaving you hands-free! Because the wrap is not bulky, you can leave it showing or pull your shirt over it. The HipS-Sister comes in a variety of fabrics, styles and colors and you can even customize them with business logos, events and even family photos.
Reviewed by Judy Francis
Visit Website
---
Evercare Lint Rollers





(rated 5 out of 5 paws)
You've seen one lint roller – you've seen them all. Not true! Evercare has taken the linter roller to a whole new level. Evercare knows that one size doesn't fit all. Besides the round roller we are all familiar with (Evercare's has a comfort grip), they have also created one with an ergo grip to make it easier to hold; a giant one like a paint roller for large areas like furniture; and one that also has a brush and roller that cleans rugs and bedding. Plus, they didn't forget the travel size that can easily fit in your purse or car.
Besides all of the new sizes and features, the tape on the Evercare rollers is extra sticky. You won't be disappointed in how much fur they pick up off your clothes, furniture, carpet and even your car!


Reviewed by the Animal Radio Team
Visit Website
---
Kids-Did-It!





(rated 5 out of 5 paws)

Kids-Did-It is an art collection of images created by children ages 5-14. Their teacher, who is an artist, art director and teacher compared work her students to the traditions of the classics. She also encouraged her students to take their artwork off of the refrigerator and frame it!
But why limit it to their homes! Kid-Did-It allows the artists to both enjoy the thrill and satisfaction of being published, as well as earning royalties on the licensed reproduction of their work.

Some of the available items include:
Art Education Book
Art Calendars
Note Cards and Gift Bags
Prints and Posters
Collectors Postage Stamps
Promotional Calendars
Do-It-Yourself Containers
Images available include everything from animals and flowers to landscapes and people.

My favorite was the Kids-Did-It! mug that changes color as it heats up. I know it is around here somewhere, but I can never find it as it is always in use. Perhaps I should have ordered two!
And remember, when purchasing items from Kids-Did-It! you will not only get a great item, either for a gift or for yourself, the artists will also earn royalties on the licensed reproduction of their work.
A win-win for everyone!
---
Amber Crown Collar





(rated 4 and 1/2 out of 5 paws)
My first impression about the Amber Crown Dog Collar wasn't what it does – but what it looks like! It is a beautiful collar made of raw Baltic Amber. While this may not mean anything to you, a picture is worth a thousand words, as it is a beautiful collar. The collar also looks great against any color dog.
But, that is not the purpose of the collar. Its purpose is to function as a natural flea and tick repellant. It is stated that the natural unpolished amber releases repellent aromatic terpenes and generates static electricity that prevents insects from clinging onto your pet's fur. While it doesn't treat fleas and ticks (you should make sure you pet is pest free first) it will repel any future fleas or ticks, so you no longer have to use spot-on chemicals.
But does it work? My pets were free of all fleas and ticks while other animals around them weren't so lucky - so you be the judge!
The collars are both human and pet safe. You can even get a matching set - one for you and one for your pet!
Reviewed by Judy Francis and Ladybug, the Animal Radio Stunt Dog
Visit Website
---
ProHeat 2X Revolution Pet Upright Carpet Cleaner





(rated 5 out of 5 paws)
This is not my first testing of a Bissell Carpet Cleaner, but it is definitely the best one I have tried! I love the compact size and light weight of the ProHeat 2X . It was quite a feat to lug around the older, larger models, unlike this one that has a built in handle and is so easy to carry.
The ProHeat 2X also has a hard plastic water tank and not the rubbery "bladder," of my previous model that was hard to clean. I also like that it has two features of cleaning, the Deep Clean Mode and the Express Clean Mode, which takes less time drying and can be dry in an hour. I wasn't in a hurry and my carpets were pretty dirty, so I decided to do the Deep Clean Mode. I used the Bissell Deep Clean Pro Formula and not only did my carpets come out looking and smelling great (I was able to see in the tank and see how much dirt I actually removed!) the drying time was just a few hours.
I will probably use the ProHeat 2X more often now, as I can just grab it easily and clean a small or large area. This is a great product for a household with pets and carpets. But even if you don't have pets, I would highly recommend it!!!
Reviewed By: Judy Francis
Visit Website
---
iCalmCat & iCalmDog





(rated 4 and 1/2 out of 5 paws)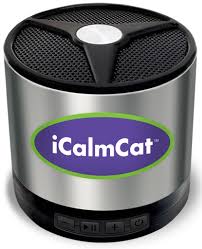 The soothing sounds of music have long been known to have calming effects on animals. The folks over at THROUGH A DOG'S EAR and THROUGH A CAT'S EAR have captured this science and make it easy for you to provide your furry-friend with a great resource to calm any anxiety-ridden dog or cat.
The small palm-sized devices, iCalmCat and iCalmDog, are easy to use. Simply press and play. They come pre-loaded with 3 hours of vet-tested music. You can also get additional SD cards to supplement the musical library.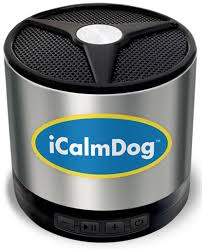 We recommend this as part of your artillery against separation anxiety when you leave the house, when introducing a new pet, taking your pet to the vet or moving to a new place.
These will not only sooth the savage beast, but you will benefit from the calming sounds well.
Reviewed By: Animal Radio & Studio Pets
Visit Website
---
Zukes Dog Treats





(rated 4 and 1/2 out of 5 paws)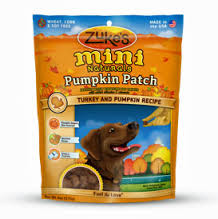 I don't just give any treats to my dog. I am particular about the ingredients and don't want her to have junk. Not all dogs are created equal, and while some dogs will eat everything, I have one of those finicky little dogs. So I also want to make sure my money is not wasted and she will actually eat the treats.
With Zukes, I get both. I get good, healthy treats that my dog never turns her nose up to! I tried the Pumpkin Patch Turkey and Pumpkin Recipe (very fitting for this time of year!), or should I say my dog tried them - and they were a hit.
I like to feel good when I give my dog treats and with Zukes because you know you are getting good, healthy treats for your dog every time!
Reviewed By: Judy Francis & Ladybug
Visit Website
---
Pet ID Tag Connector

(rated 1 out of 5 paws)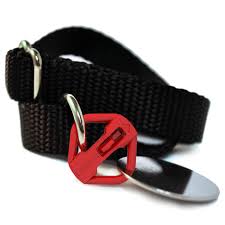 We think this is a fantastic idea - because everyone knows how hard it is to attach tags to your dogs collar! However, that is where this particular product stops.
Because it is made entirely of plastic, it didn't take much time at all for the attachment to break. It was fast and easy to attach the tags, but it was also fast and easy break it. Luckily we didn't lose our dog's tags.
While it is a good idea, perhaps if they used a stronger material, it would last longer.
Reviewed By: the team at Animal Radio
Visit Website
---
Tucker Line of Dog Beds & Bowls






(rated 5 and 1/2 out of 5 paws)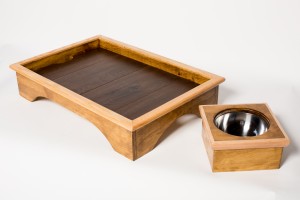 Dog beds and bowls used to be just something you had for your dog. You had to have them - so they were usually kept out of the way so you wouldn't have to see them. Now, beds and bowls come in many different shapes and materials that allow you to select something to match the decor of your home.
The Tucker Line of Dog Beds and Dog Bowls, from Bow-Wow Doghouses, do just that. They are all wood and eco-friendly made from recycled materials. They can be left in their natural wood state or stained to a natural wood color. You can also select a dog bowl to match.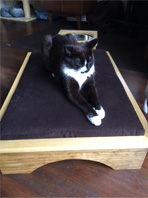 The beds come in sizes small (20×20"), medium (20×30") and large (30×48") to accommodate any sized breed. The matching dog bowl comes in either medium or large.
These are not just pieces of cheap wood slapped together, but are well made and solid. They are definitely something you want to display in your home! And, oh yeah, your dog will love them too; unless you have a cat like mine who took them over the minute he saw them!
As all of your animals will want to use these, maybe they should add a disclaimer that they are not responsible for any spats that occur between pets!
Reviewed By: Judy Francis & Animal Radio Animals
Visit Website
---
Furrfighters Furrfighting Gloves





(rated 5 out of 5 paws)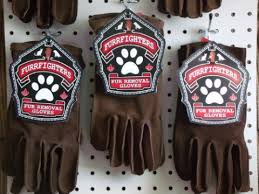 I was a little hesitant at first when I received the Furrfighters Furrfighting Gloves as a way to remove pet hair. But, I will try (almost) anything once. I have to admit, I was wrong. The gloves not only removed hair from my clothing and furniture, they also removed hair directly from my dog by just wiping her down.
This is a much easier and FASTER way than to grab a roll of sticky tape and try to remove the old piece of tape before using. Plus, big-sized jobs would use a good portion of the roll and it took forever. Then there were those times I would use up the roll right in the middle of removing hair. Pocket Furrfighter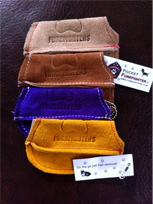 With the Furrfighters Furrfighting Gloves, you just wipe them over furniture, clothing and any hard surface (they even worked on my hardwood floors!). The hair then rolls to the edge, leaving it easy to pick up. Any remaining hair on the gloves comes clean by just clapping them together a few times. This is such a QUICK and CONVENIENT way to remove pet hair!
I also received the Pocket Furrfighter, which is a sleeve that fits over 2-3 of your fingers for quick jobs on the go. I keep it in my purse and I no longer show up to appointments with my pets' hair all over me. Just a quick few swipes and the hair is off of me. It is also convenient to keep in your car.
The Furrfighters Furrfighting Gloves are so much faster and easier. They are also reusable and washable, which makes them very economic as well.
Reviewed By: Judy Francis
Visit Website
---
Febreze In-Wash Odor Eliminator





(rated 4 and 1/2 out of 5 paws)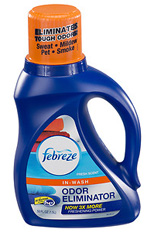 Since I bathe the Animal Radio dogs frequently, I also have to wash their bedding on a regular basis. I usually just throw their blankets and bedding into the wash with whatever laundry detergent I'm using at the time. They usually come out cleaner and smell better than they did before I washed them, but if you smell them closely, there is still a "doggy" scent there.
I was excited to try the Febreze Odor Eliminator to see if it would work on the lingering "doggy" smells. I am happy to report that not only did they come out looking clean, they smelled clean as well. I'm not just talking about covering the doggy odor, they actually smelled nice! It was so easy to use; I just added it to my regular detergent. In fact, the bedding smelled so nice, I grabbed all of their "stinky" stuffed toys and through them in the washer as well.
So grab all of your dogs bedding and toys and throw them in the washer with Febreze (wash your dog separately!) and get rid of that "doggy" smell once and for all. Well, until your dog manages to roll in that dead thing in the grass… or throws up that dead thing… or digs up the garden and comes in with muddy paws, etc.
It can get a little pricey because you still have to buy laundry detergent (do they make Febreze Laundry Detergent?), but it might be a good idea to keep this on hand if you have pets!
Reviewed By: Judy Francis and the Studio Animals
Visit Website
---
Premium Pet Tote Bag Purse






(rated 5 and 1/2 out of 5 paws)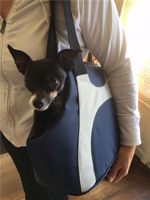 I have reviewed many different carriers over the years at Animal Radio and I have to say, this is DEFINITELY one of the better ones. The Premium Pet Tote Bag Purse by Bark & Meow is not only attractive; it is extremely sturdy and well built.
My 9-pound dog easily fit into it and she could sit, stand or lay down. There is even a built in leash so I didn't have to worry about her jumping out. The fleece lining is super comfy for your dog (or cat) and can be removed easily for laundering. The flooring is sturdy and didn't collapse around my dog like a taco. My dog could poke her head out the end or look out the side through the mesh, which also kept her cool. The mesh pockets is also zippered, if you want to leave it open.
The handles make it easy and you can carry it with your hands or put it over your shoulder comfortably. It looks so good, my husband doesn't mind carrying it!
This is such a GREAT BAG, I can't wait to see what products they come out with next!
Reviewed By: Judy Francis & Ladybug
Visit Website
---
Dog Is Good Hoodie





(rated 5 out of 5 paws)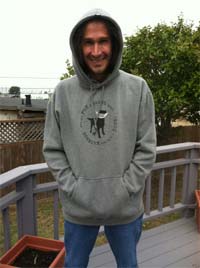 We previously reviewed the Dog Is Good T- Shirt, "Know Dog, Know Joy, Know Love." It is one of our favorite tees and when we had the opportunity to review another product from Dog Is Good, well, there was no thinking about it. We couldn't wait - we love their products!
This time we are reviewing the Hoodie, "It's All Fun And Games Until Someone Ends Up In A Cone."
This is a very comfortable sweatshirt in athletic gray. It is thick and cozy with a soft fleece lining. It fits great and looks good. You don't want to take it off! You can't wear this outside without someone commenting on it. It is a great way to start conversations with people and everyone wants to know how they can get one for themselves.
If you're a dog lover, you want everyone to know it! Dog Is Good makes it easy with their hats, mugs, tees, cards and stickers. These also make great gifts for the pet lover in your life.
GreaterGood.org partners with and funds leading nonprofit organizations around the world in order to alleviate poverty and hunger, promote peace, address cancer and other widespread health problems, foster literacy and provide education, preserve vital habitats in peril, and provide protection and care to vulnerable animals. In 2010, GreaterGood.org distributed more than $3.4 million in grants to charitable partners around the world. For further information, please see www.GreaterGood.org.

Reviewed by: Judy Francis & Hal Abrams (the model)
Visit Website
---
Pet Cremains In Glass





(rated 5 out of 5 paws)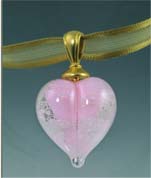 I love the idea of thinking that if anything ever happened to any of my beloved pets I could always have a part of them with me. These portable memorials are made of glass that contain a small portion of the actual remains of your pet. They can be made in a variety of different colors and designs, all very beautiful.
They are made in the USA and signed by the artist. They are also custom made to your order. What a beautiful way to memorialize your pet!

Reviewed by: Animal RadioÂŽ listener Nancy Castaneda
Visit Website
---
BooBooLoon Protective Petwear





(rated 5 out of 5 paws)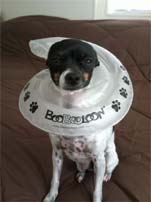 People who listen to Animal Radio know that Ladybug, our studio stunt dog, recently had surgery to repair a torn ligament in her knee. As with most surgeries, the doctor sent her home with one of those hard plastic Elizabethan cones. But, I didn't have the heart to put it on her. The cone seemed so hard and uncomfortable, it seemed wrong to do that to her at a time when she really needed comfort to help her heal.
I was looking for an alternative when I came across the BooBooLoon inflatable collar. It is just as the name says. It is an inflatable collar, which you place partially inflated around your dog's neck and then inflate for a snug and comfortable fit for your dog. There are also Velcro "dots" which help you adjust it to the right size for your pet.
This is such a great idea! Unlike the cones, it didn't impair Ladybug's vision and it even gave her a soft pillow to rest her head upon. And best of all, while wearing the BooBooLoon, she was unable to reach her surgery sight, she healed beautifully, and I didn't feel guilty because I didn't add to her discomfort.
You can also use the BooBooLoon on cats, but make sure that their nails have been clipped and are not sharp!
It's time to retire the cone!

Reviewed By: Judy Francis & Ladybug
Visit Website
---
H204K9 Water Bottle





(rated 5 out of 5 paws)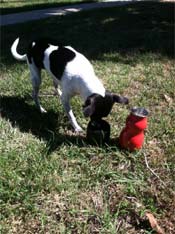 We previously reviewed the H204K9 25oz water bottle and recently received the new 9.5oz water bottle. What can we say? Just like the larger bottle, this smaller one has great features, and is the perfect size for the smaller dog. When I take Ladybug out for the day, there is no way she will drink 25oz. So this size is just perfect for me to carry. When I get tired of carrying it, I can put it in the neosling and carry it over my shoulder. The sling also helps to insulate the bottle, keeping your dog's water cool for hours. It is made of neoprene material and is so comfortable and stylish, you don't mind wearing it!
The bottle is stainless steel and is a breeze to clean, all you do is just wash it out with soap and water. And did I mention it is 100% recyclable and sustainable! Both the bottle and the sling come in many different colors, so you are sure to find your favorite color. This is not one of those bottles you will use just once and then forget about. You will get plenty of use out of it


Reviewed By: Judy Francis & Ladybug
Visit Website
---
Diggin Your Dog Dehydrated Pumpkin






(rated 5 and 1/2 out of 5 paws)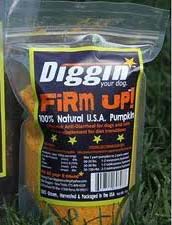 Finally, dehydrated pumpkin! No more cans! No more waste! Just add water! What could be easier?
If you have pets, especially dogs, I'm sure your vet has recommended pumpkin when your dog has a bout of diarrhea or constipation. So, you buy the can, you give them a small portion of it, they get better and the rest of the can goes to waste! Until now! Diggin Your Dog has created the first dehydrated pumpkin.
You will find Firm Up! Pumpkin for diarrhea and constipation; as well as Firm Up! Cranberry for urinary tract health. Both are dehydrated; 100% grown, harvested, made and packaged in the U.S.A. with no fillers.
This is such an easy way to give your pet pumpkin. All you do is mix one part Firm Up with one part water. The even have an easy guide on the back with regard to the weight of your pet. And it works!
This is one of those great ideas where you say, "Why didn't I think of that!!!"

Reviewed By: Judy Francis & Ladybug
Visit Website
---
Pawdicure Polish Pens






(rated 5 and 1/2 out of 5 paws)

I have tried using my nail polish on my little dog Ladybug, but it wasn't easy. First of all, trying to use the brush on her little nails while she stood still wasn't going to happen without it getting all over her fur. And by the time it dried, she had smeared most of it off.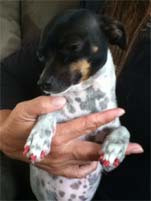 I had been on the search for not only a fast-drying, easy to apply polish for my dog, but something that was also non-toxic. That's why I was so excited when I came across Warren London Pawdicure Polish Pens. Not only are they easy to apply, they dry fast, cover in one coat and are non-toxic. The pen makes it so easy, it just takes minutes to give your dog beautiful nails without the mess.
They come in 7 standard colors of pink, red, blue, white, purple, yellow and black, and now they also have 4 new NEON colors! Paw-ty In Pink, Smooch The Pooch Purple, Blue, Orange You Glad I'm Neon and Walk In The Park Green.
Polishing your dog's nails has never been so easy - Doesn't Ladybug look great!

Reviewed By: Judy Francis & Ladybug
Visit Website
---
Effort-Less Birdfeeder






(rated 5 and 1/2 out of 5 paws)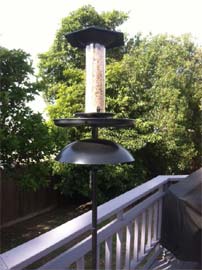 If you're like me, you have a bird feeder in your yard that is empty. It's not because we don't want to attract the birds, it is just too much of a hassle to take it down and fill when it is empty. Plus, it is a pain to clean it. So when I heard about the Effort-Less Birdfeeder, I had to check it out.
The first thing I noticed was the design. Not only is it appealing and looks great on my patio, it is sturdy and can standalone. We get some pretty good wind gusts and I was worried about whether it would topple over. However, when I put sand in the base, it stood through the toughest winds without any problems. Because of this, I was able to place it on my balcony, giving my cats a "birds eye" view of the hungry birds and entertain them for hours just outside their front door. And thanks to the squirrel guard, those pesky little guys have to search elsewhere for food!
At first I was a little daunted by all of the pieces you have to put together. However, it was a BREEZE to do with their step-by-step guide, which made it so easy even someone like me could put it together in just minutes!
But, is it effort-less? Yes! To fill the feeder you just have to pull out the safety pin, lower and fill – it's that easy! You then just slide it back up and replace the pin – what could be easier! To clean, all you have to do is lower it and hose out the feed tube with a garden hose and scrub with a bottlebrush if necessary. They have thought of everything.
This is definitely one of those must have items for the bird lover or even the cat lover in the family!

Reviewed By: Judy Francis & The Studio Cats
Visit Website
---
Yummy Travel Bowls





(rated 4 and 1/2 out of 5 paws)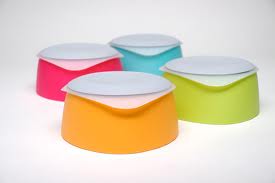 Sleepypod is one of our favorite companies, so as usual, we are always anxious to try out their products. They are usually known for their great carriers, but now they have come up with a great traveling food bowl. Their Yummy Travel Bowl is basically an all-in-one. That means you not only can carry water (without it spilling) but you can also carry your pet's food in the same container.
It's a multi purpose bowl, where you can use the lid as an extra bowl when flipped over, which lets you serve dry food, wet food and water in separate bowls. How great is that! The bowl comes in great colors: Very Berry; Mango Tango; Key Lime; and Sea Breeze. Best of all, they are freezer, dishwasher and even microwave safe!

Reviewed By: Judy Francis & The Studio Animals
Visit Website
---
Designer Catbox





(rated 5 out of 5 paws)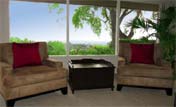 As a cat owner, I have always wanted to try a product like this ! I have plenty of ugly litter boxes scattered around the house, and while I don't mind the ones in the back of the house, I hated to have them in the living areas in plain sight, visible to company. The Designer Catbox came to my rescue. They have created a beautiful litter box cover in three elegant finishes (Expresso, Black & White). While design and attractive furniture is important to me, it would be of no use if my cats didn't like it. However, the Designer Catbox has a large entrance hole and plenty of room inside for my large cats. They were a little hesitant at first to try something new, but it took very little time before they all wanted to try it.
Don't be afraid when you get to the instruction booklet to put it together. It seems a little complicated, but I found it easy to put together.There is also an interior panel, which staggers the entrance to prevent litter from being kicked out. I opted not to use the panel, as I wanted to place a larger litter box inside and I don't seem to have a problem with litter escaping. The have also made the lid with a hydraulic safety hinge so that you can easily open it and it will stay open while you clean it.
The design is such that it can be placed in any room. You can put it in a bathroom and place towels on top; you can place it in your living room and have a place for your purse and keys; you can even place it in your bedroom and put a cushion on it for you cat to lie on. No matter how you use it, the Designer Catbox will make a great addition to any home and no one will know what's inside!

Reviewed By: Judy Francis & The Studio Cats
Visit Website
---
AllerpetD





(rated 5 out of 5 paws)

I was given a bottle of Allerpet/D for my dog Portia. I have used it on her only a few times and there's already been an improvement in my allergies. I found it more effective after she's been groomed and her hair is short. (Not an easy feat for a Llaso-Apso!) It's easy to apply and I think Portia likes the extra massaging.
With the high pollen count this year, and along with the rest of the population, I have been suffering more than usual. Rubbing the Allerpet on her fur is becoming a necessary weekly ritual.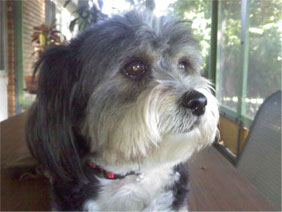 Allerpet/D is formulated specifically for dogs and for those persons who are allergic to them. Allerpet/D cleanses the hair of its dander, saliva and sebaceous gland secretions, the antigens along with urine that are all too often on the rear legs. These are all major sources of pet-related allergens which in turn are the source of pet-related allergies. It is non-toxic and completely safe to use on puppies over the age of 8 or 10 weeks. Allerpet is non-oily and will not leave a sticky residue on the coat. Allerpet contains no fragrance. It is safe to use regardless of how frequently an animal licks its coat.
Thanks so much because I would not have known about this product. Looking forward to seeing you with less and less watery eyes!

Reviewed By: Diane - Michigan
Visit Website
---