Hal Abrams & Judy Francis - Animal Radio®

Hosts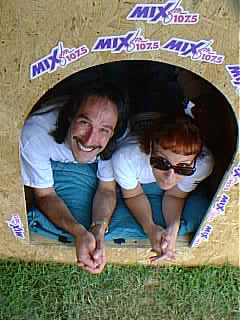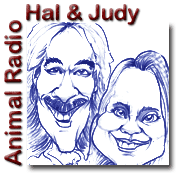 Hal Abrams is a major-market radio veteran turned Operations Manager of Animal Radio Network™ and co-host of Animal Radio®. He's been a long-time animal advocate, spending weeks inside doghouses (literally) to raise money for SPCA's throughout the U.S. In 1999, Hal left a 17 year morning-radio routine to create the largest and 'most listened to' animal radio programming. Hal lives with his wife, cats, dog and two fish in Central California

You've heard Hal on Power 106 Los Angeles with Jay Thomas and have seen him on the TV Sitcom "Head of the Class"

Salt Lake Tribune (PDF)
Charlottesville (PDF)
Southern Utah News (PDF)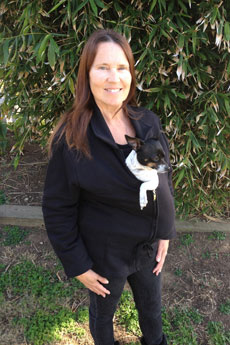 Judy Francis had a love for animals before she ever became involved with radio. Her interest led her to the world of animal care as a veterinary technician where she found herself intrigued by simple surgeries like spaying and neutering. Since the world of vet medicine wasn't lucrative, she found herself doing whatever necessary to pay the bills, including delivering phone books and waiting tables. In 1999 she joined Animal Radio Network™ as a secretary. Through hard work and determination she was able to learn the ins and outs of producing a radio show. Now she is the Executive Producer (some say the master-mind behind ARN) for Animal Radio® as well as the co-host, along with Hal Abrams, of the number one animal show in America, Animal Radio®.
Joy Turner - Animal Communicator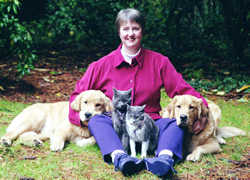 Having retained her innate ability to communicate with animals, Joy Turner, now, as a spiritual teacher, is a renowned communicator and energetic healer for animals and humans. She can communicate with both living and deceased animals and humans. She can help animals and their humans cope with illness and passing, and grief and loss. She can facilitate everything from fun chats to serious questions about health, behavior and point of view. Through her energy healing work, Heartsong, she can promote energetic healing of both animals and humans. By talking with Spiritual Guides and Souls, she can help humans with issues in their lives. Thousands of animals and humans worldwide have experienced these gifts.

Joy answers listener questions every weekend on Animal Radio®. For her it is both fun and deeply moving to share animals' thoughts and feelings with their humans over the air. Her show is an example of her devotion to animals the world over. Her commitment to promoting stronger relationships between animals and humans extends to offering alternative, holistic ways to care for, train and live with animals. Joy also writes the column, "The Communicator," in IG Times Magazine and a column in Modern Dog and Holistic Horse.com, has hosted the TV show, "Talk With Your Animals," wrote the column, "The Communicator," for allpets.com magazine, and is the author of the book, "The Spiritual Principle of Consciousness and Manifestation."

Joy provides private sessions to talk with your pets, spiritual guides, guardian angels and Souls as well as both animal and humans who have crossed over. She does benefits for numerous animal groups and has been interviewed in magazines, newspapers and on radio shows worldwide. In communication classes, Joy helps people re-learn their first language (communicating with animals). She provides seminars on all of these topics which has brought great relief to people needing closure as well as those needing to be guided in the appropriate direction.

Joy lives in the Seattle area with her large animal family of Logan and Amira (Golden Retrievers), Mercury and Venus (cats), Dream Weaver, Aladdin, Tango and Diego (horses).
Call in and ask Joy your questions. 1-866-405-8405
Visit Joy's Website: http://www.TalkWithYourAnimals.com
Joey Villani - Animal Radio® Groomer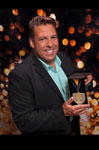 Joey Villani's life in pet care and grooming began when he was only nine years old, during a visit to the Super Dog Salon in New Jersey. Invited to lend a hand by salon owner and family friend, John Nash, Joey brushed a sheepdog named Cecilia and so began an unbelievable career.

After 18 years as an instructor for Nash's renowned grooming schools, Joey began to open his own salons. In 1998, he purchased the Nash Academy in New Jersey, which he owned and operated for ten years.

Now a well-known pet industry speaker and judge, Joey has been nominated four times for the Cardinal Crystal Award for his outstanding achievements, and three times for Grooming Contest Judge of the Year. He has been enthusiastically involved with Intergroom International for 26 years, and has been instrumental in expanding the organization's reach into Belgium, Italy, and France. He is one of the original members of the International Judges Association and serves as Ring Master and Core Judge.

His outgoing nature and unforgettable charisma have made Joey a natural television personality, with appearances on The Today Show, Good Morning America, Good Day NY, Mike and Juliet, and Animal Planet's Dogs 101 and Groomer Has it.

Joey's lengthy friendship and professional affiliation with the Nash family continues to this day. Joey has contributed to the development of the Nash Canine Reference and the Groomers Reference, the first online, all-breed, encyclopedic resource created specifically for pet care professionals. In his continuing efforts to provide excellent grooming and pet care training, Joey is working with the Nash Team to create an International Educational Consortium of Pet Grooming & Styling Schools. The Consortium aims to standardize education and terminology for all students aspiring to become bathers, groomers and stylists, to increase professionalism in the pet care industry, and to provide a uniform curriculum utilizing the Nash systems and methodology.

Today, Joey continues to innovate and explore new dimensions in the pet care and grooming industry. In early 2009, he launched Dogs in Style by Joey Villani Pet Products, a high-end line of home grooming products. And not surprisingly, Joey says this is just the beginning…

joeyvillani.com
Britt Savage - Animal Minute

Songwriter/musician Britt Savage brings us the lighter side of the animal world. Her weekly updates of the strange and peculiar in the animal world sheds new light on the unusual connection we have with our pets. Britt is also an accomplished singer with a fantastic new CD. Check out Britt's website at http://BrittSavage.com.

Vinnie Penn - Party Animal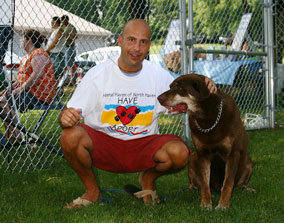 Vinnie Penn is a writer and radio/TV personality whose work has turned up on The Howard Stern Show, VH1's "Best Week Ever", National Lampoon Radio and more. Vinnie has also contributed to national music magazines such as Hit Parader and to various anthologies, plus done the dot-com thing for Maxim and Cracked. He lives in New Haven CT, and his first book, "Guido's Credos", is available at bookstores. www.vinniepenn.net
Dr. Debbie White - Animal Radio®

Veterinarian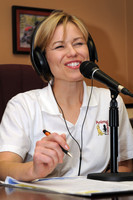 Dr. Debbie White has been in veterinary practice in Las Vegas, NV for over 20 years as a small animal and exotic animal veterinarian. Her patients range from the furry, feathered, and scaled and include dogs, cats, ferrets, reptiles, birds, rodents and pot belly pigs. Dr. Debbie is originally from Hammond, Indiana and graduated from Purdue University's School of Veterinary Medicine. As the Animal Radio® "call-in veterinarian" Dr. Debbie enjoys fielding questions from listeners and helping them manage their pet's health. She discusses veterinary topics ranging from serious health matters to bizarre and wacky pet antics.

In addition to Animal Radio®, Dr. Debbie is also a regular veterinary contributor on local news programs in Las Vegas, and is endorsed by the American Society of Veterinary Journalists (ASVJ) as a Certified Veterinary Reporter. She is involved in disaster planning for pets and is a volunteer with the Veterinary Medical Reserve Corps. Her other professional associations include the Veterinary News Network, American Veterinary Medical Association, American Animal Hospital Association, Association of Exotic Mammal Veterinarians, and the Association of Reptilian and Amphibian Veterinarians.


"Outside of the office, Dr. Debbie is entertained by Boss, a Yorkie-poodle-shih tzu mix, Labrador, Magnum and Nikki a Bouvier. Her four-legged children have taught her to slow down, enjoy the moment, and "remember to wag your tail each day".
Lone Mountain Animal Hospital in Las Vegas
Dr. Debbie on Facebook
Dr. Marty Becker - Animal Radio®

Veterinary Correspondent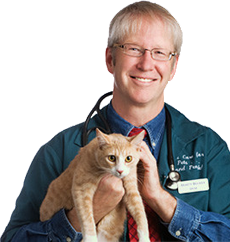 Dr. Marty Becker, "America's Veterinarian," has spent his life working toward better health for pets and the people who love them.
For close to 20 years, Dr. Becker has been the popular veterinary contributor on ABC's Good Morning America. He is a founding member of The Dr. Oz Show's Core Team Oz and a member of the Dr. Oz Medical Advisory Panel. In April 2012, the World Small Animal Veterinary Association named him the recipient of their annual WSAVA Hill's Excellence in Veterinary Healthcare Award (also known as the Global Companion Animal Veterinarian of the Year). He is the Chief Veterinary Correspondent for the American Humane Association, and a member of the AHA Board of Directors. His special fondness for older pets has led him to a spot on the Board of Directors of The Grey Muzzle Organization, which is dedicated to helping homeless senior dogs.
He has written 22 books that have sold more than 7 million copies, including three New York Times best-sellers. He has been a contributor to Parade magazine, Reader's Digest and AARP.com. Animal Radio® hosts him monthly as their Chief Veterinary Correspondent.
Dr. Becker is an adjunct professor at his alma mater, the Washington State University College of Veterinary Medicine, as well as at the College of Veterinary Medicine at Colorado State University and the Research Center for Human-Animal Interaction at the University of Missouri's College of Veterinary Medicine. He has lectured at every veterinary school in the United States, and has been named Companion Animal Veterinarian of the Year by the Delta Society (now Pet Partners) and the American Veterinary Medical Association. Dr. Becker also serves as an honorary board member of Pet Partners and the Humane Society of New York.
He practices, when his schedule allows, at two veterinary hospitals in north Idaho because he loves veterinary medicine, pets and the people who care for them. He is also an active supporter of four animal shelters in north Idaho.