Animal Radio® January 21 2006
Betty White


When one thinks of celebrities and animals, one can't help but think of Betty White. They go hand in hand. Or paw in hand. That's because Betty White is as passionate about animals as she is about acting, which is the other reason we know and love her. A member of the Television Hall of Fame and six-time Emmy Award winner for her roles which have included The Happy Homemaker on The Mary Tyler Moore Show and Rose Nylund on The Golden Girls, this busy actress has been a part of television since 1949. Her love of animals, however, started long before that. When asked what type of animal she prefers, she states "anything with a leg on each corner."
Straight Scoop on Dog Care
Jan Rasmusen, http://www.Dogs4Dogs.com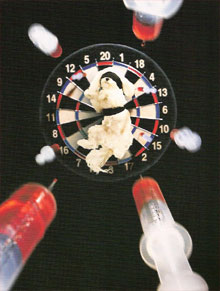 Are you ready to hear the truth from an unbiased source about what habit, old wives' tales and commercial interests are doing to your dog? You will be shocked to learn how much of what we believed about dog care was not only wrong, but actually harmful. It almost cost Jiggy, the coverboy, his life. What began as a quest to save his life took an unexpected turn and became a quest to save all dogs from commercial interests and misinformation. Hear Jan bust some of these old wives' tales and myths you always thought to be true!
Pet Insurance
Dr. Jim Humphries, Veterinary News Network
The onslaught of current advances in surgeries and techniques means good news for you and your pet. But one drawback seems to be the costs of these new treatments. Veterinary Pet Insurance can help you pay for these newer advances and make sure that your pet receives the best care available.
Talk With Your Animals
Joy Turner
Molly lets her guardian know that while she is sick, she is not in pain, even though she has some grumpy days. Molly states she is feeling just a little bit of discomfort. But the love her guardian is providing makes her feel wonderful! Remember, dogs don't judge pain the way we do.
Abby, whom her guardian says is depressed, says she actually feels something is coming to an end. Her guardian tires to reassure Abby that nothing is going to change. Abby, who was found wandering the streets years ago and taken to a shelter was close to being euthanized, also wants to know why she wasn't good enough. Abby is told that sometimes humans "do stupid things" but Abby is now very much loved.
Compassionate Shopping Guide
Crystal Schaeffer, AAVS
Everyone purchases and uses shampoo, soaps and household detergents. But do you know which companies still tests their products on animals?
Every year, millions of animals, mostly rabbits, mice, and rats, are subject to tests that access the safety of personal care and household products. However, there is no law that specifically requires that animals be used as human models to test personal care products such as soap, cosmetics, or deodorant and household products such as floor cleaner or laundry detergent, and neither the U.S. Food and Drug Administration or the Consumer Product Safety Commission require companies to use animal tests to prove that their ingredients and finished products are safe. Furthermore, reactions to the exposure of these products vary among species, making it difficult to extract data from animal tests and apply them to situations in which humans are exposed.
AAVS has put together a list of companies that no longer tests on animals called the Compassionate Shopping Guide, giving consumers confidence in the cruelty-free products they are buying. It is a pocket-sized guide that you can take with you on you shopping trips ­ Don't leave home without it!
You can also visits their website to find a list of companies that do test on animals and those that don't.
Invisible Disabilities Service Dogs
Jane Miller
Just what is an invisible disability that may require the assistance of a service dog? It can be anything from someone who has seizures to someone who has agoraphobic, which is someone who is afraid to go out in public. Just because the person is not blind and you can't actually tell why they have a service dog, it doesn't mean that they should not have the dog. It is important to show some compassion. When you come across an assistance dog, do not pet, make noises or call to the assistance dog, remember he is working. Also, do not feed him. And never talk to the dog, talk directly to the handler. For more information about psychiatric service dogs, please feel free to contact Jane Miller, LISW, at 1-800-457-0345 or e-mail her at jmiller@oberlin.net.
http://www.IAADP.org
http://www.PsychDog.org
Hamster, Snake Best Friends at Tokyo Zoo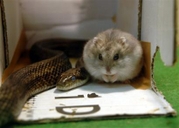 A snake at the Tokyo's Mutsugoro Okoku Zoo refused to eat frozen mice and was presented a hamster. But instead of eating the furry rodent, the two actually made friends. While the zoo does promote cross-breed interaction, this one was definitely an accident. The pair have shared a cage since.
Lions and Tiger and Ligers - Oh My!
Britt Savage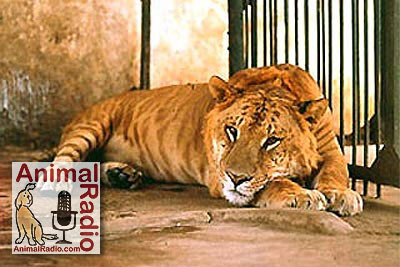 A liger - a cross between a tiger and a lion -born last summer has now gone on public display in an open-air enclosure at a Siberian Zoo. The female called Zita is one of two cubs born from a cross between a female Bengalese tiger and an African lion at Novosibirsk Zoo last summer. Zita is now an adolescent carnivore weighting 50 kilos, who feeds on meat, milk, eggs and other food that grown-up big cats ear.
The Cat is Out of the Bag
Alexandra Powe Allred, Cats' Most Wanted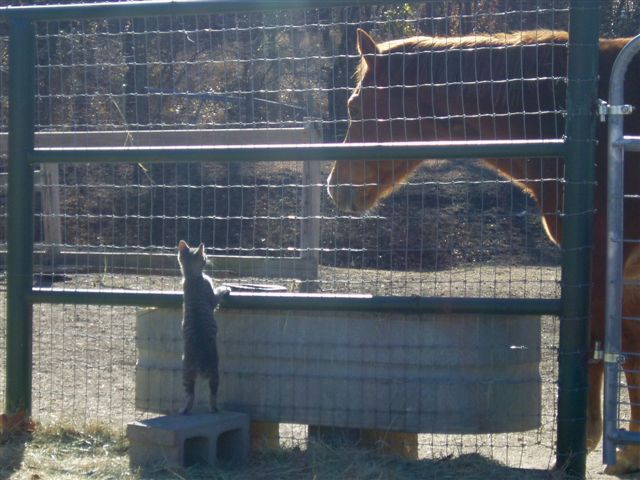 From Greek mythology to medieval superstitions these mysterious mousers, talented tabbies and feline oddities have fascinated people for years. Curious about which breed is right for you, which cat is the most dog-like or what member of the cat family cannot retract it's claws? This book will provide you with more entertainment and amusement than your cat gets out of a simple piece of string! All of this from a woman who originally disliked cats ­ but now loves them!

Feathers ­ Winged Grace
Rae Ann Kumelos, Voice of the Animal
They are used for writing, to equip arrows for flight, and to adorn messengers of grace; discover how feathers bring the gifts of beauty, hope, and truth.
Woman Marries Dolphin
A 41-year-old woman, Sharon Tendler, recently married a dolphin. They originally met 15 years ago and she claimed it was love at first sight. Dressed in a white dress, a veil and pink flowers in her hair, Tendler got down on one knee on the dock and gave the dolphin a kiss. And a piece of herring.
While she acknowledged the "wedding" had no legal bearing, she did say it reflected her deep feelings toward the bottlenosed, 35-year-old object of her affection. She is still keeping open the option of "marrying human" at some stage, but for now she was strictly a "one-dolphin woman".


Go to Archives

Home Page
Copyrighted Animal Radio Network LLC 2006