Animal Radio Episode 958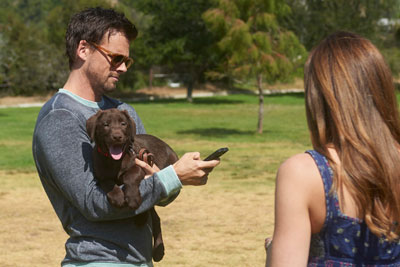 Pets Make You More Attractive
Dr. Helen Fisher is a Senior Research Fellow at The Kinsey Institute. She's been studying the correlation between pets and dating. Dr. Fisher says, "Dogs are chick magnets!" Women find men with a dog to be more attractive. But interestingly, or not, this does not work in reverse. In fact, the 'cat lady' has a negative stigma.
Major Pet Store Raided After Whistle Blowing Employee
Police in Bellevue, Tennessee recently raided a national pet store chain location after getting a tip and photos concerning animal cruelty. That tip, along with the pictures, came from an employee at the PetSmart store.
Mandatory Pet Rental Laws
If you don't own a home and you have a pet, you know that finding a home to rent that accepts pets can be difficult. According to a poll, 64% of respondents felt landlords should have the right to refuse to rent to pet owners, compared to 36% who felt landlords should not be able to deny a tenant's pets. Of course, opinions varied between homeowners and tenants.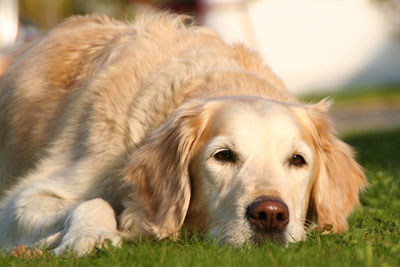 Pet Insurance & Preexisting Conditions
While pet insurance may seem like a good value, be sure to check to fine print. Some breeds predisposed to certain ailments, like hip-dysplasia, may be excluded from certain insurance policies, especially if your pet has been seen before for problems related to the claim.

Listen to this week's show


Read more about this week's show.
Next Week: Stephane Garnier - Comedian/Actress Mindy Sterling - Dr. Liz Bales
Animal Radio Episode 957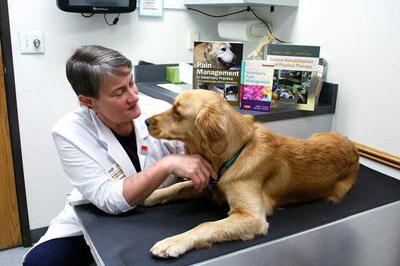 Hidden Pain In Cats
Cats may feel pain but there may be no obvious signs. Dr. Robin Downing specializes in pain and palliative medicine for pets and she explains why cats may not exhibit the signs of pain, or at least how humans perceive pain. Dr. Downing also discusses pain treatments for our furry friends. This segment is part of the Fear Free Expert Series.
Sea-furring Felines
We remember the bold seafarers of yore, from Magellan to Shackleton, for their extraordinary exploits; New lands discovered, storms weathered, and battles won. But somehow history has neglected the stalwart, hardworking species who made it all possible ... yes, the noble cat! Philippa Sandall joins us from down-under to describe these under appreciated sea-furring felines.
United Suspends Pet Cargo
After three mistakes in a single week, all involving dogs that made international headlines last month, United Airlines has now suspended its transport of animals in the cargo compartments of its planes. However, animals for which arrangements had already been made before March 20th will still be able to fly. United won't accept any more reservations for pets until it has completed an internal company review of its programs involving animals. United carried the most animals in cargo of any airline last year and the most animal deaths in each of the last five years.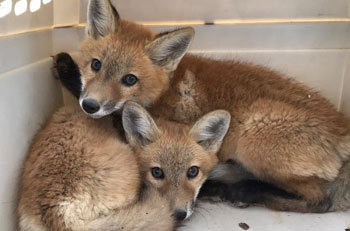 Firefighters Thought They Were Rescuing Puppies
Firefighters in Colorado Springs say they are pretty surprised to learn that the littler of "puppies" they rescued from a storm drain were actually baby foxes. Before learning they actually had baby foxes in their care, they were taken to a veterinary hospital where they were told the tiny little things were really newborn red fox kits.

Read more about this week's show.
Animal Radio Episode 956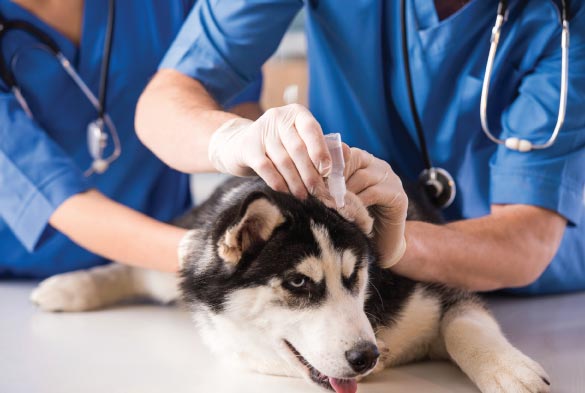 Mistakes Veterinarians Make
As hard as it may be to believe, doctors are human too. An anonymous veterinarian confesses to the mistakes he/she made in their practice. Common errors include forgetting to take out an IV catheter to leaving a thermometer in. Listen as Dr. Debbie comments on these FAILS.
How Much Does A Vet Visit Really Cost
Research shows that 1 in 3 pets will need urgent vet care this year. Every 6 seconds an owner is given a vet bill more than $1000. This is why Rob Jackson, top dog at Healthy Paws Pet Insurance says you need his service. He'll tell us why only 1% of pet owners carry an kind of pet insurance.
3 Strikes For United
Already under scrutiny about a French bulldog dying in an overhead bin and another dog being accidentally sent to Japan, United Airlines has acknowledged its third animal-related mistake in just that week. This latest case happened when a United flight was diverted to Akron, Ohio after the airline realized a pet had been loaded onto the flight by mistake. That plane was headed to St. Louis, Missouri with 33 passengers. What do you do when you're an airline that's had as bad of a week for pet disasters as United had? You get that dog to where it was supposed to be - never mind the 33 passengers that are supposed to be going to St. Louis. You take those passengers along for an emergency drop off of the dog in Akron, Ohio.
Comforting The Kids After Shooting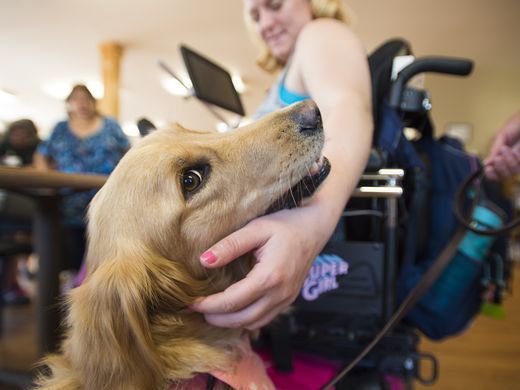 When students and teachers returned to Marjory Stoneman Douglas High School after the Valentine's Day school shooting, a team of golden retrievers were there to offer comfort and hope. Cubby, a comfort dog from Fort Collins, was among the furry, four-legged counselors, gently placing her paw on the hands and arms of the traumatized students and teachers. Bonnie Fear, Cubby's guardian explains how her church is deploying comfort dogs regularly.

Read more about this week's show.
Animal Radio Episode 955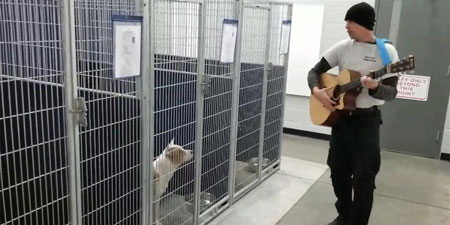 Animal Officer Sings To Dogs
Vance County North Carolina Animal Control Officer Chad Olds discovered a new use for his incredible singing skills. He's able to quiet the barking a several dozen dogs by playing guitar and singing to them. The shelter videotaped one of his sessions. The video went viral and adoptions increased.
Stress and Skin
Did you know that stress could be a factor in your pet's skin issues? The number one reason animal guardians visit the vet revolves around skin and dermatological problems. Dr. Tom Lewis specializes in these sorts of health issues. As a proponent for the Fear Free movement, he says it's made a big difference in his practice. Dr. Lewis is next up in the Fear Free Expert Series.
Shock Collars Banned In England
A ban on pet "shock collars" will be enacted in England, under plans confirmed by the government. Shock collars are often marketed as a harmless quick-fix solution or training aides, but animal experts say shock collars can easily cause more problems than they seek to fix.
High Rate Of Veterinarian Suicides
Santa Barbara, California is dealing with a crisis in its animal care community, which is a problem happening all over the country. The problem is the high rate of suicide among veterinarians. In fact, vets have the highest rate of suicide among all professional groups.
Top Household Pet Poisons
Pet World Insider Robert Semrow is at it again. He's a list-maker and he has the top toxins that you may have in your house. Make sure your pet is safe by putting these items out of their reach.
Do You Talk 'Baby Talk' To Your Pets?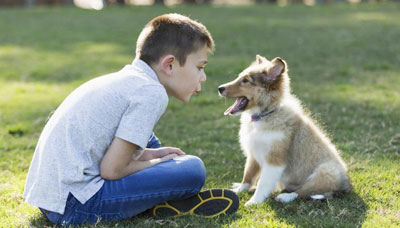 Researchers Alex Benjamin and Katie Slocombe set out to investigate if so-called dog-speak improves bonding between pets and humans, and specifically, whether it is useful for the dogs to hear that high pitched baby talk. They found that adult dogs were more likely to want to interact and spend time with the speaker that used dog-directed speech with dog-related content.

Read more about this week's show.
Animal Radio Episode 954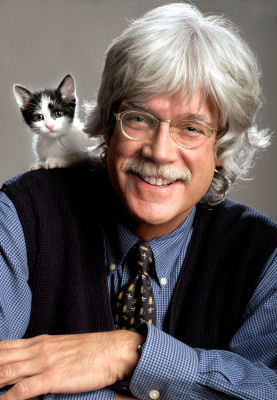 Are People Harming Their Pet For Drugs
A lady in Kentucky was charged with fraud and torture after she cut her dog multiple times to get the opioid and pain-killer Tramadol. Is this just the tip of the iceberg? Dr. Kevin Fitzgerald is back to chime in on the national opioid crisis and how it affects our pets.
Who's Your Daddy?
Mindy Tenenbaum has joined the ranks of the increasingly popular pet DNA testing industry. Her company, DNA My Dog uses a sophisticated, yet easy to use cheek swab test that reveals your dog's genetic make-up. This information can be used to moderate your pet's health and understanding its behavior. Mindy will be giving away a DNA test to a deserving listener.
Dogs Are Chick Magnets
As much as it can irk cat people, studies show people with dogs are thought to be more approachable, happier and more empathetic. For men, there is also the chick magnet effect. But why is that? Dr. Helen Fisher a longtime relationship researcher who also consults Match.com says people are attracted to dog owners because, "It says you can care for a creature, that you can follow a schedule and get home to feed it, that you can walk it and love it and spend time with it." Nearly 33% of respondents said they had been "more attracted to someone" because they had a pet. 66% of respondents said they would judge their date based on how he or she responded to their own pet.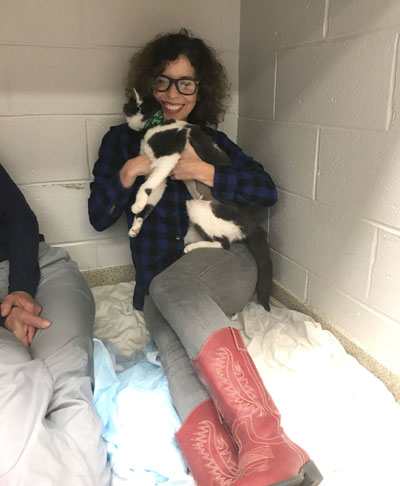 How Much Would You Pay To Save Your Cat?
A little over a year ago Betsy Boyd of Baltimore got the bad news that her 17-year-old cat Stanley's kidneys were failing and he likely had only a few months to live. So Betsy, who is a very frugal part time professor, made the decision for Stanley to have a $19,000 kidney transplant.

Read more about this week's show.
Animal Radio Episode 953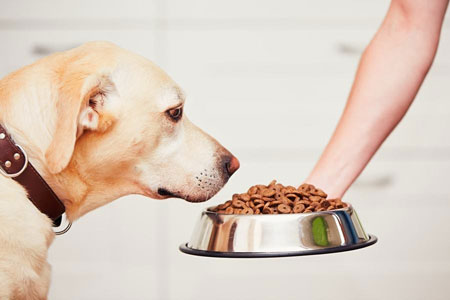 Why Is Pentobarbital In Our Pet Food?
Jaclyn Bowen of the Clean Label Project is back to explain why our pet's food supply is constantly jeopardized. What are the implications of the Blue Buffalo's sale to General Mills? You should listen before you shop for pet food again.
Understanding UTI
Urinary Tract Infections are more common than you think. Did you know stress could cause a UTI in your cat or dog? Dr. Tony Huffington explains how a stressed animal is at higher risk for infection. Have you heard the Fear Free Pet Expert Series?
People Prefer Pets Over Partners
A study of 2,000 cat and dog owners shows more than half often prefer spending time with their pet instead of their partner. This is because they love unconditionally, they don't nag, they never talk back and are always in a good mood. 3 in 10 adults say their pet is a better listener than their partner, while 45% like the fact they are never judged or questioned by their cat or dog. Surprisingly, 29% even say their four-legged friend is better at snuggling.
Dog Tests Positive For Rabies After Biting Owners
A family dog in Delaware has tested positive for rabies after biting his two adult owners. The dog was also not up to date on shots. The adults, who were bitten by the dog, have begun rabies treatment. Rabies is an infectious disease affecting the nervous system of humans and other mammals. Infection happens through the bite or scratch of an infected animal or if saliva from an infected animal gets into the eyes, nose, mouth, or an opening in the skin of the bite victim.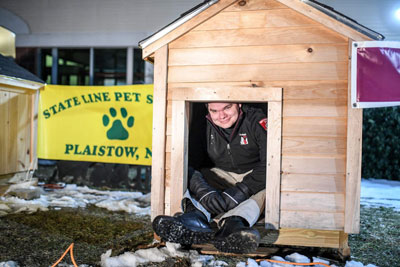 Sleeping In The Doghouse
A cold winter has led to the deaths of several dogs left outside in the elements. Ian Matheson spent the evening in the brutal cold weather to bring awareness to pet owners about the risks of leaving your dog outside overnight. Listen to Ian tell his story.

Read more about this week's show.
Animal Radio Episode 952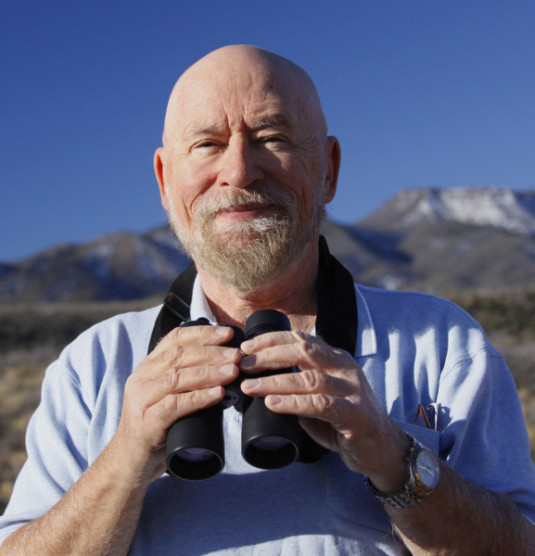 Not Sci-fi. A Device That Translates Woofs and Meows Into Words
Dr. Con Slobodchikoff (Professor Emeritus NAU) believes we are close to developing a gadget that will translate what your dog or cat is saying into English words. While several novelty items are currently on the market, his work is based in science. Slobodchikoff says "So many people would dearly love to talk with their dog. With cats, I'm not sure what they'd have to say. A lot of times it might just be 'you idiot, just feed me.'"
What's Really Behind The Smucker's Pet Food Contamination
What appears to be the biggest recall to date this year, Smucker's (yes, the jelly people) is pulling some of the market's lowest-grade food for pets. Names you've known forever, like Gravy Train, Kibbles 'n Bits, Ol' Roy and Skippy have been found to have the euthanasia drug pentobarbital in low but illegal doses. This is indicative of problems with the food supply. Probably euthanized animals have been used as proteins. But if you think that's the worst stuff in this food, you should see how it's made.
Catastrophic Year for United Airlines Pet Passengers
Last year, 24 animals transported as cargo by U.S. airlines were found to have died in-flight and another 15 were injured, according to a new report by the Department of Transportation. The deaths and injuries were only a small percentage of the nearly 507,000 animals transported by 17 airlines. The biggest air carrier at Newark, United Airlines, accounted for most of the deaths and injuries nationwide. A spokesman for the company said United saw a significant increase in the number of pets it transported last year, which may have accounted for the rise in transported pet deaths.
Counting Cats
Because most everyone has their own opinion on whether cats or dogs are smarter, a new study has created quite a stir when it suggested that dogs might have an intelligence edge over cats. On the other hand, a few other studies have shown that cats have a greater mathematical ability than dogs. Meanwhile, other less traditionally "smart" animals like fish and frogs, according to new research, are able to count.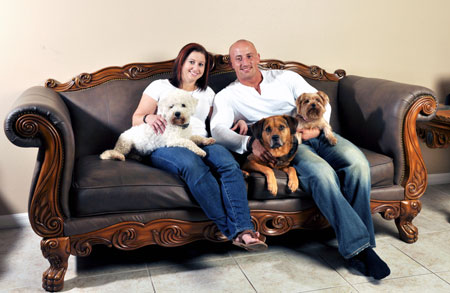 Dating Advice For Pet Parents
Things can get complicated if you are in a relationship that progresses to the point where you are thinking about moving in together. And if the other person is also bringing a pet to the new household then you have a lot to consider. Animal Radio News Director Lori Brooks has some good advice for pet parents who want to combine households.

Read more about this week's show.
Animal Radio Episode 951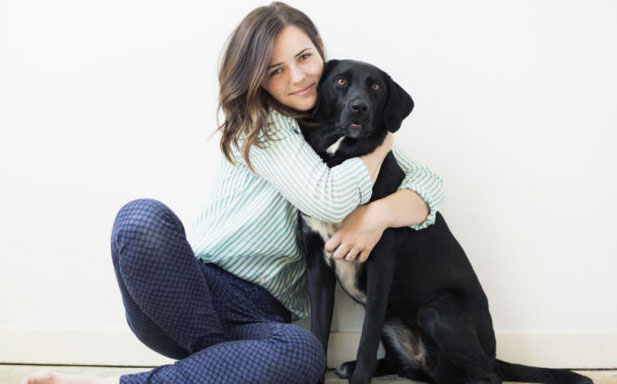 Is It Wrong To Love Your Pets More Than Humans?
Clinical Forensic Psychologist Dr. John Huber culled research indicating that, given the choice, we prefer puppies over people. Respondents to a recent survey are significantly less distressed when adult humans were victimized, in comparison with human babies, puppies and adult dogs.
Myths of Dog Training
Monique Feyrecilde breaks the common fallacies associated with training your dog. She'll share the mistakes we make when trying to change our dog's behavior. Monique is next in the spotlight in the Fear Free Pets Expert Series.
Pets of the Homeless
Genevieve Frederick heads up an organization that connects pet food and veterinary care with homeless folks and their animals. Since 2008, her non-profit has found health care for 17,500 pets. Now, the organization is on the hunt for more veterinary practitioners to offer discounted assistance to the homeless.
Airline Passenger Allegedly Told To Flush Hamster Down The Toilet
This story has become the latest controversial case in airlines versus people seeking to travel with emotional support animals. It sure started a lot of conversations and caused a lot of online emotional venting and virtually all of it not good. It all began Thanksgiving weekend when a beloved pet hamster was flushed down a toilet in an airport bathroom, supposedly after the airline, Spirit Airlines, refused to let a 21 year old college student bring her pet hamster.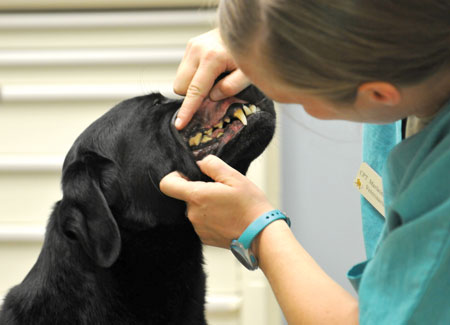 Why Is It So Important To Care For Your Pet's Teeth
It's National Pet Dental Month. Not another Hallmark card opportunity. This is the ideal opportunity for your veterinarian to check for dental issues that could ultimately be fatal if gone unchecked. Dental care isn't about vanity as much as it's about preventing organ failure because you thought a 'non-anesthesia dental cleaning' was all you needed.

Read more about this week's show.
Animal Radio Episode 950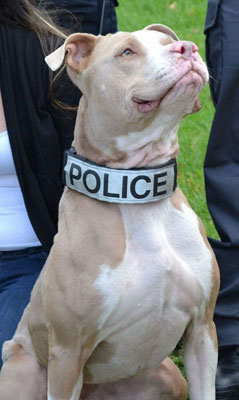 Pit Bulls Being Used To Fight Crime
Brad Croft of Universal K9 trains shelter pit-bulls to assist police officers in fighting crime and searching for people. The success of the program can be seen around the country as more police departments express interest in these dogs.
Fixing A Broken Heart
Even the most grounded person can be devastated by the loss of a pet. Dr. Guy Winch is an authority on broken-hearts and has answers to common questions following the death of a pet. He says you should avoid the 5 common mistakes when grieving the loss of a pet, including not getting rid of reminders like feeding bowls and leashes and feeling guilty about getting another pet.
Can Dogs Really Smell Fear?
If you've ever been nervous around a dog and told to just be calm because dogs can "smell fear," well, that is good advice though most people can't suddenly calm their fear. Believe it or not, the sentiment behind that guidance is rooted in some truth. While dogs probably can't literally smell fear, they do seem to respond to fearful people with more aggression according to a new study in the British Medical Journal.
If You Gave Your Pet A Valentine Gift, You're Not Alone
The numbers are in and consumer spending for Valentine's Day was estimated to have grown 8% over last year and that growth is thanks mostly to those who showered their pets with Valentines gifts and surprises.
Emotional Support Peacock Not Allowed on United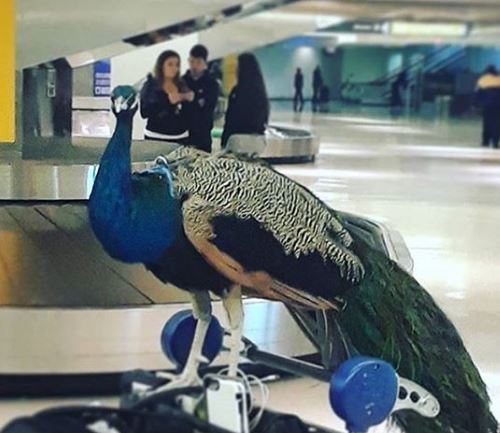 The stories of unruly flights caused by animals continue to grab headlines around the world, like the one where a woman attempted to bring her pet peacock onto a flight out of New Jersey's Newark airport. The woman was told the big bird would not be allowed on the plane even though the owner had bought a separate ticket for the peacock. United Airlines issued a statement saying the peacock did not meet guidelines for a number of reasons, including its weight and size.

Read more about this week's show.
Animal Radio Episode 949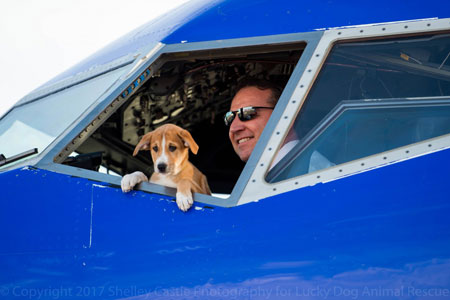 Southwest Airlines Donates Rescue Flight
It wasn't an easy task for pet advocate Mirah Horowitz. She explains how she managed to convince Southwest Airlines to donate a round trip flight to rescue animals from hurricane stricken Puerto Rico. The pilots and flight attendants all donated their time, unpaid for this jaunt to America's own third-world territory. The government has done little to restore power and clean water to 60% of the island. The animals are suffering. This rescue flight helped many dogs and cats to escape the damage ravaged island.
Food Stamps For Pets
There's a big debate brewing about the SNAP program (Supplemental Nutrition Assistance Program) otherwise known as food stamps. A petition has already attracted signatures from more than 85,000 supporters. Though experts say the petition has very little chance of success, it asks the federal government to modify food-stamp rules to make it easier for low-income people to buy food for their pets. These groups say that allowing food stamps to be used for pet food could potentially keep tens of thousands of animals out of shelters and prevent low-income people from giving their own food to their pets.
Is Pet Insurance Worth It?
The pet insurance industry is booming. So many players that it's hard to select the proper insurance. Red Rover CEO Nicole Forsyth discusses pet insurance and how to select it. But pet insurance isn't the only way to pay for those vet visits. You'll hear about some other options to care for your pet.
5 Ways To Show Your Pet Some Love
Pet World Insider Robert Semrow put together his list of honey-dos for your pet. This is a great way to celebrate Valentine's Day. After all, who gives you unconditional love year round?
The Fear Free Movement Keeps Expanding
Fear Free Pets founder Dr. Marty Becker created a way to make vet visits enjoyable for your pet. The new mindset is proliferating all aspects of pet care. Now, you can make your home and Fear Free Happy Home. Dr. Becker will tell us what's on the docket for 2018 for your pets and Fear Free. Visit the Fear Free Expert Series Archives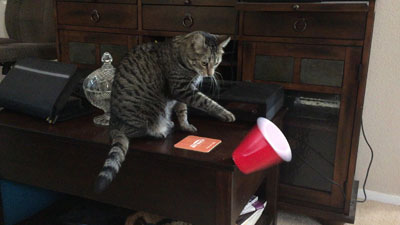 Why You Should Know If Your Pet Is Right Or Left Pawed.
When your cat knocks your favorite coffee mug off the counter, does it use its left paw or its right? There's no need to break your favorite cup for the answer because your cat's gender should tell you enough. According to a small feline-behavior study published in the journal Animal Behaviour, female cats are significantly more likely to be right-paw-dominant, while male cats typically favor their left paws.

Read more about this week's show.
Animal Radio Episode 948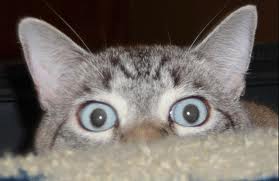 What If Your Pet Could Talk?
There have been some new advances in Artificial Intelligence (A.I.), which suggest the dream of being able to talk with animals could really happen. With the help of A.I., scientists are learning how to translate animals' vocalizations and facial expressions into something we can understand.
Dog Flu Is Year Round
Canine Influenza, more commonly known as the 'dog flu' is not the same virus as the human flu. For humans, there is a flu season in which the virus is spread, but dog flu is seen year round in pets. You cannot give your dog the flu and you cannot get the flu from your dog. However, dog flu signs and symptoms are much like what people experience such as sneezing, coughing, runny nose and gooey eye discharge. People get flu shots to protect themselves and there IS a flu vaccine for dogs too.
Most Common Reasons Pets Go To Vets
After treating more than 15,500 animal patients last year, Dove Lewis Veterinary Emergency and Specialty Animal Hospital in Portland has compiled a list of the most common medical issues pets are taken to the vet for, as well as the most common items eaten by pets. The top item pets eat that they shouldn't is chocolate followed by marijuana and human medications.
Swiffer Hoax Has Been Around - Here It Comes Again.
For some reason, the rumor that the chemicals used in Swiffer Wet Jet cleaner is killing pets is making the rounds again. But don't worry - it's not true! This urban myth has been around for a number of years and seems to get run through the social media grinder every few months.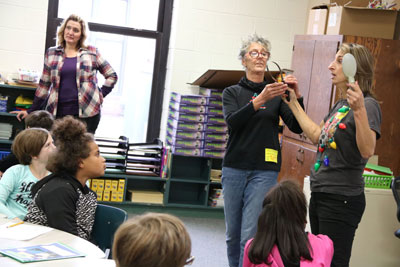 Teaching Kids About Spay & Neuter
Lynn Jackson is at the forefront of educating students in Burke County, North Carolina about the acute feral cat and sterilization problems faced by this part of the U.S. She visits with fourth graders and teaches responsible pet ownership.

Read more about this week's show.
Animal Radio Episode 947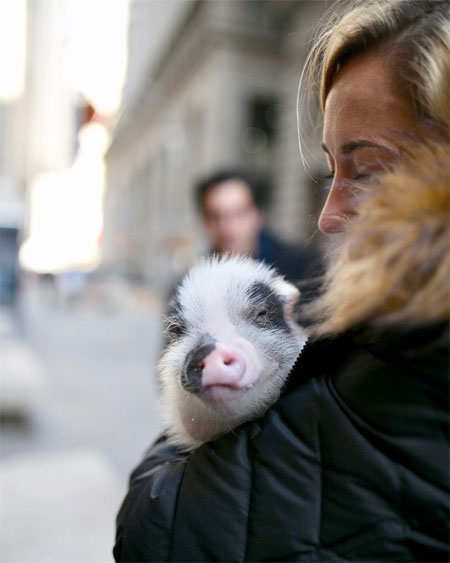 Tickles Saves Pickles
When this little pig got sick and needed a blood transfusion, his guardian, Maddie worked effortlessly to find a match. Thanks to social media, Pickles the Potbellied Pig was saved by Tickles - a 450 lb. donor pig, whom was also saved from the butcher in this 'win-win-win' hog story.
Examining PVP's Prior to Vet Visits
Dr. Natalie Marks suggest that pet owners use Pre-Visit Pharmaceuticals (PVP) before you go to the veterinarian. This will make the visit easier and more pleasurable for your pet. She says these medications are not sedatives or painkillers, but are effective for easing anxiety. Dr. Marks is next on the Fear Free Pet Expert Series.
Microchips FAIL
About 15,000 family pets need to have a new microchip inserted because their old microchip no longer works. Especially sad news since it could lead to some pets being mistaken for strays and put down. Pets that are micro-chipped with a product called BioTec, manufactured by Virbac, are at risk. A letter from Virbac says, "It now seems possible all of those BioTec chips might fail over time." We'll tell you how to identify if you're affected by this problem.
Couple Stows Cat in Luggage
A young Florida couple is facing animal cruelty charges after airport security agents at the Erie, Pennsylvania airport found a cat in their luggage. The 6-month-old female cat named Slim was literally inside the suitcase along with the couples' clothing and other items. Luckily, the Erie TSA team spotted the cat during pre-flight inspections.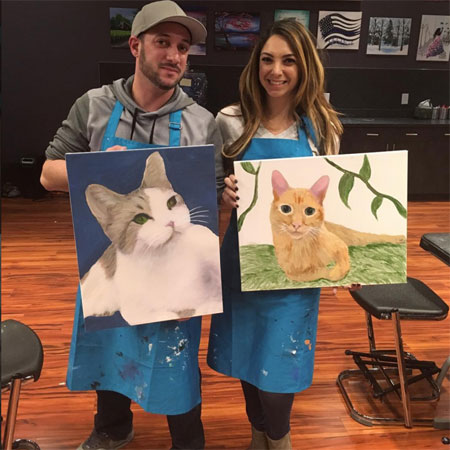 Couple Rescues Handi-cats
Joe and Lauren DiPaolo have devoted everything to rescuing handicapped cats, or 'handi-cats.' Their house is full of cats with one or multiple ailments. They're providing life-long care for a feline without eyes, a kitty using a wheel contraption in place of legs, and one with a cleft palate, just to name a few of the maladies. You must hear them tell you their story of undying devotion.

Read more about this week's show.
Animal Radio Episode 946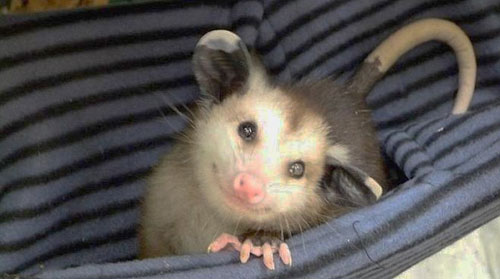 Opossum Rescue is a Thing
The Opossum's Pouch Rescue founder Beth Sparks is our guest. She says North America's only marsupial is quite misunderstood. Beth cares for injured and orphaned Opossums, which are different than Possums. Who knew? Well, apparently everybody, as rescues and social media sites centered on the Opossum are popping up everywhere. Besides, who can resist the little guy in this picture?
Denver Bans Cat Declawing
Denver has become the first city in Colorado to ban elective cat declawing. The city has decided to prohibit veterinarians from performing the procedure unless it's medically necessary. That makes Denver the first major U.S. city outside of California to make this move after passing the bill in November. However, the Colorado Veterinary Medical Association opposes the measure saying the decision to declaw a cat or not should be left up to a veterinarian and the pet owner.
Judges Decided Pet Custody
Divorcing couples in Illinois who can't agree on who keeps the pets will have a judge decide custody, thanks to a new state law. Usually companion animals are treated like property to be divided up between the couple, because in most states pets are still classified as property. But now with the rise of two-income families opting not to have children, the issue of pet custody is gaining more attention.
Fine for Fake Service Dogs
An Arizona state lawmaker has introduced a bill that will fine people up to $250 if they're caught trying to pass their pets off as service animals in public places. As much as this problem irritates many people, some disability advocates worry that if State Senate Bill 1040 becomes law, it may cause more problems and misunderstandings.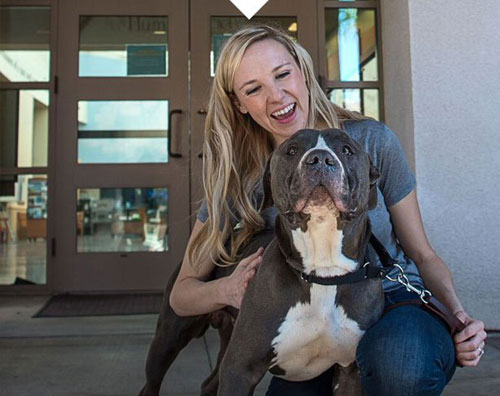 The Healing Power of Dogs
Shannon Kopp is no stranger to Animal Radio. In 2015, she told us about her eating disorder, Bulimia. She was throwing up 20 times a day. It was killing her. No doctor or therapist could help her. Things didn't change until she met a special dog. Now, she's advocating the use of animals to help others suffering from eating disorders. You have to hear this incredible and inspiring story told by Shannon.

Read more about this week's show.
Animal Radio Episode 945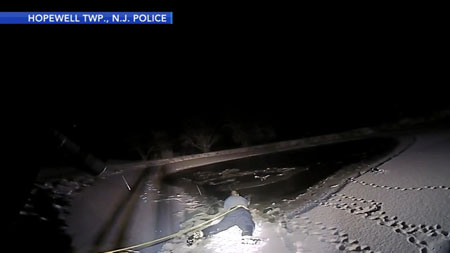 Officer Tells Story Of Lake Rescue
The video of an cop rescuing a dog from a frozen lake has gone viral. Officer Robert Voorhees took a big risk when he decided to cross an ice covered lake in New Jersey. He'll share his heroic story with Animal Radio listeners. He says anyone would've done what he did. Would you?
Top Dog-Friendly States
With about 90 million dogs living in homes in the US, we are a country of dog lovers. But not all states are equal in terms of safety and amenities for pets. You may be quite surprised by the findings. Where does your state fit in?
Pet Owner New Years Resolutions
Fear Free certified trainer Debbie Martin thinks both you and your vet should make resolutions and promises to your pet. She'll share her techniques for creating a Fear Free environment and schedule for your dog. Check out the Fear Free Expert Series.
Chinese Pet Economy On The Rise
The world of pets is changing in China with the country's fast rise in wealthy citizens. The Chinese government is calling for residents to create 1,000 "Specialty Towns" by 2020. In Pyongyang County, the specialty theme is pets. There is no doubt that the Chinese pet economy is thriving mostly because of an aging population and declining birth rates.
Felony Charges For Boy Who Tossed Kitten
There's good news about the kitten that unfortunately starred in a viral video last month. You've heard about Spot, a little 3 and a half-pound calico kitten that was tossed high into the air by a teenage boy in the Southern California. Police got their guy. The San Bernardino County District Attorney's Office has filed a charge of felony animal cruelty against the 16-year-old suspect.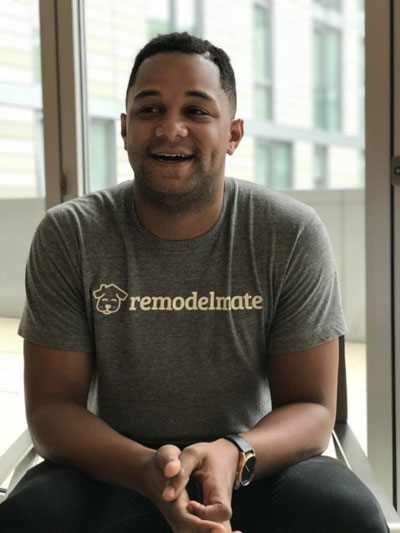 The Real Cost of Owning A Pet
You can add up all the vet visits, food and toys and you still would be missing the costs associated with damage to your houseÔÇŽ because that happens. Chad Hall with Remodel Mate has tips to help you reduce the damage and do it without selling a kidney.

Read more about this week's show.
Animal Radio Episode 944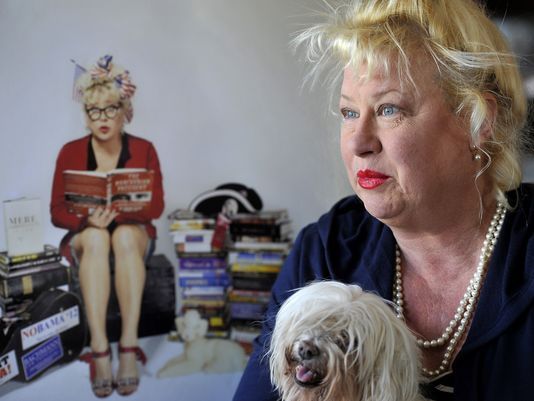 Comedian and Musician Singing for the Dogs
We welcome back Comedian Victoria Jackson (SNL ÔÇô The Tonight Show) and Singer/Songwriter Kimberly Dahme (rock super-group "Boston"). They've co-written a song about a special dog. Victoria just battled stage 3 cancer and won, with the help of "Daisy," her four-legged medicine.
Pet Stores Offering Pet Leases
Do you want that cute doggie in the window so much that you would lease it if you couldn't afford it? You might be in for a shock when a $1,200 dog turns into almost $5,000 in payments. And if you miss a payment, they can come and repossess your dog, because pets are 'property' in the eyes of the law. Adopt. Don't Lease.
Los Angeles May Soon Be Home To Vegan Dogs
Around 33,000 pooches enter the L.A.ÔÇÖs animal shelters each year. They're currently fed kibble composed mostly of turkey, chicken and lamb byproducts. But food for LAÔÇÖs shelter dogs might soon be swapped out for a plant-based food under a new. If they approve the switch, it would make the Los Angeles shelter system the first in the nation to feed its canine residents a vegan diet. Commissioner Roger Wolfson, a Hollywood screenwriter proposed the vegan diet. However, the cityÔÇÖs chief veterinarian has recommended rejecting the proposal.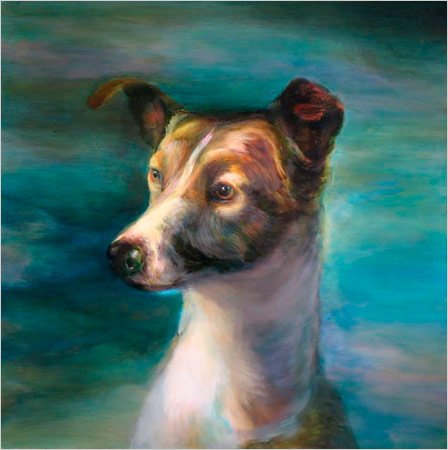 Museum Dedicated to Dogs
Cats may be the kings of the Internet, but a museum dedicated to dogs will be opening in Massachusetts. It will feature a private collection of dog inspired paintings, drawings, sculptures, photographs and of course dog accessories. The 8,000 square-foot historic space will feature more than 180 pieces from famous artists and rare dog collars dating back to the 1800s.

Read more about this week's show.
Animal Radio Episode 943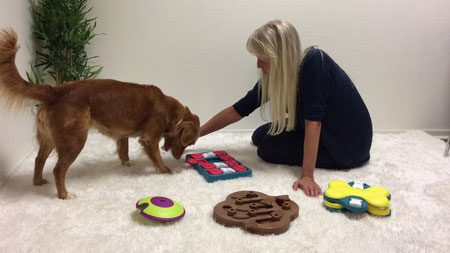 Enrichment In The Home During Winter
Cold weather usually means the kids and pets spend more time indoors. Less exercise and activity could result in unwanted behavior issues. Dr. E'Lise Christensen is a board certified veterinary behaviorist. She'll share some great ideas for keeping your pets occupied and out of trouble. As far as the kids go, you're on your own. This is part of the Fear Free Expert Series.
Dealing With Off-Leash Dogs
It's the stuff of nightmares. You and your dog are enjoying a walk through the neighborhood when, all of a sudden, you spot an unaccompanied canine heading your way. It could turn into a bad scene even if your dog is socialized. Stephanie Colman, the manager of the "Puppy Department" at Guide Dogs of America, has the five things you need to do if you encounter an off-leash or stray dog.
Do Pets Slow Down Your Aging Process?
After all the recent studies about pets keeping humans youthful, there is a new report out in the British Medical Journal that says having a pet doesn't seem to slow down your aging process after all.
Most Popular Pet Names for 2017
The Netflix series "Stranger Things" has some influence on the top pet names of 2017. "Eleven" is becoming commonplace among pet names, after the main character in the popular series. "Star Wars" names like Rey and Leia are up 70%.
Pet Food Sector Seeing Tremendous Growth Online
U.S. researchers say most of the growth in the pet food sector is going to behemoths Amazon.com and Chewy.com (owned by PetSmart). Other trends include home-delivered and customized fresh foods.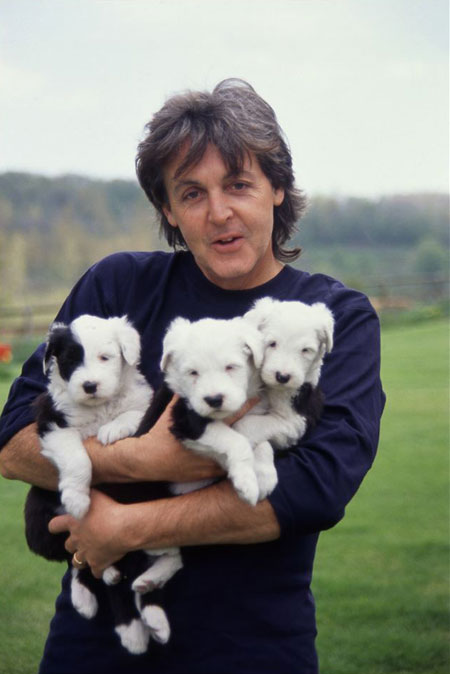 Beatles Song For Dogs
Sir Paul McCartney is confirming that one of the all time best Beatles songs, 'A Day in the Life,' has a special sound included in the track that only your dog can hear. It has long been a rumor that dogs knew something about the song that humans didn't.

Read more about this week's show.
Animal Radio Episode 942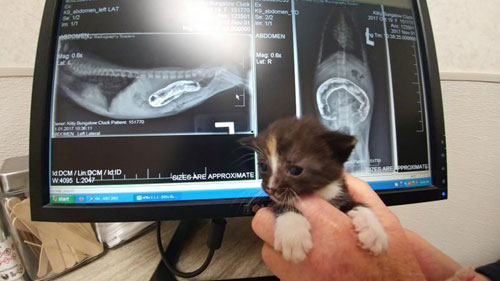 Rescue Crowd-funds Butt-hole For Kitten
Shawn Simons is the Headmistress of the Kitty Bungalow Charm School for Wayward Cats. They're an outstanding non-profit rescue in the Los Angeles area. Shawn just crowd-funded a $10,000 surgery for a kitten. That may not sound unusual until you hear the kitty was born with Imperforate Anus, or no butt-hole. Now, along with television sensation Tosh.0, she's trying to raise a million for 2000 butt-holes.
Who's Got Your Back When The Raptures Comes?
Pastor Travis Davis founded PetsAfterRapture.com. He considers himself the "middle-man" between your pets and the animal-loving non-believers who will be around after the rapture. For a small fee, his service will be dispatched to your home "post-rapture" to care for your pets.
Trump Thinks Pets Are Low Class
It all started with an article about the Vice-President in The Atlantic. In it, an adviser tells The Atlantic that President Trump reportedly thinks pets are "low class" and was "embarrassed" when Pence announced he and his family would be moving into the Naval Observatory with their pets, which included, at the time, two cats, a rabbit and a snake. That was enough to put pet lovers on edge, but the article also said Trump thinks the Pence family is a bunch of yokels because of all those pets, offending animal lovers across the world.
Cannabis Based Pet Supplements Come Under Fire.
People anxious to relieve their pet's physical pain are more and more trying oils and powders that contain CBDs, a non-psychoactive component of marijuana. But, there's little data on whether these products work, or if they have harmful side effects. That's because the federal government has not approved any clinical trials of cannabis pet products. The FDA has warned companies that sell marijuana related pet products that they're violating laws by offering "unapproved new animal drugs." The FDA has even threatened legal action.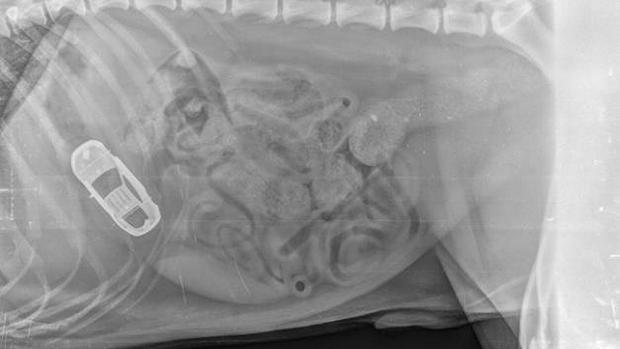 Veterinarians See The Most Unusual Things
A veterinarian in Oklahoma operated on a dog that wasn't feeling well after eating its human sibling's pacifier. The vet could have made a ton of money had he charged for each pacifier he would later take out of the dog's belly, which ended up being a total of 21. Dr. Debbie shares her ÔÇťstrange and unusual things found in the belly of a dog" stories.

Read more about this week's show.
Animal Radio Episode 941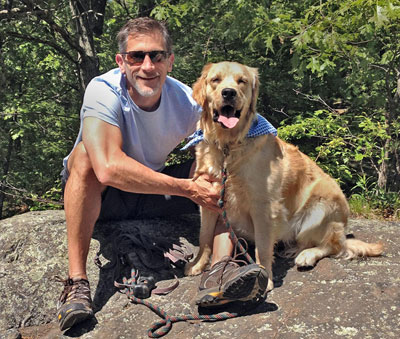 Who Gets Custody Of The Dog?
Attorney Jeremy Cohen gave up his job prosecuting those accused of insurance fraud. He found it unfulfilling. Now, he represents dogs. He'll share the details of several current cases that involve custody battles over pets.
Denver Bans Declawing
Denver has become the first U.S. city, outside of California, to ban the declawing of cats. The new law prohibits veterinarians from performing the controversial procedure unless it's medically necessary. Cat lovers are praising the Denver City Council for passing the ordinance declaring that the elective declawing of cats is both inhumane and painful to the felines. Now, Denver just needs to work on reversing the ban of pit bull breeds within city limits.
FDA Warns Against Certain Types of Dog Treats
The FDA has issued a warning for prepackaged treats called "Ham Bones," "Pork Femur Bones," "Rib Bones" and "Smokey Knuckle Bones," which could be dangerous treats for your dog. The federal government agency has collected at least 68 reports about 90 different dogs and 15 deaths after eating these types of bones. Problems associated with the bones include choking, cuts and wounds, vomiting, diarrhea, bleeding and death in some cases. Experts add that chicken bones can cause the same problems.
Fear Free Now Certifying Trainers
As the Fear Free movement explodes, now dog trainers can become certified using methods that make the learning experience more appealing to the dog. Finding a Fear Free trainer has become easier using the online database. Mikkel Becker tells us how Fear Free makes a difference in behavior training. Visit the Fear Free Expert Series for more.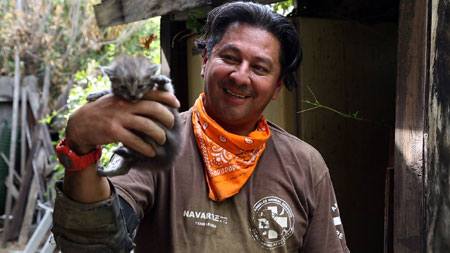 Specialized Mobile Animal Rescue Team
SMART is the first Specialized Mobile Animal Rescue Team. SMART was created because there was a demand for a team dedicated to rescuing animals stuck in extreme situations. Members of SMART combined their passion for rescuing animals with their recreational knowledge and experience of rock climbing and rappelling? Officer Armando Naverrete is our guest to talk about some of his most unusual rescues.

Read more about this week's show.
Animal Radio Episode 940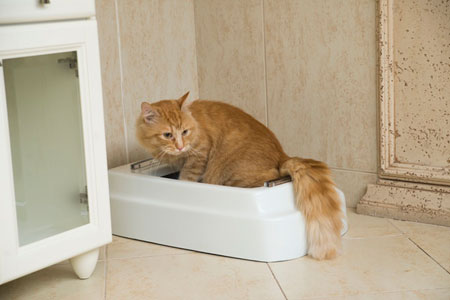 Human Like Toilet For Your Cat
There's a new human-like toilet on the market for cats. It is called Catolet. It's basically a conveyor belt-equipped automatically-flushing toilet that's made for cats. Ideally, the Catolet is installed in a bathroom where it is permanently connected to the water supply and sewage system with hoses that are included. Right now you can sign up to get one of the first ones for $299.
Life's A Pooch
Pet pontificator Boze Hadleigh is back on Animal Radio to celebrate the connection with our dogs. He's queried hundreds of celebrities and well-known people for quotes about "man's best friend."
Giving Back - Paying it Forward
Animal Radio's Pet World Insider Robert Semrow has five ways you can give back to the pet world this holiday season.
Giving Your Dog Your Undivided Attention
New research suggests dogs make a wider variety of facial expressions when their owners or companions are paying attention to them. So, while you are sitting at a computer holding on to a toy while your dog basically plays tug of war with itself, is not nearly as beneficial to them as when you invest your attention in that play time.
First Responders Can Now Treat Pets In Wisconsin
Wisconsin lawmakers are pushing to change state law and allow first responders to treat pets when responding to an emergency. However, the departments do not receive special training for handling pets and they do prioritize saving human lives first. 22 other states in the U.S. already allow first responders to provide animals with emergency care.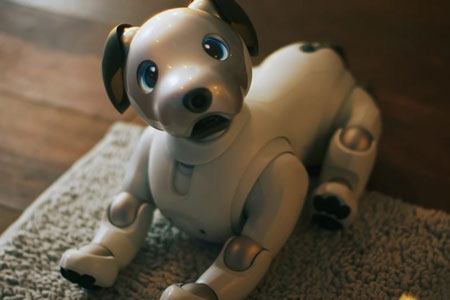 AIBO The Robotic Dog Is Reborn
Sony Corp is going to try again with its robotic dog AIBO after more than a decade. AIBO is billed as a pet that behaves like a real dog using artificial intelligence to learn and interact with its handler and surroundings. Numerous studies have been done with robotic dogs and nursing home patients with fantastic results.

Read more about this week's show.
Animal Radio Episode 939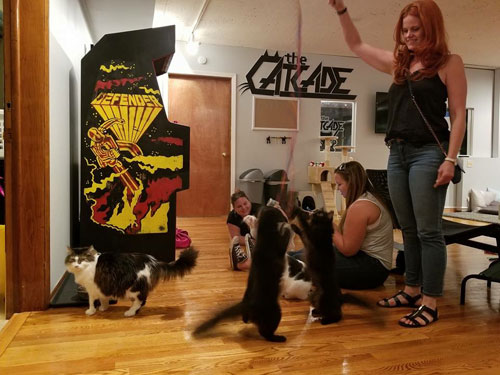 Catcade
Christopher Gutierrez decided to create a cat caf├ę in Chicago. Not just any regular cat caf├ę though. He filled it with video and arcade games. He said the niche is working. His mission is to rescue cats from life-threatening situations and find quality homes through his adoption program.
Massaging Your Pets
Craniosacral Therapist Tracy Vroom works hard to help animals feel better through massage. As an instructor at the Rocky Mountain School of Animal Acupressure and Massage, she's sharing what she knows about her healing touch. She'll get us started with massage techniques for our pets.
A Message To Veterinarians
Veterinarian Dr. Julie Reck says that turning her office into a Fear Free certified clinic helped her to practice better medicine. She opened her clinic in 2011 and now she has a bustling practice with four vets and an new attitude. The pets are the big benefactors. Dr. Reck is next up in the Fear Free Expert Series.
Commemorating A Pet
Yes, all dogs go to heaven. But what you do with their earthly bodies is up to you and now you have options. There is cremation, burial at a pet cemetery and even taxidermy. You can also turn their ashes into synthetic diamonds, which is pretty expensive and starts at about $2,500 for the smallest size diamond. However, there is another option. Now you can have your pet composted. Lori Brooks reports.
Dog Owners Are Healthier
There are literally thousands of studies saying pets are good for your health but this latest one has a lot of people talking. This research was 12 years in the making, studying 3.4 million people, and found that adult dog owners are less likely to die than their non-dog owning peers.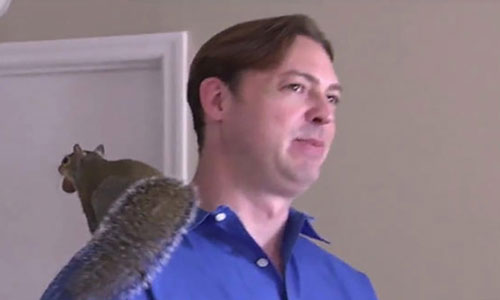 Emotional Support Squirrel Faces Eviction
A man in Florida is facing eviction from his condo because he refuses to part with his ESA, or Emotional Support Animal, which in this case is a squirrel. The man says he rescued the female squirrel, now named Brutus, shortly after Hurricane Matthew last year. He says she's just like a cat that hides nuts. He even has the required doctorÔÇÖs note saying he suffers from anxiety related to a car accident more than ten years ago.

Read more about this week's show.
Animal Radio Episode 938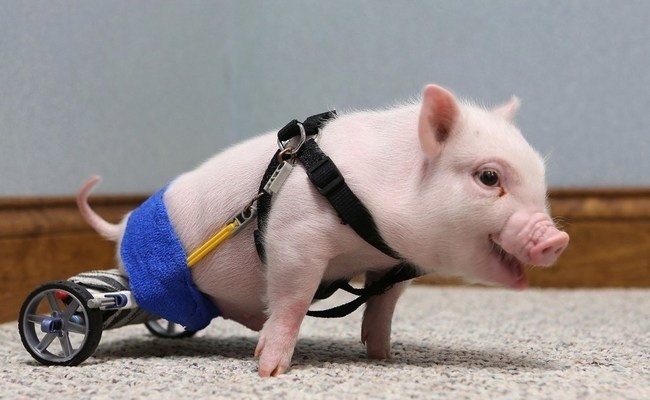 Bionic Animals
Twenty-years ago, if an animal lost a limb, they might be considered for euthanasia. Not anymore. With the advent of 3D printing, doctors are able to create appendages, from legs to tails. Nancy Furstinger went deep undercover to see who is making these prosthetics, what animals are wearing them, and who is buying them. She says these animals seldom notice the handicap and are mostly Unstoppable.
Starting A Rescue
More people are quitting their job to open animal rescues. This may seem pretty straightforward from the outside, but there is a maze of laws and hoops to jump through to avoid being shut down by Johnny Law. Sandra Pfau England has created the long-awaited step-by-step guide to starting a pet rescue and she'll share some of her finest tips on this week's show.
Pet Care Innovation Awards
The five finalists for this year's Pet Care Innovation Awards have been announced. They include the Fetch My Pet Life Management app; Animal Biome, a micro biome-based pet health diagnostics and supplement company; Bare it All, a pet food company that uses the invasive Asian carp as a primary protein source; Barkly a personalized dog walking app; and Pup Joy, makers of the customizable subscription box for dogs. More than 85 companies from 9 countries applied for this year's honor. Animal Radio News Director Lori Brooks reports.
Holiday Hazards
Animal Radio's Pet World Insider Robert Semrow counts down the top 5 Holiday Traditions That Can Land You and Your Pets on the Naughty List. Don't be one of the thousands that find themselves in the Veterinary office over the holidays.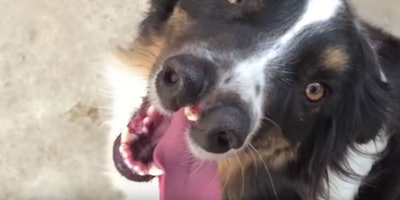 Believe It Or Not
Edward Meyer of Ripley's is back with his yearly round-up of strange and unusual animals. Topping the list for 2017 is a dog with two noses, conjoined fish, and a bird that wears flip-flops. WeÔÇÖll have giveaways of this year's incredible coffee table book, Shatter Your Senses.

Read more about this week's show.
Animal Radio Episode 937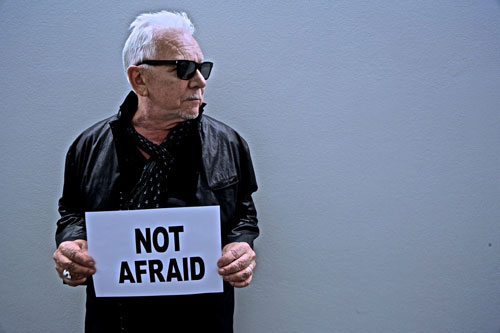 A Real Animal
Singer/Songwriter Eric Burdon (The Animals/War) guests this weekend on Animal Radio. He'll talk about his affinity for Elephants, and what he's doing about it. Eric will also share his experience living in a zoo.
Creating a Fear Free World for Your Pets
When two competing radio hosts get together, they must have something really important to talk about. Sure enough, Steve Dale and Hal Abrams team up to talk about the Fear Free movement and how it can benefit your pet.
Fake Service Dogs on the Rise
19 states have now enacted laws cracking down on people who try to pass off their pets as service animals and Massachusetts is now considering a similar proposal. The toughest of the anti-fake service dog laws already in existence is in California, where the maximum penalty is a $1,000 fine and up to six months in jail.
Whole-Family Pet Cemeteries
You will be hearing more from the Green Pet-Burial Society as our love of pets continues to grow. The group advocates for "whole-family cemeteries," places where the whole family, pets included, can be buried together. The burial of pet remains in cemeteries designated for humans is illegal in many U.S. states.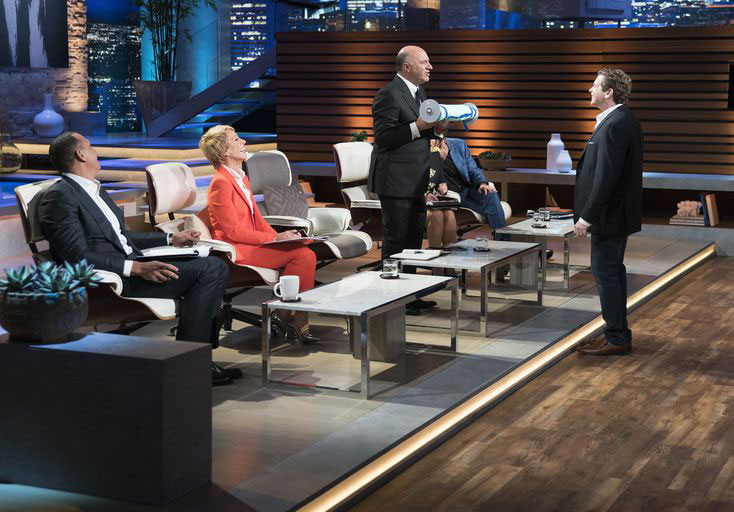 What It's Like To Be On Shark Tank
A dozen Animal Radio listeners were the first to get to try out the Brilliant Pad self-cleaning automatic dog potty. Last week, Brilliant Pad creator got his shot on the ABC hit show Shark Tank. With a half-million dollars in shark backing, Alan Cook tells us about the surreal experience of introducing Brilliant Pad to a prime time TV audience.

Read more about this week's show.
Animal Radio Episode 936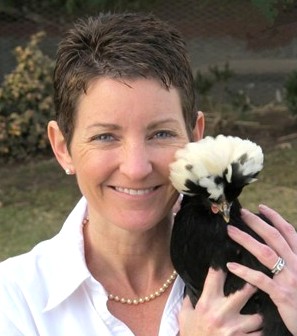 Chickens As Pets
The "Chicken Chick" is back with her backyard chicken stories and tips on raising your own chickens. Trained as a lawyer, Kathy Shea-Mormino is taking on courts all across the U.S. to allow chickens in city settings.
Tackling Pet Diabetes
Pet World Insider Robert Semrow has 5 Things You Must Know About Pet Diabetes. The disease is becoming more prevalent as more pets are becoming obese. This is just another reason to keep your pet fit and eating properly.
Controlling Pet Stress
You may think your pets are living the spoiled life. But did you know they actually could be stressed, causing undue strain on their immune system? Dr. Elizabeth DeLomba is back with details on the silent killer. She'll tell us the signs to look out for - and what to do if your pet is stressed.
Okay, That's A Little Weird
A new survey shows a large percentage of pet owners are going out of their way to do things for their pets, that other less animal friendly people may consider weird. But who cares, right? This new survey revealed that a 33% of us let our pets into the bathroom with us. The poll of 2,000 dog and cat owners also found a third shared a bath or shower with their pet! 3 in 10 sign their animal's name in birthday cards. More than 6 in 10 admit they are closer to their pet than they are to some of their family members. But 9 in 10 owners said they don't care what people think of their relationships with their pets.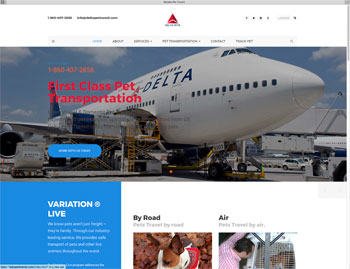 Fake Delta Airlines Website Scamming Pet Owners
An elaborate, but bogus pet-shipping website that makes people believe they are dealing with Delta Air Lines has also been linked to a puppy selling scam, offering smaller dogs like Chihuahuas and poodles for sale. Delta filed a lawsuit against the website DeltaPetTransit.com in federal court because it is designed to look like the real Delta site and uses the airline's logos and even pictures of its planes. According to Delta, the fake website operators collect thousands of dollars without ever shipping or delivering any pets.

Read more about this week's show.
Animal Radio Episode 935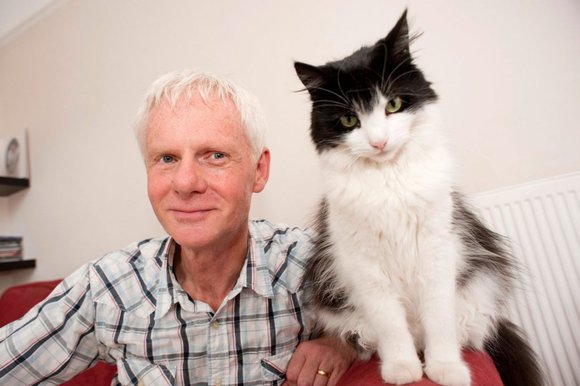 The Science Behind Loving Our Pets
Anthrozoologist John Bradshaw says our love for pets is in our DNA. It's likely that if our parents carried the gene, you'll inherently love pets. John explains why humans are genetically encoded to enjoy companion animals.
The Importance of Pet Enrichment
It isn't enough to supply food, shelter and health care for your pet. They need more. Your pet needs enrichment. This could mean anything from food puzzles to exercise. Dr. Marty Becker explains in the next segment of the Fear Free Expert Series.
Facebook Data Reveals Differences Between Cat and Dog Owners
Facebook is all about the data. Facebook combed through its user base collecting information from 160,000 users in the United States who shared photos of cats or dogs (or both). They used object recognition technology to identify photos. They found dog people have more friends and more likely to be in a relationship. 30% of cat people are not in a relationship, compared to 24% of dog people. This is just the tip of the data iceberg.
Another Supposedly Euthanized Pet Found Alive
A New Jersey woman who thought her dog was dead believed that her 15-year-old Mini Pinscher named Caesar had been euthanized 5 months earlier at her vet's office.  However, she recently found out that the dog had actually been living with an employee of the vet. Caesar's owner had even picked up his collar, paid the bill and received a letter from the staff with their condolences.  The woman received an anonymous tip from someone who told her that her dog was still alive and in the care of a vet technician that worked at the hospital but that the veterinarian no longer worked there.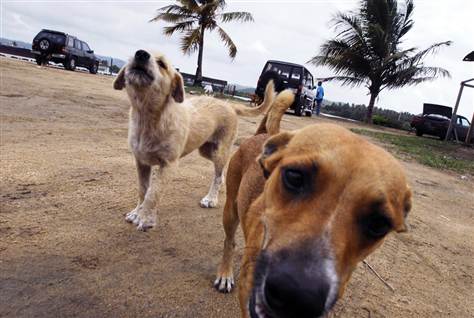 Puerto Rican's Must Leave Pets Over 20 lbs. on the Island
Puerto Ricans who want to get off the island after Hurricane Maria are having to leave their pets behind due to a new federal restriction. The federal government has taken custody of cargo compartments on planes in order to transport supplies and the feds are not allowing animals larger than 20 pounds to fly. It's estimated that already about 2,000 locals left their pets behind because of the new restriction.

Read more about this week's show.
Animal Radio Episode 934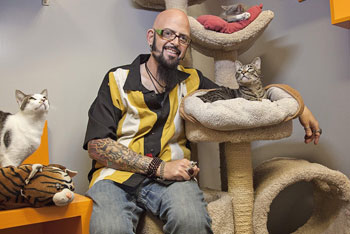 Does Your Cat Have Mojo?
Cat-daddy Jackson Galaxy has a house-full of his own cats (news flash), plus dogs and a turtle. So does he have the same problems as us common folk? You bet he does. Find out how he keeps harmony in his household.
Blessing Your Animals
Dr. James Capers is here to bless your animals. Grab your pets and bring them around the radio for this special ceremony. This is the next best thing to a visit from St. Francis of Assisi.
California Pet Stores Can Only Sell Rescue or Shelter Dogs
California Governor Jerry Brown has signed the Pet Rescue and Adoption Act into law, making California the first to have such a law that is statewide. Starting January 1st of 2019, dogs, cats, and rabbits will arrive at pet stores in the state already vaccinated and spayed or neutered. The biggest opposition to the law came from The American Kennel Club and the California Retailers Association.
Woman Wins Sick Pay to Care for Pet
An Italian college professor and dog owner has won the right to sick pay from her employer, after she took time off work to care for it. She only asked for two days leave because the dog needed constant medical supervision before it could be taken into surgery. When her employer refused her request, she appealed, demanding her right to paid leave as a public servant. Italy's Penal Code prohibits the abandonment of pets and that keeping an animal in conditions that may cause it to suffer is a crime in the country. Each is punishable with jail time or a hefty fine. So, the university reconsidered the case and ruled in the woman's favor, granting her the leave, which is traditionally granted only for workers dealing with serious personal or family problems.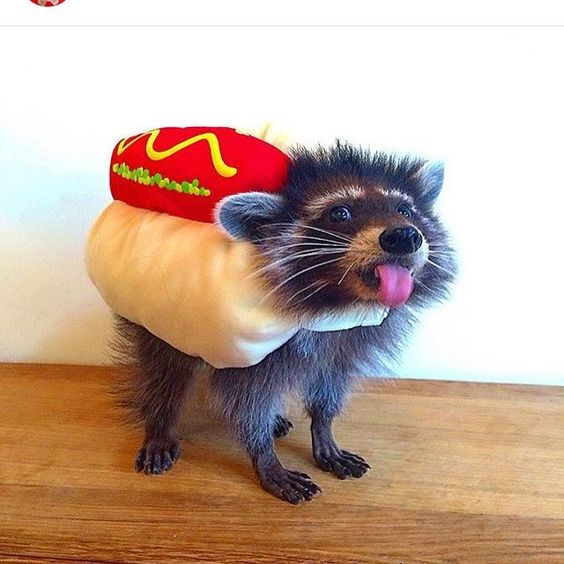 Does Your Pet Wear A Halloween Costume?
Chances are good that you'll be dressing your pets up for Halloween, whether they like it or not. Collectively, we'll spend almost a half-billion dollars on costumes for our pets. Our Pet World Insider Robert Semrow has 5 Reasons Halloween is the Scariest Holiday for Pets.

Read more about this week's show.
Animal Radio Episode 933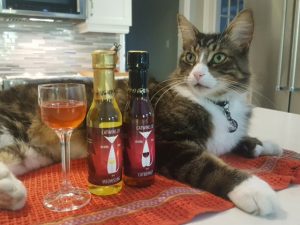 Cocktails for Pets
Taryn Nahm wants you to kick back a few cocktails with your pet. She says you can bond with your pet while you relax with a beverage. Taryn created pet cocktails that look just like the human adult versions, except without alcohol.
Fear Free Tips You Can Use
Do you have trouble getting your pet to the vet? You're not alone. Certified Trainer Mikkel Becker has some great ideas for making a vet visits easy and enjoyable. Check out our Fear Free Expert Series.
Antibiotic Resistant Virus Outbreak
There has been a Campylobacter outbreak associated with puppies sold at Petland stores and it's the humans that have handled these puppies that are getting sick. So far, more than 55 people in 12 states have now been diagnosed in this outbreak, which is so serious that at least a fourth of the patients have been hospitalized.
If Your Pet Is Unwell - You Might Be Unwell Too
New research shows that if your pet is unwell, it can make you unwell, leading to depression, anxiety and a poorer quality of life. It's the same problem that was previously found in the human world.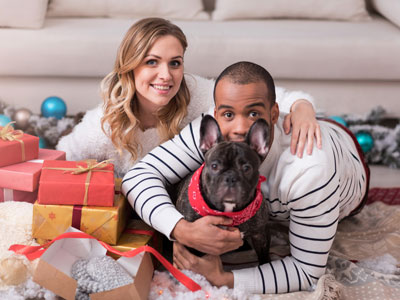 Millenials Choosing Pets Instead
Millennials, or Generation Y, are those born between 1982 and 2004 and they are quickly changing the world of pets. According to the American Pet Products Association, Millennials are now the largest segment of pet owners. They found Millennials invest more time in their pets, evaluating their needs more thoroughly and spending more money.

Read more about this week's show.
Animal Radio Episode 932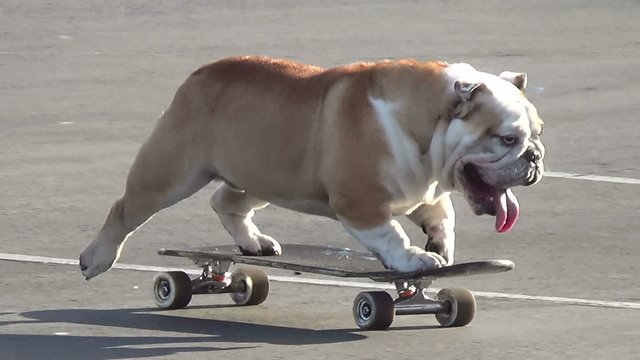 George The Skateboarding Dog
Nadine Singel never tried to train her bulldog to skateboard. When you see him surfing the concrete with such passion and skill, it's hard to believe that he picked up the sport by watching neighborhood kids skateboarding. You'll love George's story.
Why You Should Adopt A Senior Pet
Senior pets are often the most undesirable pets to adopt. But seniors actually make great pets. So says Kim Skarritt, founder of the Silver Muzzle Cottage, a rescue and hospice for older dogs. She's committed to making the last months of a pet's life comfortable and happy.
The Lucrative Pet Treat Business
Anyone looking to cash in on the booming pet products business would be smart to investigate making pet treats, which have outpaced both dog and cat food in the last five years in the US. New research shows that pet treat sales increased by 29% between 2012-17 growing to more than 4 billion dollars of the retail pet products industry.
What You Need To Know About Rabies
Pet World Insider Robert Semrow says many pet parents have heard of, but may not truly understand what Rabies is or how it can affect our pets and us. Rabies is a serious illness that can have fatal consequences. This is one of those illnesses that you can be very proactive with. Have a strategy and understanding of the risks to you and your pets.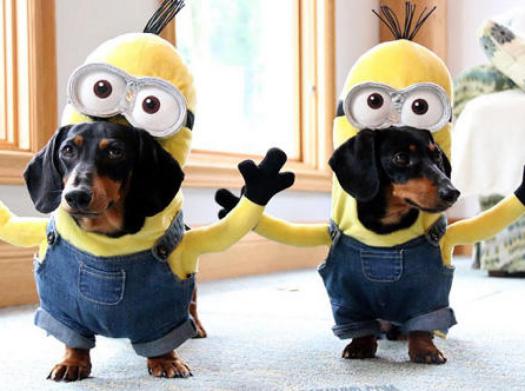 Most Popular Pet Costumes for 2017
If you are one of the many people who just love Halloween, you may already have your pet's costume. But if you don't, we have your list of the top ten costumes for pets this year. It turns out that this year you'll likely be seeing a lot of cats that look like dogs and dogs that look like cats. About 20% of pets will be parading around in costumes this Halloween.

Read more about this week's show.
Animal Radio Episode 931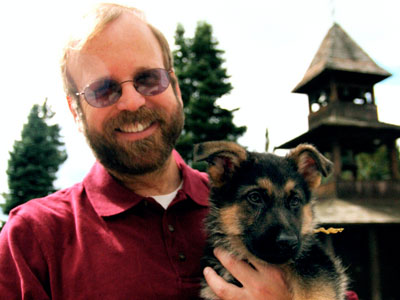 Let Dogs Be Dogs
Brother Christopher of the Monks of New Skete is our special guest. He says we're treating our animals too much like humans. He'll teach us to respect the true nature of dogs and become a pack leader. He'll also help us deal with Halloween, a truly troublesome time for many dogs.
How to Baby Talk to Pets
Dr. Debbie says it's important to learn how to "baby talk" to your pets. She uses baby talk for her patients and it makes a big difference. She'll teach us the nuances behind this special conversation. If you donÔÇÖt know how to talk like a baby to your pet, today is your lucky day!
The Pet Hoarder Disorder
Hoarders are people with a disorder that causes them to collect objects. But people who collect things and objects are not the same as people who collect animals. A new study, published in the journal Psychiatry Research, takes a look at the motivations of people who hoard animals. This latest study suggests that animal hoarding should be classified as an independent disorder with the hope of developing specialized treatments to help these people cope with the compulsion to collect critters.
Finding a Fear Free Veterinarian
Dr. Kathryn Primm describes what it's like to be the first certified "Fear Free" vet. She says it has made a world of difference for her practice, and especially the animals that come to see her. Listen to hear explain in our continuing Fear Free Expert Series.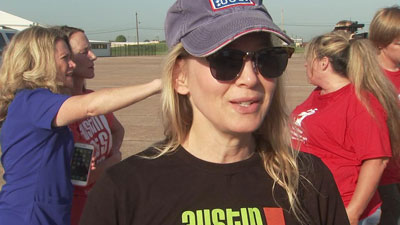 Actress Helps Rescue Dogs from Hurricane Aftermath
The heartbreak of the recent hurricanes in Texas and Florida has shown us a lot of animal heroes. The founder of Houston Pets Alive says one busy morning after the Harvey struck, someone tapped her on the shoulder and said, "Just so you know, Renee Zellweger is over there cleaning kennels and doing your laundry." Sure enough, she turned around to see the actress (who is also a native Texan) quietly cleaning kennels. And it wasn't just a photo op for publicity. The rescue says Zellweger "was here four days literally cleaning crates, doing laundry and walking the dogs."

Read more about this week's show.
Animal Radio Episode 930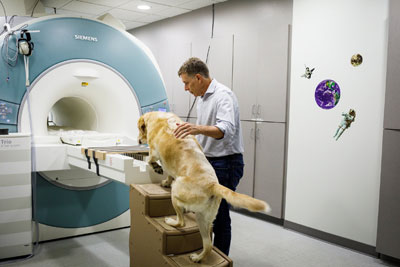 What's It Like To Be A Dog?
Neuroscientist Gregory Berns managed to put several dogs into an MRI machine to scan their brains and try to understand how they think and feel. Do dogs have emotions? Do they have empathy? Do dogs have a sense of humor? You may be surprised at some of these answers.
Counterfeit Flea Medication
The latest break in the counterfeit investigation came after a California man admitted in federal court that he had been selling unregistered and smuggled animal pesticides online for 15 years. The phony products were sold at pet shops in every state. Authorities say the phony products were labeled with well-known brand names, such as Frontline and Advantix, and entered the legitimate pet pharmaceutical marketplace without any detection whatsoever. The counterfeit medication even ended up in some big name chain stores as well.
Dog Friendly Breweries
The website TripsWithPets.com has unveiled its brand new list of dog-friendly breweries across America. It joins their lists of dog-friendly restaurants, beaches and other attractions, along with airline and car rental policies for pets and pet friendly vacation activities. For example, did you know there are whale-watching trips, excursions mining for gems, wine tastings and apple picking activities for you and your pet?
Bill Forces Pet Stores To Only Sell Shelter Pets
California is looking to take a stand against puppy mills. If Assembly bill A.B. 485 is passed, the bill would enact a statewide ban on the sale of puppy mill pets in pet stores, allowing only adoptable pets from legitimate shelters and nonprofit rescues groups. Animal advocates say by passing the bill, it will enable California to cut off the supply of inhumanely bred puppies and prevent consumers from unwittingly supporting puppy mills.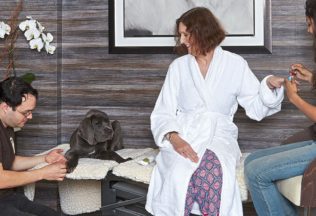 I Spent A Night At A Dog Hotel
What's it like to be the only human staying at one of the most luxurious dog exclusive resorts in the United States? Cathy Alter finagled her way into an 8 million dollar pet hotel for the night. She reveals her experience to us.

Read more about this week's show.
Animal Radio Episode 929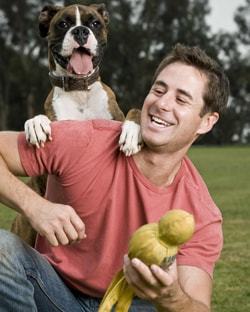 My Big Fat Pet Makeover
Animal Planet host Travis Brorsen begins a four-month weight loss and behavior modification journey with pet owners and their overweight animals. Is your pet tipping the scale? Don't take it personally. Over 60% of American pets are obese.
Why Is Understanding Your Pet's Body Language Vital?
Licensed Veterinary Tech and Certified Professional Dog Trainer Debbie Martin is here to help us decode our pet's body language She says there are some common signs of distress or anxiety that people miss. This is part of our Fear Free Expert Series.
Pot and Pets
A new study out of Colorado shows a four-fold increase in pet cannabis-related medical cases and much of that is simply pets getting into their owners' stash. The active chemical in marijuana called THC (it's what gives users the high) is toxic to pets. Veterinary experts say that cannabis can damage the neurological system in pets and can sometimes be fatal. Also, many of the marijuana desserts and sweets are made using Xylitol and artificial sweeter which is also extremely toxic to dogs.
Getting Pneumonia from Guinea Pigs
There's a new discovery that's just hit the world of guinea pig lovers. Dutch researchers say the cute furry rodents may carry germs tied to a very serious type of pneumonia. It's caused by the same bacteria the causes pink eye in guinea pigs and three people in the Netherlands have wound up hospitalized for pneumonia after contact with guinea pigs.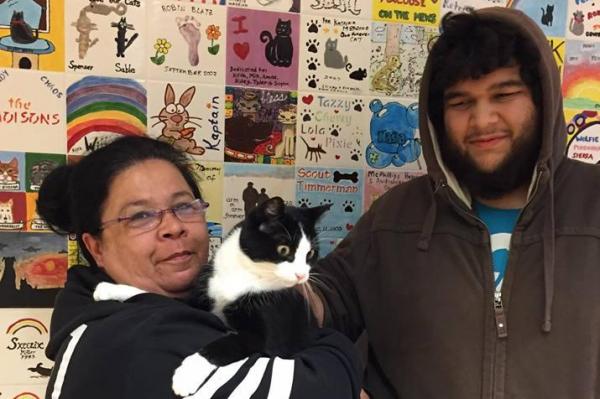 Missing Cat Reunited With Family After 10 Years.
Pets seem to go missing all the time, but it's not every day that they are reunited with their families. Jack the cat and his family was incredibly lucky! Ten years ago Jack went missing but because Jack had been micro-chipped as a kitten the Sanctuary where Jack eventually ended up was able to find his family after all that time.

Read more about this week's show.
Animal Radio Episode 928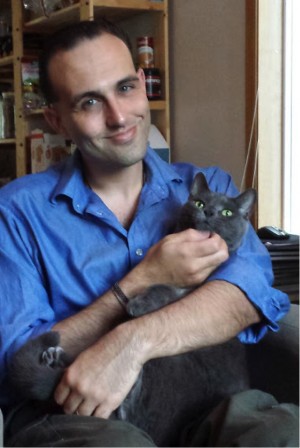 Strange Animal Laws
David Rosengard, a Staff Attorney for the Animal Legal Defense Fund (ALDF) explores the 10 Weirdest Animal Laws on the Books. He'll also share some of the important work the ALDF does for animals worldwide by being a voice for the voiceless.
How Much Would You Spend to Save Your Pet?
More and more pet parents these days are willing to go the financial distance for their pets to give them the best. Americans dog owners spend $2,033 toward their pets on average each year and cat owners about half that at $1,042. But when pet owners are forced to choose between big vet bills and the life of their furry friends, dog owners are willing to pay around $7,000 more than cat owners according to a new survey. So what's the actual number? Those who have dogs say they're willing to spend up to $10,725 to save their pets, while cat owners say they're willing to spend up to $3,454. But for those people who had both cats and dogs, they'd be willing to spend up to $10,200 on average for either their cats or dogs.
Spare Fido the Advil
Ibuprofen is the #1 medication about which the Animal Poison Control Center (APCC) receives calls. Never, ever, give a dog ibuprofen without first consulting a veterinarian. Pets metabolize ibuprofen differently than humans and even small amounts of the human pain reliever can be dangerous to animals. Giving your dog ibuprofen can cause vomiting and gastric distress and could also lead to seizures, coma and death. APCC's annual report breaks down the most common pet toxins across the nation. Popular brands of ibuprofen include Advil, Motrin and Midol.
Man Dies Rescuing Cat After Hurricane Harvey
The stories of heroes keep coming out of Texas and Louisiana after Hurricane Harvey. One mother has shared the story of her 25-year-old son who was electrocuted in Houston floodwaters. Andrew Pasek died while trying to save his older sister's cat. He was an animal lover who had just started out in chest deep water to walk the five blocks to the sister's house to check on the cat who had been left behind, when he stepped on a live electrical wire.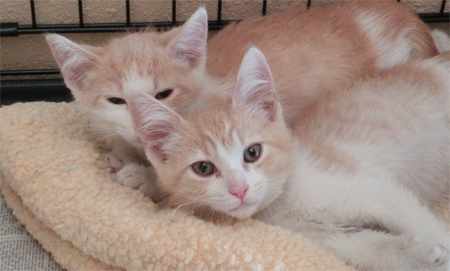 Owner Leaves $300,000 to Her Cats
A couple of cats in New York will be living a better life than many of us after their elderly, wealthy owner passed away and left them $300,000 in her will. A health care aide who worked with their former owner is now caring for the cats, Troy and Tiger. Now they are trust fund cats.

Read more about this week's show.
Animal Radio Episode 927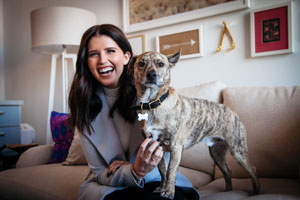 Katherine and Maverick
Katherine Schwarzenegger (daughter of Arnold and Maria) is an ASPCA Ambassador and bestselling author. She has a new children's book, which will empower young readers to help dogs who find themselves in shelters and animal rescues. She's our guest this week.
To Kiss Your Dog or Not To Kiss Your Dog
A USA Today article cited lots of research and experts both for and against dogs licking humans on the lips. For example: There are more than 700 different types of bacteria in a healthy dog's mouth. One doctor researching this subject says she's heard many personal stories from people on both sides of the spectrum, including one who claimed their dog's kisses healed them from skin cancer and another who believes dog saliva caused a family member's death.
Millenials Make Pets' Lives Better
Millennials are behind the idea of pets as family members and making animals' lives better. A new survey shows that for Millennials (those between the ages of 18 and 36) pets really are like their children with one-third of them, who purchased their first home, doing so because it had a yard and was a better space for their dog. Only 25% of Millennials bought their first home because they got married and 19% because they had children.
Buy a Salad - Get a Pet!
A southern California woman has a new pet frog after finding the distressed amphibian in a large container of lettuce mix she bought at a local Target. She had already made her salad, poured on the dressing and was just about halfway through eating it when she saw something in her bowl that was moving. Being a strict vegetarian, the woman says she was so traumatized after finding the frog in her salad and that she has no desire to eat salad ever again. However, she quickly scooped up the little frog and rinsed off the dressing, but she noticed the frog was barely alive so she did chest compressions on it - frog CPR - and it survived. His name is now Lucky.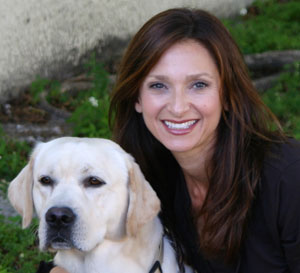 Fear, Anxiety and Stress
Dr. Lisa Radosta, owner Florida Veterinary Behavior Service explains what causes fear, anxiety, and stress in our pets? How does this fear, anxiety, and stress affect them? Why is it so important that we address the fear, anxiety, and stress in our pets? What is one simple thing we can do to reduce fear, anxiety, and stress in our pets?

Read more about this week's show.
Animal Radio Episode 926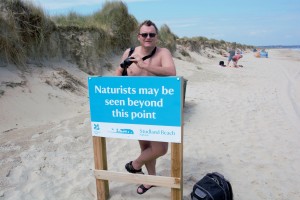 Nude Birding
Olaf Danielson has made a hobby out of birding without any clothes. Olaf is an author, religious scholar, storyteller and adventurer. He will share some of his favorite stories of seeking out rare and exotic avian wildlife... while naked as a jaybird.
Who is Tracking Your Pet Purchases?
With the pet industry growing so fast, any information that can be gained from your purchases for your pets is going to be extrapolated every way possible for those companies which profit from your spending habits. Search data pulled by Hitwise from major pet supply websites in June shows the majority of both cat and dog owners, or at least those doing the buying for their pets, are women and that the women who own dogs make nearly twice as much as those who have cats.
Pet Crematory Intentionally Gives Back Wrong Ashes
A pet cemetery and crematory in Illinois is accused of deceiving clients by giving them ashes that were not be from their deceased pets. Police found three deceased animals inside an old freezer at the facility and fortunately one of the animals had been micro chipped. Authorities contacted the owner who said they had already received their cat's ashes. But the only thing illegal in this case was misrepresenting ashes of an animal because pet crematories in Illinois are not regulated.
Are Kittens and Puppies The Key to a Successful Marriage?
You're thinking love, communication, trust, common interests and that kind of stuff, right? But, a new study from the University of Florida says it could also be cute, cuddly puppies, kittens and bunnies. The team of psychological scientists found that to break the 'familiarity breeds contempt syndrome' or boredom that can happen in long-term relationships, couples can make better associations with their spouse through a positive stimulus like puppies and bunnies.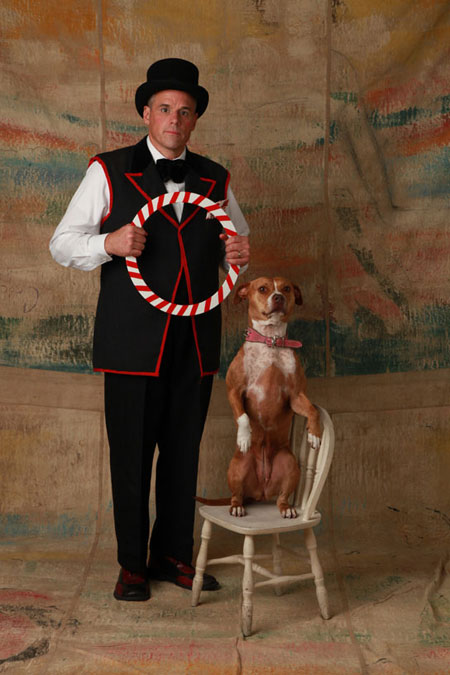 Training Pit Bulls for Good
Jeff Jenkins is the ringleader for the Midnight Circus, a pit-bull agility performance that shows the often-misunderstood dogs in a positive light. He's helping youngsters train their pit-bulls to do tricks instead of fighting.

Read more about this week's show.
Animal Radio Episode 925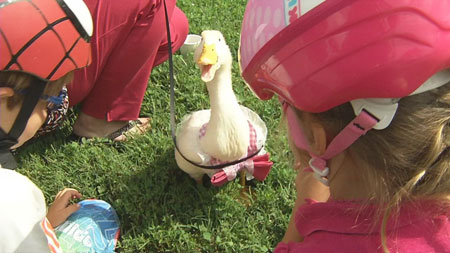 Diva Duck
Shellie Powell has an unusual pet. She is the proud guardian of "Diva," a pet duck that wears a diaper and shoes. Diva goes with Shellie everywhere, including Walmart, Target and PetSmart. Shellie is training Diva the Duck to be a Therapy Pet.
Taking The Fear Free Movement Home
Many veterinarians are practicing "Fear Free." Pets that like going to the veterinarian are generally healthier. Now, the Fear Free movement is coming to your home with ideas for enriching your pet's life everyday. Dr. Marty Becker is back to explain how your pets can live an improved lifestyle.
Can Kissing Your Pet Make You Fat?
Researchers are looking into the connection between having a pet and obesity. They are interested in gut health and trying to find out if certain microbial swaps (such as a kiss or a lick with your pet) might help or hurt when it comes to weight problems in both pets and people. Current evidence actually suggests heavier people have heavier pets, which some scientists believe could be due to microbial swaps from a human to a dog.
Scammer Targets Lost Pets
The number of pet related fraud cases are on the rise. The latest is Texas where a woman's cat mysteriously disappeared from the front porch where he would take his afternoon nap every day. The day after he vanished, she put up fliers all over her neighborhood. Less than a week later, she received a call from a man who asked if there was a reward for the cats return. He then said she could get Romeo back for $300 and offered to finance the payments for 8 months!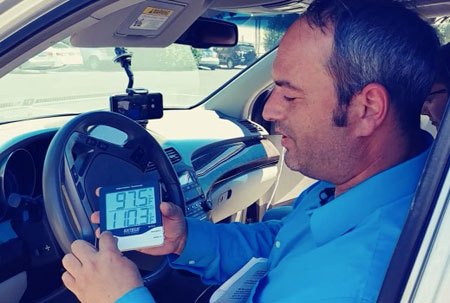 How Hot is Too Hot?
Your dog doesn't need to be in a hot car to suffer from heat exhaustion. Temperatures above 82 degrees are enough to cause a fatal reaction. Steve Burdo from Contra Costa Animal Services sat inside his Acura as temperatures soared about 115 degrees. He did this to bring attention to the new California law that allows people to break into cars to rescue hot animals.

Read more about this week's show.
Animal Radio Episode 924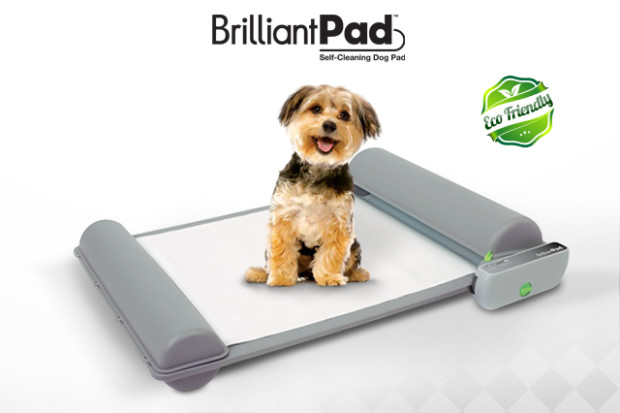 Win a Brilliant Pad Self Cleaning Dog Potty
We're giving away a dozen Brilliant Pad systems this week. If you have a dog that weighs less than 25 pounds, you could easily win a Brilliant Pad Self Cleaning Dog Potty just by calling in. The catch? You have to report back how much you love it.
Is There Arsenic In Your Pet Food?
The Clean Label Project (CLP) just did a study of the top pet foods and found 16 times the lead of the Flint Michigan crisis. They also found Arsenic, Mercury, BPA and other toxins that aren't regulated. Could this be causing cancer in our pets? CLP's Jackie Bowen is our guest this week and she has answers that will shock you.
Clever Pet Puzzle for Your Dog
Animal Radio's New Pet Product Special continues with giveaways of the latest and great gadgets and goodies for your pet. This week's pick is the Clever Pet dog puzzle. This incredible toy will keep your best friend busy and stimulate his noggin'.
Dog Believed to Be Euthanized Found Available on Website
Can you even imagine finding out that a beloved pet you believed to be dead is actually alive? That's exactly what happened to the Coates family in Utah. Their boxer Zoey started having seizures last year when Mr. Coates took her to the vet to be put to sleep. Then Mrs. Coates went online to look for another boxer for her 11 year-old son, who had been very close to Zoey. That's when she stumbled onto a picture of Zoey saying she was in need of a foster home.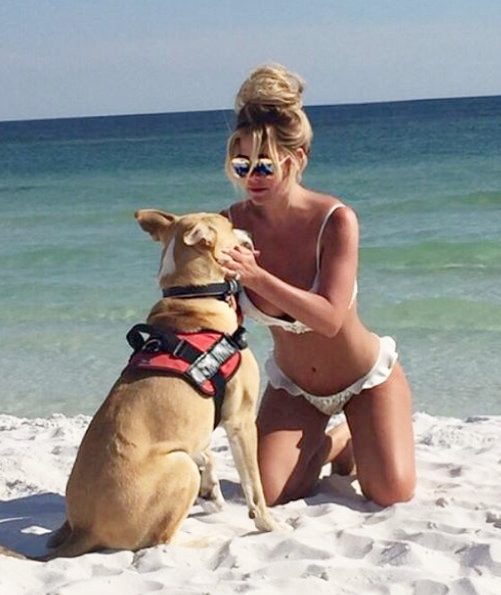 Real Housewife Reported to Animal Control
Former Real Housewives' of Atlanta star Kim Zolciak-Biermann has now taken to social media to call out whomever it was that called Animal Control to make a report that she doesn't take care of her dogs. Even if you are not a fan of the 'Don't Be Tardy' reality mom, you have to know what a die-hard animal advocate she is.

Read more about this week's show.
Animal Radio Episode 923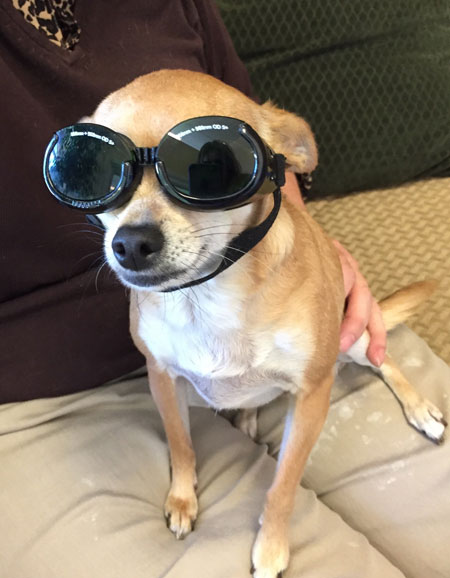 How Will The Eclipse Affect Your Pet?
Does your pet need special glasses to see the eclipse? Will animals act strange during this astronomical phenomenon? Astrophysicist Dr. Angela Speck is our guest. She has answers to these questions and other ecliptic queries.
Would Your Pet Be a Good Model?
Marketing genius Amy Peller managed to launch her dog's modeling career in an advertisement for Banana Republic. She says you shouldn't quit your day job. But she also says it's a lot of great fun for her and her dog Benny Hanna.
The Latest & Greatest Pet Gadgets
Pet World Insider Robert Semrow reports from the floor of SuperZoo, the pet product industry's largest trade show. He's reporting on the trends and Animal Radio's Top Picks for 2017. Alan Cook shows off his latest invention, a self-cleaning potty for dogs.
Facebook Cracks Down on Sale of Pets
Facebook is cracking down on the sale of pets, which they say is designed to weed out puppy mills. Facebook's list of things NOT allowed or forbidden commerce also includes weapons, ammunition, explosives and adult items or services. Private groups appear to be included in the no pet sales policy, so even those posts in private groups would be subject to removal.
Cecil's Cub Meet the Same Fate
No doubt you remember Cecil the lion, Zimbabwe's beloved big, black-mane lion, whose death at the hands of an American trophy hunter triggered international outrage? Cecil, was of course, killed by an American dentist who had paid about $50,000 for the African safari. Now history is repeating itself. Cecil's son has been fatally shot by another trophy hunter in Zimbabwe.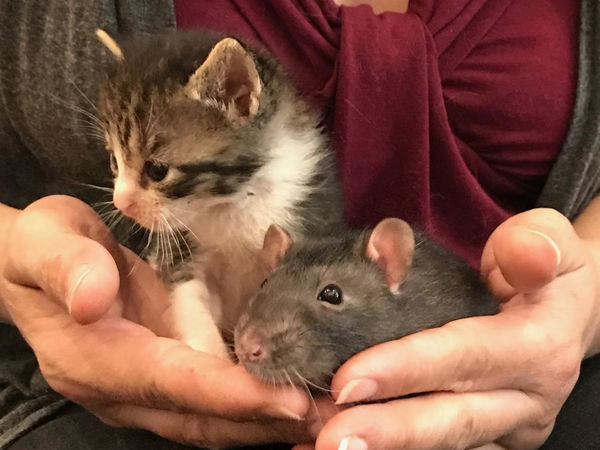 Rats Care for Kittens
A cat cafe in Brooklyn has recruited a pair of rats to care for its newborn kittens. They are young rats named Remy and Emile. These special rats were raised around kittens from a young age and are mostly used to care for orphaned kittens, sometimes called "bottle babies." But, because the rats are not afraid of the kittens, the rats donÔÇÖt run away and the kittens mostly don't chase them, although they do love playing with the rat's tails during supervised play sessions.

Read more about this week's show.
Animal Radio Episode 922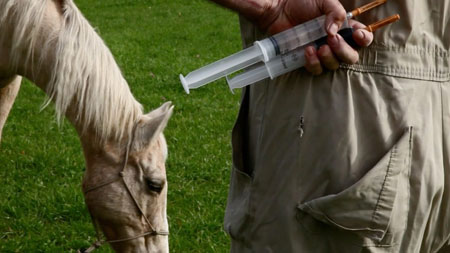 Veterinarians Committing Suicide
Out-surging Dentists, Veterinarians now have the highest suicide rate in the U.S., at four times the general population. Dr. Elizabeth Strand discusses the causes of this disturbing trend and possible solutions.
Legislation Would Provide Service Dogs to Veterans with P.T.S.D.
The PAWS Act also known as Puppies Assisting Wounded Service members Act has been introduced on Capitol Hill by Congressman Ron DeSantis. The legislation would direct the Department of Veterans Affairs to provide service dogs and veterinary health insurance to veterans with P.T.S.D. (Post-Traumatic Stress Disorder).
Pet Pampering Apartment Buildings
Pet pampering apartment buildings around the country are on the rise with some awesome amenities being offered. The most popular among them are dog runs, and they're not what you would expect. These are dog runs inside high-rise buildings on some of the higher floors; so there's no need to even go down to street level.
Parrot Witnesses Murder
Several months ago there was a story about "Bud," a pet parrot that witnessed his owner's murder. Now we find out that a woman in Michigan has been convicted of first-degree murder despite that Bud's testimony wasn't used in court. After the killing, Bud was recorded saying, "Don't F*#&ing shoot," in the victim's voice. A state prosecutor tried to use Bud's phrases as evidence in the trial, but a judge dismissed it.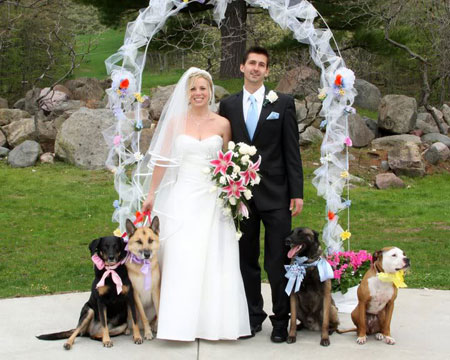 Making Your Dog Part of Your Wedding
Kristen Hedderich is a Wedding Pet Concierge. She's available to make your pet's presence perfect on the big day. Kristen covers transportation, grooming and accommodations for your dog so you can focus on your nuptials.

Read more about this week's show.
Animal Radio Episode 921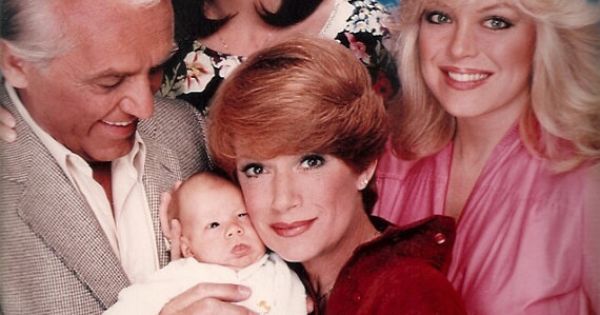 Even Celebs Have Trouble Potty Training Their Pets
Actress Nancy Dassault (Too Close For Comfort, Mad About You) is coming on the show to yap about her new Maltese Yorkie mix that seems to be having difficulty learning where to go to the bathroom.
Feeding The Pets of the Homeless
Genevieve Frederick heads up an organization that connects pet food with homeless folks and their animals. While sometimes controversial, pets can provide a meaningful relationship for the displaced and destitute.
My Tortoise is Wrecking My Career
Michelle Hanson's daughter unloaded her pet tortoise on her mom when she moved out. Little did Michelle know how time consuming and 'high-maintenance' Parker the Tortoise would be.
Rover.com Adds Cats To Its Listings
Rover.com, the Seattle company offering a one-stop online shop for dog sitting and walking, has reeled in another $65 million from investors to continue its accelerating growth. Rover built its name with overnight dog-sitting services. However, people using the site were registering their cats as a breed of dog.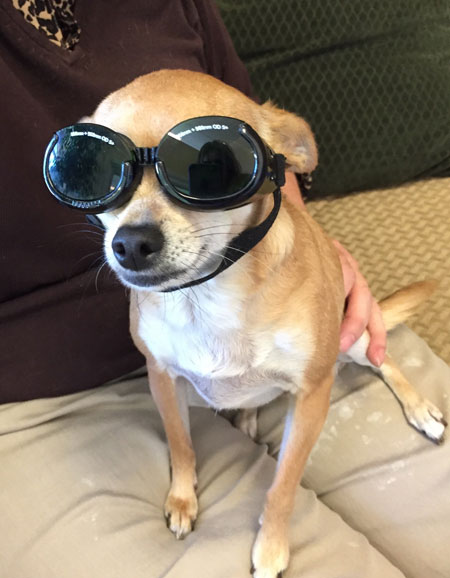 Can My Pet Hurt Their Eyes Looking at the Eclipse?
If you plan to watch the total solar eclipse coming on Aug. 21, you probably have already figured out how to protect your eyes, but what about your pet? There's two schools of thought and the most common one is animals will probably be okay, as they don't normally look directly at the sun. But it doesn't hurt to be safe, and that's why an astronomy professor at Florida State College in Jacksonville, Florida says it is best to outfit them with protective glasses.

Listen to this week's show


Read more about this week's show.
Next Week: Kristen Hedderich - Dr. Elizabeth Strand
Animal Radio Episode 920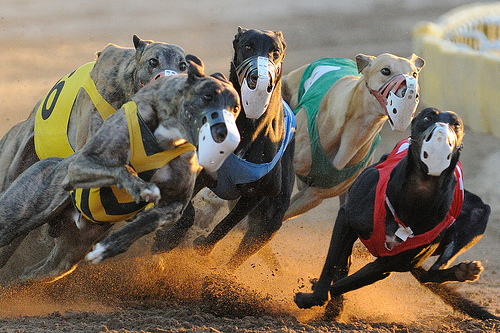 Racing Greyhounds Tested Positive for Cocaine
For the greyhounds running at Florida's dozen racetracks, a trip to the winner's circle also means a urine test. So per state regulations, the dog officially known as "WW's Flicka" submitted her sample. The results came back positive for cocaine. But a hardcore narcotic swimming through the bloodstream of an innocent pup shouldn't have been a surprise to anyone paying attention. According to state records, Flicka had already tested positive five times for cocaine this year before the latest test.
Give Up Your Stupid Job!
Join the folks that are giving up life's traditional path to become live-in pet sitters while traveling abroad. Watch people's pets in exchange for room and board. Trusted House Sitters' Angela Law describes what it's like to constantly be on vacation all over the world.
Pets Encourage Stronger Neighborhood Connections
Pet owners report stronger neighborhood social connections than non-pet owners, according to a recently published study. They were consistently more likely to report social benefits such as helpfulness, friendliness and trust between neighbors. The research adds strength to claims that pet ownership is a valuable and positive feature in community and neighborhood life.
Dogs Understand Fairness - Or Lack Thereof
Humans and primates have a finely tuned sense of inequity. New research suggests dogs and wolves also possess a sense of fairness. A study in the journal Current Biology, shows the sense is equally strong in dogs and wolves, suggesting a sense of fairness is wired in the genes of canines. So, yes, your dogs know when you're treating one differently than another.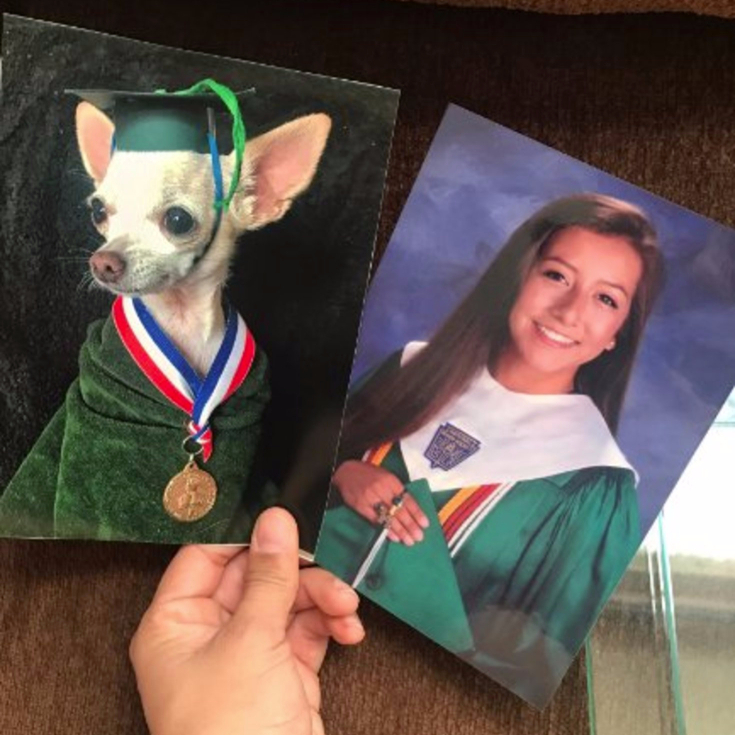 Daughter Pranks Mom With Family Photos
Marissa Hooper pranked her parents by replacing the family photos with almost identical pictures of her Chihuahua. Her mom didn't notice for two weeks, despite her fastidious house cleaning. The photos went viral and Marissa is on Animal Radio to tell us the motives behind her mayhem.

Read more about this week's show.
Animal Radio Episode 919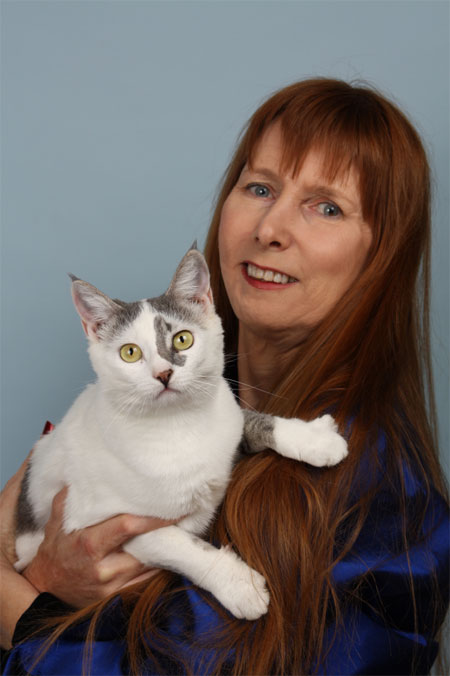 Why Is Your Cat Peeing Outside The Litter-box?
Award winning cat author Dusty Rainbolt has written the definitive guide to solving litter-box problems. Cat owners know that the solutions aren't always simple. But Dusty breaks it down in easy to understand steps. She can tell why your cat isn't using the litter-box and how to fix it.
How Does Your Pet's Name Influence Their Disposition?
Hollywood Numerologist Glynis McCants says the name you give your pet has a powerful impact on its temperament. She has tips on naming and even renaming your pet according to numerical energy.
Cancer Detection Dogs
A town in Japan with high rates of stomach cancer is turning to sniffer dogs for help. The city of Kaneyama is now taking part in a research program, in which residents' frozen urine samples are sent to the Nippon Medical School where dogs are trained to sniff out signs of disease.
Would Your Pet Eat You If You Died?
Cats have a reputation for eating their dead owners although a new study shows dogs are more likely to chow down on you. There are even a few reports of hamsters and birds devouring their owners according to the Journal of Forensic and Legal Medicine. Researchers have found no connection between an animal's reported closeness to its owner and its likelihood of consuming his or her body. Instinct, or hunger apparently trumps love.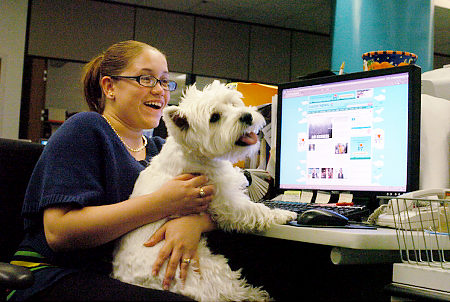 Pets At Work
Purina unveiled the first Pets at Work Report, examining pet owners and their attitudes towards having pets in the workplace, and the benefits it brings to employers and employees. The survey showed that employees at pet-friendly organizations ranked having pets at work second in terms of most valuable work benefits, ranking higher than free coffee and parking. To help other employers who are considering starting their own Pets at Work program, Purina has created a digital toolkit with tips and tools such as office checklists, signage and authorization forms.

Read more about this week's show.
Animal Radio Episode 918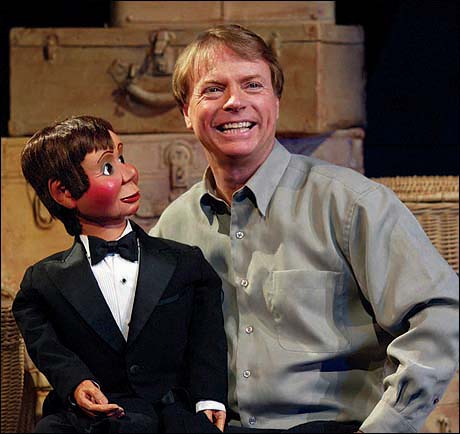 He's No Dummy
Ventriloquist Jay Johnson (SOAP) brings his witty banter to the show this week to talk about his connection with his dog and his involvement with Actors and Others for Animals.
Living Rent Free
Emma Higgins hasn't paid rent in three years. To boot, she's been traveling throughout Europe. How does she pull this off? She's a live-in pet sitter. She takes care of animals and house sits for extended periods all over the world. She has tips to help you give up your 9 to 5 and start traveling rent-free.
Touchscreen Tablets For Dogs
Researchers at the FIDO project at Georgia Tech are working on a touch screen tablet that is made just for dogs! The tablet literally enables a dog to make calls and send texts. However, the technology is not to entertain your furry best friend while you are at the office, it's designed for service dogs to give them new ways of communicating vital information when their handler is in danger.
Apps Make Traveling With Pets Easier
Summer time means road trips and traveling, usually with your family pets. Easier said than done if you've never tried it! However, there are apps that make traveling with your four-legged family easier.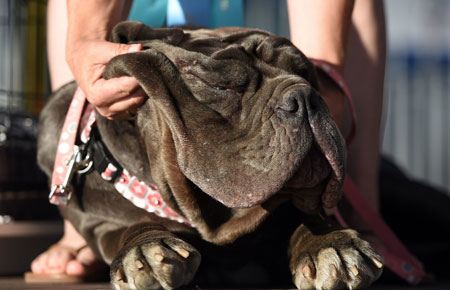 World's Ugliest Dog Not a Chinese Crested
A 125-pound Neapolitan Mastiff named Martha has been crowned the "World's Ugliest Dog" at a summer Fair in California. Sort of silly because Martha is the cutest big girl with her big old floppy head and skin. Her sleepy eyes also helped her stand out from the pack of 13 other interesting looking dogs at the 29th annual World's Ugliest Dog competition in Petaluma. For representing the perfect "cute-ugly mix" 3-year-old Martha was awarded $1,500 prize, a trip to New York and a trophy.

Read more about this week's show.
Animal Radio Episode 917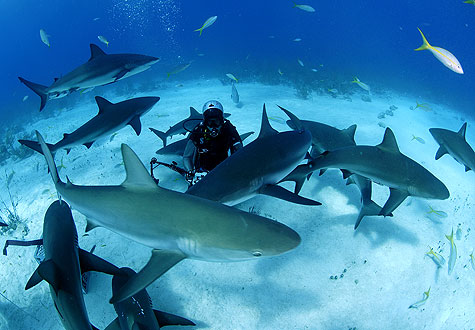 Swimming With The Sharks
Brian Skerry has spent more than 10,000 hours underwater photographing sharks. He says they're misunderstood and not the evil beasts portrayed by Hollywood and the media. He'll share stories including some scary (Skerry) moments.
Rescue Express
Mike McCarthy made his millions in software development. After retiring, he decided to take on a new project transporting thousands of adoptable pets from saturated shelters in Southern California to the Northwest United States where they will be adopted. He's retrofitted 3 buses and makes the trip weekly.
No More Anxious Pets
With the 4th of July around the corner, Pet Living's Kristen Levine wants your pets to stay calm. The sounds of fireworks can make animals anxious. She launched "Pet Anxiety Awareness Week" to educate owners about fear, anxiety and stress in your companion animals.
Delta Publishes Lists of Unacceptable Service Animals
Many people try to cheat the airline system by claiming their pet is an Emotional Support Animal because ESA's fly free on most airlines. But all airlines are not the same. Delta has compiled a list of critters it does NOT accept as trained service animals, or even pets allowed to travel in the cabin, saying they post safety and/or public health concerns.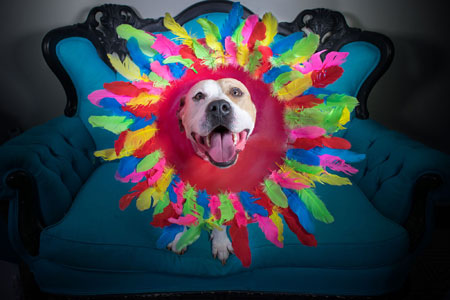 Cones of Shame Turn Into Cones of Fame
Most potential adopters, upon seeing a dog wearing a cone of shame in shelters, think it implies a sick dog chock-full of expensive problems. However, usually at the shelter the cones are used for simple procedures, like spaying or neutering. Unfortunately the coned canines don't have much of a chance next to the pup bouncing around and wagging his tail. So a shelter photographer got an idea. She came up with the idea of 'Cones of Fame.'

Read more about this week's show.
Animal Radio Episode 916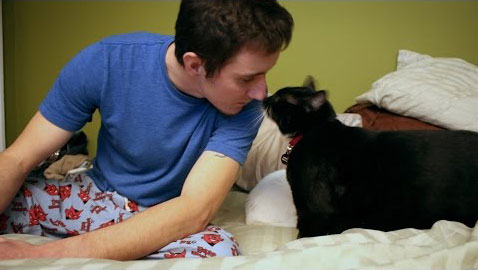 Mutual Rescue
A young soldier left the battlefield in Baghdad with traumatic brain injuries and P.T.S.D. after a mortar attack. Right before he was to give up on life, a stray cat walked up to him, placed his paws on his leg and saved his life. Josh Marino is here to tell his story of Mutual Rescue.
China Switches from One-Child to One-Dog Policy
China may have scrapped its one-child policy, but one Chinese city (Qingdao) has now instituted a one-dog policy! Those who own more than one pooch will be required to surrender their furry friends to an adoption agency. Anyone who violates the rules will be fined the equivalent of $60 US dollars.
Employers Offer Pet Insurance
There is a new and fast-growing trend for employees being offered by generous companies. It's employer-sponsored benefit plans that insure the family pet, dogs, cats, ferrets, birds or potbellied pig against accidents and illness. Some 5,000 companies, including Microsoft, Yahoo, Xerox and Hewlett-Packard, now offer pet insurance.
Don't Use Your Pet's Name As Password
When it comes to choosing a password, hopefully you do NOT pick a pet's name, because that's easy to hack. A behavioral biometrics company did some research and says the answer to finding a secure password is naming your pet a weird name, something incredibly unique after you do some research of your own. If your password is Max7$, after your cat, you aren't alone, but you are putting yourself at risk of identify theft and other cyber crimes.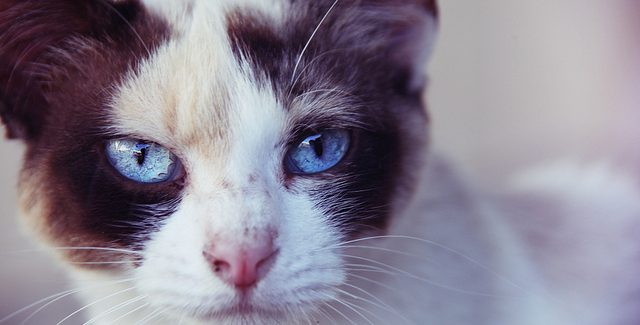 Switzerland Enacts Landmark Legislation for Animals
Switzerland is a fairly small country, but it stills boasts an estimated seven million pets living there, not including farm animals! The Swiss have a long history of improving the working and living conditions for animals including landmark legislation in 1992 when it became the first country to include animal rights in their constitution.

Read more about this week's show.
Animal Radio Episode 915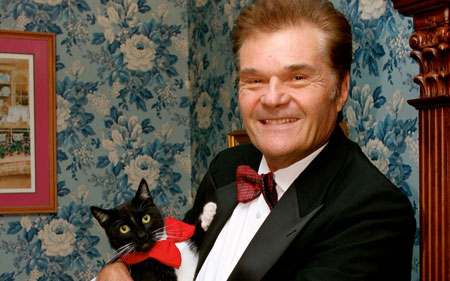 Wacky Willard Returns
Actor Fred Willard is back to share his love for the furry-four-legged and his pet project, Actors and Others for Animals. If you saw him on Modern Family (ABC) last week, you might say he looks the same as he did in the movie Best in Show, almost 18 years ago. He'll tell us his secret to youth. Yes, it might have something to do with animals.
Hugging Turkey?
Albert the Hugging Turkey is a viral sensation. His guardian, Hollywood producer Brant Pinvidic is our guest and he'll share the story of how Albert was "pardoned" on Thanksgiving and what his plans are to help adoptable dogs using Albert's fame.
The Health Benefits of Your Dog and Cat
Voted P.E.T.A.'s Sexiest Vegan Over 50, Holistic Practitioner Carlyn Montes De Oca has the prescription for better health. She says you should consider your dog your doctor and your cat your nurse. Carlyn will explain why your pets set good health examples.
Deadly Dog Flu in Florida
At least even dogs in Florida have been diagnosed with potentially deadly dog flu, a highly contagious virus that popped up in 10 states in 2015. Despite not being transmittable to humans, the dog flu can infect cats. Most cases are not fatal to cats, but, if left untreated, the virus can progress to pneumonia.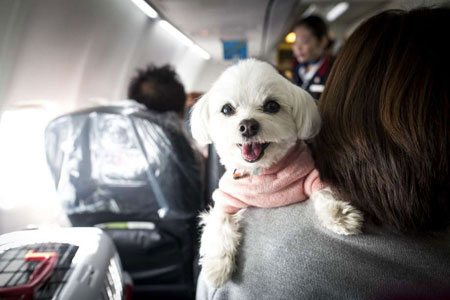 Frequent Flier Rewards for Pets
Korean Air has introduced an innovative program for pets that are frequent fliers. Now, there's a frequent flier reward system called SKYPETS. The program allows pets to rack up points for every trip they take and redeem them for future free travel. Virgin Atlantic has Flying Paws, which rewards travelers for trips with pets.

Read more about this week's show.
Animal Radio Episode 914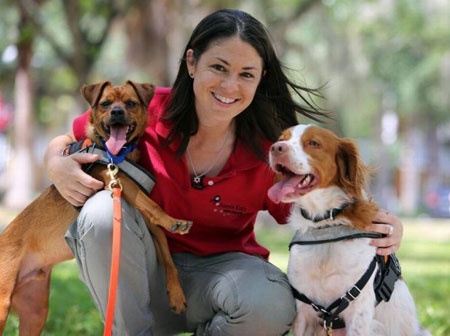 Pet Detective Jamie Katz
She's a real life Pet Detective, schooled as a human Private Investigator. Jamie Katz has found over 150 lost or stolen pets in the last 2 years. She'll share some wild stories and give you tips to make sure your pet isn't stolen.
Federal Agency Goes Pet Friendly
The Interior Department welcomed a new breed of visitor to its Washington headquarters last month, one on four legs, covered with fur and on a mission to boost morale at the agency in charge of public lands. The first federal agency to go dog friendly opened its doors to 85 dogs that first Dog Day!
New Tick-Borne Disease Discovered
Scientists have a double-shot of bad news about ticks. There's a new, and potentially fatal, tick-borne illness called Powassan and this summer looks like it might be one of the worst on record for an increase in the tick population. The Centers for Disease Control say tick-borne diseases are on the rise and prevention should be on everyone's mind now through early fall when ticks are most active.
Prisoners Training Animals
A small team of women prisoners in Phoenix is working with the Maricopa County Sheriff's Office Animal Safety Unit. The program helps comfort and train animals rescued from deplorable conditions. Six days a week the women in the program are transported to a former men's jail that has been converted into a holding center and safe haven for animals.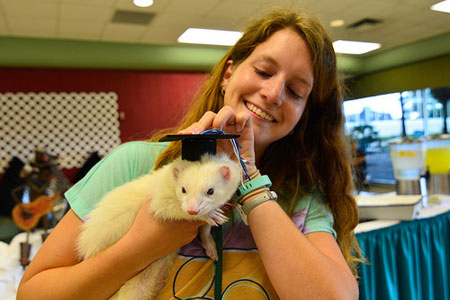 Human College Graduates 24 Pets
One of only a handful of colleges that allow and encourage pets, Eckerd College wants students to bring their dogs, cats, rabbits, ferrets, ducks and chinchillas to school. They supply pet dorms and vet visits for college kids and their pets. They even have a graduation ceremony for the creatures big and small. Tanya Womack is the Staff Coordinator for Pet Life at Eckerd College. She's happy to tell us about this groundbreaking initiative and she consults with other colleges that wish to institute the same policy.

Read more about this week's show.
Animal Radio Episode 913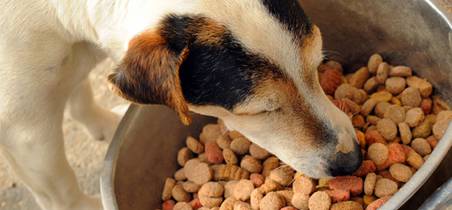 What The Pet Food Manufacturers Want You To Know
The pet food industry is worth 29 BILLION dollars a year. With so much at stake, they've formed a lobbying group called Pet Food Institute. PFI's Communications Director, Mary Emma Young joins us to tell you want they want you to know about pet food.
Pet Fooled
Pet food advocate and director of the movie "Pet Fooled," Kohl Harrington believes you are being lied to and manipulated by the major pet food manufacturers - all in the name of economics. Kohl shares the information he collected while producing the movie, including documentation that you're being deceived into slowly killing your pets; and even paid hush money by pet food makers. You'll want to hear this before you shop for pet food again!
Employers Offer Paternity Leave
Harper-Collins Publishers is now offering their employees "PAWternity leave" when they adopt a new pet, giving workers up to five working days of paid leave to settle in with their new animal friend. The publisher says it wants to encourage responsible adoption of animals as well as make life easier for their staff that choose to open their homes to furry friends.
Pet Rat Saved After Heroin Overdose
Volunteers at an overdose prevention site in Vancouver, Canada, say they saved the life of a pet rat named Snuggles after the little rodent overdosed on heroin it had eaten off a table.
Victims Scammed After Buying Dogs Online
Police in the town of Winkler, Manitoba, Canada, are asking people to be extra vigilant when buying anything online after three people were scammed out of hundreds of dollars when they bought dogs that they never received. The victims had all recently responded to online classified ads listing dogs for sale.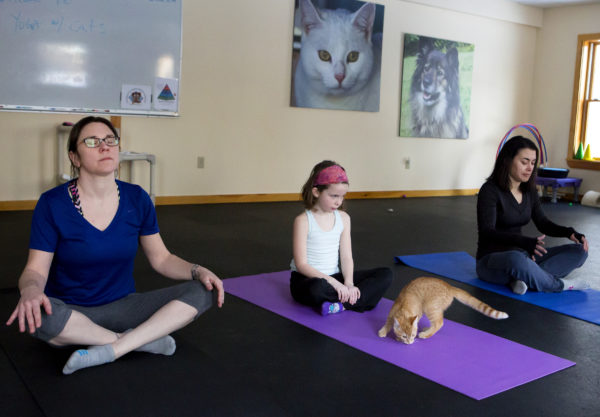 Cat Yoga Classes
For cat lovers and exercise enthusiasts, free yoga classes filled with feline friends sounds like a pretty good deal. But these classes are offered with a larger purpose in mind, as the cats need homes. The P.A.W.S. Animal Adoption Center in Camden, Maine, offers free monthly cat yoga classes as a way to introduce potential new pet owners to some kitties in need.

Read more about this week's show.
Animal Radio Episode 912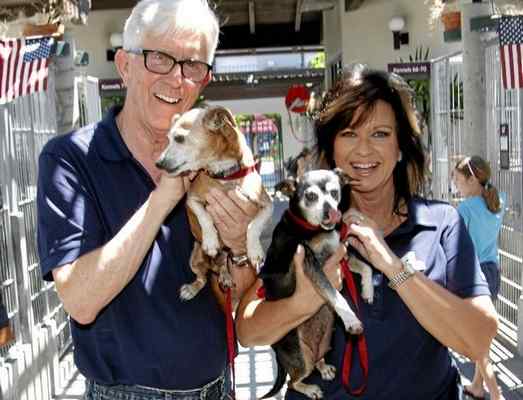 Actors and Weathermen for Animals
NBC Weatherman Fritz Coleman is our guest. He wants you to know about his comedy show that benefits Actors and Others for Animals' Spay & Neuter programs
There's An App For That
Jared Reyes of Shelter Pal created an interactive app that will help you find your next pet. Simply take a picture of your surrounding and enter your zip code and you'll instantly receive a text message with adoptable animals in your area.
Top Selling Dog Foods Fall Short
Brace yourself, some of the top selling brands like Beneful, Pedigree, Purina and more may not contain the wholesome, healthy ingredients you want for your dog. According to a new report in the Whole Dog Journal, the pictures make the food seem better than it is. The authors say the reality is Beneful is awful for your dog. It's full of sugar, artificial colors and 3 unnamed animal sources and it has very little when it comes to healthy vegetables.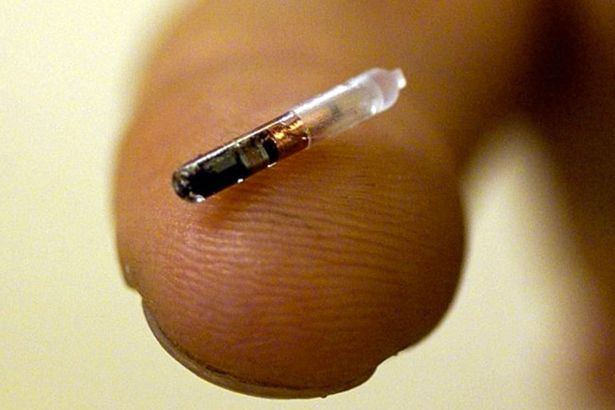 Bullchip
Donna Casement from Michelson Found Animals Registry is here to dispel myths behind microchips. Many people believe that microchips work like Lo-jack or GPS to find your pet. This isn't true. It's just one of the many misconceptions about the identification device.
Dog Shoots Pizza Delivery Man
It sounds like a joke or an urban legend, but it really happened. A pizza delivery driver in Toledo, Ohio was dropping off an order when a dog shot him. While he was standing at the door accepting payment from the homeowner, a bullet hit him in the leg. Apparently the home owner's dog had knocked a gun off the table and it discharged as it hit the ground. Dogs have shot ten Americans in the past decade.

Read more about this week's show.
Animal Radio Episode 911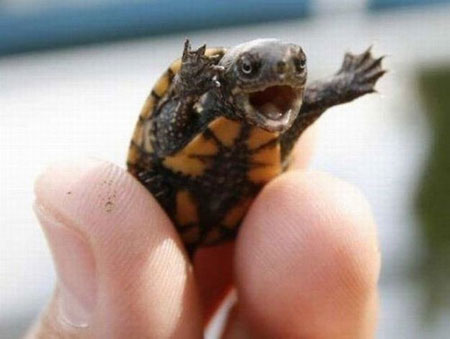 Join the Shellebration
The 17th Annual World Turtle Day is coming up. The Executive Director of the American Tortoise Rescue, Susan Tellum tells us why turtles and tortoises make great pets, except when they're having sex.
Pig Trial Ends
Animal Advocate Anita Kranjnc faced a prison sentence for feeding water to a dehydrated pig. After two years of defending herself in a court battle, the judge dismissed the charges against her for mischief and meddling with private property.
Tick Talk
Dogfather Joey Villani shares a little known secret for easily getting rid of ticks. Simply pulling them out of your animals, or using a match to get rid of them can actually cause more problems. But with this technique, the ticks will leave on their own accord.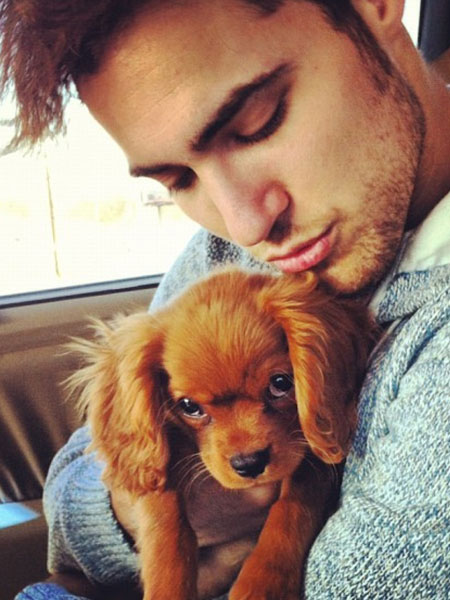 Some Pets Make You Look More Attractive
New research suggests women rated men holding puppies as almost 24% sexier, 14% more trustworthy and 13% more attractive than the same men not holding a puppy. Meanwhile, women with kittens were perceived as the least attractive and women with cats were rated lowest on sexiness and trustworthiness.
Class Action Claims Prescription Pet Food is a Marketing Scheme.
Four law firms are making news for representing pet owners in a class action lawsuit, which alleges that prescription dog and cat food is a marketing scheme devised by pet food companies to pump up their profits. They state that requiring a prescription from a veterinarian misleads consumers, providing cover that enables pet food companies to charge excessive prices because prescription pet food contains no drug or other ingredient not also common in non-prescription pet food.

Read more about this week's show.
Animal Radio Episode 910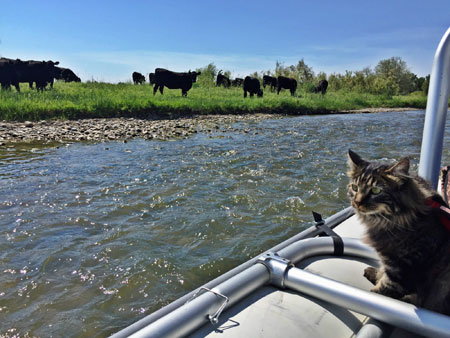 Adventure Cats
Just when you thought you knew all there was to know about cats, Laura Moss tells us about cats that like hiking, camping, kayaking, canoeing, and even surfing. If you have an adventurous cat, she'll tell you what you can do to enrich the furr-balls' life.
The Inner Life of Cats
For millennia, cats have been celebrated as secretive, mysterious companions, content to live alongside (but apart from) humans. Thomas McNamee shares the science revealing cats' hidden depths of emotion and affection for humans.
Deadliest Animal Kills About 120 People Yearly
According to data from the Centers for Disease Control, pit bulls are NOT the deadliest animals, or even rattlesnakes. Believe it or not, deer are the deadliest animals in America, responsible for killing 120 people on average every year. Deer are normally not violent, but the majority of the deaths caused from deer stem from car accidents.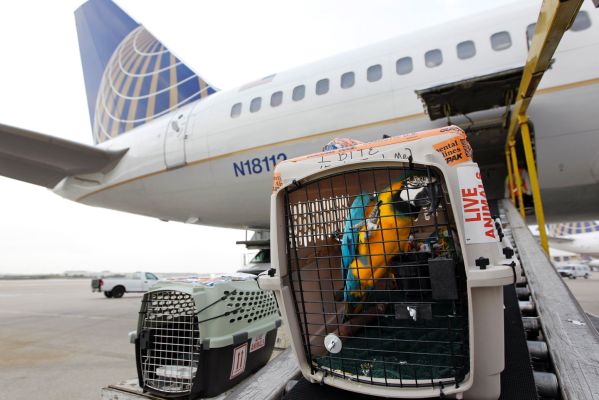 Think Twice Before Putting Your Pet on a Plane
United Airlines is investigating an incident where one of the world's biggest rabbits was found dead after a plane had landed from a flight from London's Heathrow airport to Chicago's O'Hare. It turns out that United had the most animal deaths of all U.S. airlines last year for the second year in a row.
Fake Cancer Treatments Targets Pets
The FDA has given warning letters to 14 companies that are selling more than 65 fake cancer treatments. The bogus products include pills, capsules, powders, creams, teas, oils and treatment and diagnostic kits. They're most commonly marketed and sold without FDA approval on websites and social media platforms and are usually advertised as 'natural' and often falsely labeled as dietary supplements, the agency added.

Read more about this week's show.
Animal Radio Episode 909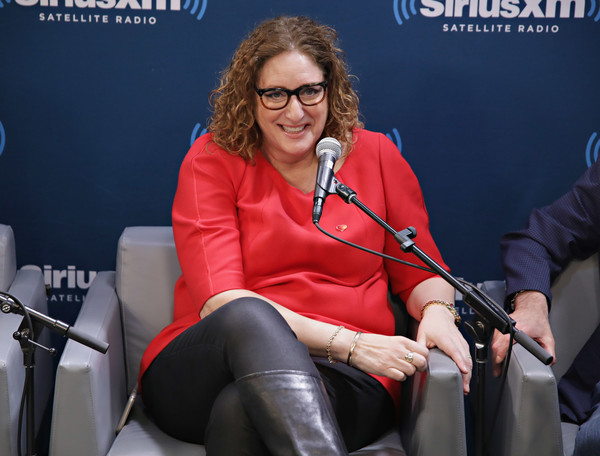 Judy Gold is Funny For Fido
Comedian Judy Gold joins us to talk about her burning desire to own a dog. She wants a big dog that sleeps with her and looks her in the eye. She minces no words when it comes to dressing up the dog.
Earl Holliman Dedicating His Life To Animals
From stage and screen, actor Earl Holliman is back on Animal Radio to tell us about Fritz Coleman's Comedy Show to benefit Actors and Others for Animals spay and neuter programs.
Richest Acquisition in Internet History
Chewy, the online pet product retailer that rocketed to nearly $1 billion in reported sales in only five years, has more than likely set a record for the richest acquisition in Internet history after Chewy was bought by the PetSmart pet store chain. Sources familiar with the deal say the price is $3.35 BILLION dollars. For PetSmart, it is all part of the company's transformational journey. Chewy's founder Ryan Cohen will remain CEO and Chewy will operate largely as an independent subsidiary.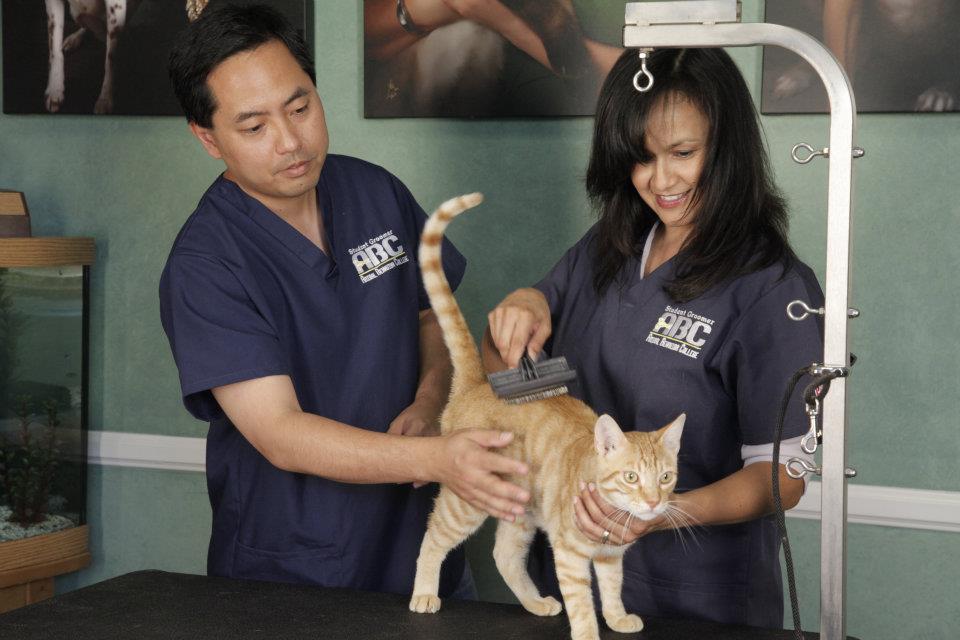 Training Cats - Yep!
Steven Applebaum is our guest. A former dog-trainer, he now heads up the Animal Behavior College. This institution trains humans for the pet industry. He wants to tell us about his new program training people to train cats. Oh, and yes, they are trainable.
Anthropomorphizing Your Pet Is Not "Stupid"
Dr. Nicholas Epley, a professor of behavioral science at the University of Chicago says, "Historically, anthropomorphizing has been treated as a sign of childishness or stupidity." But, he claims it actually makes humans smarter and no other species has this tendency.
PETCO Wins Lawsuit After Rat Bite Fever Death
A San Diego jury has sided with Petco in a lawsuit brought by the family of a 10-year-old boy who died after contracting an illness from a rat purchased at a Petco store. The jury found Petco was not negligent or liable in the death of Aidan Pankey four years ago. The boy's father filed a 20 million-dollar lawsuit saying that Petco knows the rats it sells are likely to carry rat-bite fever.

Read more about this week's show.
Animal Radio Episode 908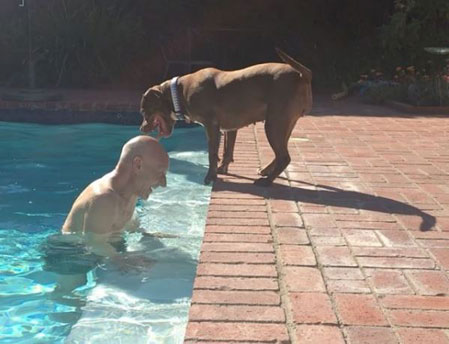 Star Trek Star Changes His Mind About Pit Bulls
Actor and humanitarian Sir Patrick Stewart is fostering a pit bull named Ginger after they bonded instantly. He admits that he once believed the negative stereotypes about pit bulls, but his love for Ginger and other pit bulls has grown so deep that now he's partnered up with the ASPCA to #GetTough against dog fighters.
Fear Free Movement
When Dr. Marty Becker created the Fear Free certification for Veterinarians, he had no idea it would take off so fast. More and more veterinarians are creating a relaxed environment that pets will like. They're practicing techniques that make dogs and cats enjoy going to the vet. The end-game is happier, healthier pets that live longer.
Taiwan Outlaws Cat & Dog Meat for Humans
Taiwan is the first country in Asia to pass a law outlawing the human consumption of dog and cat meat. An amendment to an animal protection law, passed earlier this month by the Taiwanese, indicates a changing attitude in, "A society in which dog meat was regularly eaten, to one in which many people treat pet cats and dogs as valued members of their families," according to the government's own news agency.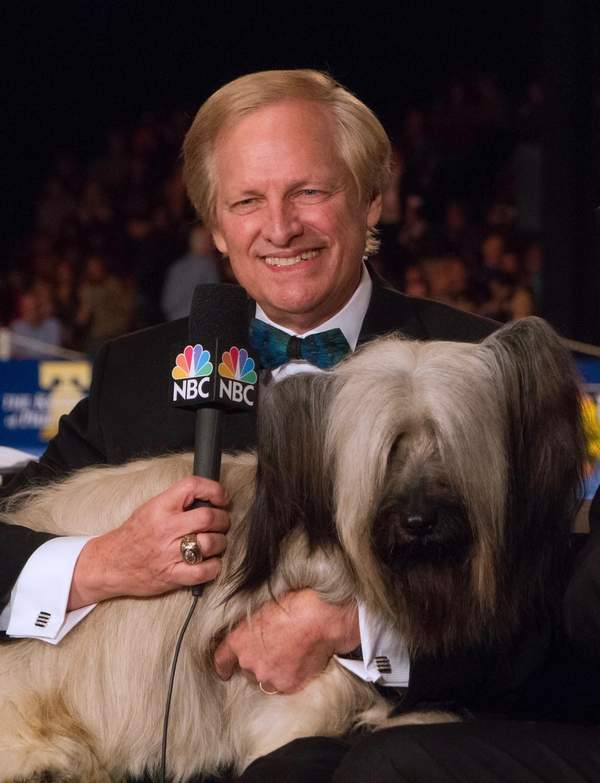 Giving The West Coast Some Love
TV Host and Animal Advocate David Frei has been the top dog at Westminster for almost 30 years. He tells us that he's created the first major west coast AKC Dog Show and it's all going on in Beverly Hills. Trailing the super success of the Thanksgiving Day Dog Show, NBC has bankrolled the celebrity filled dog show.
Eliminating Hairballs
If your cat is always hawking up hairballs, then perhaps you should hear what Animal Radio's Dogfather, Joey Villani has to say. He has some inexpensive and effective ways to reduce the hair your cat consumes. This is especially helpful if you've ever stepped in a juicy hairball in the middle of the night.

Read more about this week's show.
Animal Radio Episode 907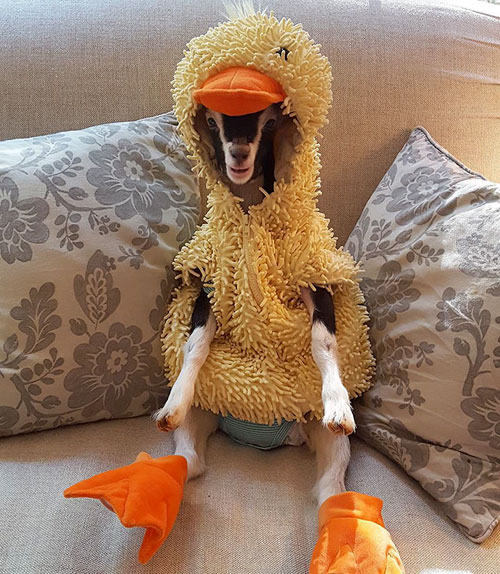 Goats of Anarchy
Leanne Lauricella traded her Mercedes in for a Chevy, gave up her fast-track career and moved to a farm to raise goats. She's now the proud guardian of 50+ goats, including "Polly," the goat that wears a duck costume. Her viral video has people up in arms asking why she's dressing her goat in a duck costume. She has a pretty good reason.
I Talk To Dead Pooches
When Brent Atwater was five years old she became aware of her power to talk to dead pets. Often times, the pet would reveal embarrassing things about their previous owner. Brent says she loves being a clairvoyant, "you never know what an animal is going to say. They will tell you if you drink or smoke too much, have flatulence problems or your spouse is cheating on you."
Pets Reduce Obesity in Babies
A study at the University of Alberta in Canada finds that being exposed to pets early in life may reduce the risk of developing not only allergies, but obesity too! Researchers found that babies from families with pets, especially dogs, had higher levels of two types of microbes that are known to lower risks of allergies and obesity.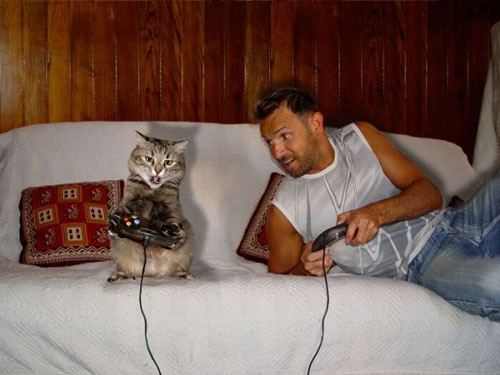 Cat-Man Trend
The Pet Food Manufacturing Association is reporting a 25% rise over the past year of men with cats. That's a full one million more cat-owning men. The study found that undergraduate students rated photographs of men labeled as cat people less masculine than images of men labeled as dog people or not labeled at all
U.S.P.S. Bite Rankings Released
The U.S. Postal Service has released its dog bite rankings for 2016, saying more than 6,700 mail carriers were bitten by dogs nationwide last year. Los Angeles topped the list with 80 reported bites, followed by Houston with 62 bites; Cleveland at 60; San Diego at 57; Detroit at 48; Denver at 47; Chicago at 46; Indianapolis at 44; and Minneapolis at 43 bites.

Read more about this week's show.
Animal Radio Episode 906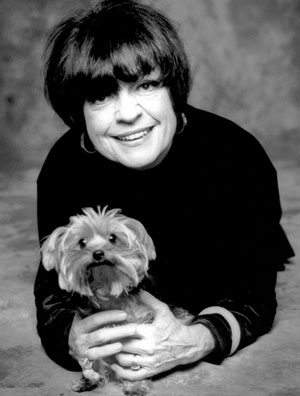 Are Dogs Right or Left Pawed?
Comedian Jo Anne Worley reveals new research that answers the age-old question, "Can dogs have a preferred paw just like humans are left or right handed."
Your Pet's Bucket List
Lauren Watt created a bucket list for her terminally ill dog. She posted it on Yahoo and never expected the response. It went viral. Simon and Schuster asked her to write a book about her dog 160lb Mastiff, Gizelle. She has advice on preparing a bucket list for your pet when the time comes?
Day Care Uses Shock Collar Without Owner's Permission
A Chicago man says he was concerned to find an electric shock, anti-bark collar around his dog's neck when he picked her up from pet daycare. The owner says there was big box on the side of the collar and that box was almost directly on her throat. The owner of the Posh Pet Day Spa stated "it was put on the dog by accident because he and his daughter both use the collars on their own dogs." Apparently the daycare center also sells the collars.
Pit Bull Service Dog Helps Fainter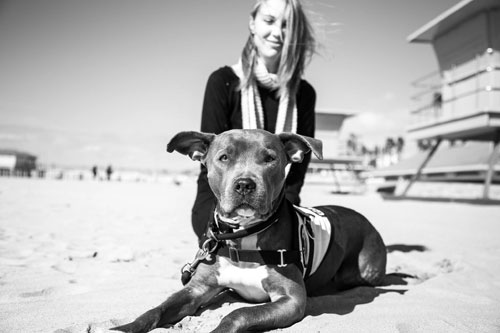 It's not often that you see the much maligned Pit Bull as a service dog. In fact, while the breed is banned in Denver, the American Disabilities Act makes Rachel McClennan's Pit Bull, Sally, exempt from the ban. Rachel has a neurological disability that makes her faint. Generally, these kinds of service animals can smell chemical changes in a personÔÇÖs body that indicates a seizure or loss of consciousness may occur, giving the patient time to prepare.
Scammer Asks For Ransom To Return Lost Pets
Can you even imagine losing your pet then getting a ransom note? Detectives in Hot Springs Arkansas are tracking a person who has tried to collect ransom payments from three pet owners who lost their animals. The scam's first victim was a woman who trains horses. Her cat, Orange, disappeared from the racetrack in the middle of February. After five weeks of waiting for a response to all of her lost and found ads and posters, she received a text message from a man claiming to have their cat. Animal Radio News Director Lori Brooks has the story and tips to avoid being scammed.

Read more about this week's show.
Animal Radio Episode 905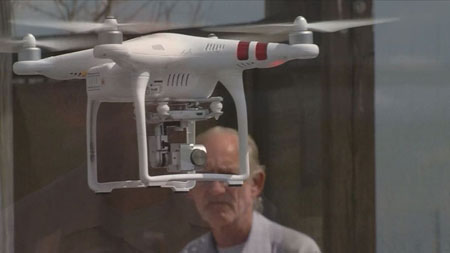 Drone is a Game Changer for Lost Pets
Hobbyist Kenneth Hendrick specifically bought his flying camera drone to look for lost pets in Florida. Teaming up with a Loxahatchee Lost and Found Pets Inc, they search for up to 95 animals a month. He says he reunites pet parents with cats, dogs, pigs, turtles and even calves.
5 Household Hazards for Pet Birds
Birds are really remarkable pets that can fill a home with love, laughter and entertainment. They are interactive and intelligent. Unfortunately, they are also susceptible to household dangers that are very common in many homes. Pet World Insider Robert Semrow shares some of these dangers that exist before they bring harm to a pet bird in your life.
Federal Agents Killing Millions of Animals, Including Pets
Federal agents killed 154,943 animals in the state of Washington alone last year. The agency responsible is the little-known Wildlife Services of the U.S. Department of Agriculture, which for public and private sector clients kills animals all over the country, from ravens, swans and doves to wolves, which are deemed a "problem" by the client. Last month 14-year old boy was injured and his 3- year-old yellow Lab was killed by a cyanide trap set by Wildlife Services intended to kill coyotes in Idaho.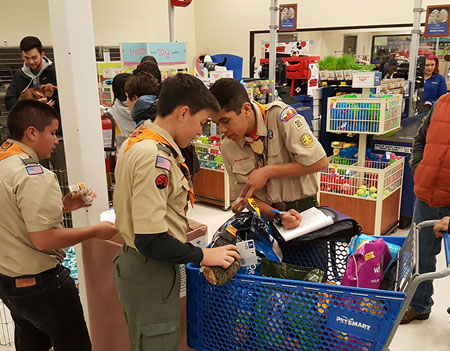 Boy Scout Serves as a Role Model Animal Advocate
Alex Quintero is the first Boy Scout to create an Eagle Service Project assisting shelter animals. At 17 years old, he's focused on whatever he can do to help his local shelter in Flagstaff, Arizona. From collecting blankets to acquiring food for shelter animals, you'll find Alex stepping forward to assist animals and help them get adopted.

Read More about this week's show.
Animal Radio Episode 904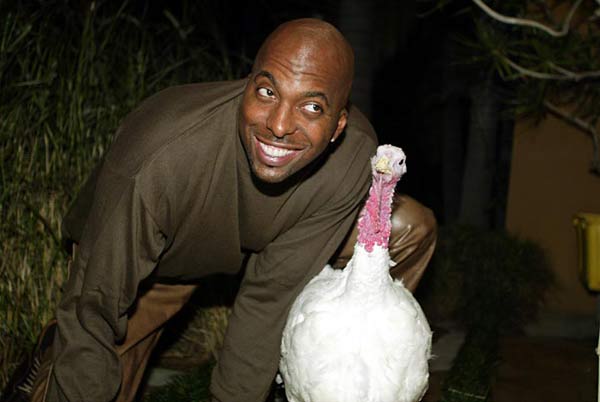 John Salley Brings His "A" Game
The incredibly talented and charismatic John Salley was the first NBA player to win four championships with three different franchises, Detroit, Miami and the LA Lakers. But did you know he's also a Vegan and has an affinity for kittens. He'll be co-hosting Hallmark Channel's 'Meow Madness' Kitten Basketball Championship. John is our special guest this week. Find out what it's like to be a top athlete and abstain from all meat and dairy.
Just How Well Can Your Cat Smell?
Dr. Marty Becker is doing research on smells your cat likes. It's all in the name of science. He wants your pet's environment to be "Fear Free." While we all know about Catnip, did you know Silver-vine and Honeysuckle will also appeal to your feline friends. But stay away from the Glade and Aroma Plug-ins. They could really annoy your pet...even make them sick.
Animal Abusers Barred From Owning Pets in RI.
People convicted of abusing animals would be barred from owning a new pet in Rhode Island under a new law being considered in the state's General Assembly. It would create a statewide registry of animal abusers barring animal shelters, pet stores and breeders from allowing the sale or adoption of an animal to someone listed on the registry. Under the proposal, anyone convicted or pleading no contest to animal abuse would have to register and abusers who fail to register, or who are caught owning another pet, would be subject to up to one year in prison plus a $1,000 fine.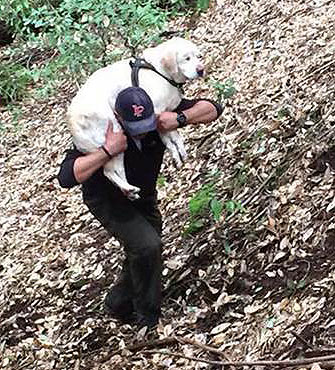 Firefighter Finds Lost Blind Dog
Firefighter Dan Estrada is being called a hero after he took a casual stroll into the woods and came back with a beloved blind family dog, who had been missing for eight days, slung over his shoulders. The dog, 12-year-old Sage, had been reported missing from his family's home in San Lorenzo Valley, California. The family had searched everywhere, put up posters and even hired a dog tracker but still had no clue what happened to Sage. It turns out Dan the firefighter and his friend were out hiking through the redwoods when they saw Sage lying down by a river, but he wasn't moving. The firefighter slung the lab across his shoulders and carried him back to town. You can imagine how happy Sage's family was. They threw a big neighborhood party to celebrate and offered Estrada a $1,000 reward, which he turned down and suggested that they donate the money to an animal charity.

Read More about this week's show.
Animal Radio Episode 903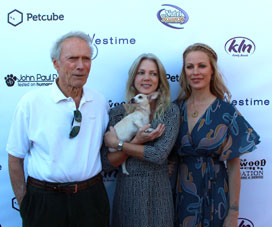 Clint Eastwood's a Chihuahua Kind of Guy
Alison Eastwood, daughter of actor Clint Eastwood, is back to tell us more about her animal advocacy efforts. She's created a website to link foster animals with foster parents. She also says her dad just adopted a Chihuahua. Not necessarily the breed most people expect the gruff actor to befriend.
Has Your Pet Food Ever Been Recalled?
Dave Baker created a website that contains a database of pet food recalls. You can check to see if your pet food has ever been on a recall list, or if it's one of the few that has never had any issues. Knowing if your pet's food is safe is crucial lately. There has been a glut or recalled pet food in the last 6 months.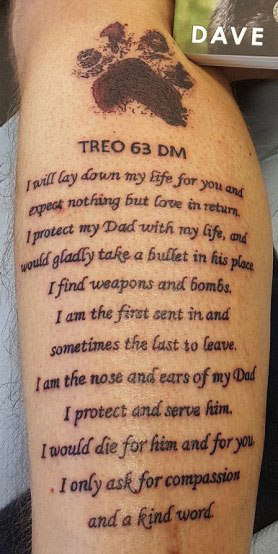 Tattoo Memorializes Dog Using Its Ashes
You know the bond you have with your own pets. Can you imagine the bond that would develop if you worked for years in a war zone with a bomb detection dog? A veteran who served in Afghanistan understandably formed a strong bond with Treo, a black lab who worked by his side in the British military. When they both retired, the handler adopted Treo and the two enjoyed their lives in peace until, at the age of 14, Treo passed away. His handler, Dave decided to get a tattoo of Treo's paw print and a poem. But that wasn't all. Dave asked the tattoo artist mix some of Treo's ashes in the ink so Treo would forever be a part of him.
Family Sues and Wins $885,000 After Police Shoot Dog
When two Hartford, Connecticut police sergeants got a bad tip about illegal weapons on the Harris family's property, they should have obtained a warrant. Instead, the family says they came onto their property, guns out of their holsters. As the officers they were leaving, the daughter of the family let one of their Saint Bernards out the back door. The dog approached the unfamiliar officers in his territory and one of the officers shot the dog...twice, in front of the girl. The Harris family then sued the police, starting a legal battle that went on for 11 years. After multiple trials, the city of Hartford has finally agreed to settle the case for $885,000.

Read More about this week's show.
Animal Radio Episode 902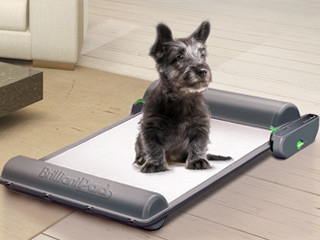 New Pet Product Special
It's that time again for our bi-yearly special show featuring the latest and hottest new pet products- coming to a pet store near you. We'll have giveaways from the Global Pet Expo, one of the two tremendous pet-trade conventions in the U.S. Today we're featuring the Pet Acoustics Cube pre-loaded with music designed specifically for your pet. We'll also be introducing the world's first automatic self-cleaning DOG potty.
Financing Your Next Pet
The Sabin family had bought their new dog for $2,400 with financing offered at the pet store. Then they received a payment notice that said she owed $5,800. When Dawn Sabin tracked down a customer service rep at the company she found out she didn't really own the dog after all. They told her, "You're not financing the dog, you're leasing." Without quite realizing it, the family had agreed to make 34 monthly lease payments of $165 after which they had the right to buy the dog $300. This is more common than you might think.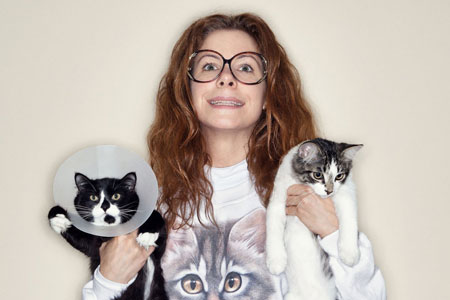 The Term "Cat Lady" Added To Dictionary
Oxford Dictionaries has announced the addition of 300 new words and short phrases that will be added to its dictionaries. Among them "cat lady" made this year's cut. So what exactly is the definition of a cat lady? ItÔÇÖs a noun and refers to an older woman who lives alone with a large number of cats, to which she is thought to be obsessively devoted.
Before You Hire a Pet SitterÔÇŽ
Animal Radio's Pet World Insider Robert Semrow has the 'Top 5 Must Knows When Hiring A Pet Sitter." It isn't easy to find the perfect person to take care of your furry family and we understand that. Make sure you're not vulnerable to any 'pet-sitters from hell.'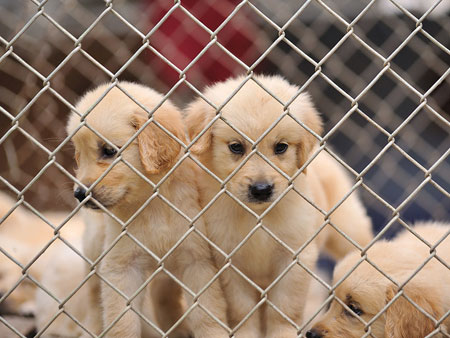 N.Y. Court Upholds Tough Restrictions on Sale of Cats and Dogs
A Federal Appeals Court has rejected a bid to overturn a New York City law imposing tough restrictions on the sale of dogs and cats. The verdict early this month is considered a huge victory for animal advocates and those animals that would normally be sold by puppy mills and mass breeding operations. The 2015 law says pet shops could only obtain dogs and cats from federally licensed breeders with clean recent animal welfare facility visits and could not sell dogs and cats over eight weeks old or weighing less than two pounds, unless they were spayed or neutered.

Read More about this week's show.
Animal Radio Episode 901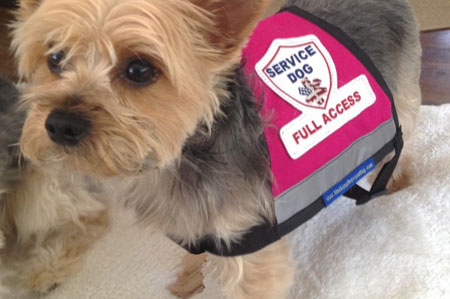 Fake Service Animals Might Be A Crime
Misrepresenting a pet as a service animal may become a crime in Wyoming under a bill being considered in the State Legislature. The issue stems from people claiming their pet is a service animal in order to bring it into a place like a restaurant, store or rental property that doesn't allow pets.
Battling Allergies in Pets
Sure, many of us are allergic to pet's dander, but did you know that your dog's scratching and itching could be their allergies. Whatever the source, food or environmental, there are great new medicines with little or no side-effects. Animal Radio Veterinary Correspondent Dr. Marty Becker explores these alternative allergy treatments.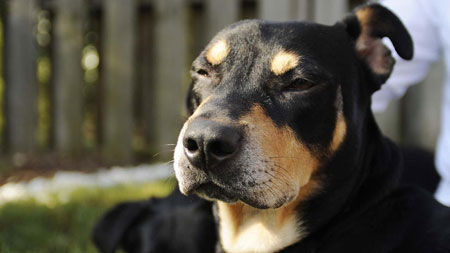 Dog Shoots Sleeping Girlfriend
A man who claims his girlfriend was shot while she was sleeping is blaming the dog! Brian Murphy says his partner was shot in the leg after their dog Diesel leaped on the nightstand where he keeps his gun and accidentally set it off.
What My Dog Taught Me
Sanjay Gupta is our guest this week. He says he learned more from his dog than he did during 25 years of Philosophy education. His dog's insights clarify what really is important in life. Sanjay will share the most poignant message his Basset Hound taught him.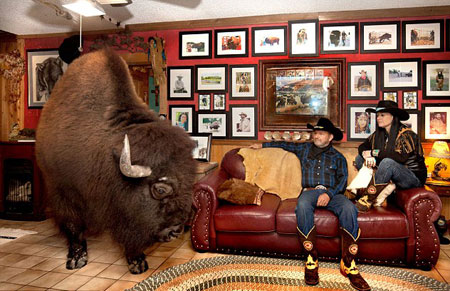 Everything's Bigger in Texas
Only in Texas would you walk into someone's home and be greeted by a 2,500 pound family pet buffalo named Wild Thing. He's been living in his human parents house since he was a three-month-old calf and is treated just like he's a member of the family. Ronnie and Sherron Bridges even gave Wild Thing his own bedroom, where they say he likes to watch cartoons. They also let him eat at their dining room table and are OK with him wandering in and out of the house whenever he pleases. The Bridges say "It's like having a small car in the house."

Read More about this week's show.
Animal Radio Episode 900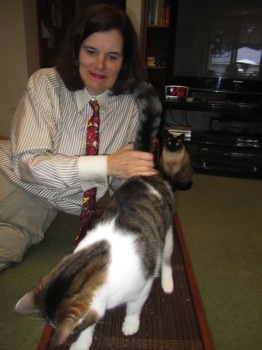 Catty with Paula Poundstone
Comedian Paula Poundstone (Wait, WaitÔÇŽDon't Tell Me!) is back to explain why she's not a "crazy cat lady," despite her menagerie of 14 cats. While there aren't a lot of "sure-things" in this world, Paula is pretty sure she won't be getting her deposit back when she moves out.
Amy Holland Passionate About Adoption
The Grammy-nominated singer-songwriter, and wife of Michael McDonald, Amy Holland is our special guest along with her pup, "Tulip." Ladybug The Animal Radio Studio Stunt Dog loves her new album with David Crosby and her hubby. You will too.
Tax Credit for Pet Adoption
A bill introduced in the Oregon Senate would allow a tax credit of up to $100 for someone who adopts a dog or cat from an animal rescue facility. Senate Bill 326 would provide a credit for qualified adoption expenses, including adoption fees, vaccinations, spaying or neutering and micro-chipping. Opponents of the proposal say, "SB 326 creates a new tax credit, despite the fact that the state has a current budget shortfall of $1.8 billion dollars."
Do Pets Grieve For Other Pets?
The impact of the loss of a pet in some people is as great as the loss of a human. A new study indicates that our cats and dogs also grieve after the loss of a furry-sibling. Cats seemed to be needier after the death of another family pet. 40% demanding more affection. 36% of cats sought out the deceased favorite spot. Almost half of the cats had a change in vocalization behavior.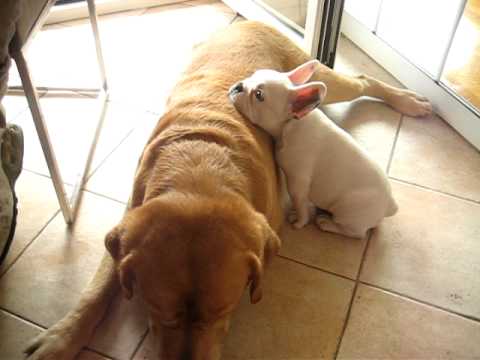 Labrador Falling Out of Favor in U.K.
The Labrador is no longer the top dog in Britain; it's now the French Bulldog, which is a celebrity favorite for David Beckham and Lady Gaga. It will be the first time the Labrador Retriever will have been knocked off the top spot in 27 years. The Lab has been the most popular dog breed in the UK since 1990, the year it overtook the Yorkshire Terrier.

Read More about this week's show.
Animal Radio Episode 899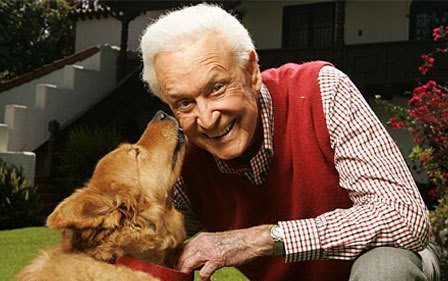 Bob Barker's 15th Visit with Animal Radio
Iconic TV host and Animal Advocate Bob Barker is back for his 15th appearance on Animal Radio. At 93 years old, Bob is still helping animals live better lives. He's been instrumental in unshackling elephants from circus acts; even relocating several to sanctuaries. Now he's rescuing orphan bears in Canada.
Dogs Prefer Reggae Over Heavy Metal
When you leave the house, do you leave the TV or radio on for your pets? New research indicates that when it comes to music, dogs like variety. The results make a very strong case for music as a calming technique, especially in shelters where the high stress levels can cause dogs to cower, bark loudly, jump at people for attention and behave in ways that make them less likely to be adopted.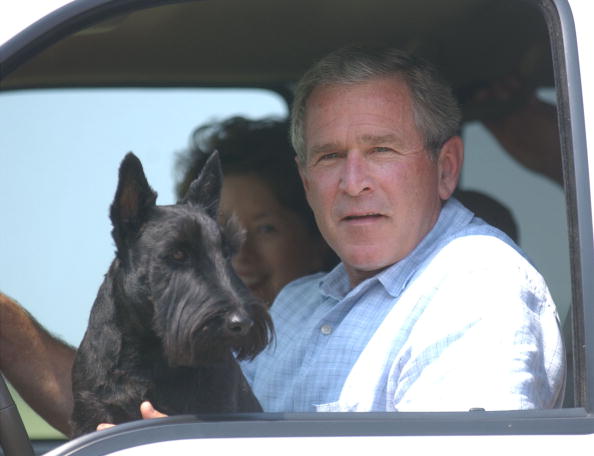 Bill Would Ban Pets on Lap While Driving
North Carolina State lawmaker, Representative Garland Pierce wants pet owners to show affection for their pets, but not while they are trying to drive a car. Pierce says, "I don't have a problem with pets, actually, I want people to love their pets. But I want the highways to be safer."
Miniature Donkey Craze
There's a new trend in the world of exotic pets, but not your typical exotic animal. We're talking about the increase in people who are adopting miniature donkeys. These miniature donkeys are pretty much about the same size as a large dog!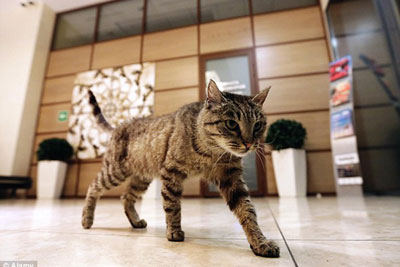 Animal Terminal Opens at JFK Airport
The world's first privately owned animal terminal and quarantine facility has opened at John F. Kennedy International Airport in New York. The ARK, as its known, is a huge $65 million dollar, 14 acre facility that is cozy enough for a tiny kitten but spacious enough for a Clydesdale.

Read More about this week's show.
Animal Radio Episode 898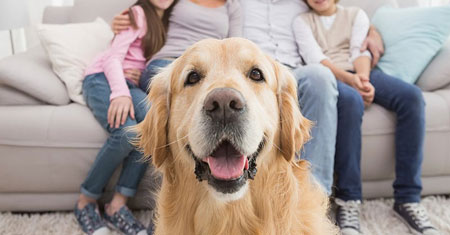 Alaska is the Unlikely Adopter of New Pet Custody Laws
For the first time, a state has specifically said that a companion animal has visibility in a divorce proceeding beyond that of property and that the court may award custody on the basis of what is best for the dog, not the human owners. In a first, Alaska divorce courts will now treat pets more like children even though, in the eyes of the law, animals are considered property. It makes Alaska the first state in the country to require courts to take "into consideration the well-being of the animal" and to explicitly empower judges to assign joint custody of pets.
Dog Dies, 5 Others Sickened from Pentobarbital in Pet Food
At least five dogs have been sickened and one has died after eating Evanger's brand "Hunk of Beef" canned dog food. The reason is a barbiturate, Pentobarbital, has been found in one lot of the food. Evanger's is recalling five lots of 12-ounce cans of "Hunk of Beef" dog food that have expiration dates of June 2020 which were distributed in 15 states. Pentobarbital is frequently used to euthanize dogs and cats, which calls into question what the beef protein really was. This is not the first time Evanger's has been flagged by the FDA. In 2011, a can of Evanger's Grain-free Duck pet food did not contain any duck meat according to the FDA.
Leaked Video Was Misleadingly Edited

The official report is out on that leaked video from the movie A Dog's Purpose. The video showed a frightened dog being forced into churning water during filming. An independent report by a board certified veterinarian concludes the video was misleadingly edited and the German Shepherd, Hercules, was unharmed. American Humane which oversees all animals on film sets says, "The decisions by the individual or individuals who captured and deliberately edited the footage and then waited longer than 15 months to release the manipulated video only days before the movie's premiere, raises serious questions about their motives and ethics." American Humane, which had an animal safety representative on the set, acknowledged that, "the handling of the dog in the first scene in the video should have been gentler and signs of stress recognized earlier."
Germany Taxes Dog Owners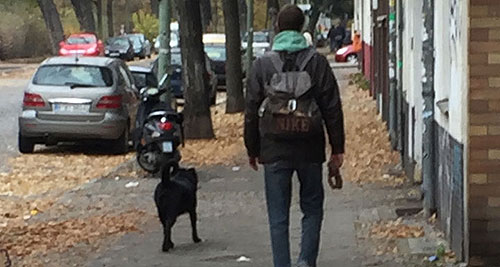 In Germany, there's a legal difference between pet owners. Dog-owners are taxed for their pet, while cat-owners currently aren't, though some say that should change. An estimated 13 million cats call Germany home and that doesn't include stray cats. German officials say those policies help prevent shelters from being overrun and allow them to stick to a 'no-kill policy.'

Read More about this week's show.
Animal Radio Episode 897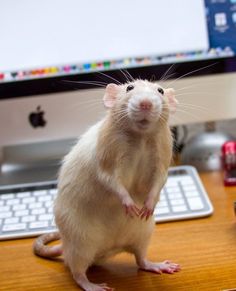 Exploring How Animals Think, Talk, and Feel
Nancy Castaldo authored a book with vivid photographs, first-person interviews and historical anecdotes exploring animals' ability to show empathy, communicate and develop complex social societies. Humans have changed their overall perception of animals. As little as 40 years ago, many considered animals to be "machine-like" creatures that feel no pain. Now, we know different. But how much do we really know? Nancy will share her research on the clever little rat and why cats don't rank.
Police Given Okay To Shoot Dogs
In a shocking and controversial decision, a Michigan Federal Court granted police the right to shoot a dog that moves or barks at them when they are inside a home. The decision stems from a 2013 incident in Battle Creek, Michigan where police shot and killed two dogs while executing a search warrant looking for drugs inside a couple's house. While this doesn't give permission across the board, it will set a legal precedence in the justice system. One has to ask why such lethal force is necessary? Why won't a stun-gun or pepper spray suffice?
Kids Don't Need Siblings, Just a Pet!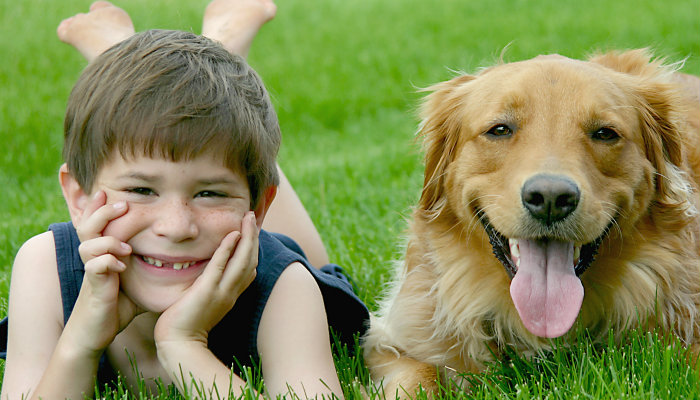 According to a new study from the University of Cambridge, children get more satisfaction from the relationships they have with their pets than with their brothers and sisters. The research also found that many children get along with their pets better than their siblings. While boys and girls were equally satisfied with their pets, girls reported more companionship and conflict with their pet than boys, and girls talks more to their pets.
Skin Cream Kills Dogs
A skin cancer cream that is usually used to cure and prevent skin cancer has killed at least five dogs after they accidentally swallowed it. The FDA is warning pet owners to keep the prescription cream out of reach from pets. It is called Fluorouracil and is sold under the brand names Fluoroplex, Efudex and Carac.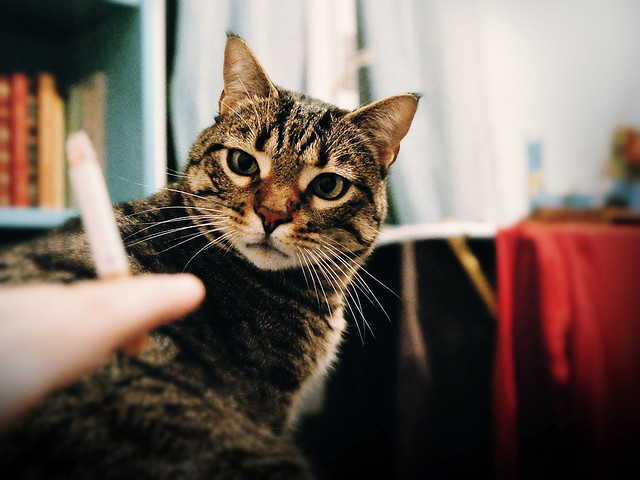 Third Hand Smoke Harms Pets
The FDA has a new warning for pet owners who smoke saying it's not just second-hand smoke that's harmful to pets.┬á Animals are also at risk for being exposed to third-hand smoke, which includes the residue that lingers on skin, clothes, carpets and other household items that ends up on their fur. Obviously most animals groom themselves, meaning that residue getting transferred from the floor, couch or your hand to their fur ÔÇô is ingested.

Read More about this week's show.
Animal Radio Episode 896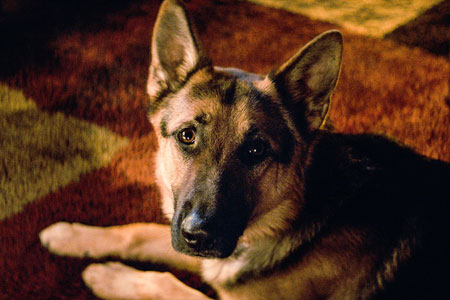 Ethical Questions About American Humane
The American Humane Association (AHA) charges thousands of dollars to put its "No Animal Were Harmed in the Making of this Movie" certification at the end of feature films. However, one has to question the ethics of this business model after two alleged incidents of animal cruelty on accredited movie sets. Should the same organization that is supposedly watching over animals have influencers in their pocket book?
Nature is the Worst
E. Reid Ross (Cracked) will tell us about 500 of the most absurd and horrifying things that happen in nature. From murderous squirrels to farting fish, "E" uncovers, and revels in, some of Mother Nature's ugliest moments.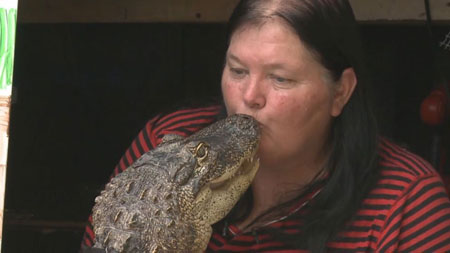 Having a Pet Alligator
Mary Thorn is no regular pet guardian. Yes, she has dogs, but she also has a pet squirrel and an Alligator that she dresses in clothing. Mary just battled the State of Florida to keep "Rambo," a 6' gator that she considers part of the family. The calm and collected reptile also is a therapy animal for troubled children.
Cat Gets Diploma
There's a cat named Oreo C. Collins from Macon, Georgia, who successfully earned an online "High School Diploma" from Jefferson High School. Oreo's owner, Kelvin Collins, actually got Oreo's diploma as a way to highlight fraud in online degree programs.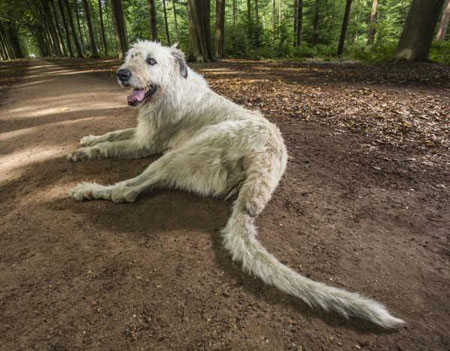 World's Longest Tail
A dog in Belgium earned himself a spot in the Guinness Book of World Records for having the world's longest tail. An Irish wolfhound named Keon gets the honor. His tail measures 30.2 inches long from the top of the bone to the tip, without including his hair, according to the Guinness World Records.

Read More about this week's show.
Animal Radio Episode 895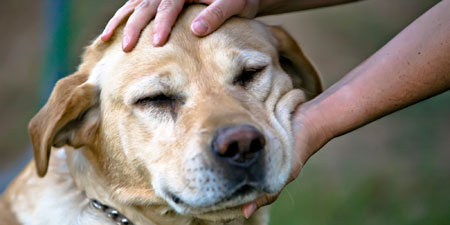 You're Petting Your Pets Wrong
Dr. Marty Becker is back with new research that shows you may be petting cats and dogs improperly. This is especially important if you're a veterinarian. The Fear Free Pets movement wants us to rethink how we interact with our four-legged friends.
Do Dogs Like 'Baby Talk'
Most of us baby talk to babies and our dogs, but maybe we should just limit it to puppies because it turns out older dogs aren't so impressed with our baby talk. A new study shows that baby talk, also known as dog-directed speech when you're conversing with your dog, gets a big response from puppies, but older dogs really couldnÔÇÖt care less.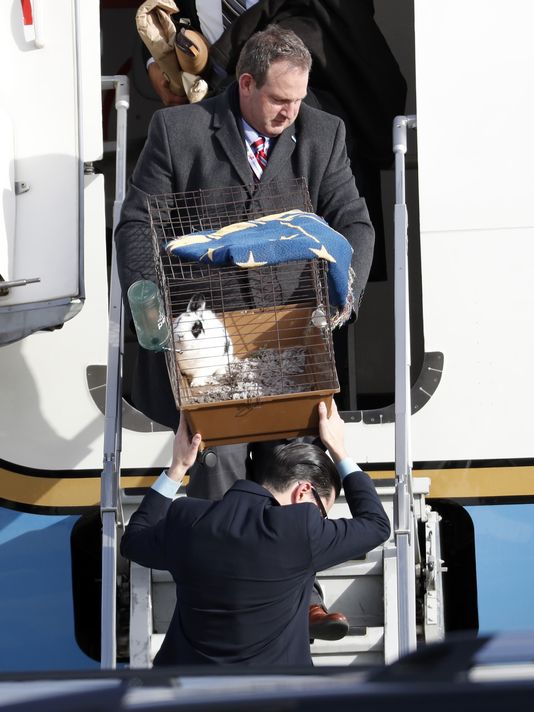 No Pets in The White House - But VP Doesn't Disappoint!
When Vice President Mike Pence and his family moved into the Naval Observatory last week, a new furry friend accompanied them: a rabbit named Marlon Bundo. Marlon the rabbit accompanied the Pences to D.C. on Air Force Two, the vice president's plane, recently. The Pences also have two cats, Oreo and Pickle. We're hoping that by now Oreo and Pickle have gotten used to the leftover smells from the Biden's German Shepherd, Champ.
Pet Owners Fined for Animals Left Out in Cold
In Yakima, Washington, authorities are giving a warning to unkind pet owners after receiving reports of animals being left outside in frigid temperatures. Since the beginning of last month, animal control has already responded to at least 60 animal welfare checks. Pet owners could face a misdemeanor charge for animal neglect if their pets are found in distress and given a fine from $250 to $5,000 depending on the severity.
Recipe for Cats and Dogs To Get Along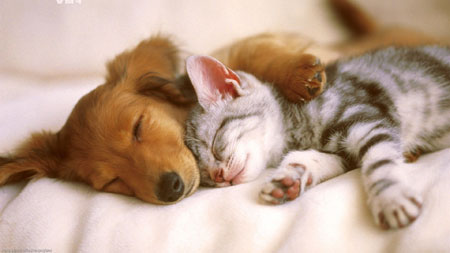 Cats and dogs really can get along to the point that they'll play hard together, drink water from the same bowl and cuddle on the couch, according to research led from Tel Aviv University. They discovered the recipe for success is to adopt the cat first and introduce a dog while both pets are still young. In homes where the cat and dog are mates, the research suggests they've managed to correctly read each other's body cues.

Read More about this week's show.
Animal Radio Episode 894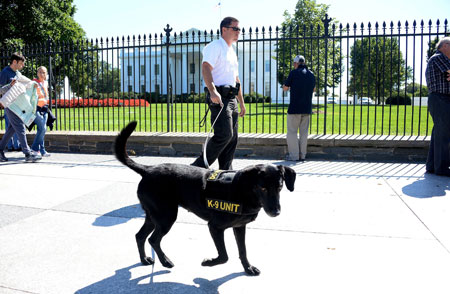 The Secret Service Dogs
Did you know that the Secret Service has many dogs that have jobs protecting the President and other dignitaries? Maria Goodavage went on assignment to find out about the agency's furry employees.
Pets May Benefit The Mentally Ill
There is an ever-growing body of evidence that reinforces the health benefits of animals and pets. A new study published by BMC Psychiatry explores the role pets had in support, self-management and personal networks of those suffering from long-term significant mental illness (e.g. bipolar disorder, schizophrenia). Their research concludes, "Pets should be considered a main rather than a marginal source of support in the management of long-term mental health problems."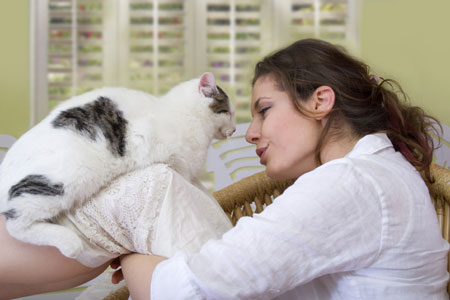 National Answer Your Cat DayÔÇŽReally?
Pet World Insider Robert Semrow really loves his pet holidays. No holds barred, he's going all-out for National Answer Your Cat Day. The only thing crazier than that is his answers. "Someone get Bellevue on the phone!"
SeaWorld Ends Killer Whale Shows
Was it some very bizarre coincidence that as we said goodbye and rest in peace to 39-year-old Tilikum, the orca who died at SeaWorld in Orlando a few weeks ago, that just 2 days later the very last ever killer whale show was performed at Sea World in San Diego? The company will now replace its signature theatrical killer whale show.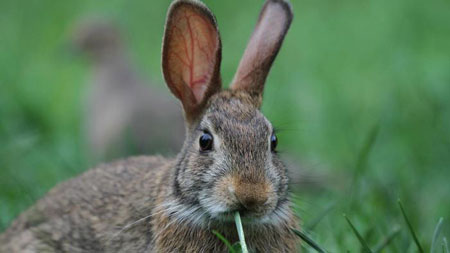 Campaign Funds Used For Traveling Bunny
We've heard of all kinds of campaign spending abuses but this one is a new one. During an investigation of California Representative Duncan Hunter's campaign expenses, the House Office of Congressional Ethics uncovered that the lawmaker had used $600 in campaign funds to cover airfare expenses for his family's rabbit.

Read More about this week's show.
Animal Radio Episode 893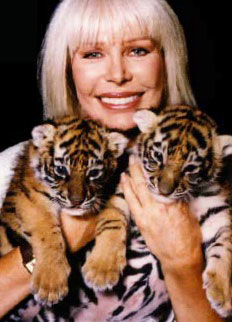 Hotlips Houlihan Returns
Loretta Swit (M*A*S*H) is back on Animal Radio to tell us about her childhood pet, her faux fur jacket and most importantly, her new book of original watercolors she painted. Surprisingly, Loretta's parents didn't foster her artistic side. Hotlips continues to speak out for the animals.
Canned Food Found To Increase BPA in Dogs
Bisphenol A (BPA) is a widely used industrial chemical found in many household items, including resins that are used to line and inhibit corrosion of metal food cans. Now, researchers at the University of Missouri Veterinary School have found that even short-term feeding of canned dog food resulted in a significant 3-fold increase in the level of BPA in dogs.
Judge Rules Dogs Are Property
A Canadian judge has ruled dogs are property and cannot be considered in the same vein as children in a scathing decision blasting a newly separated couple for a "ridiculous" attempt to use the court system to settle custody dispute over two of their three dogs. The judge likened the matter to being asked to rule on what the couple should do with other joint property they may own. "Am I to make an order that one party have interim possession of the family butter knives?"
Three 2017 Pet World Trends To Know About
From how pet-food is marketed to us, to a new world of technology, Animal Radio's Pet World Insider Robert Semrow uncovers the "Niche Pet World." You can find behaviorists, travel agents, spa services, concierges and more specialized services for pets than you might believe exists.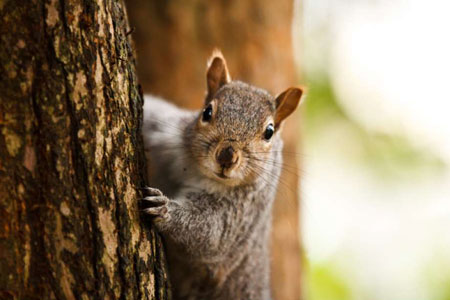 Man Sues After Pet Squirrel Attack
A contractor is suing a Virginia couple for $90,000 for injuries he says were caused when their pet squirrel attacked him - biting and scratching his leg and hand. According to the paperwork filed by the contractor, the couple was keeping the animal as a pet, but the homeowners say they have never had a pet squirrel.

Read More about this week's show.
Animal Radio Episode 892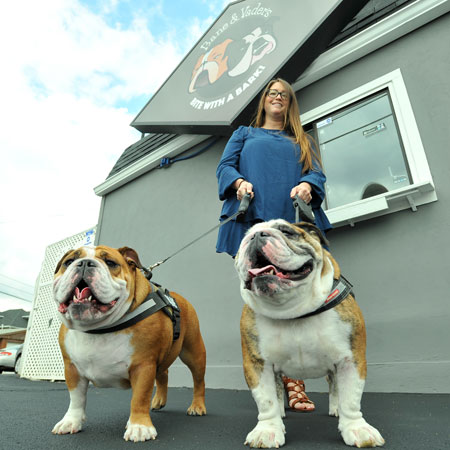 Doggie Drive-Thru
Amanda Brown opened a drive-thru fast food restaurant for dogs ONLY. Your dog can get the popular Bow Wow Bowl with their choice of protein, vegetables or grains in an edible bowl. Bane and Vader's opened their flagship store in Easton Pennsylvania. Amanda has plans to franchise this idea, which came to her when she saw research showing that humans often ordered food for their dogs when going through a fast food drive-thru.
Microchips and Misconceptions
While microchips are a very important part of pet identification, they will not help you find your missing pet unless it's picked up and scanned by a veterinarian or shelter. That's why Dr. Debbie recommends a visible tag and perhaps a GPS collar. Only a GPS collar will allow you to track your pet's location using your smart device or computer.
Shop Cats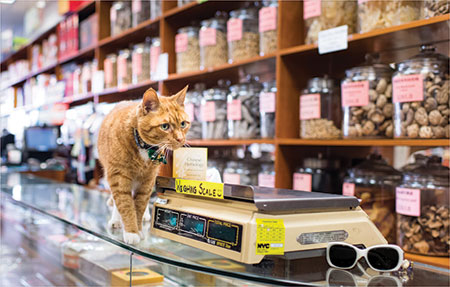 Do you know of a business that has a token cat? You'll certainly appreciate the "Shop Cats" in Tamar Arslanian's new book. She features, in both picture and the written word, the most notable shop cats in New York stores. Take for instance, the wine store cat that has his own chiropractor, or the cat that is a mascot at a dog boutique, or the occult shop cat that totes a magic wand in her mouth.
Will There Be an Animal in the Whitehouse?
A philanthropist wants to do something to make the Trump White House more like those in the past: She wants Donald Trump to have a presidential pet. The very wealthy Lois Pope, who is also the widow of National Enquirer founder Generoso Pope, announced that she was giving "Patton," a ten-week-old golden retriever/poodle mix puppy to the Trumps.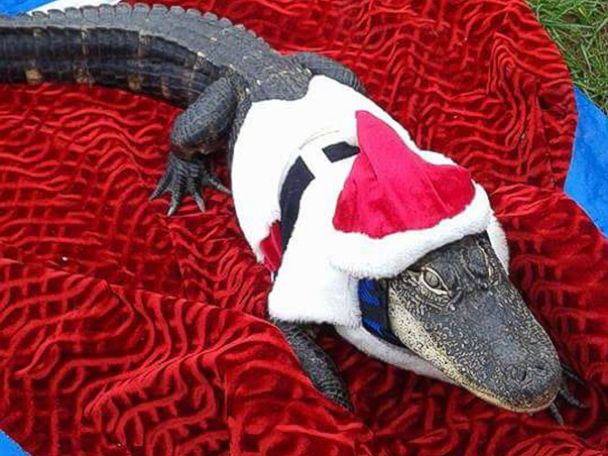 Clothes Wearing Alligator Gets Pardoned
Following months of negotiations with Florida state officials, Mary Thorn has been given a permit that will allow her to keep her pet alligator, Rambo, who she says is fully trained and not a "normal" gator. Mary dresses Rambo in human clothing to protect his sensitive skin.
Stealing Your Pet's Pain Killers
Stealing from a sick animal may seem a low way to get a drug fix, but it happens frequently. Opioid abuse is rampant and a survey from Baylor College of Medicine reveals a surprising number of pet owners steal their pets' medications, especially painkillers and namely the drug Tramadol.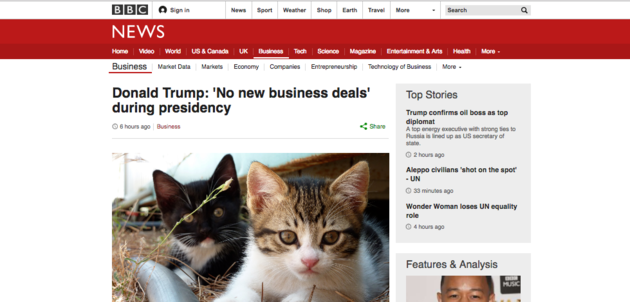 App Replaces Trump Pictures with Kittens
Hopefully we all have found our sense of humor again after the election of 2016. If you are an animal lover, you should find this pretty amusing too. Google now has an extension for its Chrome browser, called Make America Kittens Again. It replaces pictures of president elect Donald Trump with pictures of adorable kittens.

Read More about this week's show.
Animal Radio Episode 891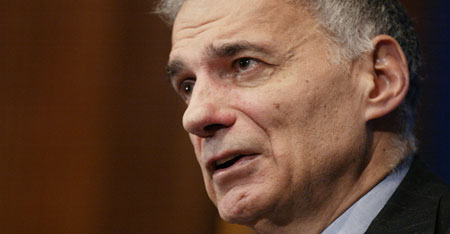 Ralph Nader Guests
Named by Time, Life and Atlantic magazines as one of the hundred most influential Americans, former U.S. Presidential candidate Ralph Nader is our guest. Now, he's speaking out for the animals in his new book called "Animal Envy."
Teens Invent for Dogs
Josh and Zach Armstrong are 13 and 15 respectively. They're home-schooled. But don't let that fool you. They've invented an electronic circuit that a blind dog can wear on his collar to alert him of impending obstacles. They'll tell their story to us this weekend.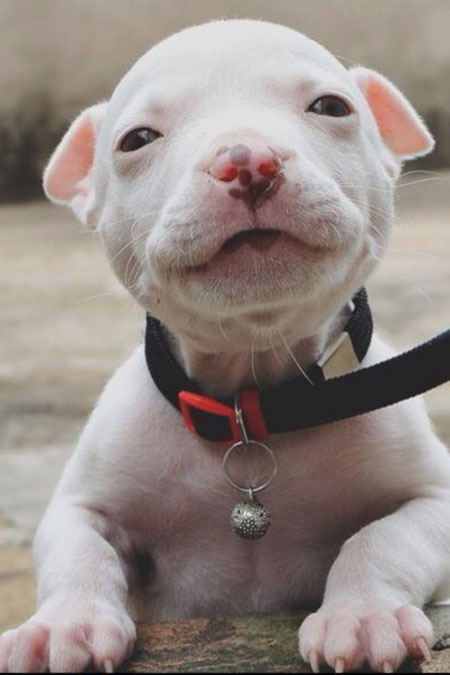 The Misunderstood Pit Bull
Author and pit bull advocate Deirdre Franklin wants you to know that the breed gets a bad-rap. She'll tell us why pit bulls are misunderstood. If you're thinking of adopting this adorable breed, you'll need to know what hurdles lay ahead.
First Time in 150 Years There Will Be No Pet in the Whitehouse
Barring a new addition to the Trump household between now and Jan. 20, Donald Trump will become the first president in 150 years who does not have a pet. Aside from the benefits they've bestowed on first families, presidential pets have for decades served to soften a president's image. Martin Van Buren had tiger cubs, Thomas Jefferson and Theodore Roosevelt had bears and Calvin Coolidge had a pygmy hippopotamus.
The Gnarly Yeast Infection
If your dog has ever had to deal with a yeast infection, you know how itchy and uncomfortable your furry-friend can be. Not to mention the stink! These infections are usually secondary of a bigger problem. Dr. Debbie can help you identify the problem and get your dog back onto the recovery path.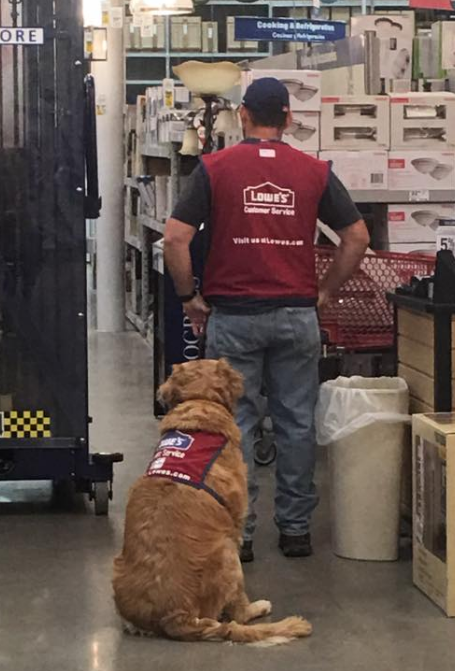 Dog Lands Jobs at Lowe's
Clay Luthy is an Air Force veteran who can't go anywhere without his 10-year-old service dog Charlotte, even to work. That's why the dynamic duo is especially overjoyed that they finally landed a job at the Lowe's in Abilene, Texas. Up until Clay's wife gave him the idea to apply at Lowe's, the veteran had a hard time finding a business that would be okay with his Charlotte following him around in a work zone. Lowe's Human Resources Department says, "Clay won the job on his own merit, but the company just got the benefit of getting Charlotte right along with him."

Read More about this week's show.
Animal Radio Episode 890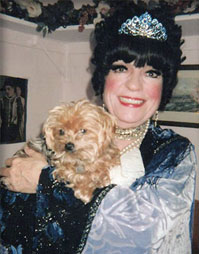 Jo Anne Worley Returns
Actress, Comedian, President of Actors and Others for Animals, and all-around funny gal Jo Anne Worley (Laugh In) returns to Animal Radio to talk about her one true love, "Harmony" her 5-pound Yorkie. She proves that laughing and loving animals is all we need to be a happy soul.
Laundry Pods Dangerous for Animals
You probably know those laundry detergent pods that so many people are using these days are dangerous to children, but did you know they are very harmful to pets as well? Most soaps and detergents contain chemicals called ionic and anionic surfactants. When a small amount it is ingested, it is possible for pets to become sick with gastrointestinal upset (drooling, vomiting, and diarrhea) and even come down with serious respiratory issues.
Why God Created the Dog and Cat
Former ASPCA CEO Ed Sayres tells the story of how God decided to create the dog and cat. We'll also share several other holiday themed stories that will touch and inspire the animal lover in you.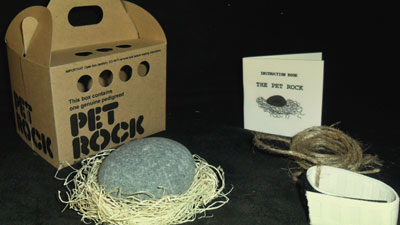 Pet Rocks
Nordstrom's has sold out of pet rocks! An $85 leather-wrapped stone sold out online store after going viral on social media. A spokeswoman for the retailer declined to say exactly how many pet rocks were sold. If you're old enough, you may remember the pet rock craze in 1970 that made Gary Dahl a millionaire six-times over.
Taking Your Pet's Picture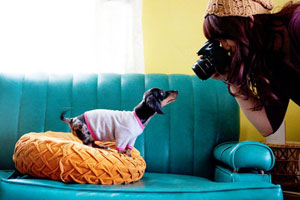 Photographing your pet may not be easy. It's tough to get the right shot in the right lighting. Britt Savage has tips for taking excellent photos of your furry-family this holiday season.

Read More about this week's show.
Animal Radio Episode 889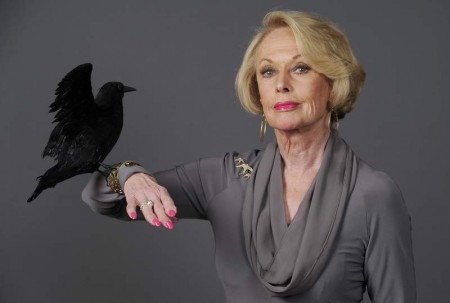 The Big Cat Is Back
Actress and Animal Activist Tippi Hedren (The Birds - Shambala) returns to Animal Radio to talk about life living with Lions, Tigers and Ligers, oh my. She rescues tigers that were purchased as pets and out-grew their home. She's also forged legislation that outlaws exotic animals as pets. Animal Radio will hook you up with her new autobiography, Tippi.
Turtle Doves Drives Up Cost
The slow recovery of the U.S. economy may be responsible for the increasing costs of the 12 Days of Christmas. The price of two turtle-doves has jumped from $290 last year to $375. But, the partridge in the pear tree, which has actually become cheaper, has offset the total cost.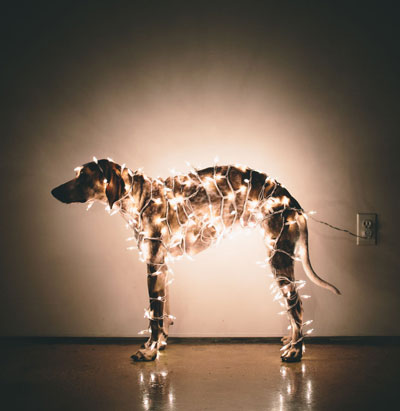 Signs of Holiday Stress in Dogs
The holidays can be stressful for everyone, both humans and our pets. While some dogs enjoy the increase in activity and new experiences that come with holidays, there are lots of others who are not fans of change and all the chaos that can come with it. Lori Brooks will help you recognize signs of stress in your pet, so you can remove them from dangerous situations and help them relax.
Rising Pet Health Care Costs
Pet owners may shell out as much, or more, money for their pet's health care as they do for their own health care, and it's mostly because of pricey new technologies and more advanced treatment options. Healthy Paws Pet Insurance most expensive insurance claim was for a 3-year-old female French Bulldog diagnosed with inter-vertebral disc disease with a final bill of $44,296.
Parrot Only Witness In Murder Case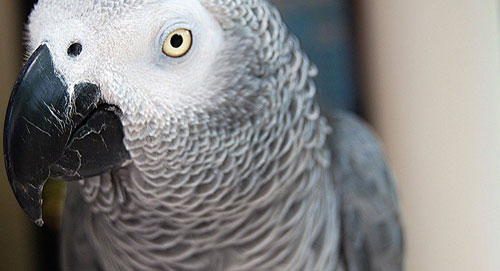 Court proceedings are underway in Newaygo County, Michigan, where a preliminary hearing has been held for a woman accused of murdering her husband and their parrot is the only apparent witness. The couple's pet, an African Gray parrot, apparently witnessed the shooting and began repeating words from the victim just moments before his death. The parrot has been recorded as saying, "DonÔÇÖt F*#&ing shoot."

Read More about this week's show.
Animal Radio Episode 888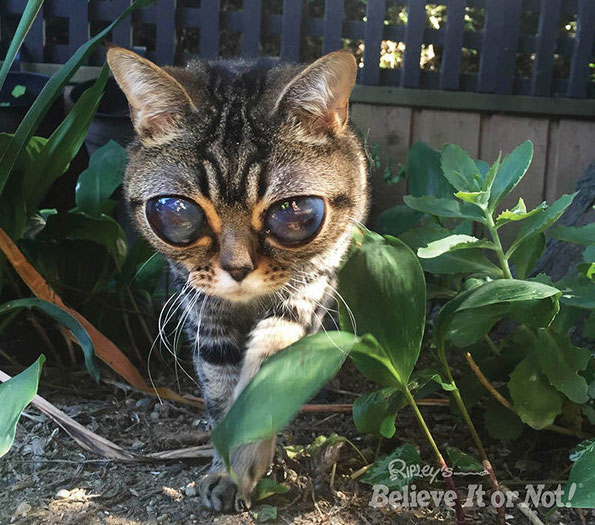 Ripley's Weird Animals
Edward Meyers is back for his yearly visit. He collects oddities for Ripley's and he'll be sharing his strange picks for animals that are a bit out of the ordinary, like the cat with BIG eyes and the dog that ate a round of gun ammunition.
Pet Gift Guide
Judy-Claus continues her countdown of the greatest pet and pet lover gifts for the holidays. These are inexpensive and invaluable toys and gadgets that have been tested by the Animal Radio pets. We'll have giveaways of every single item to help you fill-out your gift giving. This week we're featuring a new tool for fast-eating dogs that will slow them down and improve on their foraging skills. We'll also give away a toy that combines a ball with Emojis.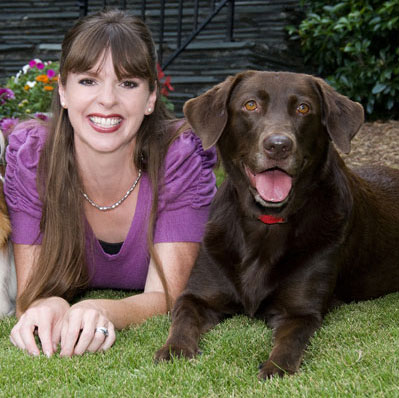 The Secret Language of Dogs
Accomplished dog trainer Victoria Stilwell returns to Animal Radio airwaves to help us decode our dog's behavior. She'll tell us what some common dog gestures mean. New studies show our dogs are much smarter than we give them credit for. Do dogs feel guilt? They sure look guilty when you catch them doing something bad.
Holiday Dangers for Pets
Pet World Insider Robert Semrow has his list of the Top 5 Holiday Traditions That Can Land Your Pet on the Naughty List. Make sure you listen carefully so that you won't end up at the Vet Clinic.
InsPurrational Posters for Cats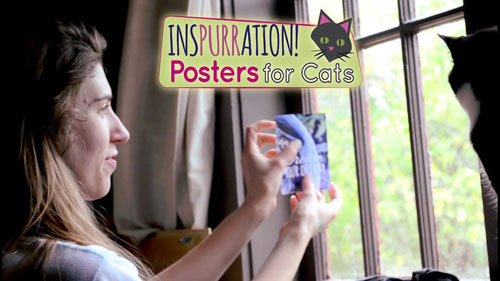 Mo Golden and Ross Cowman created a business of making motivational posters for cats. At first it was a novelty idea, but it turned into something truly beneficial for both cats and humans explains Ross.

Read More about this week's show.
Animal Radio Episode 887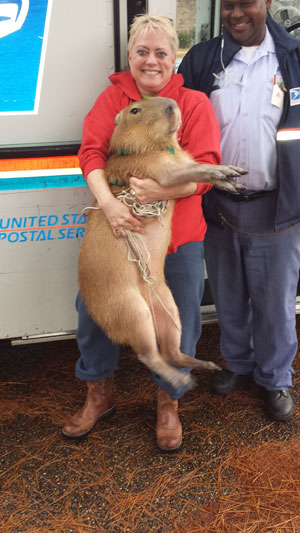 120 lb. Rodent as a Pet
When Jackie Coleman Wren wanted a pet, she preferred something a little more exotic. That's why she got a Capybara. This strange animal looks like an over-sized Guinea Pig or Gopher, and apparently has an affinity for chewing everything.
Dogs and Their People
Stacie Grissom started a subscription business that delivers a box full of toys and treats to your dog every month. The business morphed into a wildly successful celebration of dogs and a new book featuring charming stories about the connections with our furry friends.
Mutts Rock
Pet World Insider Robert Semrow loves mutts! He's counting down the 5 reasons mutts make better pets. Did you know that a mixed-breed dog is simply healthier than purebreds?
Dark Personality Traits of Pet Owners
A research team at Oakland University wanted to know how two traits, narcissism and borderline personality characteristics, are related to levels of attachment to both traditional pets and unusual or exotic pets. The results did not turn out the way the researchers thought they would. Lori Brooks reports on the results.
Nice Kitty Kitty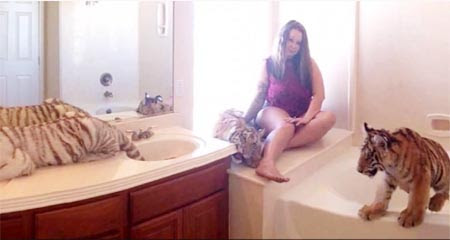 A 34-year-old Houston, Texas, woman who had a fully grown male tiger and three tiger cubs roaming free in her home was charged with child endangerment. Apparently, Trisha Meyer allowed the four tigers, a fox, a cougar, a skunk and several monkeys to roam freely in her house around her home-schooled 14-year-old daughter. The landlord kicked the woman out of the home after police notified him of what was going on. He said she had only lived there for three weeks but he had no clue someone could do that amount of damage to a home in that short amount of time.
Animal Radio Episode 886
Eric Lost 140 lbs. Thanks to His Dog
Are you one of the 50 million people that have seen the viral video of Eric O'Grey and his dog Peety? Eric used to weigh 320 lbs. But his doctor prescribed a dog that saved his life and helped him lose 140 lbs. Eric's on this week's show to tell his story.
Pig or Service Pig?
A Winnipeg, Canada, woman's fight to keep her pot-bellied pig as a service animal isn't over yet. The City Council is holding off voting until early December on Emily Hydor's appeal to keep her pig named Podgy. The delay will allow the city more time to gauge whether the pig qualifies for an exemption to the responsible pet ownership bylaw as a service animal.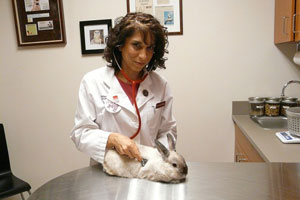 Unlikely Companions
Dr. Laurie Hess is back. This time she has some wacky stories about strange animals people call pets. From monkeys to wallabies, you'll be thankful you that you chose a normal pet.
Finding the Right Petsitter
More and more pet owners are taking their pets with them when they travel, but not every destination is pet-friendly and your time away from home may require you to enlist the services of a professional pet sitter. If you have ever had to find a pet sitter you know it is not easy putting someone else in complete charge of your furry family members. Animal Radio News Director Lori Brooks has a checklist for finding the perfect caregiver.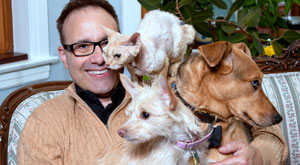 Fear Free Vet Visits
Steve Dale is back on Animal Radio to talk about creating painless and fun visits to the veterinarian. Follow his tips and your pet will enjoy visiting the vet and you wonÔÇÖt dread it.
Animal Radio Episode 885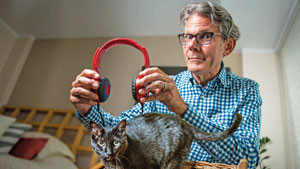 Music For Cats
Composer David Teie created a CD containing music for cats. It was designed with specific harmonies and sounds that appeal to the feline persuasion. Surprisingly, the album is also getting rave reviews from humans that like it too. David joins us and explains the methods behind his madness.
Dog Breeds Most Likely To Run Away
There is an interesting list out. It's a list of the dog breeds that are most likely to escape, get out of the yard or run away. Business Insider asked Whistle, a company that makes a GPS and activity-tracking dog collar, for data on breeds that run away most often. Animal Radio News Director Lori Brooks will explain the study and give you the list. Is your dog breed on it?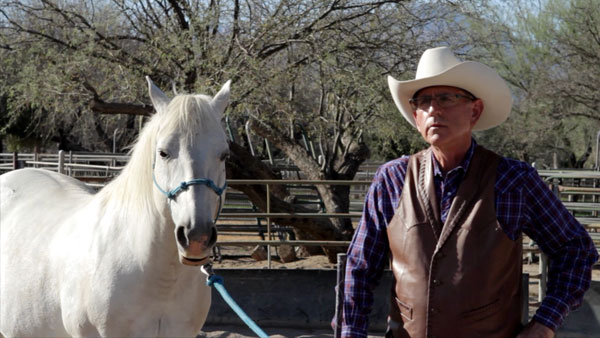 What Horses Can Teach Humans
During the week, Dr. Allan Hamilton is a real-life brain surgeon. During the weekends, he spends his time with horses. Dr. Hamilton has a unique way of listening to these horses. His resulting insights translate far beyond the training ring and are relevant in boardrooms, living rooms, classrooms, and even meditation rooms.
Bachelor Party Beer Fund Turns Into Puppy Fund
When you think of a bachelor party, rescuing adorable puppies probably isn't the first thing that comes to mind. And, truthfully, it wasn't the plan for a group of buddies in Tennessee who were celebrating their friend's wedding either. The men who had planned to go four-wheeling in the woods had a change of plans and their beer fund became a puppy food fund.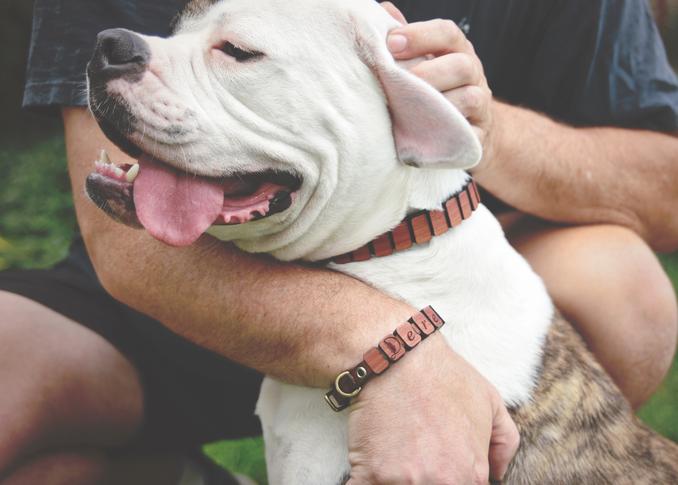 Flea Collars Made Out Of Wood
Norman Strodach's first invention was a toilet seat for cats, of which he's sold 10,000. His next invention was a Cedar wood pet collars that naturally resists fleas and other biting pests. Anyone looking for a natural solution to fleas should hear what Norman has to say.
Animal Radio Episode 884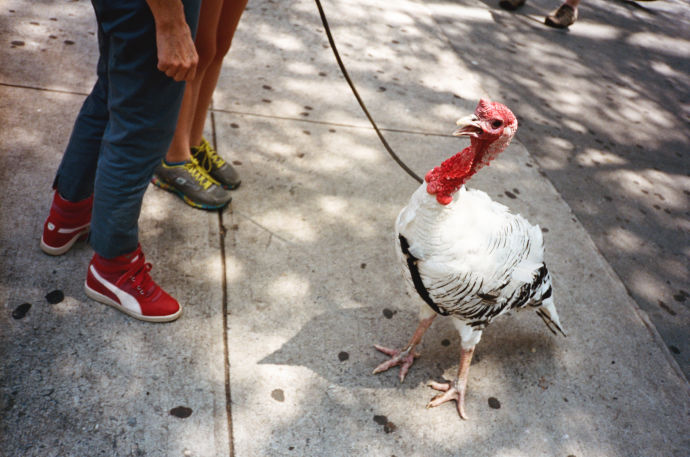 Emotional Support Turkey
A woman who lives in Washington is trying to have her pet turkey certified as an emotional support animal. Mary Pearce got Sammi as a baby turkey and she's now 6 months old. Pearce uses a wheelchair and says, "A turkey can be domesticated just as well as a dog or a cat." Pearce has Lupus, which gives her chronic pain and bouts of depression, but she says having Sammi around helps her cope with her health issues.
Custom Made Subscription Dog Food
With dog meals including blueberries, chia seeds, human-grade chicken and basil, Ollie, another startup, is looking to freshen up the dog food industry starting in New York City with a line of custom-made subscription dog food. Of course it is all made fresh and OllieÔÇÖs uses a unique algorithm to customize each order, ensuring your dog gets a balanced diet.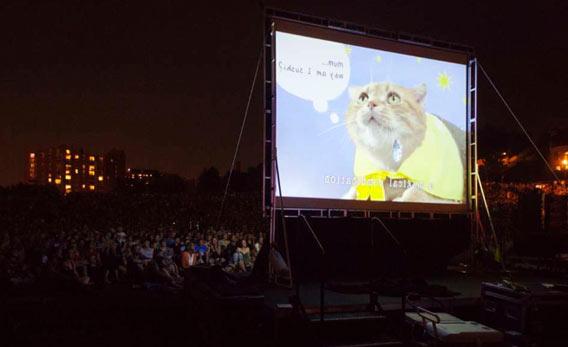 Catnip Festival
London's "Catnip" Festival will be coming up. It's a huge special event that hopes to give you the opportunity to celebrate your favorite online cat videos! And in typical cat fashion, it's a late night event starting at 10:00pm on Nov. 25th through until 6:00am the next morning.
5 Ways Pets Serve In The Military
Animal Radio salutes the pets that have participated and contributed to the military efforts over the years. Almost every American war, dogs have been active participants. From bomb sniffing, to security to search and rescue, you will find dogs work serving alongside their human counterparts. Robert Semrow reports on the dogs, birds, and even cats that have been a major part in armed forces.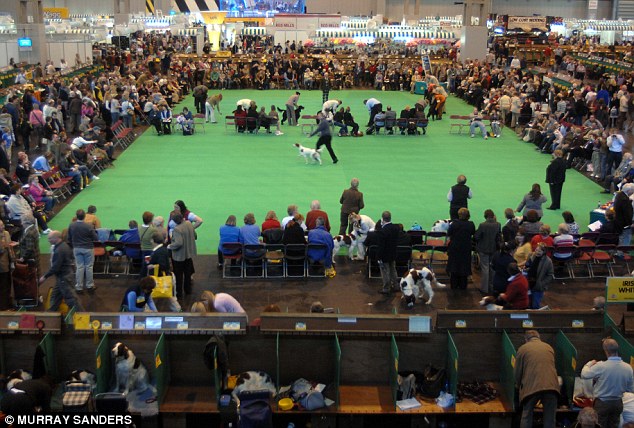 Banning "Double-Handling"
Dog show officials in England have sparked a battle with trainers over plans to ban one of the secret techniques employed during competitions. The Kennel Club has moved to crack down on the controversial use of what's called 'double handling' due to fears that it leaves dogs feeling stressed. The technique involves a second trainer, hidden from view, attracting the attention of the performing dog by using a whistle or toy to make it look more alert and focused.
Animal Radio Episode 883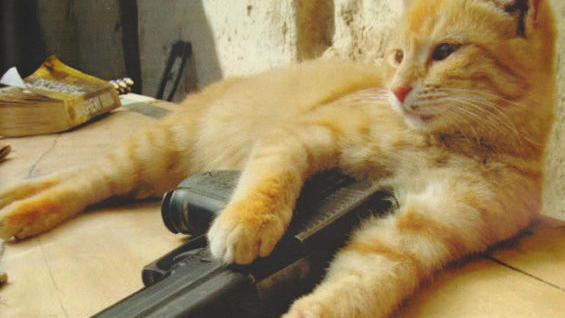 Talk To Your Cat About Gun Safety
Zachary Auburn is on the show to deliver an important message. He wants you to know how to talk to your cat about gun safety, abstinence, drugs, Satanism, and other dangers that threaten their nine-lives. Zach believes we can make our cats - and America - great again.
Music for Cats Topping Charts
A special music album created just for cats is being lapped up by humans too, and has topped two classical music charts on Amazon and iTunes. Despite being allergic to cats, American cellist David Teie released, "Music for Cats," featuring five instrumental compositions after raising more than $200,000 on Kickstarter. On the album, bird chirping accompanies his cello playing along with purring noises based on his theory which he researched for two years, that mammals have an intuitive response to sounds present in their early development.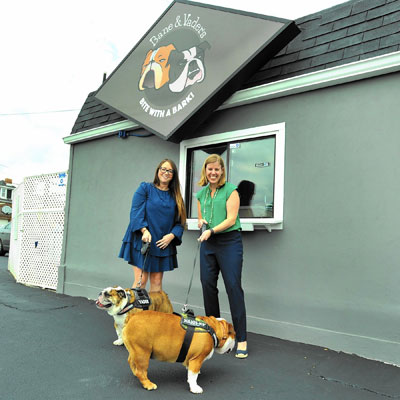 Drive-Thru Restaurant For Dogs
Bane and Vader are a couple of gentle, barrel-shaped bulldogs. They're also the namesakes of a unique new business in Easton, Pennsylvania, "Bane and Vader's Drive-Thru Restaurant," exclusively for dogs. Pull up and order a FreshPet meal with your choice of add-ins including fruits, vegetables, eggs, and peanut butter. You might even want to take home some doggie ice cream for dessert. Their mom, 30-year-old Amanda Brown, left her job as a pharmaceutical sales representative, but she's back to work making what she calls Yappy Meals and Bow-Wow Bowls for motorists who want to treat the pooches to something special. Her idea came from a survey that found one in six restaurant drive-thru customers picks up something for a dog, too. While some restaurants offer special menu items for dogs, In-N-Out Burger has a special unseasoned Pup Patty served in a doggy bag and Starbucks offers a small cup of whipped-cream called a Puppuccino, Bane & Vader's is strictly for the dogs. It has no special menu items for humans.
Airport Hires Therapy Dogs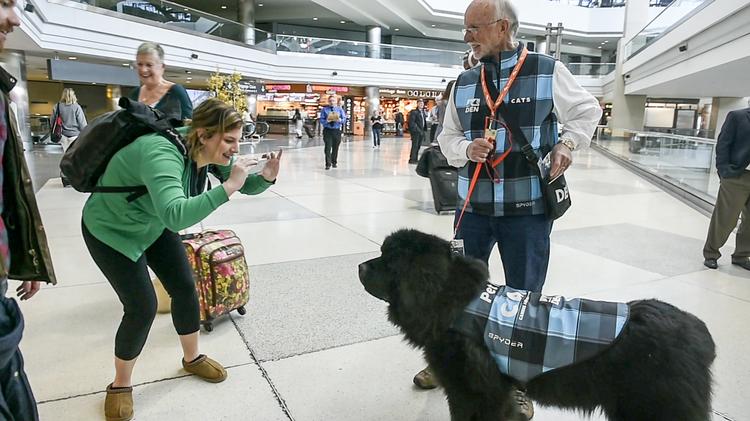 With the crowds, and the lines, flying can be stressful. So, the Albuquerque New Mexico airport has come up with a way to calm you down when you travel. More than a dozen therapy dogs are joining the thousands of passengers at the airport. One of them is known as "Turbo," and he loves people. He especially loves to lick guys with beards. Turbo is one of 15 certified therapy dogs and K-9 ambassadors now giving peace to stressed out travelers. Thanks to the 70 people who volunteer their time to handle the dogs, the program will be expanding the number of therapy dogs soon.
Animal Radio Episode 882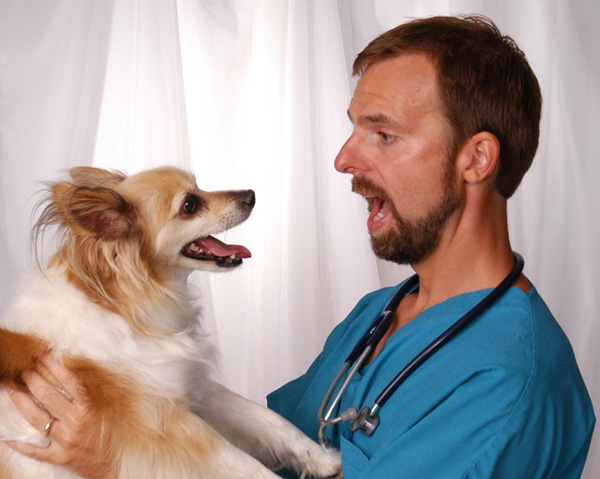 Cats Vs. Dogs. Who's Smarter?
The extremely charismatic Dr. Ernie Ward is back on Animal Radio to answer the age-old question about which pet is more intelligent, the Dog or the Cat? You may be surprised by the answer, unless you own a cat... or a cat owns you!
Grumpy Cat's Broadway Debut
Grumpy Cat, the internet's most famous (and wealthiest) feline , not only unveiled a waxwork of herself recently at Madame Tussauds Wax Museum in Washington D.C, she also joined the cast of the Broadway musical "Cats" to close out the show in NY. Grumpy was cheered on by the cast and by the audience as she received a placard commemorating her Broadway debut.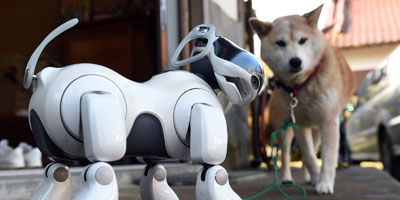 Your Next Pet Could Be A Robot
Your next dog, or your parentÔÇÖs next dog, could very well be a robot. Hasbro has launched a new life-like robotic dog.┬á It's a┬ácompanion pet pup┬áto go with their companion pet cat already on the market. Both are designed to bring comfort and companionship to┬áaging adults. The┬árobotic cat,┬áwith its really soft fur, gently vibrates when it purrs, while the puppy barks and cocks its head when you speak. But they are far from being the only robot pets on the market.
Pairing Cats With Autistic Children
The MU Research Center for Human-Animal Interaction is introducing a new research program titled, "The Feline Friends Project." The project will pair children with autism with a cat and monitor the impact the cat has on the child's anxiety level and social skills. The research center has published several studies that outline the benefits that children with autism receive from having pets in the home, citing increased social skills as a primary benefit.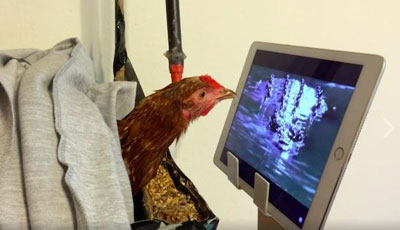 There's A Fox In The Chicken Coop
You may have seen the viral video of Strawberry, the chicken that watches TV. She's our guest along with her guardian, Olivia Fox. According to Olivia, TV isn't the only bad habit this chicken has. Apparently Strawberry enjoys some of the sweeter things in life.
Animal Radio Episode 881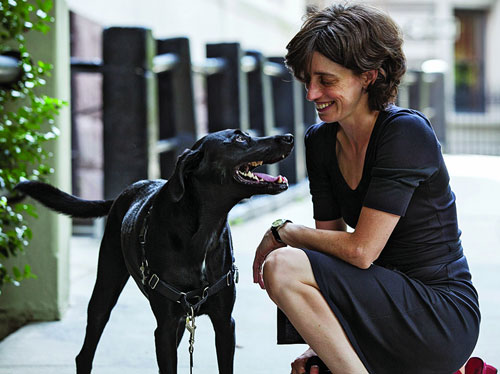 Smelling Like A Dog
Dog Cognitionist Alexandra Horowitz is back. This time she wants us to know just how well a dog can smell. Did you know they could smell earthquakes? She wants to teach us how to sniff things out just like a dog.
Vet Bills Are Through The Roof
If you feel like your pet's vet bills are through the roof, you're not alone! It seems the animal health care system suffers from many of the same problems as human medical care, according to a new report from researchers at Stanford and the Massachusetts Institute of Technology. They found that some features of the systems are shockingly similar, in that both have seen a huge increase of dollars spent on end-of-life care.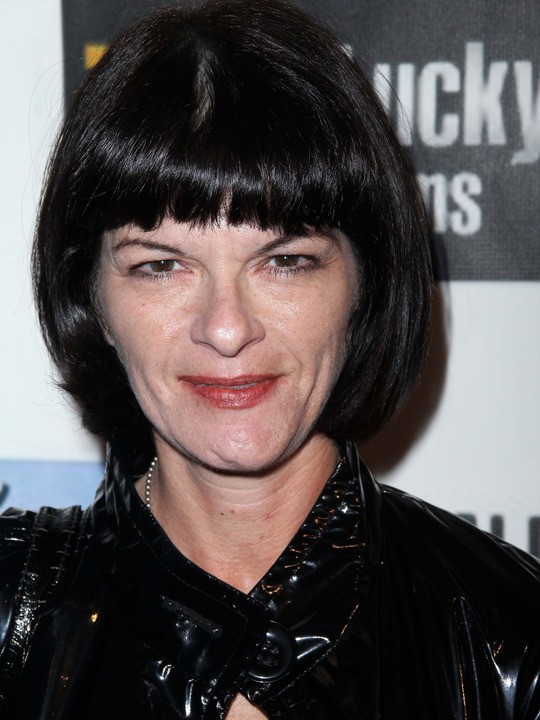 Barkville TV
Actress Olivia Barash is our guest. She's here to talk about her new YouTube series called Barkville TV. Olivia will even show off her talents as a voiceover artist as well as describe the series she's producing and directing.
You Can Now Be Buried With Your Pet
Pet owners in New York can now take their trusted furry companions with them to the grave since the governor has signed legislation making it legal for the cremated remains of pets to be interred with their owners at any of the approximately 1,900 not-for-profit cemeteries in New York that are regulated by the state. Among the most famous Big Apple pet owners who wanted to be buried with their pets was Leona Helmsley, the hotel magnate dubbed "The Queen of Mean" who died in 2007 and had in her will that she wanted her pampered pooch "Trouble" interred with her.
Should Your Pets Sleep With You?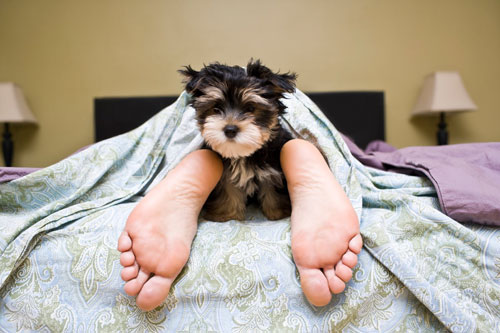 If you kick your dog off the bed every night, you might want to stock up on apology treats. A study of 150 people conducted by the prestigious Mayo Clinic on Sleep has found that, contrary to popular belief, sleeping with your pet doesn't actually disrupt your sleep as much as you might think.
Animal Radio Episode 880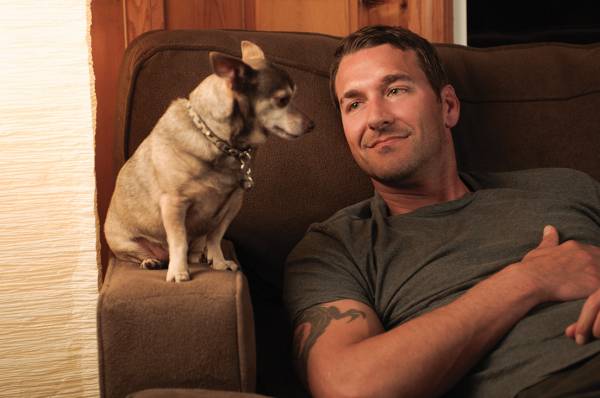 Lucky Dog
He's the Emmy Award winning host of CBS's Lucky Dog. Brandon McMillan is back to teach us the basics: Sit, Stay, Down, Come, Off, Heel and No. He'll also clear up the confusion between the techniques taught by Cesar Millan and Victoria Stilwell.
Is Your Dog's Halloween Costume Sexist??
Young girls may be discarding their princess wands for superhero capes this Halloween, but not so in the canine world. The glass ceiling appears to be firmly in place at PetSmart, where career costumes labeled "male" include firefighter and police officer, while female dogs can choose between a pink cowgirl costume or ballerina. At Party City, Super-girl and Wonder Woman dog costumes were priced 30% higher than Superman costumes.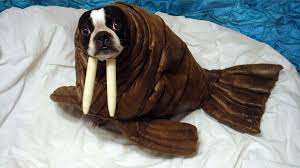 Costume Giveaway
Madonna Sheehy from HalloweenCostumes.com has the list of top pet costumes for your furry-companion. She even has matching human/pet costumes. Will you be a part of the 16% that dresses our pets up for Halloween? Madonna will also give away two costumes of your choice.
Yes, You Can Train A Cat!
Cat Psychologist Pam Johnson-Bennett is back with tips on training the feline persuasion. She'll also explain why cats gravitate toward cat-haters and those that are allergic to them. Pam will also enlighten us to why cats must sit on your homework or computer keypad.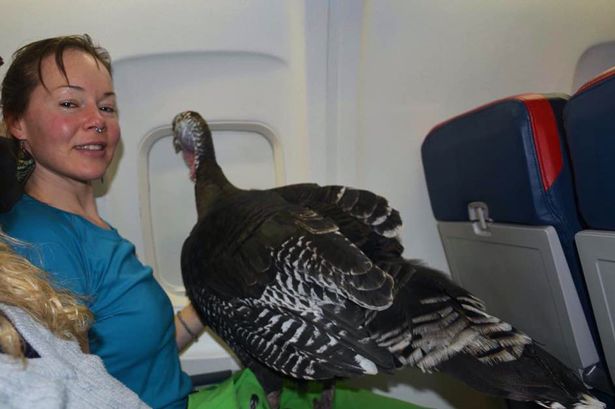 What Types Of Pets Should Be Allowed On Airplanes?
Turkeys, pigs and even roosters have flown the friendly skies, carried onto commercial planes by passengers who identified their furry and feathered friends as emotional support animals. But a committee of airline representatives and disabled rights advocates continues meetings in Washington, D.C. to come up with new rules on what type of animals should be permitted on planes and what documents should be required to prove the animals are legitimately needed.
Animal Radio Episode 879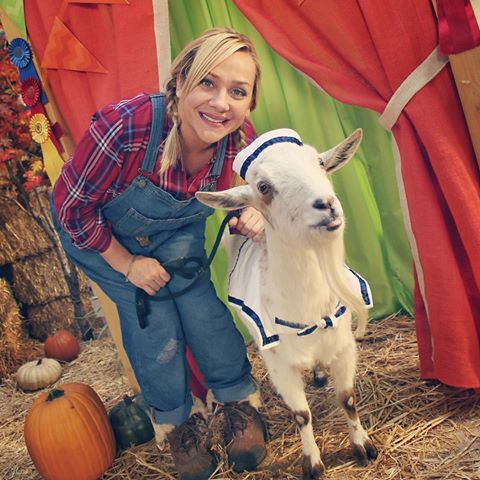 Nicole Sullivan Guests
America's Favorite Dog Walker, actress & comedian Nicole Sullivan (King of Queens - MadTV) is our guest this week. She wants you to know about the Kitty Bungalow Charm School for Wayward Cats. She's also wants you to know her sleeping arrangements.
Caring for Fukushima Pets Left Behind
Shortly after the Fukushima nuclear disaster in Japan five years ago, residents who lived near the plant were immediately evacuated because of the risk of radiation exposure, but did you know they were forced to leave their animals behind? Fortunately a man named Akira Honda raced to the disaster area to help.
Creating a Foster Revolution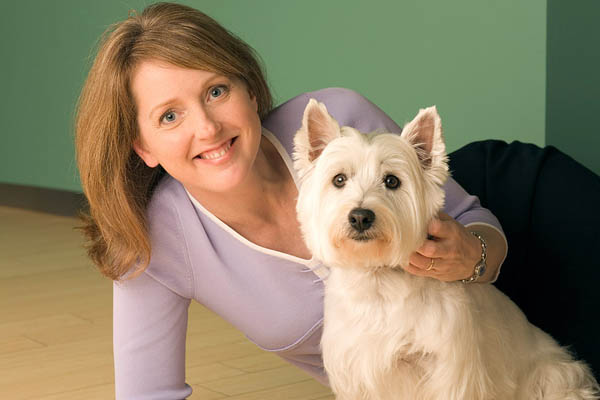 The mastermind behind the world's largest pet adoption website, Petfinder, is working to change the way un-adoptable animals find homes. Betsy Saul has started the website 911FosterPets.com to unite transitional pets with foster parents.
DON'T Give Your Dog a Bone
Vets are now warning people not to give their dog a bone because it could kill them. And, if you're thinking that only applies to cooked bones, which break and splinter much easier, that is not always the case. Surgery is usually needed to remove any blockage and in some cases, the damage caused by bones is so serious that it can be fatal.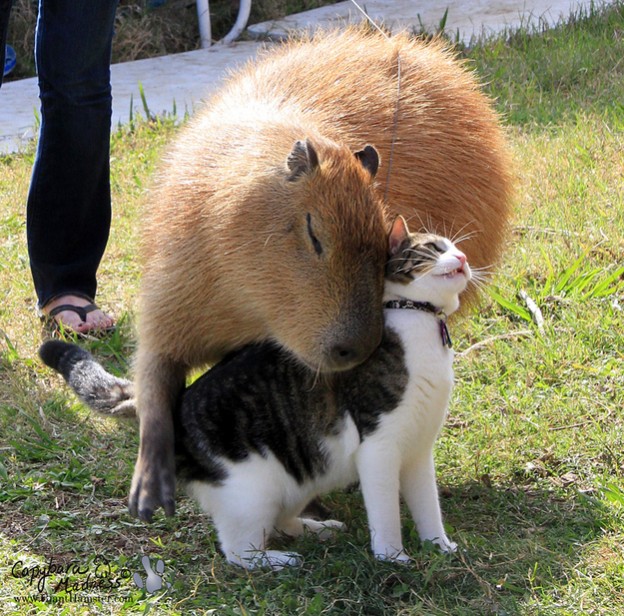 120 Pound Rodent
The word rodent implies ugly unwanted, little creatures that sneak into your home and freak out a lot of us. There is a 120-pound rodent in Texarkana that is genuinely loved, hugged and even given home-cooked meals. His name is Chico and heÔÇÖs a Capybara, a species National Geographic says is, "The World's Largest Living Rodent."
Read MoreÔÇŽ
Listen to Current Podcast
Next Week: CBS's Lucky Dog Host Brandon McMillan - Pam Johnson-Bennett - Madonna Sheehy
Animal Radio Episode 878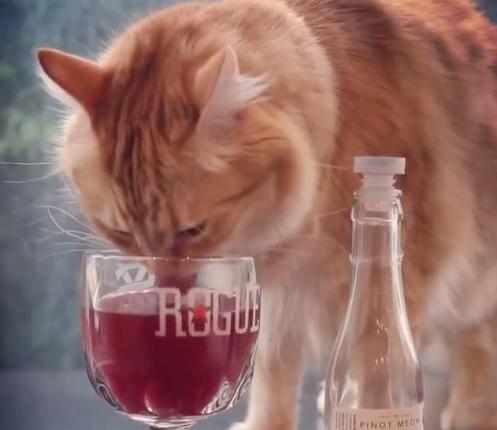 Don't Drink Alone
Brandon Zavala was enjoying a glass of cat-themed wine when he came up with the idea to create a wine for cats. Now he produces a MosCATo and a Pinot Meow made from beet juice and infused with catnip. He did this so you could enjoy a glass of Vino with your Gato. Your welcome.
More Reasons To Celebrate
Robert Semrow, our Pet World Insider actually found '5 October Holidays for Your Pet.' Man, this kid can be creative when it comes to Listomania. Maybe some of these holidays were made up by Hallmark, or maybe your local humane organization. But, who's going to complain about more time to celebrate with our pups?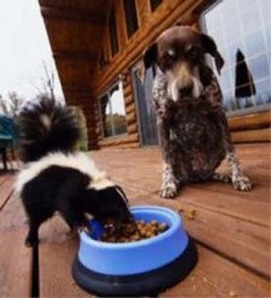 Skunked
The Animal Radio "Dogfather," Joey Villani has tips on dealing with dogs (or cats) that have been sprayed by a skunk. He says the biggest myth is that tomato juice fixes that problem. We suspect the tomato juice industry is behind this fallacy. Imagine cleaning up a house wrecked by tomato juice and the skunk smell doesn't seem so bad. Joey also says "stay away from water, as that could make the problem worse." Dawn Dish Detergent seems to be the solution, again!
Battling Fleas
No doubt the U.S. is dealing with a bad flea season. Humidity in the east and a resistance to chemical products are mostly to blame. What are your natural remedies? How are you ridding your house and pets from this nasty parasite? We have some strange and unusual methods for removing fleas and stopping the scratching. And we're betting you have some of the household items that we suggest. Would you believe that a TV set is an effective way to get rid of fleas? And it does't matter what program you're watching, although we do recommend an annoying infomercial if you want the fleas to suffer.
Furry Family Instagram Sensation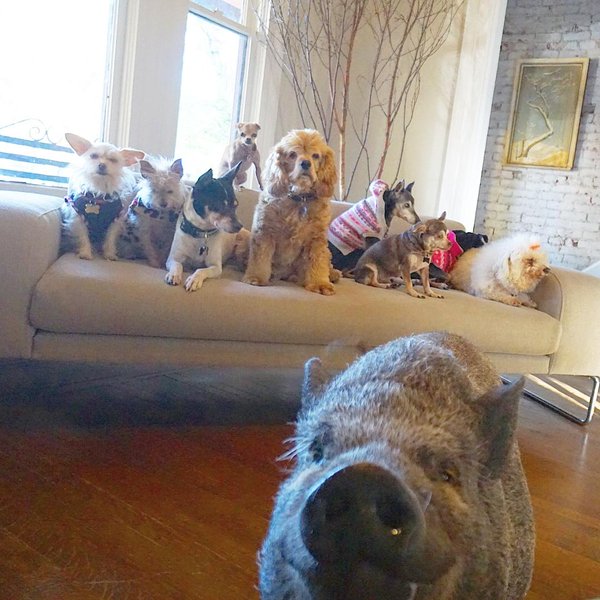 Steve Greig's Instagram account blew up after he started posting pictures of his extended family. He lives with 10 dogs, 2 ducks, 2 chickens, a rabbit, pigeons, cats, Koi fish and a pig. All were rescued. About a half-million people subscribe to his Instagram feed.
Animal Radio Episode 877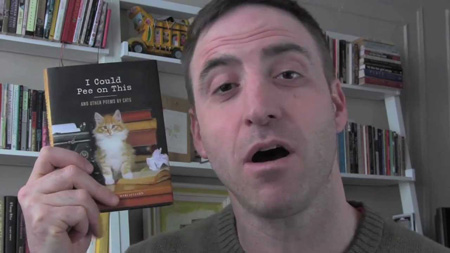 I Could Pee On This
Sally Forth writer and author of I Could Pee On This Too, Francesco Marciuliano is back for more abuse. He's transcribed more poems and verse from cats. Is he a single man with a lot of cats? We'll see.
The Better To Hear You
A four-eared cat named Batman found a new home this month within hours of being put up for adoption at a Pittsburgh animal shelter. This unique cat's extra ears are the product of a recessive gene mutation, which is needed by both parents in order to reproduce extra ears.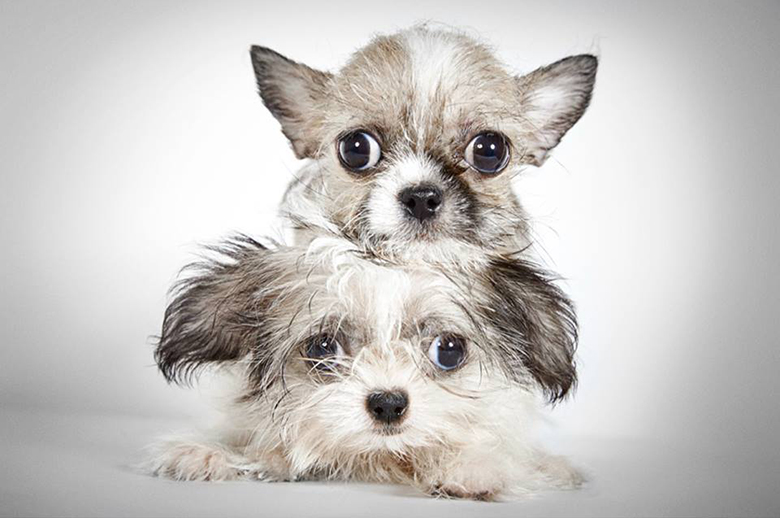 Celeb Photographer Helps Pets
Richard Phibbs is known as a celebrity photographer to Merryl Streep, J-Lo and many more. But he's decided it's more gratifying to take picture of adoptable animals, in turn helping them find homes. He says they're also easier to work with than the celebrities or their publicists.
Google's Double-Sided Duct Tape
Google has patented a new car coat that allows pets and people to stick to it. Officials say the most injuries from being hit by a car are when the person or pet hits the ground. This coating ensures that the victim will stick to the car when they're hit, keeping them from falling to the ground. This is for real folks... Google it.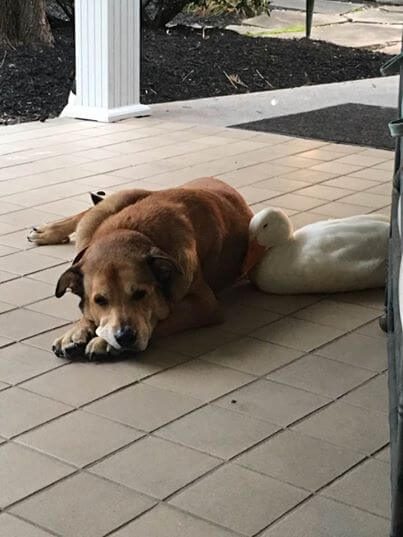 Duck Befriends Grieving Dog
Two years ago George, the dog, lost his best friend, a Labrador named Blackie. George's owner, Jacquie, said that George was overcome with grief. But then a few weeks ago a duck showed up and everything changed. The duck and dog formed an instant bond and are now inseparable, going on walks together, sleeping next to each other in the kennel and spending quiet time together when George needs a rest.
Animal Radio Episode 876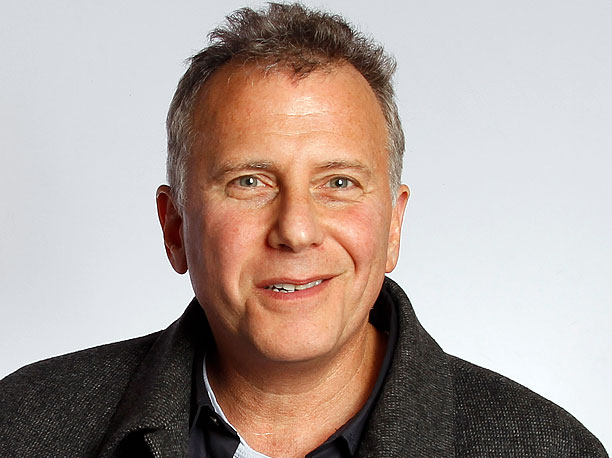 Some People Like Dog Breath
Comedian Paul Reiser is our guest as he waxes prophetically about his dog's breath and other quirky canine behaviors.
The Dogs of 9/11
Robert Semrow celebrates the dogs that were an integral part of September 11th 2001. From the search and rescue dogs to the service dogs that helped people escape from the World Trade Towers, we pay tribute to our furry companions.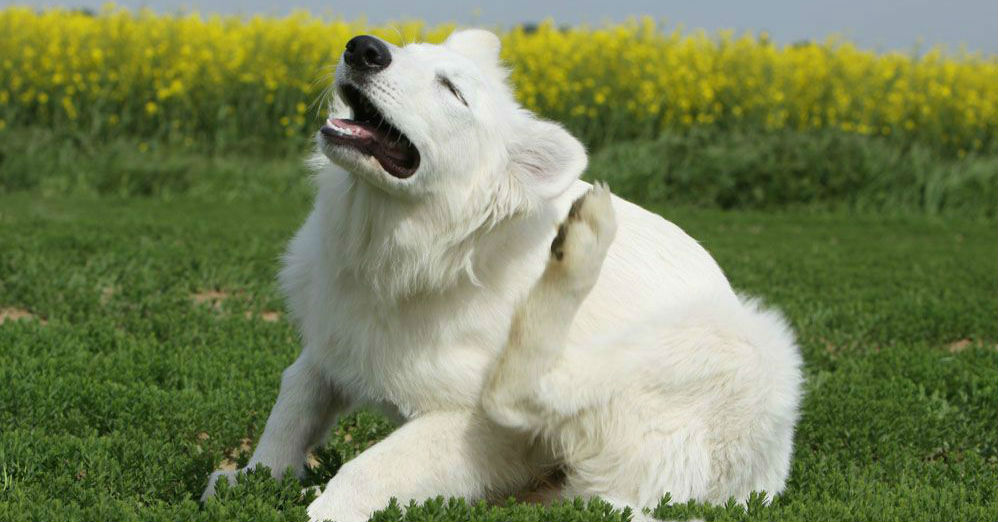 Another Bad Flea Season
We're smack dab in the middle of another troubled flea season. Many of us don't want to put harsh chemicals on our pets. Dogfather Joey Villani has some smart tips for treating your pets naturally.
Protecting Your Pets From Hawks
You might have thought that high flying hawks hunting for innocent smaller house pets down below in people's yards was an urban myth, but it does happen! In 2011 a hawk plucked two small dogs from their Boston area yard and dropped them from the sky, resulting in some pretty serious injuries. Lori Brooks will tell you what to do to avoid hawk-trouble.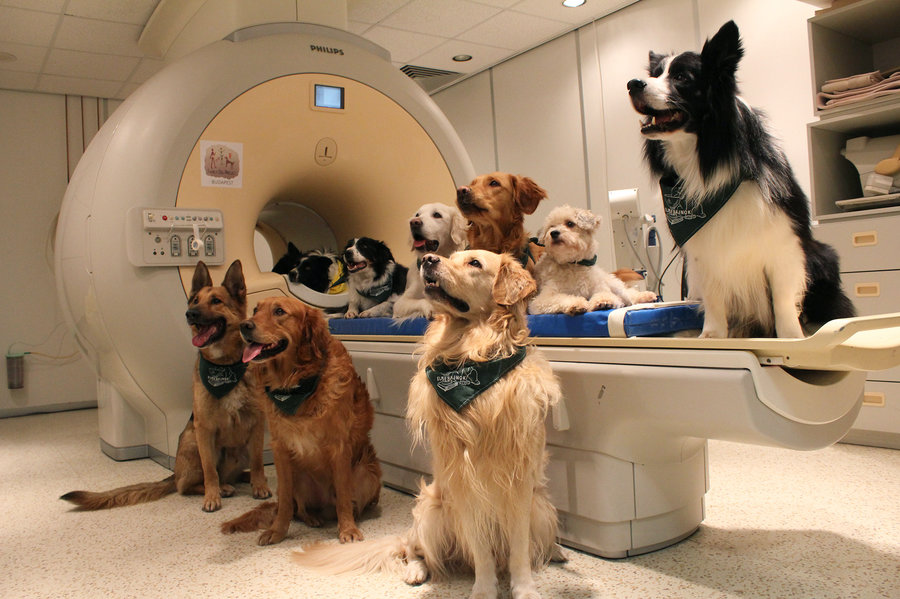 Proof That Dogs Understand Us
For all of us dog lovers this is proof of what we have always wanted to hear! The average dog has the ability to understand human speech. Scientists in Hungary claim to have found proof that dogs use both sides of their brains to understand the meaning, as well as the intonation of words, in much the same way that we humans process language.
Animal Radio Episode 875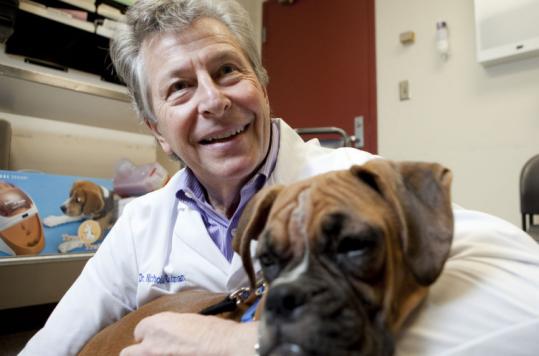 Neurotic Dogs, Compulsive Cats, Anxious Birds
Dr. Nicholas Dodman is back. He is the world's foremost expert on animal psychiatry. He'll tell us about a horse with Tourette's and dogs with Attention Deficit Disorder. He says our pets suffer from the same psychiatric maladies as humans and are often treated with the same medications.
What Country Has The Most Pets?
Who has the most pets? The United States? No, but we are in the top 5. According to a new survey of more than 27,000 people across 22 countries, pet ownership is highest in Latin America. In Russia, cats are much more popular than dogs with 57% of Russians having a kitty. Any guesses on which country takes the title of having the most pet fish?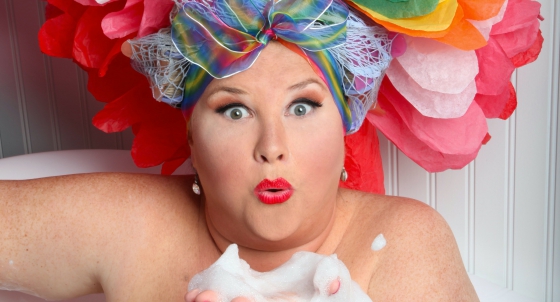 Teaching the Funny for the Furry
Comedian Christine O'Leary not only teaches comedians how to be funny, she uses her powers for the greater good. Her shows raise money to rescue dogs from Aruba. She'll tell us why comedy is like watching Mutual of Omaha's Wild Kingdom.
Best Performing Stocks Are Pet Related
Americans' attachment to their pets has fostered a $60 billion industry that is producing best-in-show stock performance. Shares of several companies that sell pet food, develop diagnostic medical tests for animals and offer veterinary care, have far outrun the many other types of stocks this year, with an average total return of nearly 35% versus around 8.3% for the S & P 500.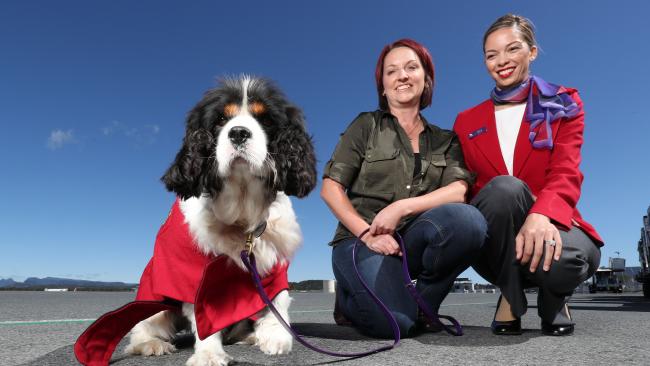 Airline Flies Rescue Pets For Free
Virgin Australia Airlines is positioning itself as the "Pet Friendly" airline and you won't believe what they're doing to back up that claim. They have offered to fly rescue dogs across the country to new owners for free! Not bad in a day and age when most airlines 'nickel and dime' you for everything.
Animal Radio Episode 874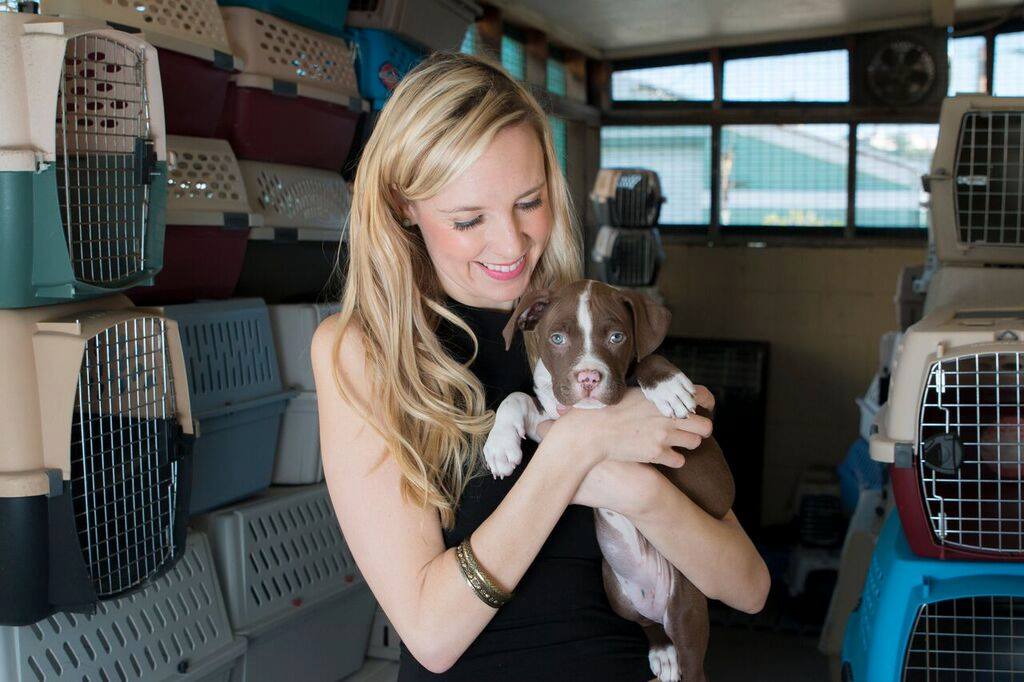 Pound for Pound
Shannon Kopp spent the good part of a decade with an eating disorder. She would eat large amounts of food and then vomit 20 times a day. No therapist, doctor, or even rehab could cure her. She didn't find relief until she met a dog.
Pet Insurance Company Fined $150,000
The Washington State's Insurance Commissioner has fined a pet insurance company, American Pet Insurance, which goes under the name Trupanion, $150,000 for violating state laws. The violations include a failure to cancel policies in a timely manner in cases such as a pet's death, after a customer no longer owned a pet and when the pet owner canceled a policy.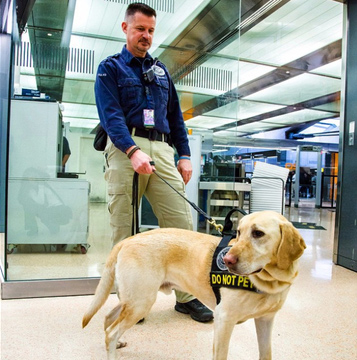 TSA Rejects
Alan Kabel tells us about dogs that were trained to work for TSA but ended up failing their certification. Now, these animals are finding new homes through a unique adoption program.
Get Your Licks on Route 66
It's time again for the 8th Annual "Get Your Licks on Route 66 Adoption Tour." Fido Friendly publisher Susan Sims is getting ready to start the nationwide journey in Los Angeles with CBS's Emmy winner Brandon McMillan.
Do Dogs Love Us or Do They Just Want Our Food?
In an experiment further investigating the relationship between humans and dogs, researchers wanted to find out if it is a true bond or a love of food. They found most dogs anticipate the praise of their owner as much or more than a food reward.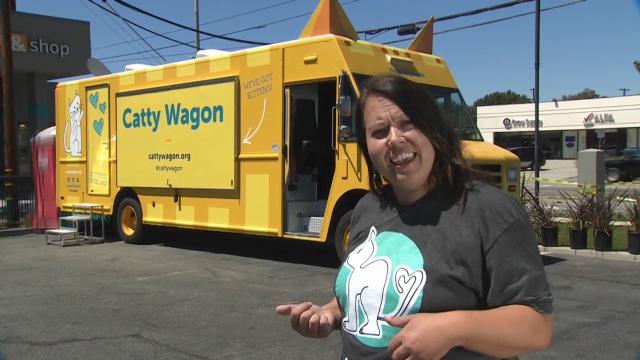 Catty Wagon
Aimee Gilbreth comes up with some pretty unique ideas to raise money for her animal welfare organization. On the heels of the successful '6 Packs & 9 Lives' calendar featuring buff men with cats, now she's unleashed the Catty Wagon, adopting felines from a converted food truck that looks like an orange kitty.
Animal Radio Episode 873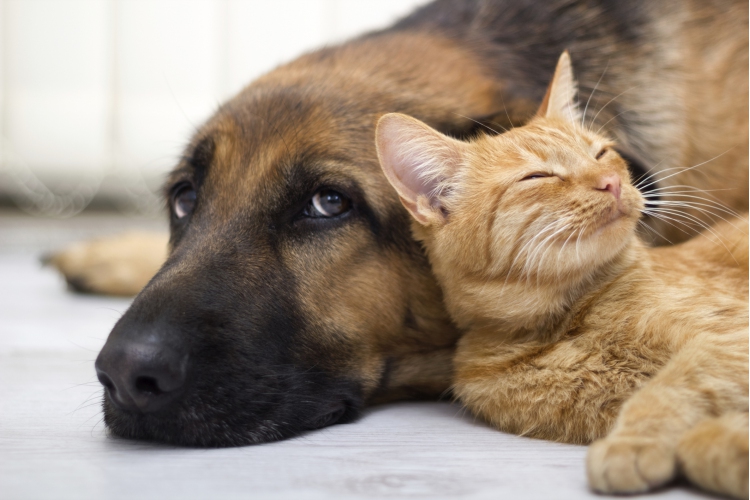 How Much Will Your Pet Cost You?
You may be surprised to learn how much your pet will cost over a lifetime. In fact, 82% guess wrong. And you'll definitely be surprised to find out what the most expensive pet is. Check out our interactive calculator and figure out how much YOUR pets will set you back.
Cooking For Your Pet
Marc Ching of ThePetRestaurant.com believes the only real healthy way to feed your pets is to cook human-grade foods for them. He'll tell us some of the ingredients that we should and shouldn't use. Listen up if your pet needs to lose a few pounds.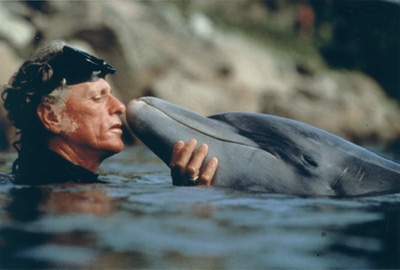 Flipper
Remember America's favorite dolphin? Ric O'Barry was her trainer. When one of the 5 Flippers died in his arms, he decided that what he was doing was wrong. Now he heads a crusade to release and rehabilitate dolphins in captivity. He'll explain why he's changed his stance 180 degrees and turned down millions to do what's right for the animals.
How Far Would You Go For Your Pet
So, just how far would pet owners go to protect their dogs and cats? Would they rescue them first in a house fire?  Would they go hungry so their furry friend could eat? 63 percent would choose their pet over their significant other and more than half would rather resort to cannibalism before eating their own pet. Lori Brooks reports on this strange but profound study.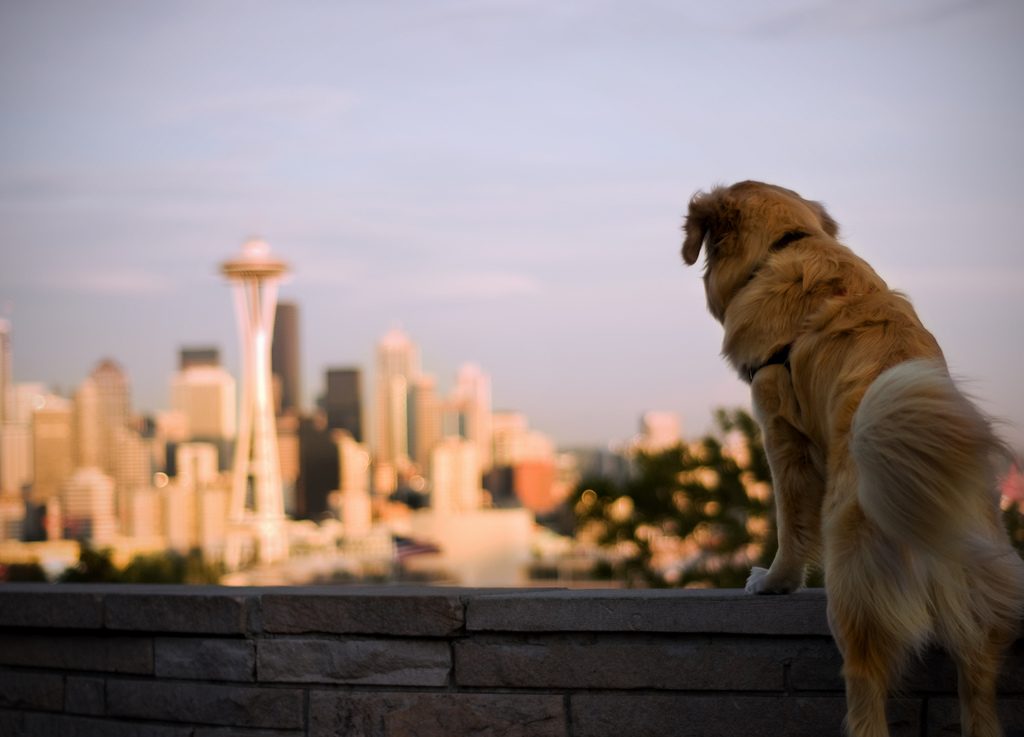 America's Pet Friendliest Cities
There's a new list out of the most AND least pet friendly cities in the U.S. thanks to Wallet Hub. The top most pet friendly city is Orlando. Now, on the flip side, the city at the bottom of the list is...well, you'll just have to listen.
Animal Radio Episode 872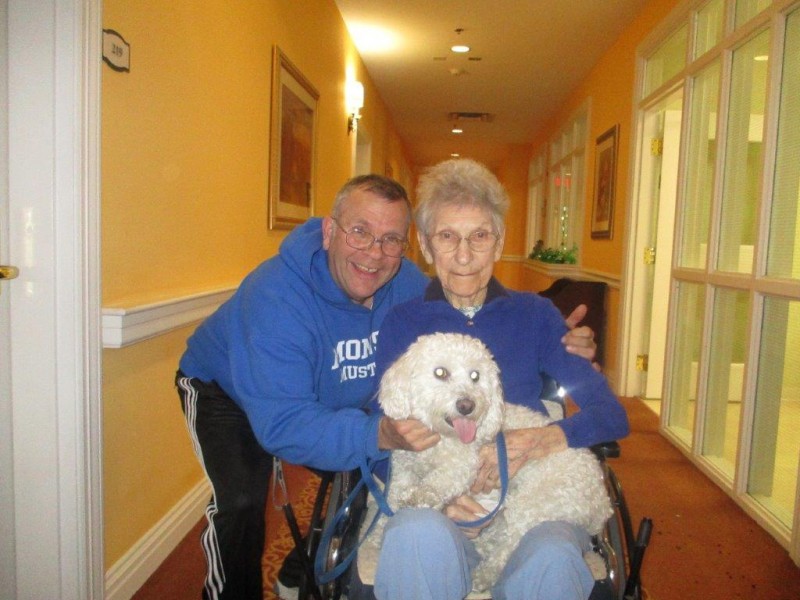 Pet Friendly Retirement Communities
Watermark Retirement Communities assisted living are perhaps the first in the country to embrace pets. Founded by pet lovers, they encourage residents to bring their pets along to live with them. Staff's companion animals meet those that don't have pets. This has made a big difference in patient's disposition.
Whales Gain 200 Pounds A Day
While the book is titled Sad Animal Facts, it's hardly a sad book. Cartoons drawn by Brooke Barker unleash the unknown and curious truths behind some of our favorite animals. Did you know Turtles breath out their butt, or that Giraffes only sleep 3 hours a day?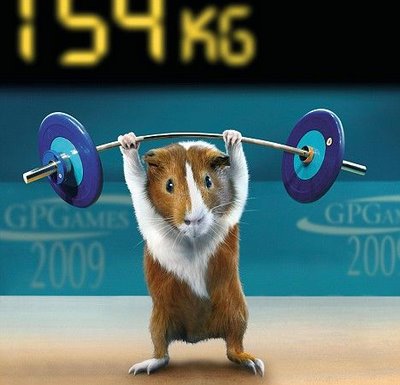 If There Were Olympics For Animals
Pet World Insider Robert Semrow imagines a world where the Olympics were for the animals. What would the sports competitions be all about? Perhaps an animal Olympic event would unite pet lovers worldwide?
Sanctuary Wants Rapper To Pay Support For His Tiger
Rapper Tyga had a pet tiger a few years ago, but it was taken from him when authorities found out that he had no legal permits for it. The tiger was then given to an animal sanctuary. The sanctuary named Lions, Tigers & Bears, which takes care of Tyga's former tiger, says the rapper has not made any effort to help out with funds to care for the animal. It costs over $10k a year to feed it, not including vet costs and other expenses.
Choosing The Right Bra When Horseback Riding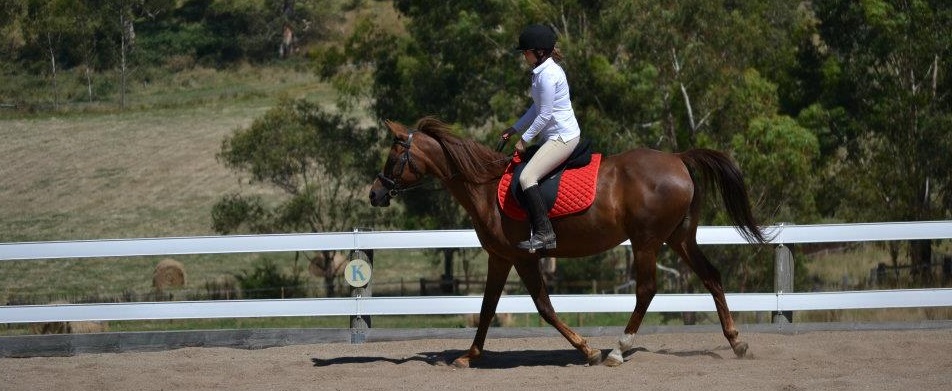 Women and girls who ride horses, but do not wear a sports bra, could be causing undue stress to the horse, according to a study by Portsmouth University. Apparently a lot of women give no regard to what kind of bra they wear while riding. They did a survey of females who ride horses in various disciplines and found that less than one in five regularly wore a sports bra for riding even though it can lead to poor posture and musculoskeletal problems, which are sensed by the horse.
Animal Radio Episode 871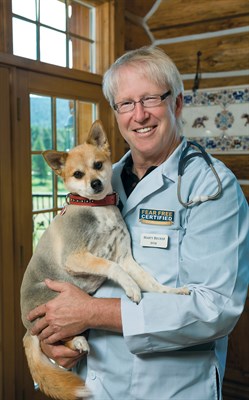 Eliminating Fear of Vet Visits
Going to the Vet can be a traumatic experience for your pets. Following Animal Radio Veterinary Correspondent, Dr. Marty Becker's instructions can make the Vet actually a fun place to go. We call it Fear Free visits.
First Ever Cloned Puppy on U.S. Soil
Top Dog at Viagen Pets, Blake Russell is here to announce the birth of the first-ever cloned puppy here in the United States. While the dog is being weaned, the new guardian is watching the pup via the Internet.
Thief Unwittingly Saves Dog in Hot Car
It all began when a man left his laptop and his dog locked in his pick-up truck while he went into a local pub. It was super hot that day, but luckily for the dog, a pack of thieves were casing the street for easy to grab loot and spotted the laptop sitting on the truck's passenger seat. They smashed the window, grabbed the laptop and ran off.
Internet Outage Causes Starving Pets
The Internet of Things may be touted as the next big thing in technology, but those Internet connected solutions designed to make your life easier can cause huge problems as many pet owners recently found out. PetNet, an Internet-connected feeding service, experienced a server outage last week that left many pets hungry for hours and many pet owners very upset!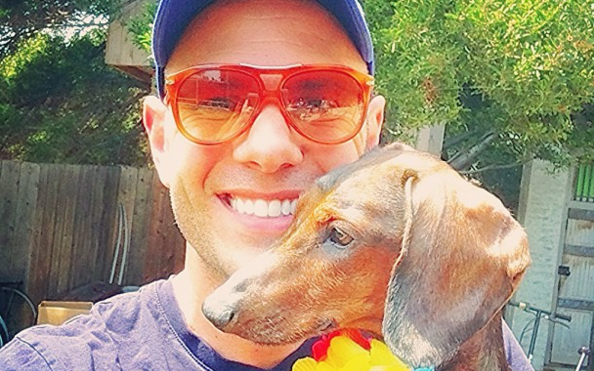 Lily And The Octopus
Steven Rowley tells us about his close relationship with Lily and how a tumor on her head eventually took her life. He's was offered one million dollars to write a cathartic book about the experience on spec. Not bad for his first major published novel.
Animal Radio Episode 870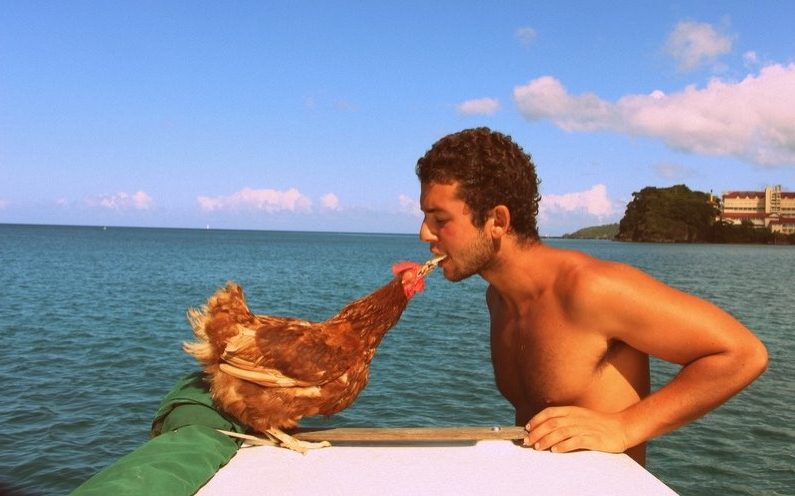 Sailing The World With A Hen
24-year-old Frenchman Guirec Soudee is sailing around the world with a strange companion, his chicken. He'll check in with us from Greenland and explain why he chose this first mate.
This Is Your Brain On Parasites
Science author Kathleen McAuliffe explains the link between Toxoplasma, a parasite cats can transmit, and it's potentially profound effects on humans, including schizophrenia and even suicide. Even dogs can be responsible for transmitting fatal parasites. This is not fiction. Every pet owner should be aware.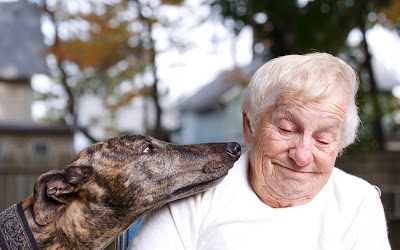 The Lick Of Death
Lori Brooks reports on a strange story about a senior that ended up in ICU after her Greyhound licked her. This cautionary tale may have you thinking twice about letting your dog lick you all over.
Top Pets
A new study researched all the animals that would make good pets. Believe it or not, cats and dogs are NOT even in the top 25. You may be surprised to learn what the best pet is according to this study. But you won't be able to get one in the United States.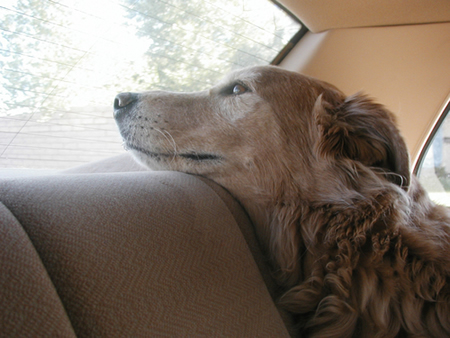 Dog Car Sickness
Dr. Debbie White takes on canine car sickness. Whether your pup is scared and anxious of traveling in the car, or they actually get motion sickness, the good doctor has practical solutions for conquering the common problems.
Animal Radio Episode 869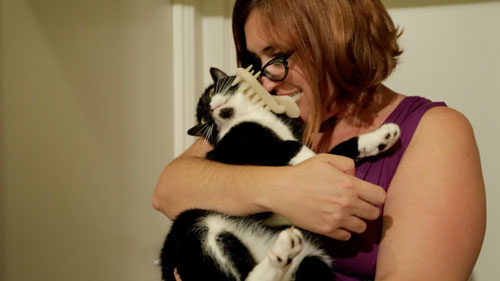 I Tried The Weirdest Pet Products On The Internet
From the Licki Brush to the Puppoose, The Washington Post's Sadie Dingfelder tried some the oddest pet products for sale online. She'll tell us how it went. For instance, give your dog a toy - a rawhide chew, a tennis ball, or even this little plush figuring of Donald Trump - and your dog, regardless of political affiliation, will immediately tear it to shreds. Cats, on the other hand, dispose of their belongings by looking at them with such disdain that the toys self-destruct in shame.
Why Would You Want To Genetically Preserve Your Pet?
Melain Rodriguez from Viagen Pets says there are lots of reasons you should think about Genetic Preservation. Collecting a sample of your pet's DNA could be helpful if there are medical advances that could potentially help your furry-friend. Of course, you could also use the DNA to clone your pet too.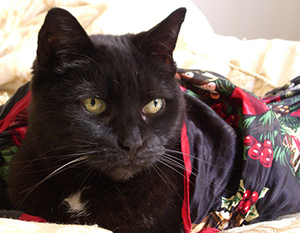 How My Cat Made Me A Better Man
Jeremy Feig was at rock bottom - broke, alone, and living in a shoe box-sized apartment. At the same time, his cat was perfectly content. What was her secret? She couldn't say it out loud, but it was clear she had all the answers to living a good life. Jeremy will share those answers with Animal Radio listeners.
Jewel Thief
Alan Kabel reports on a dog that swallowed their guardian's wedding ring. What happens next is quite amusing. He'll also tell us about an alligator that loves pizza.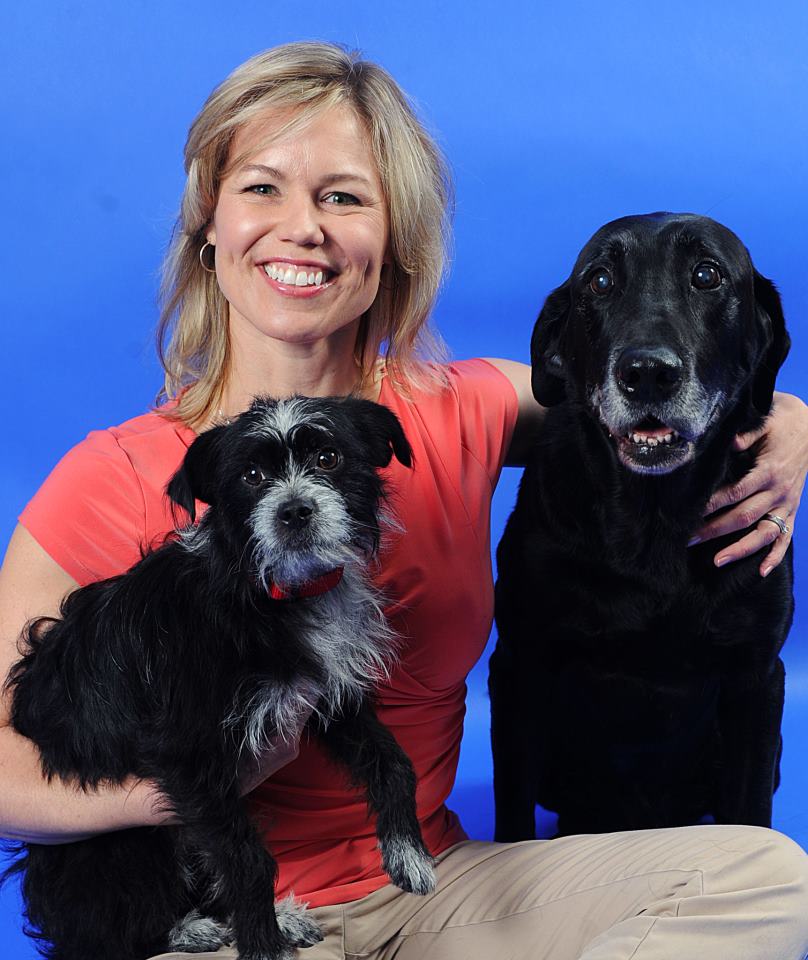 Vet On Call
Animal Radio's Veterinarian, Dr. Debbie White will answer your questions about your pet's health, because that's what we do. Make sure to call us toll-free at 1-866-405-8405 or even ask your questions from the free Animal Radio App for iPhone and Android.
Animal Radio Episode 868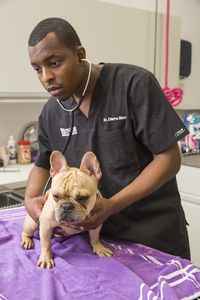 The Vet Life
Dr. Diarra Blue from Animal Planet's hit show, The Vet Life, is our special guest. He's an over-the-top charismatic professional that has some great stories about his unusual practice in Houston.
Pet Flipping
Animal rights groups say pet flipping is becoming a growing problem because of a rise in social media use. Pet flipping is when a person sees a pet on social media websites, like Facebook or Craigslist, they get the pet with phony information, then sell the animal to make money off of it. The really bad news is that pet flipping is legal because pets are considered personal property, so people can sell them like anything else.
Helping Pit Bull Owners Find Rentals
Pet owners know how difficult it is to find housing, but for pit bull owners it can be nearly impossible to find a place where you can have your pet. A new non-profit called "My Pit Bull is Family," provides resources for dog owners across the country with a database listing all pit bull-friendly properties. The website MyPitBullisFamily.org features an interactive map where pet parents can click on their state and a list of contact information for potential rental leads will pop up. Statistics show that nearly 30% of people give up their dogs because their landlord does not allow dogs; making it the number-one reason people give up a pet. My Pit Bull is Family also offers users a list of insurance companies that do not participate in breed-specific discrimination against pit bull-types, Rottweilers, German Shepherds and Chow Chows.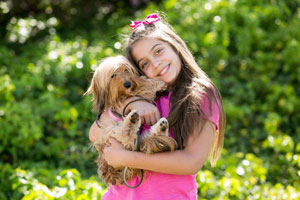 Emmy's Hope
This young lady is a breath of fresh air in our crazy world. Meet 11-year-old Emmy Perry, who was recently featured in a national Kleenex campaign for her work saving animals. She has saved 250 animals to date. She also received an award from the City Of Orange for her work with animals.
What Goes On When You Leave
Animal Radio's Pet World Insider, Robert Semrow, has the Top 5 Secret Things Your Pets Do When You're Away. We can only imagine what goes on when you leave home... or can we?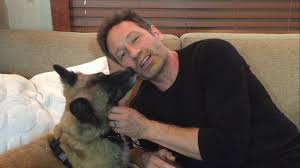 Lick My Face!
Have you seen David Duchovny's video, which launched the "Lick My Face" campaign to support the nonprofit organization Target Zero? It's a great idea and fun for an admirable cause so here's how it works: Just put some peanut butter on your face - the more the better to get more licks - let your pet loose and let the licking begin. There are more details on the LickMyFace.org website.
Animal Radio Episode 867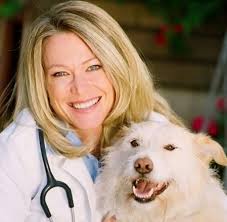 Personal Pet Check Up
You know your pet better than anyone else, including your vet. Doc Halligan has part two of her weekly "once-over" exam. Follow these steps and you'll be on top of any problems before they become serious.
Doggy DNA Nabs Poop Offenders
A luxury apartment community near Grand Rapids, Michigan says it will use DNA technology as a way to sniff out dog owners who fail to pick up their pets' poop. The Ridges of Cascade complex is asking dog owners to swab their pet's mouth so it can build a DNA database that will allow it to identify residents who ignore its strict cleanup policy. The management company as already contracted with the Tennessee-based company PooPrints to collect DNA samples of each dog in the development. Violators will face a $350 fine.
Sloth Love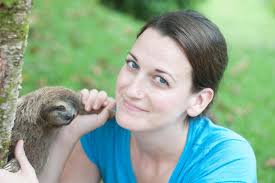 Most every social media butterfly has seen at least one cute video of a sloth (if not, check out our Facebook page). These litter critters are so cute, that many people want one as a pet. Photographer Sam Trull says she "went to Costa Rica for the primates but stayed for the sloths." She has the lowdown on sloths, and she says people think they're slow. She says "they can be fast when they want to, and their nails are pretty scary too."
How Do I Clone My Pet?
Pet Cloning is now available in the U.S. through Viagen Pets. Melain Rodriguez is back to talk about mentally preparing for cloning your pet. She'll talk about what the process involves and if genetic preservation hurts your pet.
The Cat's Got More Than Your Tongue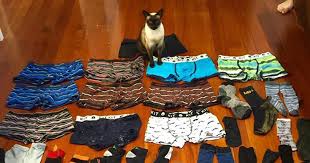 A pet feline in New Zealand has been stealing men's underwear and socks from other people's homes! In just 2 months, the 6 year old cat named Brigit, acquired 11 pairs of underwear and more than 50 pairs of socks. BrigitÔÇÖs owner says she has put notes in every mailbox on her street to warn her neighbors.
Animal Radio Episode 866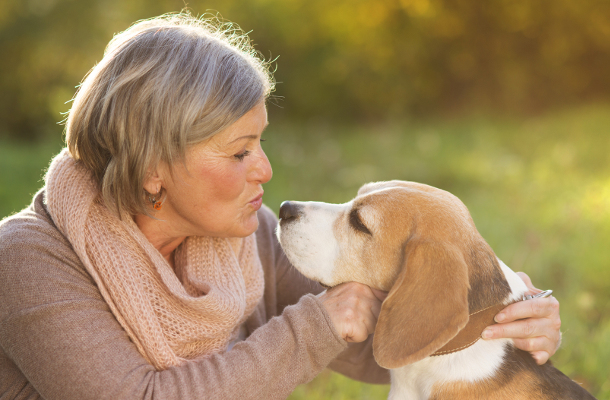 What Happens To Your Pet If Something Happens To You?
You don't have to be Leona Helmsley to plan for your pet if you should die. Estate Attorney AJ Fudge is our guest. She says it's easy to plan for any eventuality, but you should know how. Simply putting your pet in your will isn't enough, as that may be contested.
Funny Vet Stories
Dr. Bo Brock has just about seen it all, despite living in the middle of nowhere. He's treated just about every animal, from Ostriches to Elephants. He'll tell us several hilarious stories about strange but true cases from his peculiar practice.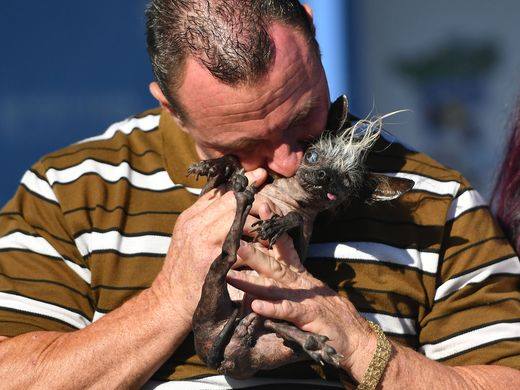 When Ugly = Cute
The winner of this yearÔÇÖs WorldÔÇÖs Ugliest Dog Contest is a wrinkled; wispy- haired, bony Chinese crested Chihuahua named Sweepee Rambo. The tiny girl is 17 years old, blind in both eyes and at only four pounds, is not much bigger than two hands put together. She was a crowd favorite at the Petaluma, California contest. Sweepee's favorite thing to do is ride with her dad on his motorcycle. He won $1,500 and a six-foot tall trophy for Sweepee's win.
Giving Your Pet A Check Up
Doc Halligan will teach us how to give your pet a weekly check up. Knowing exactly what to look for could mean the difference between life and death. Early detection gives you the best odds when it comes to your pet's health.
5 Summer Outings That Include Dogs
Do you want to take your dog with your for some summer fun? Why not? Animal Radio's Pet World Insider Robert Semrow has compiled a list that you and your furry-friend will find useful and exciting.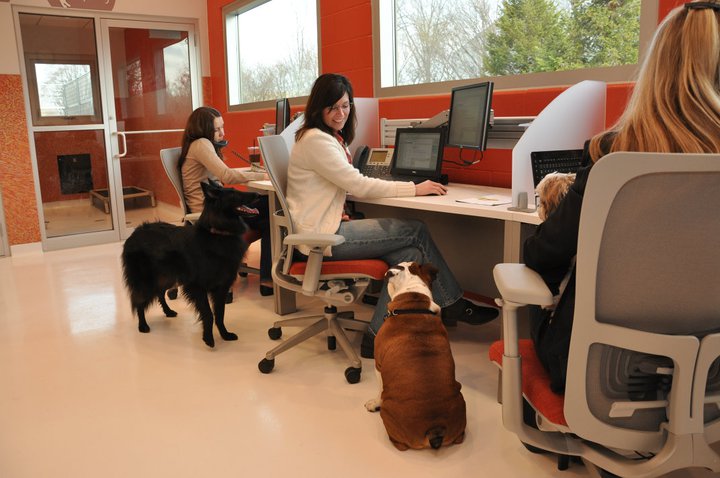 Most Pet Friendly Companies
Many companies offer perks to their employees to keep their workers happy and boost their productivity, perks like gym memberships, foosball tables, free snacks and stuff like that. But if you are an animal lover who yearns to work in a pet-friendly office, Fortune Magazine has come out with a list of the most pet-friendly companies to work for.
Animal Radio Episode 865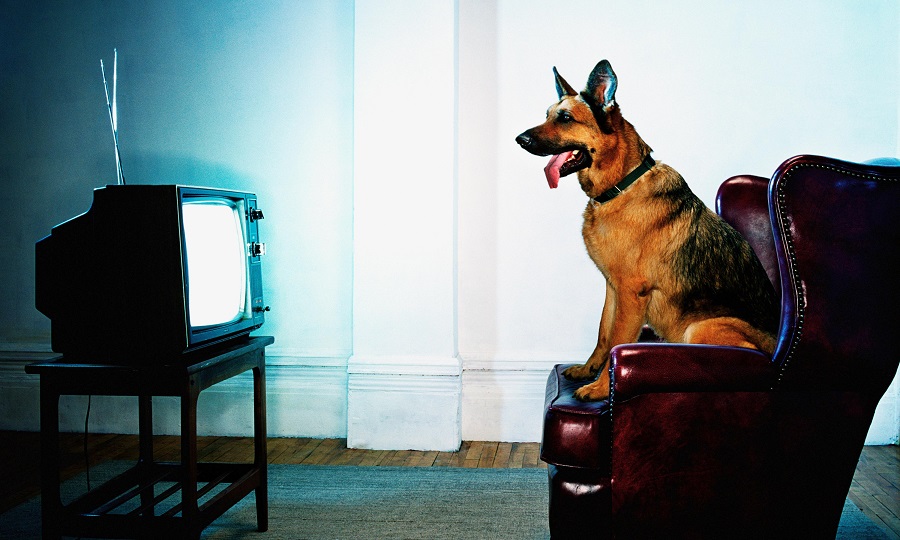 Virtual Chicken Petting
Imagine leaving your dog at home while it turns on the smart TV and chooses a program to watch. Lori Brooks will tell you about the new technology. She'll also tell you about Virtual Chicken Petting that artificially replicates physical interaction between chickens and their farmers.
Relief For Orlando Shooting Victim's Pets
After the mass killing in Florida, The Pet Alliance of Greater Orlando Shelter, says it will offer assistance to the pet of people affected by the shooting at the Pulse nightclub by providing short-term care for the pets of those who were injured in the shooting.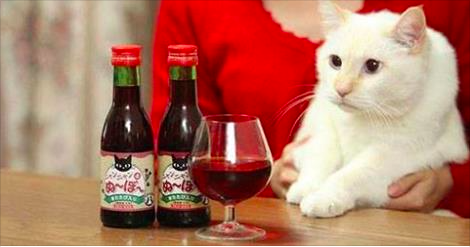 Share A Glass Of Wine With Your Pets
So, you love your cat and you love your wine. A Colorado company called Apollo Peak wants to help cat owners enjoy the experience of sharing a glass of wine with their pets, so they've come out with a non-alcoholic, beet-based, catnip infused wine for cats.
Making Training Your Dog Enjoyable
Zak George is back and he has tips on making training your dog enjoyable for both you and your furry-friend. He believes that if your dog likes to do what your training them to do, you will be more successful. He'll also talk about Service Dog fraud.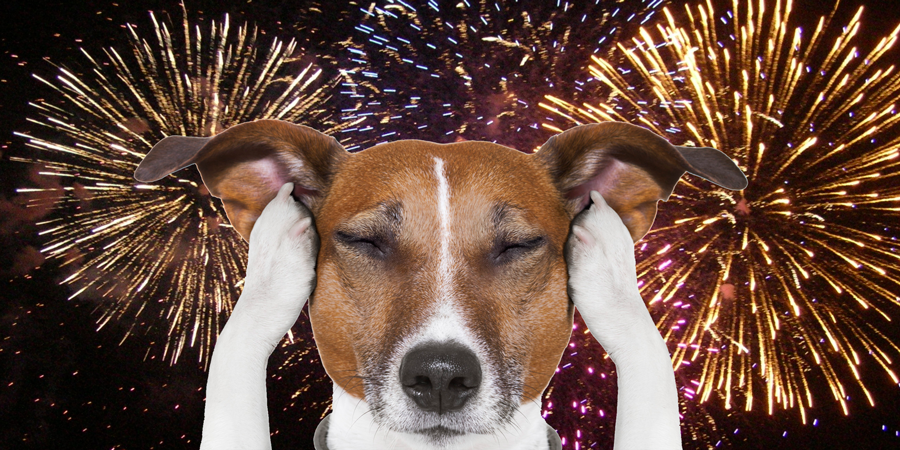 What You Need To Do Before Your Dog Goes Missing
Animal Radio's Pet World Insider, Robert Semrow has a short list of the things you should do so that, if and when your dog or cat disappears, you'll be prepared for a prompt and safe return. Don't forget, 4th of July is one of the biggest times for shelters and lost pets.
Animal Radio Episode 864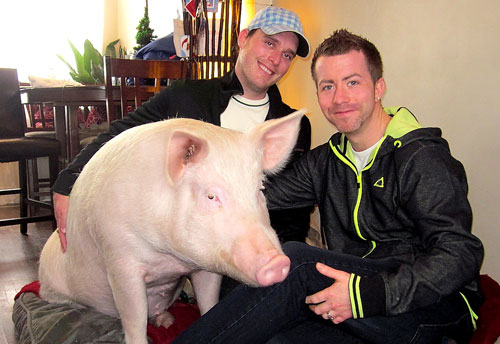 Esther The Wonder Pig
What happens when you adopt a 'micro-pig' without telling your spouse? And what happens when that pig turns out to weigh 600 lbs? Well, you raise $450,000 on Indiegogo to buy a ranch, of course. That's Steve Jenkins story. He tells all this week on the BIG show.
Robots That Clean Up After Your Pet
The makers of the Roomba robot vacuum have come up with a robot mop. It makes cleaning up after your messy pets easy as pressing a button. Melissa O'Dea from iRobot is here to explain. She's even going to give away a Braava Jet! Do you need one?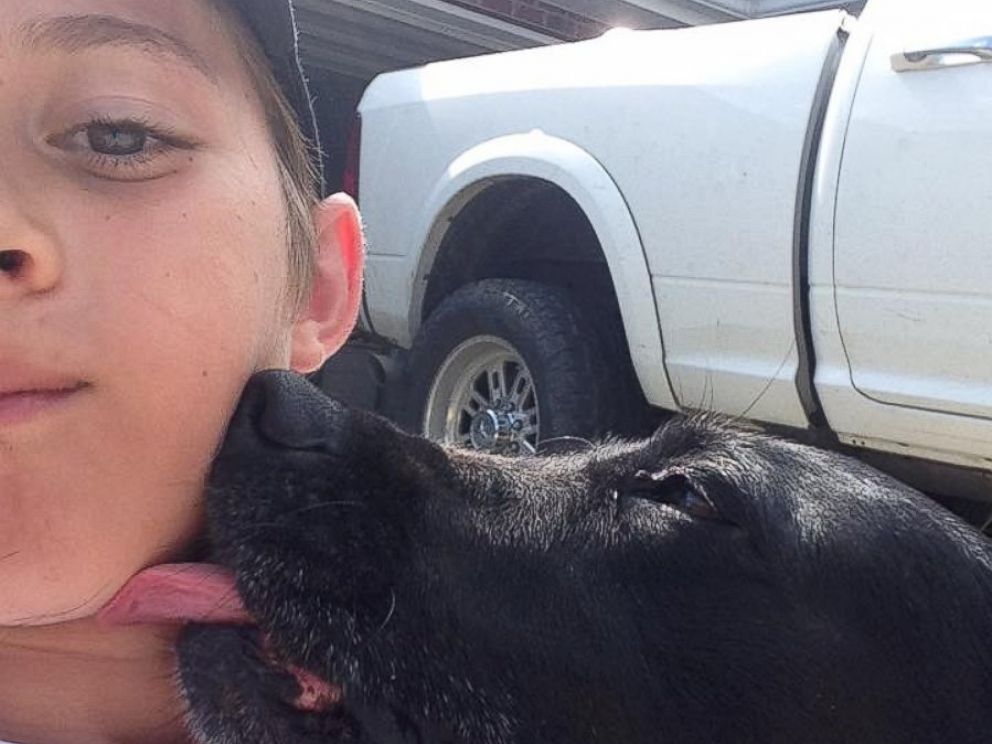 Boy Caught Stealing Hugs From Dog
Did you hear about the little Louisiana boy went to great lengths to give some love to his neighbor's dog? Every day when he left for school he would ride over to his neighbor's house and put his bike down in the driveway. He would then run into the open garage to play with and give hugs to the dog that lives there. Funny that the dog's owner had a video camera in the garage and saw this going on. She wasn't upset at all and posted the video.
Cat Whiskers
What happens if you cut, trim or groom your cat's whiskers? Please don't. DogfatherÔÇŽ er, we mean Catman Joey Villani has more information than you probably need to know about whiskers. But you should listen anyway.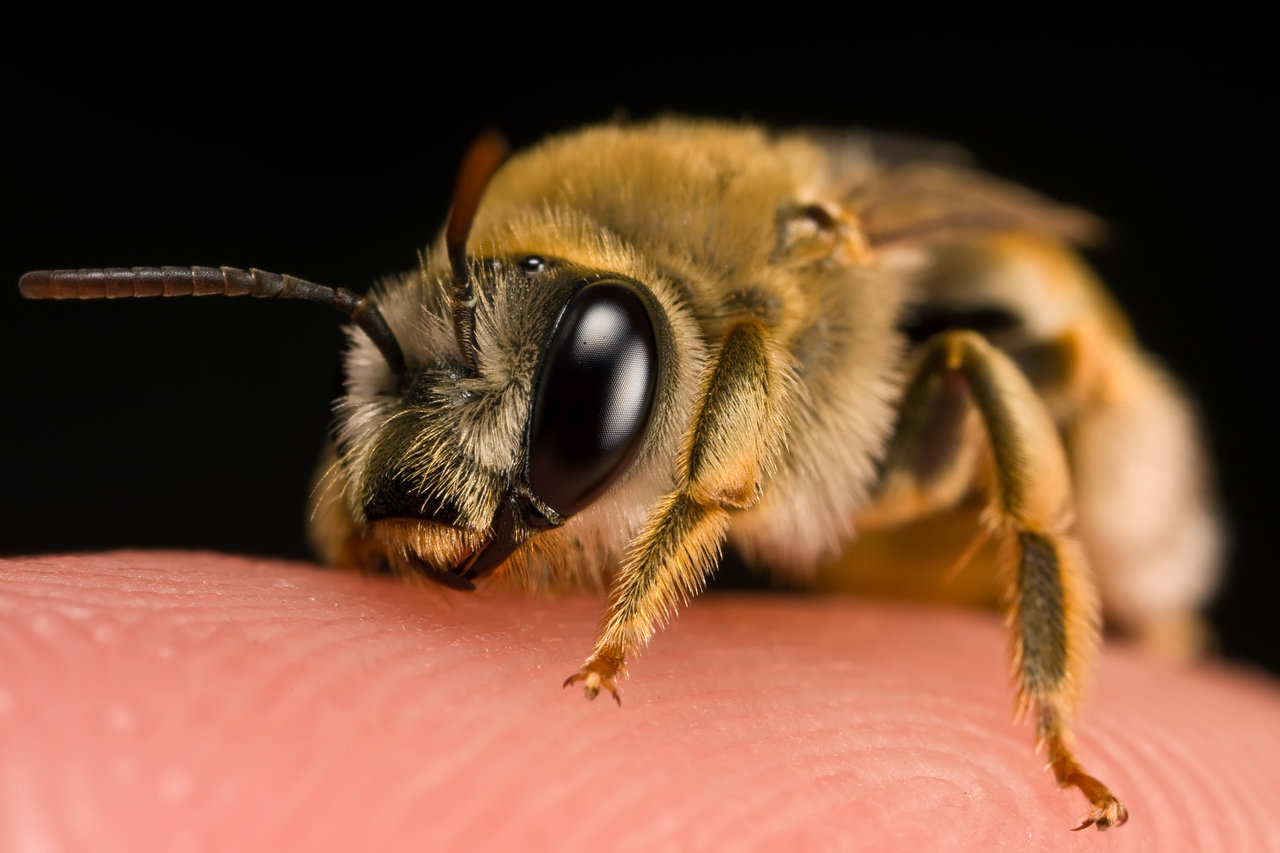 Pet Bees
Everyone has a different idea of what the perfect companion animal is.  There are dogs and cats, fish, birds, reptiles, spiders and bees. Yep. There's a guy in Henderson, Nevada, outside Las Vegas who is being sued by his next-door neighbor who wants him to get rid of his "pet" bees.
Animal Radio Episode 863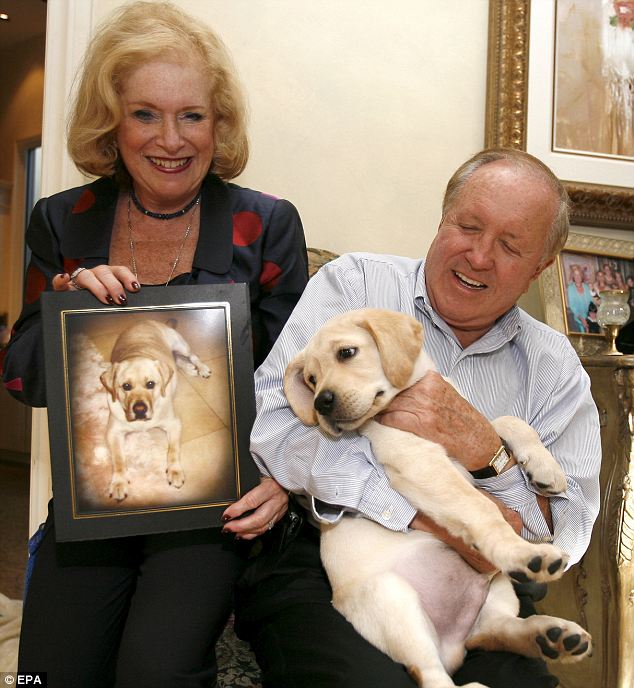 Cloning Myths Debunked
Viagen Pets has brought pet cloning to the U.S., and along with it a lot of questions and myths about the process. Melain Rodriguez is back to debunk the myths and clear up any confusion about the process.
Disaster Preparedness
Animal Radio's Pet Word Insider Robert Semrow wants to make sure you're ready in case of a natural disaster. He has a list of the top tips for preparing your pet for earthquakes, inclement weather and any other disaster that could come your way.
Can Dogs Recognize Faces from Pictures?
A new study published in the journal Animal Cognition indicates that dogs may have facial recognition skills similar to humans! Well, of course, your dog recognizes you when you walk in the door, but how about if you were on vacation without him or her, could they see a picture of you and recognize it?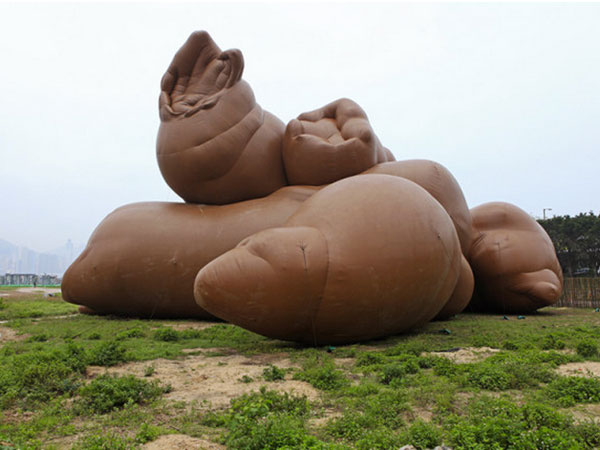 Inflatable Dog Poop
A town in Spain has installed a giant inflatable dog poop in an attempt to discourage dog owners thinking of walking off and leaving a pile of poo in the streets. The town has about 6,000 dogs and if you do the math, they are capable of producing around 1,100 pounds of excrement every day. And, THAT is more or less what the giant inflatable represents, the amount of poo left on the streets across the town each day, according to a town council member.
Pet Sitting Business Sues for 1 Million After Poor Yelp Review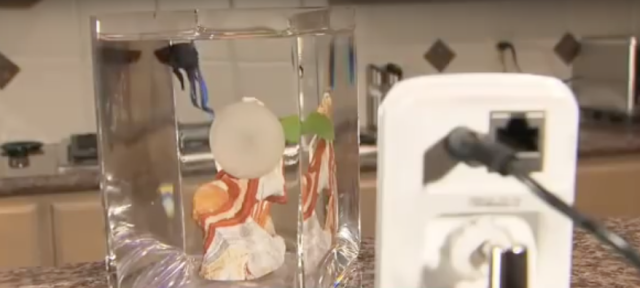 A Texas pet-sitting business is going after $1 million in damages from a couple who gave them a one-star review on Yelp and criticized the business' treatment of their tiny blue tropical Betta fish named "Gordy" while the family was away on vacation. Prestigious Pets of Dallas claims the review is defamation.
Animal Radio Episode 862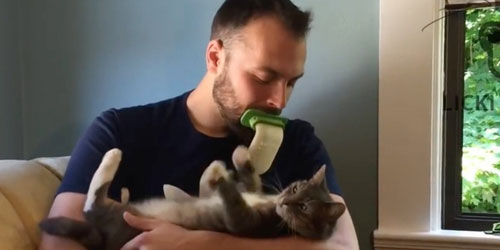 Introducing the LickibrushÔÇŽOMG!
Have you ever wanted to lick your cat? We all know grooming has incredible bonding effects. Tara O'Mara and her hubby Jason invented an over-sized tongue shaped brush that humans may put in their mouth and then groom their kitties, just like their mom. They've almost raised the $36,000 in a Lickstarter.... we mean Kickstarter campaign. See the brush in action.
Stopping Cancer Early
Animal Radio's Pet World Insider Robert Semrow lost two of his furry-companions to cancer. He may have been able to avoid the disease if he had caught it at an earlier stage. Today, he will be sharing tips that could help you tackle cancer before it becomes a menace.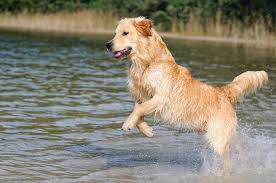 Summer Swimming
Our dogs love the water! Summertime usually means lots of chances to go swimming in the ocean, lakes and swimming pools. But each one has inherent risks, especially lakes. Dogfather Joey Villani will tell you what you need to know before your dog takes the dive.
Vet Student Saves Dog from Euthanasia
A visiting medical student at an Oregon animal hospital found a tick hidden behind a dog's ear right before she and a veterinarian were scheduled to put the dog to sleep over his ailing health and paralysis. The owners of 10-year-old Ollie the Sheltie noticed he was lethargic and not getting around well following a hiking trip in Oregon. They took him to their regular vet for tests, but they could not figure out what was wrong. Ollie's sickness was a very rare condition called tick paralysis.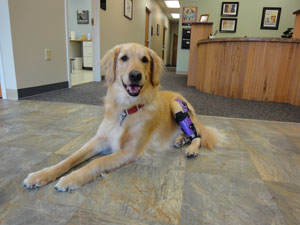 Spay/Neuter Timeline - Jury Still Out
Lori Brooks reports on a new study published in the journal Veterinary Medicine and Science finds that neutering or spaying German Shepherds before one-year of age triples the risk of one or more joint disorders, particularly for cranial cruciate ligament, or CCL, tears. Another study revealed a four times greater increase for joint disease is also true for Golden Retrievers spayed or neutered before one year old, and a two-times increase for Labs.
Animal Radio Episode 861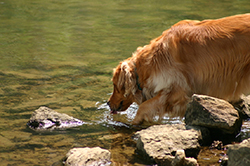 Diseases Your Pet Can Give You
Doc Halligan has some creepy news about Zoonotic disease that humans can get from their cats, dogs and even turtles. While the good doctor doesn't want you to be scared of your pet, she says it's good to be aware of the risks. And pregnant women....listen up!
The Misunderstood Pit-Bull
The youthful and charismatic Bronwen Dickey has made her fight about the Pit-Bull. The years of research that went into her new book easily qualifies her as an expert on the breed that is banned from many big U.S. cities.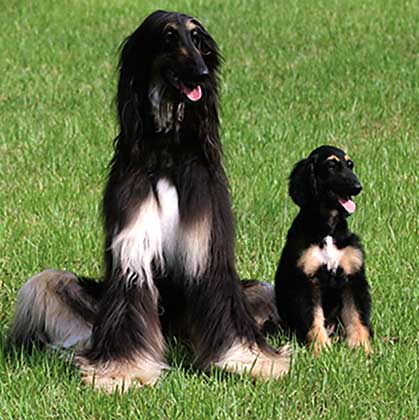 Cloning Logistics
Now that Viagen Pets is cloning companion animals right here in the U.S., lots of people have questions. Viagen Pets' Melain Rodriguez covers some Frequently Asked Questions and talks about the logistics behind genetic preservation, the first step in the process of cloning an animal.
Service Animal Fraud
There are now laws in many states making misrepresentation of a service animal a crime. For example, in Florida, the penalty carries a $500 fine and up to 60 days in jail. Lori Brooks will tell you how to spot a true service dog and what questions establishments are allowed to ask you if you have a service animal.
Drug May Slow Down A Dog's Aging Process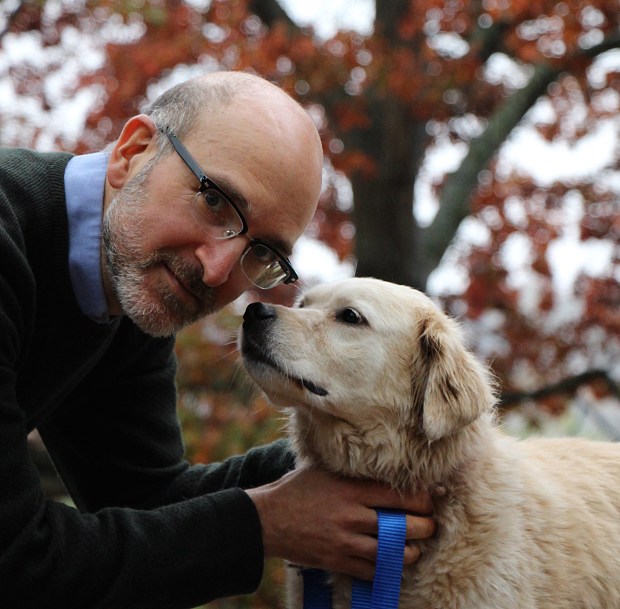 An ongoing study out of the University of Washington now hopes to gain insight on the drug Rapamycin (which is used to prevent organ transplant rejection in humans) and its ability to slow down aging in canines. Researchers will follow 10,000 companion dogs of all kinds, as they age - not in labs, but dogs that actually live with their owners at home.
Animal Radio Episode 860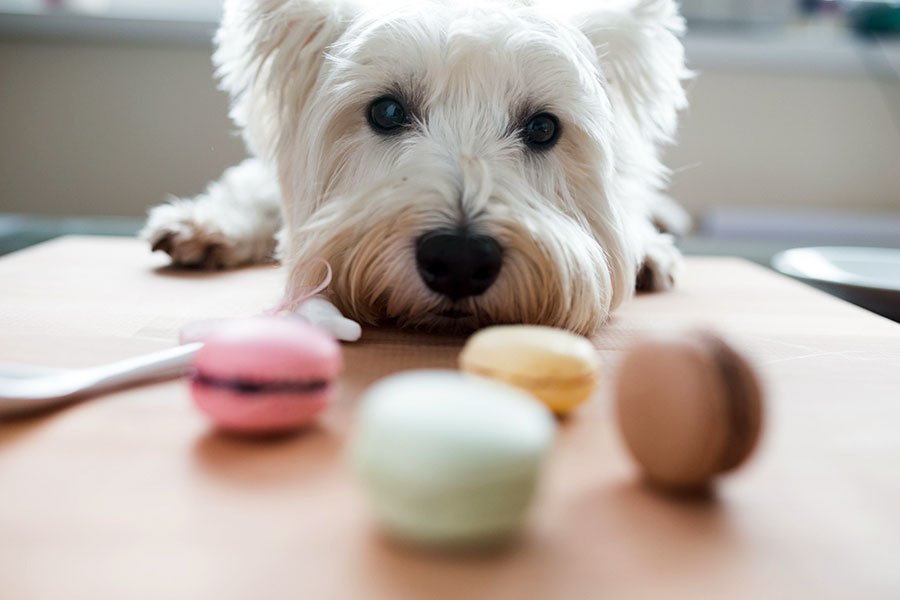 FDA Warns Dog Owners About Xylitol
The Federal Drug and Food Administration is warning dog owners about a new diet Peanut Butter made with an alternative sweetener. 'Xylitol' can shut a dog's kidney down in a matter of minutes.
Flea & Tick Tech
An old technology that embeds pesticide into clothing and fabric is now being used on pet wear, bedding and toys. PetEdge has introduced InsectShield, which is a tick and flea deterrent used in everything from bandanas to coats. Dr. Katy explains how it works.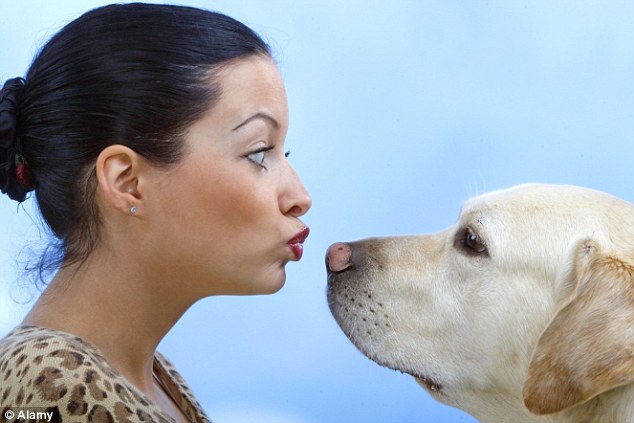 Pet Pictures Can Drastically Change Attitude
We all love pets and whenever anyone feels socially rejected or sad, new research from Miami University shows that just a thought - or a picture of their pet - can lift their mood. In the study they also found that just thinking about another human did not produce the same effect.
Paralyzed Kitten Gets Lego Wheelchair
A kitten that was found paralyzed and abandoned by its mother on the streets of upstate New York has been given a unique makeshift wheelchair by a local veterinarian. This mobility device was made out of Legos!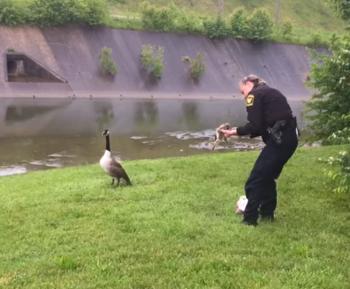 Goose Knocks On Police Cruiser For Help
A mother goose recently knocked on the door of a Cincinnati police cruiser in her search for help for a gosling tangled in a Mylar balloon string. The officer in the car said he initially thought the goose was hungry when he discovered her pecking at the door of his car.
Animal Radio Episode 859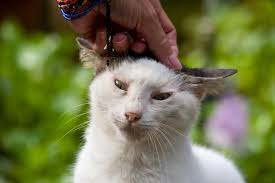 You Can Stroke Me Here, But Not There
Cat Behaviorist Sarah Ellis has a pretty cool job. She does research on how and where cats like to be touched. Sarah found that there are certain parts of the cat's body that are better than others when it comes to petting and stroking. She'll reveal her results and explain why she thinks strangers have better luck petting cats than the cat's owner.
Tick Talk
Only second to fleas, ticks are a fairly common pest. Some of the diseases that ticks carry can kill both human and pet. Doc Halligan will tell you the proper way to remove them. She says you need to avoid some of the 'old wives-tales' for removing ticks because they may actually do more harm.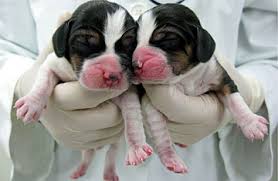 Cloning Pets
The first pet to be cloned on American soil was a success. Many people are rushing to genetically preserve their pets DNA. We'll be talking to the company that clones dogs and cats and find out how it's done and why people want to clone their furry-companions.
Jon Stewart & Steven Colbert Together for the Animals
Jon Stewart and Steven Colbert joined forces again this month at the Montclair Film Festival where Stewart introduced the film "Unlocking the Cage." The HBO documentary movie follows the story of lawyer Steven Wise, who aims to "break down the legal wall that separates animals from humans."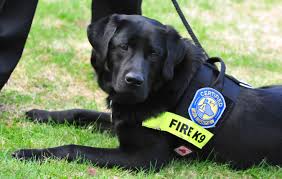 Like A Good Neighbor
State Farm insurance has been sponsoring The Arson Dog Program since 1993! An accelerant detection canine, or arson dog, is a dog that has been trained to sniff out tiny traces of accelerants that may have been used to start a fire. The insurance giant has had a hand in placing over 350 arson dog teams in 44 states and three Canadian Provinces.
Animal Radio Episode 858
Doggy Limousine Service
Daniel Williams quit his regular job to open a pet transport business, like Zoo-ber. He says it's going well although he has one customer than demands he talks to their dog only in "baby-talk."
Fighting Fleas
We're on the heels of another big flea season. Chances are good your pets will get fleas, unless you live in Las Vegas or Phoenix. Is there a safer solution than the traditional topicals? Doc Halligan says there are lots of safe remedies for the 'battle of the fleas.'
Fat Pets and Disease
Diabetes is fairly prevalent with the trend towards obese pets. It can be managed with daily insulin injections. Pancreatitis also plagues dogs especially when they've been fed fatty treats from the table. Dr. Debbie has the information you need if your pet suffers from an obesity related disease.
5 Most Uncommon Legal Pets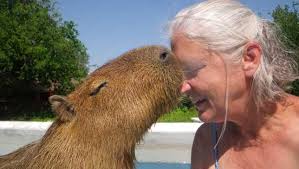 Animal Radio's Pet World Insider Robert Semrow has a knack for lists. This week he has the top 5 strange, unique and elusive pets that are actually legal to own in the U.S. - Sorry, ferrets are still against the law in California and New York.
8-Legged Pets
You may not think of big hairy spiders as pets, but some people do, and Petco wants their business. The company has announced it is expanding their "tarantula offerings" to give pet parents the chance to further explore the amazing world of arachnids. Interestingly, not only do tarantulas have eight legs, they also have a large round eye surrounded by three smaller ones on each side for a total of eight eyes as well.
From the "Too Stupid to Own a Pet Department"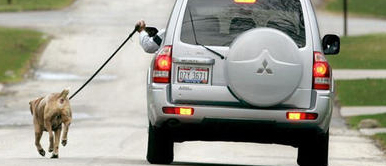 A California woman captured video of another woman driving her car and walking her dog by holding its leash out of the car window while she was driving. The director of the local animal services department in Stockton said he found the video distressing and recommended the woman be charged with animal cruelty, but police reviewed the video and did not believe there was evidence of cruelty, but said the woman in the car would have been charged with "distracted driving" IF she had been seen by an officer.
Animal Radio Episode 857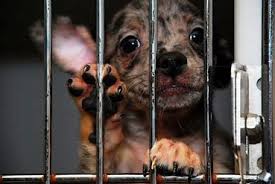 The Dog Merchants
Driven by her incredible curiosity, Kim Kavin uncovered the world of dog auctions. 11 BILLION dollars exchanges hands during the buying and selling of companion animals. Even the so-called 'rescues' are partaking in the auction process, using donated dollars to buy, rehabilitate and adopt these dogs at considerably high prices. While not necessarily humane, nor ethical, it's all legal simply because pets are viewed as property in the eyes of the law.
Battling Pet Allergies
It's that time of the year when allergies present a problem for both human and our furry-companions. Animal Radio Veterinary Correspondent Dr. Marty Becker has the 'top 3 things you can do to calm your pet's allergies.'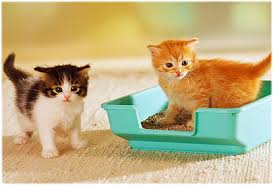 Litter Box Etiquette
Yes, there indeed is etiquette for your kitty's litter. Doc Halligan (Lucy Pet Foundation) will help any cat owner solve their litter-box issues. Cat no going inside the box? Maybe you're not following the etiquette.
Does Your Dog Have GPS?
You know that you can track your pet dog or cat with your smart-phone, all you need is a GPS locator on their collar. But, there are quite a few pet trackers out there, so we break it down for you.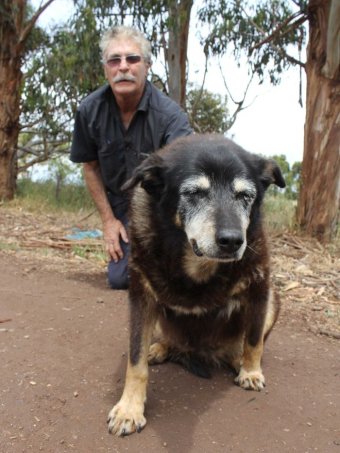 World's Oldest Dog?!
Last month, "Maggie the Kelpie," an Australian dog that was possibly the oldest dog in the world, died. Maggie was 30 years old according to her owner. That's over 200 in human years, and a contender for the oldest dog in the world, except for one thing....
Animal Radio Episode 856
Dog Lawyer
Attorney Jeremy Cohen gave up his insurance fraud law practice to focus only on dogs. He is one of the few "dog only" lawyers in the U.S. Jeremy represents dangerous dogs that usually have a death sentence. He tells us that lots of people have threatened him and harass him, but it's worth it if he can save the life of a dog.
Maybe We're Not Smart Enough To Know
Dr. Frans de Waal asks the poignant question, "Are we smart enough to know how smart animals are?" Many of us suspect that our cats and dogs have a sixth sense. They seem to know things are going to happen before humans do. Is this smarts, or is it hyper-observation of your every move? Maybe a little of both.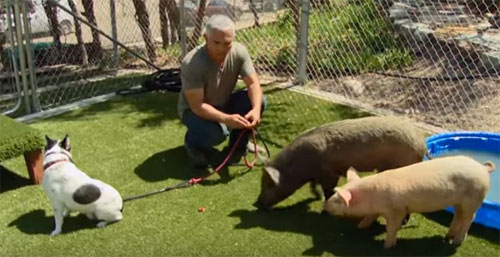 Animal Cruelty Charges Dropped Against Cesar Millan
The investigation of dog trainer Cesar Millan (Dog Whisperer on TV), is over and there will be no charges filed. It all began in February when an episode of Millan's show featured him using a scared potbellied pig to teach a French bulldog to get along with pigs. The Los Angeles County Sheriff's office says they were unable to find anything to charge Mr. Millan with.
Supreme Court Puts a Value on Pets
The Georgia Supreme Court will soon decide the value of a pet. Currently, the law sees pets as property, like a car or a toaster. The Georgia Supreme Court is set to rule on the value of the dog whose death was allegedly caused by a fancy, high dollar kennel that allegedly gave the dog the wrong medicine that ultimately killed her. The kennel says that Lola the dog was property, and the family should get her "market value" - which, because she was a free rescue dog, is nothing.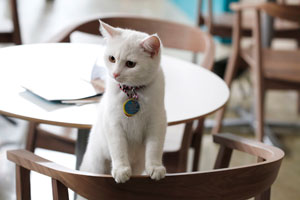 Chicago Gets First Cat Caf├ę
Tree House Humane Society has been given approval to launch a coffee shop, which will double as a cat adoption center. It will feature a full coffee bar and a cat lounge where a dozen or more cats will be free to roam about, sleep and play. The $6 million Chicago facility set to open in early fall. Cat caf├ęs are very popular in other countries. Cat Town in Oakland, saw its adoption rate more than double after opening the first stateside cat caf├ę not even two years ago.
Animal Radio Episode 855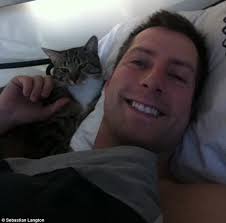 Always Know Where Your Dog or Cat Is
Sebastian Langton created the world's smallest GPS pet tracker. A small pod the size of a wine cork is all that's needed to find your pet most anywhere in the world. The Podtracker is also capable of setting boundaries and monitoring activity. You could win one in our giveaway.
Doggy DNA Nabs Poop Offenders
A luxury apartment community near Grand Rapids, Michigan says it will use DNA technology as a way to sniff out dog owners who fail to pick up their pets' poop. The Ridges of Cascade complex is asking dog owners to swab their pet's mouth so it can build a DNA database that will allow it to identify residents who ignore its strict cleanup policy. The management company as already contracted with the Tennessee-based company PooPrints to collect DNA samples of each dog in the development. Violators will face a $350 fine.
Sloth Love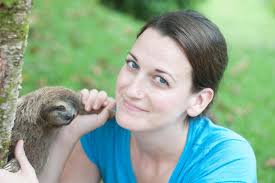 Most every social media butterfly has seen at least one cute video of a sloth (if not, check out our Facebook page). These litter critters are so cute, that many people want one as a pet. Photographer Sam Trull says she "went to Costa Rica for the primates but stayed for the sloths." She has the lowdown on sloths, and she says people think they're slow. She says "they can be fast when they want to, and their nails are pretty scary too."
Pet Cemeteries In China
Pet cemeteries are becoming increasingly popular in China with owners paying between $50 and $1,800 to buy their pets a plot. Rows of tombstones at one cemetery bear the names of pets along with flowers, toys, food and even calcium pills and chew bones were seen placed beside them.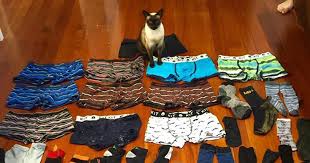 The Cat's Got More Than Your Tongue
A pet feline in New Zealand has been stealing men's underwear and socks from other people's homes! In just 2 months, the 6 year old cat named Brigit, acquired 11 pairs of underwear and more than 50 pairs of socks. BrigitÔÇÖs owner says she has put notes in every mailbox on her street to warn her neighbors.
Animal Radio Episode 854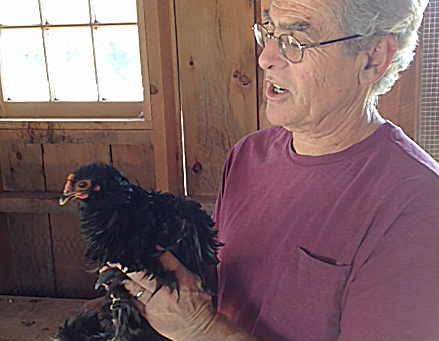 Pot for Pets?
Dr. Stephan Katz explains how he is using parts of the marijuana plant to create a therapeutic treat for pets. Do animals respond the same as humans to medical marijuana? What is the legality of pot for pets? These burning questions and more are finally answered.
To Flush or Not To Flush
It may be hard to believe, but people still flush kitty litter down the toilet. Not only is it bad for the pipes, Doc Halligan says it's bad for marine life. Apparently there is a parasite that is transmitted through cat feces and has been documented as a significant killer of otters and other sea life. Who knew?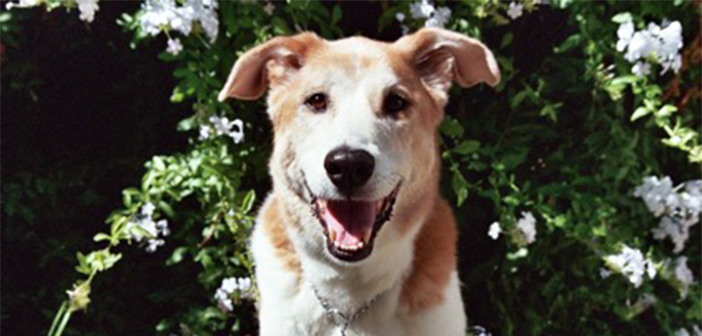 Lessons from a Knucklehead
Doug Green learned a lot of life's lessons from his dog, Shirelle. He even says that the dog was responsible for his career path as a psychotherapist. He also finds that dogs are great intermediaries in his practice. He'll share some of the important epiphanies inspired by Shirelle.
When is it Time to Let Go?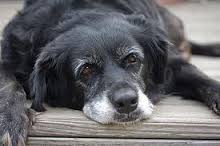 It can be incredibly difficult to know when it's time to euthanize your furry-friend. Balancing your own selfishness with your pet's health and happiness is no easy task. Dr. Debbie has answers that will help you make the decision when that time comes.
Animal Radio Episode 853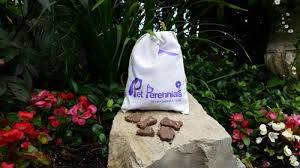 Unique Ways To Memorialize Your Pet
The one downfall of cats and dogs is their short life span. This leaves us looking for unique ways to pay tribute to their life. We've found companies that will turn your pet into a diamond gem stone or shoot your pets remains into space. Now comes Pet Perennials, a wild-flower garden composed from your pet's ashes. The startups founder Remy Bibaud explains.
Cat Lovers Take More Pictures
The research is in from one "cloud" company that says we upload more pictures of our cats than dogs. What does this actually say about cat guardians? Do we take more cat pictures because we're "cat crazy?" Jackie Stone from MiMedia has her reasons for the trend.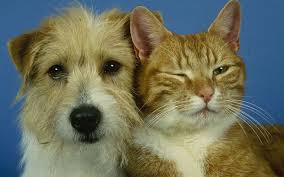 The Difference Between Dog and Cat Owners
Dog owners are happier, more sociable, earn bigger salaries and have a bigger sexual appetite than cat owners, according to a new study. Animal Radio News Director Lori Brooks says data also suggests that dog owners are more likely to have paid off their mortgage and they will be inclined to describe their job as "stressful." By contrast, cat owners are happier living alone and admit they relish a simpler pace of life. The study also found the average cat owner takes home $34,000 a year, while the typical dog lover can expect to earn $38,000.
Cat Survives 8-Days Being Shipped in Box By Owner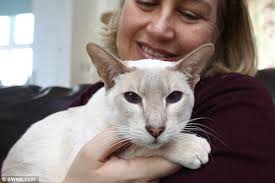 Cupcake is an incredibly lucky cat. The Siamese survived being stuck inside a small cardboard box for eight days and 260 miles after her owner accidentally mailed her. The owner didn't see Cupcake snoozing inside the package as she packed it with DVDs. Then she dropped the box in the mail. The package's recipients were stunned to open the box and find the cute cat curled up alongside the movies they'd bought. Cupcake was reunited with her tearful owner (who felt horrible) over the weekend. She says, "I knew Cupcake was missing, but not for one second did I think she was in that box."
Animal Radio Episode 852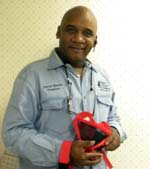 A Chastity Belt For Dogs?!
Dexter Blanch considers himself quite the inventor. And he should. He's created a chastity contraption for dogs to wear. He's also thinking about designing a special dog-bra, but is too busy selling the belts to work on anything else. In fact, he was just commissioned to invent a chastity belt for camels in Dubai.
Dog-Friendly Boating
Summer means lots of outdoor fun with your dogs. Many pet-lovers will take their furry-companion on boats. This is where Jen Seitz comes in the picture. She's from the website boatsetter.com and she has tip for making your journey safer for everyone including the pets.
What's Hot? What's Not?
Animal Radio's Pet World Insider Robert Semrow reports from Global Pet Expo, one of the two major pet product trade shows in America. Robert's Listomania includes the new trends and gadgets being introduced this year.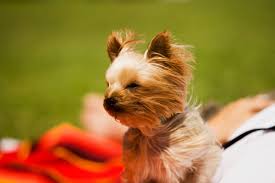 Most Stolen Dogs
Pet theft is on the rise. Here are the stats for the most stolen dogs in America; In no particular order, these ten breeds are stolen far more than others: Chihuahua, Yorkshire Terrier, French Bulldog (some of which are then resold for as much as $4,000) and Pomeranian (resale is said to be around $3,000). Maltese dogs are also on the most often stolen pet list, as are Boston Terriers, Labradoodles, Pit Bulls, German Shepherds and the Labrador Retriever. Animal Radio News Director Lori Brooks reports the reasons for the increase in pet thefts.
Cutting Nails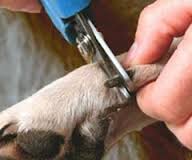 Cutting your pet's nails can be a pleasant or really unpleasant task depending on your approach. It's very likely that you'll need to trim your furry-friend's nails sooner or later. Animal Radio's Dogfather, Joey Villani has tips on cutting those tips the right length without drawing blood.
Animal Radio Episode 851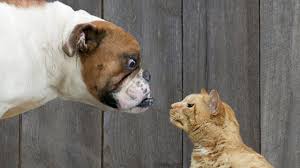 Why Dogs Are Better Than Cats!?!
New research from Manhattanville College confirms what you may suspect... cat owners are more neurotic and less happy than dog owners. Assistant Professor Katherine Bao explains the results of this study and talks about ongoing research.
Bark-n-Borrow
Liam Berkeley came up with an App that matches dogs with those that want "dog-time" but don't have enough time for a full-time pet. The spirit in the service lies in how it enables "borrowers," people who aren't fortunate to have their own dog, but would love to spend time with one whenever they have a chance. Would you trust your dog with someone suggested by a phone app?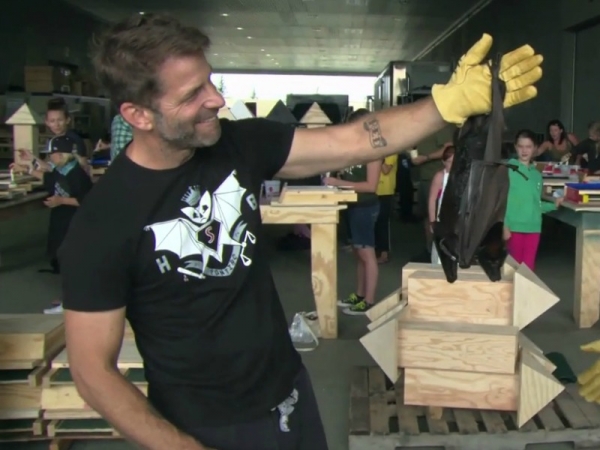 Batman Set Made Into Birdhouses
The very "Batty" Rob Mies joins us to explain why they've cut up the Batman vs. Superman movie set and made bat-houses, signed by the actors (even Ben Affleck & Zack Snyder), to be auctioned on eBay this week.
Boston Latest to Ban Puppy Mill Sales
More than 90 cities across the country have now banned the sale of commercially-bred dogs in pet stores, while Illinois and Maine have proposed bills to ban the sale of puppies in pet stores statewide! In the latest big win for animal advocates and animals, Boston has become the latest major city to sign legislation banning the sale of commercially bred animals.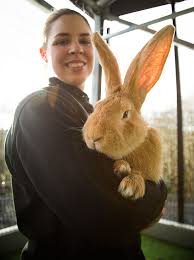 Giant Rabbit Finds Home
Atlas, a giant rabbit about the size of a terrier, has found a new home after being taken in by the SPCA last month. The rabbit's previous owner decided they could no longer care for him and the shelter spent a month searching for a proper home for the abnormally large rabbit. The new pet parent to Atlas says she feels like she won the lottery because there were hundreds of calls and emails from people all over the world who wanted to adopt Atlas. By the way, Atlas' new name is almost as long as he is. The new owner named him Axilla the Bun Binky Master Jazz Paws, but calls him Atty for short!
Animal Radio Episode 850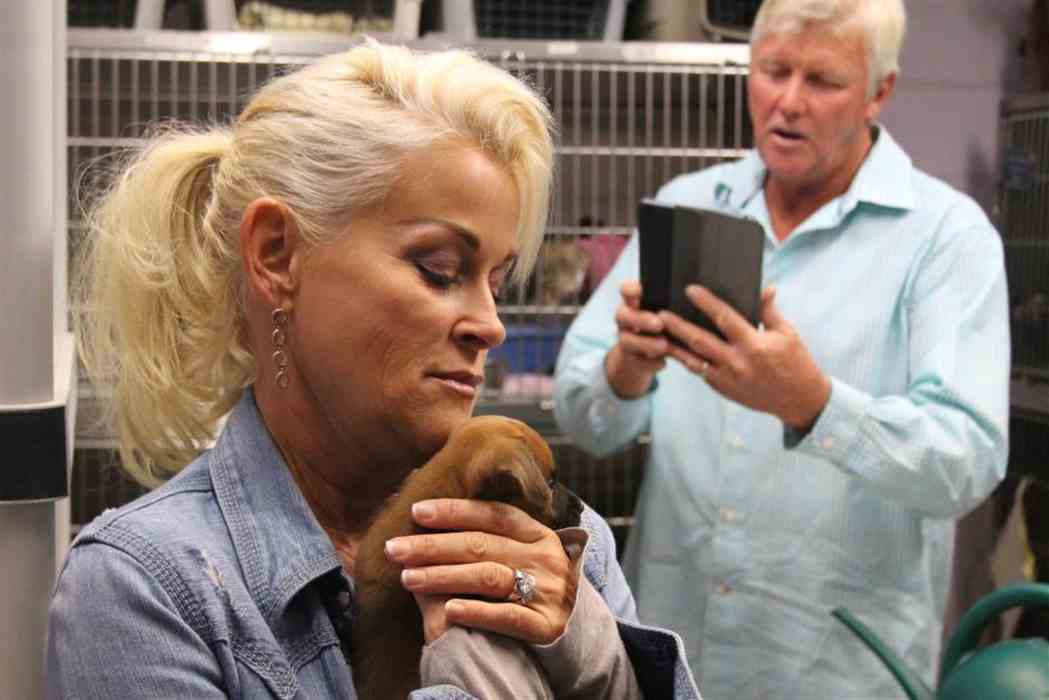 Lorrie Morgan Guests
Outspoken Country Artist Lorrie Morgan is our guest. She walks the walk when it comes to the animals. From putting on fundraising concerts to helping in the shelter, she's involved with supporting her local animal welfare organization, New Leash on Life. Lorrie has pit-bulls at home and thinks they're so misunderstood.
Animal Storm Squad
Karissa Hadden chases natural disasters rescuing thousands of animals that have been injured, trapped or displaced as a result of tornadoes, hurricanes, floods, wildfires, earthquakes and other catastrophes. Her life is documented in the new NatGeo Wild television show, Animal Storm Squad.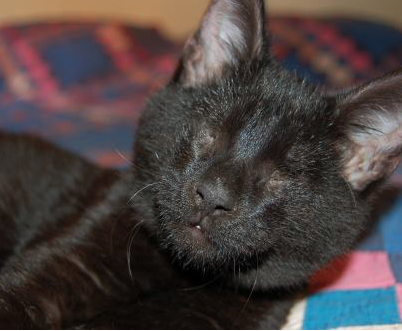 Lessons From A Blind Kitty
Homer was a blind, black cat that never knew sight. His owner, Gwen Cooper realized this precious ball of fur was filled with lots of life-lessons. Gwen's second book about Homer will leave you delighted to have shared in his journey through words. She'll talk about the impact of handicapped pets in her life.
Rescue Dogs Become "Ball Boys" at Tennis Tournament
Four shelter rescue dogs were employed as "ball boys" at the Brazil Open Tennis Tournament. It was a brilliant move on the part of Brazilian dog lovers who trained them to feel at home on the tennis court by getting them used to the noise of the crowds and the high speed of the balls.
Doggy Dentist Fits Dogs with Braces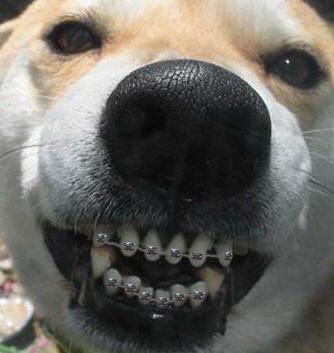 A Michigan veterinarian has earned the title of "doggy dentist" for his practice of fitting dogs with braces and performing root canals. Dr. Jim Moore says while it may be unusual to see a dog wearing braces, he stresses the importance of animals' dental health and says, "Orthodontia in pets is normally not for aesthetic purposes, but because of health concerns."
Animal Radio Episode 849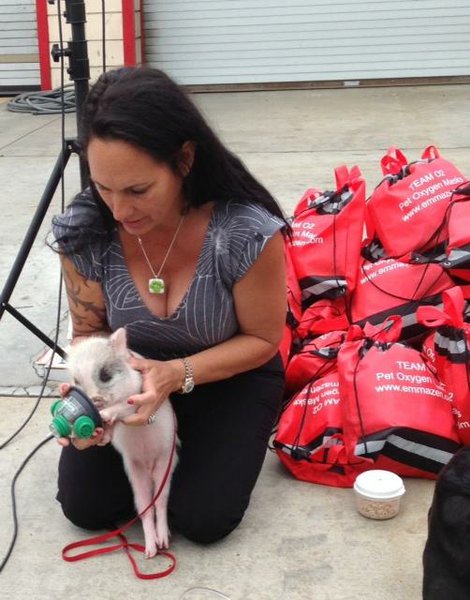 Pigs As Pets
The very charismatic Debra Jo Chiapuzio is back to tell us about life with a pet pig. She says her dog thinks the swine is a yummy-treat. If you've ever considered a pig for a pet, you must hear this interview. Debra, who is responsible for creating the Emma Zen Organization, raised funds to supply local fire departments with pet-oxygen masks. Now she's behind the "Food Train" to help rescued pigs.
Blue Buffalo May Owe You Money
If you've ever bought Blue Buffalo 'so-called' line of natural pet food, a $32 million lawsuit settlement means the pet food maker may owe you money! Blue Buffalo reached the huge settlement over claims that its products were free of by-products and didn't contain corn, wheat, soy, artificial flavors, colors or preservatives. Laboratory testing showed otherwise, which lead to charges of mislabeling and false advertising and a class action suit. Blue Buffalo digressed by denying wrongdoing and blames a former supplier for the issue. If you happen to still have a receipt, you can get up to a 10% refund. But even if you don't have a receipt you can still get $10.
Living In A Bathtub for 30 Daze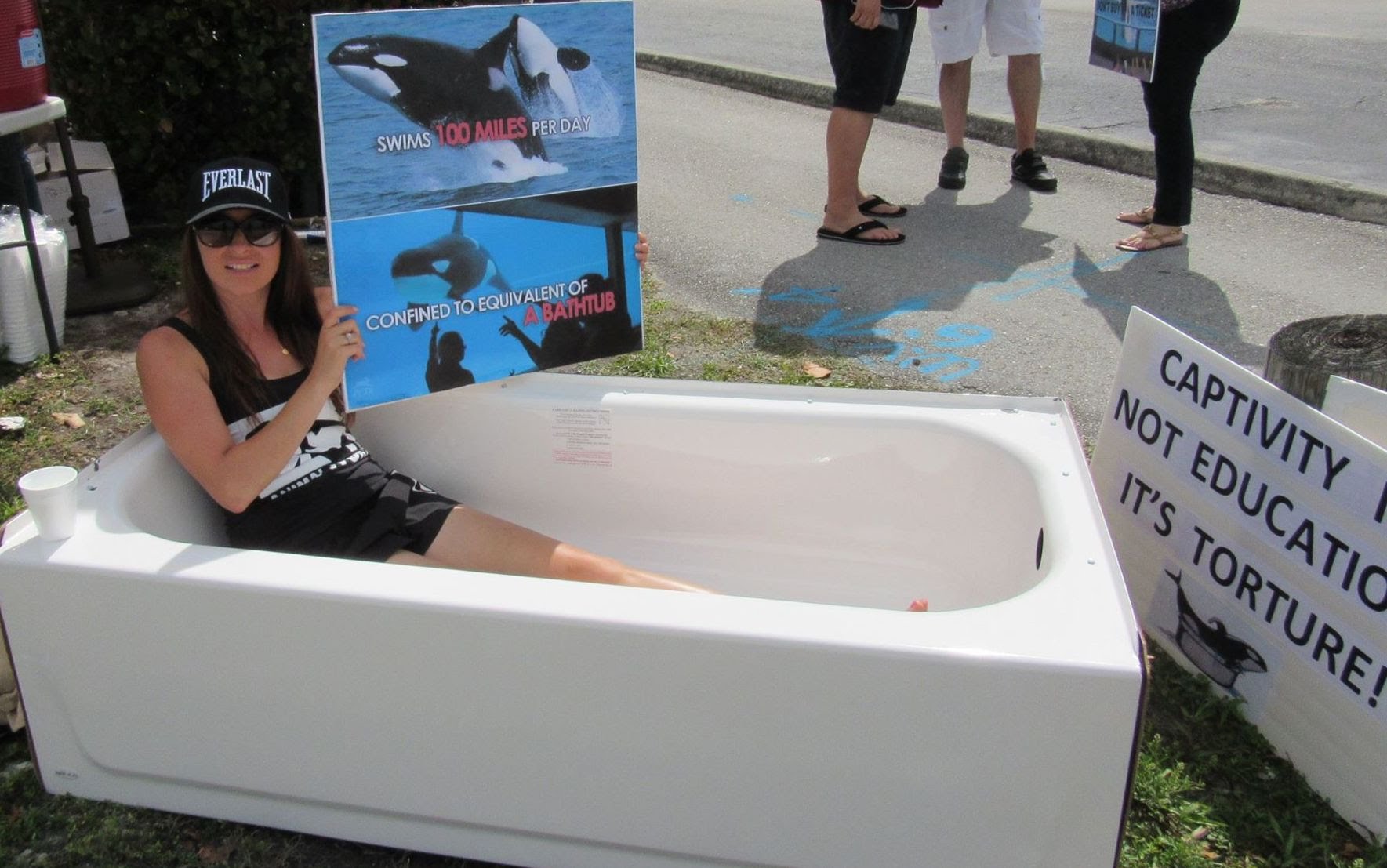 Danielle Daals left her family in New Zealand to sit in a bathtub for 30 days in front of the Miami Seaquarium. Of course she has a good reason. She wants people to know that Lolita the Killer Whale lives in the smallest tank in the United States. We talk to her about halfway through her publicity stunt.
Protective Order Protects Pets of Domestic Abuse
A new federal bill in search of Congressional support could be passed to protect both animals and people. The Pets and Women's Safety (PAWS) Act will make it a crime to cross state lines to commit an act of domestic violence on a pet. The program would also provide support for animal shelters that offer space for the pets of people fleeing domestic violence.
Cat Trapped In Woman's Body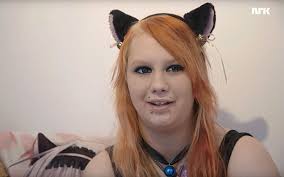 Nano, as she likes to be called, claims she was born in the wrong species and that she's actually a cat trapped in a human body! She says her personality and psychological features prove that she is more feline that human because she prefers walking around on her hands and knees to standing on two legs, and likes to sleep in sinks and wind mills, despite her adult size. She also claims she possesses a slew of catty characteristics like ultra-sharp hearing, laser night vision and fierce aversions to both dogs and water. The clincher that Nano is really a cat is seen in her You Tube video in which she says, "It's also obvious that I'm a cat when I start purring and meowing . . . Sometimes I hiss when meeting dogs in the street."
Animal Radio Episode 848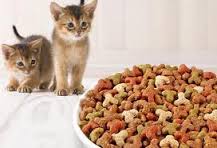 Canned vs. Kibble - Moist vs. Dry
Doc Halligan is here to settle the age-old question, should we be feeding our pets dry food or from a can? The answer may depend on many factors. Is dry kibble responsible for one of the most common problems in older male cats?
Exiled
He's still around and touring for the animals. From the band Exile (Kiss You All Over), Marlon Hargis is our guest; and saying he loves our furry friends is an understatement. He even does a benefit concert for a homeless pets and people organization.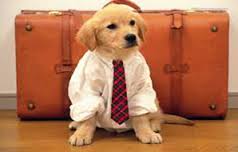 Real Estate for Animal Businesses
You may already know how hard it is to find somewhere to live with your pets. That is especially true if you live in Los Angeles. LA is where Lynsey Polacheck runs her real estate business for animal related businesses like groomers, pet hotels and even a doggy-shrink.
Canine Flu Now in 28 States
The new strain of canine flu (H3N8) was just confirmed in Missouri and Montana. There is a preventative vaccine for about $50, which is a lot cheaper than treating a dog with this strain of flu. And what about the cats? Can they get it?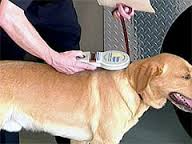 What You Need To Know About Microchips
The biggest misconception about microchips is that they contain the owner's information. Dr. Debbie sets a listener straight (or perhaps the listener sets Dr. Debbie straight) when they ask why veterinarians don't scan for stolen pets. Make sure these microchip pitfalls don't make them useless when your pet goes missing.
Animal Radio Episode 847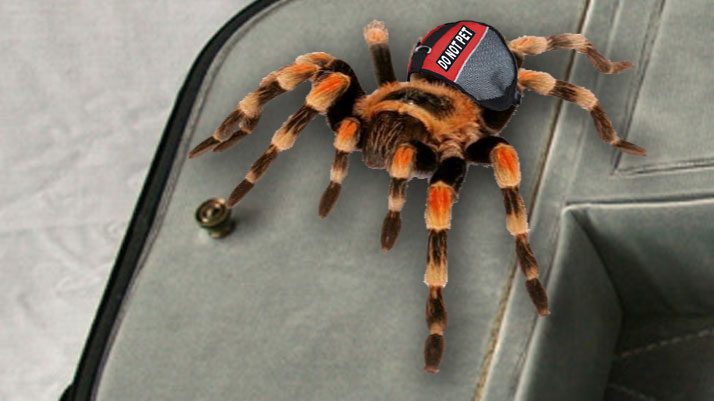 Emotional Support Animals
Often confused, there is a major difference between Emotional Support Animals and Service Animals. Lori Brooks has the lowdown on what this means for you and your Emotional Support Tarantula. Yes, he'll be able to get on a plane, but he may be legally turned away from your favorite restaurant.
Dog-napped!
Stolen pets are on the rise. It doesn't matter what breed you have. An estimated two million pets were stolen last year in the United States. That's up 32% according to the American Kennel Club. And the number of actual dogs stolen could be potentially much greater. You need to be extra careful with your furry-family or they might end up in the ugly under-belly of human nature.
Welcome the Pets in Bed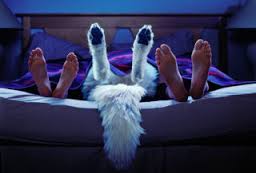 Many experts say "keep the pets out of the bed." But a recent study from the Center for Sleep Medicine at the Mayo Clinic in Arizona could change some minds. Researchers surveyed 150 sleep center patients and found that more than half of pet owners allowed their pets to sleep in the bedroom. One out of five described their pets as disruptive, but 41% said their pets were quiet and even beneficial to their nightly sleep.
Dogs in Flint, MI Test Positive for Lead Poisoning
The Flint Water Crisis has canine victims. Two dogs have tested positive for lead toxicity and more are suspected. The state is offering free test for dogs and cats that show the symptoms of lead poisoning. Unfortunately, the signs of toxicity are similar to many other diseases.
Zika Virus and Animals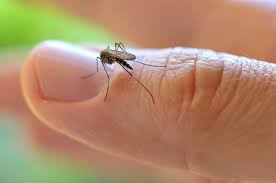 The big question this week on our toll-free phone lines is about the rapidly spreading Zika Virus - and if our pets can be affected. While there is no evidence yet that they can carry it or transmit it, the relevant question is if they can be sickened by it.
Animal Radio Episode 846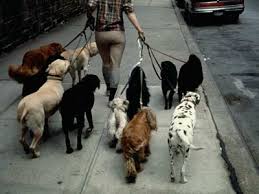 Quit Your Stupid Job
Beth Stultz of PetSit.com wants you to quit your dumb job and become a pet-sitter! She says you can make anywhere between 50,000 to a MILLION a year doing what you love. Beth will tell you how to get started.
Pet Dental Health Month
Sure, everyone is telling you to brush your pet's teeth daily. But are you? Of course not. Not because you don't care, but because it can be a tremendously complex undertaking. Doc Halligan and Joey Villani have the lowdown on brushing compliance and why it's so important for your pet's health.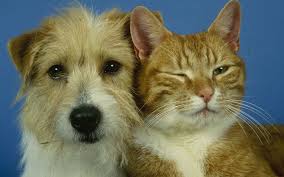 Pets and YOUR Happiness
A new survey from Manhattan College confirms that people that own pets are generally happier than those that don't. The research also goes on to back up an earlier theory that cat owners tend to be neurotic.
Goats Celebrates Broncos Super Bowl Victory
A Colorado farmer is celebrating the Denver Bronco's Superbowl victory by knitting Broncos sweaters for the 150 baby goats expected to be born on her family's 400-acre goat farm this spring.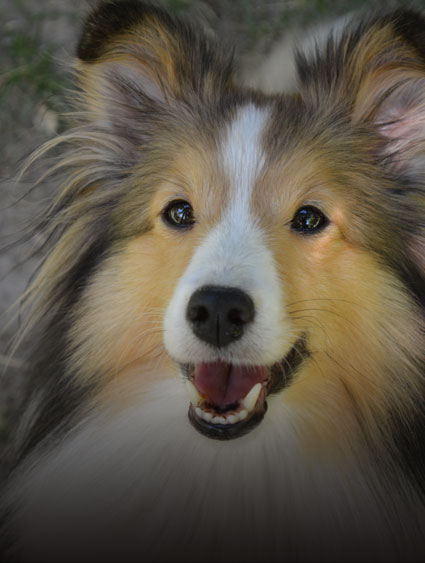 Picking a Winner
This weekend we are picking a winner for Kimpton's 5th Annual Pet Photo Contest. Some lucky pet guardian will travel on Jet Blue (with their pet) and stay at ANY Kimpton pet-friendliest property in America.
Animal Radio Episode 845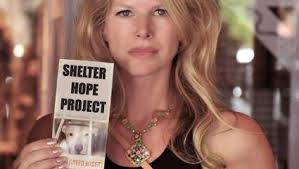 Genius Idea For Shelter Pets
Actress Kim Sill is back to tell us about her latest project. She's putting adoption stores inside malls. Kim is saving hundreds of death row cats, dogs and bunnies by changing their adoption venue to the more appealing atmosphere.
Valentine Dangers
While you may not associate Valentine's Day with pet dangers, Doc Halligan from the Lucy Pet Foundation thinks you should be extra cautious. She see more animals the day after Valentines (only third after Christmas and Halloween), usually because pets swallow something they shouldn't have.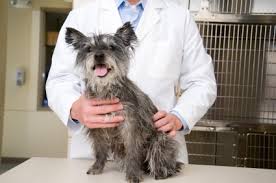 Using Dogs To Treat Cancer
Author Arlene Weintraub explains how vital the roles of dogs are in the search for a cure for cancer. Veterinarians and Oncologists are working together to discover new treatments for Cancer.
Few Pet Friendly Rentals in Los Angeles
Have you ever searched for a home or apartment to rent that allowed you to have pets? Yes, it's nearly impossible to find in Los Angeles where 62% of the rental units do not accept pets. Now, the LA City Council has voted to make some changes in hopes of making landlords more open to accepting pets at their properties.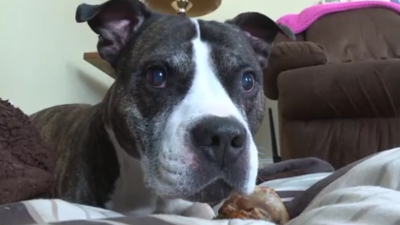 15-Year-Old, 3-Legged Dog Saves Family - Twice
A small, 15-year-old, three-legged dog might not seem like much of a threat, but this dog took a bullet for his family in Wisconsin and saved them from a man who had broken into their home and attempted to rob them. A bullet grazed the top of the dog's head and became lodged in his neck.
Animal Radio Episode 844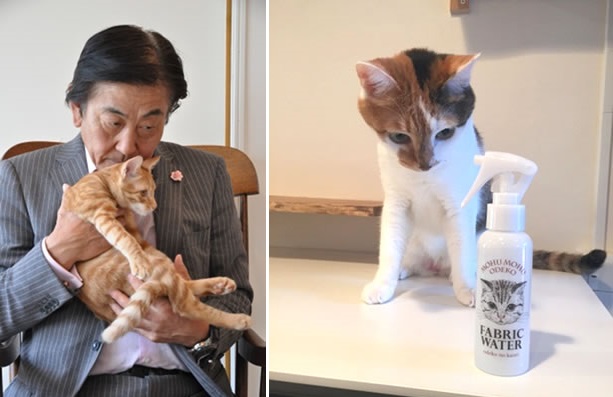 Get the Smell of Fresh Cat Head in a Bottle
Do you think the back of your cat's heads smells wonderful? A Japanese company has researched that scent, recreated it, and is now bottling it. The head of Yamamoto Perfumery spent four months doing research, sniffing many cat's heads to replicate the smell. The result? Fluffy Brow Scented Fabric Water. It can be sprayed on fabrics or anything to give them a lovely cat-head smell. A bottle sells for 1,200 yen or about $10 each.
Can Pets Commit Suicide?
Dr. Nicholas Dodman (Program Director for the Animal Behavior Department at Tufts) researched several alleged cases of pet suicide to see if it's possible. He's here to report on his findings and to answer the provocative question.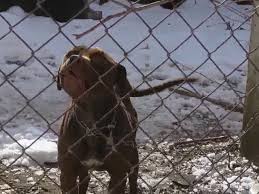 Laws to Protect Pets Left Out in the Cold
While many states mandate that pets are not allowed to be kept outdoors in extreme weather for extended periods of time without insulated housing, others barely consider hypothermia deaths to be animal cruelty. Fortunately, some states and local governments are now enforcing harsher punishments for people who allow their pets to perish in weather extremes like the recent blizzard on the east coast.
Cold Weather Tips
Doc Halligan and Dogfather Joey Villani have incredible tips for helping your furry-friends through the winter. Everything from their coat to their diet change when the weather gets frigid.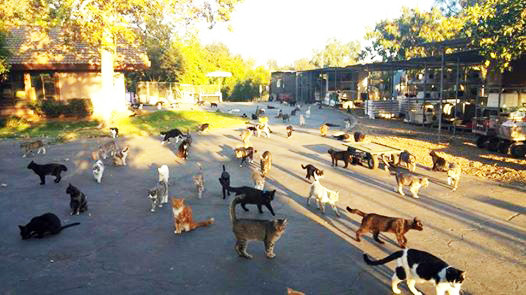 Woman Has 1000 Cats
A woman in California has 1,000 cats. But she's no hoarder. Lattanzi runs Cat House on the Kings, the largest cat sanctuary in the country. It all started when she volunteered to bottle feed kittens for a rescue back 25 years ago. Today Cat House on the Kings has 45 paid personnel who help to care for the cats and maintain the property including a veterinarian and seven vet techs are also part of the team.
Animal Radio Episode 843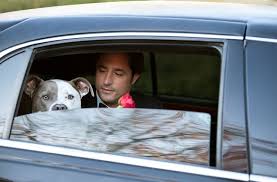 The Prince is Back!
Prince Lorenzo Borghese has returned for his second time on Animal Radio. While he never found love on ABC's The Bachelor, he did find a special love for the animals. He helps relocate homeless animals on death row in Georgia to new forever homes in Jersey.
FBI Tracks Animal Abuse
This year, for the first time, the FBI has begun tracking animal abuse the same way it tracks other major crimes such as murder, arson, and assault, so animal cruelty is now a Class A felony with its own category. Previously, animal cruelty crimes were reported to the FBI as "other." The deputy executive director of the National Sheriffs' Association backed the change when he learned that many serial killers are animal abusers first.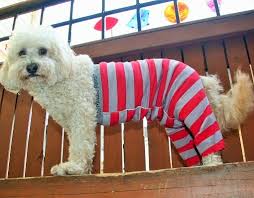 How Do Dogs Wear Pants?
Julie Korth has been making pants for dogs long before it was cool! As CEO of Mozziepants, she's following her dreams. So many questions. So little time.
Dog Flu Spreading
There is a dangerous strain of dog flu spreading through the western U.S. Health officials in the Seattle area have confirmed tests showing the virus was found in dogs who stayed at a local doggie daycare facility where at least 80 dogs developed respiratory illness since December. The virus began spreading last spring in the Chicago area and sickened more than 1,000 dogs in the Midwest. Although most dogs recover, a handful of deaths were reported. It has since spread to about 25 states.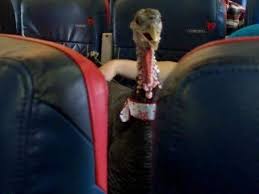 Emotional Support Turkey Flies Delta
Did you see the photo of a turkey that took the Internet by storm after boarding a Delta Airlines passenger flight? It shows the bird sitting opened beaked while being hugged by its owner. Another photo was also shared online of the turkey being transported in a wheelchair. It is believed the turkey was given a seat on the plane as an "emotional support animal."
Animal Radio Episode 842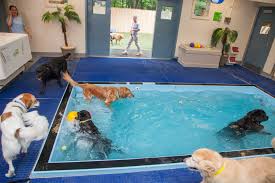 Doggie Detox
The Morris Animal Inn in Morristown, New Jersey caters ONLY to our four-legged friends. They just finished a week-long Spa Treatment and Canine Cleanse program. Pups from all over the country enjoyed smoothies, treadmill trots, meditation, nature trail hikes and massages as part of the $260 package. Debora Montgomery reports on how the program went and what you can do at home to pamper your pup.
What Your Vet Isn't Telling You
Animal Radio Veterinary Correspondent Dr. Marty Becker will tell you what information your veterinarian may be withholding; and conversely, what he/she shouldn't be telling you. We hope you have an honest and transparent vet for your pets.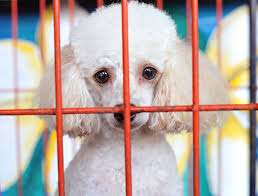 Selling Pets for Research
Buried in a massive government-spending bill is a provision that will shut down shady animal dealers who buy and sell pets for research, all paid for by your tax dollars. But, that could change if Congress does the right thing and cuts off funding to pay for licensing of so-called Class B animal dealers by the USDA. Every year, these licensed dealers work with illegal "bunchers" to round up thousands of dogs and cats that will end up in laboratories.
My Dog Has Bad Breath
If your dog's breath could melt steel; you need to hear what Dr. Debbie has to say about it. She might even have a simple solution so that those puppy kisses won't be so traumatizing.
Animal Radio Episode 841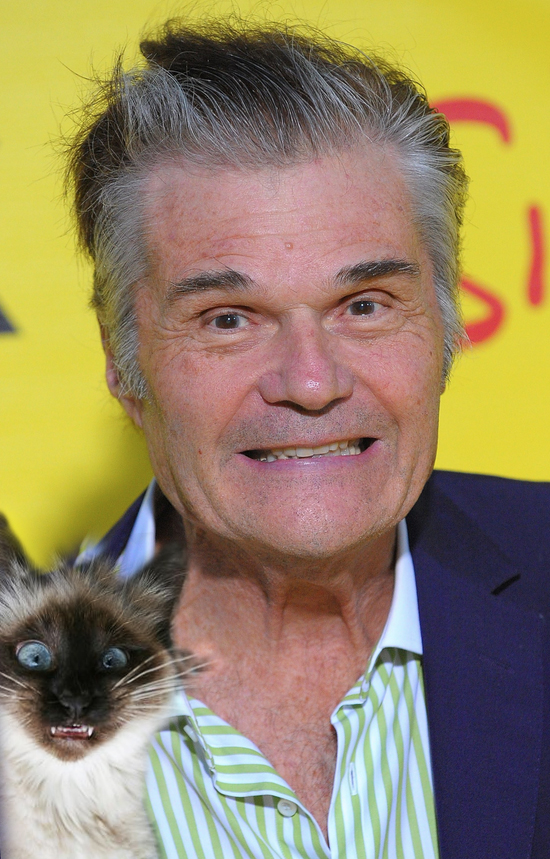 Charm School for Wayward Cats
Shawn Simons said she accidentally started herding and domesticating feral kittens for adoption. What began as a hobby has turned into one of the best rescue stories of the decade. Simons is making a difference for feral and homeless feline across Los Angeles county. She even enlists high-profile celebs to help with her cause.
5th Annual Kimpton Pet Photo Contest
Start looking for that perfect picture of your pet because the Kimpton Pet Photo Contest is about to kick off. Some lucky couple and their pet will win airfare for two adults and a pet on Jet Blue and three nights at any Kimpton property. Kimpton's Top Dog Steve Pinetti is back to explain the new ways to enter your photos.
Pets Save on Your Medical Bills
Two researchers from George Mason University in Virginia have calculated a savings of more than $11 billion in health care costs in the United States as a result of pet ownership. On average, the 132.8 million pet owners in the country visit a doctor 0.6 times less than the average non-pet owners. With the average cost of a visit to the doctor's office at $139, that calculates to more than $11 billion pet owners did not spend. Not only that, but the dog owners who walked their pet five or more times a week had a lower incidence of obesity and were responsible for saving $419 million in related health care costs, according to the study.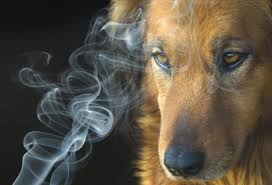 Secondhand Smoke Bad for Pets
A recent study says that dogs and cats whose humans smoke are at greater risk of cell damage, weight gain and some animal cancers. Researchers in Scotland discovered that, "An examination of the testicles removed from castrated dogs found that a gene, which acts as a marker of cell damage, was higher in dogs living in smoking homes." But if you have cats, the risk is greater because cats groom themselves, which increases the amount of smoke chemicals that enter the body.
Cat Uses Litter-box as Flotation Device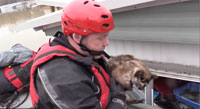 A very smart cat used its litter box to stay afloat during a devastating flood that had water almost up to the ceiling of his house trailer in Missouri. Two members of the Disaster Response Team from the Humane Society of Missouri pulled up to the trailer in a boat and were able to gently extract the wet cat from the litter box as it floated by a window inside.
Animal Radio Episode 840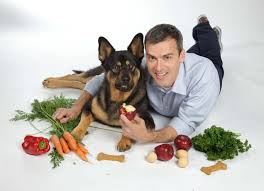 Share Your Food With Your Dog
The "Dog Food Dude," Rick Woodford is back. He says you should share your food with your dog. But doesn't that go against everything we've been taught about proper nutrition? No, not if you're doing it right.
New York May Be First State to Ban De-clawing
If Linda Rosenthal has her way; New York will be the first state to make it illegal to declaw a cat. The Manhattan assemblywoman has introduced a bill to ban the controversial procedure sometimes called de-knuckling because it's actually the entire knuckle, which is the last bone in the cat's toe that is removed. Declawing of cats is already banned in many countries, including Australia, India, Spain and the United Kingdom, as well as seven cities in California, including Los Angeles and San Francisco.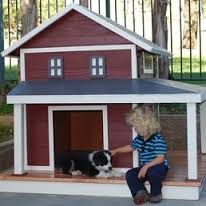 The Comeback of the Doghouse
Ask most pet owners and they'll tell you their dog sleeps in bed with them. The days of the doghouse seem to have all but disappeared. But Larry Hobbs has a booming business making high-end Eco-friendly doghouses. He'll explain why.
UK's Dogs Must Be Microchipped
Beginning in April, all dogs in England, Scotland & Wales will have to be microchipped with their owners' details registered and kept up to date in huge database to encourage "responsible pet ownership." To help people get it done, Dogs Trust, the UK's largest dog welfare charity, is offering free microchipping. It's hoped that "Compulsory microchipping will help reduce the number of lost and abandoned dogs and it will allow authorities to directly identify dog owners and hold them accountable for their dogs' behavior and welfare.
Dog Loses 100-pounds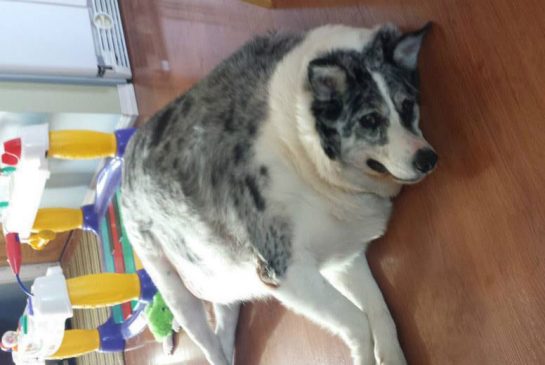 At the beginning of a new year, everyone makes a resolution to lose weight. Well, Buddy the dog has a jump on all of us after losing more than 100 pounds. Buddy the 180-pound, 6-year-old, morbidly obese Australian Shepherd spent the last 9 months dieting and now weighs 71 lbs. He lost so much weight that he underwent skin removal surgery.
Animal Radio Episode 839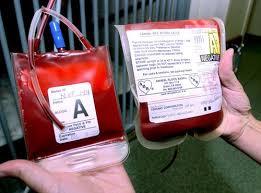 Pet Blood Banks
Nicole Humphries runs a blood bank for companion animals. She'll answer the itching question, is dog's blood different than cat's, or is a German Shepard's blood different than a Pug's? And where does all this blood come from? You never see a pet blood-mobile in the neighborhood.
Cat Escapes Carrier on Delta Flight
A mischievous cat escaped its carrier on board a Delta flight last week and to the horror of a cat fearing flight attendant, the cat roamed free in the cabin. Of course, someone caught the incident on video and it had some comical moments. The poor cat's owner fell asleep with headphones on and somehow it managed to get out of the carrier.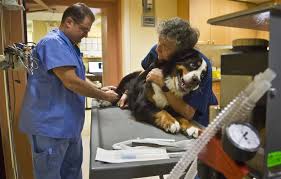 The Rising Cost of Cancer Treatment
For owners of dogs and cats stricken with cancer, expensive treatments only adds to the emotional difficulties. Just the initial cancer diagnosis can cost $2,000. A standard course of chemotherapy costs between $3,000 and $5,000. A bone marrow transplant costs between $16,000 and $25,000 and the cure rate is only about 33%. These aren't just wealthy people. Some used their life savings, and even refinanced their houses to pay for the treatments.
It's a Crime To Insult The King's Dog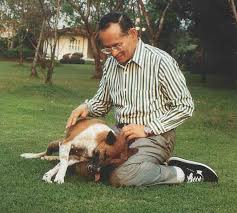 Some really strict new laws there now make it a crime to insult the Thailand monarchy and now a factory worker could go to jail for 37 years for making disparaging posts on Facebook about the king's dog. Turns out that the man was charged after making a "sarcastic" Facebook post about the dog. The 88-year-old ailing King rescued Copper from an alley and in 2002 he wrote a best selling book about her. She is so revered there that the media must address the dog as ma'am.
Animal Radio Episode 838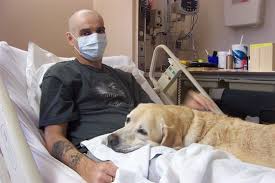 Bringing Pets Into Hospitals
Donna Jenkins is pioneering a movement to allow visitation of patient's personal pets during long-term treatment. She formed Zachary's Paw For Healing after her son passed from a terminal disease. During his final hours he requested a visit from the family pet but didn't want to sneak the dog into the cancer treatment facility.
Becker is Back
Did you get a pet for the holiday? Dr. Marty Becker is back with tips that every new puppy or kitten owner should know. These tips could save you a lot of grief.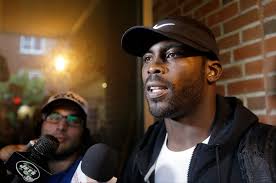 Michael Vick Lobbies for Bill to Protect Pets
Pittsburgh Steelers quarterback Michael Vick got the celebrity treatment as he visited the Pennsylvania state Capitol last week to lobby for a bill to help protect cats and dogs from being left in unattended vehicles. Vick was a star quarterback for the Atlanta Falcons when he plead guilty to federal conspiracy charges in 2007 for his role in a dog fighting ring and served nearly two years in prison. He claims to have been reformed and spoke on behalf of animals saying, "The bottom line is that all animals thrive (on) kindness and respect. They depend on us like our children depend on us."
Tests Show No Safe Travel Seats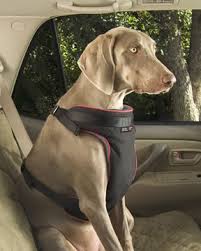 Two years ago, in a first of its kind crash test, the leading pet harnesses, which were trusted by owners, failed again and again. Now, the Center for Pet Safety is testing pet travel seats. So are there any safe pet seats? Really, the answer is No. The Director at the Center for Pet Safety says they "do not recommend pet seats at this time for pet owners" to use for their pets in cars.
Animal Radio Episode 837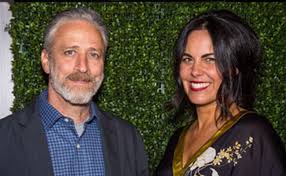 The Daily Squeal's Tracey Stewart Guests
Wife of Jon Stewart (former Daily Show host), Tracey Stewart is our guest. She reveals that Jon was behind her decision to leave the corporate world for animal welfare. She even says Jon has a special bond with their pigs. She's just released a brand new book exploring compassion towards all animals.
Wildlife Docs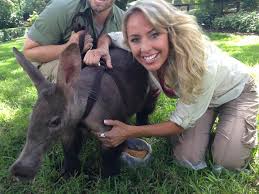 Host of ABC's Wildlife Docs, Rachel Reenstra guests. She'll tell us about her unscripted TV show following the antics and rescues at Busch Gardens. Maybe we'll even find out what she's getting her pets for the holiday.
Darwin's Dogs
Dogs were the first animals people domesticated. Sadly, they also suffer from many of the same difficult-to-treat psychiatric and neurological diseases we do. Researchers from the Darwin's Dog Project put together a series of short surveys about everything from diet to behavior to personality. Any dog can participate and it's free. Once an owner has filled out the survey, they send you a kit to collect a small saliva sample from your dog for DNA analysis and they share any information they find!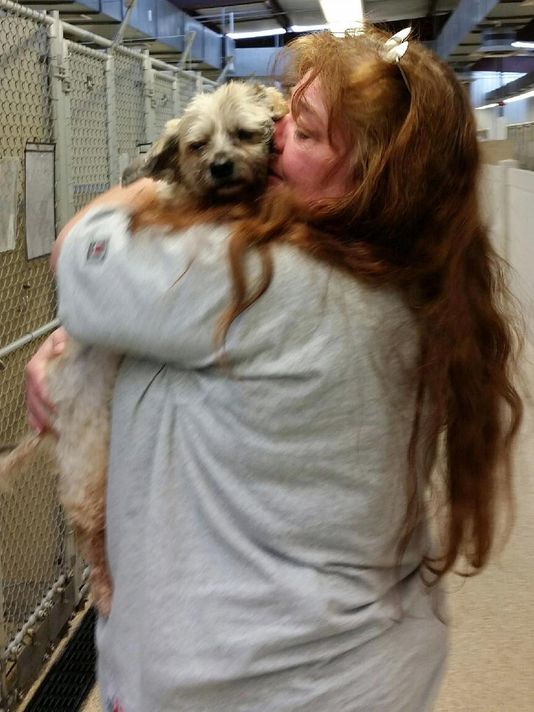 Dog Returned After SEVEN Years
Once again you can thank a microchip for reuniting a lost pet with its owner, only in this case the dog had been missing for 7 years. Little mixed breed Mishka was only 3 when she got out of her yard. She was found late last month and turned in to a shelter in Ohio where the owner used to live. She now lives in Tennessee. The shelter says it was difficult to find the dog's microchip because it is normally located between the shoulder blades, but over the years Mishka's chip had migrated to her side.
Animal Radio Episode 836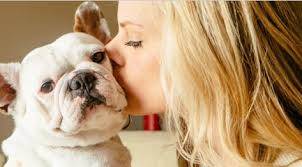 A Loss That's Hard to Explain to the Boss
Losing a furry-companion can be as upsetting (if not more) than losing a human friend. But try explaining that to most bosses and they'll laugh in your face. However, more employers are beginning to include pet bereavement leave in their employment policies. Dr. Sandra Grossman has researched this movement and will explain.
New Legislation for Retired Military Dogs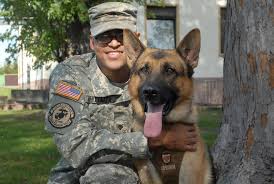 It's a great day for military heroes on both ends of the leash. A gigantic defense spending bill was recently signed including a provision that will allow U.S. military dogs to be returned to the United States upon their retirement and gives their military handlers first chance to adopt them!
World's Largest Cloning Factory
The world's largest animal cloning factory is under construction in China, with plans to churn out pets, police dogs, racehorses and beef cattle, to be sold on the open market on an industrial scale.
Children with Pets Have Less Anxiety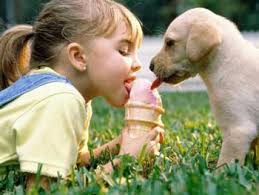 A new study validates that finding that having a dog to cuddle up to and play with is good for children and are less likely to suffer from anxiety because of it.
Traveling with Your Pet
Animal Radio Veterinary Correspondent Dr. Marty Becker has three things you should bring when you travel with your pet. He'll help you curb the anxiety and motion sickness associated with pet travel.
Dog Shoots Wedding Video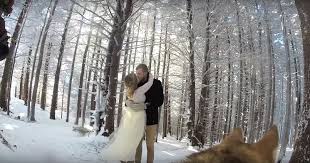 On their one-year anniversary, this couple released the most beautiful wedding video to ever be filmed - by a dog. Josh and Addie Burnette strapped a GoPro camera to the collar of their dog Ryder on their wedding day. The result? A two-minute video capturing the most important moments of the day from a "dogs eye view." See The Video
Animal Radio Episode 835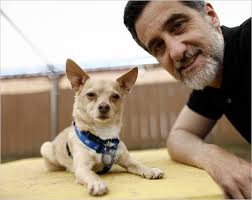 From Wags To Riches
You've most likely seen his work on film even if you don't recognize him. Bill Berloni is an animal trainer for stage and screen. His reality series on the Discovery Channel follows him around as he trains animals from the shelter for TV and movies.
Deadly Old Wives Tales
Dr. Debbie says using Chewing Tobacco to worm your pet could kill them. Still, that's one of the more popular Internet home remedies for pets. Please don't rely on Dr. Google to treat your pets for any sickness or disease. It could easily lead you down the wrong treatment path.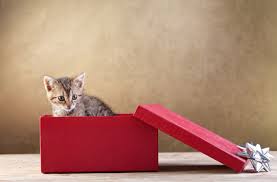 ASPCA Changes Stance On Pet As Gifts
A few years ago, pictures of all kinds of pets in overcrowded animal shelters filled social media as a warning against giving pets as Christmas presents. The ASPCA was just one of several organizations against the idea. However, they've changed their tone. Recently, the ASPCA conducted a survey to learn more about people who acquire pets as gifts. The vast majority of these pets are still in the home.
Canine Motion Sickness
Just like humans, dogs can also get sick in the car. But the reasons may be different. Dr. Debbie will help you determine the best way to approach this common problem. There are even medicines that are indicated for canine motion sickness.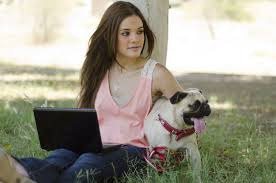 Using Pets As "Date Bait"
A new survey reveals that owning a dog boosts a man's sex appeal and 1 in 5 people admit to using their pets as 'date bait.' The survey conducted by Match.com also found 1/3 of women and 1/4 of men have been attracted to someone because of their pet. Nearly 50% of the women said they judged potential partners on how they responded to their pet. 54% of men said they wouldn't date someone who didn't like pets.
Animal Radio Episode 834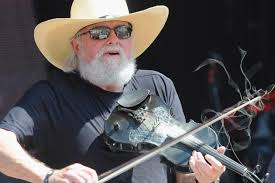 Charlie Daniels Guests
Probably one of the best Country music performers of our time, Charlie Daniels is our special guest. He raises Quarter Horses and pines for a dog after his tour is over. He's 79 years old and sharp as a fiddle. In fact, he's a self-taught fiddler.
Women Who Still Love Cats Too Much
Allia Zobel Nolan is a self-proclaimed "crazy cat lady." She ought to know, she wrote a book on the subject. You'll be shocked when you hear the bizarre things she's done in the name of cat-dom.
Microchip Saves The Day, Again.
Disco the dog has been returned to her owner and home in Australia because she was chipped. Disco had been missing for 5 long years! The dog was initially found by an "elderly couple," and given to a younger family. During her time with the family, Disco was attacked by another dog and was surrendered to an animal hospital because they couldn't afford the vet bills. Luckily the hospital checked for a microchip. Dog and owner were reunited.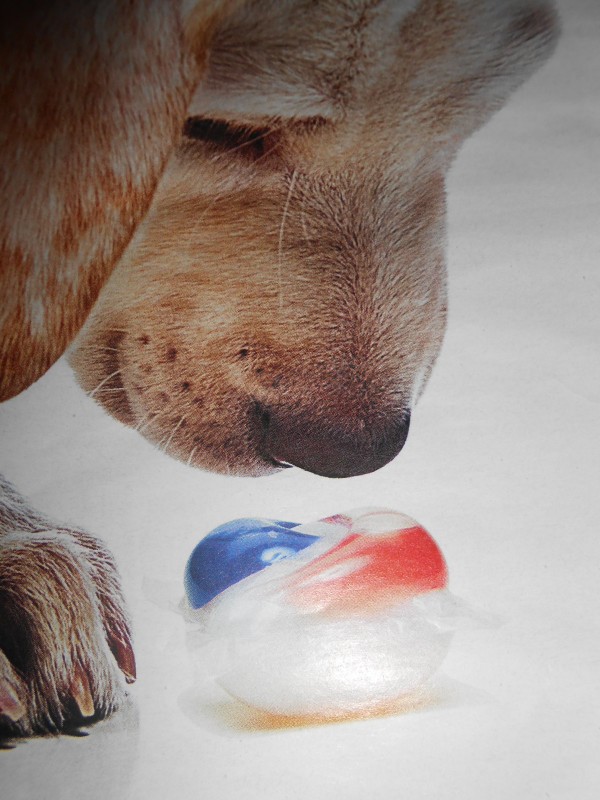 Laundry "Pods" Problematic
The Animal Poison Control Center has put out the alert. Those little laundry detergent jelly-like things called pods can pose a serious danger to pets if they're swallowed. Because they're small, soft, and usually come in bright colors they may be tempting to pets. They contain detergents that can cause major stomach upset and irritation to an animal's upper airway if ingested.
Animal Radio Episode 833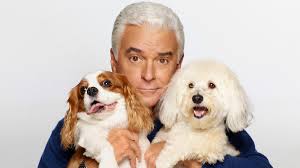 John O'Hurley is Back
Co-host of NBC's Thanksgiving Day National Dog Show; actor John O'Hurley (J. Peterman on Seinfeld) is back for the 14th year to share fun stories about the dogs in his life. He'll also take a stab at pronouncing the new breed names in this year's Thanksgiving Day show.
Country Star Tanya Tucker Guests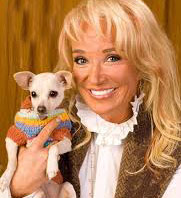 Musician Tanya Tucker joins the Thanksgiving celebration live from Nashville. She has a menagerie of animals and plenty of anecdotes to go around. This is the first time for her on Animal RadioÔÇŽwe'll be gentle. But this ain't her first rodeo.
Banning Shock Collars
The Scottish government is asking residents there for their opinions on electric shock collars, used to train cats and dogs, and if they believe the collars should be banned. Wales, Sweden, Denmark and Germany have already banned shock collars, but supporters of them say they can be used successfully as a last resort - and have compared the pain inflicted to a static shock. Meanwhile, shock-collars are still legal in the United States; the usefulness is still in question. Sometimes a dog will "take the hit" if his/her drive is high.
My Cat from Hell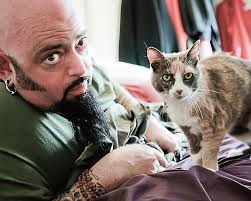 Animal Planet host, Jackson Galaxy is back to yap about his awesome new book. Jackson and Kate (his partner in crime) will show you how to make your house cat-friendly without forsaking aesthetics.
Animal Radio Episode 832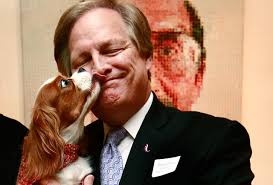 NBC's David Frei is Back
Co-host of NBC's Thanksgiving Day National Dog Show; David Frei is back for the 14th year in a row to celebrate all the new breeds you'll be seeing on the worldwide TV special.
America's Got Talent Loser Wins
Comedian Doogie Horner was almost booed off the stage on America's Got Talent. He was able to turn the boos into cheers. He's riding high with a brand new book featuring fictional feline stories.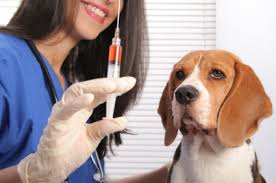 To Vaccinate or Not To Vaccinate
People who embrace the anti-vaccination movement and forego immunization for themselves or their children against certain human diseases are in some cases extending their attitude to pets. So you can be a pet or a people anti-vaxer these days. A number of veterinary clinics now say they have clients who refuse vaccinations for their dogs or cats. In some cases people don't want to vaccinate their dogs because they're scared that the vaccine will harm the animal.
Halloween Stats Are In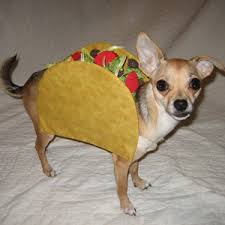 Americans spent $350,000,000 on pet costumes this last year. The top 10 states where people live that are most likely to dress up their dog in a costume is Virginia, where 64% of residents dress dogs in costumes, followed by New Jersey, Pennsylvania, South Carolina, Missouri, Ohio, New York, Wisconsin, Michigan and Oklahoma.
Animal Radio Episode 831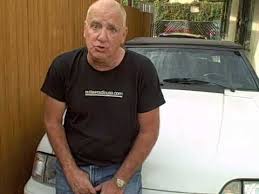 Comedian Kip Addotta is Back
Legendary Comedian Kip Addotta knows a lot about animals. Especially cats. The love of his life was "Harley," a kitty that lived 23 years. Kip will tell us the secrets to feline longevity as well as some of his secret flea remedies. He says "I loved my cat, Harley! People ask me if I had Harley declawed. Well, I would never have a cat declawed, because claws are a cat's only line of defense, and I can get pretty drunk!"
Find Your Lost Dog Using A Facial Recognition App
There are many apps for finding lost pets, but a new one has gone a step further by using facial recognition software. It's called FindingRover.com and it matches eight distinctive facial markers on dogs with images uploaded by people searching for lost pets. Eyes and noses are important areas to help tell dogs apart; especially the eye size and how the eyes are positioned near the snout.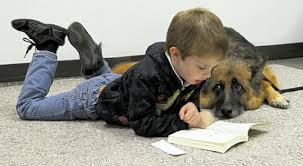 Do Animal's Improve Student's Reading Skills
Human Animal Bond Research Initiative is giving $13,000 to answer the question: Does reading aloud to a classroom pet such as a rabbit help to improve students' reading skills?  Experts say the human-animal bond can lessen the stress young children sometimes feel in the classroom, and believe it will show classroom interactions with rabbits and guinea pigs will improve students' oral fluency and reading comprehension.
Therapy Dog Loses Certification Over Costumes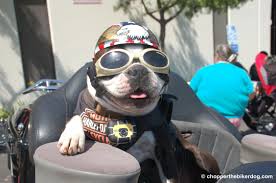 A Pet Partners certified therapy dog has lost that certification because the organization the organization says it found the Boston Terrier's biker costume to be a "safety concern."  5-year-old Chopper has put in several years volunteering in San Diego-area hospitals and senior centers on his mini-motorcycle. Chopper's owner says Pet Partners told him it was concerned about "the perception Chopper may be creating in the community with regard to therapy animals."
Animal Radio Episode 830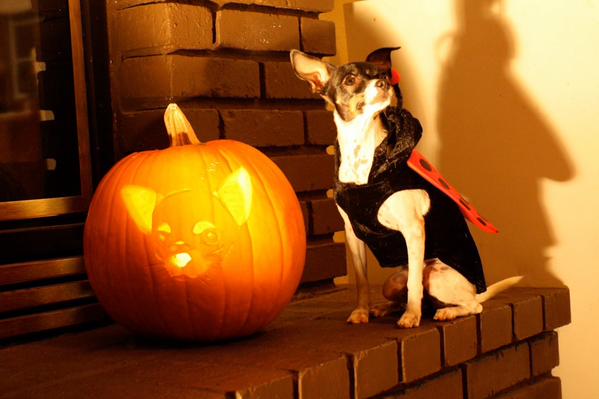 Having A Safe Halloween
Halloween can be a fun time for your pets. But some animals just aren't cut out for the holiday and would be safer cuddled inside on the night of trickery.
Rodent Traps a Pet Hazard
There's a warning for pet owners after a cat was found with its head stuck in a rodent trap. The cat, which was seriously injured, was caught in a Fenn Trap, meant for squirrels and rats. Luckily the cat was found and rescued by a Good Samaritan. Since the incident last month, the SPCA is now calling on people to be aware that setting these traps could be breaking the law.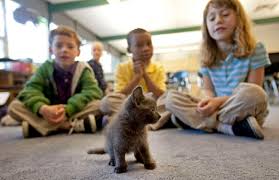 Pets In The Classroom Have A Profound Impact
A new study reveals having a pet in the classroom may provide real educational value through leadership skills and character building. Despite some of the challenges to having classroom pet, such as coping with loss and teachers spending their own money to care for the pet, the study found six objectives proving the benefit of caring for a classroom pet, like teaching children responsibility compassion, empathy, respect and leadership through animal care and providing relaxation when children are stressed.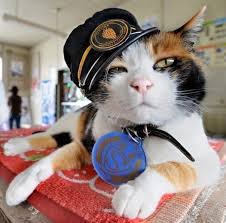 Cats With Jobs
Author Lisa Rogek has found 50 cats that have jobs. This isn't easy. Cats are notoriously not workers, unlike dogs. From Grumpy Cat to Kitty Models, Lisa will share the stories behind these frolicking felines.
FREE Happy Healthy Dog Summit
The Healthy Happy Dog Summit will train YOU to provide the happiest, healthiest life possible for your pup! You'll see 30 world experts including Sonya Fitzpatrick (Animal Communication), Victoria Stillwell (Puppies 101) and Dr. Nicholas Dodman (How Dogs and People Communicate). The Happy Healthy Dog Summit is ONLINE and FREE. Learn more at: https://animalradio.com/SUMMIT.
Animal Radio Episode 829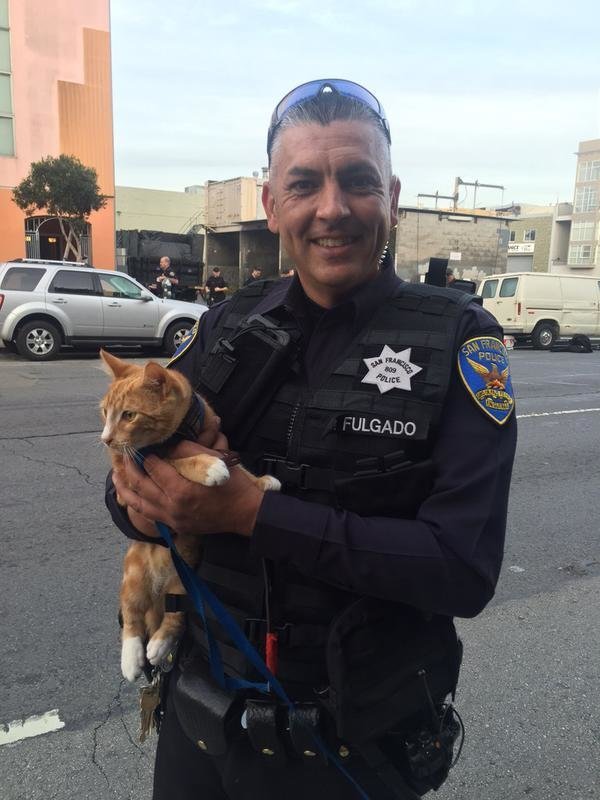 Cat Thwarts Suicide Attempt
San Francisco Police spent hours trying to convince a jumper not to jump. It wasn't until the officers brought in the jumper's tabby cat that the standoff ended. Never underestimate the bond between people and their pets.
Pet Obesity Continues To GROW
Being overweight can seriously impact our health and that of our pets. The Association for Pet Obesity estimates that nearly 54% of cats and dogs in the US are overweight or obese. Lori Brooks has tips to tell if your pet is a healthy weight. We'll also discuss the safest methods for lowering your pets caloric intake and increasing exercise.
Anonymous Hero Saves Dog
An anonymous real life hero saved the life of a dog that was trapped inside a burning home this week in Tennessee.  As someone who witnessed it describes it said, "This guy in a gray mustang pulls up says, 'I do this for a living,' and he runs in and he comes out about two minutes later with this beautiful dog in his arms." Less than a minute later the roof of the home caved in.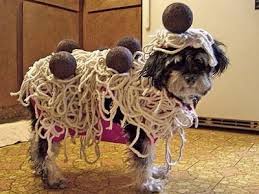 Halloween Pet Hazards
Pets often find it truly scary during this time of year. The things that make Halloween a treat for people can overwhelm many pets. Some parts of Halloween can even be dangerous. On the other hand, some pets absolutely love the holiday. There's no shortage of dogs and cats that love the attention and adulation they receive in their costume. We'll help you determine which side of the scale your pets find most comfortable. Dr. Debbie sees more patients the day after Halloween. She'll explain why and what you can do to avoid the vet.
FREE Happy Healthy Dog Summit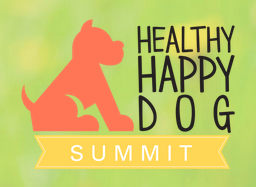 The Healthy Happy Dog Summit will train YOU to provide the happiest, healthiest life possible for your pup! You'll see 30 world experts including Sonya Fitzpatrick (Animal Communication), Victoria Stillwell (Puppies 101) and Dr. Nicholas Dodman (How Dogs and People Communicate). The Happy Healthy Dog Summit is ONLINE and FREE. Learn more at https://animalradio.com/SUMMIT.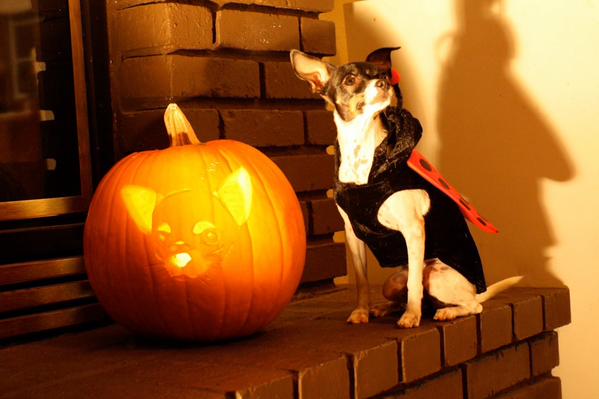 Download the Chihuahua Pumpkin Stencil
Animal Radio Episode 828

Secret Lives Of Bats
When you mention bats, most people shutter. Dr. Merlin Tuttle believes bats are misunderstood and that in many countries, they're a welcome friend. Oh, he also says without bats there would be no tequila. Just sayin'
Trendy Pet Costumes
Some pets really like to be dressed up for Halloween, or so we think. Wonder Costumes' Chris Yandek has a list of the most popular pet costumes and you can rest-assured the worthy "Minion" is on it.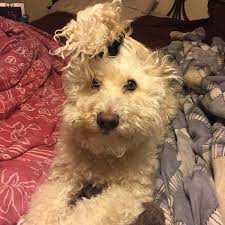 Just Say No To Dog Buns
Odd animal trends like the "dog bun" could actually harm your pet. If you haven't seen photos of this yet, it's where a dog's hair is gathered into a bun on top of its head. Veterinary experts say pulling a dog's ears up like that can damage the ear, causing wounds, cuts, which then risk the chance of being infected.
Stealing Cat Owned By Cop
How funny is it that a police Sergeant in Oregon owns a cat that loves to steal? After sharing the antics of his thieving cat with his fellow police officers, the sergeant has created a Facebook page for his cat Tigger whom he affectionately calls "Kleptokitty." Tigger has been stealing for many years. He brings home everything from socks to old fast food boxes and even a small bag of marijuana.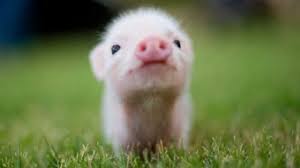 Micro Pigs
Tiny pigs, which were created by scientists in China using new genetic editing techniques, are to be sold as pets in the near future and the prospect has triggered a furious debate between animal rights groups and scientists.

Read MoreÔÇŽ
Animal Radio Episode 827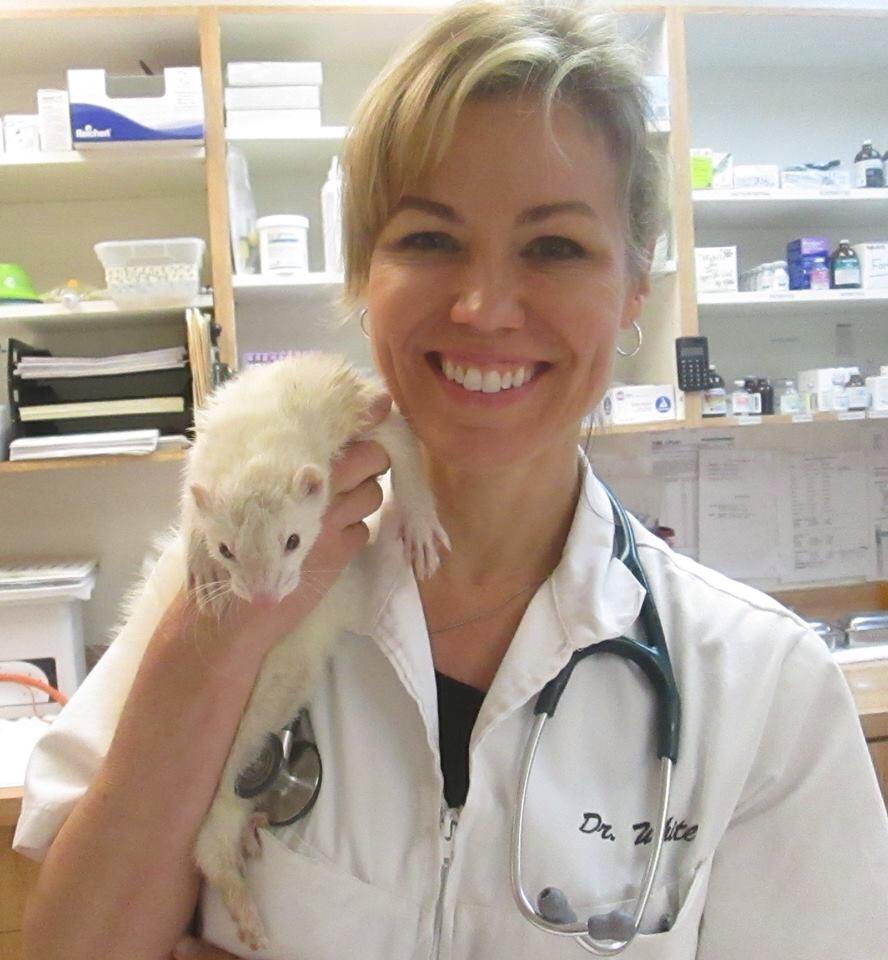 Non-Chemical Flea Remedies
Dogfather Joey Villani and Dr. Debbie address concerns over chemical spot-on flea treatments. They have great alternatives that can safely remove those pesky parasites. They'll also bust some myths.
Blessing Your Pets
Grab your pets and bring'em around the radio for our annual "Blessing of the Animals" performed by the extra charismatic Dr. James Capers. Our virtual ceremony celebrates the pets in our lives.
Most Unusual Pet Insurance Claims
The "most unusual" pet insurance claim is sought each year with the announcement of the nominees for the Hambone Award by Nationwide Insurance. One of the favorites to win this year is Jackie, a terrier mix in Indiana that needed X-rays and laxatives after she figured out how to open the family's junk drawer and ate all of its contents, including a medicine bottle, a bottle of perfume and a pair of sunglasses.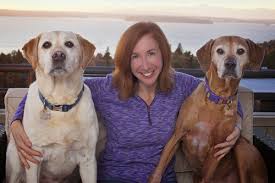 My Old Dog
Laura Coffey created a coffee-table book that features senior dogs with "second-acts." These senior dogs could've wasted away at the shelter waiting for adoption, but instead they are going on to live resourceful and happy lives with a second or third guardian. Senior pets make great friends!
Dolphin-Assisted Human Births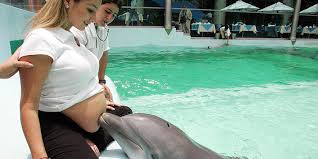 Dolphin-assisted birth, is a new trend growing in popularity. One woman in Hawaii plans to deliver their baby in the Pacific Ocean off the Hawaiian coast. They plan on having a flippered midwife showing up to help. There is a You Tube video about this fad and believe it or not, the mother to be thought her baby would be able to "speak dolphin" as a result of immediate exposure to the animals.

Read MoreÔÇŽ
Animal Radio Episode 826

Tips for Selling Your Pet-Friendly Home
Chicago Realtor Jason Feldman specializes in selling homes to and for pet-owners. If you're trying to sell your home after many years of "pet-life," he'll have tips for making it more appealing to the buyer. He says sometimes pet-owners become immune to the smell, so it's advisable to bring in a third party to assess the situation.
Accessorizing Your Pet
Joey Villani (The Dogfather) reviews the last grooming trade show and the strange accessories including fake eyelashes for your dog, fingernail polish and wigs. Some might think this is for the hardened pet lover who may be just a little nutty for their pet. And they're probably right.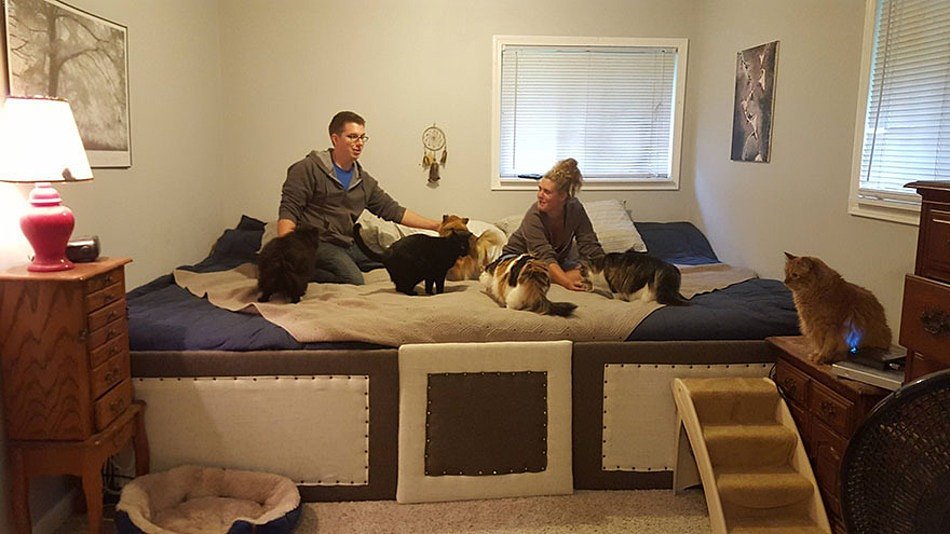 Couple Makes Extra Large Bed for Themselves AND Their Pets
Have you ever known an animal that didn't want to sleep in the bed with you? Neither do we. So how lucky are this couple's five cats and two dogs? They made a gigantic 11-foot wide bed that takes up most of their bedroom, but is big enough to share with all of their pets!
Another County Bans Puppy Mill Sales at Pet Stores
Camden County, New Jersey has voted unanimously to prohibit pet stores from selling animals from puppy mills. The representatives say they are standing up for animals of their county and want to ensure no one is profiting off the inhumane treatment of puppy mills. Several other counties and towns have inquired about the legislation and enacting it in their areas.

Infant Exposed To Pets Have Less Allergies
A new study has found that, infants who share a home with furry pets were found to share some of the animals' gut bacteria - which might possibly explain why exposing children to animals early in life may protect kids against some allergies.
Animal Radio Episode 825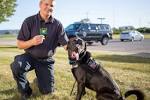 The Dog That Put Subway's Jared Behind Bars
Dennis Clark tells us how he trained the dog that sniffed out the thumb-drive with Jared Fogle's child pornography on it. Training a dog to smell electronics can't be easy. Dennis will explain what type of dog it takes to smell pirated DVDs in import containers.
You Need More Sleep
Francesco Marciuliano is back for more abuse. The writer for the "Sally Forth" syndicated comic strip moonlights as a writer of satirical cat and dog books. His latest, "You Need More Sleep" has advice from cats for humans. We'll have giveaways of his new book.
China Bad - Mexico Good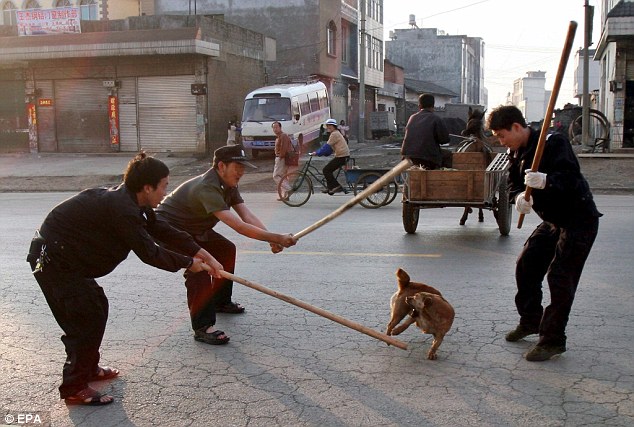 From the Good News/Bad News Department: Chinese officials in Jinan have ordered all dogs to be outlawed. They've asked owners to dispose of their dogs or they city will come and bludgeon the dog's to death. In Mexico, the once iconic bullfighting is becoming extinct. Coahuila becomes the third state in Mexico to ban the sport.
My Dog's Cell Phone
Imagine receiving a bill from Verizon for calls you didn't make. Then upon closer examination, the bill is actually addressed to your dog. That's exactly what happened and don't you know it'll be a mess to clean up when the phone company finally admits their error. Britt Savage reports.

How Do Companion Animals Effect Seniors?
The Human Animal Bond Research Initiative has awarded a $43,000 grant for a new study to explore how companion animals effect social engagement and psychological well-being in adults ages 55+. With 75 million baby boomers entering mid and later adulthood it is vital to understand how everything, including pets, can improve their lives.
Animal Radio Episode 824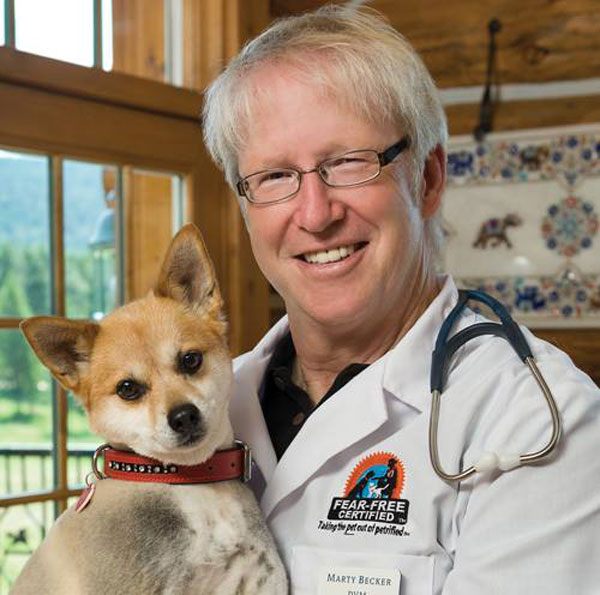 5 Signs You Need To Get To The Vet ASAP!
Animal Radio Veterinary Correspondent Dr. Marty Becker counts down the top 5 things to look out for that indicate a health emergency for your pet.
Patient Compliance
More than half of pet owners disregard instruction for medicating their pets as prescribed by their vet. This can have horrific results, especially where antibiotics are concerned. Doc Halligan has tips on easily pilling your pet.
Your Cat Probably Doesn't Miss You When You're Away
According to a new study that observed the relationships between a number of cats and their owners, domestic cats do not generally see their owners as a focus of safety and security in the same way that dogs do.



Lost Pet Recovery
Donna Lewis is a Lost Pet Recovery Expert for LostMyDoggie.com & LostMyKitty.com. This nationwide service will automatically dial all the phones within the radius of the lost pet alerting neighbors. Does this work? The service claims an 85% success rate. If you've lost your pet and have the cash, then this might be a good solution.
Guy Adds Two-Headed Snake to His Two-Headed Collection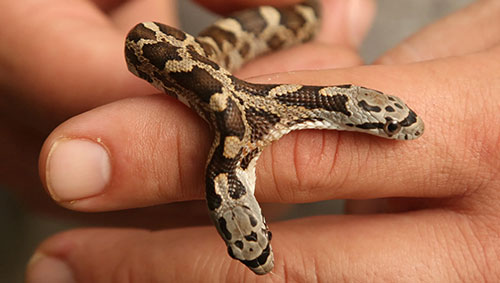 A west coast freak show owner who paid $50,000 for "Medusa", a three-foot-long, 4-year-old two-headed Honduran Milk snake born in Florida, recently purchased a rare two-headed albino snake. The proud new owner says he's wanted the snake since the day it was born four years ago, but price just kept getting higher." By the way, this guy currently holds a Guinness World Record for having the biggest collection of two-headed animals.
Animal Radio Episode 823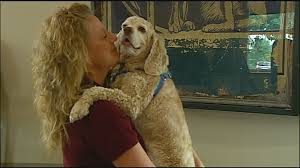 Using Pets To Teach Anti-Bullying
Allison Basinger from the Kansas City based "Wayside Waifs" animal welfare organization is on the cutting edge of the anti-bullying education movement. She's using her dogs, Justice and Paxton to help 3 through 5 graders learn a more compassionate lifestyle.
Get Your Licks
The host of CBS's Lucky Dog, Brandon McMillan, the cast of The Young and The Restless and Susan Sims are in Los Angeles to kick-off the 7th Annual "Get Your Licks On Route 66" Adoption Tour. There's no better time than now to find your forever friend.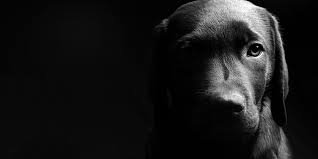 Black Dog Syndrome
While there is no hard evidence to back Black Dog Syndrome, it is largely felt that black animals take a back seat when it comes to adoption. Pet Photographer Fred Levy believes it's because they are hard to photograph and don't look desirable online photos. He'll have tips for photographing your black dog or cat.
Selecting A New Car With Your Pet In Mind
So who influences you when you need to buy a car? According to Auto-trader, more than half of America's 54 million dog owners consider buying a vehicle based on its ability to accommodate their best friend, which is their dog. The list includes cars with features pet owners need, like fold-flat rear seats, rear lift gate, under-floor storage and rear climate control. There are 9 cars on the list and we'll tell you what they are.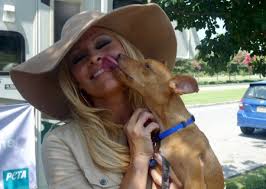 Pamela Anderson Says Company is Not Cruelty-Free
Actress and animal-rights actress Pamela Anderson has written a letter to MAC Cosmetics owner and friend John Demsey expressing disappointment in the brand for testing on animals. Anderson used to be a spokesperson for the brand, but recently learned that the supposedly cruelty-free brand admittedly tests on animals where it is "required by law," like in China.
Animal Radio Episode 822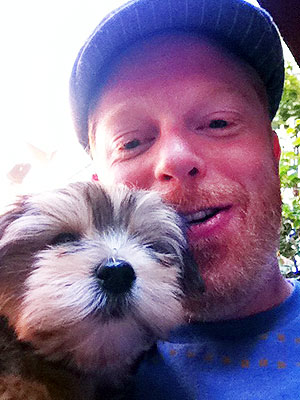 Modern Family's Jesse Tyler Ferguson Guests
He may play an uptight lawyer on the hit ABC sitcom, but in real life he's an avid pet lover and parent of two dogs, "Leaf" and "Fennel." Jesse will share personal stories of how he and his partner spoil their pups.
New Pet-Safe Anti-Freeze
Every year, some 90,000 pets and wild animals along with 5,000 humans are poisoned by antifreeze because Ethylene glycol, the main ingredient in antifreeze and deicers. But there's been a discovery of a new antifreeze ingredient that works better than the old stuff, and it's non toxic! The new ingredient is Propylene glycol, a food additive, which is "generally recognized as safe" by the USDA, and it cools car engines 60-percent better than the old stuff!
Do Animals Improve Student's Reading Skills?
Experts say the human-animal bond can lessen the stress young children sometimes feel in the classroom, and believe classroom interactions with rabbits and guinea pigs will improve students' oral fluency and reading comprehension.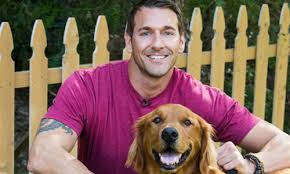 Lucky Dog
The host of CBS's Lucky Dog, Brandon McMillan is back and he's getting ready to kick off the 7th Annual "Get Your Licks on Route 66" Adoption Tour. Along with Fido Friendly, Animal Radio is proud to be a part of this life-saving tour across America. We'll be stopping at shelters all along the infamous highway and spreading the joy with all kinds of goodies for you and your pets. We'll also be introducing you to dogs and cats available in your city. Learn more at: http://GetYourLicks.com. Come join us and find your new forever friend.
Jobs For Dogs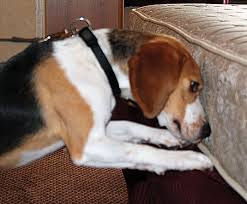 We'll take a look at all the different service-dogs and what they've been trained to do. Some can smell when a person is about to have a seizure, others can retrieve a phone in an emergency. There's even dogs that have been trained to sniff out bedbugs.
Animal Radio Episode 821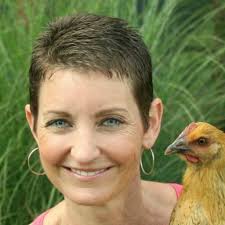 The Chicken Chick
Chickens are more popular than ever in urban settings and as pets. By popular demand, we're having the Chicken Chick on the show to share her vast chicken knowledge. Even if you aren't considering a fowl friend, Kathy Mormino will amuse and educate.
Photographing Your Pet
Amanda Jones is one of the top best pet photographers in the nation. Her last collaboration is a coffee-table book with 30 dogs photographed during their youth and again in their senior years. It's a compelling contrast between puppy-hood and a dog's golden years. Amanda will have tips for photographing your pet.
Oldest Living Cat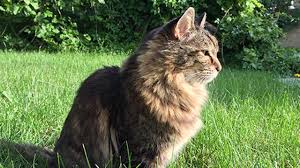 A 26-year-old cat named Corduroy has been named the oldest living cat by Guinness. His owner has had him since he was a kitten and she was only 7. Though Corduroy is now the oldest living cat on record, he is not the oldest domestic cat to have ever lived, that designation belongs to Creme Puff, who lived to the awe-inspiring age of 38 years and 3 days.
All Pet Store Dogs Must Come From Shelters
Earlier this month a federal judge in Phoenix, Arizona upheld a city law requiring that all dogs sold in pet stores must come from shelters, which will also help to relieve shelter overcrowding. Phoenix is one of about 60 cities in the U.S. that have similar laws designed to put an end to puppy mills by driving potential pet buyers toward homeless animals.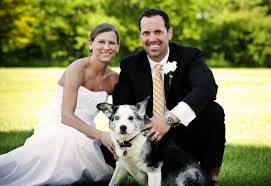 Custody Battle Over Pets
Dr. Debbie has the top things you need to know when battling for custody over a pet. It's best to consider how it will affect your furry friend. The law doesn't always favor the pet in such battles. Some couples even stay together, just for the pet.
Animal Radio Episode 820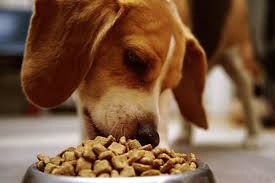 How To Pick A Pet Food
Lucy Pet Foundation's Doc Halligan has what you need to know in order to pick the best food for your pet and your budget. Just because it's expensive doesn't mean it's good. You'll learn how to read the label.
Things Your Vet Wished You Worried About More
Animal Radio Veterinary Correspondent Dr. Marty Becker has a list of things he wishes his clients would pay more attention to than they do. He'll also tell you what you unnecessarily worry too much about.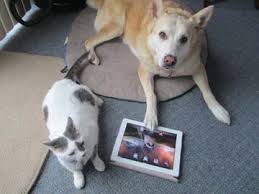 Pets Destroy Eight Million Electronic Devices
A new study says American pets have bitten, chewed or damaged at least 8-million electronic devices! All that damage caused an estimated $3 billion in repair and replacement costs! Researchers found 1/3rd of the damaged devices were smart-phones; 2/3rds of the incidents happened when the pet was not being supervised. And interestingly, male pets are 50% more likely than female pets to damage electronic devices.
Pets May Be Breeding Ground For MRSA
A new study suggests family pets might actually be reservoirs for Methicillin-resistant Staphylococcus aureus, or MRSA. Researchers believe pets might be an important factor behind the increase of MRSA outbreaks.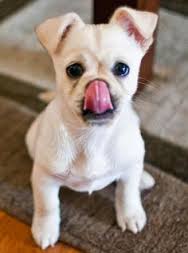 Healthiest Breeds
Pet Breeds compiled a list of 33 dog breeds that either have a clean health record, or are associated with only one, two or three health problems at most. And, the top seven have NO major or minor health concerns at all. They are...
Read MoreÔÇŽ
Next Week: Amanda Jones - Kathy Mormino (AKA: The Chicken Chick) - Kat Smith
Animal Radio Episode 819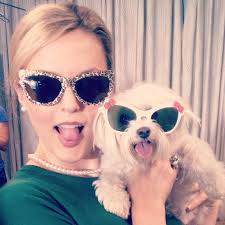 Elaine Hendrix Guests
From the hit FX television show, Sex and Drugs and Rock and Roll, Elaine Hendrix is Animal Radio's special guest this week. During the day she's an actress, during the evenings she's an animal advocate.
Learning CPR for Your Pet
Melanie Monteiro just released an incredible 3-hour online course to educate pet-guardians about CPR and other emergency care. Covering everything from bloat to car accidents, she'll teach you what you need to know to save your pet's life!
Vetting Your Groomer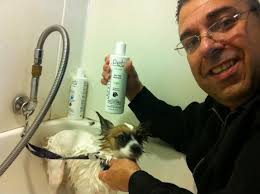 Animal Radio's "Dogfather" Joey Villani is on the cutting edge of legislation to regulate the pet-grooming industry. Until laws are in effect, he wants you to know how to tell a good groomer from bad. He'll tell you what red flags to look out for.
Scammer Offers to Find Lost Pets for a Fee
Pets FBI Ohio and its 50 volunteers, which reunite lost pets with their owners, are having trouble solving a case where a scammer is taking advantage of worried pet parents. Be warned that his individual calls people who have lost a pet and says he will help find the pet and claims he's with Pet FBI Ohio.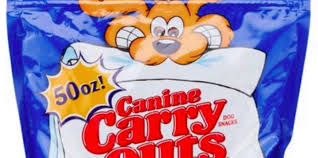 Canine Carry-Outs Falls Prey To Hoax
Viral Internet stories claiming that the pet food treat "Canine Carry-Outs" has the same ingredients as anti-freeze are simply erroneous. Dr. Debbie explains the hoax to curious listeners.
Animal Radio Episode 818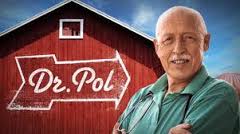 The Incredible Dr. Pol
Nat Geo Wild's Dr. Pol returns to Animal Radio® airwaves with stories from his intriguing life. He'll talk about how surreal it is to see his face on comic books and a gaming app.
Saved In America
Actress Kim Sill took a camera and went undercover to show America the two biggest and nastiest lies about the pet welfare industry. She'll explain where pet stores get their animals and what the big welfare agencies, like the ASPCA, HSUS, AHA and Best Friends, do with your donations.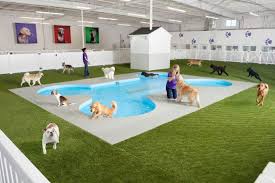 JFK Building Animal Terminal
JFK Airport broke ground on a new 48 million dollar terminal specifically for animals. It'll boast a canine hotel where you can board your dog for $100 a night. It includes a flat screen TV and a bone shaped swimming pool. Doc Halligan has the latest on the 178,000 square foot facility.
Crash Test Dogs Test Crates & Carriers
The latest crash test research on pet carriers and crates has been released. The Center for Pet Safety and Subaru worked together with a NASA engineer to create specially designed crash test dog dummies for the study. Fourteen products in all were tested and Lori Brooks reports on the three that performed the best.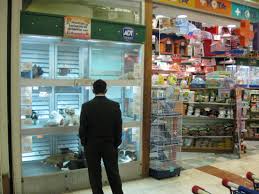 New Regulations for Pet Store Puppies
Illinois is the first to enact laws where pet store-owners must disclose to prospective customers actual pictures of the mother of the pet for sale as well as the facility where the animal was born and raised AND the number of animals kept by that kennel. Penalties for violations of the ordinance can be up to $1,000 for the first offense.
Animal Radio Episode 817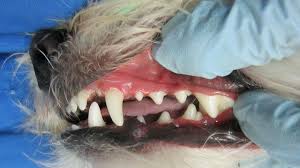 The Truth About Anesthesia Free Dental
Your local pet store may offer an Anesthesia Free Dental Cleaning. This is NOT an alternative to teeth cleaning. Doc Halligan says a real cleaning will help your pet avoid serious trouble down the line with infection of vital organs.
Movies Impacting Breed Popularity
After analyzing a number of movies released between 1927 and 2004 featuring dogs and evaluating AKC registration trends, researchers confirmed that movies definitely have an impact on breed popularity. "Lassie Come Home" was associated with a 40% increase in Collie registrations. After the remake of "101 Dalmatians," in 1996 animal shelters reported a 35% increase in the number of Dalmatians surrendered. What does this mean with the new hit movie "Max?"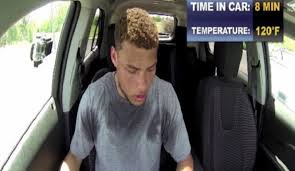 NFL Player Locks Himself In Hot Car
Arizona Cardinal's Tyrann Mathieu's video for PETA is still heavily circulating online. If you haven't seen it, Mathieu is the NFL player who locked himself in a car to demonstrate the danger that dogs endure when they're locked inside a car on a hot summer day. After just a few minutes in the Arizona heat, Mathieu starts to breathe and sweat heavily.
Can Dogs Be Autistic?
Bull terriers who compulsively chase their tails may be autistic, at least that's what Dr. Nicholas Dodman, Director of the Behavior Clinic at Tufts Cummings School of Veterinary Medicine, believes. He studied the subject for years and now says that like autistic people, such tail-chasing Bull terriers may be socially maladapted, unpredictably aggressive toward others and/or may stare into space for no apparent reason. Dodman's study is the first to propose that autism may occur in dogs.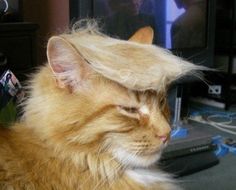 Trump Your Cat
Throughout the course of his time in public life, everyone has been wondering about Donald Trump's hair - or lack of it. ┬áIs it a comb-over? Is it a toupee? And with his announcement that he's running for President there's a new social media trend called┬á#trumpyourcatÔÇŽ. Here's how it works: ┬áFirst, you gather up all of the lint and loose pet hair in your house then you put it on your cat's head ÔÇŽ then take a picture of your cat and post.
Animal Radio Episode 816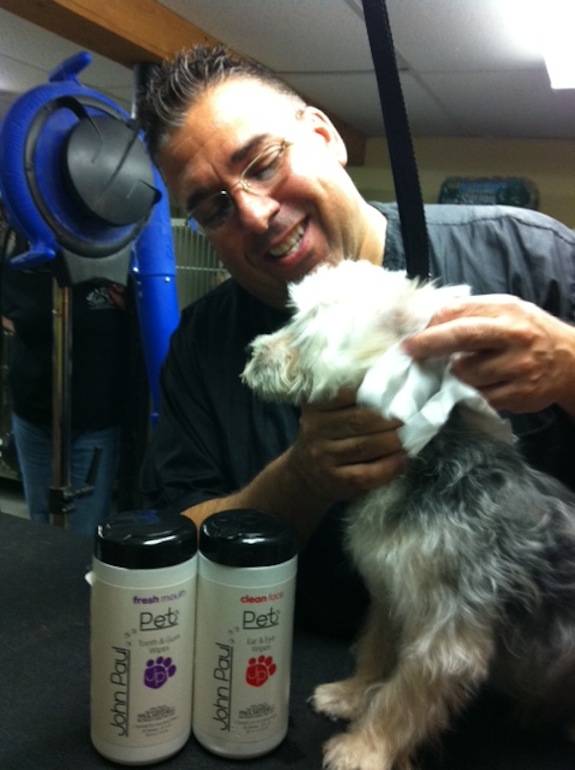 Groomer Certification
Several high profile recent pet deaths are highlighting the possible need for government regulation of the over $6 billion pet grooming industry. Our very own "Dogfather," Joey Villani is spearheading the move towards regulation for the pet grooming industry.
The Cost of Pet Ownership
The first year of being a pet parent to a cat will cost about $1,035 and for a dog that number is $1,843 as estimated by the ASPCA. The estimates seem somewhat conservative by Animal Radio's standards.
What Vaccines Does My Pet Really Need?
Doc Halligan has the 411 on pet vaccines. Can they cause cancer? Are they really necessary? Is there a way to tell if your pet needs them or can skip them? Why are the pharmaceuticals only testing for one-year?
The Wealthiest Pets In The World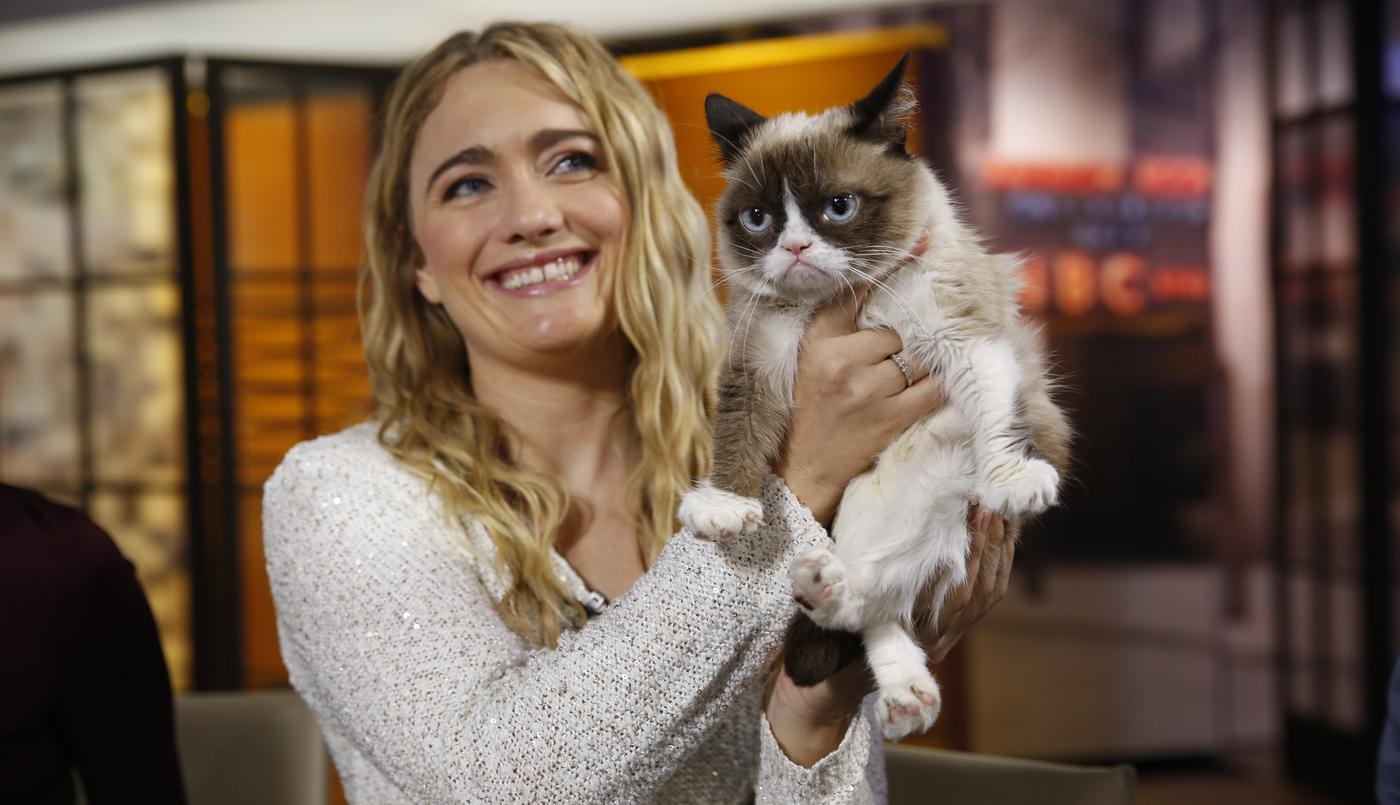 Just like people, there are some really wealthy pets in the world! The richest of them is probably not a shock to you ÔÇô it's "Grumpy Cat!" Grumpy's owner has made more than 100 million dollars for appearances, modeling, book deals and ads. That's a larger net-worth than Cameron Diaz or Jamie Foxx. Also on the list is "Moose" the Jack Russell who starred as "Eddie" on Frasier, "Keiko" the killer whale, "Rin Tin Tin," the dogs who starred as "Lassie" and Virgin America spokes-dog "Boo."
Smart Pigs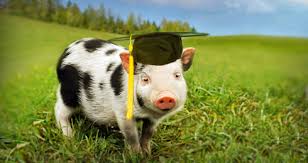 According to Dr. Lori Marino, new research shows that pigs are smart as, if not smarter than, chimpanzees and dogs. The often lowly regarded swine may even have self-awareness, something our companion animals don't understand.
Animal Radio Episode 815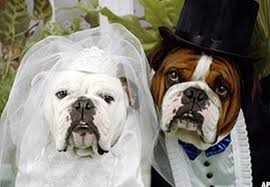 Dog Weddings
As silly as it might sound; it's the next big thing. Look for the fall release of The Dog Wedding in theaters. There is already a rush on dog wedding gowns, and with good reason. Executive Producer Jason Hurwitz will tell you why.
Should You Have Pet Insurance?
If you don't have it, you've probably asked yourself whether you should have pet insurance for when the unexpected happens. Since pets are living longer and our veterinary medicine has advanced, options for emergency treatment can be costly unless you have insurance. But that doesn't necessarily mean, "go out and get it." Doc Halligan has important tips for deciding if you should get it and choosing the right policy.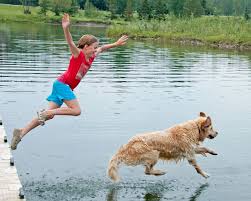 Lake Algae Can Be Harmful For Your Dog
If your dog likes to swim, it's probably best to make sure he only swims in the pool this summer. Pollution Control Agency is asking swimmers and pet owners to be aware of algae-ridden lakes and foul-smelling water this weekend after toxins from the blue-green blooms killed some dogs last month.
Finding Jobs for the Un-adoptable
Pete Coppolillo is scouring shelter for dogs that display traits undesirable for adoption. He's especially looking at prey drive, as these dogs make excellent "working conservation dogs." And Pete is happy to give these dogs a job and a home.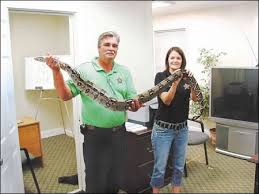 Take-Your-Dog-To-Work-Day Now Includes Snakes and Pigs
As take-your-dog-to-work-day becomes the everyday norm in many offices; owners of less common pets have begun to demand equality. If dogs are welcome at work, then others feathered, furry, winged and scaly companions should be allowed at the office too although some co-workers don't agree. Snakes are allowed at the Seattle headquarters of Amazon.com. About 8% of U.S. companies allow pets at work, and the practice seems to be especially prevalent among tech firms.
Animal Radio Episode 814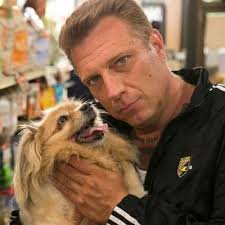 Mobster Turned Animal Advocate
Special guest James Guiliani was a bad dude. He hung with Gotti and spent time behind bars. He was a drug-addicted ex-con on the verge of suicide when a dog and a dame changed his life for the better. James says "If you think the mafia is bad, try animal rescue."
Barriers Prohibit Seniors From Pet Ownership
Research published in Activities, Adaption & Aging calls for increased understanding about older adults and the current barriers, which limit older adults' chances to own a pet. Medical, physical and financial barriers keep seniors from enjoying the therapeutic benefits of animal guardianship.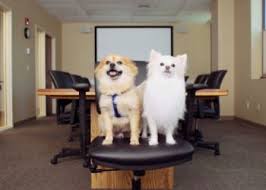 Employers Offer Pet Health Insurance
Pet health insurance is revealed to be one of fastest growing employee perks in a benefit package. While not all companies allow our four-legged friends in the workplace, one in three Fortune 500 companies now offer pet insurance as a voluntary benefit. As the popularity of pet health insurance expands, some companies are subsidizing a percentage of their employee's cost, with several companies now paying as much as 100% of their employees' pet insurance premiums.
The Drought and Your Pet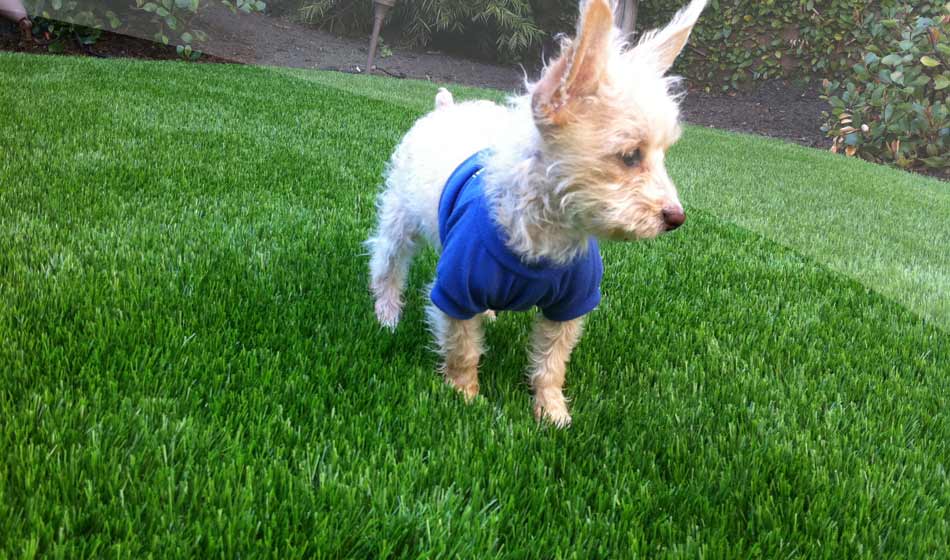 Water shortages across the west have house owners re-thinking their backyard. Many have opted to replace their high-maintenance grass for faux grass without thinking about their pet. Fake grass can be hot and smelly and full of bacterium that's no good for pets or humans.
Animal Radio Episode 813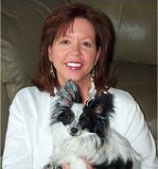 Crimes and Lies Against You
Every time you enter the pet food aisle, manufacturers are vying for your patronage and their share of the 21 BILLION dollar pet-food sector. They will do just about anything to get your business, except make a truly human edible food. No wonder, only four companies account for 67% of the marketplace. Susan Thixton will tell you the lies the pet-food companies want you to believe.
Pet FBI
Harnessing the power of the Internet for good, Maresa Fanelli pioneered the pet lost and found database for Columbus, Ohio in 1998. Today she's the driving force behind Pets Found By Internet, reuniting lost animals all across America. She explains how it works and families she's reunited.
Making Of A Superbowl Pet Welfare Commercial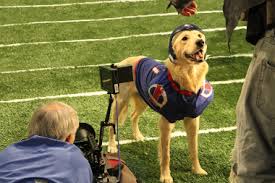 It was voted one of the best Superbowl Sunday commercials. It featured a stadium full of cats and dogs playing football to bring attention to the homeless pet problem. Joey Herrick (Lucy Pet Foundation) explains how they filmed the commercial and where they found its stars.
Pets Make Us Happier, Richer & Healthier
Blue Cross pet charity conducted a survey of pet owners and found that they tend to earn nearly $5,000 a year more than those without an animal and are more likely to work full time. They are also happier in general, spend more time with their families and have jobs they enjoy. Lori Brooks reports on this new research and has some illuminating results.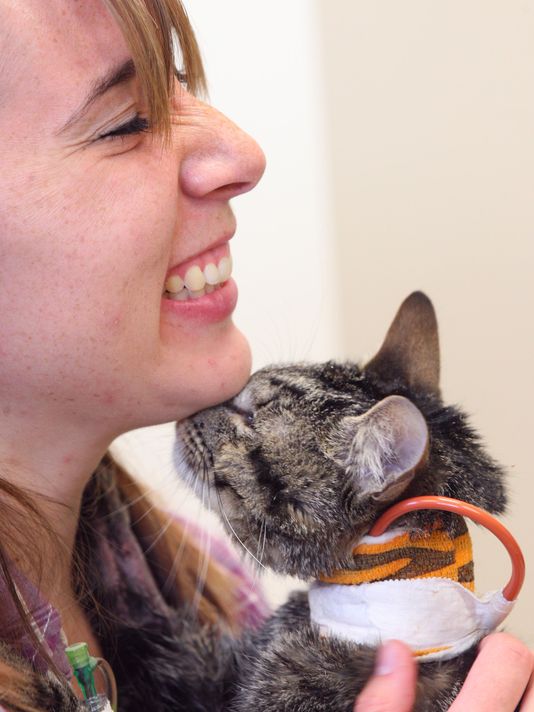 Cat Survives 2-Month Move In Mattress
Moosie a 2-year-old gray tabby cat has been reunited with his family after he miraculously survived a two-month journey trapped inside a mattress when his owners moved from Texas to Alaska. A moving company left with the military families belongings while the family stayed behind and spent three more days in Texas searching for Moosie. Turns out, Moosie was already en route to AlaskaÔÇö inside a futon mattress.
Animal Radio Episode 812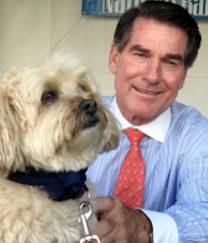 Steve Garvey Guests
Legendary first baseman Steve Garvey is back for his third time to explain his relationship with his 140 pound Rottweiler, among other things. Steve is now working closely to help the Lucy Pet Foundation score a home run.
Using Cats to Fight Cancer
Everybody loves cat videos. Rachel Gitlin figures that her creation, Cats vs. Cancer, will use the power of cat videos to raise money, through advertising, to help assist in the fight against human cancer. She'll explain the model and tell you how you can help too.
Pet Law
Attorney Debra Hamilton gave up practicing litigation law to focus on the animals. As a mediator, she negotiates peaceful resolutions to pet-related discourse. Besides the obvious, divorce and pet-custody issues, she also deals with bad breeders and pet trusts.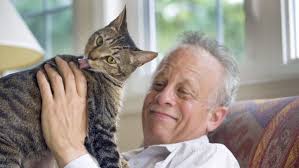 Links Between Cats and Human Schizophrenia
Looking for a link to help explain mental illness, new research shows that growing up with a family cat is a commonality among people who develop schizophrenia.
Dogs Help Mourners At Funeral Homes
Dogs are used in all kinds of ways to help humans feel better, emotionally. Funeral directors say dogs, especially trained therapy animals, can lighten the often awkward, tense atmosphere at a wake or funeral service and sometimes seem to know exactly who needs their help.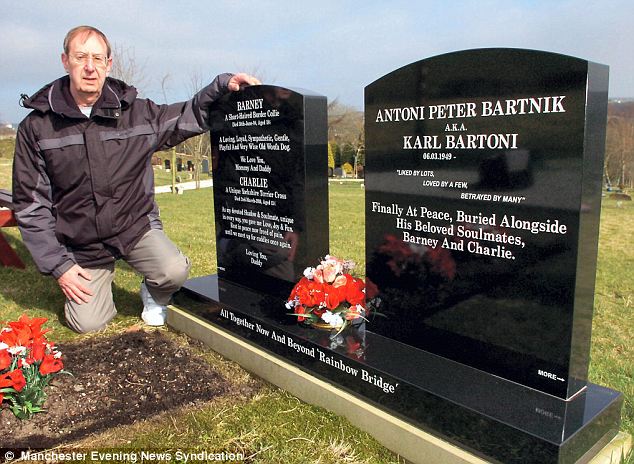 Germans Allows Adjoining Cemetery Plots and Urns
The German Cemetery Association is offering pets and people adjoining urn spaces. The cost is between $1,100-1,600. Although the ashes of pet owners and their animals will now have the chance to sit side by side, cremations are still legally required to be carried out separately.
Read MoreÔÇŽ
Next Week: Susan Thixton - Maresa Fanelli
Animal Radio Episode 811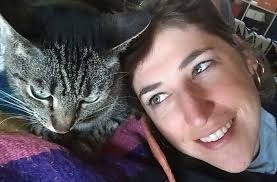 Mayim Bialik Guests
After starring as "Blossom" in the hit TV series, Mayim Bialik went on to get a PhD in Neuroscience. But the stage called her back. Now she's on The Big Bang Theory and working overtime for the animals. She'll tell us about CatCon, like ComicCon, but for Cats.
When To Change Your Vet
Just like any business, there are always people that give it a bad name. Same with Veterinarians. Animal Radio Veterinary Correspondent Dr. Marty Becker has a list of red flags you should look out for. If you see one, you need to re-think your vet?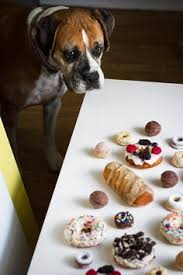 Dog Treats As Healthy As Donuts
Some of the most popular treats given to cats and dogs contain more calories than human junk food! New research shows that a few pet treats have as many as 415 calories, more than a glazed donut.
Holy Cow
Boze Hadleigh put together the ultimate book describing the origins of animal phrases. Did you ever wonder where the saying "there's more than one way to skin a cat" comes from? Boze will enlighten and make you laugh at our language.
New Law Allows You To Break Into Cars
Providing greater protection for animals is the premise behind a new legislation introduced in New York that would allow a person to take necessary steps to remove an animal from a hot vehicle if a police officer cannot be located.
Therapy Dog Loses Certification After Wearing Costume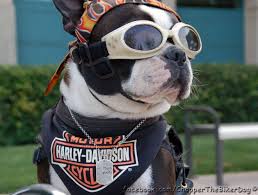 A Pet Partners certified therapy dog has lost that certification because the organization says it found the Boston Terrier's biker costume to be a "safety concern." 5-year-old Chopper has put in several years volunteering in San Diego-area hospitals and senior centers on his mini motorcycle.
Animal Radio Episode 810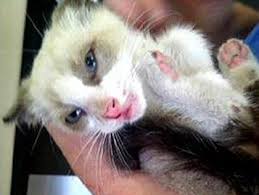 Freeway Kitten
Our Hero Person segment wraps up after 26 weeks with the heartwarming story about a kitten that was abandoned on a highway and rescued by Keri Lamar. She was driving when all of a sudden a kitten flew by hear windshield. Keri tells the rest of the story.
Basic Training Tools
Every dog owner should have several basic training tools. Founder of the Animal Behavior Centre and inventor of the Halti, Dr. Roger Mugford will be explaining what you need to train your dog to sit, stay and come.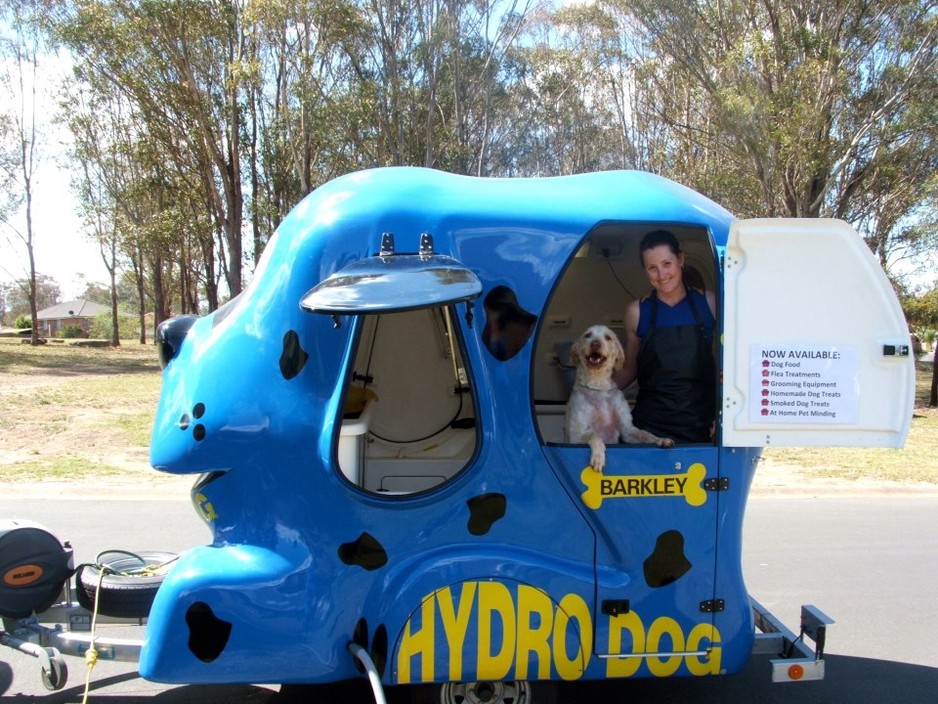 Bathe To Save
Australian Anthony Amos has loaded his large family in an RV. He's towing a giant fiberglass blue dog. Inside the eye-catching vehicle is a shampoo and grooming facility. He's setting course to cross the U.S. washing 25,000 dogs with 100% of the proceeds going to local shelters.
How to Choose A Couch with Your Pet In Mind
As an animal lover you've probably spent hours contemplating the fabric of your next sofa. Consider how their hair shows up on the upholstery as well as whether it will embed itself in the weave and be difficult to clean. Consider how the fabric will react to their nails, and, you'll want to make sure you choose a fabric that is fairly easy to clean off the drool marks and paw prints.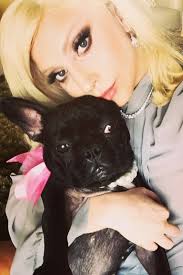 Lady Gaga Working on Line Of Pet Products
Lady Gaga showed us her talents clearly go beyond music and outlandish outfits. Animal Radio hears she is working on a line of pet products inspired by her dog Asia. Gaga will be the artistic director for the canine collection, which will feature pet clothing and accessories, toys and food bowls. Perhaps she'll create an outfit of meat that will double as a treat? Probably not.
Animal Radio Episode 809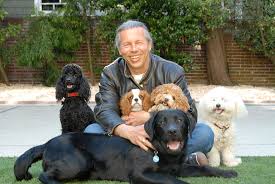 Good Dog, Happy Baby
Dog Trainer Michael Wombacher has developed a twelve-step program to introduce your dogs to a new baby or family member. There is no need to get rid of the dog just because you're expecting. If done properly, your dog and child can live harmoniously and thrive together.
OMG - One More Generation
When Olivia Ries was 7-years-old, she started a non-profit organization to save endangered animals. That was five years ago. Since then, she has spoken to dignitaries and lobbied for the voiceless. You'll melt when you hear our young Hero Person.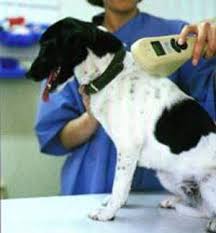 What You Need To Know About Microchips
A microchip is still the best way to identify a lost pet. However, they're not 100% reliable. Dr. Debbie will tell you what you may not know about the little rice-sized technology. She'll also dispel any myths about the microchip being dangerous or causing cancer.
Dog Walking Pays Well in the UK
Dog walkers in the UK earn a fifth more than the average salary by working just two weeks out of every month. Dog walkers charge an average of almost $18 per hour per dog in the UK and walk 192 dogs per month, which adds up to annual earnings of $41,000, 20% higher than the British national average salary! Does this make you want to re-think your job?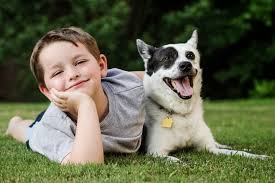 Human and Dog Bond Dates Back Years
The bond between humans and dogs may be much older than we once thought. A group of researchers discovered an ancient wolf bone and say its DNA suggests dogs diverged from wolves as far back as 40,000 years ago and point to the ancient wolf as possibly the most recent common relative of modern wolves and dogs.
Animal Radio Episode 808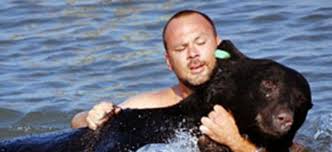 Our Hero Saved 400 lb. Drowning Bear
What would drive Adam Warwick to jump in alligator filled waters to save a bear that was drowning? Adam is our special guest this week and he tells an adrenaline filled rescue story. When he's done telling you what he did for this bear, you'll ask yourself if you would've done the same thing.
What to Do With The Poo
Rose Seemann is the author of "The Pet Poo Pocket Guide" and our guest. She has some shocking realities about our pet's waste. There's more poo than we think accumulating in landfills and polluting our environment. She'll be using the gold standard of monumental measurement, the football field. And you'll need a lot of them to house all our pet's poo.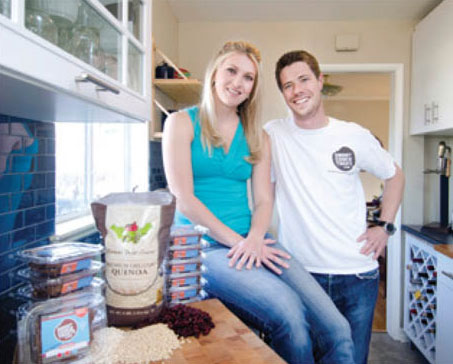 Building A Dog Treat Business
Bri Bradley is co-owner of a brand new dog treat business. What makes her business so different than the hundreds of other dog treats? She customizes the treats for your dog. You tell her what flavors, carbs, proteins and vegetables to put in and she'll bake them and deliver them right to your door.
No Jerky Is Safe
It was thought that China was the source of the jerky that's making dogs sick across America. But new research shows that even US sourced jerky is a problem. The FDA is scratching their head. Nobody seems to exactly understand what part of the jerky is making animals sick. At this time, the best advice is to stay away from all jerky treats.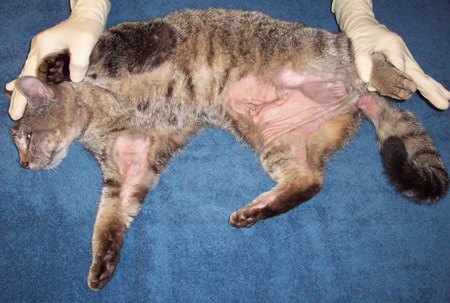 Allergies for You and Your Pet
Did you know your pet can have a host of allergies this time of year? That might explain the itching, hair loss, and eye issues. Dr. Debbie will try to help you determine the source of your pet's allergies and how to resolve them.
Animal Radio Episode 807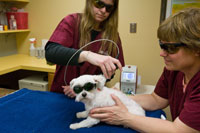 Laser Therapy on Pets
Animal Radio Veterinary Correspondent Dr. Marty Becker is excited about his new gadget. It's only the size of an iPhone Plus but it has multiple applications in the veterinarian's office. Could Laser Therapy be used on your pets?
Canine Flu Update
This year's strain of Canine Flu is different than past epidemics. There is a vaccine for the previous strain H3N8 but not for this new one called H3N2. Veterinarians are looking for new ways to fight the new virus that seems to be affecting felines too.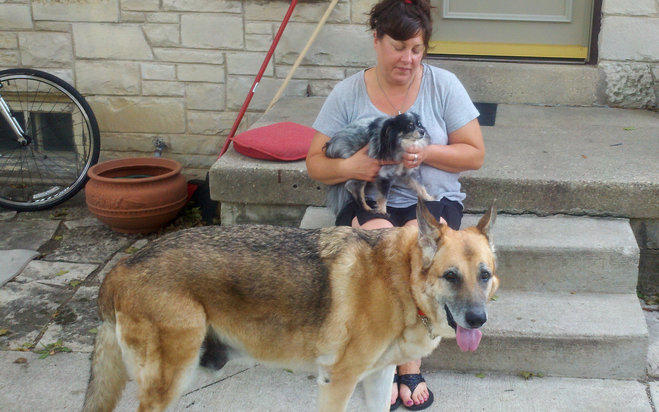 911 Dispatcher Hero
When Police Dispatcher Lynn Willett received an emergency call to check on the welfare of an elderly man, she had no idea she would end up adopting his dog. Lynn tells us her heartwarming story about a German Shepard named Sgt. Roscoe.
Xylitol Toxicity on the Rise
Anyone who has a dog knows they will pretty much chew on anything they can get their paws on, but this story underscored how careful we need to be around them. Luna, a 2-year-old Golden Retriever in Glenwood City, Wisconsin, found the pack of "Ice Breaker" Lemon-flavor gum containing Xylitol. She suffered severe liver damage and had to be euthanized. Xylitol is found in all sorts of things, including sugar-free gum, vitamins, toothpaste, dental floss, nasal sprays and baked goods. Even a couple of pieces of gum can result in life-threatening blood sugar and liver failure.
Warning About Dynamic Pet Products' Real Ham Bone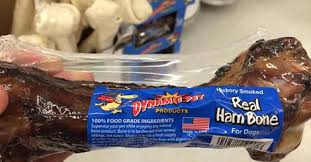 Rodney Canutt, says the product killed his dog Teddy. Veterinarians found three big clumps of sharp shards of the bone in his intestinal tract. Dynamic Pet Products offered to pay for Teddy's cremation and vet bills, but Canutt is still considering legal action. The Better Business Bureau says Dynamic Pet Products' Real Ham Bone for Dogs is suspected of killing or hurting nine dogs nationwide, but it's still available at Wal-Mart.
Animal Radio Episode 806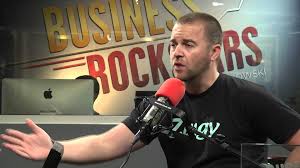 Uber for Dog-Walkers
Tobi Skovron has created an App that will summon a vetted dog-walker. He touts his high-end service as the next step in the evolution of pet-based technology.
Protecting Your Pet From The Sun
Our pets are at a higher risk than we are for sun-related Melanomas. You need to protect them from the sun, even if they're indoor animals. Dogfather Joey Villani and Dr. Debbie share what you need to know for your pet's safety and well being.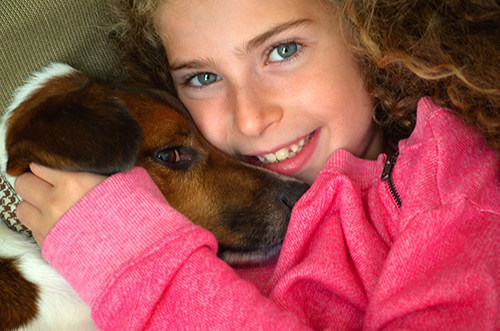 10-Year-Old Hero
This week's Hero Person will charm you! She's just a little girl. But she has a huge heart for the animals. Samantha Frenck created a 501c3 non-profit that brings toys and blankets, among other things, to shelter animals.
Pet Friendly Cities
Forbes went in search of America's most pet-friendly places to live. The criteria included having the best landlords, lowest pet fees and most pet specialty stores and services. You might be surprised which city topped the list.
Pet Store Switch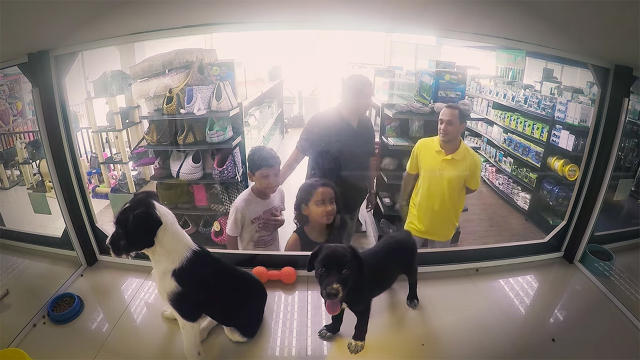 What happens when you switch the pets in a pet store for animals from a shelter? Would the customers notice? A pet store in Brazil partnered with local pet shelters to secretly switch those pricey purebreds for rescues. Then the store went a step further and simply gave the shelter pets away to worthy families.
ÔÇŽand of course, the Dream Team is answering your pet-related questions toll-free at 1-866-405-8405.
Animal Radio Episode 805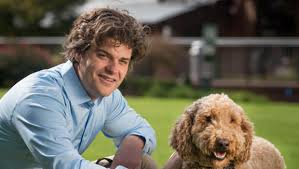 Is Your Dog A Genius?
Nat Geo's Dr. Brian Hare is hosting a three-part series devoted to finding the genius in your dog with interactive games you can play. Tapping into your dog's 'smarts' is easy as knowing the activities in which they exceed.
Smart Inventions For Pets
Scott Harris co-invented a cat feather-toy that can be remotely controlled from a smart-phone. They've installed 21 of these toys at shelters nationwide. With a click of a button, you too can play with the animals up for adoption - from the comfort of your own armchair.
School Allows Service Pit-Bull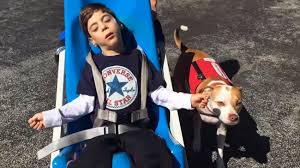 A federal judge in Florida has ruled that a sweet pit bull name Stevie will be allowed to go to school with 7-year-old Anthony Alboniga, who has cerebral palsy. For the past two years though, officials at Anthony's school in Broward County refused to let Stevie come to school with Anthony, unless the company paid for a so-called handler to go with them, which the family could not afford.
Chimps Get Their Day In Court
Two chimpanzees will have their day in court under a law that up till now has only applied to people. New York Supreme Court Justice Barbara Jaffee has granted Hercules and Leo a writ of habeas corpus. They live in a lab at Stony Brook University of Long Island and have been part of research into how humans evolved to walk on two legs.

Cats Get To Post Pics To Instagram
Many pets have their own Facebook pages and Twitter accounts. Of course, there's a person behind them doing the work. Not for long. Whiskas Australia have created a wearable camera that goes on your kitty's collar, and it automatically takes pictures while and posts them to Instagram for you and your cat.
Animal Radio Episode 804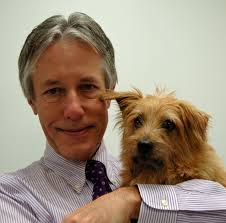 How Serious is the Canine Flu?
It appears this year will be one of the biggest for canine flu. Many Chicago pet events, including the 20th Annual Bark in the Park, have been cancelled because this is ground zero. Some dog parks have posted signs warning dog guardians that they are entering at their own risk if their dogs have not been vaccinated. According to reports, more than 1,300 dogs have been affected by the disease in Wisconsin, Illinois, Indiana and Ohio. At least six of the dogs have died. AVMA (American Veterinary Medical Association) spokesperson Dr. Douglas Aspros has the information you need to keep your pet safe and healthy.
Bikers Against Animal Cruelty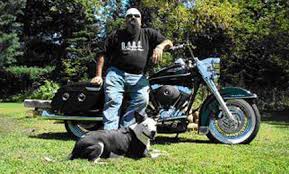 This week's Hero Person is a whole bunch of people. We applaud the motorcycle riders that came together, after hearing about Michael Vick, to fight animal abuse wherever it rears its ugly head. Greg Belcher tells us the story behind the biker club.
New Pet Product Special Week 5
Animal Radio's New Pet Product Special concludes this week. Our #5 pick was Kitty Kush Catnip. #4 the Green Interactive Feeder. #3 pick, the VOYCE Activity Monitor. #2 the iFetch Ball Launcher. This week we're giving away our #1 pick, an Arlo Wireless Pet Monitor Camera to help you keep an eye on your critter from your phone or any computer. Phil Pyo shows off this amazing new technology.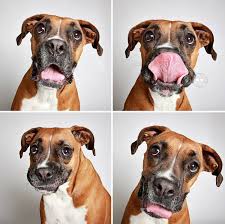 Fun Pictures Find Pets Homes
The Humane Society of Utah has teamed up with photographer Guinnevere Shuster to come up with a better way and it worked. She put dogs in a photo-booth and let the shutter fly. The pictures turned out to be amazing and really showed off the individual dog's personalities. In fact, all the dogs in the shoot were almost immediately adopted
....and of course Dr. Debbie and Joey Villani are answering your pet-related questions, toll-free at 1-866-405-8405.
Animal Radio Episode 803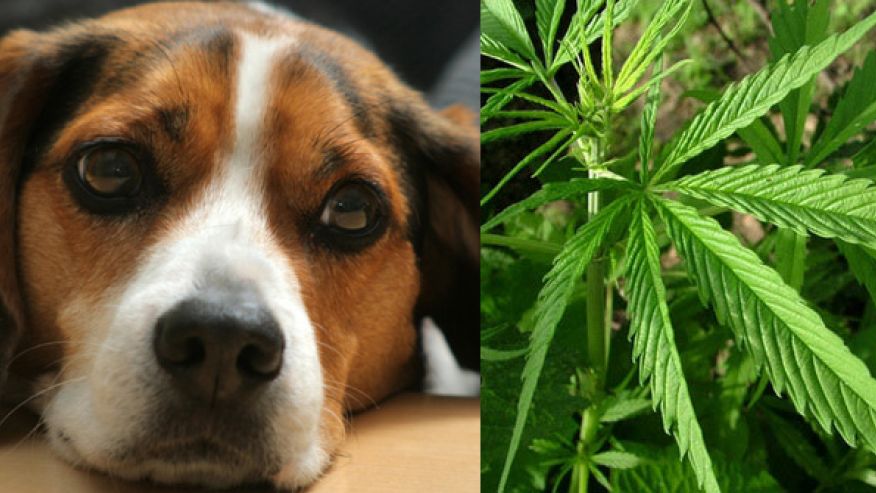 Pot For Pets
Medical Marijuana for pets is a trending topic among pet-guardians and politicians. On this week's show, we'll be examining the pros and cons of medicinal Marijuana for pets suffering from cancer and even anxiety. Dem. Senator Tick Segerblom is sponsoring SB372 to make it legal to prescribe pot. Julianna Carella is already selling treats with hemp.
Must Love Cats
Would you believe that there is a company that says the most important quality it looks for in new hires is a "love of felines." And it's not a pet store or cat rescue or anything really associated with cats. It's an Internet solutions business in Tokyo called Ferray Corporation and it's actually taken in nine rescue cats to help employees unwind and increase productivity. If a worker doesn't have a pet, the Ferray Corp pays out a monthly "cat bonus" of about $42 to anyone who adopts a cat that needs a home.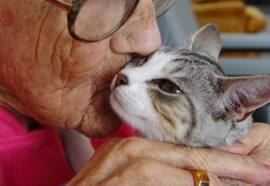 Pets for the Elderly
This weeks Hero Person matches seniors with adoptable companion animals. Susan Kurowski knows both the elderly and the adoptable dogs are winners in this scenario. She's saved thousands of animals running out of time at the shelters.
First State to Ban De-clawing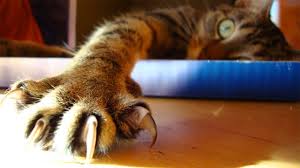 New York is on target to become the first state to make de-clawing cats illegal statewide. Manhattan Assemblywoman, Linda Rosenthal, is championing the law that would make it illegal to de-claw domestic, exotic and wild cats, unless where absolutely, medically necessary. De-clawing involves actually amputating the first digit of each toe and can cause emotional and health issues for cats.
Animal Radio Episode 802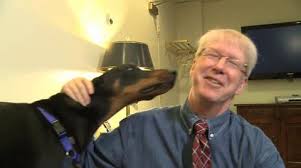 Internet Rumors Quashed
Animal Radio Veterinary Correspondent Dr. Marty Becker examines the prolific rumors about Beneful pet food and topical Flea and Tick medications. The social media's desperate hyperbole can force a food company to sell for ten cents on the dollar.
New Pet Product Special Week Three
Animal Radio's New Pet Product Special is rounding its third week. Our #5 pick was Kitty Kush Catnip. #4 the Green Interactive Feeder. This week, Dr. Amanda Landis-Hanna introduces our #3 pick, the VOYCE band. This gadget monitors your pet's activity level. And yes, we have giveaways!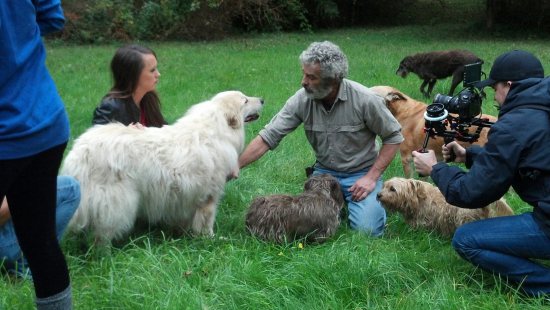 Posthumous Hero
This weeks Hero Person sacrificed her life, quite literally, to fund the rescue she started with her husband. There is no better hero than one that exchanges their life for the lives of creatures great and small. Christina Hamilton's husband Thayne will accept the honor.
Dog-napper Gets Caught and Sued
A woman's dog in Seattle went missing while she was at a pub. After finding out who took her pup, the whole matter ended up in court. The judge found that a woman, Chris Riley, who had also been at the pub that night, had stolen the dog. Riley was not only found guilty of theft, but also ordered to pay $27,000 in damages.
New Cancer Treatment for Dogs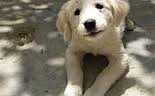 This may be the year of a new cancer treatment for dogs. TVAX Animal Health of Kansas has received $2-million more in financing to begin clinical testing in dogs this year. The company already has approval from the U.S. Department of Agriculture to sell its products to veterinarians for treating cancer in dogs, cats and horses. Over $1-billion is spent in the U.S. each year on treating cancer in pets.
Animal Radio Episode 801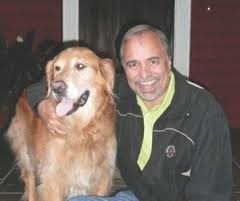 Pet Sector Nears 60 Billion
Top Dog at the American Pet Products Association, Bob Vetere is back to explain why the pet industry is exploding and how we spent $58 Billion. It should come as no surprise that pet-food comprises one-third.
New Pet Product Special Week 2
Animal Radio's New Pet Product Special is underway. We're featuring the latest in cutting-edge technology for your pets. We have giveaways for you! Dr. Roger Mugford is back to claim our number-two pick for 2015, the Green Interactive Feeder. This gadget will slow your dog down when it's dinnertime, preventing upset and bloat.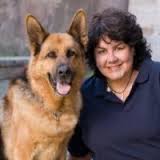 Gone Hollywood
Second-generation Hollywood dog trainer Teresa Ann Miller has trained the dogs and other animals you see in movies and TV. She was brought up on-the-set while her dad worked on such notables as The Beverly Hillbillies and Petticoat Junction.
Teaching Police How To Deal With Dogs
Utah's police department is the latest to add a program to its police academy to teach cadets how to deal with pet dogs. The program was championed by Sean Kendall, whose Weimaraner Geist was shot and killed by a police officer last year after coming into the dog's backyard looking for a lost child.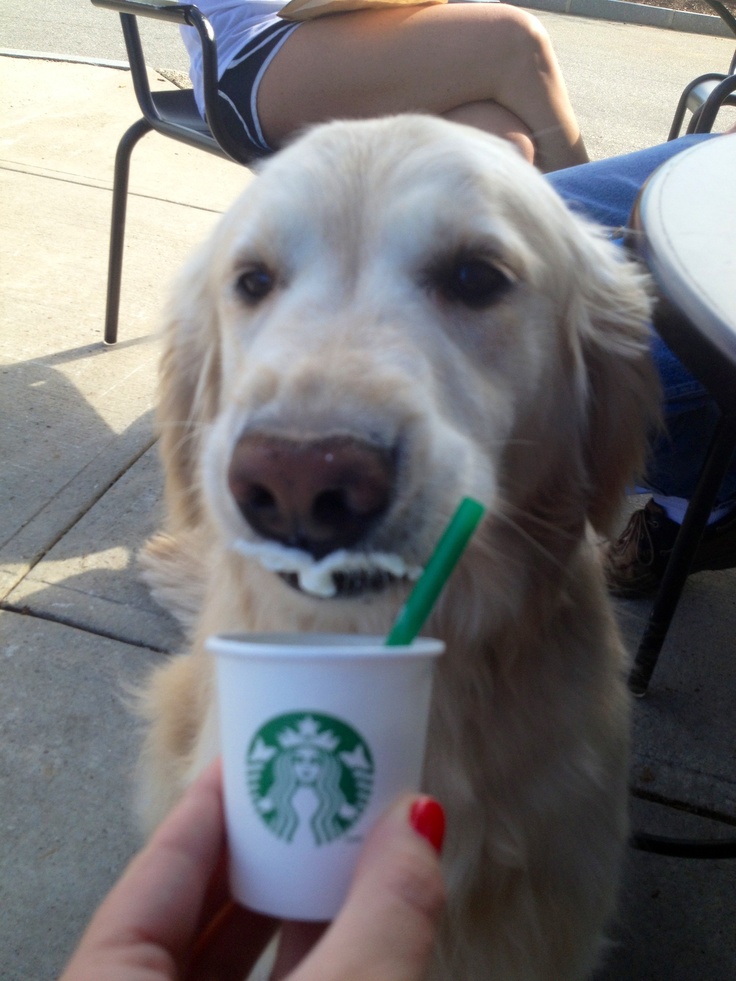 Secret Menus For Pooches
It turns out that many well-known restaurants have secret menus that cater to your pooch. You do need to make sure that your pet can handle some human-ish food before you order. For example, Starbucks will serve up a Puppuccinno. It's a small cup filled with whipped cream. Dairy Queen's Pup Cup is a little bit of vanilla soft serve, topped with a dog treat. If you're on the West Coast, there's In-N-Out where you can order a Pup Patty.
Animal Radio Episode 800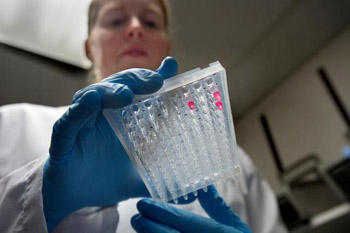 Pet CSI
Christina Lindquist is a forensic investigator. She uses evidence from animals, usually dogs and cats, to nab the bad guy. You'll hear about a murderer that was busted when he stepped in dog-poop and a rapist that was tied to the crime when a dog urinated on his car tires.
Kissing Your Dog Could Be Healthy For You.
After several studies saying that kissing your dog could expose you to some unhealthy things comes a study that says "Go ahead and kiss that dog!"  Researchers think that the microbes contained in a dog's gut could have a probiotic effect on the human body, encouraging the growth of positive microorganisms.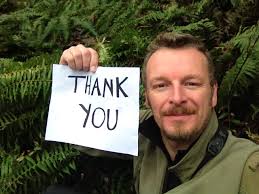 Animal Homes
Imagine if you cross HGTV with Animal Planet. You'll get the new PBS special Animal Homes. Host Chris Morgan joins us and explains how some animals build their homes bigger and better and shinier to attract the opposite sex.
Would You Adopt Justin Bieber or Kim Kardashian?
Dallas Pets Alive has started naming their animals with popular online search terms, things like Supreme Leader Kim Jong-un, Miley Cyrus Twerking, Obamacare, Left Shark, or even Photoshopped Bieber. The idea is to increase the animal's exposure by having them pop up more often in trending news feeds.
Is Dog Renting A Good Idea?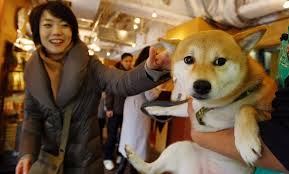 In Tokyo, they've come up with a pretty cool idea. It's called Dog Heart and you can actually rent a dog for a few hours. You can just hang out at their facility or take the dog out for a walk around the neighborhood or maybe to the park. A half-hour of playtime costs about $8 US and taking the dog for a walk for an hour runs about $30. It's becoming very popular. But the Japanese Coalition for Animal Welfare has some valid worries.
Animal Radio Episode 799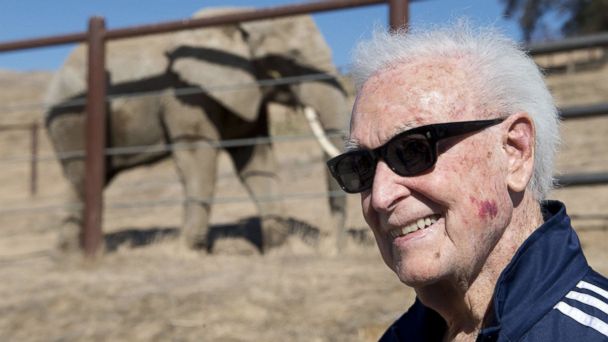 Bob Barker Returns
Legendary TV Host Bob Barker is back for his 14th time on Animal Radio. He called us up and said, "it's time to rant." This time it's all about Barnum & Bailey Circus Elephants.
Finding Lost Cats
Jack Tyler, a lost cat investigator and self-proclaimed naturalist, has an almost perfect record finding felines. He's sharing his tips for finding your lost cat. He'll teach you to think like a cat.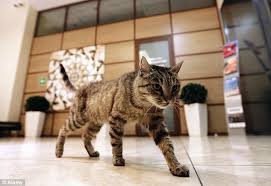 First Airport Terminal For Pets
JFK Airport in New York City is going to be the first airport with a terminal devoted solely to animal passengers. The 48-million dollar terminal, named "The Ark," will serve as a cargo holding area and will have the amenities including overnight accommodations, vets, an aviary and climate-controlled stalls.
Pets and Domestic Violence Victims
According to the ASPCA, approximately 71% of pet-owning women entering domestic violence shelters report that their abuser threatened, harmed or killed a family pet. As many as 50% of domestic violence victims remain in abusive situations for fear of what would happen if they left their pets behind. If the PAWS bill passes, it would create federal grants to provide accommodations for pets belonging to domestic violence victims.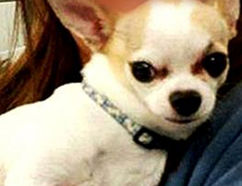 Stowaway Chihuahua
One little Chihuahua not only managed to pack himself in a suitcase but also made it all the way to the airport. TSA agents at New York's LaGuardia Airport found the little tan Chi when the hard-sided suitcase triggered an alarm. The dog's owner says the dog must have immediately gotten under some of the clothes she had already packed so she didn't see him when she closed the suitcase.
More this week
Next Week: Christina Lindquist - PBS's Chris Morgan - Kristina Rinaldi - Glen Jessup
Animal Radio Episode 798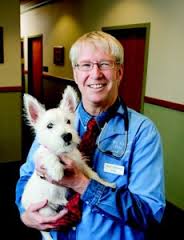 Flea Facts and Tick Talk
Animal Radio Veterinary Correspondent Dr. Marty Becker is back to help you keep your pets flea-less and tick-less. The good doctor has the ugly truth about how ticks infect you and your pet with a multitude of nasty viruses. And are fleas becoming resistant to spot-on preventatives?
APPA Releases Pet Spending Figures
The American Pet Products Association (APPA) released the yearly numbers of dollars spent within the pet industry. APPA says we spent 58 BILLION in last year on 397 million pets, including everything from freshwater fish and reptiles to cats and dogs. We spend over 20 billion on pet-food alone. No wonder the business is so cutthroat as many compete for our dollars.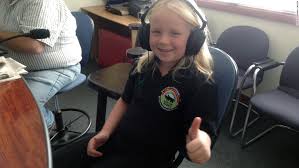 8 1/2 Year Old Hero
Our Hero Person this week lives in Johannesburg, South Africa and she's 8-and-a-half years old. Alyssa Carter parlayed her love for Rhinos into fundraising to keep them from being poached. So far, she has been able to raise $23,000 by selling candy and trinkets to schoolmates and family.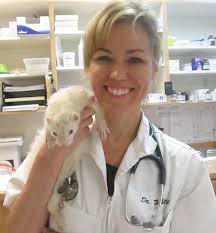 To Vaccinate Or Not To Vaccinate
Dr. Debbie teaches us all about the Titer test. The test determines the amount of antibodies in your pet, and ultimately if it is really necessary to vaccinate. She'll tell you why you should vaccinate and what types of animals should avoid vaccination altogether.
Amtrak On Track To Become Pet Friendly
Amtrak is one step closer to becoming pet friendly. The House of Representatives has approved 8 billion in funding for a pilot program for people traveling with pets. At least one car per train would allow pets in kennels as long as they meet size requirements. The bill now goes to the Senate and then to the White House, where it reportedly is being supported.
Animal Radio Episode 797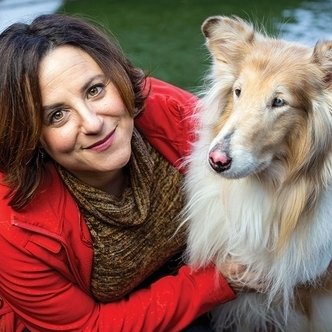 Quit Your Crappy Job
If you've ever thought of quitting your job to work in the pet industry, you'll should hear this week's guest. Jamie Migdal created a website to match you with the perfect pet-related job. From Dog-walking to Marketing, the jobs pay quite well.
Purina Responds To Beneful Accusations
After a long silence, the makers of Beneful pet food, Purina is finally responding to accusations that the food has caused more than a thousand sicknesses and fatalities. The suit alleges Beneful dry dog foods contain an ingredient toxic to animals, propylene glycol, a chemical used in automobile antifreeze. On Purina's website, the company notes that propylene glycol is an FDA-approved food.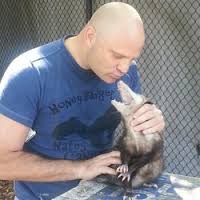 Sewer Trolling Hero
This week's Hero Person definitely goes above and beyond for animals. His latest rescue was a small Chihuahua dumped into a sewer. Dusty Showers probably needed a few showers after crawling through raw sewage to find this pup that everyone else had given up on. This isn't his first heroic stunt. Besides the long list of animals he has rescued, Dusty also rode his bike across the country to raise funds for Cancer research.
Owner and Dog Receive Similar Pacemakers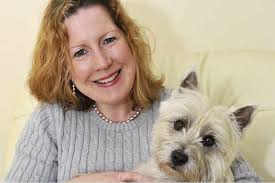 Catherine Pipon was diagnosed with a condition known as heart block. Doctors inserted a pacemaker. Recently, her five-year-old Cairn Terrier Molly was diagnosed with the same condition. Catherine spent over $5,000 to get a pacemaker for the dog. The pacemakers are nearly identical and their conditions are so similar that Catherine and Molly share the same doctor Jersey General Hospital. Molly goes in after hours, so other patients don't get upset that a dog is being seen at a people hospital.
Plus Dr. Debbie and Dogfather Joey Villani are answering your questions toll-free at 1-866-405-8405.
Animal Radio Episode 796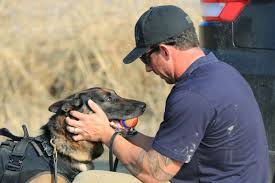 Dogs With PTSD
Former Navy Seal Michael Ritland created a non-profit to help military dogs transition to civilian life. Just like our human soldiers, dogs need help acclimating back into a normal environment. Small noises can cause extreme emotional distress in our enlisted canines.
Is Beneful Making Dogs Sick?
A class action lawsuit has been filed against Purina charging that the company's Beneful dog food is making dogs sick and even killing some. The lawsuit alleges that Beneful contains toxic substances. It was brought by Frank Lucido who says he started his three dogs, a German Shepherd, a Lab and an English Bulldog on Beneful, ate the first of the year. By the middle of the month, the German Shepherd started losing hair and became violently ill.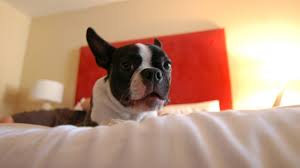 Unique Adoption Ideas
The Aloft Hotel is Asheville, North Carolina is helping the local shelter find homes for adoptable dogs with their unique program. So far they've found homes for almost two-dozen dog. Wait until you hear how they're doing it.
Jerky Treats Update
Most stores are no longer selling jerky pet treats made in China. The treats were connected to thousands of dogs getting sick and at more than one thousand deaths. But the FDA could never determine WHAT it was in the treats that were causing the issues. With the treats off the shelves, for the most part, the number of complaints to the FDA has gone down dramatically, but the agency says it still plans to continue it's investigation.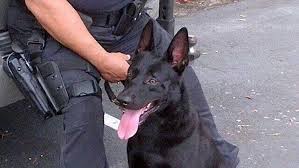 Police Dog Removed From Force
A Florida Police Dog is being kicked off the for for biting a Dunkin' Donuts worker in the calf. "Renzo" had been a police dog for about a year. This is his second bite incident.
Animal Radio Episode 795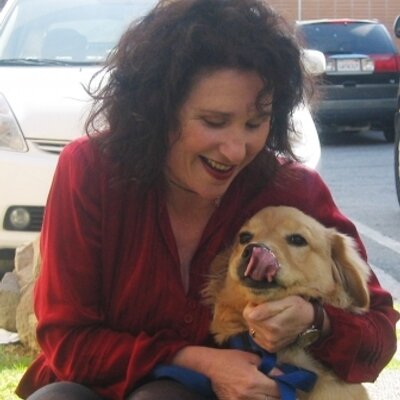 Non-Surgical Neutering
A new cutting-edge technology, originally invented for humans, may change the way we sterilize our pets. Without the risks of anesthesia or changing the way your pet appears, Zeuterin, a promising replacement for the costly neuter surgery, is being used at the SPCALA. President Madeline Bernstein is our guest and she explains this technology.
What Animals Say About Fidelity
The website IllicitEncounters.com specializes in matching married people for affairs. They did a survey on pet ownership and found that those who have a pet in their life are less likely to cheat on their spouse.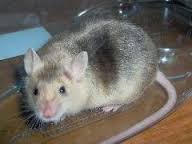 Mouse Makes Off With Dentures
When a pair of dentures goes missing, 68-year-old Bill Exner is convinced a mouse took them into the wall. He even says the mouse taunted him - until he convinced his son-in-law to put an axe to the wall.... where they found his dentures and the little mouse.
Dangerous Supplements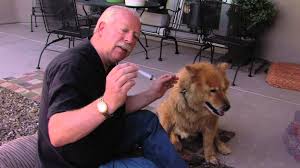 Dr. Debbie explores the risks associated with pet supplements. She's especially concerned about Colloidal Silver and its affects on companion animals. Dinovite also tops her list of questionable supplements. She'll explain why.
Is Beneful Making Dogs Sick?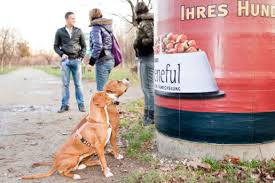 A class action lawsuit has been filed against Purina charging that the company's Beneful dog food is making dogs sick and even killing some. The lawsuit alleges that Beneful contains toxic substances. It was brought by Frank Lucido who says he started his three dogs, a German Shepherd, a Lab and an English Bulldog on Beneful, ate the first of the year. By the middle of the month, the German Shepherd started losing hair and became violently ill.
Animal Radio Episode 794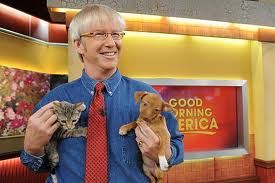 Better Living Through Pheromones
Animal Radio® Veterinary Correspondent Dr. Marty Becker is back with the scoop on pheromones. Can the synthetically produced smell be helpful in calming cats and dogs, or is it a waste of money?
Pedigree vs. Mutt
It's long been thought that mutts are much healthier, both mentally and physically, than those pure bred for pedigree. While there may be some truth to this, it is not always the case. Author Michael Brandow describes how the quest for status has harmed man's best friend.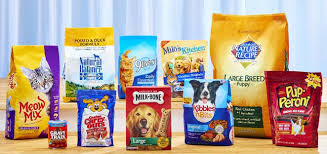 Another Pet Food Merger
JM Smucker, the company behind Smucker's Jam, has purchased Big Hearts Pet Brands, which includes Meow-Mix, Milk-Bone, Pup-Peroni, Kibbles 'n Bits and Natural Balance. Recent consolidations mean that only a handful of companies make your pet's food. Perhaps the food will also be sourced and made in the same factories. This may not bode well for the consumer or your pets.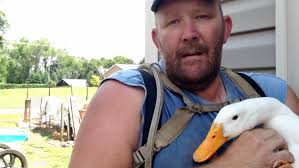 Therapy Ducks?
Former Ohio National Guardsman Darin Welker uses ducks to treat his PTSD. The town council says he hasn't presented enough evidence that the ducks serve a medical need and that he would face imminent harm without them.
Man Finds Dog 18 Months Later
Richard Brower's German Shepherd, Dozer, was stolen 18 months ago. He looked everywhere. After a year-a-half, Richard decided to share his home with a new dog. He did an online search for 'German Shepherds for sale,' which led him to the local animal rescue and right there was Dozer on the front page.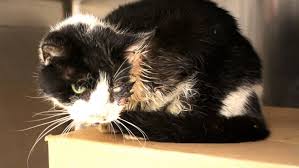 Zombie Cat in Custody Battle
Last week, we had the story of Bart the cat that was hit by a car and buried but was actually still alive. Bart dug his way out and made it to his neighbors yard. Bart is now officially, and fondly known, as the Zombie Cat. If you think his story couldn't get stranger, think again.
Animal Radio Episode 793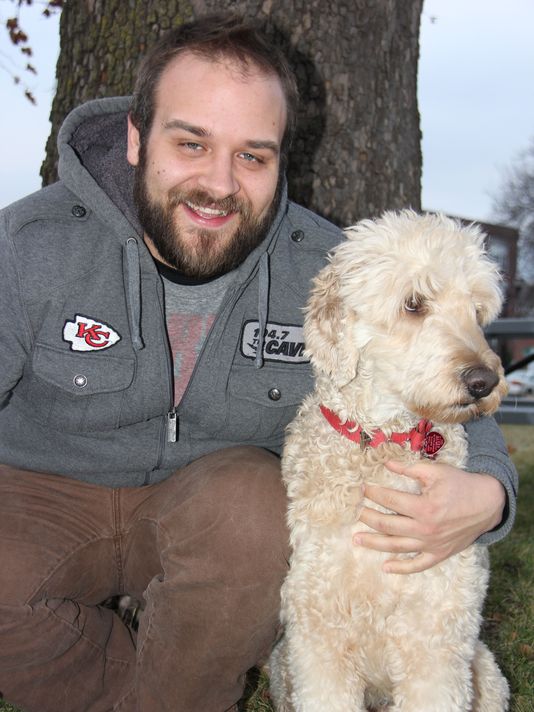 What Happens When You Leave?
Most of us wonder what our dog does when we leave the house. Most imagine that they'll curl up and sleep until we return. Mike the Intern put a GoPro Video Camera on his dog, "Guinness." What he saw when he reviewed the video went viral on YouTube. He's our guest and he'll explain the inspiration behind his experiment.
Gentle Giants
This week's Zeuterin Hero Person rescues large breed dogs. These are often the last at the shelter and have nowhere to go. Candace Bright devotes a lot of time and her paycheck from waitressing to make sure these big dogs are taken care of.
Practical Uses For Muzzles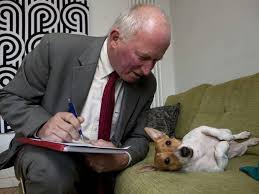 Company of Animals' Dr. Roger Mugford joins us from "across the pond" to explain why Europeans embrace the muzzle more than U.S. pet owners. Perhaps it's time to change the way we think about these tools.
Bad Breath
Did you know your dog's stinky breath could be because of dental disease? And did you know dental disease could affect your pet's organs and be fatal? Find out why your friend's breath makes you tear.
Canine Motion Sickness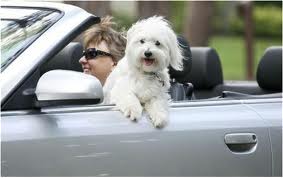 It's a more common question than you might think. Can our pets get car-sickness? Just like us, our dogs can get dizzy and throw-up. But determining whether it's a genuine sickness or just a phobia of traveling can be difficult. Dr. Debbie has answers.
Animal Radio Episode 792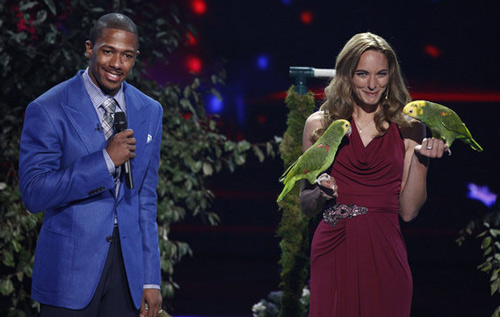 America's Got Animal Talent
This week we're sending 5 animal acts to the front of the line at NBC's America's Got Talent auditions. AGT Casting Producer Erin Tomasello is our guest and she wants you and your pets to win a million dollars.
Gimme Some Skin
Dr. Debbie and Joey Villani cover many of the different skin related problems your pets can have. From mange to cancer to dry itchy skin, they'll tell you whether or not you need to see your vet or if the answer is in your pantry.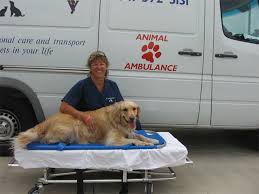 Animal Ambulance Service
Our Hero Person, Cheryl Brady started an ambulance specifically for animals in the Sarasota area. She's transported over 4000 animals and has as many stories to share.
Preventing Bloat
Some dogs are simply predisposed to bloat, a fatal stomach issue that needs immediate attention. Some guardians are electing for a preventative surgical procedure called Gastropexy.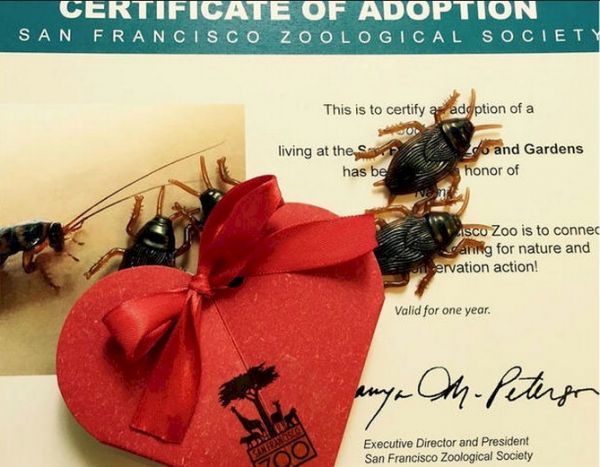 Get Your Ex A Hissing Cockroach For Valentine's Day
If you are looking for a less than romantic gift for an 'ex' on Valentine's Day, the San Francisco Zoo might have just the thing. You can adopt a hissing cockroach or giant scorpion in the name of your 'ex'. The zoo says the gift could protect your karma and help it continue its mission of connecting people with wildlife.
In Dog We Trust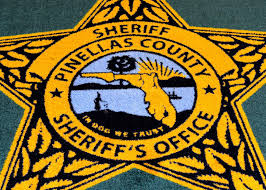 The rug in the entranceway to the Pinellas County Sheriff's Office is forest green with the sheriff's gold badge on it. Where it's supposed to say "In God We Trust" it says "In Dog We Trust." Hundreds of people have walked on the rug without noticing. A deputy finally spotted it the other day. The Sheriff's Department now plans to auction off the rug with the proceeds going to a local animal rescue group.
Animal Radio Episode 791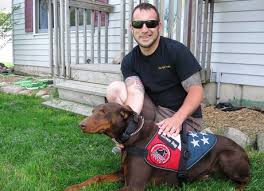 US Airways Apologizes to PTSD Sufferer
Former U.S. Marine Eric Calley suffers from (PTSD) Post Traumatic Stress Disorder. He is quite thankful for his service dog, "Sun." Calley had a run-in with U.S. Airways when they denied proper seating for his service dog and berated him with insults.
A Flight Attendants View of Service Animals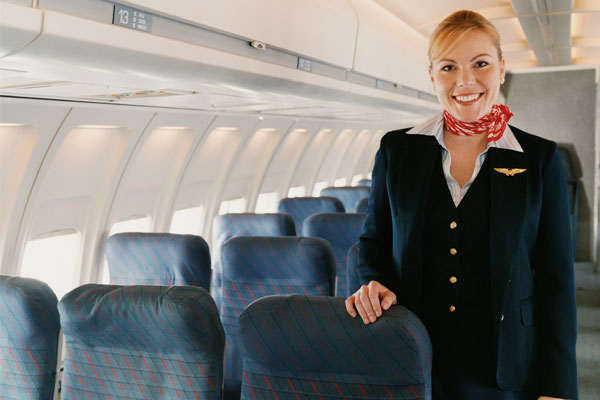 Since there is no real certification for service or emotional support animals, anything goes. Flight attendant Heather Poole is fed up with trying to make everybody happy. She questions the credibility of "emotional support" pigs, horses and monkeys. Yes, these are animals she's had the pleasure of accommodating on her LA-NY route.
Homeopathic Drugs Need Regulation
No matter how hyper your dog is, you would never give it an alcoholic drink to help it relax? You might have been doing just that if you used the product Good Dog made by Pet Organics. It turns out that among those 'natural ingredients' is 13% alcohol, about the same amount that is wine.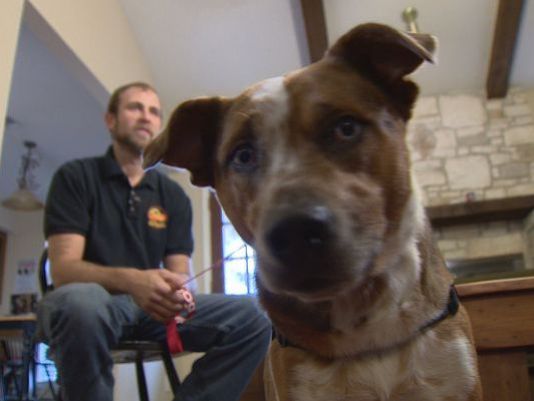 Disabled Vet Evicted Over Unpaid Pet Fee
We've been seeing more and more stories about the fees landlords charge people who move in with pets. Now, an unpaid pet fee has resulted in a disabled Army Veteran and his service dog being evicted from a mobile home in Bandera, Texas. David Palasek refused to pay the pet fee, citing Section 504 of the Fair Housing Act that states service animals are not pets, so are not subject to a pet fee.
....and of course our Dream Team will be answering your pet-related questions toll-free at 1-866-405-8405.
Animal Radio Episode 790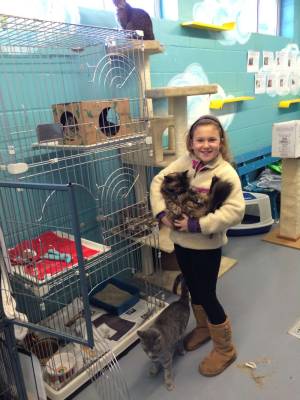 Young Heroes
This week's Hero Person is 9-year-old Orly Sedransk. After a visit to her local shelter, she was moved to do something to make a difference. Through a 50/50 raffle, she was able to raise enough money to help the municipal shelter purchase cages to hold cats.
Top Dog Names
Next time you go to the Dog Park, you're likely going to hear someone calling for Max or Bella. Those are the top two names bestowed on puppies in 2014. Vetstreet.com says other popular names for boy dogs after Max were Charlie, Rocky, Buddy and Cooper. Rover.com says there was a 37% increase in food-themed names like Coconut, Ginger, Kale, Peanut, Guinness, Vino, Mochi and Whiskey.
Road-kill Clothing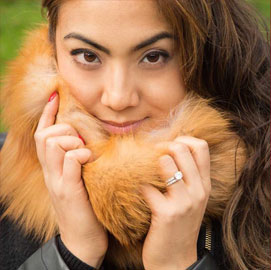 Pamela Paquin is an "ethical designer." She collects road-kill to turn into "Petite Mort," or stoles, collars and coats. The average price is $1000 for one of her creations. Many of her clients are upscale and affluent. Pamela says this is a tribute to the animals.
Pet Food Stamps Program Shuts Down
When Pet Food Stamps, Inc. was formed in 2013; it got attention from all over, including being featured on CNN, CBS, ABC and Animal Radio. In 2013, founder Marc Okon raised $65,000, enough to handle the nearly 200,000 people who'd asked for help. He resigned last April, saying he was overwhelmed with applications and closed the program.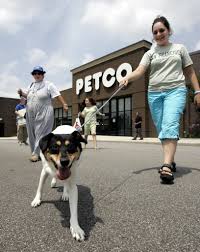 Petco Stops Selling Treats From China
Petco has kept it promise and removed all dog and cat threats made in China from the shelves of it stores nationwide. Last May, the chain became the first national pet retailer to say it would stop selling the treats after reports began showing up Chinese-made treats were making animals sick, and worse. The move includes pet treats made for the Petco Brand 'unleashed' and those sold online.
Animal Radio Episode 789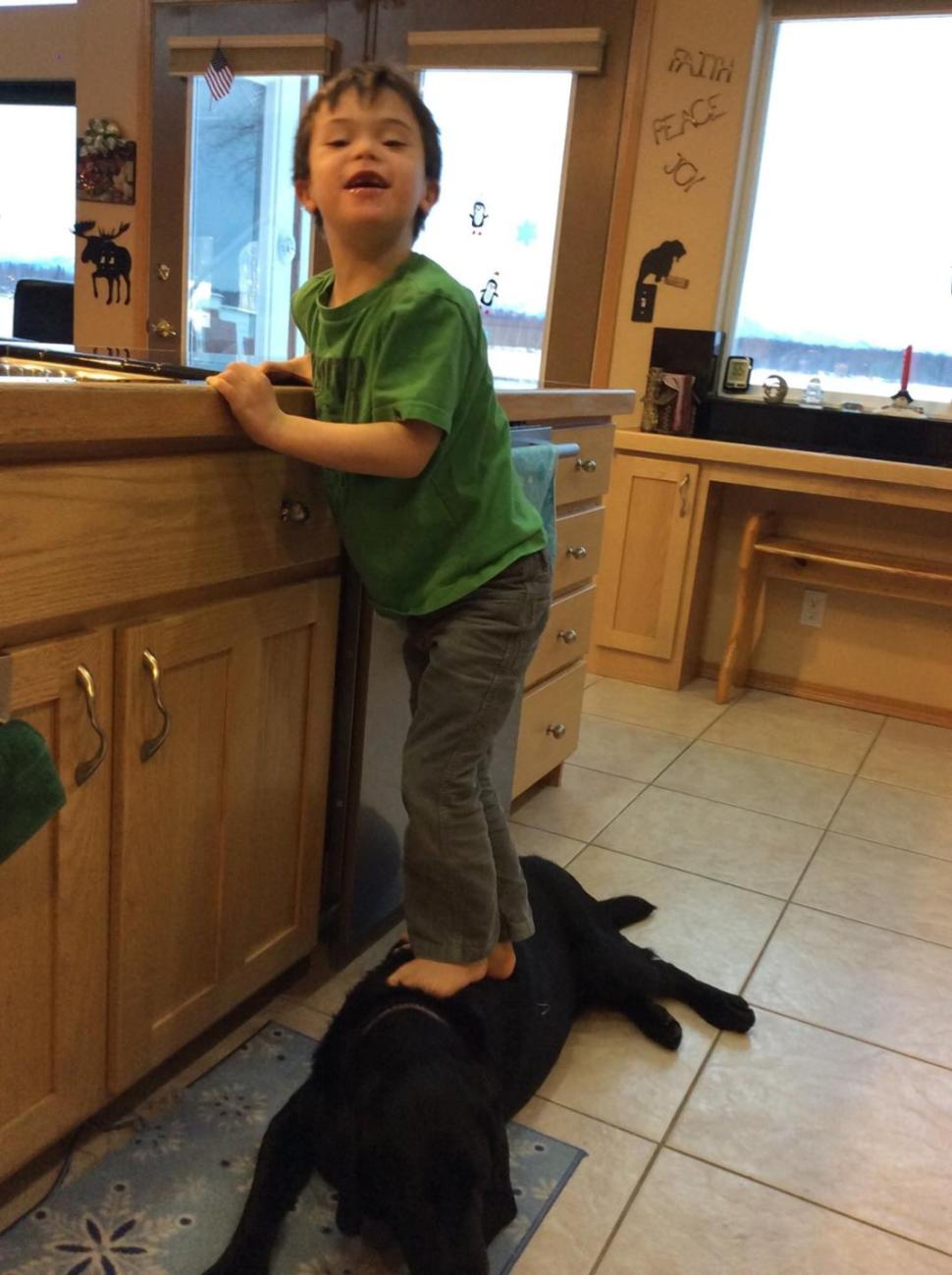 Palin vs. PETA
Sarah Palin is catching heat from PETA (People for the Ethical Treatment of Animals) for posting a Facebook picture of her son standing on the family dog to reach the kitchen sink. While the dog doesn't seem the slight bit annoyed, PETA believes this is the wrong message to be sending. The post has over 70k likes. Palin says, "At least we didn't eat the dog."
Autistic Children Respond to All Types of Animals
We've heard about research that pet dogs can help autistic children improve their social skills. Now, a first-of-it's kind study says that any kind of pet can help. The study suggested that when pets are present, the children tend to interact and talk to others more.
United Airlines Leaves Dog on Cold Tarmac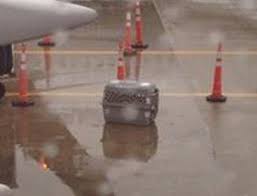 United Airlines is taking heat for a picture that was shared on Twitter of a dog in a kennel out in the cold rain on the tarmac in Houston. The photo was put up by a woman on a plane nearby who says that airline employees were just ignoring the dog and after 30-minutes, she decided to let the company know using social media. United acknowledged the situation, blaming the pet carrier service.
Do Passengers Mind Animals On A Plane?
A study done by the airport shuttle service Go Airport Express found that 52% of people say they're ok with pets traveling in airplane cabins instead of being stowed like cargo, but 6 out of 10 thought it would be a good idea to keep them in a special area because of possible allergies.
Are Animals Property in Custody Battle?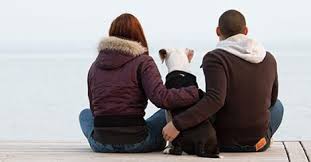 Animals are still considered property when it comes to the law. 27% of the respondents in a recent survey had noticed an increase in the number of couples who fought over custody of a pet during the past 5 years. Most lawyers say anything that you care about, and that includes pets, should be in the pre-nup.
Animal Radio Episode 788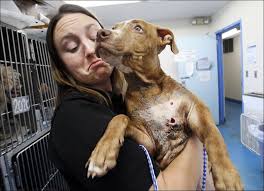 Dr. Laura Delivers Reckless Message
Thousands of people seek the advice of radio shrink Dr. Laura Schlessinger. Yet she continues to prove that she's not so healthy upstairs. Using her radio show as a platform, she said, "All Pit-bulls are bad and should be put-down." This is complete ignorance at its ugliest.
Actress Jessica Cameron Guests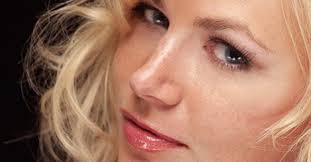 The extremely charismatic and talented Jessica Cameron shares her life with 5 hep black cats. In fact, she just finished directing (and acting in) Truth or Dare and she reveals how 'Grumpy Cat' turned down a part in this feature flick.
Take Your Dogs To Dinner
It's now legal in California to take your dog to many restaurants, as long as they have an outdoor space. Dogs have to be on leashes or in carriers, well-behaved and they can't be where food is being prepared. It's still up to the restaurant to decide if dogs are welcome and local laws trump the new state law, but the idea is to keep people from leaving dogs in hot cars during the summer or tied up alone outside of restaurants.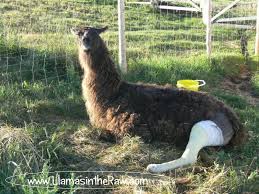 Where Llamas Go To Retire
This week's Zeuterin Hero Person saves homeless and sometime ill Llamas and Alpacas at his self-funded sanctuary in British Columbia. David Chapman explains how Alpacas were valued around $20,000 before the turn of the millennium. "Now they're worth less than a stray dog." Many are left homeless and unable to care for themselves.
Small Children And Reptiles Don't Mix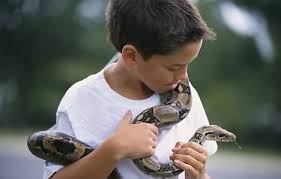 A study is out with a warning for people who have small children and also have exotic reptiles, like snakes, chameleons, iguanas or geckos. The study found that 27% of the kids that came down with salmonella lived in homes with a reptile as a pet.
Animal Radio Episode 787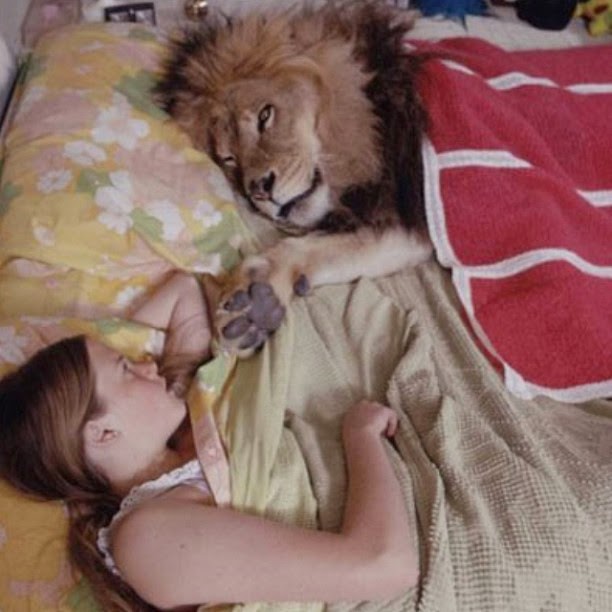 Just Say No To Big Cats
Actress Tippi Hedren (The Birds) is back to talk about the big cats at her sanctuary and legislation to stop the breeding of lions and tigers. She comes clean about her daughter's (actress Melanie Griffith) relationship with "Neil" the lion.

Pets Can Give You A Tax Break
If you foster an animal, you can deduct some of the associated costs. Things like vet bills, food, grooming; they qualify as charitable donations, which are deductible up to 50% of your adjusted gross income. But once, you officially adopt the animal, that animal is no longer considered a foster, so you will lose the deductions.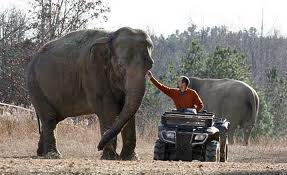 Saving Elephants
This week's Zeuterin Hero Person is rescuing elephants from circuses and zoos. Often mistreated, the gentle giants are exploited for our entertainment. Scott Blais, co-founder of an elephant sanctuary in Tennessee, Skypes with us from Brazil, where he is currently rescuing 50 elephants.
Body Art Is Not For Animals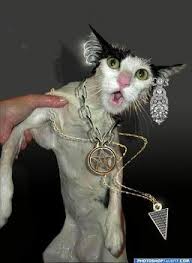 It will soon be a crime throughout New York State to pierce or tattoo a companion animal. There is an exception for markings one under a veterinarian's supervision. The laws were prompted by people showing off what they did to their animals on the Internet, including a woman who was piercing kittens and selling them as 'gothic.'
Pet Owners Get Emotional Distress Award in Death of Pet
The Maryland Court of Appeals has ruled that a jury can award damages to pet owners for the emotional distress they suffer following the injury or death of a beloved animal due to gross negligence. The Court let stand a $200,000 award to Roger and Sandra Jenkins. Their Labrador retriever was shot and killed by a Frederick County sheriff's deputy.
Animal Radio Episode 786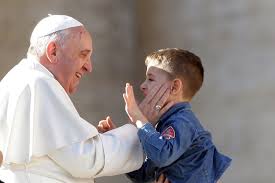 Pope Francis - Not To Be Confused With St. Francis
The Catholic Church is stressing that Pope Francis was not saying 'pets have souls' when he was consoling a youngster about the child's deceased pet. Academics think the pontiff acknowledged animals have souls by telling the child he would see the pet again in paradise. Of course, the church adamantly says that animals are soulless and therefore don't go to heaven.
GOD Spelled Backwards
Actress Sylva Kelegian not only guests this week, but she is also our Zeuterin Hero Person. Changing focus from acting to animals, she's on a mission to reduce the homeless population in LA. She wrote a book about her journey.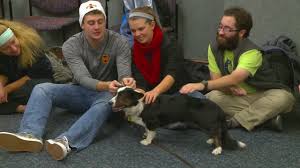 College Pet Therapy
There is not much out there to make taking college finals fun, but Iowa State University found a way to make them a bit less stressful. Pet therapy. ISU set up a room at the library where stressed out students could come in and spend some time playing and petting a group of dogs.
Movers Packed The Cat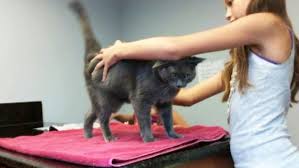 The Barths, were moving from Virginia to Hawaii. Just before they were ready to go their cat "Mee Mowe" disappeared. They postponed their move for three days hoping that she would show up. They finally had to go. They got to Hawaii and 36 days later their belongings arrived. They heard a very faint meow coming from one of the boxes. Yup, there was Mee Mowe.
English to Doglish
Britt Savage has tips on naming and teaching your dog their name. Many dogs think their name is "Max get out of the trash" because we don't use it properly.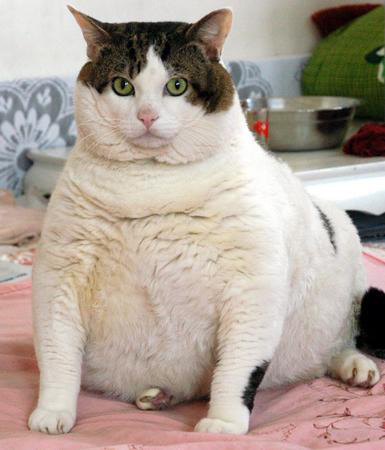 Fat Pets - Fat Pet Parents
Chances are your New Years resolution has something to do with weight-loss. We should also be thinking about our pets too. They become very sedentary during the winter and putting on the pounds is not uncommon. Animal Radio Veterinary Correspondent Dr. Marty Becker has a plan for you and your poochy-pet.
Animal Radio Episode 785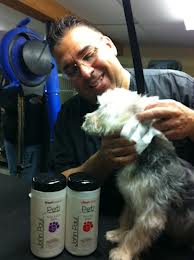 Licensing Groomers
Animal Radio's very own Joey "Dogfather" Villani is behind legislation to protect your pet while they're at the groomer. Currently, anyone with a scissors can groom your pet. This bill would mandate certification and a license, just like your barber.
Holiday Pet Tips
Dr. Kathy Hillestad from Drs. Foster & Smith is here to help make your holiday safe and fun for your pets. She has the details about good and bad foods and plants. This year, as Lithium batteries become more prevalent in devices, more animals are swallowing them.
High-Speed Rescue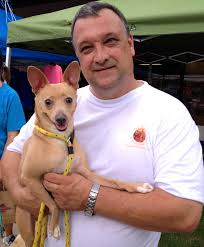 Mario Chiozza is this week's Zeuterin Hero Person. He couldn't believe his eyes when he saw a dog tossed out of the car in front of him on Interstate 40. Despite the 55 mph. rush-hour traffic, he managed to capture the dog and save her. "Savior" is the catalyst for Mario's mission.
Santa Sent Packing after Pit Bull Incident
An autistic 7-year-old girl and her service dog waited in line to see Santa at a SoCal Mall. Santa's elf told them they would not be allowed near Santa because the jolly man was afraid of Pit Bulls. The family complained and Santa was sent packing.
Do You Sleep With Your Pets?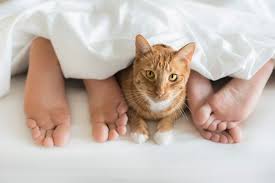 Research presented at the Sleep 2014 conference showed that 54% of pet guardians sleep with their pets and that 30% of those said they wake up at least once a night because of them. 63% said they have poor sleep quality. Some people though say they sleep better WITH their pets.
Animal Radio® Episode 784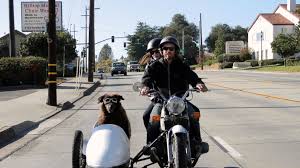 Sidecar Dogs
Movie Producer Eric Ristau just released his latest masterpiece about the many dogs that travel alongside their owner in a motorcycle sidecar. Sit Stay Ride: The Story of America's Sidecar Dogs is the full-length movie that launched with a Kickstarter campaign, and now proceeds benefit animal welfare.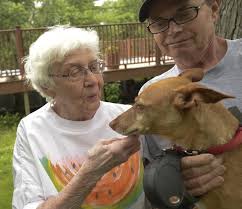 Must-Hear Hero
You'll love this week's Zeuterin Hero Person. She's 84-year-old Dolly Jefferson. And she had no qualms about intercepting angry coyotes to save a neighbor's dog. Now she's making news nationwide.
Pet Nanny Spills All
After selling her successful Pet-sitting business, Lindsey Grant wrote a book about the strange and curious relationships we have with our pets. Some of her client's requests make for a noteworthy book. She'll also be talking about how Switzerland, her new home, treats animals.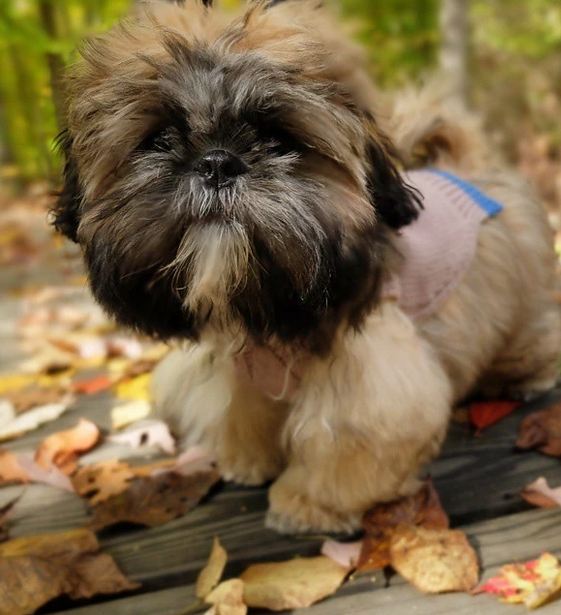 Kimpton Pet Photo Contest Ends
It's never easy to select a winner, but the Animal Radio® Dream Team selected "Potato McTater" for a 3-night stay and JetBlue airfare. Kimpton's Top Dog, Steve Pinetti tells the winner the good news.
Banned Pit-Bull Service Dog Can Stay
Authorities in Louisiana have backed off on its demand that Zeus be gotten rid of or be destroyed. In October, Moreauville passed a law banning Pit Bulls or Rottweilers. When they targeted Zeus, the whole thing blew up on national television and on the Internet. Zeus helps the Owen's daughter O'Hara who uses a wheelchair and has spasms, which Zeus monitors and gets her help when she needs it.
Animal Radio® Episode 783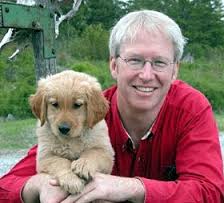 Top Pet Products for 2014
Whether you're looking for good gift ideas or you just want to know the latest cutting-edge pet product, you'll want to catch this week's show. Animal Radio® Chief Veterinary Correspondent Dr. Marty Becker is back with his picks. In fact, our entire team will share their top picks for 2014. Grab a pen.
Alzheimer's and Our Pets
Does your cat or dog seem confused? If your animal is older, it may have a condition called cognitive dysfunction syndrome. It's a disease similar to Alzheimer's. Recent studies estimate that 50% of dogs over 10 years and 53% of cats over 11 years show symptoms of CDS. Animals may get lost in their own yard, stuck in corners or under furniture, or stop recognizing people or responding to its name.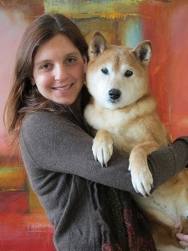 Unlikely Heroes
Fresh off the success of her best-seller, Unlikely Friendships, Jennifer Holland released Unlikely Heroes, a celebration of those animals that have done something noble for humans or other animals. You will be surprised and amazed at these valiant acts of heroism.
Pets At Work Reduce Stress
Central Michigan University researchers found that the benefits of allowing animals in the workplace far outweighed the cons. Pets decrease stress. Having one dog around the office has been shown to increase collaboration. Businesses are now offering this as a recruiting perk. Of course there is a downside too.
Point, Shoot, Adopt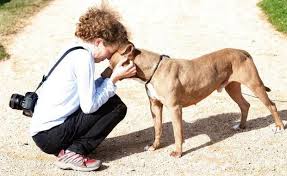 This week's Zeuterin Hero Person is photographer Shannon Johnstone. She saves the lives of unwanted dogs with her camera. Shannon turns the sad photos of dogs waiting to be adopted into happy photos with families. She specifically photographs dogs that have been waiting in the shelter the longest.
Animal Radio® Episode 782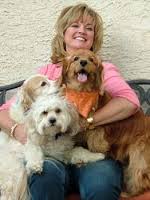 QVC Host Loves Animals
QVC's Carolyn Gracie loves her animals. Besides a house full of rescues, she also is quick to bring a pet into the QVC fold. "If you want to sell-out a product, bring a pet on TV with you," Carolyn advises. She regularly pitches products from small up-and-coming pet product entrepreneurs.
The Pet Chef
Lisa Hennessy decided she was done with commercial dog food for her Collie. She started creating healthy, fresh dishes that her dog could share with her. Lisa tested dozens of recipes and compiled them into several cookbooks. She's here to share some of her recipes with you.
Sneezy Squirrel Goes Viral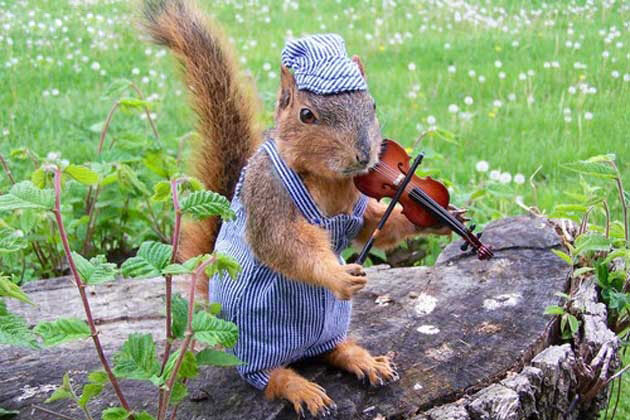 When Mary Krupa befriended a wild squirrel, she learned that she could easily dress "Sneezy" up and take photos of the rodent in hats and clothing. Now, she regularly meets up with the squirrel for photo sessions.
Could Testing Cosmetics on Animals Be Banned In US?
Testing cosmetics on animals has recently been banned in Europe and India and a similar ban here in the United States will be on the front burner when the new Congress convenes in January. Virginia Democrat Don Beyer is expected to take the lead on the issue. Their state, Virginia, is home to several big cosmetic companies.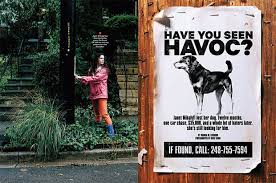 Woman Spends $35,000 For Lost Dog
How much would you spend to try and find your dog if he got lost? The sky is the limit it seems for Janet Mihalyfi of Georgetown. Her 5-year-old, Rottweiler mix, Havoc, has been missing for a year this month. So far she's spent $35,000 dollars trying to find him.
Guardian Sues Over Dog Killed Because of Ebola Exposure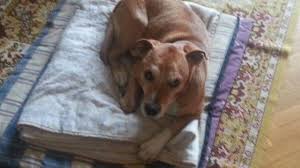 The nurse in Spain who recovered from Ebola, but whose dog Excalibur was killed by Spanish Health authorities, is suing. Teresa Romero's lawsuit seeks the equivalent of $186,000 for the loss of her dog and another $186,000 for damage done to her name.
Animal Radio® Episode 781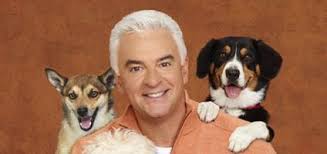 J. Peterman Returns
You might remember him from Seinfeld. He was the first winner on Dancing With The Stars and People's Sexiest Man of the Year. John O'Hurley, host of the National Dog Show on NBC, is back for his ninth year to spread Thanksgiving cheer and Holiday warm-fuzzies all over Animal Radio® airwaves.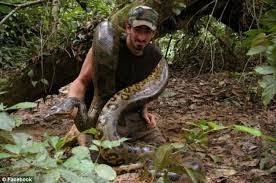 What Some Will Do For Ratings
Probably the most bizarre news this week comes from The Discovery Channel. They plan to feed a television host to an Anaconda snake. Of course the host will be armed with a camera so that you too can see what it's like to be eaten. Even more miraculous, they say the snake won't be harmed.
Pet Ownership On The Rise
More than half of the people in the nation have at least one pet according to a new Rasmussen survey. 49% have a dog and 23% have a cat. 24% have more than one kind of pet. Only 3% have a fish, bird or some other sort of animal. An overwhelming majority of pet guardians, 92% say they talk to their pet.
Microchipped Dog Returned After Eight Years


A couple in Atlanta has their Shih Tzu, Jordan, back after eight years. The last time Mike Nuanes saw Jordan he was just a puppy. He's sure someone snatched Jordan out of their backyard. They did everything to find him, but no luck until a few weeks ago, when the Fulton County Animal Services called to say Jordan had been turned in as a stray. Luckily, Jordan was microchipped, the key to his finally getting home.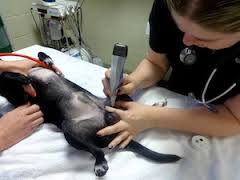 Non-Surgical Sterilization
Dr. Amber Valinski has performed over 1000 Zeuters. No spelling error. It's a non-surgical injection that safely, effectively and permanently sterilizes your dog. And there seems to be some significant advantages to this procedure.
Animal Radio® Episode 780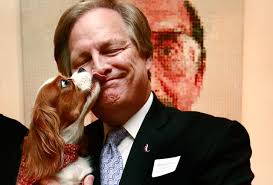 Best In Show
Its time again for our yearly rendezvous with the co-hosts of the National Dog Show on NBC. Thanksgiving tradition for 20 million pet-lovers now includes this celebration of man's best friend. David Frei joins us live from the streets of Manhattan.
More Thanksgiving Pets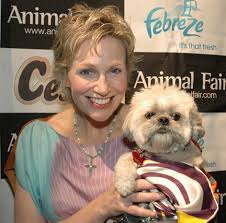 There's no question that all the TV networks are vying for the pet-owners attention on Thanksgiving. NBC has the dog show. Animal Planet has the Puppy Bowl. The Hallmark Channel shows hours of kitties playing. And now FOX enters the fray with the Paws for Cause Spectacular. Executive Producer Michael Levitt breaks exclusive news about the star-studded special featuring Jane Lynch, Hilary Swank and Betty White.
Misleading Pet Food Labels
Tests done at Chapman University show that you should not trust the label on your pet's food. Researchers found about 40% of them had meat that was not listed on the label. The ingredient that was most often present, but not listed, was pork, which is a common allergen for pets and could cause a problem.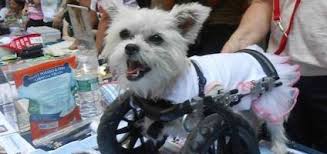 Hero for the Handicapped
This week's Zeuterin Hero Person is Mary Fayet. She's admits to being a "foster failure" and has a home filled with infirmed and elderly animals. Her dog, Lexi, has no use of her front legs and gets around with a wheel attachment.
Ducks Can't Be Service Animals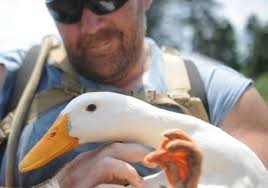 An Army veteran in Ohio who says his pet ducks help him cope with PTSD has been fined for keeping them. Dan Welker has given away eight of them, but still has six and is arguing for a change in the law. He keeps them in a fenced yard, but they also come in his house. He says they really like a recliner.
Animal Radio® Episode 779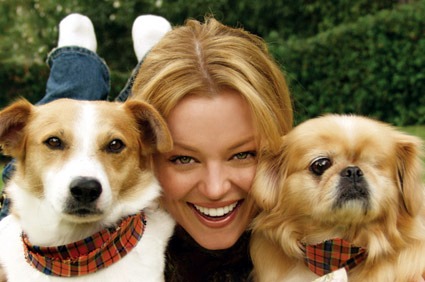 Char Char
Actress Charlotte Ross guests this weekend. This charismatic fireball loves the animals. You've seen her on Glee, NYPD Blue, Nashville and Arrow. But her biggest role is being a voice for the voiceless.
Myths About Fleas Treatment
There are lots of home-remedies for fleas that simply don't work or can be dangerous for your pet. No, Motor Oil doesn't work, and is obviously very dangerous. Lemon juice doesn't kill fleas either. Nor does Dawn dish detergent. Dr. Debbie & Dogfather Joey Villani have what you need-to-know to effectively and safly rid your pet and house of fleas.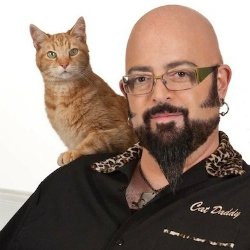 Catification
Cat expert Jackson Galaxy is back. This time he has great ideas for turning your house into a cat-friendly playground without losing its aesthetic appeal. It's not enough to just have a feeding bowl and litter anymore. Cats need stimulation. Jackson has a plan, even if you're a renter. Oh, did we mention we have giveaways of Jackson's new book?
Human Separation Anxiety
Forget about canine separation anxiety. Let's talk about how much we miss our pets when we go out of town. 10% of us call our pets to say hi. 4% of us send postcards to our pets. And a whopping 23% of us buy souvenirs for our critters. Tammy Trujillo has all the details about our obsession with our pets.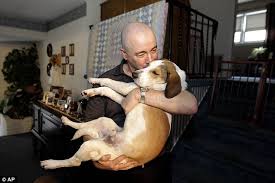 Let's Pass On Gas
Our Hero Person this week is trying to put an end to an archaic method of euthanization. 22 states still use the gas chamber to get rid of unwanted animals. Joe Dwyer adopted a dog that survived a gassing. Now the lucky dog, "Daniel," is the poster-dog for anti-gas chamber legislation.
More this week
Next Week: David Frei - Mary Fayet - Michael Levitt
Animal Radio® Episode 778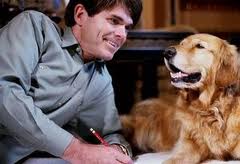 Dean Koontz is Back
Award-winning, best-selling author Dean Koontz returns to Animal Radio® airwaves to tell us the story about his dog, Anna. According to Dean, Anna purchased a computer and started answering advice emails. Tune in to hear the rest of the story.
Dog Food Advisor
Dr. Mike Sagman was a dentist, until he gave that up to create an unbiased website that reviews every pet-food on the market. Nobody is in his pockets...although they try. He's here to tell us how pet-food manufacturers deceptively use loopholes to make their label read better. Find out how your food stacks up.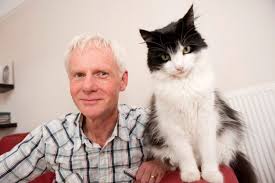 Cat Sense
John Bradshaw is arguably the top expert on cats. He's back to dispel myths and tell us what goes on inside the head of our kitties. For instance, did you know cats can hear very-low and very-high frequencies? While cats can't see in the dark, they can see only a few colors well in dimly lit areas.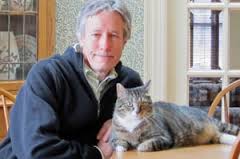 AVMA-CDC on Ebola and Our Pets
Dr. Doug Aspros from the American Veterinary Medical Association (AVMA) and the Center for Disease Control (CDC) have teamed up to bring you the latest information on the Ebola virus and your pet. Is your pet vulnerable? Probably not. There are real risks you should worry about. Many thousands of people died last year from Rabies alone.
Pet Crowd-funding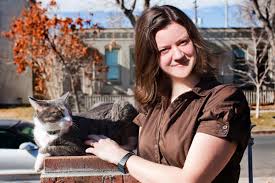 This week's Zeuterin Hero Person created a crowd-funding website similar to Kickstarter to help pay for much-needed pet projects. Whether it's funding surgery or feeding homeless animals, Sarah Timms wants to use modern fundraising techniques help pets live happy and healthy lives.
Animal Radio® Episode 777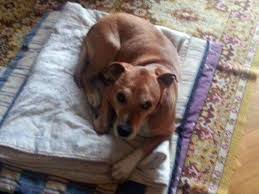 Ebola and Your Pet
Dr. Debbie answers the hard questions you have about Ebola. Can your pets get it? Can your pet transmit it? It turns out that Ebola might be the least of your worries for your pet's health.
Deaf Dogs Rock
This week's Zeuterin Hero Person cares for dogs without hearing. Christina Lee and her hubby started a non-profit to help find homes for deaf dogs. Typically these dogs won't get adopted and will be put-down. Things are changing thanks to this couple.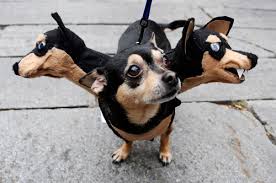 Top Halloween Pet Costumes
Research shows more and more of us are dressing up our pets for Halloween. It's big business at BuyCostumes.com. They're into creating matching costumes for human and critter. Top Dog Holly Botsford is going to give away $50 in costumes to a lucky listener.
Bats In The Belfry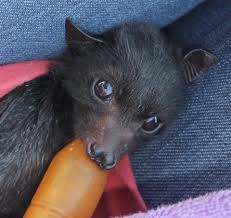 Amanda Lollar rescues the very misunderstood and maligned bat. She's out to prove Hollywood got it wrong and that these mammals are actually pretty useful and cute. And if you like Tequila, you'll want to support her efforts, because without bats, there would be no tequila. Not to mention a lot of bugs.
Reality Shock
Edward Meyer from Ripley's Believe It Or Not is back for his annual segment on animal oddities. You'll hear about cats with strange markings and dogs that can fly. Edward will have plenty of giveaways of this year's coffee-table book, Reality Shock.
Animal Radio® Episode 776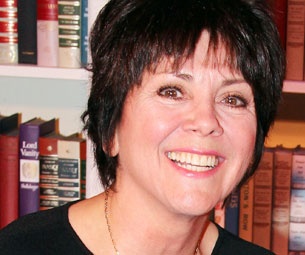 Joyce DeWitt Guests
She played Janet, the brunette on Three's Company. Joyce DeWitt is our special guest this week and she's "talking dogs." She'll be starring in a Hallmark made-for-TV movie about dogs.
GPS Microchip Fraud?
Karen Hanover was a recent guest on Animal Radio® and discussed a new device she and her mother created called Escape Alert, a GPS microchip that could track your dog if he/she ever got lost. Hanover signed a plea deal in federal court stating that she bilked 48 people out of nearly a million-and-a-half dollars.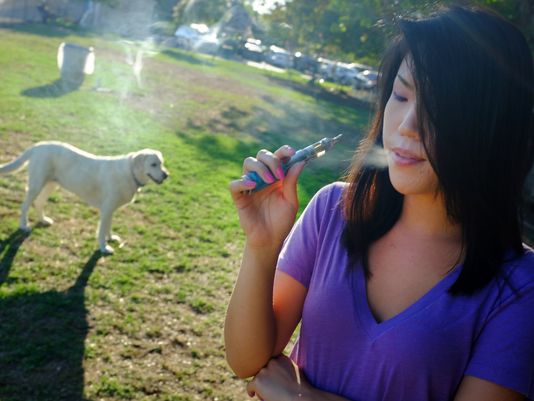 E-Cigarettes Causes Trouble for Pets
With the advent of electronic cigarettes, veterinarians are seeing more and more nicotine poisoning events. The pen-like smoke vaporizer usually is flavored, which makes it even harder to keep away from dogs. Dr. Ahna Brutlag from the Pet Poison Helpline is here to explain.
Pet Insurance Reform
California has become the first state in the nation to enact a set of protections for people who buy pet insurance. Assembly bill 2056 requires insurers to explain their policies more clearly and give people a 30-day trial period, during which a person can get a full refund. The pet insurance industry is expected to grow to at least $750 million by next year, while Americans spend more than $15 billion annually on veterinary care.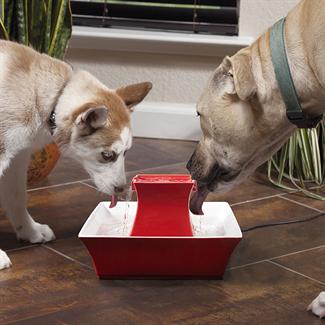 Wacky Wednesday
Our weekly wacky pet photo contest is getting more popular. Send us your wacky pet pix to WackyWed@AnimalRadio.com. This week you can win PetSafe's Pagoda Drinking Fountain. If you don't have any crazy pictures of your animals, then drop by our Facebook page to vote on other wacky pictures.
Animal Radio® Episode 775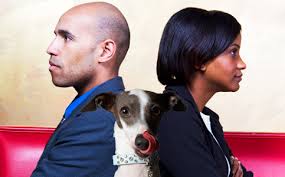 Pet-Prenup
When a marriage breaks up, it's the children who often get caught in the middle, but pets can end up becoming the subjects of custody battles too. Now the British animal charity Blue Cross has come up with what it calls a 'Pet-Nup' that spells out who will get the family pet if a couple splits up.
Goldfish Undergoes Life Threatening Surgery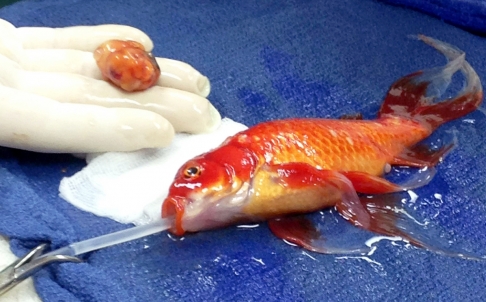 You don't hear very often, maybe never, about a goldfish having an operation. But you don't often hear about a goldfish having a life-threatening tumor growing from its head. Little George of Melbourne, Australia had both.
Our Hero Needs a Hero!
This week's Hero Person has her hands full with paraplegic and quadriplegic dogs. Elizabeth Forsberg has adopted animals that normally would be put-down because of their handicap.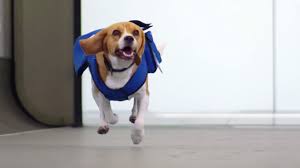 Beagle Returns Lost Airport Items
If you leave something behind when you get off a plane, getting it back can be a real pain. Not so anymore if that plane lands at Amsterdam Airport Schipole. Sherlock will get it back to you, no problem. Sherlock is a beagle specifically trained to return lost items to passengers.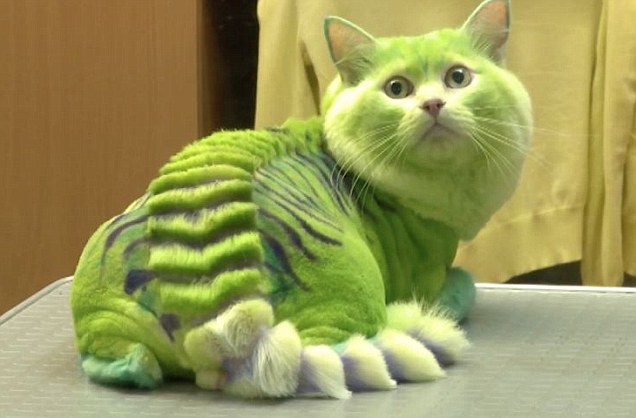 Makeovers For Dogs & Cats
One pet groomer in Yekaterinburg, Russia is doing more than just baths and hair cuts, she's giving dogs and cats makeovers into creatures like mythical green dragons or yellow and black striped bumblebees. Daria Gotz says she only uses dyes made from botanical extracts that wear off once the animal's coat grows out. See the Video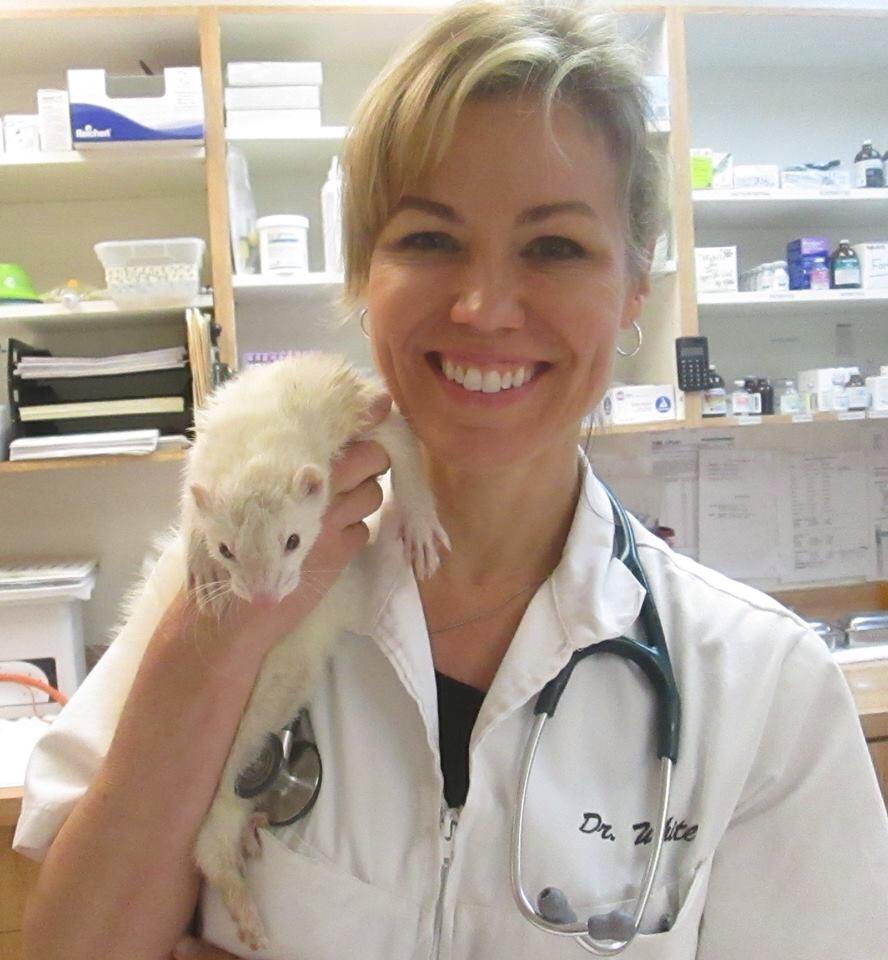 ÔÇŽ.and, of course, Dr. Debbie and Dogfather Joey Villani are answering your pet questions about jumping dogs, TPLO surgery, doggy A.D.D., teaching your bird to talk, fleas, eating poop, ear-mites, hairballs, motion sickness, allergies and aggressive behavior. Call toll-free with your questions: 1-866-405-8405.
Animal Radio® Episode 774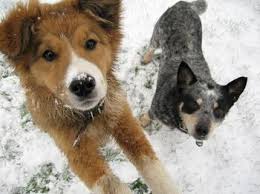 Is Your Pup An Optimist Or A Pessimist?
Researchers say that dogs, just like people, can be optimistic or pessimistic. This information could dictate whether certain dogs are cut out for certain jobs. A pessimistic dog that avoids risks would be better as a guide dog while an optimistic, persistent dog would be more suited to detecting drugs or explosives.
Pet Food Victory Goes Overboard
Hill's Pet Nutrition recently won on it's challenge in how Blue Buffalo markets its products and puts down it's competitors, but it looks like Hill's got a bit carried away with the victory. The National Advertising Division says Hill's went too far when it started promoting the win. It seems that Hill's PR Department sent out so-called 'article starter kits' to certain bloggers about Hill's products and included links to a press-releases and articles written about the Hill's/Blue Buffalo dispute.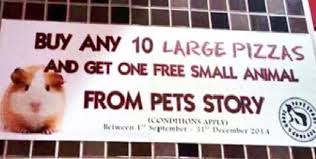 Free Animal With Purchase of Pizza
A Pizza Hut in Australia has apologized for offering a 'free small animal' with the purchase of 10 large pizzas. The deal was offered connection with a local pet store. The corporate office at Pizza Hut says it had not approved the promotion and no animals were given away.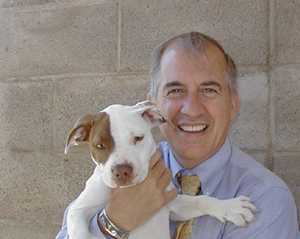 Remember Me Thursday
Our Hero Person this week has been serving animals for decades since a close-to-death experience changed the way he viewed our furry-friends. Mike Arms is the Top Dog at the Helen Woodward Center in San Diego and he's no stranger to Animal Radio® airwaves. He explains his latest viral campaign for animal awareness.
GPS Microchip
Karen Zaxton's mom has no technical skills, but she came up with a great idea to combine the microchip with a GPS locator. Not until now has the battery technology been available for powering a rice-sized chip.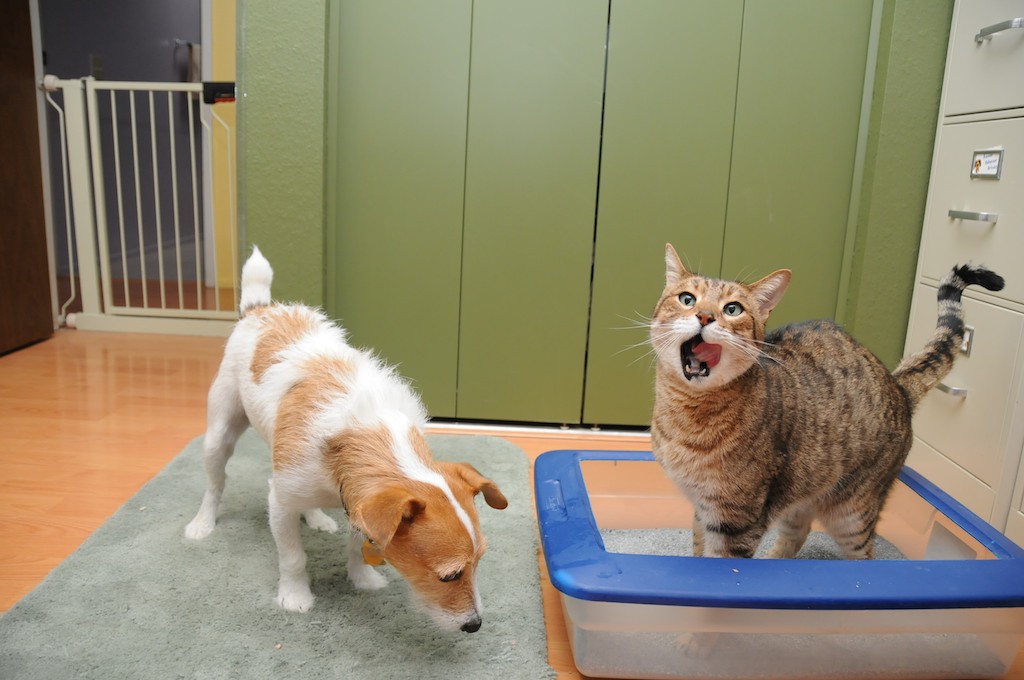 Building The Perfect Litter Box
Dr. Debbie tackles litter-box problems everyday. She has a winning record! She'll tell you why cats don't use them and how to solve inappropriate elimination issues.
Animal Radio® Episode 773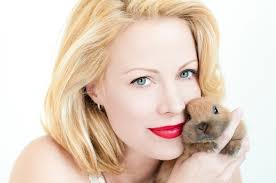 Eastwood Is Back
The daughter of Clint Eastwood, Alison Eastwood is back for more fun! She's crowd-funding to raise money for Chimp Haven, the new home for 110 research chimps purposely infected with HIV and Hep C.
Financial Help For Procedures
Our Hero Person this week created the Brown Dog Foundation to help pet owners afford life-saving surgeries and procedures for their pets.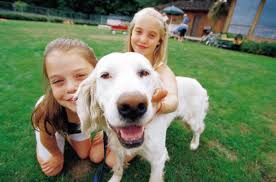 Getting Licked On Route 66
We're almost halfway across the country and coming to you from Oklahoma City this weekend. It's all part of the "Get Your Licks On Route 66" adoption tour. Fido Friendly's Susan Sims checks in from the adoption site.
Bringing Pets Into The Classroom
The 501c3 APPA (American Pet Products Association) is riding-high on their viral Pets Add Life campaign. APPA President Bob Vetere says teaching compassion for animals in the classroom creates adults that respect and love pets and people.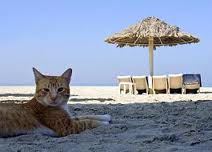 Hawaiian Quarantine
If you're planning on taking your pet to Hawaii, you might want to re-think your strategy. A dog that was put in the mandatory 120-day quarantine suffered heat-stroke. Now, the owner is demanding an investigation of the quarantine center.
Would You Use A Shock Collar On Your Dog?
That question is getting lots of interest lately. Researchers say the collars can be not only physically damaging to a dog, but also emotionally damaging.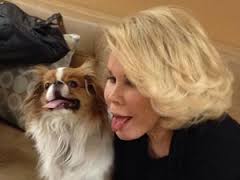 Joan Rivers Leaves Money To Her Pooches
The value of Joan Rivers estate is roughly 150-million dollars. She left most of it in her will to her daughter Melissa, but she also made sure that her dogs are provided for.
Animal Radio® Episode 772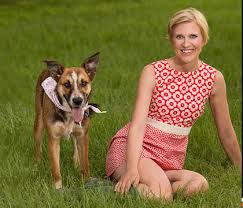 Being A Vet Saved Her Life
When Veterinarian Dr. Sarah Boston noticed a lump on her, she insisted that it was cancerous, even though other doctors said no. She did an ultrasound at her office and in validated her worst fear. The lump was removed and she is now cancer-free.
What Would You Do For Your Dog?
When this week's Zeuterin Hero Person found out his pup had Ventricular Tachycardia, a rare condition where a dog has a rapidly fast and sometimes-irregular heartbeat, Scott Clare drove almost 5000 miles and spent over $10,000 to treat Buck-O.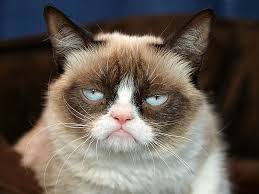 Grumpy Cat Not So Grumpy at 100 Million Dollars
Cat Videos has to be the biggest "time-suck" on the Internet. Now, the popularity of these videos has spawned several video festivals. The next one in Los Angeles is expected to bring at least 10,000 cat lovers to Exposition Park. What's the deal behind this cat craze? Erik Deleo explains.
Removing Sap
Animal Radio® Dogfather Joey Villani has several foolproof ways to get tree sap out of your dog's hair and that hard-to-get-to spot between their pads. No need to cut out the hair if you use the right stuff.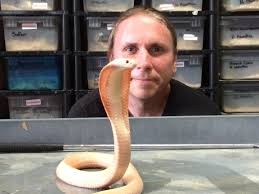 Bit 100,000 Times
This week is the triumphant return of Brian Barczyk to Animal Radio® airwaves. Yes, he has 30,000 snakes at home. Yes, he's been bit 100,000 times. And yes, the chicks dig it!
Animal Radio® Episode 771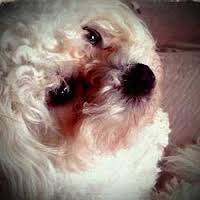 Trouble For Tear Stain Removers
The top makers of tear-stain removers are being called to the carpet by the FDA. The administration says that these products are not FDA approved and actually may have harmful side effects on your pets. Animal Radio® News Director Tammy Trujillo reports on the investigation.
Small Town Hero
This week's Hero Person is making a big difference in a small town. Businessman Barry Kives is paying the adoption fees on 60 pets in his local shelter. Thinking Globally. Acting Locally. Do you know someone that should be nominated for our Hero Person of the Week? Send us an email to: YourVoice@AnimalRadio.com.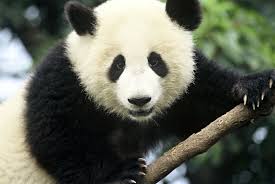 Panda Faking It?
A Panda in China was about to give birth on live TV, until handlers found out she wasn't pregnant. Researchers suspect the Panda may have faked her pregnancy to get some of the lush accommodations and plentiful food offered to the expecting Pandas.
Skunk Explosion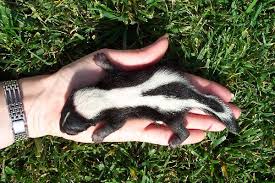 Skunk researcher Christopher Kemp joins us. He's from England, and they don't have skunks in Europe. Ironically, Pepe' le pew is from the Americas. But the most important thing you'll learn, Tomato Juice doesn't remove the smell. Christopher will unlock the true secret to remove the stink, as well as some other interesting facts about the mostly misunderstood critter.
Pet Event Roundup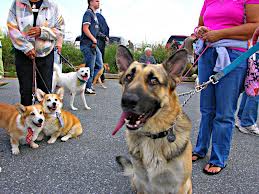 Janice Brown-Gork compiles all the great pet-related events across the country for TailsInc.com. This week she debuts a new monthly segment spotlighting the places you and your furry-companion can go together.
Also this week, Tail Docking - Nail Trimming - Dressing Up Your Dog
Animal Radio® Episode 770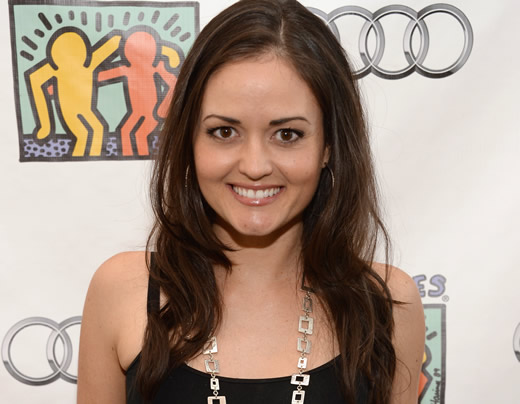 Get Your Licks On Route 66
Do you remember "Winnie" from The Wonder Years? Danica McKellar is our special guest this week. She's the spokesperson for this year's Route 66 Adoption Tour. Together with Fido Friendly Magazine, we're going to find more forever homes for pets from LA to the Windy City.
Pets & Escalators Don't Mix
This might seem like a total no-brainer, but the San Francisco SPCA is urging dog guardians to keep their pets off escalators. The warning is prompted by an increase in the number of escalator-related injuries a month. The group says sometimes the injuries are minor, but in more than half the cases, surgery is required and comes with a bill of, on average, 4,000.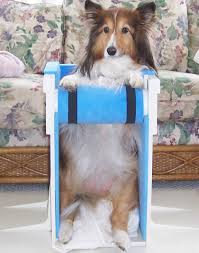 Inventor Hero
This week's Hero Person invented a chair for dogs that suffer from Megaesophagus, a disease that keeps dogs, cats and ferrets from digesting their food properly. Donna Koch created a seat that kept her dog, Bailey, in an upright position to allow for digestion. The dog's short-life prognosis lasted 13 years when Bailey died of an unrelated cancer. The dog's legacy lives on in the "Bailey Chair."
They Still Make That Stuff?
Flea Powder is still one of the methods available to rid your pet from the critters. But it can be horribly toxic. Joey Villani explains the different methods to lose fleas without harming your furry-friend. He also says the popular de-shedding tool, Furminator, can do more harm than you might think.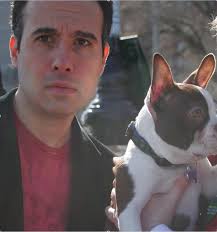 Great Work ÔÇŽ If You Can Get It
Funny-man Francesco Marciuliano is back. The creator of the Sally Forth comic strip has his latest follow-up to "I Could Pee On This," another kitty book called "I Knead My Mommy." The one sure thing is he is always a "laugh-riot" and a fun guest.
Bring Your Pooch to Dinner
Your best friend can now go with you to certain bars and restaurants, if you live in California. Governor Brown has signed Assembly Bill 1965 into law. It allows dogs to join their guardians at outdoor sections of food establishments, as long as the dogs are under control and not barred by a city ordinance or the restaurant owner.
Animal Radio® Episode 769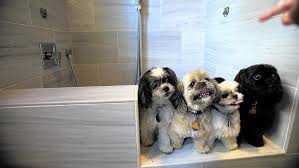 Pet-Friendly Housing
Standard Pacific Homes knows the 60-Billion-dollar pet industry has a place for homebuilding. 27 of their developments now include pet accouterments including a pet-spa and TV exclusively for Fido. Standard Pacific's Danielle Tocco explains what they're doing to cater to pet owners.
Heartworm Medication Causes Deaths
There are more worries about the dog heartworm medication Trifexis. So far, 965 complaints about dogs dying after taking Trifexis have been filed with the FSA over the last three and a half years. The drug's maker, Elanco, says it's sold 70-million doses and has found no link between the pill and any dog deaths.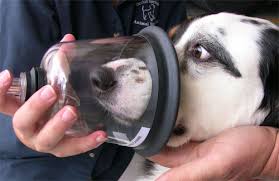 Pet Oxygen Masks
Does one size fit all? The Animal Radio® Hero Person, Debra Jo Chiapuzio helps supply fire departments with life-saving oxygen masks for dogs and cats. She loves her job and has a great passion to teach others pet-first-aid.
No More Pet Piercing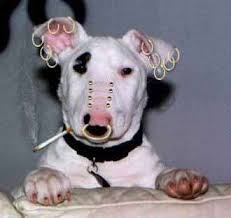 Assemblyman Carmela Garcia (Dem. N.J.) has written legislation that would outlaw piercings and tattoos on cats and dogs. Inspired by a lady that pierced her "gothic kittens," Garcia feels this ban would stop a burgeoning fad.
Moving With Pets Can Be Pricey!
Apartments.com did the math in its 2014 Pet-Friendly Renting Trends Survey. It found that close to 80-percent of renters had to pay a deposit to have a pet and it was more than $200 per year in more than half the cases. About 64-percent of the people asked said they had a hard time finding an apartment that allowed pets even with a deposit.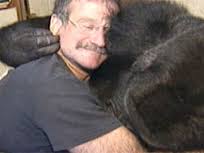 Gorilla Depressed After Robin Williams' Death
I think we were all shocked by the death of Robin Williams a few weeks ago. So apparently was Koko, the amazing Gorilla that uses American Sign Language to communicate. She met Robin back in 2001. Koko heard her mentor, Dr. Penny Paterson, talking on the phone about Williams' death and she says Koko has been depressed and sad since that call.
Animal Radio® Episode 768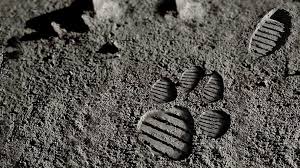 Pets In Space
Celestis Pet will shoot your pet's cremains into deep space, or to the moon, or even into orbit around the earth. The rocket and space technology company has been launching satellites and human remains for over a decade. Now, they want a piece of the 58-BILLION-dollar pet industry. Top Dog Stephen Eisele explains what you get for your $1,000. It's pretty impressive!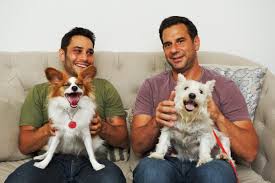 The Language of Dogs
TV Dog Trainer Justin Silver is back with his really funny friend, Dave Donnenfeld. Together they're 'righting' canine 'wrongs' wherever bad dogs and bad guardians need them. "Their new book is the Rosetta Stone of Doglish," says Animal Radio® host Hal Abrams.
Woman Does CPR on Bearded Dragon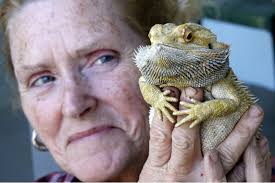 When you love your pet, you love your pet, no matter what breed or species he or she is. That explains the actions of a woman in Oregon. Sherrie Dolezal runs a bearded dragon rescue and came home the other day to see one of lizards named Del Sol floating unconscious in the pool. She got him out, started pounding on her back and doing chest compressions. She finally started CPR and he started breathing again. Del Sol and Sherrie are now doing just fine.
Big Choices For This Week's Hero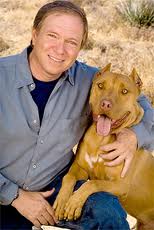 When his agent asked, "do you want to act or do you want to save animals," after he kept missing auditions, he chose to dedicate his life to the creatures. That makes Leo Grillo, the founder of DELTA rescue, our 'Hero Person.' He has over 1500 animals on 115 acres. He doesn't adopt-out any of these animals because his statistics say owners keep their animals only 2.5 year on average.
Animal Radio® Episode 767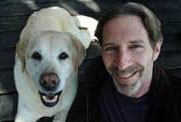 The Dog Park Phenomenon
Boston Globe TV Critic (a great gig if you can get it) Matthew Gilbert investigates the dynamics of dog parks. He didn't like dogs. In fact, he was afraid of them until his spouse introduced him to a dog that would forever change his view. Matt shares stories about the nutty fellow canine-lovers at his dog park.
Flea Wars
Animal Radio® Vets Dr. Marty Becker and Dr. Debbie are armed with flea-ridding tactics. Did you know that there are over a dozen different kind of fleas? There's a difference between "cat" fleas and "dog" fleas. Most importantly, how do we get rid of them for good? We've got answers.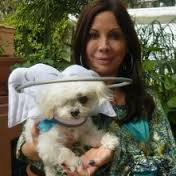 Muffin's Halo
Our Hero Person this week invented a bumper, or better described as a 'halo,' that protects blind dogs from bumping into furniture and other obstacles. Sylvie Bordeaux was tired of seeing her blind dog bash into stuff. With needle and thread in hand, she created a genius product that is helping vision-impaired pups from being discarded to shelters.
New Uses For Unwanted Fur
Now a national organization called Born Free USA has come up with a fantastic idea. It collected unwanted furs and sent them to wildlife rehab centers in Texas. California and Missouri where they were cut into small pieces and used for orphaned babies and injured animals to snuggle in.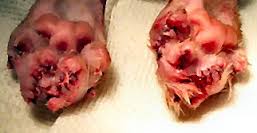 Declawing Is Major Surgery
The American Veterinary Medical Association has amended it's policy to clarify that declawing is a major surgery that should only be performed as a last resort to prevent destructive clawing, but it stopped short of suggesting a ban on it. The new policy stresses the importance of educating cat guardians about normal feline scratching behavior, alternatives to declawing and that declawing is actually the amputation of the first digit of the cat's toes.
Animal Radio® Episode 766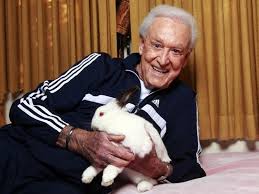 Bob Barker Back For Lucky 13
America's most recognized Animal Advocate, TV Host Bob Barker is back on Animal Radio® for his thirteenth time. This time he's Animal Radio's Hero of The Week. Spoiler Alert: He'll be talking about his upcoming TV appearance, revisiting his "Happy Gilmore" walk-on.
Day 30 Eating Dog-food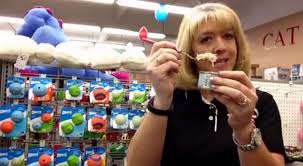 Dorothy Hunter made it to day 30 of eating dog food. It was all to prove a point about human-grade pet-foods. Animal Radio® checked in on her throughout her stunt. Now we find out what she ate on day 30. While Dorothy first human-meal was a big-fat-cheeseburger, she admits to a shinier and healthier coat.
Do Pets Feel Jealousy?
From the "Duh" Department, a new study reveals that dogs are indeed capable of feeling jealousy. Who paid for the study? You did. What's next? A study to determine if dogs dream? Anyone who lives with animals knows that they are capable of many of the same feelings humans encounter.

Getting Rid of Tear Stains
Joey Villani brings his years of expertise to help you get rid of your pet's tear-stains with stuff from your pantry. The Dogfather unselfishly shares the groomer's tips you can do inexpensively at home - much to the disappointment of your other groomer.
Divorce in a New Age
Divorce these days not only means splitting belongings and custody of the kids, it may also include visitation for the pet. In fact, that is now often the case when pet families are split-up. Vinnie Penn can't keep his mouth shut about this topic...or any other topic for that matter.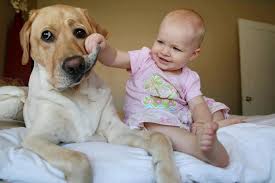 Dog and Baby
Bringing a human baby into your home requires lots of prep if you have pets. Dr. Debbie has what you need to know about introducing dog to baby so that your furry-friend will think of the screaming blob as a good friend. After all, you don't want your dog getting jealous?
Animal Radio® Episode 765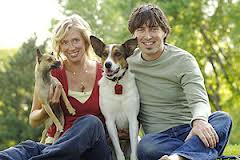 Dating for Pet Owners
Kris Rotonda created an online dating website specifically for dog owners. He says if he's going to date anyone, they've got to love his dog. And let's face it, single dog guardians have a rougher time of it because of their furry-children.
Saving Pit-Bulls One at a Time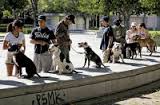 The Animal Radio® Hero Person this week spends his mornings outside the Los Angeles Coliseum giving out free training to dog owners...and especially pit-bull parents. At times Cornelius Austin "The Dog Man" will have up to 50 people at his free clinic. Cornelius wants you to know that pit-bulls are getting a bad rap! His goal is to train the owners because he believes they can make a difference with their dog's temperament.
Safety Guidelines For Pet Harnesses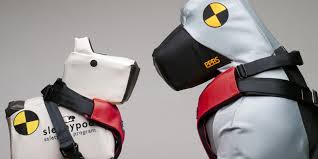 The Center for Pet Safety is behind this first scientific approach to pet product safety in the U.S., providing guidelines for vehicular pet-restraint systems. The Center has even created a series of Crash Test Dogs, just like the Crash Test Dummies that are used by auto makers to check out the effectiveness of safety features in cars.
Pet- Friendly Homes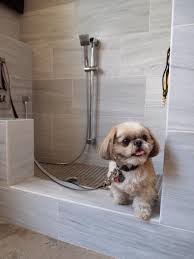 Standard Pacific Homes is building and selling homes with amenities that not only cater to people, but to dogs in 27 of its 190 developments from Florida to California. The most lavish features a 170-sq. ft. pet paradise with a step-in wash station, handheld sprayer and leash lead, tile walls and floors, a drying area with a commercial-sized pet dryer, a water station, automated feeders, bunk-style bed, cabinets for toys and treats, an attached puppy run and, of course, a flat screen TV.
Animal Radio® Episode 764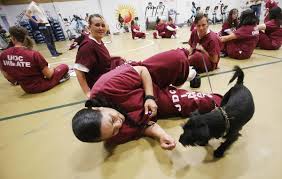 Hero Behind Bars
This week's Hero People are in prison. Female inmates are teamed up with a dog 24/7. Their mission is to train these shelter dogs to help autistic children. It's a second chance for the inmates, the dog and the child. Program Director Janette Thomas explains how the Pups in Prison initiative is a win, win, win!
Banning Hybrids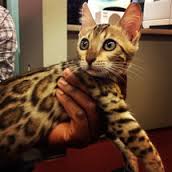 Animal Defense League's Daniel Lutz is petitioning the courts to outlaw exotic hybrids of wild-cats. He says cats have been responsible for 14% of all the world's extinctions since 1600. Will legislation make a difference in our ecosystem?
Evaluating Pet Insurance
Can pet insurance save you in a pinch? You don't have to go very far to find differing opinions on pet insurance. We'll give you two real life cases involving pet insurance. You decide. California will be the first state to regulate pet insurance.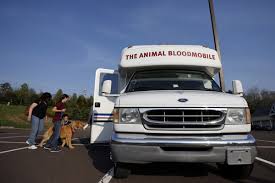 Animal Bloodmobile
Oh sure, you've seen the mobile blood banks that routinely troll for human blood. But you've probably never seen a mobile blood bank for dogs. Kim Marryott saw the need and now she manages a program in Pennsylvania that collects the twelve different canine blood types for transfusions and other life-threatening procedures.
Who's Your Daddy?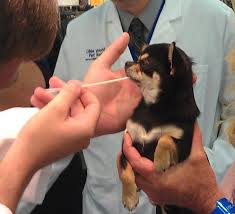 If you have a mixed breed dog, you might consider getting him or her a DNA test. Not only will you find out just what combination of breeds went into your best friend, but Dr. David Linzey of the North Carolina Veterinary Medical Association says you might find out some valuable health information. But are these tests accurate. Animal Radio® tested them - with different results.
Animal Radio® Episode 763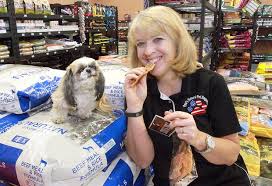 Eating Pet Food
Dorothy Hunter is so confident the food she sells in her story in healthy that she's eating nothing but pet-food for 30 days. We'll find out the inspiration for this stunt and exactly how she is faring 13 days in. So far, the only issue seems to be a mild case of flatulence.
Woman Finds Wedding Ring After 6 Years - Thanks To Her Dog!
A woman in Wisconsin is happily wearing her wedding ring again, 6 years after it disappeared.  Lois Matykowski was devastated when her ring first disappeared and even checked her dog's poop for a couple of weeks with no luck. The mystery was solved after Tucker ate a popsicle stick. You'll have to listen to find out how this ends.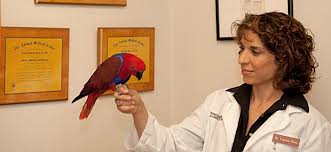 Top 10 Bird Dangers
Who would've thought it could be so easy to accidentally kill your bird. If you own a bird, or maybe planning to get one, you'll need to hear the Top 10 Bird Dangers from Dr. Laurie Hess. You might be surprised at the hazards lurking within your household.
14 Year-Old Hero
This week's Hero Person is 14 year-old Nicholas Nash. He helps find homes for adoptable animals and is building a shelter on his family land. A young person so passionate about the health and happiness of our four-legged friends - serves as a great model for future generations.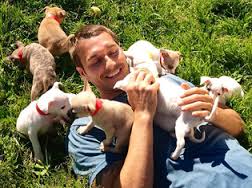 CBS's Lucky Dog
Brandon McMillan comes from a family of circus performers and is the host of CBS's new Saturday morning show, "Lucky Dog." Each week Brandon takes a shelter dog and trains them for a prospective new home. The program follows the entire process until the dog gets into his/her new forever home.
Animal Radio® Episode 762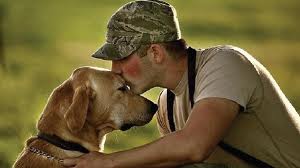 Pets for Vets
Clarissa Black is this week's Hero Person. She created a service that matches returning soldiers with adoptable dogs. Some of our servicemen suffering from PTSD find the dogs to be extremely comforting and an important part of their recovery and rehabilitation.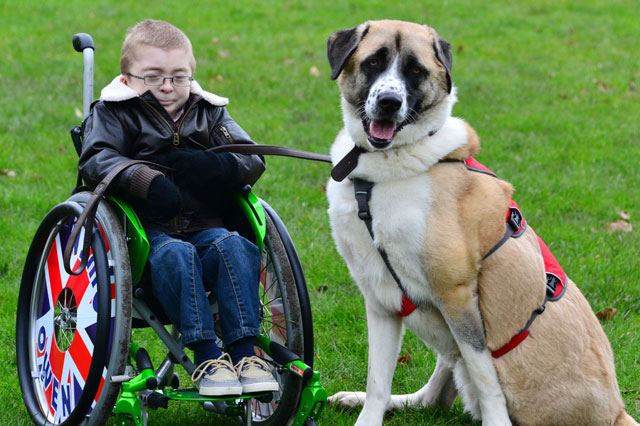 Haatchi & Little B
Owen and his dog Haatchi have gone viral on YouTube. It's the story of a little boy that overcomes his disease with the help of a dog. Owen's father, Will Howkins tells the intriguing story behind the boy and his dog.
Does Phone Warranty Cover Pet Damage?
Recently, there was a study done to see how many pet owners have had their dog or cat damage or destroy one of their electronic gadgets. The study found that male dogs are 86 times more likely than a female dog to wreck a gadget. So, the question, does an extended warranty cover pet damage? Turns out in many cases, they do.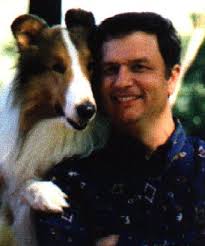 Man's Best Hero
Prolific author Ace Collins entertains with warm and fuzzy conversation about his latest book that celebrates exceptional dogs. And as Lassie's biographer, he has stories. Not only is Lassie alive, but SHE is now ten generations old.
Lady Gaga Under Fire From PETA
Do you dress up your dog? What about accessorizing your dog with a little jewelry? Pop star Lady Gaga has come under fire from PETA for putting some bling on her dog.
Animal Radio® Episode 761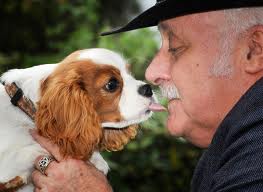 Blacklisted Breeds By Insurance Companies
Dr. Stanley Coren is back! This time he's toting his research about the breeds of dogs that are being blacklisted by homeowners and liability insurance. Allstate claims one third of their claims last year included a dog.
Thriller Author Hero of the Week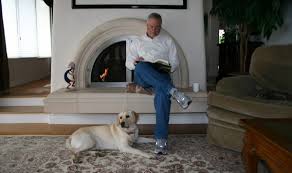 Author Stan Yocum is the Hero Person this week because he spends countless hours training & fostering service dogs for Canine Companions for Independence. After bonding with these awesome animals for 18-months, Stan must say "goodbye" when they go to their forever home.
More Companies Offer Pet Insurance
Health insurance is an important benefit at work, now one in every three Fortune 500 companies is offering Pet insurance. Those companies include Chipotle Mexican Grill, Delta Airlines, Microsoft, T-Mobile and UPS. Some of the companies even pay 100-percent of their employee's pet insurance premiums.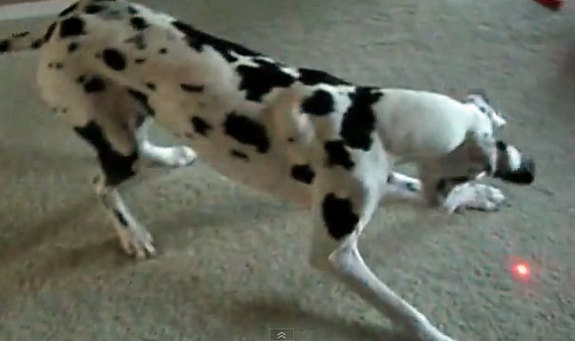 Laser Pointers Can Cause Psychological Problems
Most dogs and cats love to chase laser pointers, but they could have some unintended consequences on your pet's psyche. Dr. Nicholas Dodman says that if you use a laser pointer too often, your dog can get so obsessed with chasing the light that they develop behavior problems. Never getting to the point of actually catching the 'prey' can drive a dog slightly nuts.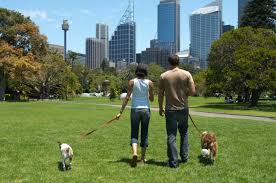 New Pet Mixers To Meet Your Mate
If you're single and ready to mingle, you can attend one of the pet-friendly mixers being hosted by Petsmart Charities and Match-dot-com. They're being held all over the country this summer.
More this week
Next Week: Clarissa Black - Ace Collins - Will Howkins
Animal Radio® Episode 760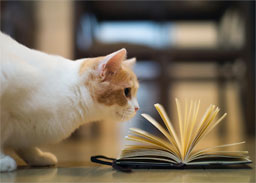 Animal Madness
Can our pets suffer from the same psychological illnesses as humans? How did Prozac find its way into veterinarian's offices? What good is anthropomorphizing? Laurel Braitman has answers to these burning questions.
Pet Food Myths
With our pet-store shelves stocked to the ceiling with a confusing array of pet-foods, does it really make a difference if you feed your dog something cheap off the shelves of Wal-Mart? You might be surprised at the answer. Animal Radio® Veterinary Correspondent Dr. Marty Becker reveals the truth behind pet-foods.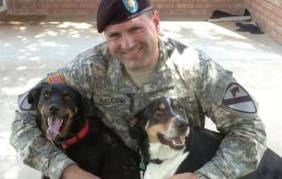 Hero People
Our new segment celebrating those that do good for the animals is getting high-acclaims. This week we're spotlighting Linda Spurlin-Dominik. She helps care for pets of deployed military personnel.
DNA Tests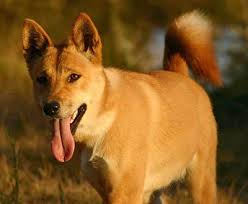 Trying to figure out what kind of dog you have? There are several DNA tests available to the consumer. However, some are more accurate than others. And you probably won't be able to confirm that you own a Dingo.
Fish Oil and Coat
Joey Villani wants to dispel the rumor that Fish Oil will make your dog's coat shiny. In fact, it could have damaging affects because it clogs pores. The Dogfather will help you determine what supplement, if any, you really need.
Animal Radio® Episode 759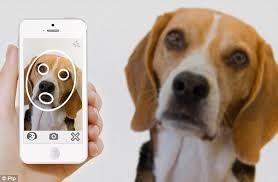 Using High-Tech To Find Homes
Adi Pinhas is using facial recognition technology in his new iPhone app. You'll upload a picture of the pet you want and it'll tell you all the adoptable animals that look like the original picture. The Verge Magazine uploaded a picture of Lady Gaga and got back an adoptable hamster.
Purina Compensates Victims Of Recalled Treats
Just a few weeks ago, both Petco and Petsmart said they would stop selling pet treats made in China. For the past 7 years, dogs and cats have been getting sick and many have died after eating imported chicken and jerky treats. Now, Purina Petcare and Waggin' Train have set up at $6.5-million-dollar fund to compensate pet guardians whose animals suffered.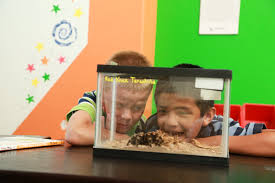 Pets In The Classroom
New research says kids learn better when their classroom has a pet. Even truancy is down. We all remember the class pet. And if you were lucky, the teacher let you take the guinea pigs home for the summer. Brent Weinmann of the Pet Care Trust is making sure all kids get an opportunity to have pets in their classroom.
Cure For Parvo?
Researchers may have literally stumbled on a way to treat the usually fatal Parvo virus. It happened when a pharmaceutical was looking for a way to save flocks of geese that were mysteriously dying. They discovered an antibody that's harvested from the yokes of geese eggs that can stop the Parvo virus in as little as two days.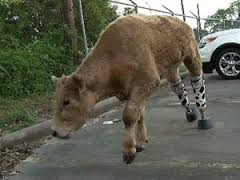 Calf Gets Prosthetic Back Legs
Kitty Martin love's her calf so much that she's put more than $40,000 into rescuing the steer after it's back legs were amputated because of frostbite. She's the Hero Person this week with a great story to tell about the human-bovine connection.
Sharing Your Bed With Your Pet Leads to Bad Sleep Quality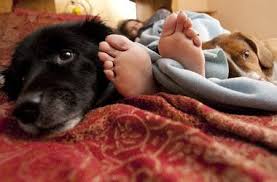 If you have a cat or dog, chances are he or she sleeps with you in bed. But new research says that sharing your bed with your pet can lead to bad sleep quality. Recently at the 28th annual meeting of the Associated Professional Sleep Societies data was presented that showed at least 30-percent of pet owners say their pets wake them up at least once per night.
Animal Radio® Episode 758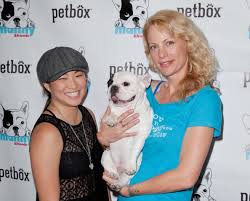 Eastwood Leaves No Pet Behind
Daughter of actor Clint Eastwood, Alison Eastwood makes her second guest appearance on Animal Radio®. Last year she went into a Southern California animal shelter and pardoned 200 animals from Death Row.
Allergy Season
This is the time of the year when vet offices across America fill with allergic reactions to environment, food and even medicines. Dr. Patricia White is an animal dermatologist and she'll tell you how to determine the allergy and what to do to comfort your pet.
Goat and Burro Go Viral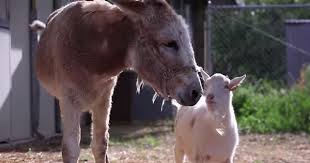 When "Mr. G" (a goat) got transferred to a foster facility, he went into a severe depression. He wouldn't eat. The facility then learned that he had been separated from "Jellybean," a burro at Mr. G's last home. After trying many solutions to bring Mr. G out of his funk, they reunited the two. Kim Sturla from the foster facility tells the story and she's our Hero Person this week.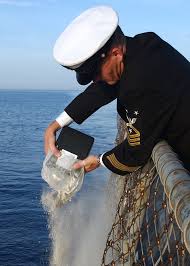 More Pets Buried In Backyards
More pets are buried in U.S Backyards than anywhere else, but that is quickly becoming illegal in more and more places. That is causing some companies to emerge with some creative options. There's a company that turns hair or the remains of a pet into a synthetic diamond. Then there a company that sends your pet's remains into the heavens inside a 5-foot round helium balloon and another that can scatter the ashes at sea.
Animal Radio® Episode 757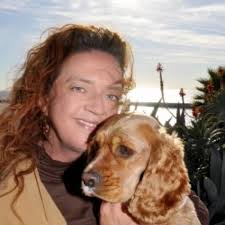 What Your Dog Isn't Telling You
Dogs and cats generally don't exhibit pain. This is a trait designed mostly to protect themselves in the wild. However, research now shows that when they are alone in a room they do show signs of pain, until someone enters the room. Dr. Annie Forslund tells us how to recognize pain in our pets.
Stores Stop selling Chinese Made Treats
You've probably heard about the toxic treats from China that have been recalled. The FDA says the treats have been linked to reports of over 5,000 cats and dogs getting sick and over 1,000 dogs dying. Now, both Petco and Petsmart say they're going to stop selling Chinese-made treats.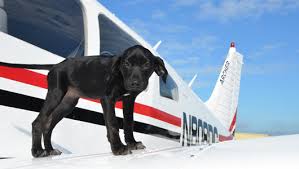 Pilots n' Paws
Over 3000 volunteer pilots fly 250 mile jaunts to bring adoptive animals to new homes or hospitals. This non-profit agency regularly moves animals from dogs and cats to donkeys. Kathleen Quinn Charleston explains the Pilots n' Paws mission.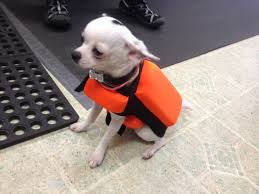 Spike Bite
Great invention or insane idea? You decide if Johnny Dumas has a sensible solution to prevent dogs from attacking your dog. He's designed a spike-filled coat of armor that protects the vital organs against bites.
Find The Right Pet Match With Your Smart Phone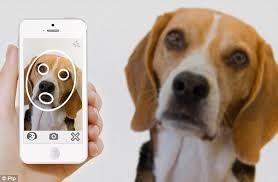 Superfish, a Palo Alto-based startup, created an app called PetMatch that lets you look for adoptable pets in your area based on photo technology. You upload a picture of the pet you wish you could find (it might be a dog you see at the park or maybe a cat just like one you used to have). PetMatch then does an image recognition search of similar, adoptable pets in your area.
Animal Radio® Episode 756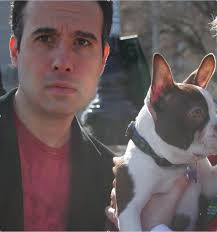 I Could Pee On This
Our special guest is Francesco Marciuliano. He's the author of the Sally Forth comic strip that runs in over 700 newspapers, and most recently a series of pet poetry that he says he transcribed from his cat. Not bad for a kid that had a "Bucket List" at 10 years old. You'll laugh until you hurt!
$1-Million Dollar Lawsuit Over Dog That Was Supposed to Euthanized
The story of the vet in Fort Worth, Texas who is charged with keeping several dogs alive who were supposed to be euthanized so they could be used as blood donors just keeps getting more unbelievable. The latest is that the Camp Bowie Animal Clinic has been shut down while Dr. Lou Tierce is being investigated for animal cruelty and faces a $1-million dollar lawsuit.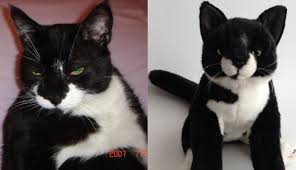 Stuffed Pet Look-a-likes
Jennifer Graham has a pretty cool business. She makes customized stuffed animals that look just like your pet. You'll submit front and side view pictures of your furry-companion. Eight weeks later the UPS man will deliver a stuffed version of the family pet.
Non-Surgical Sterilization
Animal Radio® Veterinary Correspondent Dr. Marty Becker is back. This time he's reporting on a "game-changing" injection that could ultimately reduce the amount of animals euthanized simply because they have no home.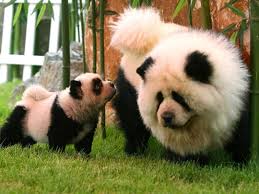 There's Panda-Monium in China
There is panda-monium going on in pet shops all over China. Dogs that look like the country's prized pandas are all the rage. It takes about two hours to turn a dog into a panda do and the look will last for about six weeks before it is time for a touch up.
IKEA Helps Homeless Animals In Showrooms
The showrooms of two IKEA stores currently feature life-sized cardboard cutouts of shelter dogs available for adoption. Shoppers interested in the dogs can scan their unique QR codes to learn more about them.
Animal Radio® Episode 755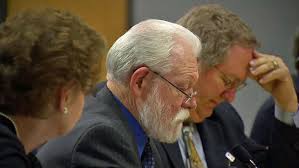 Ft. Worth Veterinarian Story Gets Weirder
Animal Radio® New Director Tammy Trujillo is digging deeper on this developing story out of the Texas. A veterinarian is being sued because instead of euthanizing allegedly terminal animals - he kept them alive in poor conditions and used them for blood transfusions. Now, it appears that the doctor was even using his own dog.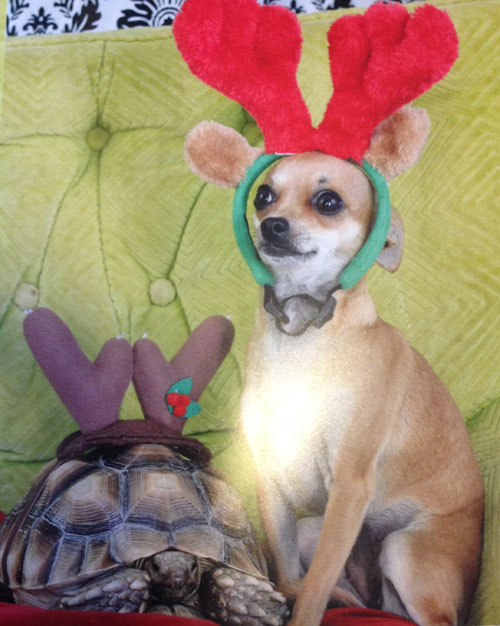 Tortoise Talk
More and more pet lovers are choosing turtles and tortoises over the traditional dog or cat. Lisa Winn owns 8 African Spurred Tortoises and she is the VP of a tortoise organization. She also dresses up her shelled-friends.
Blue Buffalo Under Fire
Blue Buffalo Pet Food has come under fire the last few months for deceptive advertising practices. Purina announced it is suing the pet food company for revenues lost in a negative advertising campaign. The competition is fierce in the 37 BILLION dollar pet food industry....with only 4 major players.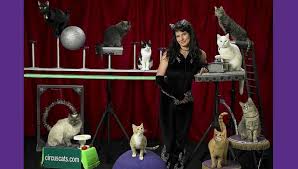 Amazing Acro-cats
Samantha Martin is the circus ringleader for a bunch of really talented cats. She and her 15+ cats travel the country entertaining crowds with her circus cats. She'll tell us what it takes to put a musical band together consisting of only cats....oh, and one chicken.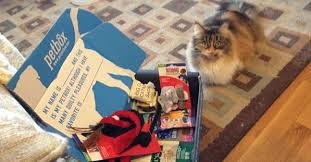 It's Like Christmas
Sean Conlon started a pet-box of the month subscription service. Imagine being able to customize a monthly delivery of toys and treats to your dog. Sean's business is doing great. He's shipped over 66,000 boxes this last year.
Animal Radio® Episode 754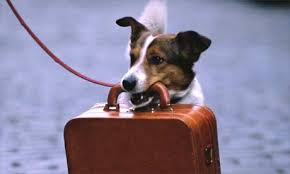 Traveling With Your Dog
Kelly Carter has traveled the world with her Chihuahua, Lucy. Now she's telling us the best places to take your pet. She even has tips for making the journey more pet friendly and comfortable.
Bad Vet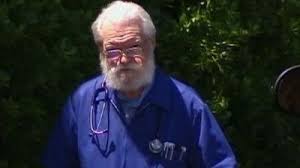 Imagine taking your dog to the vet and he falsely tells you that your furry-companion needs to be euthanized. Then imagine the vet didn't euthanize the dog, but used it for transfusions, without your knowledge. This allegedly happened in Fort Worth Texas. Listen to this horrendous case as the details are developing.
Cancer Awareness Month
Cancer is no longer a death sentence for dogs or cats. Amazing breakthroughs in technology allow vets to treat cancer fairly effectively. Dr. Gerald Post from The Veterinary Cancer Center is back to answer questions.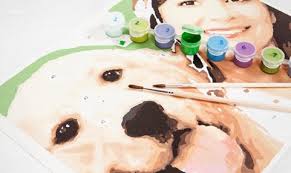 Creating Memories and Keepsakes
Amy Cecil is bringing back the fun of paint-by-numbers to the pet world. You can easily create a masterpiece painting of your pet with Amy's "Easy 1-2-3 Art" system. You'll start by uploading a picture to her website.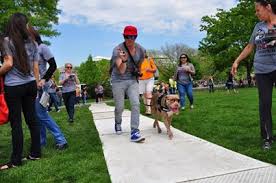 First Ever One Million Pibble March
There's been a Million Man March and Million Mom March, and a few weeks ago, there was the first ever One Million Pibble March on Washington. What's a Pibble?  It's one name for Pit Bulls. Thousands of pit bull advocates convened on the West Lawn of the U-S Capitol. The message was to create stronger laws against dogfights and stop legislation that restricts ownership of certain breeds of dogs.
Animal Radio® Episode 753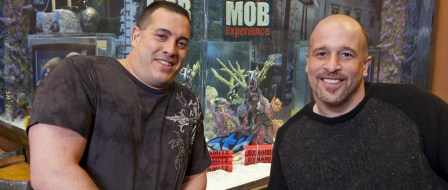 Fish Tank Kings Are Back
The star of the highly-popular Nat Geo WILD series, Fish Tank Kings, is returning to Animal Radio® airwaves to yap about his latest project; a Coy Pond for dog trainer Cesar Millan.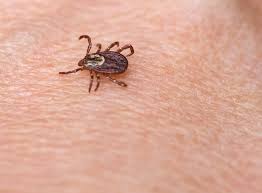 Summer Pests
The seasons are-a-changing. With the warmer temps comes a proliferation of fleas and ticks. Now, more than ever, there is an enormous choice for over-the counter prevention and treatment. How do we choose what's best for our pets? Gordon McGee of Drs. Foster & Smith has the lowdown.
Snip Snip Hero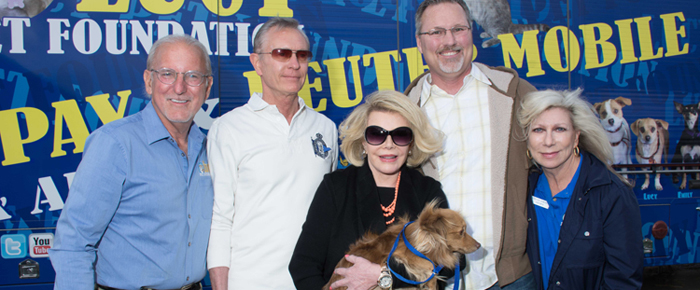 Former band leader for The John Davidson Show and top dog at Natural Balance, Joey Herrick is our "Hero Person" this week. Using his own money and time, he sends veterinarians out in a $300,000 mobile surgical vehicle to spay, neuter and vaccinate animals of poverty-level guardians.
Worldwide Accreditation Program For Pet Crematory Facilities
Recently Animal Radio® reported problems with pet crematoriums and keeping the remains of animals separate from each other so people get their own pet's ashes back. Now the International Association of Pet Cemeteries and Crematories has announced a worldwide Accreditation Program for Pet Crematory facilities.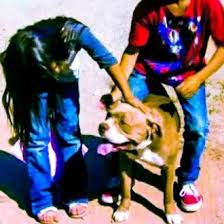 Breed Prejudice?
A Riverside County, California Sheriff's Deputy had gone onto a property to serve an eviction notice. A pitbull, was in the yard and started barking. The deputy drew his gun, presumably to shoot the dog and shot himself in the leg instead. The deputy said that the dog had come at him aggressively and that he felt that his life was in danger.
The Latest Survey On Pet Health Is OutÔÇŽAnd It Is Not Good
The Pet Health Report is compiled by Banfield Pet Hospital from its records of animals seen. The report found that one in every 300 cats is infected with Feline Immunodeficiency Virus or FIV - with the majority being male cats. Infections of Lyme Disease is also up by 21-percent.
More this week
Next Week: Dr. Gerald Post - Kelly Carter - Aimee Cecil
Animal Radio® Episode 752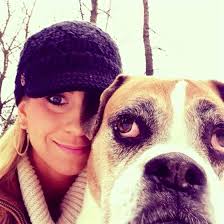 Pet Bucket List
Our Hero Person this week is Riina Cooke. When she discovered her dog had a terminal illness and only months to live, she created a bucket list of stuff to do with "Romeo" before he passed. She shares how the idea originated and some of the fun things she did with her dog in his last moments.
Where Animals Go To Retire
Ellie Laks spends her days caring for a menagerie of animals that were abandoned or neglected. From cows to kitties, her property is home to over a hundred animals that will live their life out at the Gentle Barn.
Loss Prevention
While microchips are a great form of identification, Ulvid Osis created a pet registration system that works in tandem with microchips to help owners find missing animals using a Google search. He'll explain how Fetch ID is peace of mind.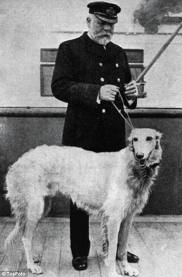 Titanic Pets
While many a documentary and film has been made about the Titanic, none really focused on the many animals aboard the doomed crossing. Tammy Trujillo suggests you have tissue handy when you hear about one owner that wouldn't leave her dog's side.
Mexico Is Going To The Dogs
Over the past decade, Mexico's middle class has been growing and that has created a new market for all things dog. This includes everything from clothing and accessory boutiques, spas and restaurants that feature doggie snacks. Since 2008, sales of pet-related products in Mexico have grown an average of 13 percent a year, to $2.2 billion last year.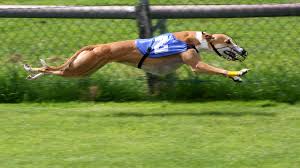 Colorado Is The 39th State To Ban Greyhound Racing
The governor of that state has signed it into law. Yes on marijuana, no on pit-bulls and now then end of Greyhound racing with a new ban. At least seven states still allow greyhound racing.
Animal Radio® Episode 751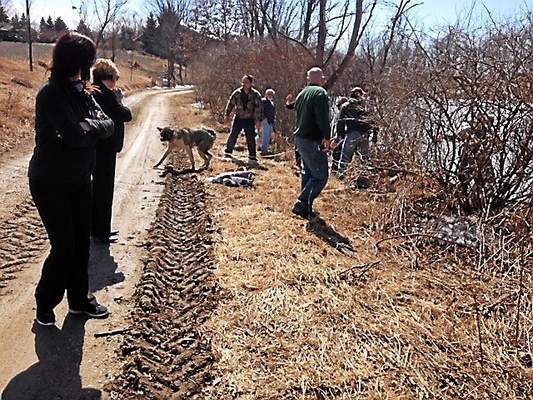 I Just Want To Celebrate
Rare Earth Keyboardist Mike Bruner is our "Hero Person of the Week." He fell into a frozen lake while rescuing a dog that had also fallen in. Mike tells the whole story and even yaps about his menagerie at home.
There's An App for That
Lauren Drabble is pitching her new smartphone app. The software allows you to easily find rescue and resources for injured wildlife. The next time you run into a wild animal that's hurt, you'll know exactly who to contact to help.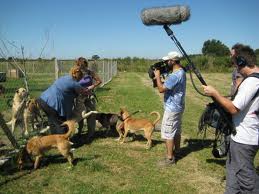 Making Video Memories
Imagine a short film that highlights your relationship between you and your pet. Franck Tabouring comes to your house and creates a documentary video featuring your pet as the star. A great keepsake!
Mars Buys P&G Pet Food Brands
Candy-maker Mars is growing their pet food business. The company is spending 2.9 billion for three upscale pet food brands from Procter and Gamble. Iams, Eukanuba and Natura. So is it a deal? Pet food sales are projected to hit 24.7 billion by 2017 and sales of premium pet food. Does this mean all our pet foods are will have the same source?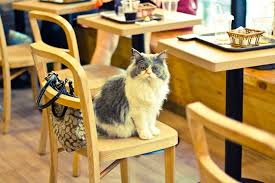 Cat Caf├ę
You never have to have your tea alone again. The first feline caf├ę is now open. Lady Dinah 's Cat Emporium, it's named after Alice's cat in the fairy tale "Alice in Wonderland," has 11 resident kitties. It costs $8.29 cents for two hours of kitty company.
Performance Standards for Pet Travel Safety Products
Nearly all of us drive with our dogs in the car. And now there are car seats to make sure they're safe in case of a sudden stop or an accident. The Center for Pet Studies has teamed up with Subaru of America in testing car harnesses. They took a look at seven harnesses using a specially designed crash test dog.
Animal Radio® Episode 750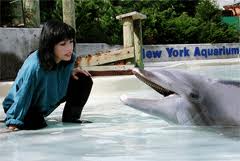 Who's the Smartest
While Dr. Diana Reiss doesn't like to compare animal smarts, she is fast to explain just how smart dolphins and elephants are, and their ability to recognize themselves in the mirror. It's all part of PBS's NOVA - "Inside Animal Minds."
Carrot Dating
Another genius idea or just a dud? The jury is still out on Carrot Dating. The premise is meeting singles online while bribing them with a cute little puppy. What if your date showed up holding a cuddly puppy instead of flowers?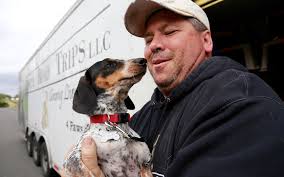 Hero People
We kick off our Hero People series showcasing humans that are going above and beyond the call of duty to make our animal's lives better. Greg Mahle spends much of his time on the road delivering death row animals to adoptable homes.
Separation Anxiety
Alan Kabel has proven ways to treat and cure separation anxiety. It all starts with desensitizing your dog to the subtle cues you give him/her when you're about to leave the house.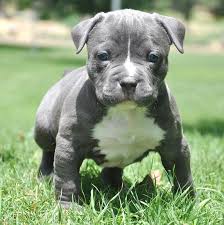 They Get A Bad Rap
Pit-bulls get a bad rap. They're not necessarily a vicious dog, unless they are trained to be or simply un-trained. Every decade has their poster dog. It used to be the German Shepard and the Rottweiler. Let's break the myth today and save these dogs from their owners and bad press.
Performance Standards for Pet Travel Safety Products
Nearly all of us drive with our dogs in the car. And now there are car seats to make sure they're safe in case of a sudden stop or an accident. The Center for Pet Studies has teamed up with Subaru of America in testing car harnesses. They took a look at seven harnesses using a specially designed crash test dog.
Animal Radio® Episode 749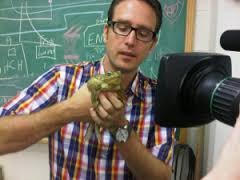 Mother Nature Is Trying To Kill You
Animal Planet's "Monsters Inside Me" host Dr. Dan Riskin is stirring up the airwaves with the truths about nature's ugly side. No wonder he so entertaining. Maggot eggs got into his brain and he lives to tell you why parasites really rule the world.
Animals In Vineyards
Sara Bennett's family business, Navarro Vineyards is using little tiny sheep to keep the weeds under control. But that's not the only thing they do. Hal asks the hard-hitting questions, like - "what sound does a sheep make ÔÇŽ and isn't that the same sound as a goat?"
Pet Food Company Bashes Competitors
The makers of BLUE Brand Pet Food Products is being asked to change it's advertising to stop making negative comments about other pet food makers. The company says it will appeal the recommendation by the National Advertising Division. The claim was made by Hill's Pet Nutrition, the maker of Science Diet foods, over ads that were shown on TV, the Internet, in print and on mobile advertising.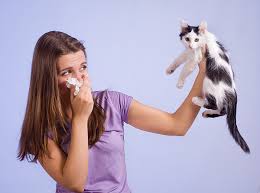 No More Sniffles
The second phase of clinical trials for a new vaccine is done and the results are very promising. If it's successful, you'll take just four doses over a 12-week period to keep your cat allergies at bay for as long as 2-years.
Dogs Detect Cancer Before Medical Testing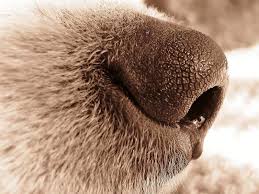 A dog's sense of smell is said to be 200,000 times better than humans. That's why dogs work detecting bombs, drugs and now they're being trained to use those fantastic noses to detect certain health issues, like the moment a person with diabetes starts to have a hyperglycemic incident. Now, researchers at a UK charity, Medical Detection Dogs, are working on training dogs to detect the odor of cancer.
Animal Radio® Episode 748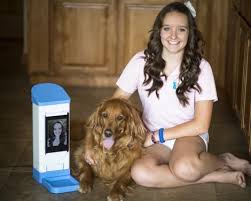 14 Year-Old Pet Product Inventor
Brooke Martin is only 14, but she sounds more intelligent than many adults. She also is the inventor of "IC Pooch," a device that allows you to have visual contact between you and your dog using a tablet or mobile phone. It also dispenses treats. Brooke believe this is an answer to separation anxiety.
New Worm Threat
Imagine a 6 inch worm coming out of your pets skin. Sounds like something out of the latest horror movie. Unfortunately, it's a real new worm that poses a threat to your pets. Parasitologist Araceli Lucio-Forster explains this new discovery.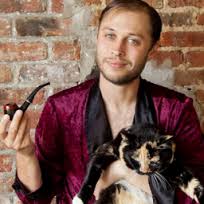 Buzzfeed Beastmaster
What the heck is a Beastmaster? Jack Shepard is a self-proclaimed Beastmaster at the Buzzfeed website. He gets paid to surf "animal related" fodder and make it go viral on the incredibly popular website.
My Bionic Pet
Amputee Jennifer Robinson worked at a prosthetic manufacturer. Now she's showing off how artificial limbs are being used on dogs, cats, birds and even sea-life. She's a part of a new PBS show called My Bionic Pet.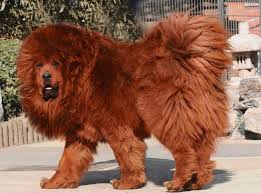 Dog Sells for $2,000,000
Only in China would a dog be sold to a 56 year-old property developer for a cool 2 mil. This isn't even the first time. The 200 lb. Tibetan Mastiff is treasured like the Panda in China. Some say it was all hype and that cash never actually changed hands.
Animal Radio® Episode 747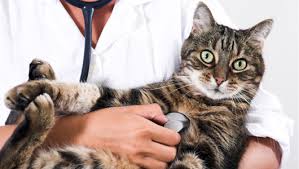 Pet Spending At All Time High
The American Pet Products Association reports we're shelling out nearly 60-Billion bucks a year on our animals. Research shows empty-nesters are now spending more on their four-legged children.
Setting A Fine Example
What happens when a father/daughter trip to Chuck E. Cheese turns into a high-speed chase after dad steals a puppy. Britt Savage reports.
Whose Poop?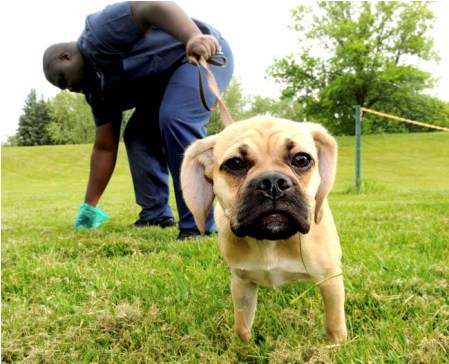 Advances in forensic science has created a worldwide effort to catch up with people who don't clean up after their dogs. Many apartment owners are now requiring in their leases that dogs of tenants submit to DNA testing. There's actually a company to do the dirty work.  PooPrints offers special leak-proof containers ad spatulas to make the job easier. A thumbnail sized sample of the suspect poop is sent to the lab ... and that leads back to the dog and owner.
That Chicken Bit Back
Farmers in Georgia have found a chicken with teeth. Researchers say a recessed gene may be responsible. It is possible that this isn't the only one case of toothed fowl.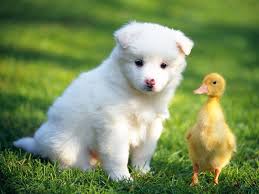 Tapeworm Talk
It's not a pretty topic, but it's a conversation we need to have. Tapeworms. Not Dr. Debbie's favorite parasite (listen to find out what is her favorite), but a nuisance none-the-less. Dr. Joel Ehrenzweig tells you how to identify and treat tapeworms. Did you know you can get'em?
Animal Radio® Episode 746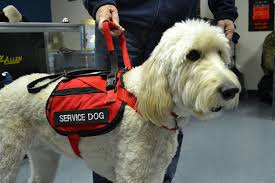 Faking It!
A new trend is the unfortunate and fraudulent use of "Service Dog" credentials for owners wanting to bring their dogs into restaurants, airlines and hotels. Pawtopia's Colleen Demling explains the problem and why the disabled suffers.
Aspirin and Pets
Did you know that Aspirin can be toxic to your pet? Dr. Debbie dispels the myths about pain relief for your pet. She'll also be answering your questions toll-free at 1-866-405-8405.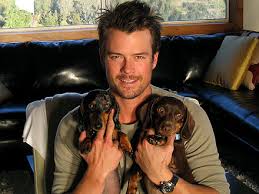 Josh Duhamel Guests
Besides a flourishing acting career, Josh Duhamel spends a lot of time speaking for the animals. He has a brand new web series and he's back to talk about it...and to flirt with the ladies.
A Shot To The Tail
Don't be surprised if the next time your cat gets an injection, it's in the tail. Recent concerns have come up over treating rare, but potentially deadly injection site sarcomas. Some vets then shifted the site to the hind legs, since an amputation, if necessary, would be easier and more successful.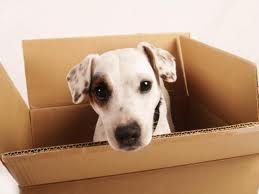 Pet ONLY Apartments
Octogenarian and Landlord Judy Guth only allows tenants with pets in her apartment complex. Is this discrimination? Judy doesn't care. And if one of her tenants loses their pet, she'll even take them out to dinner and then the shelter to find another roommate.
Pet Spending At All Time High
The American Pet Products Association reports we're shelling out nearly 60-Billion bucks a year on our animals. Research shows empty-nesters are now spending more on their four-legged children.
Animal Radio® Episode 745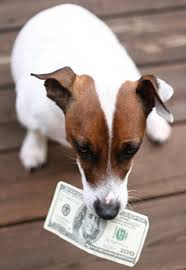 Are Your Pets A Tax Deduction?
This year, for the first time ever, you may be able to deduct your furry friends on your taxes! After a landmark case, the IRS is now making allowances for certain conditions. Our brand new News Director, Tammy Trujillo will have all the details for you.
Special People Help Special Needs Pets
It takes someone with a lot of heart to adopt an animal with Spina-Bifida. That's exactly what Selina Kenitzer has done. She brought home four English Bulldogs with the spinal deformity. They are affectionately known "The Padded Bum Gang."
Mutt-bombing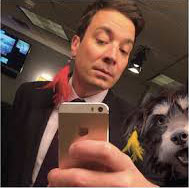 Much more humane than it sounds, mutt-bombing is akin to the new online photo-bombing craze. Adoptable animals appear in the backgrounds of celebrity pictures in an attempt to find homes. This genius idea comes out of Dallas and Leslie Sans explains how we can get involved.
Alligator vs. Dog
What length would you go to when it comes to saving your pet? Britt Savage reports on one gentleman that took on an alligator to save his dog.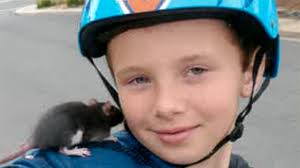 Petco Being Sued Over Rat
A San Diego couple is suing Petco after they sold a diseased rat, causing the fatality of their 10 year old child. This may be the beginning of the end for rat sales at the big box store.
Craigslist Ads For Pets = FAIL
Dog Trainer Alan Kabel ran across a Craigslist ad for a dog that needed a new home. He'll point out the "red flags" and show you why the online website is probably one of the worst places to find a life-long pet.
....and of course, the Animal Radio® Dream Team, Dr. Debbie, trainer Alan Kabel and groomer Joey Villani are answering your pet questions toll-free at 1-866-405-8405.
Animal Radio® Episode 744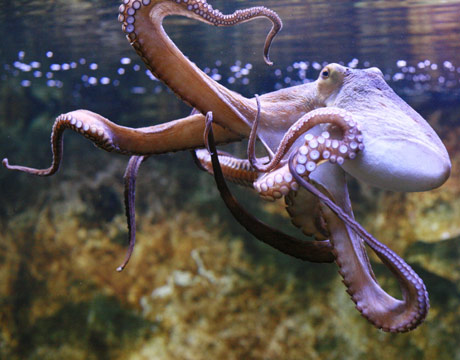 Strange Pets
Occasionally we run into listeners with bizarre pets. This week, Nancy King tells us about her life with an Octopus. That's right. Not as cuddly as a dog, but perhaps as smart. Why would anyone want an Octopus for a pet? You'll find out this week on Animal Radio®.
Dogs Good For Our Hearts
The American Heart Association (AHA) has declared that pets, especially dogs, are good for a person's heart. Dr. Glenn N. Levine, director of Baylor University's cardiac care unit, said "pet ownership, particularly dog ownership, is probably associated with a decreased risk of heart disease." The AHA writes that owning a dog "may help reduce cardiovascular risk," perhaps due to regular walks and activity.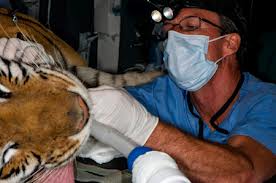 Open Wide
Dr. Peter Emily is a human dentist AND a wild animal dentist. One day you'll find him putting a crown in a person's mouth, and the next he might be doing a root canal on a polar bear. What happens when the anesthesia wore off one of his four-legged patients? You'll have to tune in to find out.
Going Postal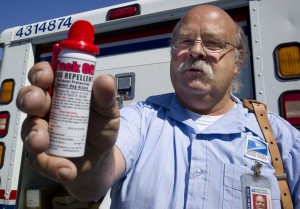 Dogs go postal in Los Angeles more than any other U.S. city. The U.S. Postal Service released its rankings of the best and worst cities for dog attacks on mail carriers. Los Angeles recorded 69 incidents last year. San Antonio and Seattle round out the top three worst cities. Wichita, Kansas is the safety city with just 20 attacks. Almost 6000 postal workers were attacked by dogs last year.
....and of course, the Animal Radio® Dream Team, Dr. Debbie, trainer Alan Kabel and groomer Joey Villani are answering your pet questions toll-free at 1-866-405-8405.
Animal Radio® Episode 743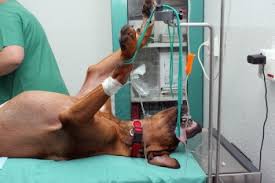 Fund A Pet Miracle
Stacey Nutini has taken crowd-funding to a new high! Her one person organization directs funds to those who need urgent veterinary care. She describes the kind of people that give dollars to help other pet owners and the vetting process.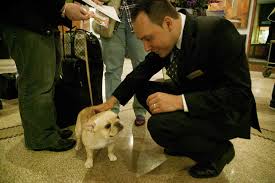 Cleaning Up After Westminster
Jerry Grymeck has the unfortunate duty of cleaning up after a bunch of dogs. Where do the dogs in Westminster stay? Hotel Penn of course. And Jerry is the certified Doggy Concierge. He spills the beans and behind the show gossip.
Stolen Cat Food Results In Grand Theft
James Lawlor of Clearwater, Florida was charged with Grand Theft after attempting to steal over $300 worth of cat food from a local Wal-mart. Loss prevention staff had detained James Lawlor for loading up a shopping cart full of cat food and then walking to his car without paying. Lawlor explained to officers that he had done this in the past and that he steals the cat food to sell in what he calls "hustling."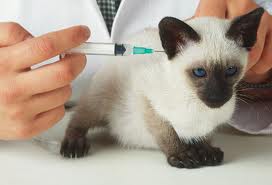 Less Vet Visits = More Sick Pets
New studies show that pet guardians are visiting the vet less and usually with sicker pets. Why this down-turn? The costs associated with vet visits, vaccines and medications. Dr. Joel Ehrenzweig explains how you can keep your pet protected on the cheap.
Deer Droppings Send Message
An angry artist in Canada is expressing his or her displeasure with the city's deer population with a deer statue covered in deer droppings. The Penticton, British Columbia mayor called it a "very effective way" of letting them know that there was a problem that needed to be resolved.
....and of course, the Animal Radio® Dream Team is answering your pet questions toll-free at 1-866-405-8405.
Animal Radio® Episode 742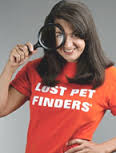 Lost Cat Pet Detective
How does someone become a certified cat detective? Kim Freeman became certified and now she helps cat owners find their lost furr-balls. She's even authored "How to Find Your Lost Cat." Kim will share her story and even give us tips on finding the lost kitty.
What Are The Odds?
Amram Shapiro spent the better half of a decade compiling "odds" for his book. He has a fascinating peek at the probabilities that govern every aspect of human and animal life. Odds are 5 to 1 you'll be hit by lightning before you're ever stung by a bee, wasp or hornet.
Pets Create Stronger Relationships and Bonds to Communities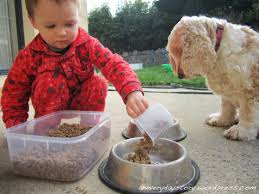 A new study from a developmental psychologist at Tufts University has found that young people who take care of a pet tend to have stronger social relationships and bonds to their communities.
Taliban Adds Dognapping To Misdeeds
A military dog, that carries the rank of Colonel, has been taken from the United Coalition in Afghanistan. The Afghans don't keep dogs as pets. Their religion calls them impure. The Belgian Malinois is being fed chicken and kebobs by its captors, and is reportedly in okay condition.
Many Ways To De-Stress Your Pets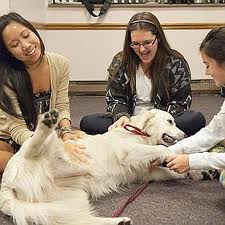 Pets get stressed out just like humans do. Whether your dog or cat suffers from separation anxiety, from fear of going to the vet, or from general stress as a result of a hectic home environment, calming your companion is an important part of maintaining her health. And, thankfully, there are many natural ways that you can help your pet unwind before the stress takes its toll.
Animal Radio® Episode 741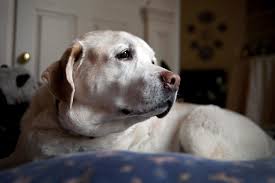 Our Pets Can Get Dementia
Dr. Jennifer Bolser confirms that our dogs and cats do indeed suffer from the same mental disabilities that humans do. From depression to OCD, some of the same medicines we use are also valid for our companion animals.
Connecting With Your Pet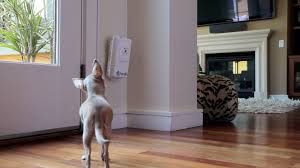 Technology changes the way we live, usually for the better. Dave Clark created a device that allows you to connect with your pet while you're away, using a smartphone. This new gadget has raised near $80,000 on IndieGoGo, partly because of it's ability to dispense treats to your dog with a press of a button on your phone.
Didn't See That Bite Coming
A new dangerous Internet video fad is becoming more popular. The scenario is often a baby or child playing with a dangerous or aggressive dog. Dogtime's Nina Stively explains how the urge to create a viral video can put our children in harms way.
Recalled Treats Back On Shelves
Dog treats linked to hundreds of animal deaths and thousands of illnesses are returning to store shelves soon. Despite having no firm evidence of what caused the deaths and sicknesses, Waggin Train and Milo's Kitchen brand treats will be sold again.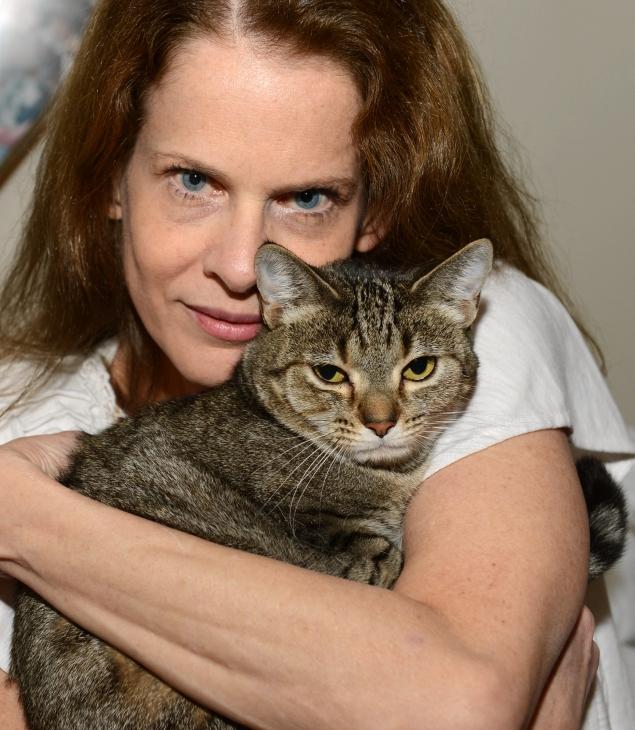 Possible Jail time For Stealing A Cat
A New York woman is potentially facing jail time after refusing a plea deal for stealing a cat. Nancy Glassman admits to taking a cat named Cosmo from a bagel shop and driving it to a local animal shelter. She believed the resident cat was being abused because of sores on its ears and its scruffy looking fur. She was later arrested and charged with burglary.
Animal Radio® Episode 740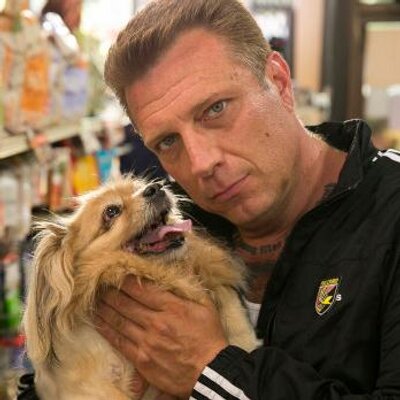 Former Mob Head Turns Into Pussycat
James Guiliani was the head mob enforcer in Brooklyn for over 20 years. He said his used to get a high inflicting violence on behalf of John Gotti. Now he gets high saving animals after a dog changed his evil ways. James is our guest and he explains how he got out of the mafia and into pet rescue. Oh, he also has a brand new show on the Oprah Network.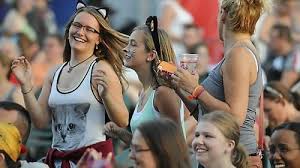 Cat Videos Made The Internet
The Internet Cat Video Festival is selling out and attracting huge audiences nationwide. It's not a bunch of single cat-women that are attending these feline festivities. William Braden, winner of the Golden Kitty Award for his viral videos, is hosting the event. He joins us and explains this strange phenomenon and our unquenchable desire for cat videos.
Dope Of The Month
What happens when you get pulled over after ingesting your dog's tranquilizers? The defendant said he mistook them for his own vitamins. Likely story? Nope, just another moron skimming his dog's medicine. Britt Savage reports.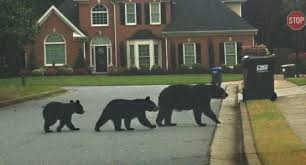 Forget The Raccoons - We Got Bears
We get a lot of calls about all kinds of animals. This week Dr. Debbie helps with a small bear problem that seems to be threatening local dogs. First tip, stop putting food out for the deer.
Sicker Pets, But Less Vet Visits
Pets are getting sicker, and many owners don't have a clue. One reason: They're not going to the vet. Dog vet visits have slipped 21 percent since 2001 and cat visits have dropped 30 percent, according to the American Veterinary Medical Association.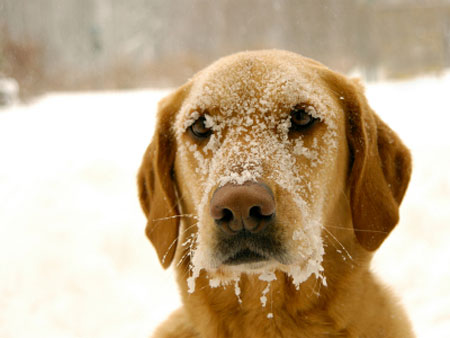 Leave Your Pet Out In The Cold - Be Charged With A Felony
Anyone who leaves a dog outside in the cold should be charged with a felony, says State Senator Greg Ball. Ball is calling on tougher new legislation to protect dogs and cats from being left outside in the cold all day.
Animal Radio® Episode 739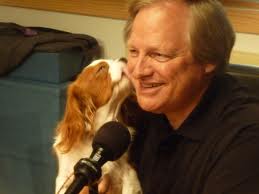 Westminster Opens Door To Mixed Breeds
No longer is a dog required to be a purebred to compete in some of the Westminster events. David Frei explains, mixed breed dogs still won't be eligible to compete for "Best In Show."
Spring Brings Nasty Parasites
Did you know fleas can transmit tapeworm to your pet, robbing your furry friend of 25% of it's daily nutrition. Dr. Joel Ehrenzweig has the low-down on tapeworm and how to avoid being a statistic.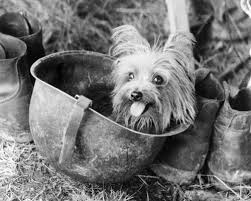 War Yorkie
Smoky was a 4 lb. Yorkie, found in New Guinea during Bill Wynne's WWII tour of duty. The little dog flew 150 reconnaissance missions and holds the title of the First Therapy Dog. Bill is now 92 and he recounts his stories about Smoky quite lucidly as if they were yesterday.
Puppy Bites Deodorant Can, Causes Huge Explosion
An explosion that caused thousands of dollars in damage to a house is being blamed on a puppy and a can of deodorant. It turns out Zeus bit a hole in a can of spray deodorant and then rolled it near the gas fireplace. The can blew up a when the boiler came on and caused more than $3,000 in damage.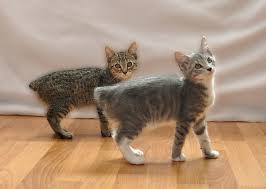 Tailless and Troubled
The Manx is a special breed of feline that has no tail. You may have known that...but did you know the Manx comes with its own set of medical problems and predispositions. Dr. Debbie helps a listener treat a Manx with incontinence issues.
Dependence on Technology Goes To New Heights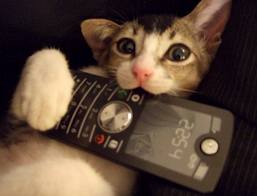 A new survey has found that about a fifth of the country may be taking their dependence on technology to new heights. The poll asked a group of pet-owners to imagine a scenario in which they would have to either give up their pet for a month, or their smartphone for a month. 20% of the respondents admitted they would rather hold on to their gadget and go without seeing their animal.
Animal Radio® Episode 738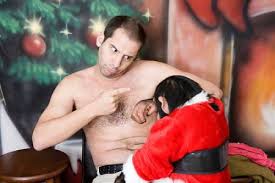 Comedian Seth Herzog Guests
NatGeo's new science/comedy "Duck Quacks Don't Echo" will put to the test everyday common misconceptions. Host Seth Herzog joins us and shares some of the experiments he's doing with animals.
Pet Food Recalls On The Rise
Nothing is certain in life except death and taxes and, increasingly, pet food and treat recalls. There were 33 in 2013. On average, that's one every 11 days. Between 2008 and 2012, the Food and Drug Administration received more than 2,500 complaints from consumers regarding pet food and livestock feed.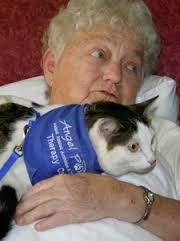 Training Therapy Animals
Paula Scott trains and certifies therapy dogs, cats, miniature horses and plenty of animals you wouldn't necessarily think as therapy pets. Science is proving that even purring a cat can make you feel better and promote healing.
Grave Contains Remains of Animals Who Were To Be Cremated
The lead lawyer in Morgan County, Tennessee, says he is looking to press charges against the owner of a pet crematory after investigators found a mass grave with dozens of dead cats and dogs. But he's still waiting on investigation results.
Two Heads Are Better Than One - Ask This Cow!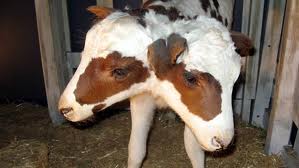 Sana Saida, whose name translates into "Happy New Year" in Arabic, was born in Morocco. The bovine has a condition called Polycephaly, which means having two heads and is more common among turtles and snakes, but Sana Saida is said to be healthy.
NY Mayor Wants to Replace Horse Carriages With Electric Cars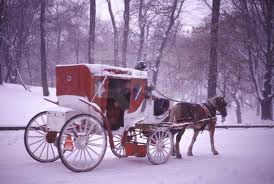 New York City has a new mayor, which means it's time for some changes. Specifically, Bill de Blasio wants to change how tourists get around Central Park. At a news conference shortly before his inauguration, de Blasio said he wanted to replace Central Park's iconic horse-drawn carriages with electric cars.
Animal Radio® Episode 737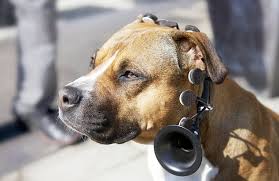 Dog To English Translator
Leave it to the Swedes and Tomas Mazzetti, Project Manager of "No More Woof," a device that straps onto your dogs head and translates their thoughts into one of eight different voices. While Tomas admits the technology is far from perfect, he has been able to raise over $10,000 on a crowd-funding website.
Choosing Pets Over Kids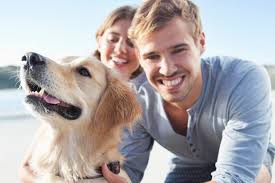 It may come to you as a surprise, but young couples opting to have furry-kids instead of human children. While the causes are still unknown, Ron Reich's research suggests income and social media may play a role.
A Vet's Home
Life with a vet is never dull according to Scott Reeder. His wife is like most veterinarians. She ends up bringing homes animals that otherwise couldn't be adopted. If you walk into a veterinarian's house, you're likely to see animals that may be missing limbs, can't see or can't walk.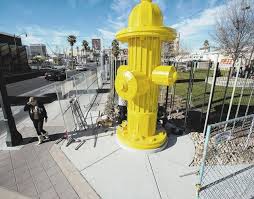 Pampered Pets Get Private Club in Las Vegas
VIP lounges and entrance fees are commonplace in Las Vegas, but now there is a social club downtown just for pampered pets and their owners. The view from the outside is what most of us are likely to see. You need a special key card to get inside the Hydrant Club private park.
My Dog Can't Sleep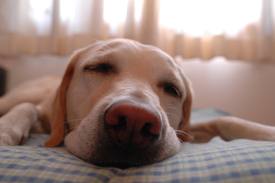 Yes, just like humans, dogs can also suffer from REM sleep disorders. Since they can't tell you, this disorder can go unnoticed, taking years off your pup's life. Dr. Debbie tackles one such case this week. And of course, the entire Dream Team is here to answer your pet questions. (toll-free 1-866-405-8405)
Animal Radio® Episode 736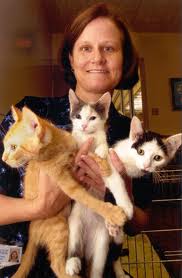 No-Snip Sterilization
The latest weapon for the fight against companion animal overpopulation is a testicular injection that could be more cost effective and easier to administer. Dr. Julie Levy shares her experience and explains the pros and cons to this new tool.
Puppy Lemon Law
Did you know there was a puppy Lemon law, like for your car? Amy Feldman, an attorney with the Judge Group, says knowledge of the puppy lemon law may come in handy. The lawyer says in Pennsylvania, New Jersey and Delaware, once you take puppy home, if you find it has a health issue, you can only take advantage of the puppy lemon laws if you have brought the dog to the vet.
Medical Marijuana For Pets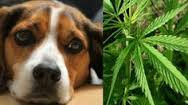 Miles, a 12-year-old Labrador retriever mix, was slowly dying of cancer. His owner, after seeing the effect that narcotic painkillers were having on Miles, decided to try something else: medical marijuana. Within hours of taking a tincture of marijuana from a medical pot dispensary in Los Angeles, Miles' appetite returned, he stopped vomiting and began walking and running around.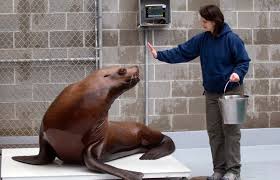 Enriching Animals Environments
Nicole Nicasso-Hiskey's job is to enrich the lives of zoo animals. It's her responsibility to keep the Orangutans occupado and out of trouble. She explains that our four-legged friends also could benefit from an enriched environment, especially for that problem dog that always seems to get into trouble.
Pittsburgh Steelers Quarterback Funds Police Dog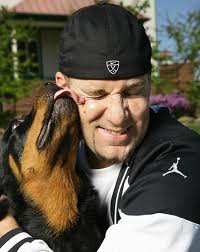 The funding for a new police dog in a city where most residents are Green Bay Packers fans is coming from an unlikely source. Pittsburgh Steelers quarterback Ben Roethlisberger is giving Wausau a $13,000 grant to buy and train the police dog.
Animal Radio® Episode 735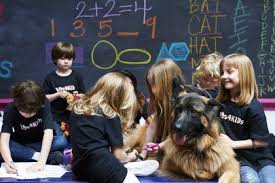 Security K9's For Schools
Following the Sandy Hook tragedy, Mark Gomer got the idea to put Canine Protection Dogs into schools to sniff-out firearms and diffuse violent situations. At $50,000 per dog, Mark is trying to convince schools to purchase one of these full-time K9's to protect their students.
Snake-Whisperer Gets The Girls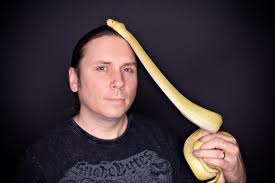 Brian Barczyk loves reptiles. He has 30,000 snakes. Brian breeds them and sends them all over the globe to his snake-lovin' brethren. He's been bit 100,000 times he estimates and his colorful life is ripe for a TV reality series. Are you listening NatGeo? Oh, and no, he's not single. In fact, the chicks dig it.
There's An App For That
Ever wonder where you can take your dog if you are out and about? The Fido Factor app lets people know which places allow dogs, whether it's a department store, restaurant, bar or just about any place else. In addition, the app gives you specific rules for each place, so you'll know things like the leash rules or the fees you'll have to pay.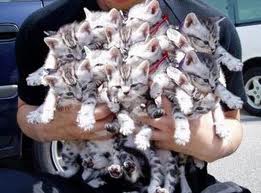 When To Say No
Hoarding is a very real problem. Often times, those who collect suffer mental disabilities for which only professional help is the answer. We'll speak to a cat lover that has more cats than she can count, and a dog lover with 16 un-altered pups. Ultimately, the pets suffers from this unrecognized neglect.
Buddha Dies From Heart Failure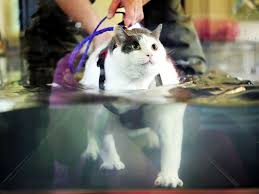 Buddha the obese gray and white cat whose diet and exercise plan made him a viral sensation, has died of congestive heart failure. He was 6 years old. The cat inspired people around the world with his jaunts on an underwater treadmill, which along with a diet-plan, helped him whittle down his 31.4 pound weight.
Animal Radio® Episode 734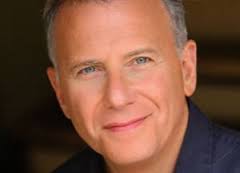 Paul Reiser And Pets
Comedian Paul Reiser guests this week. He's witty, multi-talented and guaranteed to make you laugh so hard you'll blow egg-nog out of your nose. And he speaks up for the first time publicly about his dog "Bosco." There's no better way to top off your year.
Cindy Brady Spills It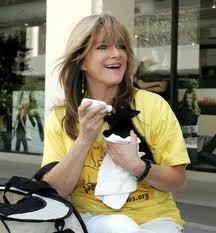 Susan Olsen (Cindy Brady on The Brady Bunch) is one of the few child actors that DIDN'T cross to the dark side. And in fact, she's a model citizen, animal advocate and foster parent. She's seems like a normal gal until she tells you about her hobby making candy-poop with her hands. She'll also divulge behind-the-scenes stories about The Brady Bunch.
Most Popular Dog Names
Move over Rover, Max and Bella are now the most popular dog names. Rover.com compiled its first-ever list of top dog names by gender from hundreds of thousands. After Max, Charlie was Buddy, Jack and Cooper. As for the ladies, Lucy was runner-up to Bella, followed by Daisy, Lily and Molly. None of the top ten baby names for humans made the list of top ten male and female dog names.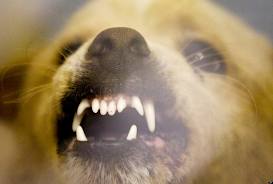 Vicious Dog Registry
Orange County California is voting to establish a Vicious Dog Registry. Residents will be able to log online and find out if there is a dog in the neighborhood that has maimed or killed anybody. Ryan Drabek from OC Animal Control explains why this program is a good idea.
The Doctor Is In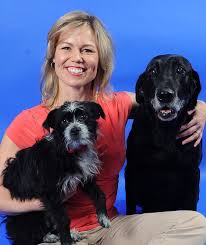 Our Dream Team is here to answer your pet related questions. Whether you want to talk to Veterinarian Dr. Debbie, Dog Trainer Alan Kabel or Groomer Joey Villani, they're all at one toll-free number 1-866-405-8405.
Animal Radio® Episode 733
"Boomer The Dog" Guests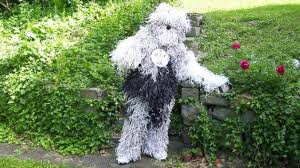 Delivered from obscurity by NatGeo's Taboo, Boomer is a dog in a man's body. Some have issues with a grown man dressing up as a dog, eating dog food, and barking out commands. Boomer was inspired by Disney's Shaggy DA movie and hasn't been the same since. Boomer explains his world in this special Animal Radio® interview.
Pet Friendly House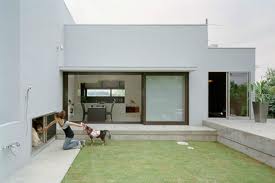 David Beart is building his house especially for his dog. He's teamed up with many manufacturers to stock his pet-friendly dwelling. While this may not seem like a big deal, David may be onto something. The pet industry is the second-fastest growing sector at 58 BILLION dollars this year. It only makes sense that our homes will become more-homier for our furry-friends.
Online Pet Scams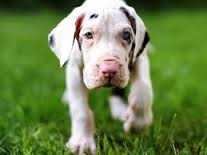 Scambook's Miranda Perry lists off the top scams directed at the very-delicate and vulnerable pet-lover. These include Craigslist scams for pure-breed puppies to Western Union fraud. She even tells us about a guy who impersonated an animal control officer to bilk money out of noisy neighbors. Be listening so you won't be a victim.
More Vets Offering At-Home Euthanasia
Christi Winter always tried to give her dog Josie the very best in life, so when it was time to say goodbye, Winter didn't want to do anything less. Winter opted to have Josie euthanized at her home, a practice that isn't new, but is becoming a specialized area of veterinary medicine. At least two companies have cropped up in recent years that recruit veterinarians who deal solely with end-of-life care for pets.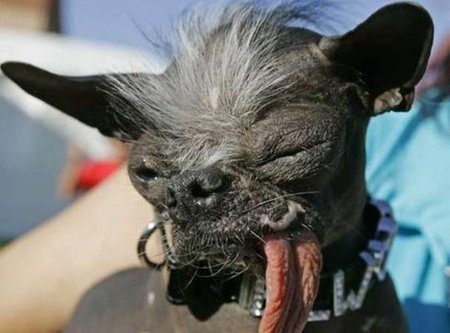 Ugliest Dog Passes Away
A New Jersey canine that was crowned the World's Ugliest Dog in 2007 and later became the topic of a children's book preaching acceptance has died. Elwood was 8. His owner, Karen Quigley, says the Chinese crested and Chihuahua mix died unexpectedly. The Sewell resident said Elwood had been dealing with some heath issues in recent months but appeared to be doing well.
More this week
Next Week: Comedian Paul Reiser - Actress Susan Olsen (The Brady Bunch) - Ryan Drabek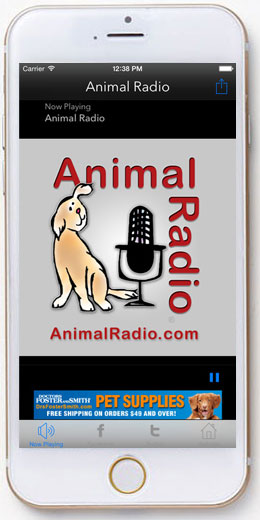 So many ways to listen to Animal Radio®. We're on 108 AM/FM stations, the Animal Radio® App for iPhone/Android, iHeart Radio, iTunes, Stitcher, Live365, TuneIn, Spreaker and Podcast. We're available wherever you are!
Animal Radio® Episode 732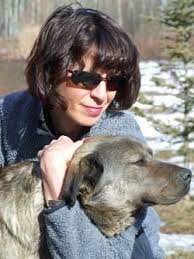 39 Ways NOT To Kill Your Best Friend
Seasoned Veterinary Surgeon Dr. Judith Samson-French researched case files to determine how we can avoid accidentally killing our pets. Even with our best intentions, we may be putting our furry-friends in harms way. She'll reveal some of the stranger ways good owners unexpectedly killed their pet.
Dog Gets Obamacare
While millions are having difficulty signing up for Obamacare, a dog was able get processed under Colorado's healthcare exchange. It was a mistake of course. The insurance account was supposed to be opened for Shane Smith, not his 14-year-old Yorkie "Baxter."
Trains, Planes and Chihuahuas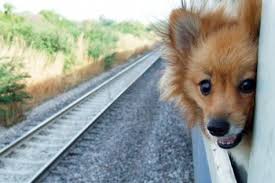 Our guest, Congressman Jeff Denham (R-California) has introduced the Pets on Trains act to allow crated pets on Amtrak trips of less than 750 miles. The lawmakers say they envision a car designated for pet travel. Convincing the government subsidized Amtrak to be competitive with the already accepting airlines may not be that easy. Amtrak banned pets in the 70's.
ABC 20/20 Report On Rip-off Vets Draws Ire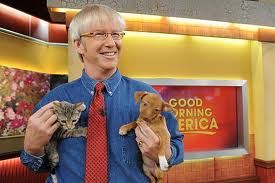 When Animal Radio® Veterinary Correspondent Dr. Marty Becker was featured in the prime-time show on dishonest veterinarians, he had no idea they would translate meaning in the editing room. After many vets spoke angrily about the 20/20 report, Dr. Becker resigned from ABC, ending 17 years of dedicated service on Good Morning America. Hear what happened and what was supposed to happen in this exclusive conversation.
Airline Almost Kills Dog -Wants Owner To Keep Silent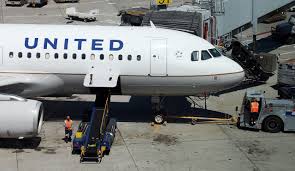 A pet-owner is claiming that United Airlines nearly killed her dog - then tried to bully her into staying silent. Janet Sinclair signed up for United Airlines' "PetSafe" program, which promises that pets will never "be exposed to temperatures greater than 85 degrees for more than 45 minutes." But when Sinclair arrived, her greyhound Sedona was near death. The vet bills came to $2,700. United Airlines agreed to pay for medical expenses - but only if Sinclair signed a non-disclosure agreement. Sinclair has decided to make her plea public with a Facebook campaign. United Airlines said they didn't pay up because Sinclair unfortunately "declined to accept the terms of the agreement."
Animal Radio® Episode 731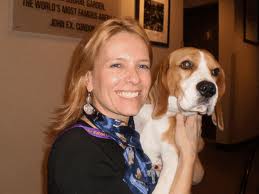 Best Dog Tricks On The Planet
Babette Haggerty has trained Jack Nicklaus' Golden Retriever to bark the number of his major tournament wins on command, Curt Gowdy's Rottweiler to say, "Go Reds," and Jimmy Buffett's Maltese to dance on cue to "Margaritaville." Now she's sharing her best on Animal Radio®
There's An App For That
Steve Pelletier is a techie, a dog lover, and a fitness fanatic. Once an Economist at the Reagan White House, he's now focusing his attention on the pet obesity problem in the U.S. He's invented a smartphone app that can help your dog stay in shape.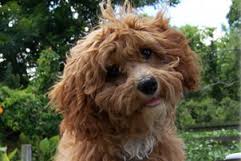 Designer Breeds
Darlene Arden busts the myths surround the new Cava-Poo-Chon breed. This toy dog is supposed to look forever young and live to 20. These designer breeds actually are a waste of your hard earned money and can be racked with health issues. Listen to what Darlene has to say before you run out and get the latest fad-dog.
Does My Dog Understand Time?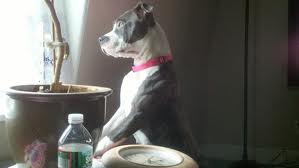 How much does our dog know? Can they tell time? Alan Kabel schools us on separation anxiety and what is believed to be canine perception of time. When you leave the pack, your dog may think you're never coming back.
Trained Dogs Prevent School Violence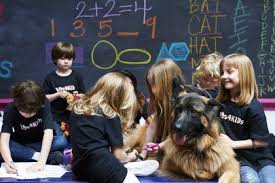 While some say school safety hinges on guns, cameras or alarms in classrooms, Mark Gomer and Kristi Schiller think specially trained dogs should take point in preventing violence in schools.
Animal Radio® Episode 730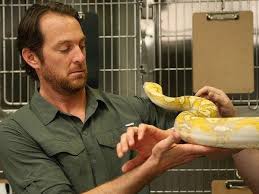 Jobs That Bite
Jeremy Brandt has a strange and scary job. One minute he's be doing dental work on a lion, next he'll be tattooing a bear. It's all part of a days work as a Nat Geo WILD television host.
Does Your Cat Have A Smart Phone?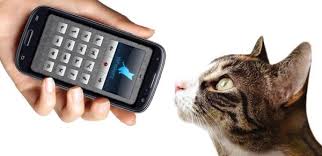 Yes, there's an "app" for that.  Just released, the Human-to-Cat Translator. This intriguing app says it can translate human words into cat language. Speak a word or phrase into your phone, and the app plays back a collection of meows, supposedly translated your English into, well, Catlish. When we tried a translation for "come here," our cat tester showed a little curiosity but not enough to actually get off the couch. Of course, even if the app accurately does work, there's a good chance your cat will ignore you, anyway.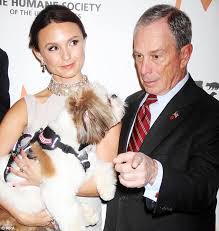 St. Francis of Bloomberg
Ex-Mayor Bloomberg's daughter makes a pretty decent living riding horses. Georgina Bloomberg continually wins big stakes in riding competitions. But now she's taking time off to have a baby with her boyfriend. She has more info on the big Tinsel & Tails event this December.
Medicines Safe For Humans May Not Be Safe For Pets
When people feel pain, they often reach for common medicines such as aspirin or Motrin. But NSAID use in pets carries risks as well as benefits. Pet owners  need to be informed about possible side effects, including those that could signal danger.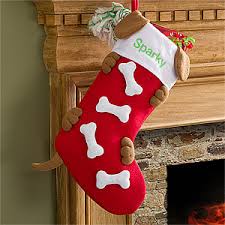 Ahhh, The Holidaze Are Here.
Time for endure another year with drunk old Uncle Ned. This year Vinnie Penn defends the right of the family dog to have a sock hanging from the fireplace mantle. This doesn't end well.
Animal Radio® Episode 729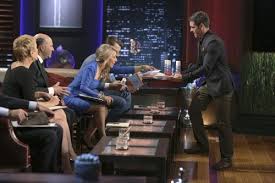 Straight from the Shark Tank
Abe Geary pitched his pet-related idea to the sharks on ABC's Shark Tank. He ended up turning down an offer that required too much equity. Now he's on Animal Radio® to share his Pet Paint with listeners. Abe tells us what it was like for him on the prime-time blockbuster show. His mere appearance on the TV show has driven sales.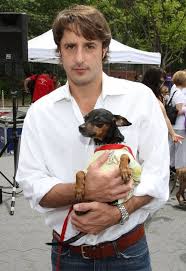 The Prince Returns
Prince Lorenzo Borghese is back. This time we clear up any confusion about being related to Napoleon. Since being on the TV reality show The Bachelor, almost a decade ago, he's been actively involved with his high-end boutique pet line, and he's been advocating for our furry-friends.
Dangerous Dog Registry
Orange County California officials are proposing a website, similar to the Sexual Offender Registry for humans, except for "Dangerous Dogs." Proponents say there are approximately 150 dogs in the city that have either maimed or killed people. A Database would let neighbors know if there is a dangerous dog living in their area.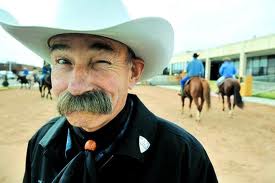 Cowboy Poet Veterinarian
Perhaps you've already had a chance to hear Baxter Black on NPR or The Tonight Show. A former veterinarian turned poet, entertainer and philosopher - you will be thoroughly entertained by this odd character and his Thanksgiving Turkey tribute.
Mints for Fido?


Vinnie Penn has already started his Christmas shopping. While in line at Petco, he saw "Doggie Mints" as an impulse purchase item. Which led him to thinking, why? Who is the person that is feeding their dog mints for their breath? Aren't they supposed to have bad breath?
Animal Radio® Episode 728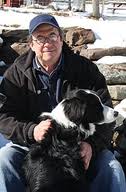 Every Dog Deserves A Second Chance
Bestselling author Jon Katz is back on Animal Radio®. A few years ago he was on top of the world. Then came the end of his 35-year marriage and he went broke. He needed a second chance. Along came Frieda, a Rottweiler-shepherd mix that also needed a second chance.
Suffering in Silence
Often when an animal is sick it goes un-noticed. Some believe that's because they can't show weakness in the wild. Animal Radio® Veterinary Correspondent Dr. Marty Becker will tell you what signs to look for that indicate your furr-kid is sick.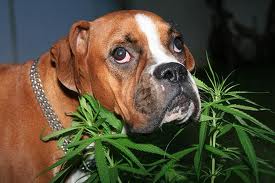 Pot Plant Pesticides Killing Animals
Half-a-million marijuana plants have been recovered on US Forest Service land so far this year. However, it's not what they're growing but how they're growing it, that's killing wildlife, tainting water supplies and endangering hikers. NBC affiliate Elyce Kirchner reports.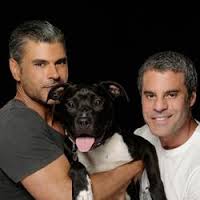 Tinsel and Tails
Celebrity Photographer Mike Ruiz is here to talk about the Celebrity Catwalk event and what some well-known "A-list" celebs are doing to help companion animals nationwide.
FDA To Regulate Pet Food
The Food and Drug Administration proposed rules that would govern the production of pet food and farm animal feed for the first time. The proposal comes six years after the biggest pet food recall in history.
Animal Radio® Episode 727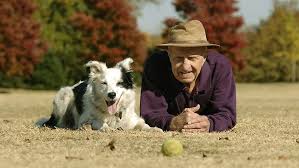 This Dog Knows A Thousand Words
You may have heard about Chaser, the Border Collie that not only knows 1000 words but can understand sentences. John Pilley got Chaser when he was 72, and has chronicled this amazing story. Your dog may be just as brilliant!
Jerky Treats Death Toll Nears 600
Meat or plant-based "jerky" pet treats have been tied to mysterious illnesses in thousands of dogs, according to the FDA. Bernadette Dunham, director of the FDA's Center for Veterinary Medicine, said "This is one of the most elusive and mysterious outbreaks we've encountered."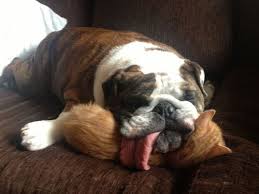 Unlikely Loves
Jennifer Holland has release another book highlighting strange and unusual animal relationships. You'll hear about the unique pairing of an Elephant and a Sea Lion. But that's not the weirdest. You'll have to listen to believe it.
Jet Set Vets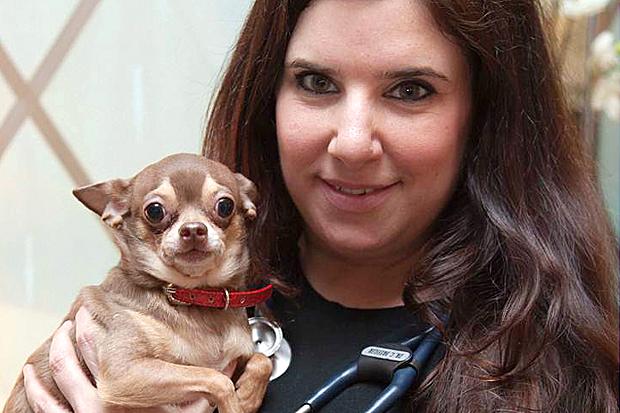 Dr. Cindy Bressler has a unique job. She's a vet for the other side of the tracks. This entrepreneur started the country's only private-jet, ride-along-vet, concierge pet service. For a small fortune, between $1,200 and $15,000 an hour, she and her team wild administer IVs and drips and handle any other medical issues.
...and the Animal Radio® Dream Team will be answering listeners questions about their pets.
Animal Radio® Episode 726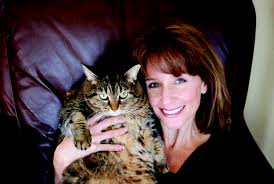 Does This Collar Make My Butt Look Big?
The very amusing Dena Harris joins us as she parodies all the self-help diet books with tips to reduce the fat in your cat. You'll hear purr-actical tips like, eat whatever you want, just throw it up at 3am right in the middle of the bedroom floor.
What The Dog Knows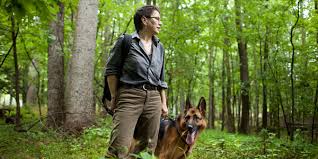 Cat Warren trains cadaver dogs to look for dead bodies. How does she do it? And just how good is your dog's nose? So good they can sniff a corpse at the bottom of a lake for 100 years. Would "Ladybug" the Animal Radio® Stunt Dog be good as a cadaver dog? She likes rolling in dead stuff.
Anal Glands
It's all fun and games until someone gets squirted in the eye. Dogfather Joey Villani suggests you go to your veterinarian if your dog's glands need to be expressed. But just in case you want to do it on your own, he'll tell you what you need to know first.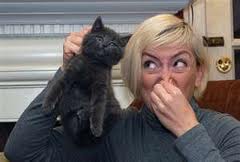 Smelly Cat, It's Not Your Fault
It's not just a Friends song, it's a real problem that can be solved using stuff you probably already have in your pantry. We'll have the reasons and the cures for your smelly cat.
Pet Insurance Now Offers Hereditary and Congenital Coverage
Cats and dogs in nearly 30 states are now eligible for full hereditary and congenital coverage from several insurance carriers. Hereditary and congenital coverage is a relative newcomer to the insurance field.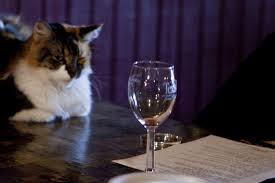 Wine For Cats
Wine drinkers in Japan can now share a glass with their feline friends. B&H Lifes is releasing a wine for cats. While the wine doesn't actually contain any alcohol, it is made from Cabernet grapes. It is also blended with vitamin C and catnip for a mixture that supposedly tastes similar to red wine.
Animal Radio® Episode 725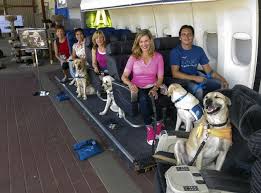 Air Hollywood
Actress and animal advocate Megan Blake is teaching dogs to fly on airplanes using a Hollywood studio set and aircraft simulator. For $300 you can desensitize your pup from all the noise and vibrations that happen on a real plane.
One Cool Black Cat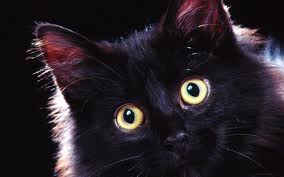 As Halloween approaches, we're examining all the strange superstitions from Black Cats to Fat Rats. Self-proclaimed expert Kim Campbell Thornton shares the stories behind the myths and legends.
Condoms For Cats & Dogs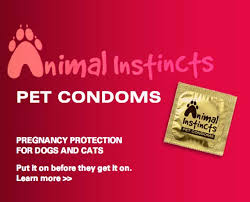 A new website is supposedly offering an unusual way to control the pet population - condoms for cats and dogs. PetCondoms.org claims to offer a special brand of protection dubbed Animal Instincts. But anyone trying to purchase a pack of the condoms will quickly realize they're out of luck. As soon as they click on one of the links, a message pops up telling potential customers: "C'mon, there's only one real fix, spay or neuter your pet."
Skunk Haven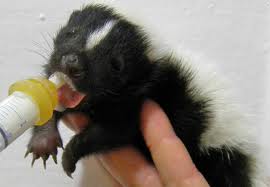 An Ohio woman is trying to prove that skunks aren't the "smelly little creatures" people may think they are. Deborah Cipriani has converted her home into the country's only rescue center for domestic skunks. She has 50 skunks that have free reign of her five-bedroom house - dubbed Skunk Haven - and some of them even sleep in her bed. She also hosts an annual animal lovers event known as Skunk Fest.
Cat Competes For National Pet Insurance Award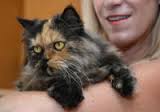 A Northern California family cat is in the running for a national pet insurance award. After racking up a $1,200 vet bill being squashed in a garage door incident, Ariel, the Carter family cat, is now in the running for the "Most Unusual Claim of the Year."
Animal Radio® Episode 724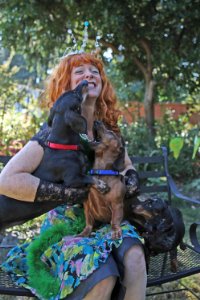 Date Me, Date My Dog
70% of female respondents would marry their dog according to comedian Leigh Anne Jasheway. Leigh Anne barks up all the major problem issues single women with dogs face when trying to mate and relate with a human male - and how to successfully have sex in front of the dog without causing dogus-interruptus.
More Ha Ha
What's better than one animal loving comedian? Two of course. Joey Camen and his multiple personalities visit with Animal Radio®. He shares an exciting, tail wagging story about the relationship he had with Snoopy, his shelter dog.
Mice Sing To Protect Themselves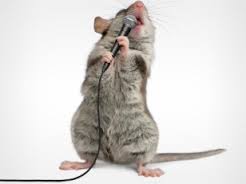 We all know that birds sing, but did you know mice do as well? And the songs vary, so mice that live in the jungle of the Amazon may sound one way. Mice in Detroit have also been studied and they sound another way. I'm not sure how mice in LA might sound.
Where Is Your Hard Earned Money Going?
Vinnie Penn takes a look at the Watchdog Report. It details exactly how much money animal related non-profits make and how they spend it. Once you hear the truth, you may think twice before making a donation to your favorite charity.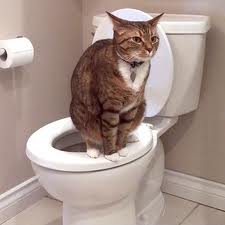 Cat Uses The Toilet
A cat-lover has amazed animal experts by teaching his furr-ball "Salem" to use a human toilet. 29-year-old Luke Evans became fed-up with the puss using a smelly litter tray in his second floor flat. So he trained nine-month-old cat to go to the toilet in his bathroom by offering cheese-flavored treats as a reward.
Cheap Guy Finishes First
Joey Villani has been grooming dogs since he was a toddler (FDR was presidentÔÇŽwe think). He's sharing more secrets to grooming your pet with stuff you have around your house....like Downy fabric softener, Gold Bond medicated powder, Vinegar, Bounce dryer sheets and corn starch.
Animal Radio® Episode 723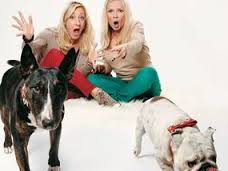 Barking Blondes
Anna Webb and Jo Good are perhaps the two funniest ladies you've ever heard. They have an affinity for our "fur-kids" - and they'll tell you how two bitches taught two bitches to survive without men.
Flea Fodder
Once again we are having a record year for fleas. And this has, quite by accident, become the thrust of today's show. Dr. Cristiano Von Simpson and "Dogfather" Joey Villani offer up great advice for ridding your pet of fleas once and for all. Can you use Listerine or Vinegar as effective protection? Dr. Debbie busts the myths.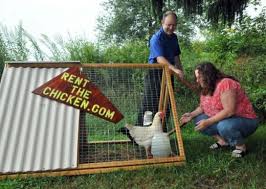 Rent-The-Chicken.com
Phil Thompkins and his wife Jenn are quite the entrepreneurs. They've successfully launched a chicken rental business just in time for a renewed interest in the feathered fowl. "Chickens are the new dogs" and many simply like having the egg supply.
Zero-Tolerance For People Wearing Animal Prints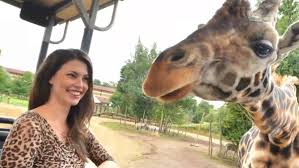 A wildlife park in the U.K. has started banning animal print clothing after zookeepers noticed the fashion choice was confusing the animals. The Chessington World of Adventures has even brought in "Animal Print Bouncers" to make sure visitors don't get in wearing anything patterned after zebras, giraffes, leopards, tigers, or other wild animals.
What's "Stud Tail?"
Did you know it's fairly common for unaltered male dogs (and cats) to be missing hair on the base of their tail? It's just another one of the problems when you fail to neuter your dog. You can even avoid some cancers by snip-snip-snipping.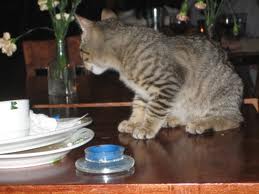 Purr Therapy
A new cafe in Paris is offering patrons a dose of stress relief with their coffee. The Cat Cafe has a dozen resident cats to provide "purr therapy." The manager there says a cat's purring has been shown to help relieve arthritis or rheumatism and to lower blood pressure and heart rate. It seems the whole concept is a hit. So many people showed up for the cafe's recent opening that about 300 had to be turned away.
Animal Radio® Episode 722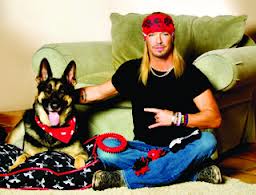 10 Pets That Inspired Great Songs
From the Rolling Stones to Queen to Norah Jones, they all wrote or sang songs about the important animals in their lives. MNN.com's Laura Moss has the stories behind the music.
Fatal Canine Disease Spreads from Ohio
Veterinarians across the country are stumped about a new disease, similar to Parvo, that seems to have originated from a service dog in Ohio. So far 10 cases of Circovirus have been reported. Animal Radio® Veterinary Correspondent Dr. Marty Becker reports on the latest findings and how to prevent exposure.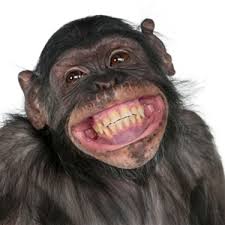 Are Monkeys Smarter Than College Students?
Britt Savage reports about a study that shows our primate friends may be sharper than college student. Researchers tested Duke University students and monkeys. Guess who scored higher on the exams? Let's just say the results didn't boost morale at Duke.
Spend Eternity With Your Pet
New regulations will allow New York animal lovers to spend eternity with their pets. Officials have finalized rules allowing pet cemeteries to accept the cremated remains of humans. The cemeteries can bury pet owners' ashes as long as they don't charge a fee for it and don't advertise human burial services.
Blind Man Washed Into Culvert, Dog Jumps In After Him
A blind man was walking his dog along a Denver street, when epic flood-waters surged and knocked him over. Ronnie Webb was washed into a deep culvert, as his guide dog frantically paced the edge. As Webb called for help, his dog jumped in after him.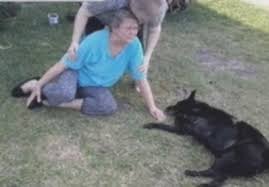 Dogs Shoots Owner
Dogs are supposed to be man's best friend, but one pooch in Fort Worth, Texas is being blamed for shooting its owner. The accident occurred when a 78-year old woman was watching television. Apparently, her dog walked by a shotgun that was at her side, knocking it over. When it hit the floor, the gun discharged and struck the woman in her left foot.
Animal Radio® Episode 721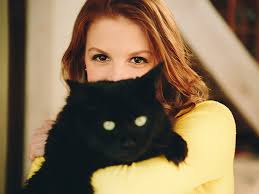 Get Your Licks on Route 66
We're checking in with Susan Sims and actress Ashely Bell as they trek across America on the annual adoption tour. Ashley shares the stories behind her pets at home.
My Dog Eats Drywall
We hear it all at Animal Radio®. This week we'll be helping a listener's dog to stop eating the sheet rock walls. And we'll uncover the reasons our dogs have chewing fetishes and give you solutions to stop this kind of bizarre behavior.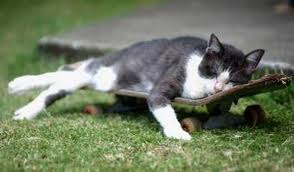 Dare to Look
Ripley's Believe It Or Not is back and Edward Meyer shares the most unusual and unique animal oddities. From the skateboarding cats to the man who married a donkey, you'll hear the strange but true stories.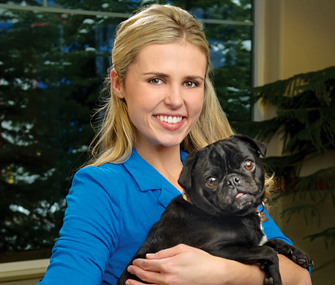 Can You Train a Cat?
Mikkel Becker may be the daughter of Dr. Marty Becker but she stands on her own. Especially when it comes to Positive Reinforcement. Mikkel utilizes this technique to train dogs AND cats. She'll share ways we can use Positive Reinforcement with our pets and husbands.
For $349 Your Dog Can Learn To Fly
Security checks and bumpy air are all in a day's training at a Hollywood film studio to prepare your dog for a safe and calm flight. The Air Hollywood class is billed as the first in a real fuselage on a sound stage with a simulator that mimics takeoff, turbulence and landing.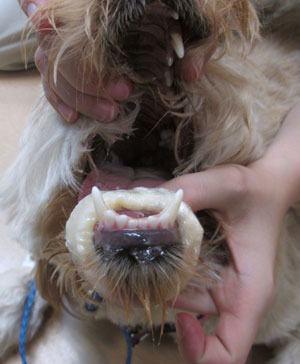 Bone Trick
How did this dog get one of those bones stuck on it's lower jaw? Animal Radio's Dr. Debbie had the pleasure of removing it. She'll explain what happened. Let this serve as a lesson about the safety of bones.
Bogus Service Certificates & Vests
A service dog is highly trained to perform a specific task for its disabled owner. For people wanting to take their pets wherever they go, a brisk business has developed in the sale of bogus service animal certificates and vests.
Animal Radio® Episode 720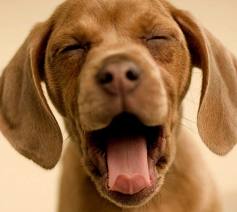 Is Yawning Contagious
Richard Christian reports on a study that says you can get your dog to yawn by yawning yourself. But Fido knows when you're faking it. He won't fall for the faux yawn. What does it all mean? What is our dog thinking when they yawn? Don't get paranoid. He's not necessarily bored.
Man Tries To Smuggle Fish In Pants
An embarrassing leak foiled one man's recent smuggling attempt in New Zealand. The Vietnamese national tried to go from Australia to Auckland with live tropical fish hidden in plastic bags and stuffed in his pockets. But airport officials grew suspicious when they noticed there was water seeping from his pants.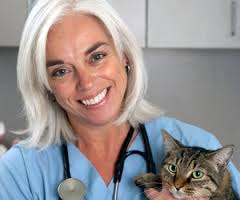 Cat Friendly Practices
Animal Radio® Veterinary Correspondent Dr. Marty Becker reports on veterinary practices that go out of their way to be extra cat-friendly. He'll also have tips for taking your cat to the vet without all the stress and strain.
Rent-A-Chicken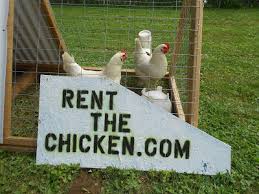 A couple in Freeport, Pennsylvania is giving aspiring chicken farmers a chance to take a test run with the animals. Phil Thompkins and his wife Jenn have recently started a business called "Rent The Chicken," which allows people to care for chickens. For $350, a renter gets two hens, a wheeled coop, feed and a water dish.
Missing Diamonds Found But Can't Be Retrieved For 8 Years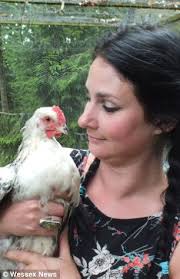 Claire Lennon says her pet chicken Sarah snatched the $450 piece of jewelry while she was perched on her shoulder. Veterinarians determined the earring was trapped in the chicken's stomach. And while they said they could remove it with a risky surgery, Lennon quickly ruled that out and intend to wait until Sarah grows old and passes away from natural causes.
Animal Radio® Episode 719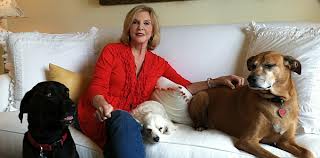 No Sad Dogs in Heaven
World renown communicator Sonya Fitzpatrick is our guest. She'll be answering the questions pet owners have after their pets have passed on. Alan is skeptical, but that may change before the end of the show.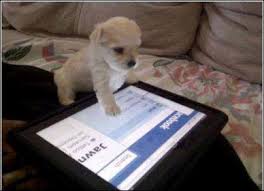 "Where's the iPad Honey?"
Anna Jane Grossman, who runs School for the Dogs with dog training partner Kate Senisi, trained her own dog, Amos, on her iPad, and has since segued into teaching budding canine techies how to use the popular Apple device.
Smelly Dog Ears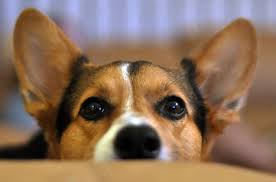 One of the first signs of ear problems is that disgusting yeasty smell. Dogfather Joey Villani knows this is common among certain breeds and he has the solution using products you probably have in the kitchen.
Heartworm Medication Recall
There have been plenty of recalls related to pets in recent months, and as always, we keep you informed about each one. There is one new recall to report; however, this one is not related to pet food or treats. Virbac Animal Health has expanded a voluntary recall on one of their products, a Heartworm preventative, and it might affect your dog.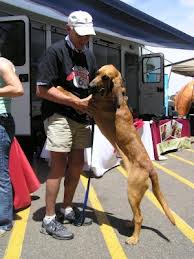 Get Your Licks on Route 66
The annual adoption tour is underway in Los Angeles. Susan Sims will check in from the first stop in Los Angeles. Be sure to join us and find your forever friend along America's favorite highway.
More this week
Next Week: Dr. Marty Becker - Richard Christian - Dr. Joel Ehrenzweig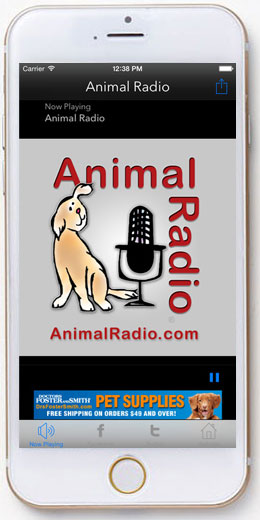 So many ways to listen to Animal Radio®. We're on 107 AM/FM stations, XM Satellite Radio, Animal Radio® App for iPhone/Android, iHeart Radio, iTunes, Stitcher, Live365, TuneIn, Spreaker and Podcast. We're available wherever you are!
Animal Radio® Episode 718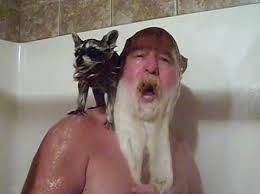 Dancing with Raccoons
Mark "Coonrippy" Brown's YouTube videos have gone viral. He got famous for a video that showed him and his pet raccoon Gunshow dancing to Aretha Franklin. But the increased scrutiny on his lifestyle caused the Tennessee Wildlife Resources Agency to step in and confiscate his newest pet 'coon, Rebekah.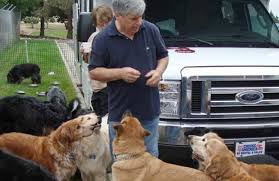 Dogtripping
Tune in for mystery author David Rosenfelt's hilarious account of a cross-country move from California to Maine with twenty-five dogs. It turned out to be a bigger ordeal than he anticipated, despite the 3 RVs, the extra kibble, volunteers (including a few readers), and camping equipment.
First Family Has New Pet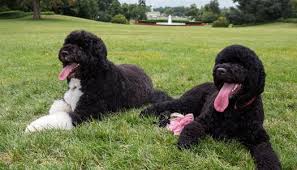 President Obama and the First Family have a new pet. They recently welcomed "Sunny," another Portuguese Water Dog. The Obamas picked that name because they say it fits her cheerful personality. Sunny grabbed the attention of all the "newshounds" on duty at the White House.
Cat Burglar Is A Cat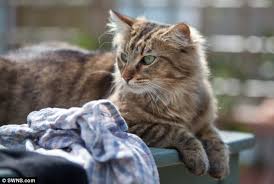 The owners of an actual cat burglar are trying to bring an end to their feline companion's "life of petty crime." Richard Windsor and his wife Sophie say their two-year-old tabby Norris has been building quite the collection of stolen goods from their neighbors' homes. Norris supposedly started small by nabbing the occasional dishcloth, but now he's begun swiping bras.
Kangaroo Censorship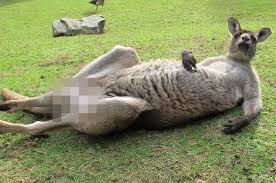 A recent act of Kangaroo censorship has left some people hopping mad. The Mirror says Tourism Australia posted a photo of a Kangaroo named Big Baz on their Facebook page. But since Big Baz was sprawled out on his back in the pic, they chose to keep it PG by pixelating the animal's private parts. The folks at Tourism Australia explained that they were only having a bit of fun, but not everyone thought it was very funny.
Animal Radio® Episode 717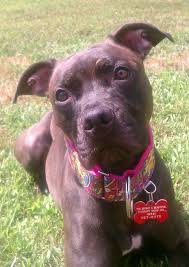 Anti-bullying Dog Therapy
Fido is now being used to stop bullying. Rachel McPherson is introducing canines to both the bully victim as well as the bully-er. The transformation is astonishing. Find out what the Good Dog Foundation has planned.
Allergy Season
Animal Radio® is getting more and more calls from pet-guardians whose furry-friends are suffering from Summer allergies. It's important determine the type of allergy, whether it's food, environmental or some kind of pest. For some pets, it may be a Miliary Flea Dermatitis - an acute reaction to fleas, pollens in the air, or simply a food allergy. Your vet has the tools to decipher and treat.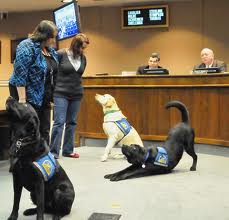 Courthouse Dogs
Former Prosecutor Ellen O'Neill-Stephens thinks dogs can be extremely helpful to those testifying in a courtroom. And, in fact she may be right. Over 30 dogs are currently tucked away next to the defendant as they deliver their sworn statement. It's all part of a program of the Courthouse Dogs Foundation. And while most people think this is a fine idea, it does have its detractors.
Seeing-Eye Dogs Bring Blind Couple Together
A pair of seeing-eye dogs are getting credit for leading their owners to love.  Claire Johnson and Mark Gaffey first met at a course for their guide dogs, Rodd and Venice, last year in Shrewsbury, England. Apparently, the guide dogs were inseparable and seemed to be falling in love. Their visually impaired owners soon followed suit.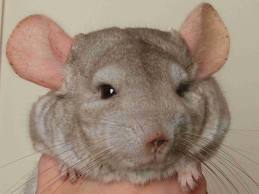 It's A Zoo!
Dr. Debbie is prepared to answer all of your questions about almost every kind of animal. That's why she's at the top of her game. Today it's all about Chinchillas. And that's because more and more pet-guardians are choosing this furry critter over a cat or dog.
Cow Spa Produces More Milk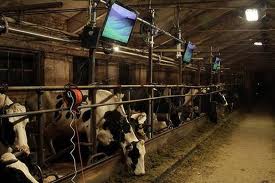 We found a dairy farmer that's pampering his cows in order to produce more milk. Farmer Smith is using waterbeds for his cow to lounge in while they watch a giant flat-screen TV. And believe it or not, the cows seem to be reacting by making more milk than those moo-cows without TV privileges.
Animal Radio® Episode 716

Saving $$ Without Short-Changing Your Pet
Animal Radio® Veterinary Correspondent Dr. Marty Becker has solutions to beat the high-costs associated with being a pet-parent. New veterinary procedures can cost a lot! But the simplest way to avoid costs is to keep your pet its ideal weight.
Is Pet Insurance Worth It?
While the Animal Radio® Dream Team have conflicting opinions on pet insurance, the facts stand strong. Yes, you could have to come up with 30 grand for some of today's procedures. But if you're covered, you won't be up the creek without the proverbial paddle.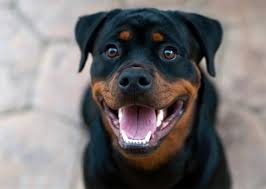 Animal Radio® - Kimpton Crown Winner
It's time to find a winner for the Third Annual Pet Photo Contest. Today we're sending a lucky winner on a 3-night trip to any Kimpton they choose. Airfare on Jet Blue and a whole-lotta-pampering!
If You Want To Be Trampled By A Bull - Go To Virginia!
If you've ever wanted to run the risk of being trampled by a bull but can't afford the trip to Spain, you could always go to Virginia. More than 5000 people have already signed up for the Great Bull Run, a Pamplona-inspired event to be held at a Richmond drag strip.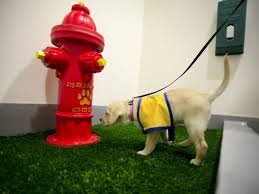 Lindbergh Field Installs Country's First "Pooch Potties"
Lindbergh Field in San Diego has installed what could be called the country's first airport "pooch potties." Officials included four fancy "Pet Relief" stations as part of their billion-dollar expansion. The 75-foot square spaces have fake grass and a fire hydrant, along with deodorizers, a hand-washing station and complimentary baggies for clean up.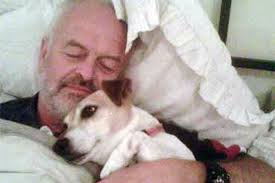 Ever Suspected Your Husband Secretly Loves The DOG More Than You?
Graham Anley and his wife Cheryl were on a sailing trip. It was just the two of them and their nine-year-old Jack Russell terrier Rosie for three months. But they hit rough water and their yacht capsized. And as Graham swam to shore, he decided to rescue the dog before his wife.
Animal Radio® Episode 715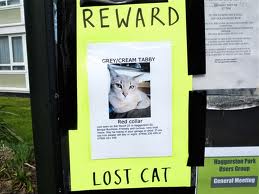 The Secret Of Lost Cats
You've seen them. Hanging on telephone poles and posted on supermarket bulletin boards. It says "Lost Cat" with a picture of someone's furry friend. Dr. Nancy Davidson interviewed the people behind the signs and tells their stories.
Another Great Invention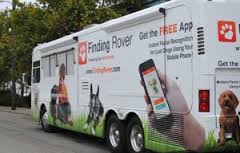 John Polimeno gave up his job as a construction worker to engineer a face-recognition, or should we say "muzzle" recognition App to help find lost animals across the country. So far his company and App has reunited 7 pets with their owners. John explains the technology and how we can add it to the arsenal of tools.
"Meatball" Will Ride On Rose Parade Float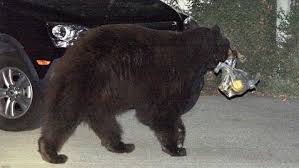 A mechanical likeness of the bear best known for roaming through several Glendale neighborhoods will be prominently featured on the city's official Rose Parade float. The display is projected to cost around $155,000. The 400-pound animal was dubbed "Meatball" after he was caught eating frozen Costco meatballs in a garage freezer last year. Meatball became a quasi-celebrity after his roaming was captured by several L.A. TV station helicopters.
Pillow of Your Pet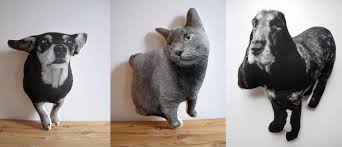 Shannon Broder had an idea you wish you thought of. She takes pictures of your pet and makes a pillow. She's even had a few strange requests. Find out how this "happy-hour" idea became big business. A we'll have giveaways.
Diet Tricks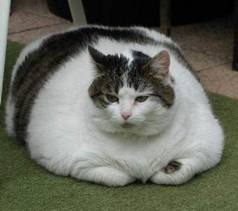 A listener needs to know about FurFast, a diet aid for your pet. Is it healthy? Does it work? Dr. Debbie has the low-down on tackling pet-obesity...and sometimes it calls for supplements.
...and of course, the Animal Radio® Dream Team is answering your pet questions.
Animal Radio® Episode 714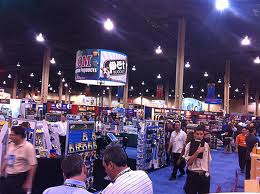 Live From SuperZoo
It's time again for our New Pet Product Special from the pet industry's largest trade show in Las Vegas. We'll be giving you great gifts for your pet before they're on the shelves in your pet store.
Flea Facts
There is no doubt that this flea season has been one of the worst in recorded history. Now it takes a multi-modal approach to get rid of these little suckers for good. Dr. Debbie steps up to the plate with several great ideas.

Pet Insurance
When is the best time to get pet insurance so you won't be caught with the ever-increasing cost of veterinary care? Is it better to just start an interest-bearing savings account for your pet? Is it possible that your insurance claim will be rejected? Animal Radio® uncovers the truths and fallacies behind the booming insurance trade for pets.
Energy Bar Contains Crickets
A Salt Lake City-based energy bar maker is turning to crickets as a source of nutrients. The makers of Chapul Bars use cricket flour to give their bars a boost of protein. Chapul's founder Patrick Crowley says the six-legged critters are a "rich source of edible protein" that is more environmentally friendly than protein from livestock.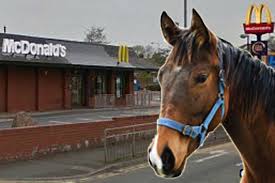 Horse Rider Turned Away At Drive-Thru - So She Brings Horse Into Restaurant Instead
A woman has been saddled with a fine after bringing her horse into a McDonald's restaurant. Police say the woman initially tried to ride the animal through the drive-thru on Saturday, but was turned away. She then brought the horse inside the fast food joint, where it promptly did its "business" on the floor.
Listen to this show | Listen to Bonus 1/2 hour
Animal Radio® Episode 713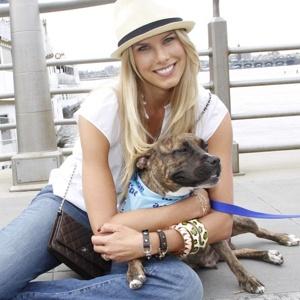 Beth Stern Guests
Yes, she is the wife of Howard Stern. But more importantly, Beth Ostrosky - Stern is an avid animal advocate. She's fostering a bunch of animals at home. She says Howard is really into her pets and sometimes he'll get very emotional when the animals find homes.
Cats Actually Have A Language
Con Slobodchikoff is studying animal linguistics. He's noticing patterns that indicate language among cats and even prairie dogs. He even says that someday we may have an App that will translate our conversations with animals.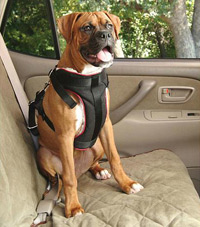 Pet Restraints FAIL
New research from the Center for Pet Safety reveals that the pet restraints tested have a 100% failure rate. Does this mean you shouldn't use them when traveling with your pet? Absolutely not. However, Lindsey Wolko has the lowdown on what works and what doesn't when it comes to keeping your pets safe in the car.
Don't Worry About Bugs In Your Food - They Were Intentionally Added
Acclaimed European chef David Faure isn't worried about his diners finding a bug in their meals. In fact, he's started intentionally adding a variety of creepy crawlies to the dishes he serves at his restaurant. He says the biggest obstacle in his quest is finding a reliable local supplier of edible insects.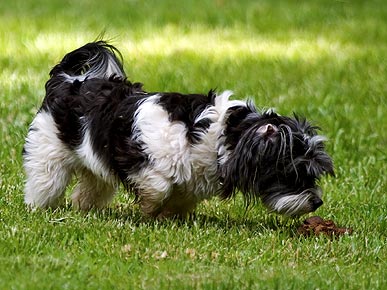 Eating Poop - Don't Knock It
Not a week goes by without a listener calling to ask why their dog is eating other dog's feces. While there are many theories as to why this happens, Dr. Debbie gets to the bottom of it and sheds light on the very common problem.
Animal Radio® Episode 712
Flight Attendant Accused of Smuggling Animals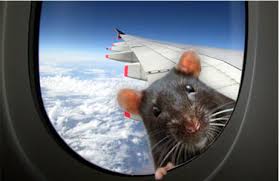 An American Airlines flight attendant is taking legal action to clear her name after being accused of hiding rats in her underwear and sneaking them onto a plane. Louann Giambattista has filed a lawsuit seeking unspecified damages, claiming the accusations have left her with "debilitating anxiety." Giambattista's problems began last year when one of her American Airlines co-workers allegedly noticed an unusual bulge in the admitted animal lover's pocket.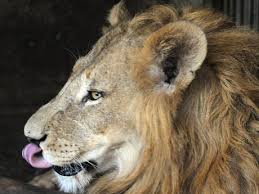 Don't Kiss The Lions!
That's the lesson for a Canadian teenager who was mauled by a lion in South Africa. Lauren Fagen was attempting to kiss the fur of a caged male lion at a wildlife rehabilitation center. Fagen says she's lucky to be alive.  She'll be out of the hospital next week.
Dog Owners Are In The Majority In The U.S.
According to the latest American Pets Poll, 52-percent prefer pups as pets, while just 21-percent would rather have a cat. But few people believe in the stereotypical "crazy cat" lady or man. Just 23-percent think "cat owners are weirder than dog owners."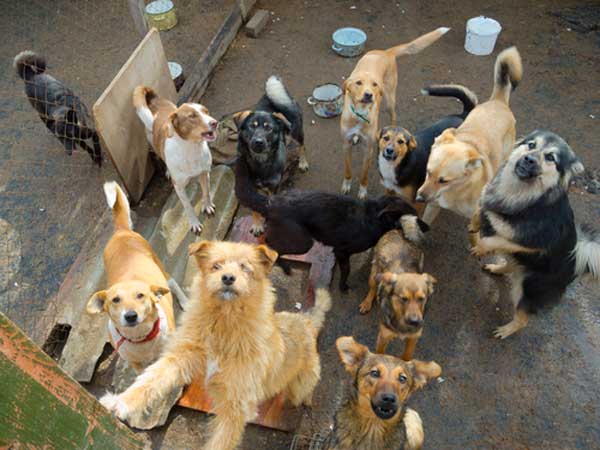 When Is "Too Many" A Problem?
Dr. Debbie becomes concerned when a listener calls in with 11 dogs. By all outward appearances, this pet lover is out-of-control and unable to care for so many animals. For some, this crosses the line from animal care to animal abuse and into the world of mental and psychiatric problems.
Taming Aggressiveness
After many dog maulings and attacks, the owner always says they never expected their dog to be so aggressive. "He's the nicest, friendliest dog I've ever known - I don't understand what happened." Alan Kabel understands a dog's mind and he'll tell you why Fido gets mad.
Animal Radio® Episode 711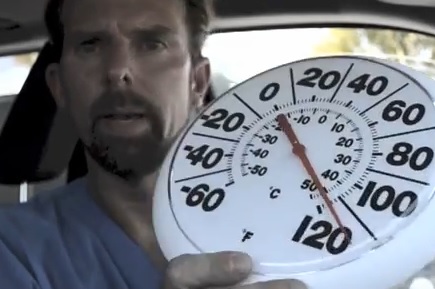 Vet Locks Himself In Hot Car
Dr. Ernie Ward wanted to bring attention to how hot a car gets and how dangerous it can be for your dog. So he "shvitzed it out" inside his Coupe, all the while video taping it for posterity. He shares his experience with us.
Dr. Marty Becker Joins Animal Radio®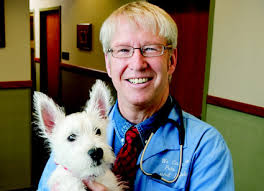 America's Favorite Veterinarian is such a frequent guest that we decided to make him part of the Animal Radio® family. Dr. Becker joins us as a Veterinary Correspondent, reporting on important stories from the world of all things furry. This week he'll take the fear of vet visits out of our pets.
Plastic Surgery For Pets
Pets and their owners do tend to look alike after a while but are some pet owners going to extremes to prove the point? Animal expert Kim Baker says we're seeing more and more pet owners taking their pets in for cosmetic surgery.
Pets Earn Frequent Flyer Miles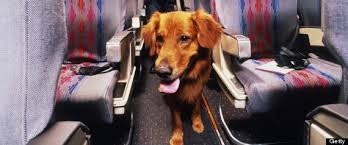 Pets are being rewarded for loyalty not just by their owners, but by airlines, as part of a growing number of pet frequent flier programs. Dogs and cats that travel on a Virgin Australia domestic flight can now collect points for their owners that can then be used to obtain discounts on future flights.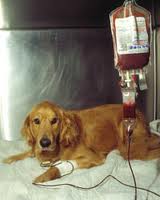 Overtime for the Dream Team
Can you give your pet Aspirin? Do our pets have the same blood as humans? How does Clicker Training work? Should there be a Cat Leash Law? Dr. Debbie, dog trainer Alan Kabel and Britt Savage tackle these curiosities. Where else will you learn this stuff?
Going the Distance
What are you willing to do or pay to keep your pet healthy? More and more of us are pawning our wedding rings just to afford the more expensive surgeries to heal our pets. Is $3000 too much to pay to fix Fido's torn ACL?
Del Monte Accused of Knowingly Selling Bad Treats
Del Monte Foods is facing a class action lawsuit over its Milo's Kitchen jerky treats for dogs. The treats contained Chinese chicken that poisoned many dogs, killing at least 360. The lawsuit charges the company knew the snacks were dangerous but sold them anyway.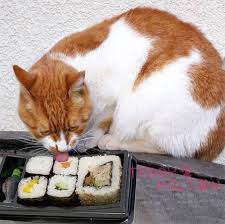 World's Most Luxurious Cat Food At $40 A Can
British celebrity chef Simon Rimmer believes he's come up with the world's most luxurious cat food. He worked closely with animal experts to create a "once-in-nine-lifetimes" food experience featuring roasted duck, lobster sushi rolls and Beluga caviar.
Animal Radio® Episode 710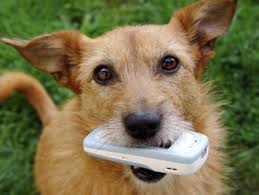 Pets Cause 3-Billion Dollars Damage
A new study shows that American pets have bitten, chewed, licked, drooled upon, and otherwise damaged more than eight million devices, which adds up to more than $3 BILLION in repair and replacement costs. The most commonly damaged device is the smartphone. Sandy Robbins shares the studies amazing results.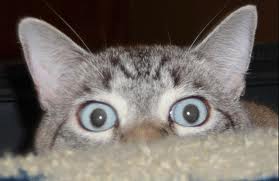 Cat Ruins Intimate Moment
What happens when an Animal Radio® listener's boyfriend is bothered by a cat when he's in the mood for love? Bottom line, your pet should not be in the same room when you're making love. Not only is it a "mood-spoiler," but according to Dr. Debbie, somebody could get hurt.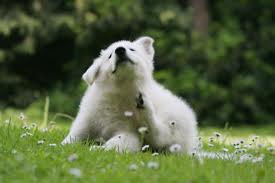 Poison Ivy
Leaves of three, let it be. A good tip to avoid Poison Ivy, unless your dog got it and gives it to you when you pet him. It's more common than you think. Joey Villani the Dogfather has Poison Ivy this week. He got it while grooming a dog. He has tips and cures for the itches.
Pampered Pet Resort Costs $72,000 For Two Weeks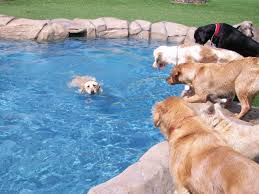 Man's best friend now has a place to go if they need a couple days away from their two-legged companions. The new Paw Seasons canine holiday resort in Long Ashton, England offers dogs a luxurious vacation that comes complete with spa and grooming sessions. The actual owners, however, are not allowed to stay at the resort. The two-week package costs more than $72,000.
Del Monte Accused of Knowingly Selling Bad Treats
Del Monte Foods is facing a class action lawsuit over its Milo's Kitchen jerky treats for dogs. The treats contained Chinese chicken that poisoned many dogs, killing at least 360. The lawsuit charges the company knew the snacks were dangerous but sold them anyway.
Animal Radio® Episode 709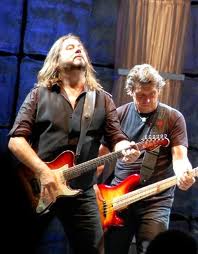 Kenny Lee Lewis Guests
Guitarist for the Steve Miller Band, Kenny Lee Lewis kicks off their Summer tour with a stop at Animal Radio®. Kenny shares his Central California home with Sophie, a dog he fell in love with after he promised his daughter a pup if she got good grades. We'll also have tickets to check out the Steve Miller Band for select cities.
Preventing Cancer
Dr. Gerald Post is back with basic things you can do to reduce the odds against your pet. If Cancer is detected and treated early, many of our pets have a great chance at a healthy outcome. Dr. Post has the low-down on pesticides and your pet.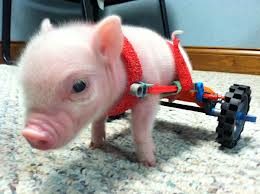 Handicapped Pig Gets Wheelchair
When a patient brought a deformed pig in to Dr. Len Lucero to be euthanized, the doctor couldn't do it. He ended up adopting Chris P. Bacon and creating a wheelchair out of a child's erector toys. Now the pig is styling with his new wheels and inspiring Facebook and Twitter followers worldwide.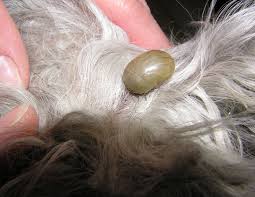 Tick Seasons Explodes
There is no doubt that this tick season is more populated than ever. With typical spot-on chemical treatments losing their efficacy, we're turning to alternatives for fighting those little buggers. WAHL's Pat Kopischkie has great ideas when it comes to tick control.
Leash Aggression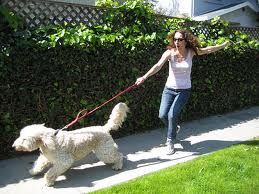 Without even knowing it, we can be training our dog to be aggressive. The tool that we rely on to restrain our dog may actually be at the root of problems. Dr. Debbie has a cure for pulling and growling issues. "It's all about thinking like a dog."
Animal Radio® Episode 708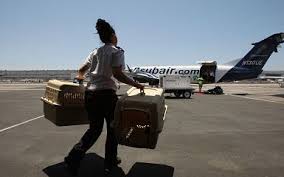 Be Fearful if Fido is Flying in Cargo
Bay Area NBC Investigative Journalist Elyce Kirchner reports on why the airlines are getting away with murder, literally. There is an incredibly high number of pets that don't come out alive after flying in the cargo compartment. We'll have the list of the top airlines and the worst.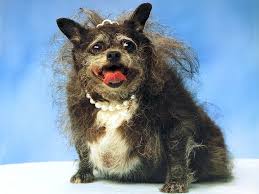 World's Ugliest Dog Contest Chronicled
They're sooo ugly they're cute. Vicki DeArmon has been the brainchild behind the wildly-popular Ugliest Dog Contest at the Sonoma-Marin Fair. Now she's taken the photos from these contests and printed them into a coffee-table book perfect for ooogling.
"Pet" Dreams
Puppy lovers have 'fessed up, they have "pet dreams" when they leave their four-legged friends behind on holidays. A new survey shows that eighty per cent of pet owners would cancel or change their travel plans if they could not trust someone to mind their pet. One in six pet owners would chat to their pet on Skype while away on holidays. And one in seven confessed to having "pet dreams'' about their animal companions.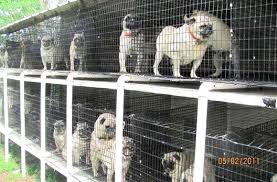 Database Links Puppy Mills To Pet Stores
The ASPCA announced the launch of a new Internet tool that allows consumers to link pet stores that sell puppies with USDA licensed commercial dog breeders. Consumers are able to search the database by pet store name, USDA license number, name of the breeding facility, or by zip code and specific breeds. They are hoping that this new tool will allow consumers to make informed decisions and refrain from buying puppies at pet stores.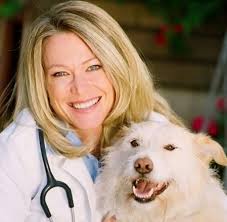 Doc Halligan Fills-In
TV Vet Dr. Karen Halligan fills in for the vacationing Dr. Debbie. She'll be answering your questions alongside Groomer Joey "Dogfather" Villani, Trainer Alan Kabel and Communicator Joy Turner.
Animal Radio® Episode 707
Jo Anne Worley Guests
Not only is she an outstanding comedian, Jo Anne Worley (Laugh-In) spends much of her time caring for the animals. She's the sitting President of Actors and Others for Animals. This is her seconds time visiting the Animal Radio® Dream Team.
A Real Life Pet Entertainer
Lee Day's business card says "Pet Entertainer." We had no idea what this really meant. So we decided to get her on the show to entertain your pets. Grab Fluffy and Fido and bring them around the radio for today's show. They may be quite entertained.
The Truth About Vaccinations
Dr. Debbie finally puts an end to the vaccination confusion. How often do your pets really need Distemper, FLV and Rabies shots and boosters. Diseases like Parvo can be fatal and avoided with a simple shot.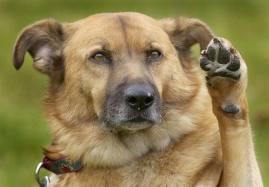 Is Your Dog Left or Right Pawed?
If your otherwise well-behaved dog barks at the postman, the reason could well be in its feet. Scientists have found that 'left-pawed' canines are more aggressive towards strangers than their 'right-pawed' counterparts. They tested dozens of pets with a special toy to find out which side they favored and then analyzed their behavior.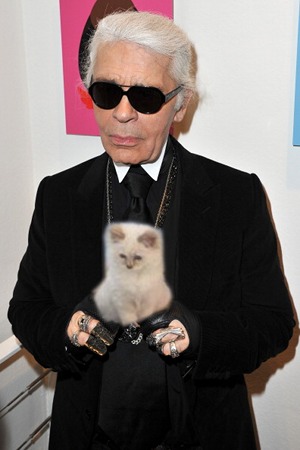 Chanel Designer Wants To Marry His Cat
Chanel designer Karl Lagerfeld says he'd marry his cat if it was legal. Lagerfeld recently announced he's "fallen in love" with his pampered feline named Choupette. In the past, he's been known to buy her an iPad and a silken pillow to sleep on. In an interview on CNN, he said he never thought he'd fall in love like this with a cat.
...and our Dream Team is answering your pet-related questions.
Animal Radio® Episode 706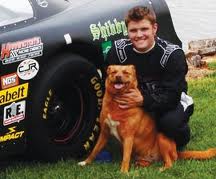 NASCAR's Cory Joyce Returns
He may be only 20, but he's using his star power to create a better life for animals. Cory Joyce is working closely with the Humane Society of The United States as well as a local shelter in his North Carolina hometown.
Naming Your Pet
Vinnie Penn believes that naming your pet is the single most important thing you will do. He has tips for avoiding embarrassing naming mistakes. And please, don't name your Chihuahua "Thor."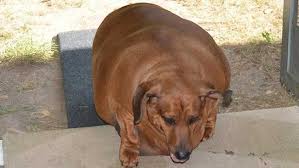 77lb Dachshund Sheds 40+ Pounds
Obie, a Dachshund, has lost so much weight that he had to have skin removed so it wouldn't drag on the ground. His guardian, Nora Vanatta tells us the entire story, including the bitter custody battles with Obie's former owners.
Police Dog Wears Camera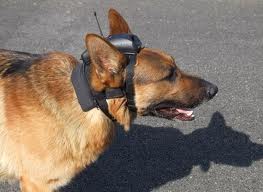 A technology used by the military is now available to civilian police departments. The Massachusetts Plymouth County Sheriff is using a camera mounted on a dog wearing a bullet-proof vest. While the camera may be helpful - who is going to go through hours of video featuring butt-smelling?
Salmon & Beef Flavored Yogurt For Dogs!
Frozen yogurt makers in Germany are hoping their salmon and beef-flavored concoctions will be a hit. Twin brothers Roman and Raoul Krohn say they first got the idea when they were kids. Their grandma told them that feeding dogs regular ice cream could be deadly, so they eventually came up with a lactose-free formula that is perfect for pooches.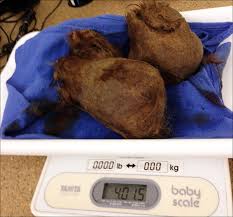 Basketball-Sized Hairball
Veterinarians are optimistic that a 17-year-old tiger will fully recover after having surgery to remove a gigantic hairball. The tiger named Ty hadn't eaten for two weeks and that's when owner Vernon Yates got concerned. Vets examined the 400-pound feline and realized it had a hairball the size of a basketball in its body. The hairball weighed four pounds.
Animal Radio® Episode 705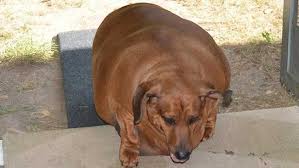 Animal Radio® Gets Phat on Fat
Obesity is troubling about 3 out of every 5 pets. This weeks we're conquering this problem with stories, tips and tricks to make sure your pet is healthy and happy. You'll hear about the kitty that ate McDonald's every day, an inventor that created a cat-treadmill, and a 77 lb. Dachshund.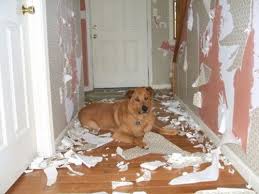 Top Behavioral Problem
Separation Anxiety not only tops the least of dog behavior problems, it's most often brought on by the dog's owner or guardian without knowing it. Alan Kabel has sure-fire ways to teach an old dog new tricks.
Dogs Going Postal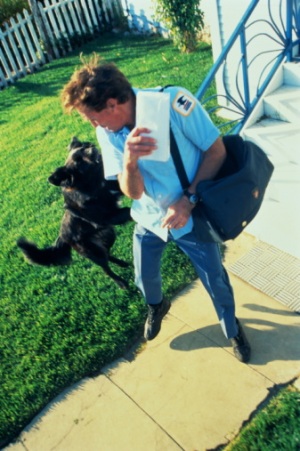 Dogs go postal in Los Angeles more than any other U.S. city. The U.S. Postal Service released its rankings of the best and worst cities for dog attacks on mail carriers. Los Angeles recorded 69 incidents last year. San Antonio and Seattle round out the top three worst cities. Wichita, Kansas is the safety city with just 20 attacks. Almost six thousand postal workers were attacked by dogs in 2012.
Worm Season
With Mosquito season comes an increase in parasitic worms that could ultimately be fatal. Joey Villani tells you how to keep the skeeters away and Dr. Joel Ehrenzweig tell listeners about over-the-counter products that are safe for your pets, but put a damper in any worm's day.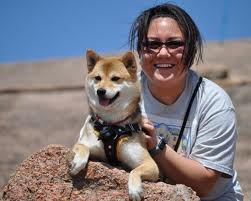 Dogs Good For Our Hearts
The American Heart Association (AHA) has declared that pets, especially dogs, are good for a person's heart. Further proof that dogs are among the best friends a person could have. Dr. Glenn N. Levine, director of Baylor University's cardiac care unit, says "Pet ownership, particularly dog ownership, is probably associated with a decreased risk of heart disease."
Plus the Animal Radio® Dream Team answers questions about your pet.
Animal Radio® Episode 704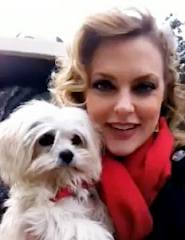 Actress Elaine Hendrix Guests
When she's not acting in NCIS or CSI, Elaine Hendrix is working to reduce the amount of homeless animals that are euthanized everyday. She's even started her own adoption website called The Pet MatchmakerÔäó.
Pet Pawparazzi Photo Contest
For the third year, we've teamed up with the very pet-friendly Kimpton Hotels for our traditional pet photo competition. Up for grabs, a 3-night stay at Kimpton, Jet Blue Airfare and lots of goodies to spoil you and your pet. Enter Now!!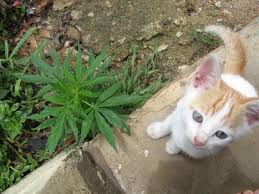 Medical Marijuana for Pets
Veterinarians report a high increase in numbers of pets ingesting marijuana. There is a dispute about this being an effective and helpful 'medication' for pets. Some Veterinarians are against it, others have already prescribed it to terminally ill pet as a painkiller. Holistic Caretaker Kim Baker explains how pot is being used in palliative medicine for animals.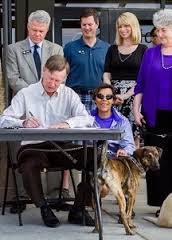 Shelter Pets Named Official State Pet
Colorado Governor John Hickenlooper is signing two pet-friendly bills into law. Senate Bill 201 names shelter pets as the official state pet. The second measure, Senate Bill 226, the "Dog Protection Act," will require local cops and sheriff's departments to provide canine behavioral training for officers so they can better determine when a dog presents a threat.
Lab-Grown Beef Anyone?
Lab-grown beef may be getting its first taste test in the coming weeks. Dutch Scientist Dr. Mark Post has managed to engineer a hamburger from cattle stem cells. Post grew more than 20,000 thin strips of tissue from cells taken from the neck muscles of cattle and assembled them into a patty.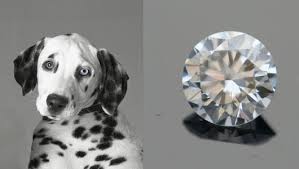 Cremated Diamond
There's no more of a unique way to memorialize your late pet than having their cremains made into a diamond that you can wear in a ring or other jewelry. Britt Savage explains how you can turn your deceased pet into a diamond.
Animal Radio® Episode 703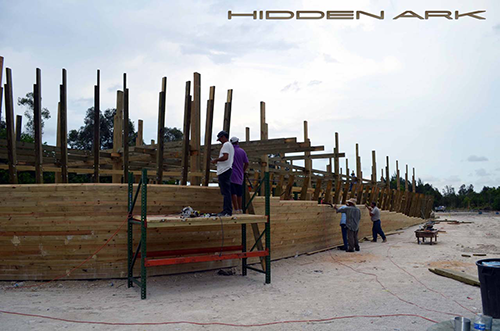 Building Noah's Ark
Reniel Aguila, a Florida resident, has embarked on an estimated two-year journey to build a replica of Noah's Ark using precise biblical specifications. Rodolfo Almira said he thought of the idea after watching animals in Hurricane Katrina struggle to find food and survive. Almira has received about $300,000 in donations but needs much more.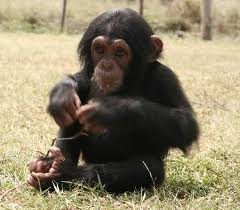 Chimps As Pets
As much as you would like to share your home with a primate, and some of you who think you already do, it's no fun after the third or fourth dung toss. Plus their sheer strength can have you ready to reconsider. Debbie Rosenman chronicles the stories of primate love.
There's An App For That
The Animal Legal Defense Fund (ALDF) unveiled a new app designed to make it easier than ever to report the neglect, abuse, and cruelty to animals. With just a few clicks, a picture or video with GPS location alerts authorities to any wrongdoing. Megan Backus explains.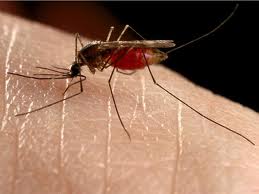 Skeeter Season
Mosquitos are everywhere this year. The late moisture in the east hasn't helped. This little buggers can transmit Lyme disease to you and your pets. Fear not, Dr. Debbie has the solution without using harsh chemicals.
Pet Lemon Law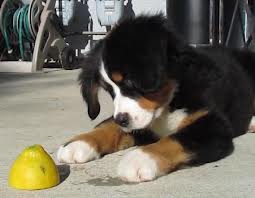 Illinois State Senator Dan Kotowski's (DÔÇôPark Ridge) legislation that promotes a healthier pet population passed the Senate. What happens if the dog or cat is ill or has a disease? Kotowski's proposal allows a pet owner to return their new pet to the store and receive a refund if a veterinarian confirms that the pet was purchased with an illness not disclosed by the seller.
Single People Own More Pets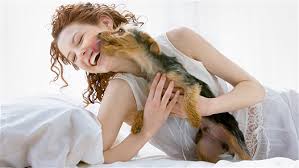 Pet ownership among single people has increased by nearly 17 percent, from 46.9 percent in 2006 to 54.7 percent in 2011, according to a recent survey by the American Veterinary Medical Association. The study also indicates that singles are more likely to think of pets as family members, rather than companions or property.
Animal Radio® Episode 702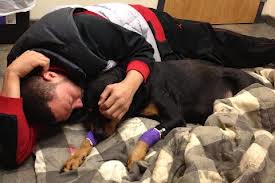 The Animals' Favorite Quarterback
Pittsburgh Steelers QB Charlie Batch visits Animal Radio® to talk about his new job promoting the Riedel & Cody Fund, an organization that helps those battling Canine Cancer.
Mike Tyson's Ex Eats His Pet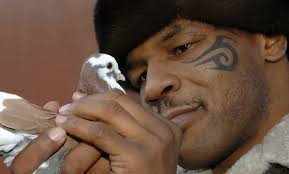 Who would have the guts to eat the former World Heavyweight Champion's pet pigeon? Mike Tyson's ex-girlfriend roasted the fowl in front of him. Tyson says "I was living in her home on her dime, so I let her do it." He also said this led to the break-up."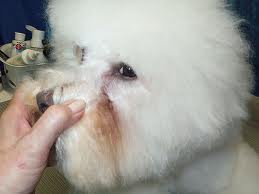 Stop the Tear-stains
Groomer Joey Villani knows that your pet's tear-stains can be caused by a yeast infection. He'll tell you how the professionals get rid of, and prevent further tear-stains. You probably have all the ingredients in your cabinets.
Rolling in Poop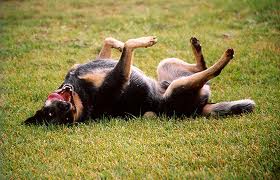 While there are many theories why dogs like to roll in poop and other obnoxiously smelling things, Dr. Debbie and Alan Kabel examine the behavior and tell you how to prevent it. Ladybug the Animal Radio® Studio Stunt Dog says "don't knock it until you try it."
McDonald's Super Sizes Cat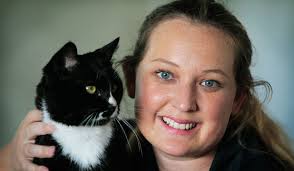 A stray cat named Frankie took up residence in the parking lot of a McDonald's in Frankton, New Zealand, begging for handouts from customers. He survived on fast food for a year, and just like in "Super Size Me," it took its toll. Jessica Watson, the SPCA field officer who rescued Frank, said she became worried after noticing the cat's face was swollen, his eyelids weren't closing properly and his coat was matted. "He wasn't overweight, but McDonald's wouldn't meet the nutritional requirements for a cat."
Animal Radio® Episode 701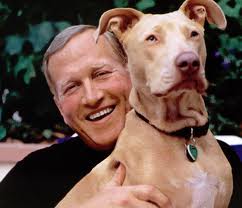 Ken Howard Guests
Actor and SAG/AFTRA President Ken Howard (The White Shadow) shares stories of the pets in his life. He explains how his rescue dog feels about the controversial union merger. He also does a fine job filling in for the conspicuously absent Emmylou Harris.
Dog Cleared of All Charges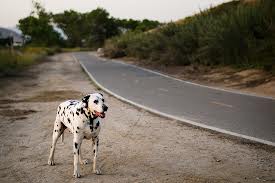 A New York woman's dog has been cleared of all charges in a Central Park bicycle accident. An appeals court in the Big Apple ruled that Julie Smith's canine pal Lena was not at fault for colliding with biker Wolfgang Doerr back in 2009. Doerr originally sued Smith in 2010 after suffering a fractured jaw and five broken molars in the run-in with Lena.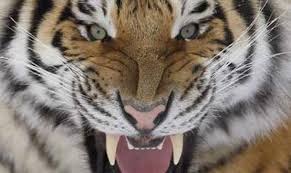 Woman Encounters Tiger In Bathroom
A Kansas woman is crediting her training as a social worker with helping her survive a ladies room encounter with a 250-pound tiger. Jenna Krehbiel took a trip to the bathroom during a break in the action at the Isis Shrine Circus in Salina. Unbeknownst to her, one of the tigers managed to get loose and also decided to hit the restroom.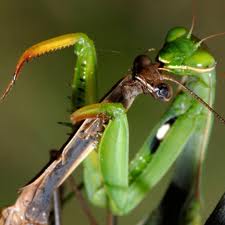 New Award Winning Segment
Alan Kabel's new segment, "Will This Excite Dr. Debbie" is a hit. This week you'll learn more crazy facts about our animals. For instance, did you know a female Praying Mantis tears the male's head off during copulation? Great conversation around the water-cooler...or a first date.
Animal Radio® Episode 700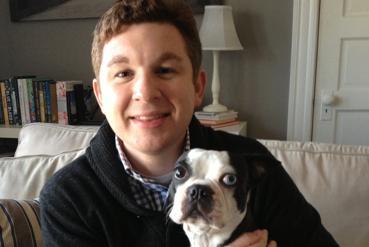 A Dog and a Comic Walk Into A Bar
Comedian Brian Donnelly has taken on a new job-that of dog owner. And his MSPCA rescue pet named BT will soon be showing off his acting chops on the comedian's new web series called "StepFriendz."
Pups at LAX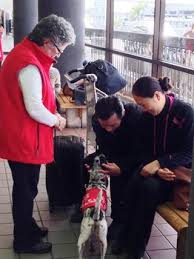 Los Angeles International Airport launched the PUP program (Pets Un-stressing Passengers) a new customer service initiative designed to un-stress passengers. Spokesperson Heidi Huebner says the program revolves around passenger encounters with one of several dogs throughout LAX boarding gates, baggage claim and ticketing lobbies.
Current Day Noah's Ark
Rodolfo Almira and three friends have begun to build a replica of Noah's Ark. Apparently, Almira was inspired by the images of animals in need following Hurricane Katrina. Following measurements laid out in the Bible, Almira and his three buddies set out to make the ark a reality. But the project hasn't been without its setbacks. Almira has been slapped with building code violations.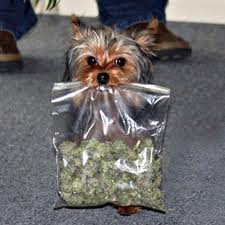 Legal Marijuana A Problem For Dogs In Colorado
Veterinarians are warning Colorado dog owners about the possibility of their animals overdosing on marijuana edibles. Health officials say they've seen a steady rise in marijuana toxicity cases as the drug becomes more readily available.
Animal Radio® Episode 699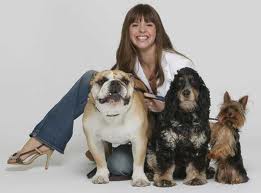 It's Me Or The Dog
Animal Planet's Victoria Stilwell is back and debating the two schools of dog training. Do you really have to be mean to your pup to get him to do what you want. There's a change in the way we're getting our dogs to behave.
Ferrets Passed Off As Toy Poodles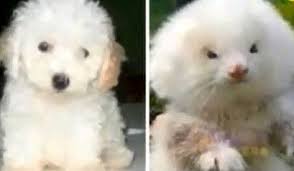 Shoppers may not be getting what they bargained for. Vendors at a market are trying to pass off bulked up ferrets as toy poodles. The move has reportedly tricked several people into shelling out $150 for the rodents.
Fearful Fido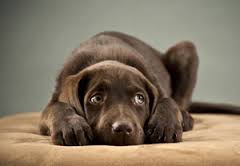 What do you do with a dog that's afraid of everything from lawn sprinklers to rain showers? Alan Kabel explains the process of de-sensitizing your dog and re-training him to be a more confident animal.
Internet Vet Shut Down
Dr. Ron Hines used to answer medical questions at his website. That is until the state of Texas shut him down. Now he's part of a lawsuit to restore his first amendment rights. This litigation will set the tone for those that give advice, from Dr. Oz to Dr. Debbie.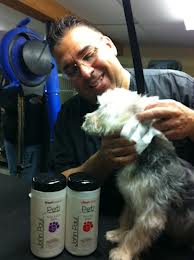 Groomers Aren't Just for the Rich
Dogfather Joey Villani has five great reasons why you should bring your dog to the groomer regularly....even if your dog doesn't need a haircut.
...and our Dream Team is answering your questions.
Animal Radio® Episode 698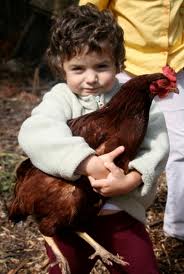 Once Upon A Flock
Do Chickens make good pets. Lauren Scheuer thinks so. She got several chickens with plans on eventually eating them....until she named them. Now they're here pets and she shares her house with them and a dog.
Man Retrieves Sons Finger From Dog's Stomach
A Florida man gets criticized for his quick thinking after a caged dog bit his eleven-year-old's finger off. According to a police, the boy stuck his left hand through slots in the cage trying to pet the dog. The animal bit him, completely severing his pinky finger. The boy's father immediately pulled the dog from the cage and shot it then cut into the dog's stomach, retrieving the finger.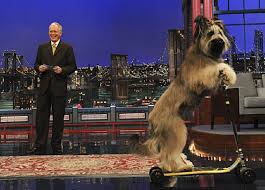 Stupid Pet Tricks
We welcome David Letterman's Talent Producer Ryan Williams to the airwaves. He's looking for a few good pets that do amazing....or just plain silly tricks. He's casting for another episode of Late Night Stupid Pet Tricks on NBC. If you think your pet has what it takes, he'll tell you how to get them on TV.
Dog Hits Pedestrian With Car
Police in Pennsylvania say a dog that was left in an unattended vehicle knocked it into gear and the car struck a pedestrian. The pedestrian was found lying in the street. Police say the car had been left running when the dog inside pushed it into drive, causing it to slowly start moving.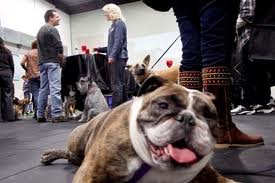 Pet Speed Dating
Dating these days has gone to the dogs, at least it did one night at the Cumberland County SPCA's first-ever Pet Speed Dating event. The shelter designed the event to give the pet-loving public a simple way to get up close and personal with many of the dogs and cats available for adoption.
Animal Radio® Episode 697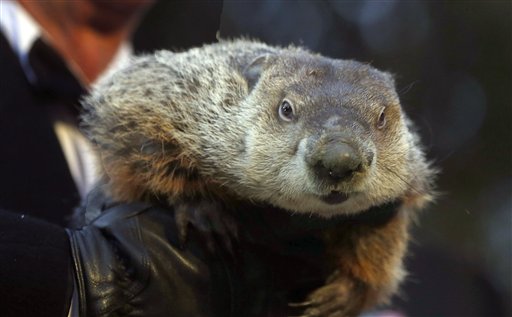 Punxsutawney Phil in Legal Trouble
Prosecutor Mike Gmoser is indicting the famed groundhog for misrepresentation of spring, a felony against the peace and dignity of the state of Ohio. So what's the penalty? "Death" said Gmoser tongue firmly in cheek.
Cat Video Festival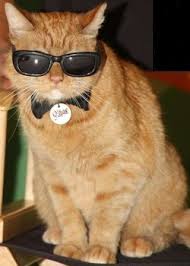 Cat video got a major boost with the first-ever Internet Cat Video Festival. Over 10,000 people attended and its success is leading to a number of copycat events. Curator Scott Stulen explains our curiosity with cats and You Tube.
Marking Territory
Cats and Dogs mark for different reasons. Once these behaviors start, it can be near impossible to stop unless you act fast to correct the behavior and clean up past markings. In cats, inappropriately urinating can mean something is medically wrong.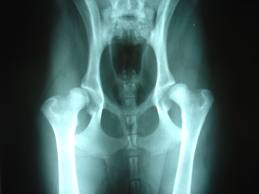 Animal Arthritis
Just like us, aging can mean Arthritis in our pets. Can it be prevented? What can we do to treat it? Is palliative medicine our only choice? The Animal Radio® Dream Team and Dr. Joel Ehrenzweig explain what is known about Arthritis and what can be done to make our older furry-friends more comfortable.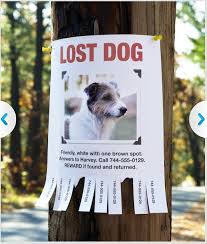 Missing Dogs
Dogs are vanishing in one part of Idaho and police don't have a clue where they're going. About 40 dogs have gone missing over the past few months near Twin Falls in southern Idaho. Lisa Kauffman, the state's director of the Humane Society of the United States says "Someone is coming around and plucking animals out of people's yards."
What's For Dinner - Road Kill
In the future, Montana road kill might end up on dinner tables rather than going to waste. The state's Senate has given thumbs up to a bill allowing residents to harvest deer, elk and moose killed by vehicles. The so-called Road Kill Salvage Bill has already been approved by the House and only needs Governor Steve Bullock's signature to become law.
Animal Radio® Episode 696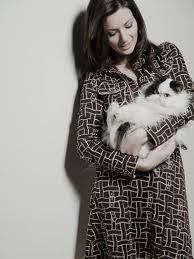 Cat Whisperer
Self-proclaimed Cat Whisperer Mieshelle Nagelschneider shares her secrets to training cats. Yes, training cats! Believe it or not, Mieshelle truly believes you can get a cat to do what you want it to do.
Cancer Odds
Believe it or not, some breeds of dogs are pre-disposed to getting cancer. Dr. Gerald Post, founder of the Veterinary Cancer Center, is back on the air with a list of breeds that have a better chance of getting certain cancers.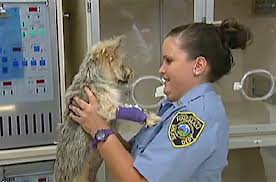 Animal Control TV
In the spirit of Reno 911, producer Joyce Fitzpatrick is developing a TV sitcom about the daily lives of Animal Control agents. Joyce has a Kickstarter campaign and has raised $30,000 to foot the bill.
Dog Makes Unplanned Trip To Ireland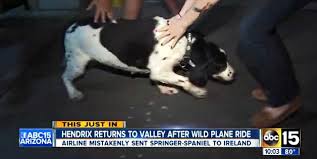 A New York woman says she was beyond upset after she found out that her dog made an unplanned trip to Ireland. It happened as Edith Lombardo-Albach was moving to Phoenix. She put "Hendrix" the six-year-old English Springer Spaniel on a United Airlines. But just seven minutes before Hendrix's flight was scheduled to land, Lombardo-Albach got a call saying the dog had accidentally been sent to Ireland instead.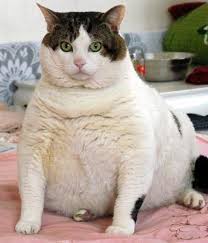 American Pets Are Obese
Obesity isn't a just a problem for Americans, it's a problem for American pets. According to the latest National Pet Obesity Awareness Day Survey conducted by the Association for Pet Obesity Prevention, over half of both dogs and cats in the U.S. are overweight.
Animal Radio® Episode 695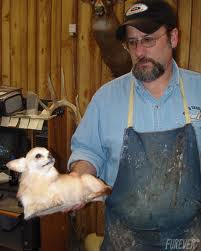 Freeze Dried Pets
Don't want to honor your dearly departed pet by burying him in the backyard or putting her into an urn? How about Freeze-drying your furry-friend in their favorite position. That's the job of Anthony Eddy. He'll tell us how he got into the business of preserving pets.
Training iPad App
Yes, there's an App for that! Train your dog to stop barking using Phillip Angert's new iPad application. When your dog barks, the iPad reacts with your pre-recorded video scolding him. If Fido is being good, the App will reward with a treat.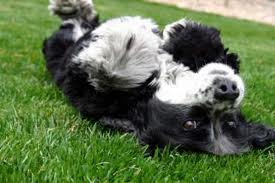 Happy Pee
Animal Radio® Dog Trainer Alan Kabel shares the truth behind submissive urination. How can a listener stop their dog from rolling over and peeing whenever he comes home from work. Re-training your dog can be a long process, especially if you're not training them correctly.
Small Dog Spinal Issues
Some smaller dogs are predisposed to spinal nerve problems that could cause your dog to limp or lift his leg. In this case, a listener's Dachshund is hopping around for no apparent reason. Dr. Debbie explains how a small injury could have big results.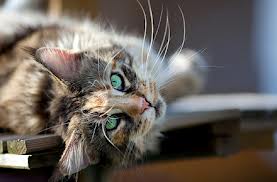 It That Time Again for Shedding
As Spring is Springing, we may notice our cats and dogs are starting to shed more. This is a natural process. However, Joey Villani has details on how you can make this years shedding not so hairy.
What's The Safest Car For You And Your Dog?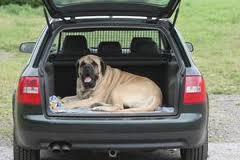 The Dodge Journey is at the top of a list of the best pet-safe vehicles for under $35,000. Car-shopping website Edmunds.com says the Journey features an in-dash cooler to store Fido's food and water. The Jeep Liberty is in the top five due to specialized pet travel gear such as crates and carriers.
Animal Radio® Episode 694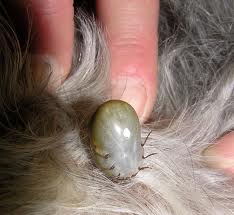 The Very Entertaining Subject of Tick Removal
It may not be the topic around the water-cooler, but tick removal can be a very important subject when your own pet gets one. Simply yanking them out could leave saliva with Lyme disease in your furry friend. Dogfather Joey Villani says put that cigarette down and listen to his tip.
More Wag, Less Bark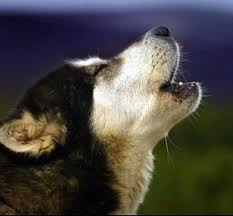 If your pup barks at everything from the mailman to a butterfly, then listen up. Dog Trainer Alan Kabel has quick and successful techniques for curbing the woof. Forget the bark collars. Alan helps you think like your dog.
Dog Shoots Man
A Florida man is recovering after his dog shot him in the leg. Greg Lanier was in his truck with his dog when his four-legged friend kicked a loaded gun to the floor. The 380-pistol went off, shooting the 35-year-old in the leg.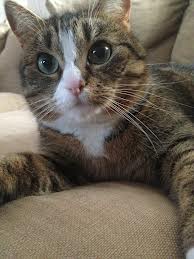 Don't Mess With Her Cat!
A woman has been accused of murdering her husband over a pet cat. The 56-year-old woman was allegedly protecting her cat when she stabbed her husband to death. This is not the first time that a woman has been accused of attacking her husband over a pet cat. In September, Texas resident Audrey Deen Miller was arrested after she allegedly shot her husband in the stomach when he threatened to shoot her cat with a pellet gun.
No Standards For Pet Travel Products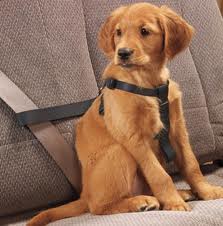 New Jersey is the first state to consider a requirement that pets be restrained in vehicles. The Center for Pet Safety conducted a pilot study that showed that "the majority of pet safety restraints currently on the market do not provide acceptable protection in a crash situation," said Michael McHale, Subaru's director of corporate communications.
Animal Radio® Episode 693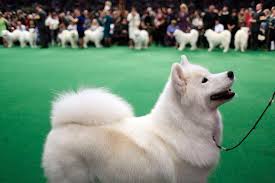 Foul Play At Westminster
There are allegations that a dog was poisoned at the world's most famous dog show. PETA is even being questioned, as they have pronounced their hatred for breed shows like Westminster. We'll find out what's going on behind the scene.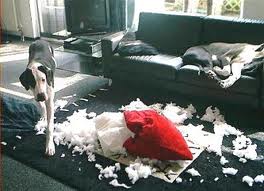 Problem Chewing
What can you do for the dog that chews on everything? This is one of the most common calls we get. It's actually a pretty simple problem to solve. Alan Kabel helps uncover the reasons dogs chew and hot to re-direct their attention to more positive behaviors.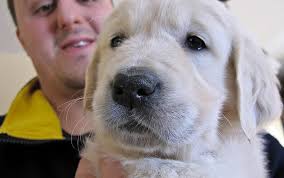 Charlie Sheen Buys Therapy Dog
There's a 15-year-old Florida girl who didn't really know much about Charlie Sheen before this, but does now. The actor wired $10,000 to Teagan Marti and her family for a therapy dog to help in her rehabilitation from injuries sustained when she plummeted 100 feet from a Wisconsin amusement park ride in 2010. "I think they should name the dog Charlie," Sheen joked.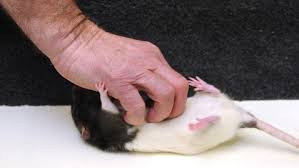 Animalwise
Just how smart is your dog or cat. I turns out that scientific research says we've been underestimating the intelligence of a lot of animals. Take the earthworm for instance. Not only considered an animal, but able to make decisions. Virginia Morell explains why rat owners should tickle their rats.
Animal Radio® Episode 692
Bullet-Proof Vests For Dogs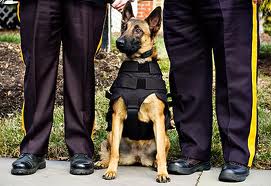 As our canine friends have become integral members of many police forces, it is becoming more apparent for the need to suit them properly for the dangerous job. That's where Sandy Marcal comes in. She's raising funds to help afford the $1000 a piece vests that protect our working dogs.
Pet Food Stamps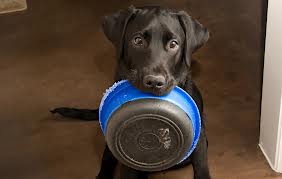 In these rough economic times, many pet owners are forced to abandon their beloved pets due to the inability to pay for their basic food supply and care. That's why Marc Okon formed a program to ship pet food to those that cannot afford it. He has all the details and how to apply for help.
"Bad Dog" Statute Leaves Yellow Stain on Building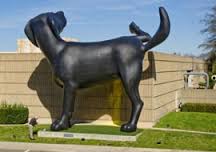 A giant statue known as "Bad Dog" is turning out to be good publicity for the Orange County Museum of Art. The 28-foot-tall piece of art from Richard Jackson depicts a dog lifting one leg and leaving a yellow paint stain on the side of the building. Museum spokeswoman Kirsten Schmidt tells the Orange County Register almost all of the reaction to the dog has been positive, although some people do wish the pooch wasn't quite so anatomically correct.
The Cat's Peeing In The Dog Bed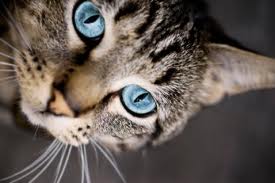 What happens when your pet relieves themselves in the wrong place. This is the most common behavioral problem we hear about. There is not always one standard solution. Dr. Debbie examines the different reasons cats and dogs do this. She'll help with a tough case of kitty revenge on the dog.
Animal Radio® Episode 691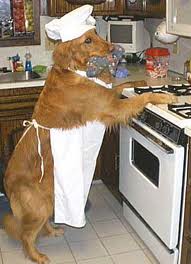 Cooking For Your Dog
Why not cook something that both you and your dog can eat together? Nutritionist Gayle Pruitt joins us to talk about her new book "The Dog Gone Good Cookbook" and share some of her favorite recipes.
Guppy Wingman
Did you know guppies try to hang around uglier fish in order to improve their odds of mating? And would you believe that someone actually got grant dollars to research and prove that, just like humans, fish have a "wingmen" - or should we say "wing-fish?"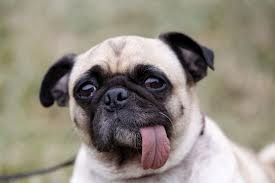 Talking Baby Talk
Why is it that so many people are inclined to talk "baby-talk" to their pets. Certainly our pets must think we're crazy? Admit it, you may have, at one time, maybe a long time ago, talked to your pet in this silly tone.
Luck Of The Dog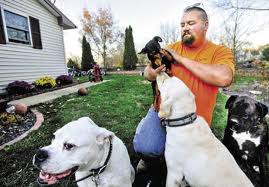 A Utah man has his dog to thank for leading him to a winning lottery ticket. Steve Hughes stopped at a gas station in Boise, Idaho to fill up, but his dog Stella locked him out of his truck. During his 45-minute wait to get back in his vehicle, Hughes decided to buy winning lotto tickets.
Dog Ownership Up - Vet Visits Down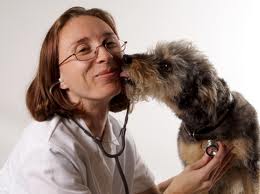 More Americans think of their pets as members of the family. But that doesn't mean the animals are getting better care. Two thirds of the dog owners surveyed for the latest "U.S. Pet Ownership & Demographics Sourcebook" say they haven't taken their pup to the vet even once.
Animal Radio® Episode 690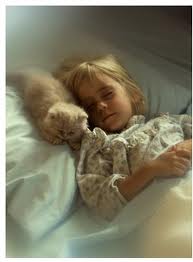 Sleeping With Your Cat
While we all love to sleep with our animals - few of us actually get a restful night. Mikkel Becker (Dr. Marty Becker's daughter) has some tips on getting a good-night sleep again.
Pet Career Boom
Many of those who lost their jobs during the recession are re-inventing themselves in the pet industry. After all, it is the second fastest growing sector. Mary Collister and her daughter started a business that sends pet-goodies to your doorstep every month.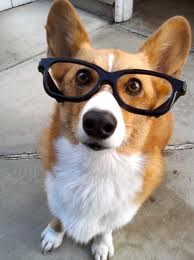 Find Out How Smart Or Dumb Your Dog Is
There's a new online test that uses the latest scientific research to tell you EXACTLY how smart or dumb your dog is. It costs $60. The test uses games to test your dog, then gives you a full breakdown on their intelligence and personality.
Public Restrooms For Pets
Public restrooms in China will no longer be limited to just pedestrians. As part of new civility laws to keep city streets clean, China plans to build bathrooms just for pets, according to Chinese-language news site Shenzhen Special Zone Daily. Launched as a trial in the Luohu District of the city of Shenzhen, the open-air pet restrooms are filled with sand and measure about 10 square feet in size.
Python Is Their Choice Babysitter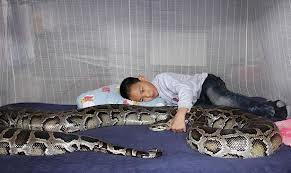 A family in China is turning heads with their choice of babysitter. 13-year-old Azhe Liu is often watched after by the family's pet python, who measures 15-feet long and weighs 220-pounds. Dad Chan Liu explains that they've had the snake ever since Azhe was born, and the two have become inseparable over the years.
Animal Radio® Episode 689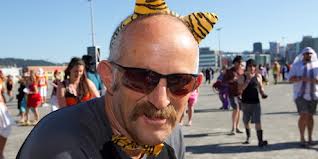 A Plan To Get Rid Of All The Cats
Dr. Gareth Morgan wants to rid New Zealand of all the cats. He says they're damaging the bird population. Is he crazy or does he have a point? We'll speak with him and find out what he's thinking and the adversity he's facing with his plan.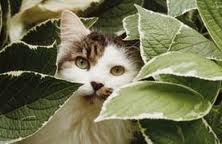 Poison In Your House
Dr. Justine Lee works at the Pet Poison Helpline. She says the top 5 pet toxins are probably in your house and accessible to your furry-friend. Dr. Lee will tell you what to watch out for and how to treat a pet that has eaten something poisonous.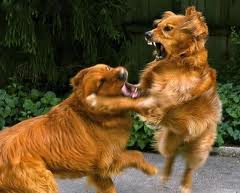 The Hard To Train Dog
Peggy Swager has dedicated her life to the "hard to train" dog. She will tell us about her toughest cases and how to manage a dog that just won't behave properly. We'll have tips for overcoming problem behaviors and giveaways of her book.
Bully Sticks Condemned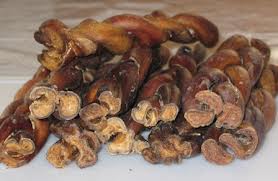 Turns out there's a lot more inside a popular dog treat than most pet owners probably imagine. They're called "pizzle" sticks or "bully" sticks and a new study out of Canada says they're loaded with calories and bacteria. The treat is made from uncooked, dried bull penis and researchers say they can contain things like E. coli and MRSA.
Iran Launches Monkey Into Space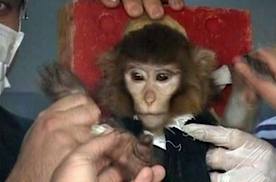 Iran said they launched a live monkey into space, seeking to show off its missile systems. "This shipment returned safely to Earth with the anticipated speed along with the live organism," Defense Minister Ahmad Vahidi told the semi-official Fars news agency. However, comparative pictures of the monkey don't match.
Animal Radio® Episode 688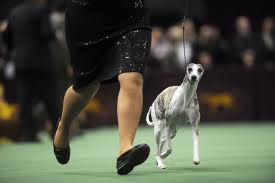 Behind The Scenes At Westminster
Quite possibly the largest dog show in the world, Westminster takes place Monday and Tuesday. Connie Newcomb takes us backstage and tells us what the public doesn't see. What are some people willing to do to win?
Westminster Hospitality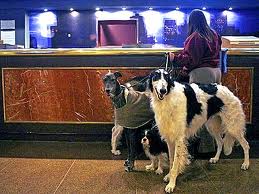 The yearly tradition continues as Jerry Grymeck, the concierge at Hotel Penn in New York, tells us what strange requests he's getting from the Westminster show dogs and their owners. The Hotel Penn is where many of the primped pooches stay for world famous dog show.
Cancer, Not A Death Sentence
As many as 70% of our pets will get cancer. But with advances in medical technology, now we can treat our pets like we treat humans. And dogs are able to withstand chemotherapy better than humans. The founder of the Animal Cancer Foundation, Dr. Gerald Post, reminds us that information is the best weapon against this ugly disease.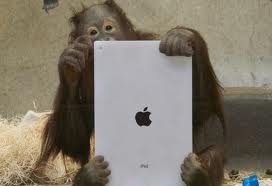 Apps for Apes
Workers in the Great Ape House at the Smithsonian's National Zoo have found a new, socially-engaging outlet for their six orangutans, an iPad. Animal Keeper Becky Malinsky says the idea comes from a non-profit called Apps for Apes, which uses the program in 13 other zoos worldwide. Malinsky says the National Zoo started last year with a donated iPad and their orangutans' repertoire has now grown to more than ten apps, including musical instruments and cognitive games.
Your Pet's Poop Is Guide To Health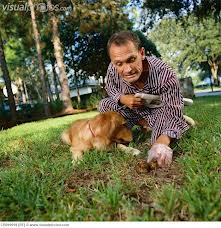 Your dog or cats poop is a kind of Google on your pet's health. Picking it up isn't only is the neighborly thing to do; it's for the best interest of all pets in the community. It's true there are some potential health issues to people, according to Veterinary Parisitologist Dr. Dwight Bowman, including roundworm, salmonella and whipworm which can be spread to other dogs, even the parvovirus to those not vaccinated.
Animal Radio® Episode 687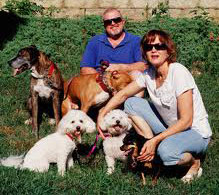 Foster Failure
Even with best intentions, sometimes we open our homes to a foster pet only to realize the cat or dog has found its way into our heart and homes forever. Viveca Stone Berry is the "Foster Queen" and her mission is to promote fostering. Are you ready to help reduce the amount of animals that are euthanized simply because they're homeless?
Can A Pet Have Sentimental Value?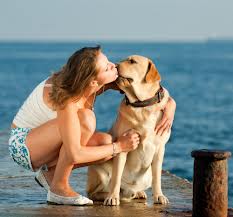 A case that may reflect a pet owner's worst nightmare has made its way to the Texas Supreme Court, which must decide if a family can place sentimental value on a pet that was accidentally euthanized. In 1963, Texas adopted a "sentimental value rule," which provided that if property is wrongfully destroyed and that property had no market value, then the parties involved could sue.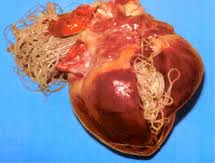 The Truth About Heartworm
You don't have to go far to find different theories on Heartworm and preventative medicine. While some people think it is a waste of money, most professionals will agree that it just makes good sense. Animal Radio's Dr. Debbie tackles the myths and lays down the cold hard truth.
Are Your Pets Making You Tired?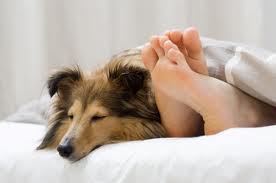 Many people can't seem to get a good night's sleep, and they already have stress, caffeine or snoring spouses to blame. But researchers at Mayo Clinic's Center for Sleep Medicine are finding another surprising reason behind those tired eyes: dogs and cats. There's a solution to the problem without kicking your furry-friend out of the bed.
Animal Radio® Episode 686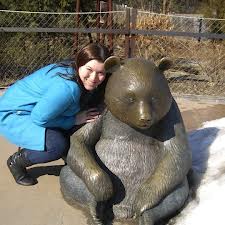 Are Your Pets Making You Single
Boston Globe reporter Stephanie St. Martin may has identified a correlation between animal ownership and being single. She says it's time to stop freaking out your dates by showing them all the pictures of your "children" on the first date.
Is Beneful Making Dogs Sick?
The latest pet food crisis involves Beneful dry dog food. Reports from around the country tell of dogs getting sick and, in many cases, dying. Although the cause isn't proven, many pet owners say the illness went away when they stopped feeding their dogs Beneful.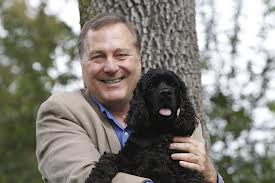 A Dog Saved My Life
What makes a cop quit his job to become a writer about animals. Seems like quite a transition. Author and Animal Radio® friend Allen Anderson is back to share his story and tell us what he's been up to since a brain aneurism changed his journey.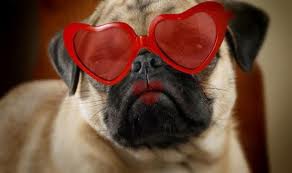 There's A Card For That
Hallmark created a Valentine's Day card for your dog. Vinnie Penn Doesn't get it. Why would you send a card to your dog? Do you also open it and read it to them? Wouldn't that Valentine themed dog treat be a better choice?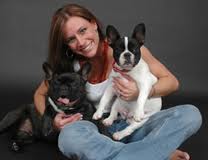 Finding The Right Pet Sitter
With so many pet businesses and service dotting the landscape these days, it's hard to know which one is the right one for you and your pet. Stacey Cohen has tips to help you decide about pet sitters.
Cat Carries Contraband Into Prison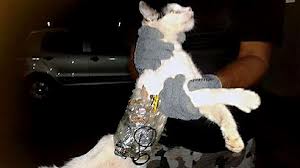 A cat in Brazil was locked up after it was found carrying contraband into a prison (See Video). Attached to it were drills, a mobile phone, an earphone, a memory card, batteries and a phone charger. A spokesperson for the prison says they are investigating the matter. However, they say that "It's tough to find out who's responsible," since the cat obviously cannot speak. The cat was taken to a local animal shelter where it received medical care.
Animal Radio® Episode 685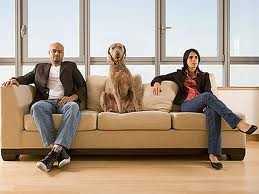 Staying Together For The Pets
Many pet owners treat their pets as if they are their own children, whether it be a dog, cat, turtle or gerbil. For these owners, the pet is an integral part of the family. But owner beware, the pet that you love and cherish on can easily be taken away from you in an instant if you are involved in a nasty divorce. Divorce Attorney Silvana Roso has the information you should know.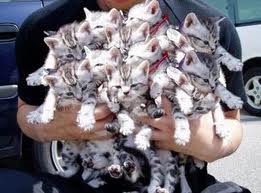 How Many Cats Do You Own?
Residents in Wellington, Kansas now have a limit on the number of their feline friends. As of January 1st, households in Wellington can only have a total of four cats. In order to cut down on the number of homeless cats the town has also required that newly adopted cats be spayed or neutered.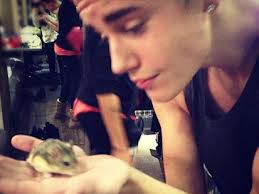 Hamster Association Eats Words
The folks at the California Hamster Association are taking back their comments about Justin Bieber. Last month the organization accused the star of animal cruelty after he handed off his pet hamster, named PAC, to a screaming fan while leaving a concert.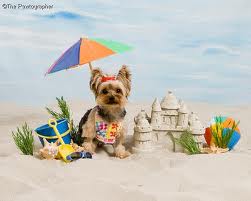 Taking Great Pictures of Your Pet
The Pawtographer Robert Semrow has a thing for taking cool pics with pets. In fact, he makes a living dressing up dogs (and cats) for photo shoots. He has tips to make it easier to photograph your furry-friend.
Animal Radio® Episode 684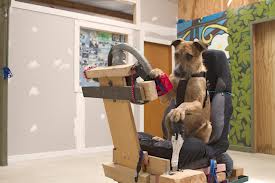 Trainer Teaches Dogs To Drive
You may have seen the viral video of the rescue dogs that were taught to drive a retrofitted Mini-Cooper. Their trainer, Mike Vette of New Zealand is our special guest with tips how you can train your dog to do cool tricks.
Dog Tarot Cards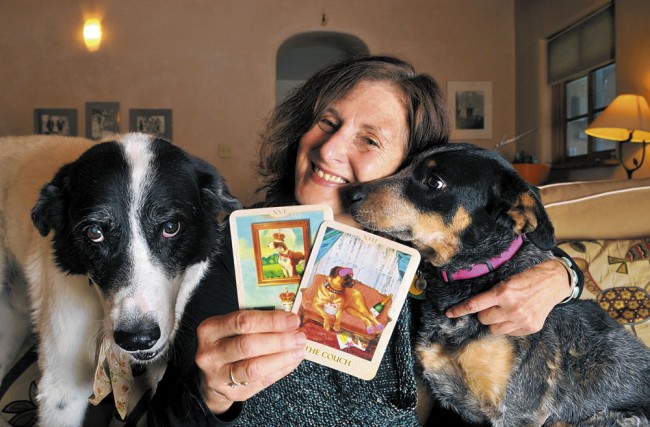 Whether you take it seriously, or as a novelty, there is no denying the best-selling success of the Dog Tarot Cards. Creator Heidi Schulman shares her inspiration and helps you understand why Fido insists on rolling in dead stuff.
Low-Income Pet Food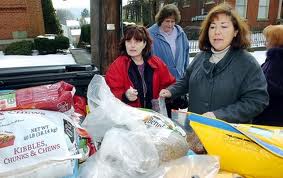 Elizabeth DeMasellis' family is like many living paycheck to paycheck. Sometimes, when money gets tight, food for the family's furry friend is stretched a little, or she gets a hot dog. That is, until three months ago, when the 30-year-old Milford mother of three learned she could get dog food at Community Sharing Outreach Center. "I wouldn't get rid of her just because we couldn't afford to feed her. It's like getting rid of one of your kids," says DeMasellis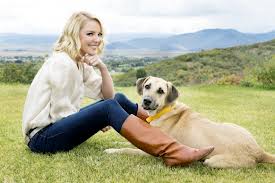 Katherine Heigl Tucks Her Pets In At Night
Bedtime at Katherine Heigl's house can take a while. As a mom of two daughters and seven other kids of the four-legged variety, she likes to give each one special attention. The Emmy Award winner says first she tucks in her girls, 4-year-old Naleigh and baby Adalaide, who turns 1 in April. Then she takes her seven dogs through their own nighttime ritual.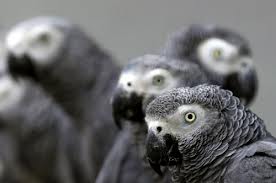 Parrots Have Personal Taste In Music
It turns out that parrots are choosy about their music. Scientists have discovered that parrots have personal tastes in music. Dr. Franck Peron of the University of Lincoln, who headed the study, says that both birds enjoyed rock and folk music from such artists as U2, UB40 and Joan Baez. They even got into the music, bobbing their heads and squawking as if they were singing along.
Animal Radio® Episode 683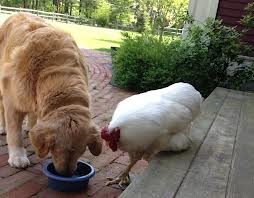 An Emasculating Rooster
When Brian McGrory moved in with his girlfriend, he also moved in with a Rooster that did not like him. If Brian was to "make-it-work," he would have to learn a lot about how to befriend a foul with ruffled feathers. He joins us and we have copies of his best-selling book, "Buddy, How A Rooster Made Me A Family Man."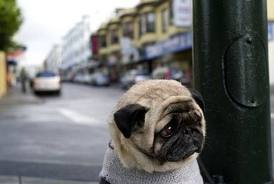 Does Your Dog Know You? I mean Really Know You?
A certain bark, a certain posture, a certain look. Your dog can tell a lot about you. They know when you're being unfair-to some extent. Researchers found that when dogs saw other dogs getting treats for a trick they'd been performing unrewarded, the uncompensated dogs became visibly distressed. It can even lead to depression.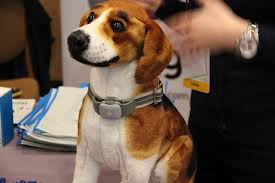 New Years, Schmoo Ears, Who Cares?
With all of our New Years resolutions already stuffed. Is your pet bitter they didn't get what they wanted from Santa Paws? Fret not, your friends at Animal Radio® still have gifts for you and your furry-child. How would you like a TAGG Pet Tracker or a Frolicat Bundle?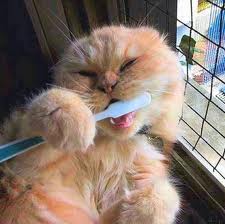 I Don't Brush, Why Should Fluffy?
Home dental care is one of the best ways to help keep your pet's teeth and gums healthy. And unlike us, not brushing could be fatal for your pet. Start as early as possible in your furry friend's life so he or she will become accustomed to having the mouth handled. Use a moistened, soft, pet or child's toothbrush, finger toothbrush, gauze around a finger, or even a cotton swab. Stay away from human toothpaste....unless your pet has learned to spit afterwards.
Animal Radio® Episode 682
Bringing In The New Year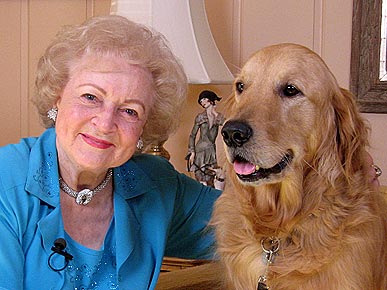 What better way to bring in 2013 than to look back at what made 2012 so special at Animal Radio®. With over 8 months of great celebrities animal lovers, we're re-broadcasting some of the best interviews that aired this year. Joining us is comedian Paula Poundstone, television host Bob Barker, actress Kristen Chenoweth, the voice of Bart Simpson Nancy Cartwright, actress Glenn Close, actress Betty White, the late musician in his last interview Davy Jones, rocker Bret Michaels, and actress Jenna Fischer. Make it a resolution to join us for this history-making program.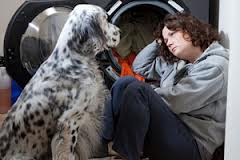 Do Dogs Feel Sorry For Us?
Dogs originated from wolves, which are highly social animals that engage in cooperative activities and are believed to have some ability to empathize with their fellow wolves. Biological changes produced during the domestication of dogs may have allowed them to synchronize their wolf-inherited empathic capacities with those of humans.
Pet Medication Errors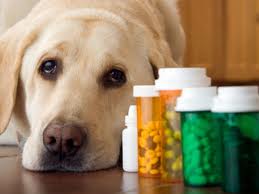 We've all heard stories of someone being prescribed the wrong medicine, or the wrong dose, with devastating consequences. Now, a warning has been issued for pet owners. The U.S. Food and Drug Administration said these deadly mistakes are also being made with pet prescriptions. Investigators discovered errors stemming from simple issues, including unclear medical abbreviations on vet prescriptions, drugs with similar names and packaging, and simple penmanship errors, all leading to mistakes where the pet paid.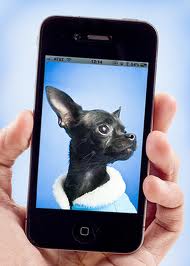 Apps Aren't Just For People Anymore
Here is a roundup of popular pet apps for mobile devices. For the iPhone, iPod or iPad: Dog Park Finder Plus, a list of more than 6,000 dog parks and beaches in North America. Fido Factor is a mobile guide to dog-friendly locations. The Pet Poison Help app lists poisons, what to do and how to get help.
Animal Radio® Episode 681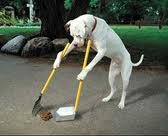 Picking Up After Your Dog Becomes Law
A company called Poo Prints claims Dallas and other cities can cash in on dog waste through DNA tracking. Dallas City Council members chuckled Wednesday when they heard about the plan, but the company is dead serious about the opportunity to find irresponsible dog owners by lab testing turds. Eric Mayer describes to listeners how his plan works to clean up your city.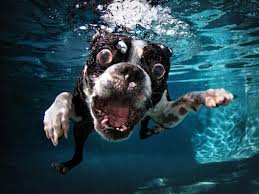 Underwater Dogs
Award-winning photographer Seth Casteel, also known as "The Underwater Dog Guy", has been featured in National Geographic, The New York Times, Time Magazine, Good Morning America, The Today Show and now he's giving listeners his best-selling book on Animal Radio®.
Dogs Shot By Police on The Rise
In response to an alleged increase of dog shootings by police officers, several people, including owners of murdered pets, are using Facebook as a tool to increase awareness of the problem and seek change to police policies toward dogs. Videos of dog shootings are all over the Internet and it seems like there's a new one every week.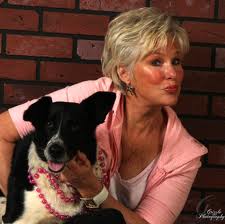 Millionaires Have Gone To The Dogs
Dogs and Millionaires have a lot in common. They are relentless opportunists (especially when it comes to rewards). They come in all shapes, sizes and colors. They defend their turf. And in general, they don't like cats. Perhaps that explains a new survey that shows that millionaires are far more dog-friendly than the rest of Americans. According to a study by Spectrem Group, 58% of millionaire pet owners have a dog.
Rent-A-Puppy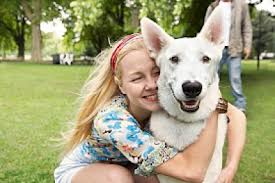 Business is booming for a Brigham Young University student who recently started a puppy rental service. Jenna Miller says she's had more than 100 rentals since August. The business has stirred some controversy, with the Utah Humane Society concerned about the health of the dogs.
Animal Radio® Episode 680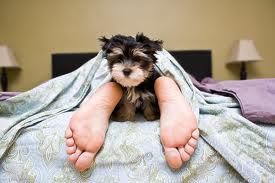 Don't Let Your Pets Sleep In Bed With You?!
Probably one of the most contested topic ever on Animal Radio®; should your pets be allowed in bed. Dr. Russell Rosenberg from the National Sleep Foundation says it's a bad idea. From sleep deprivation, transmission of diseases to behavior issues, we'll give you the information - you decide.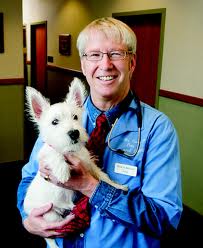 Choosing The Perfect Gifts
America's favorite Television Veterinarian, Dr. Marty Becker is back and he has some good ideas when it comes to picking out a holiday gift for your pet. In fact, if you're reading this, you probably already have your furry-companion on your shopping list.
Film Attacked For Cruelty To Animals
Just a few days before the film premiere of The Hobbit in New Zealand's capital, Wellington, the long-awaited Peter Jackson adaptation of JRR Tolkien's first foray into Middle-earth is under attack from several quarters. Its Hollywood producers stand variously accused of cruelty to animals, suppression of the press and exploitative merchandising. Jackson has been forced to defend against claims that 27 animals died due to mistreatment during production.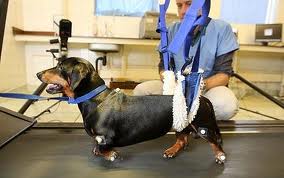 Paralyzed Dog Walks
A pioneering treatment for spinal injuries has helped a paralyzed dog walk again. Jasper injured his spine in 2008. He couldn't move his hind legs. Scientists at the University of Cambridge took cells from Jasper's nose and injected them into his damaged spinal cord. He started walking again with a harness, and was eventually able to walk on his own.
The Ethics of De-Barking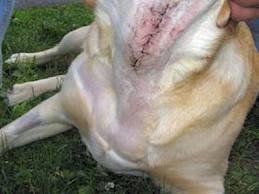 Dog debarking surgery is being performed at animal hospitals across the country, including Colorado, but at least one veterinarian says it is a touchy issue. Castle Rock resident Dawn Hern said she had no choice to do the surgery because her dog simply would not stop barking. Most cities have a noise ordinance, and Hern had already received complaints, fines and even a court summons. She doesn't care who thinks she's cruel; she simply didn't want her dog taken away from her.
Animal Radio® Episode 679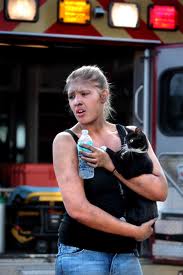 Don't Let Your Dog Play With Matches
According to John R. Hall Jr., division director for fire analysis and research for the National Fire Protection Association, pets and other animals inadvertently set about 510 house fires every year in this country. Hall said from 2006 to 2010, such fires caused an average of $8.7 million in property damage and injured eight humans a year.
Birds Fly South First Class
A pair of wayward brown pelicans got a first class plane ride back to Florida. The two birds were found in Rhode Island after being rerouted by the winds of Hurricane Sandy. Because the birds typically migrate to Florida during the winter, they were flown to the Sunshine state in private plane on Saturday. The two-thousand-dollar flight was paid for by public donations.
Humans Aren't Only Ones Who Suffer Mid-Life Crisis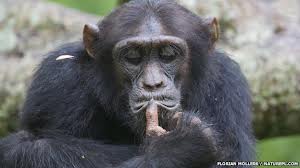 Researchers say humans are not the only ones to have midlife crisis, such conditions are also experienced by chimpanzees and orangutans. The finding raises the possibility that if great apes share sadness and frustration at midlife, perhaps the midlife crisis is driven by biological factors and not the responsibility of jobs and family and the dawning recognition of mortality.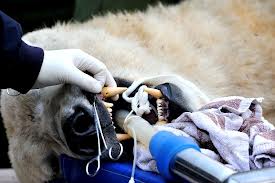 A Very Dangerous Root Canal
A group of 12 dentists, vets and dental nurses recently teamed up to perform a very dangerous root canal. Employees at the Highland Wildlife Park in Scotland discovered that Arktos, a four-year-old polar bear, was suffering from a toothache.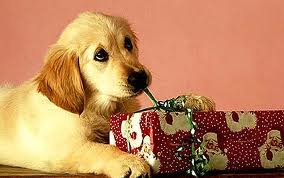 Holiday Gift Ideas For Your Pet
The 53 billion dollar pet industry offers up a lot of different and fantastic gifts and gadgets for you and your furry friend. From interactive cell-phones to the latest in couture, your friends at Animal Radio® not only report on these new items, we'll also be giving them away.
Animal Radio® Episode 678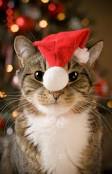 It's Beginning To Feel A Bit Like Christmas
The Dream Team is in a holiday mood and we have gifts for you and your pets. After all, 80% of us will be getting something to put under the Christmas Tree or Hanukkah Bush for our furry companions. Just 20 years ago, our dogs were in the doghouse outside. Now, we're spoiling them rotten!
Safeguard Your Four-Legged Friend With Emergency & Estate Plans
Superstorm Sandy packed a strong punch along the East Coast, and many people had to scramble to find shelter and make tough decisions about whether they could take their cat or dog along with them. Once again, the importance of having an emergency plan for a pet became a stark reality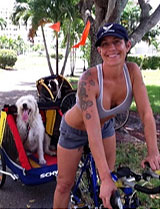 Pooches for Parkinson
Roy Rodin just had brain surgery to relieve symptoms of Parkinson's Disease. Now, he and his wife are biking from Washington to Florida with their two dogs, Oliver and Samantha. It's all to bring awareness to this horrid disease.
Leave No Four-Legged Family Member Behind
According to the U.S. Travel Association, 18% of U.S. adult leisure travelers usually take their pets with them when they travel. As hotels and airlines hone in on this special relationship, they're inventing so many lavish pet-friendly deals and amenities that you may even want to rent a pet to take advantage of them.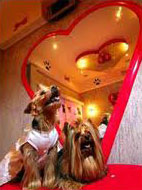 Love Motel For Dogs
Heart-shaped ceiling mirror: check. Curtains drawn against the bright day: check. Red mattress: check. Sounds like a hot night in Vegas. But it's a DOG motel in Brazil featuring items like beef-flavored Dog Beer and a dog spa with a Japanese Ofuro soaking tub. Some dog owners simply like the concept of a love motel for their amorous pets.
Animal Radio® Episode 677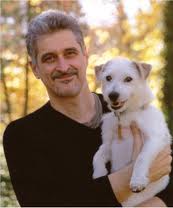 "Mutts" Creator Returns
Patrick McDonnell is our special guest. His animal-friendly comic-strip is seen by 50 million readers every day. He uses his art to rally support for companion animal causes. He even is working with Fox on a new movie....details in this weeks program.
Dogs Take 4,000 Mile Bike Ride
Lynn Rodin is taking a long bike trip across America with her husband and two dogs. She hopes to raise awareness and funds for Parkinson's Disease. Her hubby just had brain surgery to relieve symptoms related to the disease.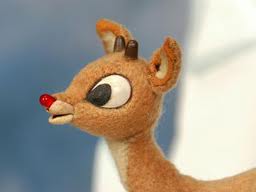 The Truth About Rudolph
The news broke here first on Animal Radio®. Rudolph the Red Nose Reindeer may be keeping a secret about his true sexual identity. We'll divulge the facts as the saga continues.
Drunk Birds Crash In Mid-Air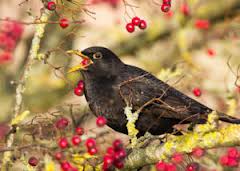 British researchers are blaming the deaths of more than a dozen blackbirds on alcohol. 14 birds were found dead last summer at a school in England and at first authorities thought foul play was involved. Scientists concluded that the birds were intoxicated after eating fermented berries.
Elephant Speaks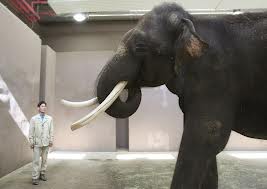 An Asian elephant named Koshik can imitate human speech, saying words in Korean. Researchers from the University of Vienna say it is unclear why Koshik started mimicking human speech, but cognitive biologists Angela Stoeger and Tecumseh Fitch suggest it might be related to his experiences as a juvenile.
Animal Radio® Episode 676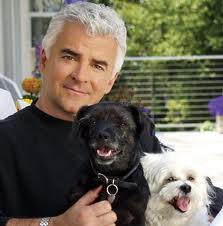 John O'Hurley is Back
For our 11th year, John O'Hurley (J. Peterman on Seinfeld - Dancing With The Stars) is back to celebrate Thanksgiving with us again. He brings his silly sense of humor and great dog stories.
Zoonotic Threats
The emergence of strange new diseases is a frightening problem that seems to be getting worse. In this age of speedy travel, it threatens a worldwide pandemic. We hear news reports of Ebola, SARS, AIDS, and something called Hendra killing horses and people in AustraliaÔÇöbut those reports miss the big truth that such phenomena are part of a single pattern. They all come from animals. Author of Spillover, David Quammen explains.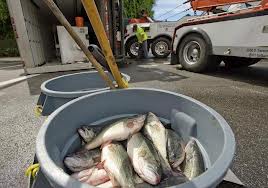 PETA Wants Highway Sign to Memorialize Dead Fish After Crash
The lives of 1,600 sea bass killed last year in a Southern California car crash should be remembered with a sign at the crash site. That's the view of PETA. A city spokesman tells the Los Angeles Times they have no plans to do so. 
Pet Industry Rakes In A Whopping $53 Billion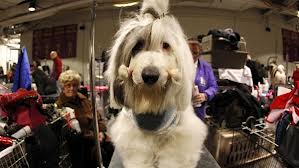 The U.S. pet industry is set to rake in a record $53 billion this year, despite sluggish overall consumer demand. According to the report, the total lifetime cost of owning a small to medium-sized dog ranges from $7,240 to $12,700, and the lifetime cost of a cat ranges from $8,620 to $11,275. The prices of vet and other pet services, and pet food, are all rising at a pace greater than the rate of inflation.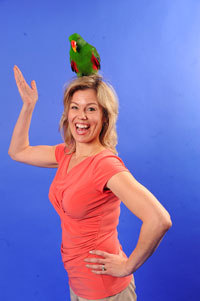 Mythbusters
Dr. Debbie debunks wives-tales about common remedies. No, chewing tobacco does not cure worms in dogs. And in fact, not only will it be useless, it could actually have adverse affects on your furry-friend.
Animal Radio® Episode 675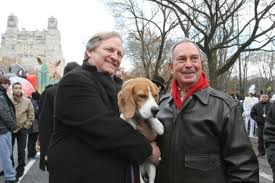 Thanksgiving Tradition
Some like a good football game after their turkey dinner. But for 20-million TV viewers, The National Dog Show on NBC is the usual fare. Host David Frei is back again with dirt about this year's program.
De-barking Dogs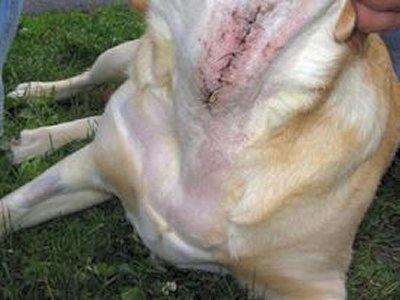 Who would of thought that removing the vocal chords of a noisy dog was still practiced here in the U.S.? Can you believe that the American Veterinary Medical Association (A.V.M.A.) still condones this archaic procedure? Sue Perry has the details of a petition against "de-vocalization."
Do You Know Your Dog's Mood?
Most dog lovers are convinced they know their pets' moods and that they can tell what their pooches are thinking. Now there is hard evidence to support or refute their assumptions. Researchers at Emory University in Atlanta have performed the first brain scans of dogs. What does a dog really think?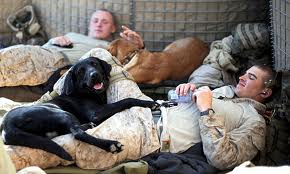 Leave No "Dog" Behind
Former Marine Shaun Duling, 27, is taking the Corps' creed, "Leave No Man Behind," to a whole new level. When Duling completed a year-long contract in Afghanistan earlier this month, he was heartbroken that he had to leave behind one of his closest companions, a dog named "Bolt."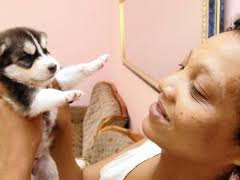 Woman Breastfeeds Dog
A 44 year-old California woman recently revealed that she breastfeeds her pug dog. If this wasn't enough of a bizarre reveal, she also shared in the same interview that she's been doing this for the last two years. The dog was the runt of the litter and she got the idea when Spider would lick the nipple of her son's bottle.
Animal Radio® Episode 674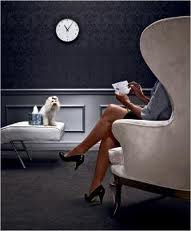 Doggie Shrink
Who would have thought there would ever be a need for a doggy psychiatrist? It is now a booming business. Behaviorist Dr. Rachel Malamed says our pets can suffer from the same mental diseases that humans have. Does this mean your dog could be bi-polar?
Number One Killer
There are more cancer related deaths with dogs than humans. What is causing all these fatalities? Are some breeds more susceptible to cancer than other. Dr. Gerald Post from The Veterinary Cancer Center has some answers and says your groomer may be the first line of defense against cancer.

Seasonal Hazards for Your Furry Companion
Dr. Debbie always sees an increase of patients in her office around this time of the year. She says it's because the season offers up so many hazardous materials, from anti-freeze to mushrooms. The good doctor has tips on what you should be looking out for.
More Pet Food & Treat Recalls
What seems like a never-ending barrage of recalls now includes Nature's Recipe® Oven Baked Biscuits with Real Chicken. This is being done as a precautionary measure, as the product has the potential to be contaminated with Salmonella.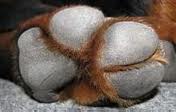 Protecting Paws
Unless your dog or cat wears shoes, their paw pads are the only protection between your furry-friend and the ground. Dogfather Joey Villani has some great ideas for keeping their pads in top condition while protecting them against the elements.
Animal Radio® Episode 673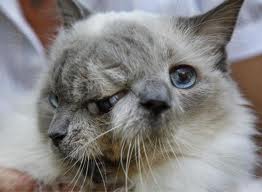 Ripley's Strangest Animals
Ripley's Believe It Or Not is back for their parade down Animal Radio® avenue with the most-bizarre and exceptional dogs, cats, fish, birds and insects. We are proud to have more giveaways of the new coffee-table book.
Smartphones for Cows
The age-old task of determining when your milk-cow is in heat is over. A French company has designed a cell-gadget that attaches to the cows genitalia and automatically texts you when it detects an increase in temperature and movement; both signs of being in heat.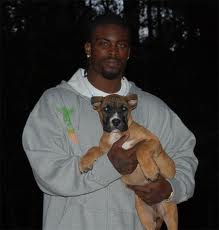 Michael Vick Dog Owner
When Michael tweeted a picture of him with a box of Milk-Bones, it was suspected that Michael Vick acquired a dog before his probation allowed. Many are divided on this. Has he served his time? Is there really a microscope on him now? Or once a cold-hearted animal killer, always a killer?
Pet Pix Boost Productivity
Sarah Kliff reports on a study that proves putting pictures of baby animals on your desk can actually increase the amount of work that you achieve. Find out what makes this so. Then start digging out those photos of kittens and puppies.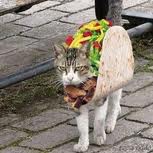 Halloween at the Vet Clinic
Dr. Debbie is already seeing her usual increase in business this time of year. From candy poisoning to consumed costumes, Halloween always means trouble for thousands of pets across the country. Debbie will tell you what you need to know to stay out of the hospital.
Animal Radio® Episode 672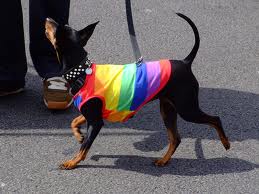 Can Dogs Be Gay?
Dogs may exhibit behavior that we, as humans, construe as sexual behavior. The truth of the matter is that it has more to do with dominance and not sexual preference. Alan Kabel unravels the mystery that has many of us scratching our head in confusion.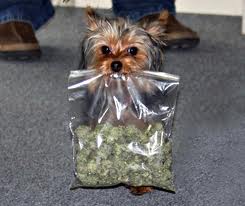 Dogs Get High On Pot
Pooches getting high on pot is an increasing problem in states where medical marijuana is legal. Veterinarians say what used to be a rare problem is becoming alarmingly more common, and the results can be deadly. Dr. Stacy Meola says "Dogs most commonly get stoned by eating their owner's pot-enhanced foods." Our own Dr. Debbie White is upset when owners won't come clean in order to save their pet.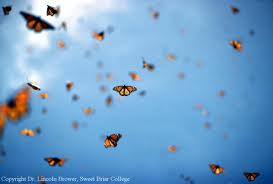 Flight of The Butterflies
Dr. Chip Taylor was the advisor of the new 3-D hit IMAX movie "Flight of the Butterflies." He explains the intriguing migration of the Monarch from Mexico to Canada. You might be surprised about the life of this casual insect.
Armed & Dangerous Turtles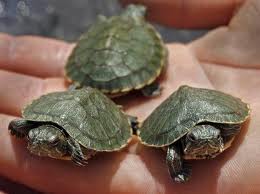 If a pet turtle shows up at your home, do not take him in. He is considered armed and dangerous. No joke. According to the Centers for Disease Control and Prevention (CDC), the number of Salmonella cases linked to tiny breeds of the reptile is on the rise.
Who Better To Find A Lost Dog Than Another Dog?
Anne Wills is the founder and executive director of Dogs Finding Dogs, a Baltimore-area nonprofit that uses trained tracking teams to search for lost pets.
Dog Hitchhikes Under The Hood
A dog survived a 110-mile trip beneath the hood of a Chevy Silverado with the blazing Southern California sun above. Jaime Magana of Chino says he had no idea there was a dog hitching a ride in the engine compartment until he stopped in San Clemente for lunch.
Animal Radio® Episode 671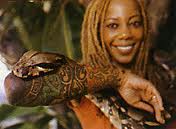 Actress/Comedian Debra Wilson Guests
Mad TV's Debra Wilson has a thing for long, slimy, slithering reptiles. In fact, he shares her life with one. Get all the gooey details and find out why she's Nuts for Mutts.
Dancing Dogs
Author Jon Katz is back and this time he's sharing short stories about our strange and unique connection to our animals. You're not alone when you spoil your furry family.
Bully Sticks Recalled
Kasel Associated Industries is recalling its Boots & Barkley 6-Count 5-Inch American Beef Bully Sticks dog treats because of a possible salmonella contamination.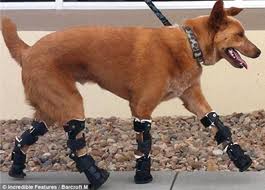 Special Dog Gets Second Leash on Life
Nakio was a prime candidate to be euthanized when rescuers found all four of his paws frozen and useless. That until Christine Pace came into his life and arranged for prosthetics for all four of his feet.
Jerseyans Are Split on Dog Seatbelts
A new poll says New Jerseyans are split on car seatbelts for dogs. 45% of residents favor the idea, but a solid 40% oppose it. Violators would be subject to a $20 ticket.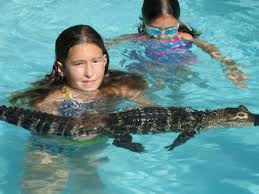 How About A Kid's Party Where You Swim With The Alligators!
A Florida company has decided to offer children unique pool parties the kids will likely never forget. The folks who run Alligator Attractions in Madeira Beach are offering live alligators that swim with the children at area pool parties.
Animal Radio® Episode 670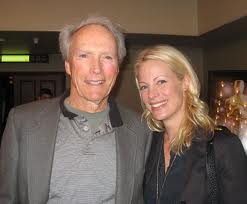 Clint Eastwood's Daughter To Do TV Show
Alison Eastwood is about to kick off her new Reality TV show on Nat Geo. "Animal Invaders" focuses on exotic animals that are living in inadequate conditions. The first episode features monkeys living in an RV and tigers in a magic show act. She talks about life with dad and says Clint is allergic to horses, making much of his early days of film a tough act.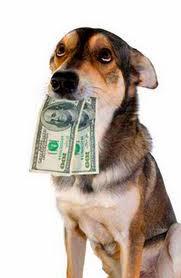 Living Piggy Bank
A Florida couple doesn't seem to have any need for a piggy bank, since their ten-year-old beagle Arnie appears to be more than willing to fill the role of money-holder. Corey and Hope O'Kelley say their canine companion has twice swallowed hundreds of dollars in cash. The O'Kelleys were able to recover $100 after it passed through the dog's system, but they weren't as lucky when Arnie came back for a second expensive meal last month.
Dogs Banned From Downtown
A western Pennsylvania city working hard to revitalize a key 10-block stretch of its downtown business district is considering banning dogs from the area as part of the plan. Officials in Beaver Falls, population 10,000, believe part of the problem is that larger dogs, including Pit Bulls and Rottweilers, are sometimes left tied to parking meters by their owners.
Dog Holds Vigil At Grave For Six Years
A faithful dog is refusing to leave his master, even though he's been at his side for six years in a graveyard. An Argentinean newspaper reports the dog ran away from home after his owner died in 2006. One week later, the man's family found the German Shepherd wailing by his owner's grave.
360 Dogs Died From Jerky Treats Made In China
In the past year and a half, at least 360 dogs and one cat have died in the U.S. after eating chicken jerky pet treats made in China, according to a new online summary posted by the FDA. Meanwhile, more than 2,200 reports have come in to the agency from pet owners claiming their animals were sickened or died after eating these products.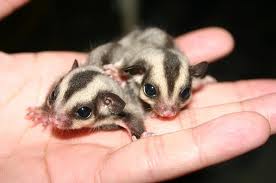 Sugar Gliders as a Pet
Dr. Laurie Hess is a small exotic pet veterinarian. She says we are woefully uneducated about the husbandry of birds and other small pets. The good doctor tells us about some great alternatives to dogs and cats, like the marsupial Sugar Glider.
Animal Radio® Episode 669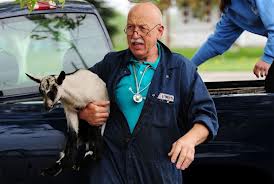 Nat Geo's Incredible Dr. Pol
Not only is he Incredible, but he has quite the sense of humor also. Dr. Pol describes what it's like to have a camera watching your every move, including when his arm is two feet up a cow's ... well ... you know.
Puppy IN Pants Results In Animal Cruelty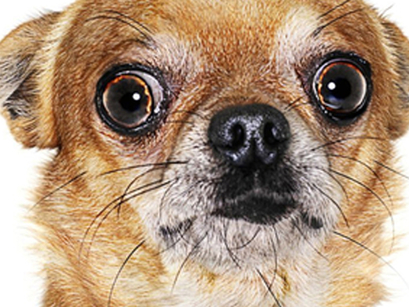 A Colorado woman has been arrested on suspicion of animal cruelty after allegedly shoving her Chihuahua puppy down her pants. The incident occurred during a domestic dispute in which policed found Johna Turner arguing with a man. When police arrived, eyewitnesses told them to search Turner's pants and when they did a Chihuahua fell out.
DNA Poop Patrol
A homeowners association in Texas is trying to collect samples of dog poop for DNA testing. The HOA says too many dogs are doing their business in common areas, and they want a database of DNA profiles. That way, future messes will be matched to the correct owners in the small condominium complex, who will then be fined.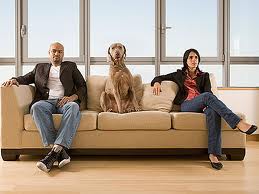 Couple's Fight Over Dog
Pet insurance company Esure say dogs cause 156 fights per year per family. The most contentious canine disputes center around who will take the little guy for a walk, whether he's allowed in bed, and where he goes when family vacations. 17% of doggie disputes leave owners sleeping on the couc