Animal Radio® Show #501 July 11, 2009
Volunteer Vacations
Dena Jones World Society for the Protection of Animals (WSPA)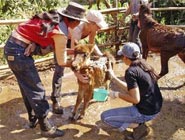 On your next vacation you could be feeding sick or injured wildlife at a sanctuary in Namibia, patrolling a beach in Costa Rica to protect sea turtle nests, or assisting a vet with animal treatments in Mongolia.
If you are worried about the environment and your carbon footprint, you can give something back when you travel.
Numerous opportunities exist for individuals, couples and families who want to volunteer some of their vacation time helping animals. To find a volunteer opportunity, you can contact one of the many non-profit recruiting agencies that specialize in international volunteer work, or you can make your own arrangements through the individual organizations offering volunteer assignments.
A volunteer vacation can be free or cost several thousand dollars depending on the type of accommodation and services provided (some offer local tours and recreational activities, some don't). Generally, lodging and food is included in the fee but flight costs are extra. Vacation volunteering for animals can be done in as little as a day to as long as a year, but regardless of the length of service, the memories and satisfaction gained are guaranteed to last a lifetime!
Following are some of the opportunities available for those who wish to volunteer for animals while on vacation:
Argentina - Wildlife Sanctuary and Rehabilitation Center
Brazil - Pink River Dolphin Conservation
Cambodia - Sanctuary for Rescued Bears
Costa Rica - Animal Rescue Center or Turtle Conservation Project
Galapagos Giant Tortoise Conservation Project
Greece - Stray Dog Project or Turtle Conservation Project
Guatemala - No-Kill Animal Shelter or Wildlife Rescue and
India - Animal Rescue
Kenya - Elephant Sanctuary or Monkey Conservation Project
Mexico - Veterinary Hospital Project or Animal Shelter
Mongolia - Veterinary Medicine Project
Panama - Leatherback Turtle Conservation Project
Peru - Rainforest Wildlife Reserve
Romania - Bear Sanctuary
South Africa - Monkey Rehabilitation Center or Animal Care Project
Spain - Chimp Rescue and Rehabilitation Center
Sri Lanka - Elephant Orphanage
Thailand - Animal Sanctuary or Langur Conservation Project
United States - Farm Sanctuary
US Virgin Islands - Animal Care Center of St John, Inc
Zimbabwe - Black Rhino and Elephant Conservation Project
Unleash A Wish And Celebrate The Dog Days Of Summer
Rachel Gershwin, Wags For Wishes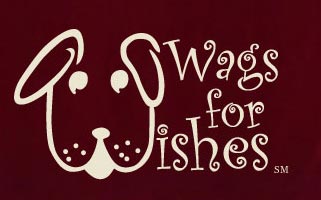 The Make-A-Wish Foundation of San Diego is hosting the 7th Annual Wags for Wishes, a family event featuring a variety of dog competitions, vendors, pet adoptions and entertainment. The event is presented by San Diego County Credit Union.
Pet lovers will gather at the Otay Ranch Town Center - for this one-of-a-kind, three-day doggie extravaganza. Event proceeds will be used to grant wishes to San Diego children who are battling life-threatening medical conditions.
Wags for Wishes expects hundreds of dogs that will compete in events including agility, flyball, lure coursing, disc dogs, splash dogs, obedience and conformation.
"The best part about Wags for Wishes is that everyone can participate," says Chris Sichel, Executive Director of the Make-A-Wish Foundation of San Diego, "This year, five different events are open to the public: field lure coursing, splash dogs, Canine Good Citizen, Rally-O and Freestyle. The public is invited to come and see what their dog can do!"
Wags for Wishes takes place July 10-12 and will run from 9:00 a.m. to 5:00 p.m. on all three days. Admission and parking are FREE and guests are invited to bring their dogs with them (dogs must be well-behaved dogs and on leashes). Otay Ranch Town Center is located at 2015 Olympic Pkwy in Chula Vista, California.
Vladae, The "World Famous" Russian Dog Wizard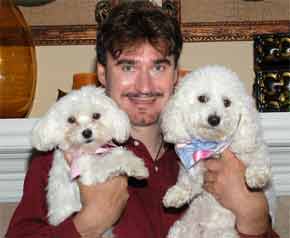 People Select Pets As A Reflection Of Themselves
Vladae's international experience has shown him that people select certain pets not as a supplement to their personalities (they pick their human partners that way) but as a reflection of their own personality.

Watch the people you see with dogs. You will see a resemblance between them both in looks and how they act. For example, you will normally see a masculine person with a masculine dog. This helps Vladae when he is called to someone home to help them correct behaviors in their dog.
Vladae himself has chosen the German Shepherd, as Germans Shepherds, like him, are on a mission.
Vinnie Penn, Animal Radio's Resident Party Animal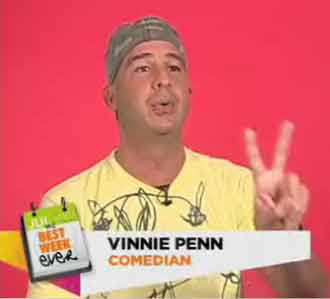 Dog Run or Nightclub?
I was visiting a friend of mine in New York not too long ago, when I was shooting a TV series. (Please visits VinniePenn.com to check out what else I'm up to outside the Party Animal Segment - The TV Show is Called "That's What He Said," and some of the episodes are up on the website.)
I got together with a buddy of mine who I hadn't seen in a while, and we took his big old dog out for a walk to one of those dog runs. Kilgore is the name of his dog.
I had never been to one of those dog runs before and my buddy is doing the whole New York thing, "You can meet girls, the girls I meet down here and this and that…" But he kept Kilgore really close to him, saying that he didn't play all that well with other dogs. Sometimes he will or sometimes he won't.

But it was all about him. All about the girls he could meet down there, and there were some good looking girls down at the dog run with their little dogs, their medium sized dogs, their Beagles running around.
But, I thought what about Kilgore? This is where he should be hooking up! Doesn't he get a chance? I mean, it's a dog run! It's not a nightclub!
But my boy couldn't understand that. He said he didn't know what I was talking about and said that he didn't get the dog to pick up girls, but that dog runs are just a good place to meet girls.
Yes, but it's also a great place for your dog to meet another dog! I'm not talking about impregnating another dog, or having a moderately horrific dog humping another dog scene in front of everyone. But, this is the dog run; it is the nightclub for dogs!
Am I wrong? Kilgore didn't get to do much other than run around in a circle a couple of times; catch a Frisbee once or twice. But every time he even eyed a sweet looking Rottweiler or Doberman Pinscher on the other side of the grassy knoll that they had there, my buddy Rich would yell, "Kilgore – get over here now!"
I told him to let him sniff, let's see what his opening sniff is; let's see what his come on sniff is!
Greyhound as Pets
I took my daughter to an art show, to an outdoor festival this weekend. They had all sorts of events and I stopped by this one booth and they had this great brochure, "Greyhounds as Pets, a Greyt Pet for All," and this was from Pups Without Partners, which is a greyhound adoption program.
I thought it was cool really because they really bullet-pointed why Greyhounds are a great dog to get. They are the only dog mentioned in the Bible, that's the first thing they lead off with, "it's Biblical, there are Biblical implications." If Jesus does return and you have a Greyhound, you're saved! I like that they started with that.

Good with well behaved children was the second thing. What if your child's like my son Luke? Ha, ha, should I not get a Greyhound? Good with well behaved children? Luke is not well behaved! Chances are he is going to want to ride the Greyhound, he will want to box with him, so, well behaved children?
Maybe I should talk to them about re-writing this brochure. Actually a lot of the other points were great. They're good with other pets; very intelligent; clean; and low maintenance. I know the shedding issue is very big for a lot of people. They are very used to human contact and they can never wear flea collars or run loose, which I thought was interesting. It said the Greyhound had been raised with littermates and craved affection and attention. By nature they are calm and laid back.
There were a few there, and it is true! They were beautiful dogs, and I don't think I've ever seen a Greyhound outside of a bus, up close and personable. It is a beautiful dog. The brochure said they could live between 12 and 15 years of age.
The program there said that they were very successful and had a 100% adoption rate since they began in 1995. That's over 10 years of getting these Pups Without Partners partnered up.
I'm from Connecticut, but if you do want to check them out, visit www.PupsWithoutPartners.org. I'm just really stuck on the "Good with well behaved children!" My son Luke really just ruined Greyhounds for our house!
Talk With Your Animals with Joy Turner

My Dog Won't Let Me Out of the House!
Jason, who is the guardian of Bodie, a Boxer who wont' let him out of the house, speaks with Joy to find out what he's thinking. Bodie nips at his pant legs and will stand up on his hind legs and hold the door shut so he can't leave for work. Bodie explains to Joy that he feels Jason is the protector of the family and if he leaves, that will fall onto his shoulders and he doesn't want that job. Joy explains to Bodie that his guardian can still be the protector without physically being present.
http://www.talkwithyouranimals.com
Animal Radio® News with Bobbie Hill


Infections Can Pass Between Animals and Humans
A new study has revealed a disturbing link between staph infections and pets. In the Lancet Infectious Diseases Journal doctors from the University of South Florida's College of medicine say methicillin resistant Staphylococcus aureus or MRSA can be passed between animals and humans. Infections from MRSA along with other germs happen in about 20% of animal bites. But British MRSA expert Mark Enright said in a BBC interview the resulting infections caused by animal bites man not indicate just who passed the infection on to whom. Enright said, "MRSA might be on a person's skin and as they get bitten it goes inside. Bottom line - wash your hands often!
Poll Shows American View Furry Friends as Family Members
A recent poll shows beyond a doubt American's view their furry friends as members of the family. The A.P. poll showed 50% of owners regarded their pets as members of the family. In single women, that number was 66% while only 52% of single men feel that way. The poll also showed more families take Fido or Fifi on the road when they vacation. Although cats seem to score higher in the sleeping quarters category - 36% of cat owners let their feline share the bed as opposed to 29% of dog owners.

Crop Circle Explanation
Did you know half of the world's legally produced opium crop comes from down under? Tasmania grows the poppies that are used to make painkillers like morphine and heroin. The object of safeguarding the poppy fields came up in a recent security discussion with attorney general of Tasmania, Lara Giddings. In one of the briefs the A.G. of Tasmania found out wallabies like poppies. Giddings said, "we have a problem with wallabies entering poppy fields, getting high as a kite and going around in circles...we see crop circles in the poppy industry from wallabies that are high." There's your crop circle explanation for the day!
Nutro Voluntarily Recalls Cat Food
Pet food manufacturer Nutro issued a statement regarding last month's recall of dry cat food. The company's statement detailed the excessive levels of zinc in food marked "best if used by" May 12, 2010 and August 22, 2010. The company insisted they received no complaints from consumers and that the recall was voluntary and they were not under investigation by the FDA. Lisa Wade McCormick of ConsumerAffairs.com said Nutro's claim of "no complaints" is flat out wrong and says the website received over 800 complaints. The company said cat owners should watch for symptoms of diarrhea, vomiting or lose of appetite.
Sea Lion Causes Traffic Jam
California is known for it's scenic beaches, beautiful mountains and god-awful traffic jams. But Bay Area CHP officers were a bit surprised on a recent morning when they received a number of calls to report a sea lion pup walking around in traffic lanes of Oaklands 880 freeway. The San Jose Mercury News reported the young pup was rescued and taken to the Marine Mammal Center in Sausalito where it will remain until released. CHP officer Peter Van Eckhardt said "There's some estuaries around the Coliseum.... it must have come up out of the bay into one of the drainage canals."
Summer Fun for You and Your Pooch
Summer means fun for you and your pooch. On July 11th, head west to Huntington Beach, California for the first annual "SurfinPaws Dog Jam." The event runs until 4:00pm and benefits the Orange County Society for the Prevention of Cruelty to Animals.
Or is you're in the Pacific Northwest, check out Poochapalooza in Marysville, Washington. There'll be K-9 Freestyle Dancing, Canine Good Citizen Testing and wackiest pet trick, best kisser as well as a celebrity look alike contest.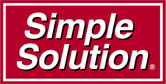 NEWS UPDATE Brought To You By Simple Solution Natural Line Of Products
Animal Minute With Britt Savage
Does Your Dog Ignore You?
Does he just sit there when you call his name? Well there's a possibility he doesn't know his name! It seems obvious, but it's not when you think that both of you speak a different language. And a lot of the time, owners combine the dog's name with a command, leaving the dog to think his name could possibly be "Toby, get out of that garbage right now!" Experts say dog training for names should start when you first bring the dog home, but it's never too late. Teach your dog his name by saying his name and giving him a treat or a toy. His name should always be a positive thing and experts advise not combining the name when reprimanding him. Within a week you should get the respect you've been missing – a very attentive dog!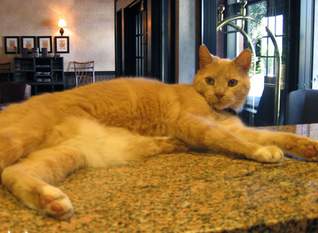 Cat Spends Days at Posh Hotel
Butterscotch, a 14-year-old tabby started out his life living on the streets of South Burlington, Vermont. But now he spends his days at a posh hotel, often sleeping on the leather chair in front of a fireplace.
Patrick Benner adopted Butterscotch from the Humane Society 8 years ago and was surprised to learn what his cat was up to. According to the staff at Hawthorne Suites, Butterscotch shows up every day at 7:00am and leaves at 6:00pm, almost like he is coming in for work.
He sometimes lounges on the front desk or escorts the new arrivals with their bags. Luckily it's a pet friendly hotel. Repeat guests sometimes ask, "if that cat's still there?" when they make reservations. And Butterscotch frequently gets high marks on guest's comment cards.
Owner Benner says he believes Butterscotch must have lived the "high life" in one of his past cat lives.
Your Vet Questions Answered with Dr. Debbie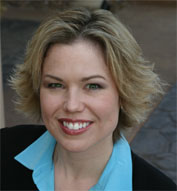 Kitten Is Coughing
This man's wife surprised him with a new kitten. He originally wasn't a "cat guy" but he has become very attached to this little guy. The kitten is about 10 weeks old and has occasionally coughed up clear phlegm. It seems to mainly happen at night but not after eating. While she is a little young for hairballs, this is probably what is going on. Dr. Debbie advises spending time grooming her. You can do this by brushing her on a daily basis and add a hairball remedy to her diet.
My Dog Visits The Neighbor And Won't Come Home
This is a 7-month-old English Springer Spaniel. When he was younger, he got used to visiting the neighbors, who don't seem to mind. But now, it seems like the dog goes over whenever he wants and won't listen when called to come home. Dr. Debbie suggests teaching the dog to come when called by using a leash, so he can't ignore his guardian. This way, if you call him and he doesn't come, you can gently reel him in. Then give him a reward, whether he comes on his own or you have to assist him.
Parakeet Has Problems Eating
This one-month old parakeet has a problem eating and has a swollen crop, which is not emptying. A crop is a pouch on the right side of the neck where birds store their food temporarily until it hits their stomach. When a baby bird has a full crop that is not fully emptying, you should be concerned with health problems as well as environmental issues. First, look at the temperature of the formula, which should be warm, not too cold nor too hot. Next, have your vet take a sample from the crop and look for parasites, yeast, bacteria, or anything that can cause an infection in the crop. And if necessary, you might even try crop gavage (this should only be the last resort as this is risky unless done by someone who is experienced and skilled in this procedure) to help loosen things up in the crop. But, you may need to work with your vet to make sure you are on the right track.

Can Animals Pass Fleas To Humans
able to find any warm-blooded creature in the area. In this case, the guardian cleans the dog, but he goes outside and comes back in the house on a regular basis. So no matter how clean your dog is, every time he goes outside he can potentially bring these unwanted bugs in the house. When you start seeing fleas on people, there is usually a much heavier infestation than if you just find them on your pet. First, make sure you really do have fleas. Take your hand and flip back the hair along the back of your pet, just above the tail. Look for the live critter, which are either brown or red. You also want to look for flea excrement, which is sometimes called flea dirt and looks like pepper. If you find anything, you need to start treating your pets and perhaps their environment. Fleas only spend a small amount of their time on a pet. In fact, only about 5% of their life is spent on the animal. The rest of the time, they are living in your bed, your carpet, etc. The best thing you can do in your home to control fleas is to vacuum frequently and to launder your bed and your pet's bed. Make sure that after vacuuming, you empty and throw away the bag (even if it is not full!). If you leave it, the fleas can hatch and re-infect the house.
My Dog Limps
This 9-year-old Lab is limping. A full body X-ray didn't show anything, so his guardian is thinking about chiropractic care. Dr. Debbie explains that elbow dysplasia is very common in Labs, which in the early stages, might not show up on x-rays. She then suggests checking the neck (which was not previously x-rayed). A pinched nerve in the neck can result in pain and limping. As with any older dog, when dealing with aches and pain, make sure that they are at an ideal body weight and not overweight. You should also put them on a glucosamine supplement.
We Now Know "Who's Your Daddy" - Ladybug's Final DNA Results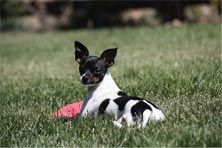 Anyone who has followed along with Animal Radio® for the past few months knows that we have been trying to figure out what kind of dog Ladybug, Animal Radio's stunt Chihuahua, really is.
We had two DNA tests done by the method of "cheek swab." The two results come back totally different from each other and with dogs we didn't feel even came close to her genetic makeup, such as American Eskimo, Belgian Tervuren and Sheetland Sheepdog.
We then decided to do a DNA test with a blood draw by using the Wisdom Panel MX Mixed-Breed Dog DNA Test from Mars Veterinary.

The final results showed that Ladybug is at least 50% Parson Russell Terrier (another name for the Jack Russell Terrier); 25% Miniature Pinscher; and 25% Maltese. After reviewing the history of these three breeds, we can definitely see the traits of these dogs in Ladybug.
We chose the Wisdom Panel, as it covers 153 of the 161 American Kennel Club (AKC) registered dogs and seems to be the most reliable DNA breed test available.
While the information on your dog's analysis report can do more than satisfy your natural curiosity about the breeds that make up your dog, it can help you work with your vet to refine and develop the way you feed, train and care for your pet.
San Diego Wild Animal Park Flightline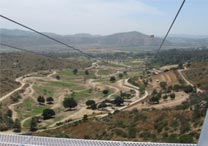 Recently Bobbie Hill, Animal Radio's News Gal, tried out the Flightline at the San Diego Wild Animal Park. There's just something mystical about flight and Bobbie was able to soar high above a baby rhino and some water buffaloes. The animals were watching her and who knows what they were thinking as she sailed above them!
The zip-line is more than two-thirds of a mile long, or 3,677 feet. It features a 421-foot drop in elevation. During their zip-line experience, riders can fly as fast as 47 mph, and are suspended between 36 and 130 feet above the ground.
The cost for the Flightline experience is $70, in addition to the Park admission fee for nonmembers. Participants must be at least 10 years old, free of back or neck injuries, and weigh anywhere from 75 to 250 pounds.
Bobbie wore a helmet cam and was able to video her descent.
For more information on Flightline, or to make a reservation, call (760) 747-8702 or visit www.wildanimalpark.org.
Bobbie Hill is Animal Radio's social networking butterfly. To find out what Animal Radio (and Bobbie) is up to, check in frequently at
Twitter.com/BobbieHill
Listen to the entire Podcast of this show (#501)

Broadcast on XM Satellite Radio and Podcast Versions Only.

Listen to Animal Radio® - Go to the launch page
Return to Animal Radio Network™ Home Page
Read July Newsletter
Copyright 2009 All Rights Reserved Animal Radio Network LLC