Dogs
1. Doogie Schnauzer MD
2. Sargent Sausage
3. I Am Sparticus
4. Lunchbox
5. Angus Sir Loin
6. Bam-Bam Noodle Butt
7. Mouse Meat
8. Fluffernutter
9. Kanye East
10. Inspector Foo Foo
Cats
1. Snag L. Tooth
2. Clawed Monet
3. Velvet Elvis
4. Eartha Kitty
5. Blue Man Chew
6. Catzilla
7. Thurston Picklesworth III
8. Yardsale
9. Dishwasher
10. Polly Prissypants
Pet Owners Describe How They Named Their Dogs:

1. Doogie Schnauzer MD
Juan Valdez initially picked the name Doogie for his miniature schnauzer because it went well with Dexter, his other miniature schnauzer. Eventually Doogie became Doogie Howser and naturally progressed, because of the dog's breed, to Doogie Schnauzer. When time came to register Doogie Schnauzer, Juan added the MD for "My Dog."
According to Juan, the name couldn't fit any better. "He's a perennial pup," said Juan. "He still looks like a puppy, even though he's six, and, of course, Doogie Howser was known for his youth." Juan said that people love the name, especially if they are familiar with the series, and that everyone at the veterinarian's office knows his dog by name because "no one forgets Doogie Schnauzer MD."
2. Sargent Sausage
Heidi Schardine has nicknames for all her pets—Private Peanut, Commander Cucumber—but Sargent Sausage is no nickname.
"When people hear Sargent Sausage they expect to see a wiener dog," said Heidi Schardine. "He doesn't look like a Sargent Sausage to other people, but he totally does to us." Heidi and her husband rescued the blue heeler mix and immediately fell in love with his unique personality, a personality they felt needed a unique name to match.
Though he usually goes by "Sarge," Heidi admits that the full name comes out when she needs to get his attention. "I end up shouting, 'Sargent Sausage!' without even thinking about it," said Heidi. "People crack up. They think it's a joke, but I tell them, 'No. No. It's his real name. You can look on his birth certificate.'"
3. I Am Sparticus
You can't give a 200-pound English mastiff a normal name. At least, that was Natilee Carter's reasoning. "He is a giant," said Natilee. "He's gorgeous. We can't even take walks without people stopping us and wanting to touch him, or take his picture." Natilee and her husband knew that the 38-pound puppy they brought home was going to be something special. To find an appropriate name, they looked to some of their favorite movies for inspiration. Motivated by the movie 300, Natilee's husband recommended they find a masculine Roman name. Natilee, whose favorite movie is That Thing You Do, remembered a song from the soundtrack titled "I Am Sparticus." They both liked the name and it stuck. "It's different, but he's different" said Carter. "He's quite the conversation piece."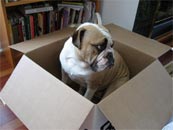 4. Lunchbox
There are a lot of words that could be used to describe Beth Larocca's English bulldog, but only one word says it all: Lunchbox. "Her shape just fit," said Beth. "She looks like a lunchbox. Plus, she eats everything." A longtime English bulldog owner, Beth believes all good English bulldogs should have a good name. Before Lunchbox she was the proud owner of Gorby, and she once met an English bulldog named Pot Roast. "Everyone loves the name Lunchbox and I can't imagine her with any other name," said Beth. "She went as a lunchbox for Halloween a few years ago and people loved it."
5. Angus Sir Loin
When Roy Mattson needed a name for his Scottish terrier, the name Angus initially crossed his mind. The breed's Scottish origin motivates many Scottie owners to choose the name Angus, but Roy thought that Angus alone was missing something. The name just didn't seem to fully capture the personality of the goofy young dog who slept on his back with his paws in the air. "Angus Sir Loin just popped into my head," said Roy. "People always get a chuckle when they hear his full name."
6. Bam-Bam Noodle Butt
Before Jennifer Booth's Chihuahua had a name, she had a reputation. "My kids called her Little Butt because she chewed up their Pokemon cards," said Jennifer. "I liked the name Noodle, but my girlfriend liked the name Bam-Bam." In order to satisfy all parties, Jennifer combined the names to create Bam-Bam Noodle Butt. Besides the laughs inspired by the name, it serves a functional purpose. No matter which name is called, or what variation of the name is used, Bam-Bam Noodle Butt will respond.
"Everybody laughs when they hear the name, but it works really well," said Jennifer. "And her butt does wiggle like a noodle when she walks."
7. Mouse Meat
After caring for a rambunctious shar pei, Kathy Powel wanted to find a little lap dog. The miniature dachshund she eventually adopted was only four weeks old when Kathy first saw her, so small Kathy could only think that compared to her shar pei, this tiny pup was mouse meat. Kathy tried other names, but nothing worked quite like Mouse Meat. "She's a dapple, which is fairly rare in a litter, so I think it's appropriate that she has a rare name," said Kathy. "People always ask me how I got the name. Really, it just popped in my mind and kind of stuck."
8. Fluffernutter
A fluffernutter sandwich, according to Jim Jacques, is made by spreading peanut butter on one piece of bread, marshmallow fluff on another, and putting the pieces together for a sandwich. When Jim first saw his brown, white and sable Papillon, the dog's unique color instantly reminded him of a fluffernutter sandwich. "He's very distinct looking, so a distinct name fits him well," said Jim. "People always stop to ask, 'What's her name?' because he's so cute they think he's a girl. The name always makes them laugh."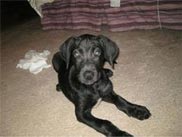 9. Kanye East
Appearance isn't always the determining factor when naming a pet - sometimes it's attitude. "Kanye has always been crazy, ever since he was a puppy," said Kelvin Morgan. "He would just go nuts, he would get so excited, and there was something about the way he presented himself, like he was in charge, and all-knowing. It kind of reminded me of Kanye West." Not wanting to give his one-of-a-kind dog a name already in use, Kelvin came up with his own variation of the name: Kanye East.
"The name suits him well," said Kelvin. "He loves the spotlight and he loves attention. Everybody asks me about the name. I think my mom is embarrassed by it, but everyone else likes it."
10. Inspector Foo Foo
Jordan Wright's Shih Tzu never starts a day without giving his report. If anything is amiss, if anything is out of place, if anything has been tracked in or dropped on the floor: Inspector Foo Foo is all over it.
"He's a very nosy dog and tidy housekeeper," said Jordan. "If something is out of place in the house, or if there has been a message left on the answering machine, he will look at you until you have figured it out. He is not the 'Inspector' for nothing."
While the inspector title came naturally, "Foo Foo" was a result of the Asian origin of his breed and a tribute to Wright's former Pekingese, Mr. Woo.
"People like the name," said Wright. "They think it's funny and it fits him to a T."
Pet Owners Describe How They Named Their Cats: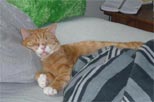 1. Snag L. Tooth
Alison Reppel is confident that there is no cat quite like Snag L. Tooth. The rescued feline has a crooked tail and a signature "snaggle tooth" that juts out from his lower jaw—even when his mouth is closed. "We started referring to him by Snags, not only because it describes him physically but also because it suited his personality," said Alison. "He gets in to little snags all around the house, knocking over pots and pans or ripping apart any cardboard that we may leave sitting around."
In addition to his unique name, Snag L. Tooth has a whole set of unique habits, including many dog-like behaviors, such as drinking from the toilet. "People always appreciate his name when they learn it. However, to experience the full effect he needs to be seen to admire how unique he is and how the name exemplifies his personality," said Alison. "He usually gets a laugh or two from new people and he'll always make himself known around someone new."
2. Clawed Monet
Before Clawed Monet, there was Picatso. After adopting a new cat, Faith Korey needed a name to match that of the artist-inspired Picatso, so she thumbed through a book titled The Literary Person's Guide to Naming Your Cat. There she found the suggestion of Clawed Rains, inspired by the actor Claude Rains. She liked the idea, but really wanted another name in honor of an artist. The result was Clawed Monet. "I think it's really important that pets have distinct names," said Faith.
"If you have a pet named Max or Sam, everybody's got that name. A distinct name shows that you have gone through some trouble and really thought about what you want your cat to be named."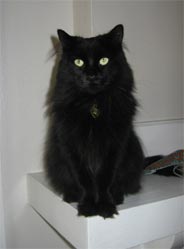 3. Velvet Elvis
Catherine Peters adopted a Stuart, but Stuart just didn't fit the gorgeous black cat with long hair and green eyes, so she started brainstorming. One day while petting the cat formerly known as Stuart, she couldn't help but think that his soft, long coat felt like velvet. The idea brought to mind vintage posters of Elvis, printed with sections of soft "velvet" fabric. "Velvet Elvis came to fit him really well because when we first got him he was really skittish and he would hide under the bed, sometimes for days," said Catherine. "If we saw him come out, we would say, 'We had an Elvis sighting today.' He'd also stay up meowing for hours some nights, and we'd call it his 'Elvis croon.'" Catherine has another cat who was going to be an Oliver and ended up named Willy Wonka. "When I tell people their names together they love it. They usually laugh. I don't think I picked their names as much as I let their personalities dictate their names. I feel like they picked their names."
4. Eartha Kitty
Elisa Haber wasn't sure if the sick, starving kitten she found at her apartment complex was a boy or a girl, but she was sure that she would do everything in her power to bring the young cat back to health. After bringing the kitten to her veterinarian, Elisa discovered that her new pet was female and that her husband's suggestion of Chester wouldn't do for a name. A big fan of Eartha Kitt, Elisa recognized some similarities between the famous singer and the rescued kitten and thought the name Eartha Kitty would be a good fit.
"This cat has got catitude," said Elisa. "She's a fighter. She's got a gorgeous coat and a lot of moxie. She's bossy and she sings. So the name's perfect."
5. Blue Man Chew
Jeanneane Smith somewhat reluctantly adopted Blue the cat from a client who could no longer care for him. With his long gray hair and huge copper eyes, Blue had always caught Jeanneane's attention. His personality made an even greater impact and forced Jeanneane to reconsider Blue's name. "I did not think that Blue was a very manly name for a cat with his take charge and edgy personality," said Jeanneane. "Blue's transition to his new home transpired about the time when the Las Vegas show Blue Man Group was the hottest ticket in Vegas. So, Blue became Blue Man."
Not used to having a cat in the house, Jeanneane soon became familiar with some of their more quirky behaviors, particularly the tendency of pouncing and chewing at ankles. "I became very aggressive with my reprimands of Blue Man," said Jeanneane. "And, thus, the phrase, 'Blue Man, don't chew!' evolved into a part of his name: Blue Man Chew." Blue Man Chew's unique name is matched by a unique appearance. To keep his hairball accumulation at a minimum, Jeanneane makes sure that he is regularly groomed from neck to tail, leaving a narrow strip of hair, or Mohawk, down his spine. "When I tell people his name, they say, 'What was that?' They're expecting a single syllable," said Jeanneane. "Everyone loves the name, especially if they know him. It just fits his attitude."
6. Catzilla
Laurel Roy's cats had their names—Catzilla, Spazz and Samantha—when she rescued them from the shelter, and it only took a few weeks for them to prove the names were well deserved. "I didn't really think about changing their names because I can't imagine more fitting names, especially for Catzilla and Spazz," said Laurel. "Catzilla walks around like she owns the place and she doesn't get along with any of the other cats at all. She hisses and doesn't share the bed. She's always wrestling with them."
7. Thurston Picklesworth III
When Meredith Rosenberg adopted a cat her friend found in the street, she was determined to make sure his rags-to-riches experience included a snazzy name. "We sat down and tried to think of the funniest name possible," said Meredith. "We literally sat in a bar drinking wine and thinking up silly names. It was a process of trial and error. We put several names together until we came up with Thurston Picklesworth III and it just seemed to fit. It sounds regal."
According to Meredith, Thurston Picklesworth III has taken quite well to his new life and name. "I just can believe that Thurston was thrown out in the street," said Meredith. "He is the sweetest cat ever. He is so gentle and so kind."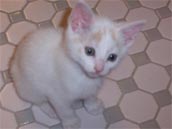 8. Yardsale
On a drive home from vacation in Shenandoah National Park, Lauren Faber and Brian Prusnek were struck by the sheer number of yard sales taking place along the Virginia countryside. The couple took a detour to stop at a local winery and while there found themselves unable to resist the pleas of three little girls with a cardboard box and a sign reading, "Free Kittens." Lauren and Brian adopted two of kittens, which the girls had named Rosalie and Esme, after characters in the popular teen novel series Twilight.
"We kept Rosalie's name, but we knew Esme needed to change," said Lauren. "We got back on the road and the new name seemed to be provided from a higher force. One after another, the signs read in the multitude of front yards: 'Yard Sale.' We figured that Yardsale was a vast improvement over Esme." The name also resonated with Brian, who has heard the term "yard sale" used while snowboarding to describe a bad crash in which someone's gear ends up scattered in the snow. "People who are familiar with pets—vets or caretakers—love the name," said Lauren. "People who are new to pets are kind of confused."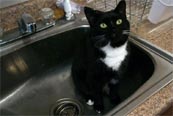 9. Dishwasher
Alli Kildahl was cleaning her mom's kitchen one day when she started to wonder what kitchen appliance would make the best cat name. She considered Blender, Microwave and Toaster, before deciding that, if she ever got a cat, Dishwasher would be a great name. About a year later, Alli's sister gave her a black Manx as a house-warming gift. "I attempted to think of a better name, before I soon realized that Dishwasher was the only name that seemed to fit," said Alli. "She always washes her dishes, and it helps to have at least one dishwasher in the apartment, even if she is feline."
Dishwasher has several unique traits that complement her unique name, including the ability to fetch and a love of running laps through the house while making what Alli describes as a "vroom" noise. Dishwasher also likes to watch water run, chew on plastic and lick feet.
10. Polly Prissypants
There are common sources of pet name inspiration—color, behavior, origin—and then there's South Park. "I got the name from an episode where Eric Cartman is having a tea party with his stuffed animals and he doesn't know he's being videotaped," said Rachel Dillon. "He named one of the stuffed animals Polly Prissypants and I thought that was so funny." At one particular veterinarian's office, Rachel had to sign Polly Prissypants in on a waiting list, causing great confusion for the technician who had to call Polly Prissypants in for her appointment.
"I get funny looks at the vet," said Rachel. "Most of the time I just call her Kitty, but when I have to use the full name, people usually look at me funny. Once I met a vet tech who actually knew where the name came from and she appreciated it."