Animal Radio® Show #506 August 15, 2009
Seeing Is Believing
Tim O'Brien, Ripley's Believe It Or Not!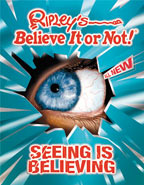 You can't crack open the new Ripley's book, Seeing Is Believing, without running into an animal. In fact, there are over 30 pages in this book dedicated to the "crazy creatures."
We speak with Tim O'Brien who tells us how they acquire the information for the book. He tells us how some stories are submitted or sometimes they hear or see something where they send a photographer to go out and get a shot.
He admits that their biggest challenge is to verify that the photos are not fake or photo-shopped. They actually have a team of people who inspect all photos for accuracy. They also do DNA testing on some of the animals (for example those with two heads or faces) to make sure it isn't taxidermied and are genuine before they place it in the book.
Tim's favorite animal picture is of Yoda, the cat with four ears. The two extra flaps are behind his normal ears, although they are not attached to the base of his skull and are not thought to help his hearing.
Some of the animals you will find are:
-Charlie, a standard poodle from Canada, gave birth to 16 puppies in March 2008
-A 14-year-old boy in Hawaii has taught his pet rats - Tofu and Fin to surf. They ride custom-made surfboards just their size!
-A dog in Australia saved his owner's life by fetching his cell phone. Albert Hoffman fell from a tree and was badly injured, but called for help after his lab fetched his cell phone from his backpack.
-A trio of Chihuahuas has made back-to-back issues of the Ripley books. Venus de Milo, Carmen and Pablo were featured last year because they have all learned to function despite being born with only two legs. They are in this year's book because the North Shore Animal League has equipped them with two-wheeled carts that allow them to get around better.
-A U.S. company builds luxury houses for dogs that include air conditioning, custom beds and exquisite interiors. They can cost $50,000!
If you have a story you would like to see included in Ripley's, contact www.RipleyBooks.com.
Vladae, The "World Famous" Russian Dog Wizard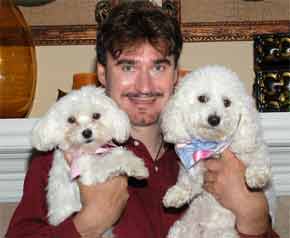 Dog is Afraid of Guns and Ammo
Michael was recently adopted by a 3-year-old Lab mix who seems to not only be afraid of guns, but also their ammunition. Michael suspects that someone originally tried to train her to be a hunting dog. She is also afraid of water. She is very affectionate to the family and other dogs. She was also riding in his truck one day and she became fearful and now she doesn't want to get back in the truck. She seems to be afraid of everything. Vladae doesn't think anyone did anything to her, but that this is just her nature. Michael admits that he comforts her when she is fearful. Unfortunately this reinforces her emotional state. Instead, increase the dog's confidence and break her dependency on humans. Do this by doing obedience training at least 2 times per day. This should include sit/stay/down, etc. Also do physical exercise with her and make her run around to expel her energy. This will make the human a leader in the dog's eyes. Then set up the fearful situations with your dog. For example, if she is afraid of thunder, get a CD of thunder and start it out low. You can eventually increase the volume to get her used to it. While it is playing, distract her with obedience training. When she focuses on you, praise her!
Vinnie Penn, Animal Radio's Resident Party Animal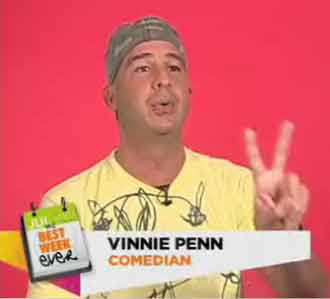 Pet Obituaries
Pet Obituaries – Where are they? Why aren't they? I know some of you are out there thinking, Vinn there is, you can go online here, or you can Google this, or they've always been here. But I'm talking about in the mainstream newspaper of your town, the local newspaper.
We buried an uncle of mine a few years ago, that the entire family hated. This guy ruined Thanksgiving upon Thanksgiving. He was a miserable old man who fell asleep in the middle of all of the revelry and would wake up, launching curses in everyone's direction and terrify the grandkids. The obit said he was so loving and he warmed the cockles of our hearts, he was a bright spot on many a snowy, icy… He was not a bright spot! Even if he brought the sunshine - he couldn't be a bright spot.

I look at some of these obituaries and they are for people where their driver's licenses we used for the pictures, as they clearly have no one in their lives who care that they are gone. Not to be cold, but why not the pets? Why wouldn't we have obituaries for our pets?
When our dog, the beloved family dog Cruiser, our Miniature Schnauzer passed, let me tell you something, I could have dedicated two columns to my main man, raving about how he brought the family together at a time when my parents were divorcing. He brought love into a house that was devoid of love at this time.
And the little in memoriams a year later, they break your heart. Instead you see in memoriams for guys with faces, which make you say, "No one could have loved this man, this man doesn't even seem capable of love." And yet out of obligation, someone is saying, "It was a year ago today we lost…." No you're not! You're thinking of the fact that you still can't get the smell out of the sofa that he fell asleep in every time he came over to your house for the last thirty years.
I want pet obituaries. I want them treated with the respect and reverence that we give to family members, human family members, who you had neither for. I mean, "R.I.P.?" An R.I.P. for your dogs and cats – that's what they do – they rip the sofa, it's perfect!
Let me know what you think!

Rest in Peace, Betty
For those of you that have been following the Party Animal Adventures, it's been well over a year and maybe even getting close to two, then you know that my daughter and I went out and bought a goldfish named Betty, a beta fish. Betty lived exactly one year and passed away this last 4th of July.
My daughter was unbelievably strong upon the loss and for those of you out there who really know and who really have paid attention, you might be wondering if Vinnie Penn was a hypocrite, since he did a big rant about why goldfish were unceremoniously flushed down the toilet and not given a proper burial.
I'll have you know, I am a hypocrite but I just wasn't in this particular instance, she was buried in the backyard and words were said. A moving eulogy was delivered by myself and by my six-year-old daughter.
Interestingly enough though, Betty, just a few weeks before, we had bought another fish named Elmer and had one of those split tanks. We bought a new tank and it was split. So now my son had his own fish and my daughter had her own. Betty died not long after Elmer's arrival. Could it have been "fishicide?" Could Betty have killed herself?
In all honesty, those of you out there who know fish, could this have happened? They weren't in the same tank, and yet somehow it wasn't long after that that Betty swam her final days.
And now my daughter wants a brand new pet. I can't even get into that! I will tell you in next week's installment what my daughter's new pet is, now that her goldfish has passed away. What she wants it to be, anyway.
But send me an email at vinnie@animalradio.com. We added a fish to the tank, a split tank, important to note, and the one that was there longer died only a few weeks later!
Talk With Your Animals with Joy Turner

Do My New Dogs Like Each Other?
Joe and his family recently adopted two dogs, both Lab/Golden Retrievers mixes. Cooper is six and Jake is three. The problem is Cooper who is trying to dominate Jake. He starts barking and nipping. Joe wants to know if they are playing or do they even like each other? Cooper tells Joy that he is trying to establish his place in the family and is worried about Jake taking that away from him. Joy tells Joe to tell both dogs that there is room in his heart and in his family for the two of them. Both dogs then tell Joy that they like that idea!
Joy - You Were Right On!

B.J. previously talked to her dog Prince through Joy. She wants to thank Joy for "being right on" with Prince. It turns out Prince was having a bad bladder infection and this was causing him problems. Way to go Joy!
Animal Radio® News with Bobbie Hill


Dog Saved With "Mouth to Snout" CPR
Yet another reason to contact your local animal shelter or Red Cross and learn CPR - for people & pets. Thankfully for a southern California woman, a fellow partygoer knew what to do after her Chihuahua fell from a tree house with its leash choking it. Krisna Torres saw the dog choking and grabbed it, telling the Orange County Register "She wasn't responding." Torres cleared the dog's airway and began mouth to snout resuscitation. The dog began breathing on its own after two minutes of rescue breathing from Torres. Dog owner Maricruz Cisneros told KTLA her dog was taken to a vet, checked out and released.
Dog Returned After 9 Years
An Australian family is celebrating the return of their dog Muffy after a 9-year absence. The pooch's microchip helped trace her home to Brisbane after she was found at a Melbourne home being investigated for possible animal cruelty. RSPCA staff found Muffy sleeping outside on a piece of cardboard. The dog, suffering from a severe allergic reaction to fleas is recovering and will be reunited with her family. No one knows exactly how Muffy got to Melbourne or what she's been doing the past 9 years.

Is Your Cat Left or Right Pawed?
Ever wonder if your cat is left pawed or right pawed? Researchers at Queen's University Belfast determined through a series of "paws on" tests that there is a definite split along gender lines. The report being published in the journal Animal Behavior found out of 21 male and 21 female house cats - the male cats were overwhelmingly "left pawed" and the females "right pawed".
Man Changes Plea On Animal Cruelty Charges
Following up on a story out of our "Incredibly Stupid Criminals File" - the Nebraska man who put the cat in a homemade bong last April has changed his plea. Acea Schomaker, now 21, was in court recently and plead guilty to animal cruelty charges, charges of marijuana possession and alcohol possession by a minor. According to the Lincoln Journal Star, Schomaker said he didn't intend to harm the cat, just calm her down. Shadow the cat was taken to an animal shelter and survived the ordeal. Schomaker will be back in court September 18th for sentencing and faces up to a year in jail.
Reinstatement of Vick to the NFL
Animal lovers across the county continue to react to the NFL's conditional reinstatement of Michael Vick. Here's an update on a few of the dogs rescued from Vick's dog fighting operation - some arrived in Kanab, Utah at the Best Friends Animal Society. Twenty-two pit bulls seized from Vick's Bad Newz Kennels arrived at the sanctuary where they were evaluated and cared for. One female, Georgia was so good at fighting, previous veterinarians pulled her teeth so Vick's kennel could use her to breed. Now that dog is an affectionate, happy ambassador who has been able to "forgive humankind and learn to trust even after all the torment" according to Diane Pucin from Best Friends.
Freak Show Threatens Lawsuit Over Five-Legged Puppy
And finally - Lilly the five-legged puppy from North Carolina is now the four-legged puppy. The Chihuahua mix had the surgery to remove the extra appendage a few weeks back to avoid a lawsuit from the owner of the freak show who wanted to display the dog. The Charlotte Observer said Allyson Siegel who adopted the puppy after buying it out from under the freak show owner decided to have the surgery performed early in light of the threatened lawsuit. Lilly's vet said he expects her to make a full recovery and a Charlotte bar held a fundraiser to help Siegel with vet bills. No sight of the lawsuit threatened by the freak show owner.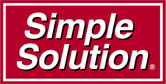 NEWS UPDATE Brought To You By Simple Solution Natural Line Of Products
Animal Minute With Britt Savage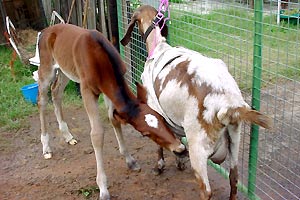 What Do You Get If A Horse Is Raised By A Goat?
Jeff Love, the owner of an orphaned foal, was more than happy to find out. A few weeks ago, Jeff Love made a public plea for help on ABC Local Radio when he was desperate to find a foster mother for his hungry filly. The plea was heard by a number of well-meaning people who introduced Mr. Love to Grafton based Anne Mianowany - a woman who has become something of an expert when it comes to finding foster care for orphaned animals. Ms Mianowany said. 'Billy' the filly and the foster goat had a rocky start but things are now going well for the unlikely pair.

German Shepherd Saves Elderly Couple
A German Shepherd, Timber wolf mix, named Shawna is being called a hero for saving an elderly couple. Eve and Norman Fertig, both 81 years old, were taking care of injured birds in the wildlife sanctuary on their Alden, New York property when a surprise snowstorm hit. When the couple headed back to their house, they were trapped by fallen trees and heavy snow. Shawna, who weighs 160 pounds, dug a tunnel through the snow to their deck and then came back to lead the couple through the tunnel. She didn't stop until they were all safely inside where all three collapsed for the night. The local fire department has given Shawna a certificate declaring her a hero.
Your Vet Questions Answered with Dr. Debbie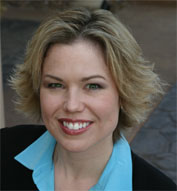 Dog Passed Away Suddenly – Did He Do Everything He Could?
Frank's daughter received a Pug as a gift and then went on vacation. Since he is a trucker, Frank agreed to take the dog with him. About 3 weeks later, he returned to his truck to find out that she passed away. That morning she didn't eat or drink anything and when he returned after leaving her for a few minutes, he found her on the floor. He doesn't know what happened, He always made sure that the air conditioning was kept at between 70-76 degrees. Frank worries whether he did everything he could do. It turns out she was an elderly dog and Dr. Debbie feels that it could have been heart related or even a blood disorder. She tells him not to feel bad and as long as there wasn't an immediate trauma or hazard, it was probably just a natural thing and she went quickly without suffering.
My Dog Snorts And Seems To Have Trouble Breathing
These breathing episodes can last up to ten minutes and are frightening for the guardian. And after barking, she sounds like she is choking. Dr. Debbie feels this could be called what is "reverse sneezing" which is harmless. But some dogs could also have problems where their trachea or airway collapses, which is more of a problem for overweight dogs. Dr. Debbie suggests having a vet actually look down the throat with an endoscope (which has a camera) to find out just what is going on.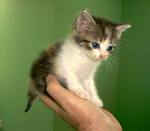 How Can I Select A Friendly Cat?
In the past, Candace has adopted cats that were very friendly and outgoing as kittens. But as they got older, they became more shy and reclusive. Is there a sure way to adopt a cat who will be outgoing as an adult? Dr. Debbie suggests looking for a cat that acts more like a dog! Also, when looking at kittens you should look for a kitten that is eager to come towards people and who wants to be around people. If a cat is fine playing by himself, he will not be as outgoing. Also, watch to see how they respond to noise and other stimuli. If the cat is curious about the noise, he will usually be more outgoing. Once you have selected a cat, give him lots of praise and rewards when interacting with him.
Dog Is Allergic To Topical Flea Medication
Scott's dog doesn't have a big flea problem, but he would like to keep any and all fleas away. However, his dog is allergic to topical flea medications and had a severe allergic reaction, which almost took her life. Scott is a trucker and they travel around the country. Dr. Debbie suggests using flea combs and vacuum regularly. There are also oral forms of flea control he can try.
Animal Radio's Summer Giveaway

It's back! Animal Radio's Summer Giveaway for 2009 and you can enter as many times as you would like before September 30th.
This year's Grand Package includes items from Celestron, the world's leading designer and manufacturer of high quality optical products, with the Regal 65F-ED Spotting Scope; Bissell, with the Lift-Off Revolution Pet Vac; Automated Pet Care Products, with the Litter-Robot; Disney, with the Disney's Animal Kingdom Park passes; and recently added from SCS from the Disney G-Force movie which opened on July 25th, plush characters, t-shirts and trading cards.
The five runner-ups can win packages, which include the Outland Waterproof Binoculars from Celestron; the Pet Hair Eraser Corded Handheld Vacuum Cleaner from Bissell; and the "UP" DVD, Leapfrog Reading System and "UP" Leapfrog Storybook from Disney-Pixar.
You may enter as many times as you want, but no more than 5 times a day prior to September 30, 2009. This contest is open to US residents 18 and over. Winner is responsible for all taxes on prize packages. Winners will be announced on Animal Radio® and notified by email or telephone. You may also enter by sending us a postcard with the requested information to Animal Radio -Summer-end Giveaway, P.O. Box 197, Shandon, CA. 93461. A complete list of rules is available at the Animal Radio Network™ Studios.
What are you waiting for? Get entered now!
Listen to the entire Podcast of this show (#506)

Broadcast on XM Satellite Radio and Podcast Versions Only.

Listen to Animal Radio® - Go to the launch page
Return to Animal Radio Network™ Home Page
Read August Newsletter
Copyright 2009 All Rights Reserved Animal Radio Network LLC