September 10th 2005
Katrina and the Animals
LIVE NEWS COVERAGE on Animal Radio.
Listen to Animal Radio 24/7



Animals left behind.

Rumors of Pets being shot by police.


Great rescue attempts and successes.

Where to donate.
Aiding Animals Left Homeless by Hurricane Katrina
James Bias, President of the SPCA of Texas


The SPCA of Texas in Dallas loaded 50 large dog kennels, a generator and other supplies in a 30-foot livestock trailer. The vehicle took the supplies to the Houston SPCA, where they will be used where most needed to aid animals left homeless by Hurricane Katrina.
After dropping off the supplies in Houston, the trailer may remain in Houston to provide additional aid as animals pour in from Louisiana or it may travel to Louisiana to assist in livestock rescue there. Animals from the Louisiana SPCA were evacuated from New Orleans and delivered to the Houston SPCA, and many of those animals have since been placed in adoption programs with various south Texas-based animal welfare groups. The SPCA and other Dallas/Fort Worth groups are readying themselves to accept Louisiana animals in the coming days and weeks. Listen for ways to support these animals.
Blood Bank Helps Pets of Hurricane Katrina
Anne Hale, Director of the Midwest Animal Blood Services


One of only 13 animal blood banks in the country has turned its attention to animals affected by Hurricane Katrina, shipping 25 units of dog blood to Louisiana State University's veterinary school. Midwest Animal Blood Services in Stockbridge sent a third of its weekly production from 10 dogs to help the school care for pets evacuated from the New Orleans area. Blood donated by the bank's 62 cats could be headed to the Gulf Coast region next.
Anne Hale, board president for the Michigan Veterinary Medical Association and director of the blood bank 25 miles southeast of Lansing, has been in touch with veterinary medical assistance teams deployed to Louisiana and Mississippi. She said that many cats and dogs survived the hurricane's initial blow, but need blood to recover from heatstroke and serious injuries. Large farm animals either didn't survive or were evacuated ahead of time. Many veterinary clinics in the Gulf Coast region lost their blood supply because blood couldn't be refrigerated in the wake of power outages. Find out how your pets can donate blood to help the pet victims of Katrina.
Reuniting Katrina Animals with Their Guardians
Jean Jones http://www.KatrinaFoundPets.com | http://PuppyMillRescue.com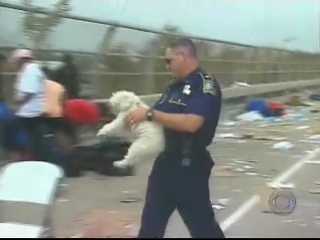 Among the thousands of crushing moments from last week's deadly hurricane, one image brought the anguish home to many: a tearful little boy torn from his dog while being shuttled to safety. It tugged at the heartstrings, prompting an outpouring from around the country of people on the hunt for both the boy and his dog Snowball in hopes of a reunion.
Jean Jones, from Fort Lauderdale, Fla., runs puppymillrescue.com and launched another site, katrinafoundpets.com, to help pair Snowball and other lost pets with their owners. She also started a reward fund - hoping money might persuade people to help out. Do you know anything about Snowball or her guardian?
Get the latest new on Katrina and the Animals from our 24/7/365 Animal Radio Channel
Pet PAWties for Katrina Pet Victims
Lane Nemeth, PetLane
You've heard of Tupperware and Mary Kay parties, well now there is Pet PAWties for your dogs.

A Pet Pawty is a great way to learn things you never knew about your pet ­ health and safety, communications, what makes a treat good, and much more and now PetLane, is hosting 100 Pet PAWties to benefit the Katrina pet victims and also raising $20,000 for the Humane Society. Hear how you can host your own party and have 35% of the proceeds aid the Katrina Pet Victims.
Cops at the St. Bernard Parish in Louisiana Shoot Pit Bulls
Despite such political wrangling in the city, cops in St. Bernard Parish made it clear Wednesday that they weren't interested in taking no for an answer. Nor were they taking dogs they deemed too big or dangerous.
That left forced evacuee Marie Miller on the verge of tears. "They shot our dogs!" Miller, a 54-year-old housewife, said of her mixed pit bulls, Angel and Hooch.
She had gone inside to collect clothes and personal papers when she heard it.
"Boom! Boom!" Miller said. "Hooch came in and had blood all over him."
Miller, husband William and 20-year-old daughter Shannon were taken to a local warehouse dubbed Camp Katrina, where they received tetanus shots and other medical treatment from Mid Georgia Ambulance Co. of Macon, a private company that volunteered to help.
Shannon sat on her red Marlboro duffel bag, clutching her Chihuahua, Sassy, who was small enough to save. Crying, she recalled what had happened less than an hour before. She didn't see the shot. She just knew it was to Angel's head.
At Camp Katrina the Millers were greeted by relief personnel as well as a country music star.
"Shannon! Shannon! It's Tim McGraw," Miller told her daughter.
"I don't care anything about that," Shannon said, holding on to Sassy and walking to the back of the warehouse for water. MORE
Preparing Your Pets for Disasters
Darlene Arden


Most people pack a kit for emergency evacuations. But, does your kit include things for your pet? When packing an emergency pet kit, be sure to include bottled water, pet food in plastic bags and make sure that your pet has identification, or even better, is micro-chipped. Listen as Darlene gives great information on preparing your pet for emergencies.
Mid-Atlantic Reptile Show September 17th & 18th
Holli Frieldand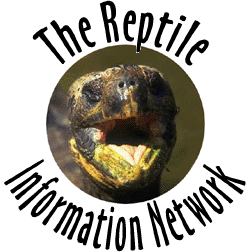 Families, environmentalists and reptile enthusiasts come together for a common purpose: to enjoy a weekend of scaly fun, education and conservation, on Saturday, September 17th and Sunday, September 18th, at the 4-H Hall at the Maryland State Fairgrounds in Timonium, Maryland. This year they welcome special guest, Mark O'Shea, author and star of Animal Planets "O'Shea's Big Adventure." At MARS Mr. O'Shea will launch his new book "Venomous Snakes of the World." Visit some of the closest living creatures to prehistoric times! See common and very rare reptiles and amphibians that are bred in captivity on display and for sale. There are supplies, books and artwork too. You'll find everything from tiny lizards to large snakes. Fat frogs, treasured tortoises, colorful chameleons, leaping lizards, slithering snakes, ticklish tarantulas - everything you'd hope for in a reptile show - and then some! Youngsters will love the many kid-friendly displays just for them. Don't miss this great event!
"Found Dogs" with Elise Lufkin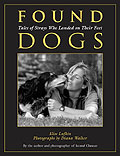 Every year, millions of dogs are abandoned-at animal shelters, at racetracks, or on the side of the road. Many of these animals end their days without ever knowing a caring human touch, but some are fortunate enough to be found and given a second chance. And these dogs, often rescued from death's door, seem to have even more than the usual canine capacity for love and loyalty. Found Dogs is full of wonderful photos and words by people who have adopted dogs in myriad ways. Celebrities including Peter Mayle, Jamie Lee Curtis, Al Gore, and Bobby Short tell their stories alongside everyday heroes who have rescued dogs. From purebreds to scruffy mixed-breeds, these canines have become service dogs, protectors, and friends, offering solace, aid, companionship, and inspiration. Found Dogs is a moving tribute to the power of love between people and dogs-how that love has transformed dogs who were lost, and the people who were lucky enough to find them.
"Parrots for Dummies" with Nikki Moustaki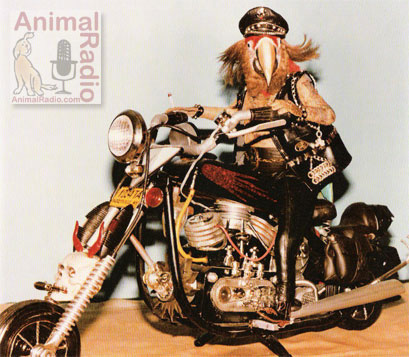 Parrots make a wonderful alternative to the traditional pet. They're as loving, intelligent, companionable, and entertaining as a cat or a dog but they surpass them by far in many other ways. They don't require walks around the block, they're perfect for apartment living, most have long life spans, and they're full of personality. Besides, when was the last time you saw a vibrant blue cat or had a conversation with a talking dog? Whether you are just thinking about buying a parrot or you've had parrots for years, Parrots for Dummies is full of helpful information about how to be the best parrot guardian you can be. Parrots for Dummies is packed full of useful tips, hints, reminders, and warnings about everything related to parrots and their care.
Leptospirosis
Dr. Jim Humphries, Veterinary News Network


Leptospirosis is an old bacterial disease that is getting a lot of new attention recently. It is rarely fatal, but can seriously damage the liver, kidneys, and eyes. Additional strains of this old disease are causing an increased number of cases in both people and animals. Leptospirosis is a zoonotic disease - a disease that can be transmitted between people and animals. Learn what can be causing this increase of Leptospirosis - who is at risk, and what can be done to protect people and pets
Monkey See/Monkey Do
Britt Savage


A study has shown that Chimpanzees can learn from other chimpanzees with human absence. When a group of Chimpanzees were taught a task and later put with other chimpanzees, those chimpanzees observed and mimicked the actions of the original chimpanzees, without being taught directly.