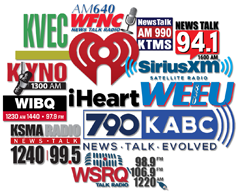 Catch Animal Radio in bite-size pieces.
Introducing Animal Radio Highlights available from iTunes and iHeart Radio.
Animal Radio is proud to add two affiliates to the growing network of stations. In Los Angeles, listen on KABC AM790 Sunday evenings at 6:30pm. In Winter Garden, Florida, listens on WGPD 99.7FM on Saturdays at 6am. Find a station near you.


Animal Radio® Show #1001


From Caped Crusader to Canine Crusader
Actor Burt Ward was the original 'Robin' on the hit series Batman. Now he€™s devoted to giant breed dogs and runs the Gentle Giant Rescue. He tells Animal Radio that as many as 25 Great Danes share his bed with him and his wife Tracy.
Listen Now
The Secret Life of Mac
Inspired by the viral videos of cats stealing clothes and other items, author Melinda Metz weaved a story about a Klepto-kitty named Mac who will steal your heart. Why is it some cats, left to their own devices, choose to abscond with everything from lingerie to money?
Listen Now
EMT's Can't Treat Animals Yet
Police in Boston are praising proposed legislation that would allow emergency medical service workers to treat police dogs injured in the line of duty. Currently, Massachusetts' laws penalize EMT's if they assist an animal in an emergency.
Listen Now
Can Our Pets Become Addicted To Opioids?
The opioid crisis isn't just impacting people. A new study in Pennsylvania says there's been a big increase in the amount of pain medication being prescribed for pets in the state. The new research shows opioid prescriptions for animals in the state are up 41% over a 10-year period. It's unclear why there's been such a dramatic increase. But, if opioids are so addictive for humans, are they addictive to pets?
Listen Now





#1 in the Animal Radio Book Club
Animal Radio® Show #1000


Training Bees for Movies and TV
Apiculturist Dr. Norman Gary has devoted his 83 years to bees. He's even trained them for TV and Movies. Dr. Gary holds two Guinness World Records for bee stunts. Oh, and he plays the clarinet... covered in bees.
Listen Now
Understanding Your C.B.D.'s
It's the latest phenomenon in pet medicines, claiming to cure everything from allergies to pain. While there may be some benefits in this marijuana derivative, veterinarians are hard-pressed to recommend the use, mostly because the unregulated product may be sub-par. But if you're still determined, you should examine the Certificate Of Analysis (COA). Dr. Debbie and Lori Brooks help parse the confusion between brands.
Listen Now


Does Your Cat's Breed Really Matter
A simple DNA test can make it easier to identify which traits are linked to health conditions like heart disease and obesity. Anna Skaya is the CEO of Basepaws, the world's first-ever cat DNA test. A lucky listener will get a free DNA test for their cat.
Listen Now
Woman Gets Stuck In Tree After Trying To Rescue Cat
A woman who climbed a tree to rescue her cat ended up having to be saved by firefighters after she also got stuck in the tree. She was stuck for 45 minutes before firefighters eventually helped her down with a ladder.
Listen Now






Animal Radio comes to you from the Red Barn Studios
Animal Radio® Show #999


Don't Forget The Weather Predicting Pig!
Dr. Page Wages, a Raleigh veterinarian loves animals so much she has 93 on her "Funny Farm" and a Weather Predicting Pig. Ellmer the Pig has some weird behavior when it's going to rain. Dr. Wages describes her big family and what she has to do every day to care for 93 animals.
Listen Now
Putin Enacts Epic Pet Welfare Law
Russian President Vladimir Putin has signed new animal welfare laws. The laws include banning petting zoos and animal fights. It also bans the killing of stray animals, which must instead be captured and placed in shelters. Also, when those stray animals are captured and taken to a shelter, they can only be captured out of sight of children and it must be recorded for public review. This was not a fast change. The law was first submitted to the Russian parliament in 2010 but was only approved and signed into law last month.
Listen Now
Mother of Invention

Lisa Baronoff was tired of cleaning her dog's paws after winter walks in Manhattan. She became worried after her cocker spaniel got sick from the snowmelt chemicals put on sidewalks. She took her marketing background and launched her dog waders, Walkee Paws. She's on Animal Radio this week to tell us about her invention and foray into the 72 million dollar pet sector.
Listen Now
Link Between Executive Position and Pet Ownership
We all know that vision, forward thinking, risk-taking, determination, hard work, dedication and a good game plan are what it takes to become a successful entrepreneur. However, something else isn't so well known also helps. According to a new study conducted for Banfield Pet Hospitals, having a pet can actually help people become successful and better company leaders. The research found that behind most C-suite executives (which are the CEO€™s, CFO's, COO's), is a pet.
Listen Now
Animal Radio® Show #998


Meet Justin Beaver
Brigette Brouillard lives in Kentucky where she rescues and rehabs wild animals. At any moment you could see an opossum scurrying through the house or 'Justin Beaver' building a dam out of toys and household furniture. One of her two human children are on-board, even following in her footsteps. The other wants nothing to do with mom€™s hobby. Brigette tells her story like any proud rodent mama would!
Listen Now
California Divorce Law Favors Pets
California has enacted a new law that gives judges the power to consider what's in the best interests of pets in divorce cases, instead of treating them as physical property like a car or a sofa. It allows judges to consider "the care of the pet" then create shared custody agreements for the animal. A national survey of divorce lawyers found 88% of pet custody fights were about dogs and only 5% about cats.
Listen Now
Is Your Cell Phone Full of Pet Pics?
If you've got your cell phone close, take a quick look at the pictures you've taken. Do you see more pet pictures than pictures of your significant other? The results of a new study shows 65% of dog owners take more pictures of their dogs than their husbands, wives, girlfriends or boyfriends. The study also claims that nearly half of the people polled find it harder to leave their dog for a week than their human counterpart.
Listen Now
Man Shoots His Dog at Park in Front of Children
Police in Hamden, Connecticut say a man shot and killed his own dog in a park because he feared it might attack some children who were close by. The man told police that his dog, a pit bull that was not on a leash at the time, attacked and seriously injured another dog that was on a leash. He shot his dog in front of the owner of the injured dog as well as that man's three children.
Listen Now





Listen to FM on your smartphone. No Internet connection needed. Get 10% off Soundot with promo code 'animalradio'
Animal Radio® Show #997


Boy's Mission To Pet A Million Dogs
Gideon Kidd has a goal to pet a million dogs for his pet project. So far, the 10-year-old boy has pet more than 750 dogs. He's chronicled his journey on Twitter, garnering over 160,000 followers. He'll tell us how it's going since we last spoke to him in June.
Listen Now
Something Worth Saving
Sandi Ward is a medical advertising copywriter by day. By night, she's the author of great books written from a cat's perspective. Sandi talks with us about her muse, a big black rescue cat named Winnie.
Listen Now
Millennials Chose Pets Over Children
Millenials are less likely to become parents of "human children" because they are instead focusing on their pets. Apparently 44% of millennials are unsure if they want to have children, but their rate of pet ownership continues to rise. These animals are acting as a substitute for children according psychology professor Jean Twenge. This generation is half as likely to be married than the generations preceding it.
Listen Now
Convicted Deer Poacher Ordered to Watch Bambi Every Month For a Year

A Missouri judge has ordered a convicted deer poacher to watch Bambi at least once a month during the year he will be spending in jail. The man is actually one of four family members implicated in a three-year hunting operation that resulted in the deaths of hundreds of deer. The prosecutor said the family mainly stalked their prey at night, killing the deer and taking their heads and antlers, and then they abandoned the carcasses. The state's Department of Conservation called it a thrill and kill sport for the men. By the way, the one-year jail sentence was initially suspended in favor of a two-year probationary period. But the guy who now has to watch Bambi quickly violated the terms of his probation, leading the Judge to reinstate the original one-year sentence with the additional Bambi twist.
Listen Now
What Do Cereal and Dog Food Have in Common?
General Mills, which makes Trix and Yoplait, is hoping pet food will help it fight lagging cereal and snack sales. The company says it plans to double distribution of the Blue Buffalo product, expanding the number of places it's sold to include grocery stores, drug stores and big box retailers like Target.
Listen Now

So many ways to listen to Animal Radio®. We're on 133+ AM/FM stations, the Animal Radio® App for iPhone/Android, iHeart Radio, iTunes, Stitcher, TuneIn, Spreaker and Podcast. We're available wherever you are!

Listen to Animal Radio LIVE anytime with the FREE Animal Radio App for iPhone / Android. Plus, you'll get notifications anytime there is a recall or news that affects you and your pets.


---
Copyright 2001-20 Animal Radio®, its logo and Animal Radio Network(TM) are registered trademarks of Animal Radio Network LLC. All rights reserved. Submissions for newsletter, programming, editorial comments and opinions may be sent to: YourVoice@AnimalRadio.com. See our website for additional information.