Grab Your Pets and Join Us for a Celebration of Animals.
Now you can ask ALEXA to "LAUNCH ANIMAL RADIO."
Animal Radio® Show #1123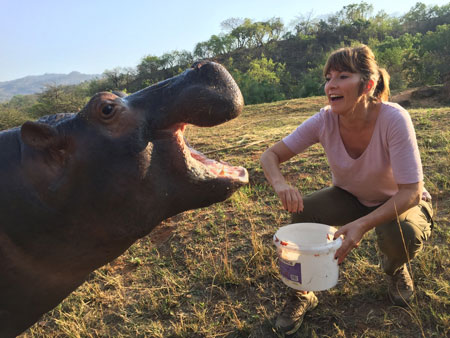 The Truth About Animals
Zoologist Lucy Cooke says humans aren't doing animals any favors when we moralize their behavior. Humans have gone to the Moon and split the atom, but when it comes to understanding animals, we've still got a long way to go. So you've probably never considered if moose get drunk, penguins cheat on their mates, or worker ants lay about. They do--and that's just for starters.
Listen Now
Never Buy A Pet Online
Even if you're aware of pet scams, you should never buy a pet online. A Volusia County, Florida, woman is heartbroken after she paid her hard-earned money for a dog online. She now wants to warn everyone because these scams break your heart and your wallet.
Listen Now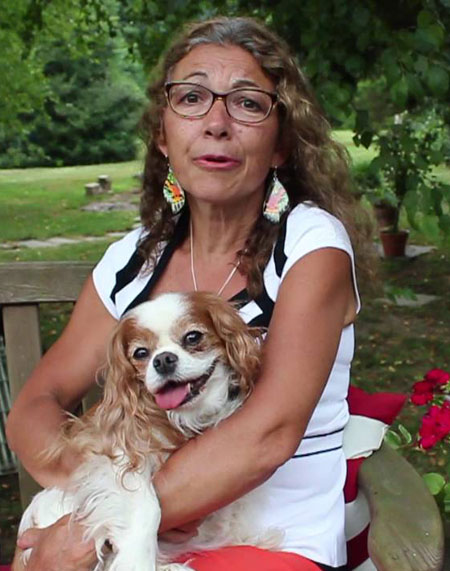 CBD's, Vaccines and Raw Diets
These are the most controversial topics in the pet world right now. Holistic Veterinarian Dr. Judy Morgan takes the topics head on and shares her experiences with CBD's, her views on Vaccines and the raw diet she feeds her own dogs. Dr. Morgan has an integrative approach combining holistic medicine with traditional Western techniques.
Listen Now
Proof That Micro-chipping Pays Off
A couple who lost 2 dogs while visiting a friend five years ago has one of those dogs, a deaf dog named Army, back today because he was micro-chipped. Their advice? Microchip your pets and keep your contact information updated with the microchip company and the vet. A lot of people think it's very expensive but at most vet offices you can get your pet micro-chipped for $25 or less and it's there forever.
Listen Now
All Is Well That Ends Well
A 5-year-old cat was missing in England for 2 weeks. Hatty the cat then turned up on the Royal Albert Bridge. A complicated 6-day, $7,500 rescue mission was launched to rescue the cat, before she simply wandered back home on her own. Still, the good news is Hatty is home and safe, and her owners are vowing to make her an inside only cat.
Listen Now

Read more about this week's show.

Redbarn Naturals Mini Bully Barbells Dog Treats, Case of 75
Animal Radio® Show #1122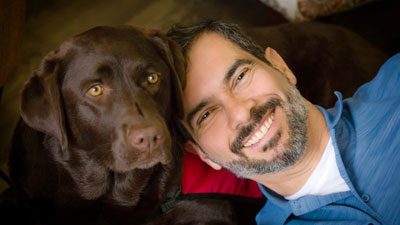 Bi-lingual Dog Comforts Homeless Kids
Molly is a bilingual chocolate lab. She responds to direction in both English and Spanish. Her trainer, Memo, escaped Mafia violence in Columbia and came to the US where he founded a dog training business. They are a certified therapy team that has helped so many children in homeless shelters. Because of their bilingual abilities and Memo's deep understanding of what it is like to be thrown into a new culture, they are bringing unprecedented joy to children in desperate situations.
Listen Now
New Bill Addresses Pets During Divorce
In Pennsylvania, former attorney and now state Rep. Anita Kulik has introduced H.B. 1432, which would establish the new areas of concern for judges to consider when deciding guardianship of a pet in divorce cases. If the bill passes, the judge would be allowed to consider: whether the animal was acquired prior to or during the marriage; the basic, daily needs of the animal; who generally gets veterinary care and social interaction for the animal; who deals with local and state regulations, such as licensing; and who has the greater ability to financially support the pet.
Listen Now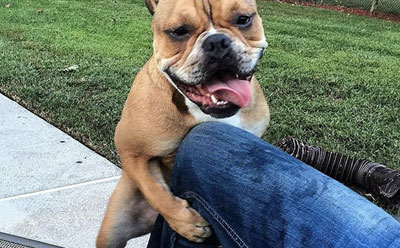 Why Is My Female Dog Humping?
Usually humping is associated with male dogs, but humping is also very common amongst female dogs. Some girls will hump toys or other objects, some hump air, others hump other dogs or even people. We talk with Certified Professional Dog Trainer and Chair of The Association of Professional Dog Trainers Nick Hof, CPDT-KA, CBCC-KA, KPA-CTP, CSAT, to answer some of your most commonly asked questions about female dogs and humping.
Listen Now
Judge Dismisses Lawsuit Against Pet Food Company
A federal judge has dismissed a multi-million-dollar lawsuit filed against Ainsworth Pet Nutrition (which is owned by Smucker's) for alleged false and deceptive advertising of its Rachael Ray Nutrish dog food. The suit claimed Ainsworth's labeling of Rachael Ray Nutrish, as natural food for dogs was false, deceptive and misleading. Independent laboratory tests found Glyphosate, a chemical weed killer such as RoundUp, was present in the products. The judge said, "The presence of negligible amounts of Glyphosate in a dog food product that do not have harmful, 'toxic,' or 'carcinogenic' effects is not likely to affect consumers' decisions in purchasing the product and is thus not material." Then for the same reasons, Judge Stanton dismissed the breach of warranty claim ruling, "A reasonable consumer would not interpret the label 'natural' as warranting that the products contain no amount of Glyphosate."
Listen Now

Read more about this week's show.

Introducing Chewy Pharmacy - Free Shipping on Pet Meds!
Animal Radio® Show #1121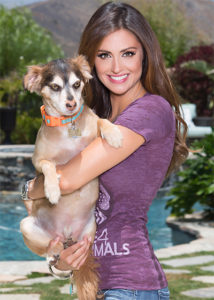 Devoting Her Fame To The Animals
Katie Cleary is a Model, Actress and Philanthropist, Filmmaker who got her start in the entertainment business on the hit TV show America's Next Top Model. After graduating college, Katie landed the role on NBC's hit game show Deal or No Deal. Katie's main passion is advocating animal welfare issues while rescuing and rehabilitating animals and lovingly finding them forever homes. She tells us about her 12 pets.
Listen Now
Can Dogs Laugh?
Dogs are capable of laughing, and they typically do so when they are playing. Canine laughter begins with the doggy equivalent of smiling but also includes a sound that is much like panting. Animal behaviorist Patricia Simonet recorded those sounds while dogs played. On analyzing the recordings, she found that they involved a broader range of frequencies than regular dog panting. So, what makes a dog laugh? What can we do to make them laugh? Are they already laughing about us behind our back? We'll try to figure out what tickles their funny bone.
Listen Now
Anti-Vax Controversy Affects Pets
Just as there are anti-vaxxers who don't want to vaccinate their children, there are people who don't want to vaccinate their pets. However, experts want you know that vaccines do not cause autism in pets. The most dangerous of all of the dog diseases is rabies, which is effectively a death sentence for a dog and could've been prevented with the Rabies vaccine. Also, the distemper virus has returned to North America, reportedly transported on dogs that were not vaccinated. Lori Brooks reports why it just makes sense to protect your furry-family by finding a happy medium of reduced but necessary vaccinations.
Listen Now
Blind Dog Gets Seeing-Eye Puppy
A North Carolina couple's puppy is now famous for quickly appointing himself as a seeing-eye-puppy for their 11-year-old golden retriever that lost both of his eyes to glaucoma pain. The puppy, named Maverick, came to their family in January and Charlie, the now blind dog, was at first not excited to have another dog in the house. However, Maverick soon appointed himself as Charlie's protector. "When they would play, Maverick would realize that Charlie had lost the toy, so [Maverick] would pick it up and put it back in front of Charlie to re-engage him in playtime," said their owner. Yes, they're now famous on social media and have their own Instagram page.
Listen Now
Number Of Dog Bites Decreasing
Every year dogs bite about 4.5 million people. Dog bites and other dog-related injuries accounted for nearly one-third of all homeowners' insurance liability claim dollars paid out in 2020. Over the past year, the number of dog bite claims has decreased by 9%. However, the news isn't all good. The number of emergency room visits by children age 1 and under actually doubled from nearly 1,800 visits in 2001 to more than 3,100 last year.
Listen Now

Read more about this week's show.

Introducing Chewy Pharmacy - Free Shipping on Pet Meds!
Animal Radio® Show #1120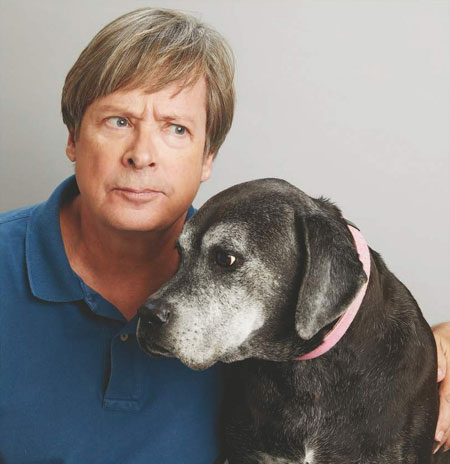 Dave Barry Talks About His Dog
The extremely talented and very funny author, Dave Barry is our guest. He'll tell us about the lessons he has learned from his dog, Lucy. He says Lucy taught him to effectively deal with road rage. Dave also explains why he's not much of a cat fan.
Listen Now
Deadly Virus Makes A Comeback
A young dog imported from South Korea into western Canada brought along a dangerous hitchhiker, the Asia-1 strain of canine distemper virus (CDV), which until then had not been reported in North America. Scientists at Cornell University College of Veterinary identified the virus in samples from the dog, which they suspect was part of a shipment of animals rescued from a Korean meat market.
Listen Now
Woman Awarded $60,000 After Dog Dies In Trainer's Care
A woman in Napa, California, who's German Shepherd died while in the care of a dog trainer has been awarded $60,000 by a County court. She sued the trainer for negligence, breach of contract and violation of state health and safety codes. A necropsy revealed her dog had died from heat stress or hyperthermia after less than 3 weeks in the trainers care. Police officers also found inhumane and cruel conditions at the home where the dog, Gunnar, had likely been held.
Listen Now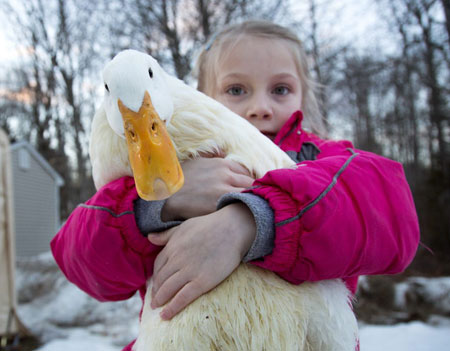 Pet Duck? Why Not?
A lot of kids go to the park to see ducks, but 8-year-old Kylie Brown of Freeport, Maine takes her duck to see the park. If you missed the viral story about Kylie and her duck, its name is Snowflake. She takes it to the pond at a park and it even returns when she calls its name. Kylie's parents say Snowflake has had to be by their daughter's side 24/7 since the day they brought him home. So they brought him in the house, put a diaper on him and now he's a house duck.
Listen Now
Unique Ways To Memorialize Your Pet
Steve Munt wants to send the cremains of his beloved cat into space. While dog lovers have been memorializing their dogs this way for years, Steve's cat will be the first feline remains shot into space in a satellite that will circle the earth in perpetuity. Steve is our guest and he'll explain why he wants to do this.
Listen Now

Read more about this week's show.

Introducing Chewy Pharmacy - Free Shipping on Pet Meds!
Animal Radio® Show #1119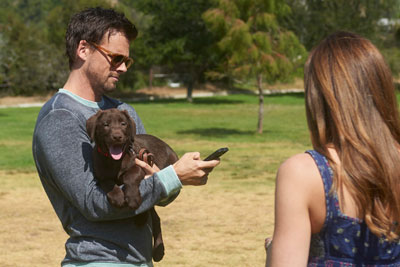 Pets Make You More Attractive
Dr. Helen Fisher is a Senior Research Fellow at The Kinsey Institute. She's been studying the correlation between pets and dating. Dr. Fisher says, "Dogs are chick magnets!" Women find men with a dog to be more attractive. But interestingly, or not, this does not work in reverse. In fact, the 'cat lady' has a negative stigma.
Listen Now
Major Pet Store Raided After Whistle Blowing Employee
Police in Bellevue, Tennessee recently raided a national pet store chain location after getting a tip and photos concerning animal cruelty. That tip, along with the pictures, came from an employee at the PetSmart store.
Listen Now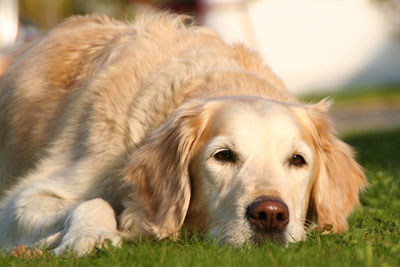 Pet Insurance & Preexisting Conditions
While pet insurance may seem like a good value, be sure to check to fine print. Some breeds predisposed to certain ailments, like hip-dysplasia, may be excluded from certain insurance policies, especially if your pet has been seen before for problems related to the claim.
Listen Now
Mandatory Pet Rental Laws
If you don't own a home and you have a pet, you know that finding a home to rent that accepts pets can be difficult. According to a poll, 64% of respondents felt landlords should have the right to refuse to rent to pet owners, compared to 36% who felt landlords should not be able to deny a tenant's pets. Of course, opinions varied between homeowners and tenants.
Listen Now

Read more about this week's show.

Redbarn Peanut Butter Chew-A-Bulls Large 12" Dog Treat
So many ways to listen to Animal Radio®. We're on 134+ AM/FM stations, the Animal Radio® App for iPhone/Android, iHeart Radio, iTunes, Stitcher, TuneIn, Spreaker and Podcast. NOW YOU CAN ASK ALEXA TO "LAUNCH ANIMAL RADIO." We're available wherever you are!
Listen to Animal Radio LIVE anytime with the FREE Animal Radio App for iPhone / Android. Plus, you'll get notifications anytime there is a recall or news that affects you and your pets.
---
Copyright 2001-21 Animal Radio®, its logo and Animal Radio Network(TM) are registered trademarks of Animal Radio Network LLC. All rights reserved. Submissions for newsletter, programming, editorial comments and opinions may be sent to: YourVoice@AnimalRadio.com. See our website for additional information.